These sites have been selected because they all do a superb job publishing NYCity event info.
I hope you will click on their hot links to see what they have to offer.
==========================================================
(7/26-8/13) Lincoln Center Out of Doors returns, kicked off with NPR Music's Turning the Tables Live, Paul Taylor Dance Co, a double dutch tournament, An Evening with Rumer, Nick Lowe, a silent screening of The Big Lebowski and much more! lincolncenter.org
PLUS
(Through 8/24) Enjoy Cocktail Thursdays at the Cooper Hewitt Museum.
(7/24-8/18) NYC Restaurant Week.
(now-8/13) The popular free Shakespeare in the Park program returns to Central Park, with AMidsummer Night's Dream. 
(7/25-8/20) Mostly Mozart Festival at Lincoln Center.
(8/1) Blondie & Garbage: Rage & Rapture Tour at The Beacon Theatre.
(8/2) The Warriors-free screening! at Brooklyn Bazaar.
(8/3) Darlene Love at BB King Blues Club and Grill. 
(8/3) Erykah Badu at Coney Island Ford Amphitheater.
(8/6) Outdoor Movie Night: A League of Their Own at Randall's Island.
(8/9) Summer on the Hudson: Pier I Picture Show with The Big Lebowski.
(8/18) Sheila E. at BB King Blues Club & Grill. 
=========================
Fleet Foxes at Prospect Park Bandshell; Aug 1, 2; $50–$55
The wildly popular indie folk band released its first album in six years, The Crack-Up, and is back in Brooklyn for a set of benefit concerts.
A$AP Ferg + Venus X + Southside + Nef the Pharaoh + Dave + DJ Diamond Kuts at MoMA PS1; Aug 5; $18–$22
Harlem rapper and "Hood Pope" A$AP Ferg dishes out his no-frills trap at MoMA PS1 for the museum's 20th Warm Up season.
Afropunk at Commodore Barry Park; Aug 26–27; $45, $75 two-day passes
For one weekend every summer Brooklyn plays hosts to this multicultural extravaganza that features big-name music acts including Anderson Paak, Gary Clark, Jr. and SZA.
Kendrick Lamar + YG + D.R.A.M. at Prudential Center; Aug 25; $79.50–$545
K-Dot hits town behind his phenomenal fourth LP, DAMN, which features guest spots from the likes of Rihanna and U2 and, of course, absolutely searing lyrical insight from the MC himself.
Lady Gaga at Citi Field; Aug 28–Aug 29; $113–$995
The self-proclaimed queen of art pop supports last year's country-tinged Joanne with ecstatic dancing, power-house singing (and sing-alongs) and plenty of fireworks, literally.
Lincoln Center Out of Doors at Lincoln Center; through Aug 13; free
Don't miss your chance to see major artists in shows devoted to Bollywood musicals, Eastern European and Central Asian folk music and dance, and West African and West Indian carnival culture.
Battery Dance Festival at Robert F. Wagner Park (and the Schimmel Center at Pace University); Aug 13–19; free
The 36th edition of this free annual celebration welcomes artists from across the United States as well as Spain, Sri Lanka, Dominican Republic, Botswana and Belgium, performing outdoors in front of the sparkling New York Harbor.
Olga Pericet at  Repertorio Español; Aug 16–Sept 3; $35–$100
Flamenco dancer and choreographer Pericet returns to Repertorio with an evening of Spanish dance, joined by guitarist Antonia Jiménez and singers Manuel Lago and Miguel Lavi.
Beach Sessions at Beach 86 St; Aug 19, 26; free
Rockaway Beach's outdoor dance festival returns with free, sandy offerings by artists including Jodi Melnick, Jon Kinzel and Madeline Hollander, plus and anonymous work about pop iconography called Fun Young God.
Drive East Festival at Dixon Place; Aug 21–27; $15–$50
Navatman presents this weeklong festival of South Asian performing art, which includes a variety of classical Indian dance as well as concerts by noted musicians.
=========================
JC STYLLES
SMALLS JAZZ CLUB / AUGUST 3
The jazz bug bit JC Stylles early and in a most unlikely locale. He discovered his step- father's extensive record collection while growing up in an Aboriginal rainforest town in northern Australia. At 16, JC moved to Sydney where his career path was deter- mined after hearing every set of a weeklong George Benson engagement. A soulful and swinging guitarist in his own right, JC has been based in New York since 2005. Moving aside from his usual organ trio format, he has teamed with vibraphonist Steve Nelson for a project focusing on material associated with late vibraphonist Bobby Hutcherson, another of JC's musical heroes. For this gig, JC and Steve are joined by Jon Davis on piano, Peter Washington on bass and Byron Landham on drums. KF
ULYSSES OWENS JR.
DIZZY'S CLUB COCA-COLA / AUGUST 9-10
Like predecessors Max Roach, Art Blakey, Roy Haynes and peers Eric Harland, Matt Wilson and Brian Blade, Ulysses Owens Jr. is a legitimate bandleader. His tactile skills and inspired architectural drumming have powered the Grammy Award-win- ning bands of Christian McBride and Kurt Elling, the late Mulgrew Miller, Benny Golson, as well as his own. In the past decade, the Florida native has created inter- national demand and acclaim while recording for the Criss Cross label. The Dizzy's gigs feature his new CD project Falling Forward, a quartet with vibraphonist Joel Ross, bassist Reuben Rodriguez and vocalist Vuyo Sotashe on Wednesday and the New Century Big Band on Thursday with saxophonist Tim Green, trumpeter Benny Benack, trombonist Michael Dease, a Japanese rhythm section and singers Shenel Johns and Charles Turner. MGN
SHAREL CASSITY
GINNY'S SUPPER CLUB / AUGUST 10
One of the most exciting alto talents to come to prominence in the past decade, Sharel Cassity has quickly built a sterling reputation working alongside a veritable "Who's Who" of jazz. Brandishing a rich, dark sound, Sharel is a superbly gifted and creative improviser who finds a comfortable balance between her ferocious chops and her thoughtful melodic work. As her career has continued to flourish, projects under her leadership have grown, developed and diversified. At Ginny's, Sharel presents her Elektra project in which she blends a disparate set of genres-jazz, rock, soul, elec- tronica, hip hop—into a creative, groove-driven sound for the audience. Drawing on such atypical composer choices as Björk and Alicia Keys, Sharel offers up a funky, eclectic and exciting mix of music. SH
MIKE DIRUBBO
THE WEST END LOUNGE / AUGUST 20
Alto saxophonist Mike DiRubbo has garnered his share of praise since arriving in New York. The Connecticut native was granted a full scholarship at Hartt School of Music by jazz master Jackie McLean, with whom he honed his skills. Mike worked and recorded with trombonist Steve Davis in Hartford after graduation. Moving to Brooklyn in 1998, Mike built a reputation as an inventive improviser known for his piercing tone and aggressive attack, while his gift for composing stimulating, catchy works is another strength. The saxophonist enhanced his artistry working with Harold Mabern, Eddie Henderson and Steve Nelson, while he remains an in-demand sideman for gigs and recording sessions. Mike's Line of Flight band includes Steve Davis, pianist Anthony Wonsey, bassist Nat Reeves and drummer Carl Allen. KD
NICOLE HENRY
JOE'S PUB / AUGUST 24
Few voices can set a listening room on fire, then let it burn into a cinder like Nicole Henry's. The 2013 Soul Train Award winner for Best Traditional Jazz Performance has been entrancing audiences since she arrived on the national scene from her home- town in Bucks County, Penn. Through a powerful command of her own language, born out of the vocabulary of a cross-genre-section of predecessors, Nicole allows phrases to unfold in the spontaneity of the moment. She has recorded multiple releases as a leader and performed live at notable national and international venues from Blue Note and Jazz at Lincoln Center to Regattabar, Catalina Jazz and Madrid Jazz Festival—and with such distinguished artists as Kirk Whalum, Gerald Clayton, Julian Lage, Larry Grenadier and Eric Harland. SJ
SAX APPEAL
IRIDIUM / AUGUST 31-SEPTEMBER 2
Four visionaries of the saxophone come together to form an intergenerational har- monic institution: Donald Harrison, Gary Bartz, living legend and NEA Jazz Master Jimmy Heath and founder of Sax Appeal, Javon Jackson. Javon conceived the group as an opportunity to collaborate with longtime friend and mentor Jimmy Heath; each artist brings with him experiential wisdom, talent and creativity, with musical influ- ences ranging from the streets of New Orleans to the legacy of the Jazz Messengers. A cross-section of American and international musical cultures comprises the four dis- tinct sounds of each artist and invites an open exchange of exploration, interpretation and musical dialogue. The Sax Appeal rhythm section features pianist Jeremy Manasia, bassist David Williams and drummer McClenty Hunter. SJ
++++++++++++++++++++++++++++++++++++++++++++++
Smart Stuff
 >Harlem Week
>HBO/Bryant Park Film Festival
>Baseball Season
>Central Park SummerStage
>Shakespeare in the Park
mm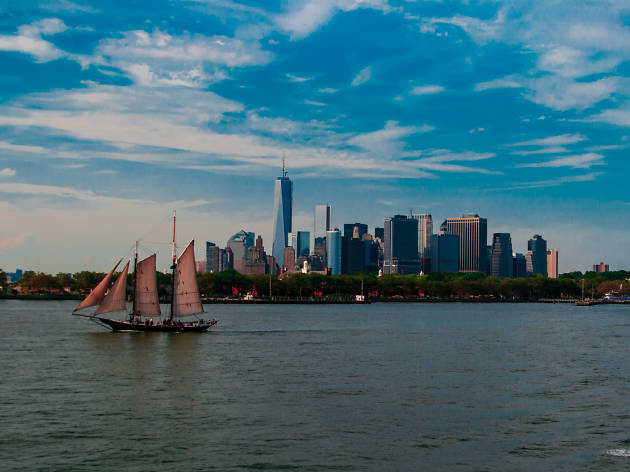 Things to do
DMC US Finals DJ Battle: DJ Total Eclipse Highline Ballroom; Aug 5 at 7pm; tickets start at $63
Watch 12 DJs throw down for the title of USA Champion at the most prestigious turntable competition in the world. Each competitor has the chance to perform a 6-minute set before the panel of experts chooses the best of the best.
New York Renaissance Faire; Aug 5; $12–$23
Get medieval on your weekend. Now in its 40th year, the immersive Elizabethan re-creation delivers jousting knights, fairies, pirates and more, as hundreds of actors take you back to the days of yore. The festival's food offering includes steak on a stake, funnel cake and plenty of ale. Don't forget your cloak. 600 Rt 17A, Tuxedo Park NY. 
Madonnathon Brooklyn Bowl; Aug 12; $15–$18
Make sure you stretch at home before this 14th annual celebration of the Material Girl, and dress yourself up in your favorite Madge-inspired look (lace is always in season!) to win high-camp prizes and attract your lucky star on the dance floor. Performers include Amber Martin, Brian Charles Rooney, Lane Moore, Shannon Conley, Anna Copa Cabanna, Queen V, Daryl Glenn, Michael T and Sophia Ramos; Cathy Cervenka are Rupert Noffs are the hosts.
Hong Kong Dragon Boat Festival Flushing-Meadows Corona Park; Aug 12 + 13; free
Travel to beautiful Hong Kong without ever leaving the city thanks to this annual event at Flushing Meadows–Corona Park, now in it's 26th year. Around 180 teams gather at the lake to race on long boats while paddling to the beat of their boat's drummer at this culture fest inspired by Chinese tradition. On land, you can join in on the fun with music and dance performances, martial arts demonstrations and food-court vendors selling Asian cuisine like steamed dumplings, pork-belly buns and frozen delights such as Sno Biz shaved ice.
ELEMENTS by BangOn! NYC Location TBA; Aug 12 + 13; $55–$260
Five stages featuring electronic music acts, 3D projections, food trucks, vendors, death-defying aerialists, circus performers and a giant inflatable slide: Yeah, BangOn!NYC goes all out for this annual bash. Get pumped for DJs such as Griz, The Knocks, The Golden Pony, Motum and plenty more. This mind-blowing music and arts festival is not one to be missed, so grab your tickets and keep your eyes peeled for the secret NYC waterfront location announcement.
The Subway Series: New York Mets vs. New York Yankees Citi Field and Yankee Stadium; Aug 14–17; tickets start at $32
"Root, root, root for the home team" takes on another meaning when the Mets and Yankees face off at the annual Subway Series. Whether you bleed Yankee blue, don the orange for every Mets game or you're just here for the peanuts and beer, it's sure to be a good time.
Play NYC Terminal 5; Aug 19 and 20; tickets start at $91
Gamers and programmers alike won't want to miss the city's first ever dedicated gaming convention. Demo new games from Avalanche Studios, Bomb Shelter Games and other studios and listen to talks with industry insiders at the two-day event.
Jazz Age Lawn Party Governors Island; Aug 26 + 27; $55–$5,000
Slap on your spats and practice the Charleston because the Jazz Age Lawn party is returning to Governor's Island. Sip on Prohibition-era cocktails by Lejay Liqueur and local Bootlegger 21 New York, and none of the back-alley hooch of the day. Food vendors will be on hand to keep your Lindy Hop hoppin' during incredible daylong jazz performances from Philadelphia's prized Drew Nugent and the Midnight Society, as well as singer-songwriter Queen Esther. Sure to mesmerize is the ultimate 1920s ensemble band Michael Arenella & His Dreamland Orchestra, led by the party's host, crooner-conductor Arenella. As the tunes blast, partake in dance lessons from instructors and perfect your fox-trot.
Museum of Interesting Things Secret Speakeasy The Lofts at Prince; Aug 27 at 6pm; $10 Every month, the roving Museum of Interesting Things throws a speakeasy-style exhibition in a New York loft. August's theme is Back to the Futurist, and the museum will show off items from the past that look like they could be from the future. Partygoers can sip drinks while dancing to live music and examining unique historic artifacts and oddities.
U.S. Open Flushing Meadows–Corona Park; Aug 28–Sept 10; tickets start at $26
Fun fact: The U.S. Open is New York's most attended sporting event. Watch the likes of Andy Murray, Roger Federer and other tennis superstars battle it out at the USTA Billie Jean King National Tennis Center. Though hardcore fans will likely have their eyes glued to the match, avid celeb-watchers might also spot A-listers like Oprah, Karlie Kloss and Leonardo DiCaprio in the stands.
August has arrived in New York City, and though summer may be entering its final days, there are still plenty of ways to see it out in style. Spend your final weeks of the NYC summer with these daily events spanning everything from the history of ice cream to the Industrial Revolution.
Tuesday, August 1: Al Franken speaks about his new memoir, Al Franken: Giant of the Senate, which provides an insider look at our political culture, such as it is. He'll be joined by fellow Saturday Night Livealum Seth Meyers. The Cooper Union.
An evening of philosophy looks at pleonexia, the zero sum greed that manifests as injustice in Plato's Republic and Aristotle's Nicomachean Ethics. The impact this avarice may have on democratic cooperation—particularly given the tenor of the times—makes for a timely conversation. Nowadays.
Wednesday, August 2: Hear from the only person who's been at the top of the planet's tallest peak and also gone to space. Dr. Scott Parazynski speaks about his adventures, the current state of NASA, and the future of private space efforts. The Explorers Club.
Indulge your sweet tooth and discover Brooklyn through its chocolate on this delectable bus tour. 92nd Street Y.
Over 30 years after its original publication, poet and essayist Susan Howe speaks with a panel about her critical tour de force My Emily Dickinson, now being published in French (free; in English, no reservation needed). Albertine.
Thursday, August 3: Be quick to catch Vanishing New York, a book launch and conversation with author Jeremiah Moss lamenting the city's ever-changing nature. powerHouse Arena.
Jeremiah Moss moved to New York in 1993, which he soon realized was the worst time to fall in love with the city as it was. Catch him at the launch of his new book, Vanishing New York: How a Great City Lost Its Soul, an outgrowth of Moss's popular blog. He'll discuss what were losing, and the larger ramifications for hyper-gentrifying cities everywhere.
Journalist, essayist, and activist Laurie Penny speaks about her latest collection of essays. In a manifesto for change, Penny advocates for the marginalized and tackles topics that run from the alt-right to gender roles and cyber-bullying. The Strand.
Guerrilla Science along with You're the Expert host Chris Duffy lead a Museum of Food and Drink session of hands-on activities that will give you insight into the subconscious processes that drive attraction.
The project manager for the Mars helicopter and compassionate mind training highlight our picks for the best smart things to do in NYC this weekend.
Friday, August 4: Reach for the stars at the Intrepid's Family Astronomy Night featuring MiMi Aung, who serves as the project manager for the Mars Helicopter. Intrepid Sea, Air & Space Museum.
Saturday, August 5: Relive one of Hollywood's darker moments at this lecture on the Hollywood blacklist that plagued the industry during the Cold War. New York Public Library–St. Agnes Library.
Sunday, August 6: Take the tram to Roosevelt Island for this tour exploring the island's rather quirky architecture. AIANY Tours.
Tram to Roosevelt Island as AIA leads a tour of the island's rather quirky architecture, 1970s "New Town in Town" to FDR Four Freedoms Park.
One of Manhattan's largest streams, Minetta Brook, once flowed through the Village. Learn more on an above-ground exploration that follows the brook's contours, with insight into manhole covers, and how urban streams influenced the development of the city. New York Adventure Club.
Cosmic dust, how creativity sparks, and the teachings of Epictetus highlight our picks for the best smart things to do in NYC this week.
Monday, August 7: Go just beyond the river bend for this screening of Disney's Pocahontasand a conversation on how it's historically missed the mark. Brooklyn Historical Society.
Ponder the teachings of Epictetus, born a slave in the time of Nero, whose philosophy looked at acceptance, responsibility, and self-discipline. Philosophy professor Massimo Pigliucci leads the conversation at a Stoic School of Life session. New York Society for Ethical Culture.
Tuesday, August 8: Brush up on space dust as Cosmic Dust Curator Jon Larsen and NASA's Dr. Michael Zolensky talk about extraterrestrial particles found right here at home. White Space at Agora Gallery.
Artist and activist Mariam Ghani joins Vincent Warren, Executive Director, Center for Constitutional Rights, for a conversation on identity and national security. It's part of a Guggenheim summer series that looks at contemporary challenges through artistic eyes.
Wednesday, August 9: Find inspiration at this session delving into the science of creativityand how to find your creative spark. New York Institute of Technology. Dr. Shelley Carson of the Harvard psychology department leads the One Day University session How "Aha!" Really Happens: Intuition and the Creative Spark. She'll drill down into how creativity works, and how we can take advantage of two distinct brain states for differing mental tasks.
As the trans debates heat up in America, take another angle as VICE looks at HBO's Trans Youth and the question of at what age early medical intervention should begin for trans kids. David Rubenstein Atrium at Lincoln Center.
Thursday, August 10: Spice things up at this lecture on J. Ranji Smile, the original "celebrity chef" who impacted American cuisine by introducing curry to the masses at the turn of the century. Brooklyn Historical Society.
We have not reached the end of history any more than America has become a post-racial society. For some troubling context, hear from Yale Law School professor James Q. Whitman. He'll discuss his book Hitler's American Model: The United States and the Making of Nazi Race Law, which shows the strong influence Jim Crow legislation had on the German regime (some American racist practices were rejected—the Nazis considered them too harsh). Revolution Books.

Paul Kingsnorth speaks on his novel, Beast, and his collection of essays, Confessions of a Recovering Environmentalist, which details his disenchantment with a movement long on sustainability and short on making the kinds of sacrifices that may be required to save the planet. He'll be joined by Amitav Ghosh (The Great Derangement: Climate Change and the Unthinkable); a wine reception will follow. Greenlight Bookstore.
Friday, August 11: Get double the information at Think Olio's double feature day of events, featuring both a look at modern art and the work/life balance of female artists, along with an examination of how the modern-day "gig economy" is upending the American dream. The Strand.
Saturday, August 12: Head down to the water for this tour of Brooklyn's waterfront from Newtown Creek to Sunset Park.
Sunday, August 13: Discover a 19th century gem inside Prospect Park on this behind the scenes look at the Lefferts Historic House.
Monday, August 14: Blink along with the 35,000 original drawings that make up NYsferatu: Symphony of a Century, a new film projected along with live musical improvisations. Hudson River Park.
Tuesday, August 15: Lend an ear to the memoir of a Colombian painter and intellectual (The Book of Emma Reyes) during an evening with writer Daniel Alarcon. Book Culture on Columbus.
Wednesday, August 16: Delve into American history at this event on the conflict between Gen. MacArthur and former President Harry Truman. Bryant Park/Bryant Park Reading Room.
Thursday, August 17: Find a tonic at this talk on the remarkable history of gin. Prospect Heights Brainery.
Friday, August 18: Celebrate the Fighting Irish at this screening of The Fighting 69th, which centers on New York City's 69th Infantry Regiment during World War I. New-York Historical Society.
Saturday, August 19: Explore the city from the bottom up on this vertical tour of Riverside Church, the tallest church in the country. New York Adventure Club.
Sunday, August 20: Hop the trolley on this tour of Green-Wood Cemetery and discover the famed New Yorkers who have come there to rest.
Monday, August 21: Catch the upcoming solar eclipse in spectacular fashion by attending the Hayden Planetarium's special gathering for the celestial event. American Museum of Natural History.
Tuesday, August 22: Don't feel guilty about attending this event on the entertainment-industrial complex and the effect our fantastical guilty pleasures have on our real-world lives. Nowadays.
Wednesday, August 23: Commercialize your care at this talk with Nancy Tomes, author of Remaking the American Patient: How Madison Avenue and Modern Medicine Turned Patients into Consumers. Bryant Park/Bryant Park Reading Room.
Thursday, August 24: Groove to the beat at this music video screening featuring the work of Eif Rivera, who's created videos for Nas, Nicki Minaj, and more. Brooklyn Museum.
Friday, August 25: Give your regards to Broadway at this screening of Yankee Doodle Dandy, the 1942 classic starring James Cagney as song-and-dance icon George M. Cohan. New-York Historical Society.
Saturday, August 26: Take a local look at the Industrial Revolution on this tour of the Dutch Kills tributary, once known as the "workshop of the United States."
Sunday, August 27: Grab your chopsticks to discover Chinatown and its gritty past on a tour of the neighborhood and its hidden eats. New York Adventure Club.
Monday, August 28: Feel the Bern as the most popular politician in America comes to town in support of his forthcoming book, the Bernie Sanders Guide to Political Revolution. As a counterpoint to the "American carnage" narrative, Sanders has created a manual for young adults that provides a more inspirational approach to change, organization, and navigating the labyrinth of government. The Riverside Church.
Tuesday, August 29: Fall in love scientifically at this session exploring the science of relationships, including an exercise involving the famed "36 Questions" designed to make two people fall in love. Prospect Heights Brainery.
Wednesday, August 30: Get a new look at one of history's most famous First Ladies at this event with Eric Burns, author of Someone to Watch Over Me: A Portrait of Eleanor Roosevelt and the Tortured Father Who Shaped Her Life. Bryant Park/Bryant Park Reading Room.
Thursday, August 31: Scream for this talk on the history of ice cream in America and New York City–complete with a post-talk sundae party. Museum of Food and Drink.
+++++++++=+++++++++
+++++++++=+++++++++
The best NYC concerts in August 2017 (TimeOutNY)
Check out the best NYC concerts in August, including Kendrick Lamar, Lady Gaga, Pill and Afropunk Festival