These sites have been selected because they all do a first rate job publishing NYCity event info. I hope you will click on their hot links to see what else they have to offer.
============================================================
June 28, 2018 – by City Guide News Desk
August is a great month to visit New York City. Sure, it's a hot season, but there are great restaurants and museums for cooling off (the subways are air conditioned, too). And with plenty of folks on vacation, you can access great New York festivals and attractions without the major crowds of other times of year. For August 2018, you can dine at NYC's best restaurants for a discount at NYC Restaurant Week, take in some alfresco tunes with Lincoln Center Out of Doors, catch the Afropunk Festival in Brooklyn, a Blues BBQ Festival, the 27th Annual Hong Kong Dragon Boat Festival, and much more!
EXHIBITS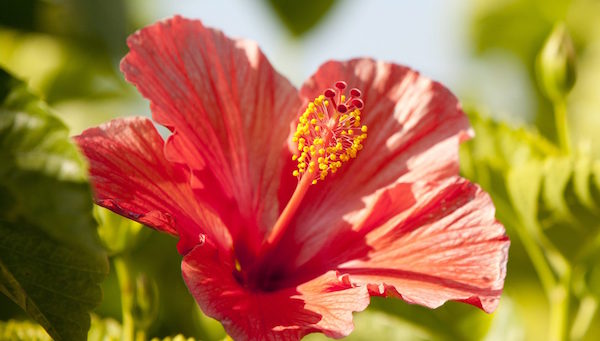 (Now-10/28) In 1939, the pioneering American Modernist Georgia O'Keeffe (1887–1986) went to Hawaii on commission for a Hawaiian Pineapple Company promotional campaign. What she created provides the inspiration for the landmark new exhibition Georgia O'Keeffe: Visions of Hawai'i at The New York Botanical Garden. A stunning display in the LuEsther T. Mertz Library Art Gallery includes 17 of O'Keeffe's Hawaii paintings, not seen together in New York since their debut in 1940. The historic Enid A. Haupt Conservatory explores the remarkable beauty and variety of Hawaiian flora, as well as its complex botanical and cultural history. The garden (just a 20-minute Metro-North ride from Grand Central Terminal) also features a living collection of more than one million plants.
(Now-2/3/19) Escher: The Exhibition and Experience: Industry CityExploring the intersection between art, mathematics, science and poetry, Escher's works have fascinated and astounded generations of artists, architects, mathematicians, musicians and designers alike. Experience the utterly captivating and mind-bending work of graphic illustrator M.C. Escher in this new exhibition featuring more than 200 original works. eschernyc.com.
(Now-9/12) An Incredible Giacometti Retrospective Comes to the Guggenheim Museum. Swiss artist Alberto Giacometti (1901-1966), a Modernist sculptor, was a master of perspective. His elongated human figures, spindly miniatures, and ghostly paintings and drawings invite the viewer to lean in close and evaluate the work on its own terms rather than those of the viewer herself. The exhibit features more than 175 works by the artist.
(Now-9/9) Celebrating Bill Cunningham marks the New-York Historical Society's recent acquisition of objects, personal correspondence, ephemera, and photographs that reflect the life and work of Bill Cunningham. One of the late 20th century's most influential trend-spotters and style authorities, the legendary New York Times journalist and photographer was frequently spied on the city's streets, at fashion shows, and elegant soirées capturing images of New York's fashion innovators and cultural glitterati. Among the highlights of Celebrating Bill Cunningham are a bicycle that he rode around the city; his first camera, an Olympus Pen-D, 35mm; signature blue jacket; personal photographs of Cunningham at home and with friends; correspondence, including a few of the hand-made Valentines he frequently sent to friends; and a New York City street sign, "Bill Cunningham Corner," that was temporarily installed at Fifth Avenue and 57th Street in his honor, following his death. Soon after he arrived in New York, Cunningham worked as a milliner, and items on view from his millinery line, William J., include an innovative beach hat, along with other hats and fascinators; and a press release written for the William J. spring 1960 millinery show. Also on display are selections from Cunningham's Facades, his eight-year photographic project documenting New York City's architectural and fashion history, which was shown at the museum in 2014.
(Now-10/8) Heavenly Bodies at the Metropolitan Museum of Art and The Cloisters. Heavenly Bodies: Fashion and the Catholic Imagination reflects the influence of religious art, ceremony, and imagery on clothing design. It's a sprawling show, literally—encompassing 65,000 square feet and 25 galleries, including The Cloisters (the museum's uptown branch dedicated to medieval art, housed in reconstituted European chapels and cloisters) and parts of the Lehman Wing, the Costume Center, and the medieval and Byzantine art galleries at The Met itself.
(Now-9/9) Surface/Depth: The Decorative After Miriam Schapiro at the Museum of Arts and Design (MAD). In June of 2015, Miriam Schapiro, the pioneering feminist artist and founding member of the Pattern and Decoration movement, passed away at the age of ninety-one. Surprisingly, given her status as the elder stateswoman of the feminist art movement, the tremendous impact of her oeuvre on contemporary art has yet to be fully acknowledged or critically assessed. This exhibition seeks to redress this gap in the history of American art through an exploration of Schapiro's signature femmages, the term she coined to describe her distinctive hybrid of painting and collage inspired by women's domestic arts and crafts and the feminist critique of the hierarchy of art and craft. You can read more about it here.
(Now-12/2/18) Art of the Mountain: Through the Chinese Photographer's Lens at the China Institute. Featuring over 60 photographs from a range of modern Chinese photographers, this exhibition will allow visitors to consider the role of mountains in China's geography, history, art, and philosophy.
(Now-10/14) The American Folk Art Museum presents Charting the Divine Plan: The Art of Orra White Hitchcock, which brings together aspects of art, love, science, and religion, as expressed by one of America's first female scientific illustrators. Working in the mid-19th century, Orra White Hitchcock was equally skilled in the natural sciences and in art, and her illustrations of plant life, geological formations, fossilized animals, and dinosaur tracks were used in Amherst College lectures and the  scientific journals of the day. The exhibition puts on display Hitchcock's rarely seen drawings and paintings, some up to 10 feet long, which demonstrate both scientific clarity and an unexpected modernity.
(Permanent)The Jim Henson Exhibitionat the Museum of the Moving Image will celebrate the life and legacy of the famed Muppet creator, exploring both his prolific career and the enduring effect his work has on pop culture to this day. Visitors can expect to learn more about the creation of such beloved works as The Muppet Show, Sesame Street, Fraggle Rock, The Dark Crystal, and Labryinth, as well as to discover the cutting-edge experimental works Henson made throughout his career.
(Permanent) The Museum of the City of New YorkpresentsNY at Its Core. Ten years in the making, New York at Its Core presents the compelling story of New York's rise from a striving Dutch village to today's "Capital of the World." The exhibition captures the human energy that drove New York to become a city like no other and a subject of fascination the world over. Entertaining, inspiring, important, and at times bemusing, New York City "big personalities," including Alexander Hamilton, Walt Whitman, Boss Tweed, Emma Goldman, JP Morgan, Fiorello La Guardia, Jane Jacobs, Jay-Z, and dozens more, parade through the exhibition.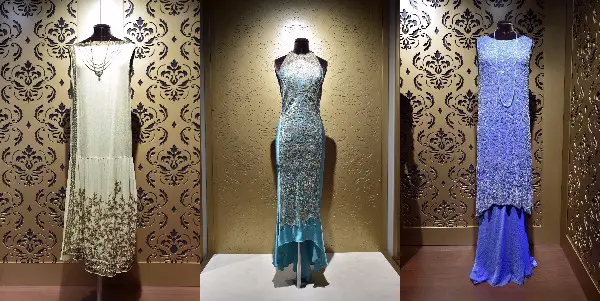 (Now-9/3) Extended! Downton Abbey: The Exhibition, based on the beloved television show Downton Abbey. Be transported to post-Edwardian England, where the characters and the iconic house come to life. You'll be immersed in the fascinating social history, culture, and some of the most memorable moments and sets from the show's six-season run, including Mrs. Patmore's kitchen and the servants' quarters.
Things to Do in New York in August: Comedy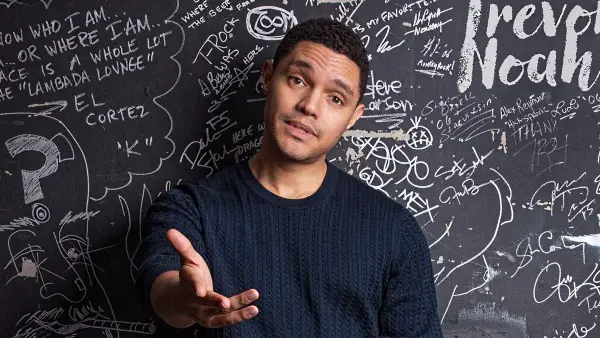 (8/12) Comedy Central's Trevor Noah at The Rooftop at Pier 17.
PLUS
(8/1) Homo Comicus at Gotham Comedy Club.
(8/1) Amy Schumer at The Rooftop at Pier 17.
(8/3-8/4) From HBO's Silicon Valley,Jimmy O Yang at Carolines.
(8/7-8/8) The Break's Michelle Wolf performs at The Bell House.
(8/17) Gina Yashere at Gotham Comedy Club.
(8/17-8/19) Breaking Bad's Lavell Crawford at Carolines.
(8/20) Jen Kirkman Live in Brooklyn at Union Hall. 
(8/25) Chad Daniels at Gotham Comedy Club.
Things to Do in New York in August: Kids

(8/25) The Arthur Ashe Kids Day, part of the 2018 U.S. Open in Queens, offers a fun-filled Saturday of tennis clinics, performances, face painting, and more! arthurashekidsday.com. Tix here.
PLUS
(7/11-8/26) Summer Kid Matinees at the Museum of the Moving Image, including Yellow Submarine, The Muppet Show, The Greatest Showman, and more. 11am.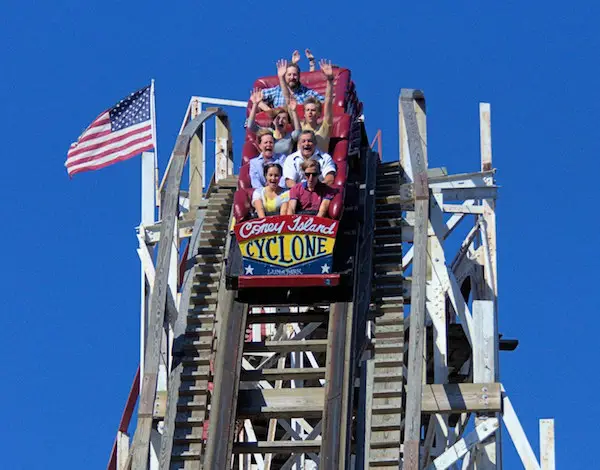 (Ongoing)Luna Park in Coney Island is open!! Grab the family, get a Luna pass and ride the Cyclone or the Cozmo Jet, plus stroll the beach with a hot dog and more!
(New) The Smash Dash game at Ripley's Believe It or Not! Times Square will keep kids on their toes! Keep your reflexes sharp, in this all-new race against time. Here is a coupon!
(Ongoing) Kids of all ages will want to check out Gulliver's Gate, a $40 million extravaganza that allows visitors to travel the globe without leaving Times Square. Latin America, Asia, the Middle East, Russia, and Europe are all here in incredibly detailed miniature. And don't let that word "miniature" fool you—Gulliver's Gate feels like it covers acres, stretching a full city block with the wonders of the world.
(ongoing) Aspiring scientists and astronauts will want to explore the New York Hall of Science in Queens, brimming with interactive exhibits (plus an outdoor playground).
Things to Do in New York in August: Music &Nightlife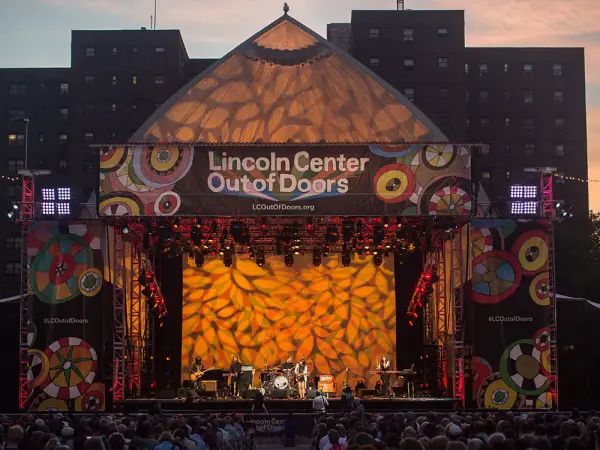 (7/24-8/12) Lincoln Center Out of Doors returns, NPR's Music Turning the Tables with Carly Rae Jepsen, Jamila Woods, I'm With Her (8/1). lincolncenter.org
PLUS
(7/29-8/25) 44th Annual Harlem Week Festival , harlemweek.com
(8/2) Kings of Leon at Pier 17.
(8/3) Patty Smyth and Scandal at Brooklyn Bowl. 
(8/4) Toots and The Maytals at Brooklyn Bowl. 
Photo: Agaton Strom
(Through 8/9) Enjoy Cocktail Thursdays at the Cooper Hewitt Museum.
(7/23-8/17) NYC Restaurant Week.
(now-8/13) The popular free Shakespeare in the Park program returns to Central Park, with Twelfth Night). 
(7/25-8/20) Mostly Mozart Festival at Lincoln Center.
(7/26-8/5) Screenings of 2001: A Space Odyssey at the Museum of the Moving Image, celebrating the film's 50th anniversary.
(8/1-8/2) Lord Huron at Brooklyn Steel.
(8/3) Wasabassco Burlesque at City Winery.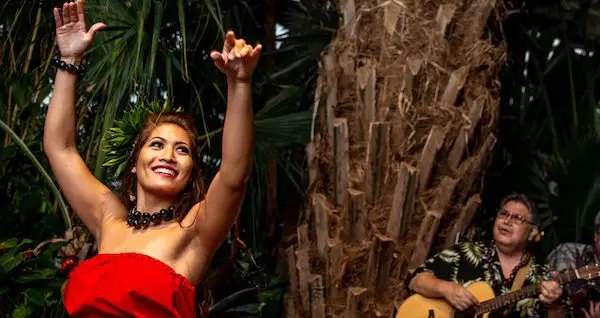 (8/4, 8/18) The incredible artistry of Modernist pioneer Georgia O'Keeffe is on display this summer at The New York Botanical Garden, just a quick trip from Grand Central in the Bronx. Select Saturday evenings celebrate the rich cultural artistry of the Hawaiian Islands with an after-hours viewing of Georgia O'Keeffe: Visions of Hawai'i and interactive hula lessons, live music, lei-making demonstrations, and Aloha Nights's signature cocktail; the Passiflora Punch.
(8/7-8/8) A Very Special Evening with Regina Spektor Solo at Brooklyn Steel.
(8/10) Shakira: El Dorado World Tour stops by Madison Square Garden.
(8/11) Morris Day & The Time at Sony Hall.
(8/13) Cold War Kids at Brooklyn Steel.
Photo: Bachrach Photograph
(8/17) Rufus Wainwright performs at the Capitol Theatre in Port Chester.
(8/17) Cake and Ben Folds perform at Forest Hills Stadium.
(8/21) Michael McDonald at Pier 17.
(8/21-8/22) Jeff Lynne's ELO at Madison Square Garden.
(8/23) Billy Joel at Madison Square Garden.
(8/24) Buster Poindexter at City Winery.
(8/24) Percussionist Sheila E. at Sonny Hall. 
(8/25) Gladys Knight and the O'Jays at Pier 17.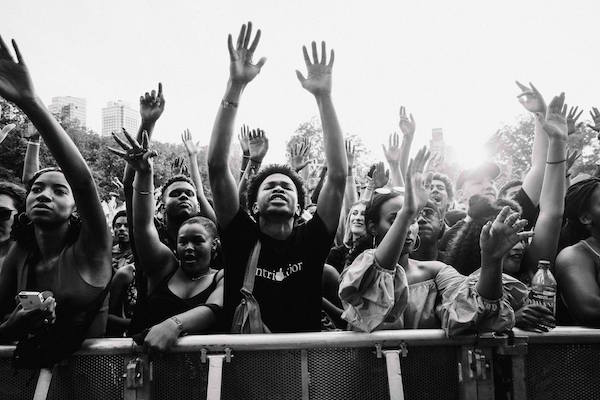 (8/25-8/26) Afropunk Festival at Commodore Barry Park, Brooklyn, with Janelle Monae, Erykah Badu, Lolawolf, Blackpantera, and many others.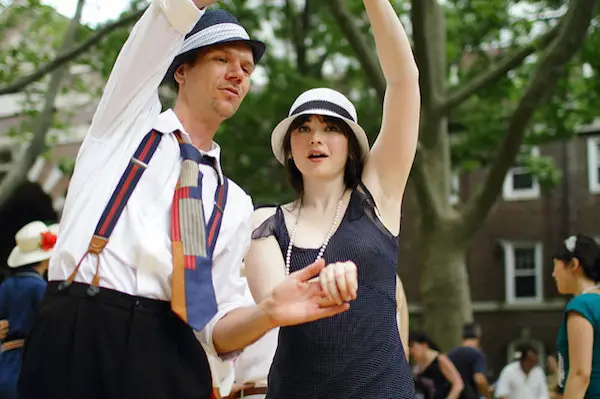 (8/25-8/26) The Jazz Age Lawn Party on Governors Island. Just a short ferry ride from Brooklyn or Lower Manhattan will bring you to festivities the whole family can enjoy. The weekend celebrates the 1920s with dancing lessons and a Charleston dance contest, a motorcar exhibition, a pie contest, and more! jazzagelawnparty.com
(8/30-9/1) Drake: Aubrey & The Three Migos Tour at Barclays Center. 
For information on LGBT nightlife, visit our brother site metrosource.com!
Things to Do in New York in August: Sightseeing
(8/18) The Blues BBQ Festival at Pier 97 will feature tasty goodness from Arrogant Swine, Dinosaur Bar-B-Cue, and Fort Gansevoort BBQ. There's also live entertainment, with The Slam Allen Band, Danielle Nicole, Welch Ledbetter Collection, and more!
PLUS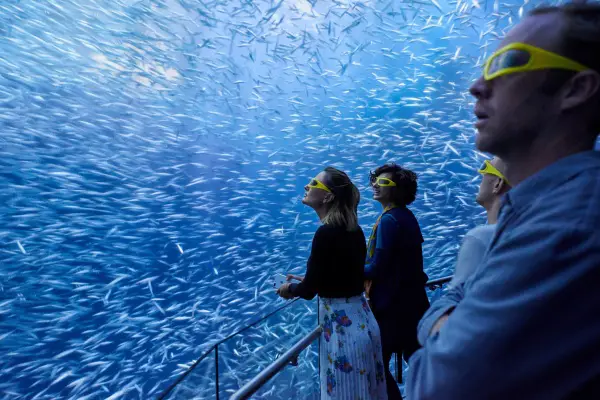 Immerse yourself in the deep, dark depths of the ocean, where Humboldt squid fight to the death, 50 foot whales ride overhead, play with sea lions, navigate a sea kelp maze and more at National Geographic Encounter: Ocean Odyssey! And on Fridays throughout the summer enjoy a FREE glass of wine or a non-alcoholic beverage, after 4pm. Here is a $5 off coupon.
It's back! Ride THE BEAST and experience NYC's custom-built offshore racing powerboat, the BEAST! Zoom across the water at a heart-pounding 45mph on a ride down to the Statue of Liberty and back!
New! Check out NYC's hottest new museum, exploring the world of espionage, SPYSCAPE!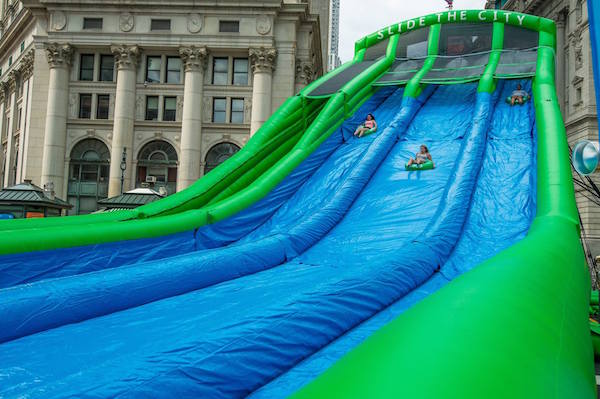 (8/4, 8/11, 8/18)Citi Summer Streets returns to make a splash with traffic-free stretches of roadway opened up across the city. Centre Street in Lower Manhattan will be transformed into a makeshift beach and waterpark, including a giant 300-foot waterslide. New this year, a water park shaped like a dishwasher. Get an early start: Citi Summer Streets runs from 7am-1pm.
(8/11-8/12) The 28th Annual Hong Kong Dragon Boat Festival at Flushing Meadows Corona Park in Queens. hkdbf-ny.org
(8/29) India Parade NYC 2018 fianyjct.org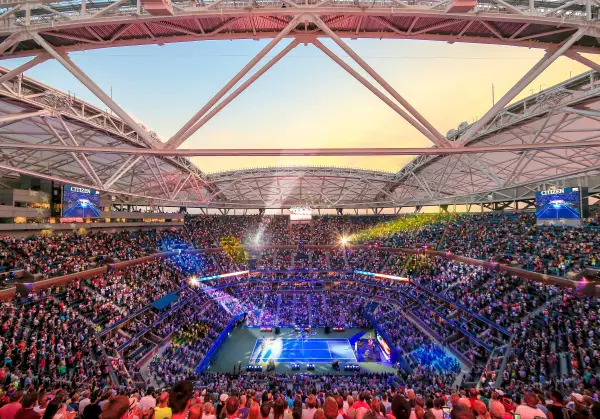 (8/28-9/10) We can think of one good reason to look forward to the end of the summer, especially if you're a big-time tennis fan: the 2018 U.S. Open Tennis Championships, held right here in New York City. This will be the tournament's 137th year, with Flushing Meadows, Queens hosting all the excitement. One of the most prestigious events in tennis, the U.S. Open is the final event in the Grand Slam, following the Australian Open, French Open, and Wimbledon. The matches are easily reached by subway; some 700,000 fans attend the U.S. Open every year. Tickets for the biggest matches can be scarce, but with tennis of this caliber, even a warm-up rally on a side court can be thrilling. For grounds passes and tickets to the courts, Prominent Tickets can help. Just getting onto the grounds is exciting, and you'll find a full range of food to keep your energy from flagging. usopen.org
==============================================
==============================================
Top 10 Things to Do in August in NYC
This post lists the many great things to do in NYC in August, including a top 10 list, free events, family-friendly activities and things to do at night. For even more suggestions, see our comprehensive guide to Things to Do in NYC.
---
TOP 10 THINGS TO DO IN AUGUST
This is our list of the ten best events/attractions in New York City in August. Many of these are family-friendly, free and perfect for day or night.
If you are considering visiting many of NYC's top attractions, consider buying a tourist discount pass, which could save you a lot of money. Our post comparing NYC Tourist Passes can help you see if a pass is right for you.
Also, bus tour companies, including hop-on-hop-off buses, also offer discounts and deals.
Sign up to our newsletter and receive a free City Guide
---
(1) Get out on the water! (family-friendly)
Cool off with cool views of New York City. It doesn't cost much to get out into the beautiful NYC Harbor.  Take a New York harbor cruise for FREE on the Staten Island Ferry. You can ride the ferry day or night- why not do both!
It departs from Lower Manhattan, so you might enjoy pairing your free boat ride with one of our pay-what-you-like Lower Manhattan Tours.
Also, check out the many New York Boat Tours and Excursions you can take, such as the Circle Line and other affordable, fun cruises. Consider taking a ride on the East River Ferry which costs the same as a subway ride but with a much nicer view.
---
(2) Take a Walking Tour 
July is an excellent month to take a walking tour pretty much anywhere in New York City. That being said, if you want to avoid being out in the sun during the middle of the day, we recommend planning to take either a morning or night tour.
We offer pay-what-you-wish walking tours in several neighborhoods throughout the city. Whether you want to see the Brooklyn Bridge, Lower Manhattan, Greenwich Village or Central Park, chances are we provide a tour of the area.
Some of our services are offered daily, but others are only available once a week or less. Please keep this in mind and make your reservations early to avoid missing out.
For more ideas, check our NYC walking tours post
---
(3) Jazz Age Lawn Party  – August 25 & 26 (family-friendly) 
You don't need to dress in your finest flapper dress or seersucker suit to come out and enjoy fabulous music by the Dreamland Orchestra. There will be a Charleston dance contest (along with lessons), food, 1920s cars, croquet, and fun for the kiddies.
Get the low-down at their website. This is a ticketed event and is held on Governors Island.
Even if you don't feel like a lawn party, make time to visit Governors Island. Our post on Governors Island can give you directions and other important details about this one of a kind place.
---
(4) Attend a Concert 
August has some amazing performers arriving in NYC. Here are just a few to see. You can also see some great free music at Summerstage and Prospect Bandshell (see below in our FREE section).
If you didn't already know, Madison Square Garden offers an All Access Tour where you can see behind the scenes.
---
(5) See a Sports Event!  (family-friendly) 
Three thrilling sports to choose from this month. We've got good old baseball, two of Europe's best soccer teams, and pre-season American football.
Baseball  
Yankees August Home Schedule (click for ticket information)

August 1 (vs. Baltimore Orioles)
August 9-12  (vs. Texas Rangers)
August 14-16 (vs. Tampa Bay Rays)
August 17-19 (vs. Toronto Blue Jays)
August 27-29 (vs. Chicago White Sox)
August 30-31 (vs. Detroit Tigers)
TIP:  The classic tour of Yankee Stadium is available with both the New York Pass and the Explorer Pass. For more information, check our post about New York tourist passes.
Mets August Home Schedule (click for ticket information)

August 2-4 (vs. Atlanta Braves)
August 6-8 (vs. Cincinnati Reds)
August 20-23 (vs. San Francisco Giants)
August 24-26 (vs. Washington Nationals)
TIP: You can get a free ticket to either a Mets or Yankees game with the Freestyle Pass. The classic tour of Yankee Stadium is also available with both the New York Pass and the Explorer Pass. For more information, check our post about New York tourist passes.
---
Football  (Games played at MetLife Stadium. For instructions on how to get there, click here.)
Jets August Home Schedule (click for ticket information).

August 10 (vs. Atlanta Falcons)
August 24 (vs. New York Giants)
Giants August Home Schedule (click for ticket information).

August 9 (vs. Clevland Browns)
August 24 (vs. New York Jets)
August 30 (vs. New England Patriots)
---
Soccer (Football)
Real Madrid C.F. vs. A.S. Roma  – August 7 at MetLife Stadium. The best of the best come from Europe to compete for the International Champions Cup.  For instructions on how to get to MetLife Stadium, click here.
---
(6) Soar to the Top of a Skyscraper (family-friendly) 
In summer, the city's tallest observation decks stay open late. The Empire State Building is open until 2 am, and the Top of the Rock and One World Trade Center Observatory are both open until midnight.
If you aren't sure which view is best for you, read our post about the pros and cons of each of them.
There are also free options and you can find them in our post, Where to get the best free skyline views of NYC.
---
(7) NYC Restaurant Week  – August 1-18  (kid-friendly)
Restaurant Week (which starts in late July) gives you the chance to try NYC's top restaurants at a fraction of their normal prices.
This year, two-course lunches are priced at $26 and three-course dinners are $42. Reservations can be made after July 9th when the participating restaurants are announced. See below for our recommendations of kid-friendly restaurants.
Use the tips in our post on Restaurant Week to get a seating at the restaurant of your choice.
---
(8) Free Shakespeare in Central Park  – August 1-19 
This annual festival starts in mid-July but continues through August, with star-studded performances of Twelfth Night. It takes some logistical planning but it truly is worth the effort. Our post on How to get Shakespeare in the Park tickets is a necessity if you want to get a leg up in scoring these desirable tickets.
TIP:  To find out everything you need to know about Central Park including maps, activities, tours and more see our Comprehensive Guide of things to do in Central Park.
---
(9) Giglio Feast of Saint Antonio  –  August 11 & 12 (family-friendly) 
This traditional festival in East Harlem celebrates Italian culture with plenty of food, music, and traditional dance.  The Giglio is an 80-foot-tall, three-ton statue which will be paraded down the streets along with a moving stage holding a 12-piece band. Find out more information here.
Tip: If you want to stick with the more famous Italian enclaves in the world, join us for our SoHo, Little Italy and Chinatown Tour and check out our list of Little Italy Restaurants and Other Things to See.
---
(10) Dragon Boat Festival –  August 11 & 12  (family-friendly) 
A great excuse to check out the borough of Queens! It's a race of 170 dragon-boat teams on the very big Meadows Lake, in Flushing Meadows Park in Queens. Besides boats, there will be traditional dance, martial arts, music, folk art, and Chinese food. More information can be found here.
Tip: If Queens seems a bit far out of town for you, consider taking our pay-what-you-like Chinatown tour. You can also use our self-guided Chinatown tour.
---
FREE THINGS TO DO IN AUGUST
Below are just a few of the hundreds of free things you can do in NYC during August. Some of the events in the top ten section above, like riding the Staten Island Ferry, celebrating Harlem Day or watching the Dragon Boat Festival.
For year-round free things to do see our comprehensive post about Free Things to Do in NYC.
---
Broadway in Bryant Park  (family-friendly)
Bring a blanket to Bryant Park and see the stars of current on and off-Broadway shows perform. Get more information here. If you prefer to see a full show but not pay full price there are several ways get discount tickets to Broadway shows. You can use the TKTS Discount Theatre Tickets Booths or try some of the other ways to Get Cheap Broadway Tickets.
While you are in Midtown, consider joining us on one of our pay what you like tours of Midtown Manhattan. If you prefer, explore on your own with our downloadable self-guided tour of the area or try out our GPS Audio Tour!
---
Get Free Tickets with A Tourist Discount Pass
Admittedly, these passes have a cost. However, if you plan well, you will essentially get several tickets to attractions or tours each day for free. Tourist discount passes work by bundling multiple tickets into one price, usually between 20%-50% the retail price.
Read our post comparing the different tourist discount passes.  Several bus tour companies, including hop-on-hop-off buses, also offer discounts and deals.
---
Harlem Day  – August 19 (family-friendly) 
This day-long festival is the culmination of Harlem Week. Head up to Harlem to see live music of all genres from Jazz, R&B Musical Theatre, Hip Hop, and Gospel. There will be arts & crafts, fashion shows, and local food.
Tip: To learn about Harlem's history, come along on our pay-what-you one of our Harlem Tours. We also have an audio-tour. You might find our Things to Do in Harlem post helpful.
---
Summer Streets  (family-friendly)
Every Sunday in August from 7 am-1 pm, New York City closes off main thoroughfares to vehicular traffic – in other words, NO CARS! Almost 7 miles of open streets with 5 rest stops are free to roam on anything that will move except vehicles.
This is the PERFECT time to rent a bike and see the city from a totally new perspective. For good deals on rentals, see our post, Best Bike Rentals in New York City.
---
Kayak under the Brooklyn Bridge (family-friendly)
Head over to Brooklyn Bridge Park in DUMBO and enjoy a free 20-minute kayak ride. It's quite safe and unlike anything you have done before. See the Brooklyn Bridge from underneath! Click here for more information.
A great way to complement your kayaking is to join us on our 9:30 am pay-what-you-like Brooklyn Bridge, Brooklyn Heights and DUMBO Tour which runs every day at 9:30 am and finishes right near the Kayak Launch Pier in Brooklyn Bridge Park.
---
Good Morning America Concert Series
Great for early birds and lovers of top pop stars!  This year the August schedule is August 3-Kelsea Ballerini, August 10- The Chainsmokers, August 17- Leon Bridges, August 24- Luis Fonsi, and August 31- Alesso.  To find out more about attending or possibly getting VIP tickets, see our post, Good Morning America Summer Concert Series VIP Tickets. To see a taping of Good Morning America, see our post on how to attend a live TV show taping.
---
THINGS TO DO AT NIGHT
Many of the activities included in our top 10 section above can be enjoyed at night as well such as attending a concert, seeing Shakespeare in the Park or seeing a baseball game. Here are a few more ideas on how to spend a great night in New York City.
For even more ideas, see our post Things to Do in New York City at Night.
---
Take a Night Bus Tour
A night tour on an open-top double-decker bus is a wonderful way to see more of the city while giving your feet a break from all that walking!
With so many tours out there, you may want to read our post comparing New York City bus tours as you might decide this is a good way to spend your night in New York.
Many tourist passes include a Night Bus Tour, so you may want to look at our post comparing NYC Tourist Passes before buying tickets.
If you prefer walking, we offer several pay-what-you-wish Night Tours including a Brooklyn Bridge and 9/11 Memorial tour, a stroll along the High Line and another in Central Park.
---
Walk over the Brooklyn Bridge (family-friendly)
The Brooklyn Bridge can be walked over 24 hours a day. We definitely do not recommend you taking a 4 am stroll.
But for those who want some guidance to enjoy the Bridge when the sun goes down, join us for our combined 911 Memorial and Brooklyn Bridge Night Tour.  It runs Tuesday, Fridays and Sundays at 7:30 pm from March through October.
You can also combine your walk over the Bridge with the Thursday night free movie screenings in Brooklyn Bridge Park, listed just below.
---
Free Outdoor Movie Screenings (family-friendly)
Practically every night of the summer months you can find a free, outdoor movie screening. Here are the best series:
Movies with a View – Every Thursday, you can see a free movie in Brooklyn Bridge Park's Pier 1's. Movies start at sunset but arrive early as the open lawn fills up quickly.
Bryant Park Movie Night – Every Monday. Go early if you want a spot on the lawn and watch some great films surrounded by the city's shimmering lights.
Movies Under the Stars — Many of the parks around NYC host nightly, outdoor screenings of famous films — all of which are free!
For even more choices see our New York City Summer Guide.
---
Free Outdoor Concerts 
Summerstage in Central Park Every year, the list of performers at this festival in Central Park draws famous and talented performers. Most performances are free.
Celebrate Brooklyn! These free concerts are held in Prospect Park in Park Slope. The line-ups are quite impressive considering that they are free. Combine a free show with a stroll around this neighborhood you've seen in TV and movies. Our Park Slope and Prospect Park Self-Guided Tour can guide you to the prettiest parts of this charming part of NYC.
---
Stargaze with an Astronomer
Every Tuesday in August, head to the one-of-a-kind High Line Park to gaze at the stars, planets, and moon through high-powered telescopes. Experts are on hand to answer any questions. Arrive by dusk. There is no charge for this activity. Click here for more information.  Learn more about the High Line, with our Guide to the High Line or our GPS audio tour.
============================================
============================================
From classical music to contemporary dance,
Lincoln Center
is jam-packed with free events to enjoy through the end of summer, in addition to the world-class year-round lineup of free events at the David Rubenstein Atrium.
See the calendar
for a list of all upcoming events.
August 1–5

Photo by Phil Chu

POP-UP Duets (fragments of love) on the Plazas of Lincoln Center

Lincoln Center's campus becomes the stage for this "richly inventive, wonderfully perceptive" set of duets (Herald, U.K.) from acclaimed Scottish choreographer Janis Claxton. Over the course of nine encounters, pairs of dancers emerge from the crowds to offer ephemeral glimpses of love and affection, from overt flirtation to secret passions, all set to a gorgeous score by Pippa Murphy. A unanimous hit at the 2016 Edinburgh Fringe Festival, Duets will delight visitors during the second week of Lincoln Center Out of Doors.

August 1

Photo by Shervin Lainez

NPR Music's Turning the Tables Live: 21st Century Addition at Damrosch Park

Last summer, NPR Music and Lincoln Center radically changed how we talk about the history of popular music with the publication of the 150 Greatest Albums Made By Women list and a live show at Lincoln Center Out of Doors celebrating those albums. This marked the beginning of the Turning the Tables project, a challenge to think bigger about music's past, present, and future by highlighting voices often relegated to its margins. This year, NPR's Turning the Tables Live: 21st-Century Edition shifts focus toward a new generation of artists claiming center stage. To celebrate, we present a night of music and conversation with Grammy-nominated, multiplatinum recording artist and singer-songwriter Carly Rae Jepsen; visionary Chicago R&B artist and poet Jamila Woods; Americana supergroup I'm With Her; and more.

August 2

International Contemporary Ensemble Composers' Forum at the Bruno Walter Auditorium

Composers Courtney Bryan, Ashley Fure George Lewis, and Michael Pisaro, whose works will be performed during the Mostly Mozart Festival, join members of the International Contemporar Ensemble for a free discussion of their works, the creative process, and the future of classical music.

August 2

Negro Leo at the David Rubenstein Atrium

"A true original" (Sputnik Music) out of Brazil's flourishing experimental music scene, singer-songwriter Negro Leo uses free jazz, funk, noise, Brazilian popular music, tropicalia, and no wave as the building blocks of a colorful and surreal musical universe. Long associated with the label Quintavant and the Rio club Audio Rebel, he has recently made the move to São Paulo, where he recorded his ambitious new album Action Lekking.

August 2

OkayAfrica's Mzansi Heat & Naija Beats at Damrosch Park

OkayAfrica—the online hub of the African New Wave—brings two superstars and one of the top Afrobeat DJs in the world to Damrosch Park for this high-octane party. Drawing on everything from Ghanaian highlife, Ivorian coupé-décalé, and American hip-hop, the Nigerian "Queen of Afrobeats" Yemi Alade (Fader) lights up the stage with power vocals and irrepressible charisma. DJ Maphorisa, the multiplatinum South African producer known for his banging blend of house and Afropop, and New York's own DJ Tunez, known in NYC for his Blackout parties and worldwide for collaborations with Wizkid, Davido, and more, will keep you feeling great all night long.

August 3

Peter Wolf & Super Soul Banned at Damrosch Park

Known to '70s FM radio kids and early MTV fans as the lead singer of the J. Geils Band ("Centerfold," "Love Stinks"), Peter Wolf is a sharp songwriter and eternally hip character who possesses an encyclopedic command of blues, pop, funk, soul, bluegrass, and rock. Super Soul Banned—legendary drummer Steve Jordan's all-star funk project featuring Kool & the Gang's Ronald Bell, the Beastie Boys' Mix Master Mike, guitarist Ray Parker Jr., and artists that have played with everyone from Stevie Wonder to Sonny Rollins—are the perfect traveling companions for Wolf's "tour de force excursion through the landscape of American music" (All About Jazz).

August 4

Photo by Claudia Norman

La Casita on Hearst Plaza

Through poetry, music, and stories, a powerful community of artist-activists give voice to the everyday heroes working to uphold and extend LGBTQ, women's, civil, immigrant, and human rights.

August 4

Photo by Rachel Neville

Dance Theatre of Harlem: ALA.NI at Damrosch Park

For 50 years, Dance Theatre of Harlem has been spreading a message of empowerment through the arts. In recent years, the historic company has used its superlative, multiethnic group of artists to present a powerful vision for ballet in the 21st century. For this celebratory evening, the company dances signature works that embody this impressive legacy. The magic of the night begins with London-born, Paris-based singer-songwriter ALA.NI, who brings the spirit of Billie Holiday and Judy Garland to her jewel box of intimate songs.

August 5

Photo by Deborah Ross

Heritage Sunday: 1:00–7:00 pm

Made in NYC: Celebrating the 50th Anniversary of the Center for Traditional Music and Dance on Hearst Plaza

For this 50th birthday celebration, the Center for Traditional Music and Dance calls upon some of its favorite artists—many of whom got their start with CTMD—for an eclectic, energetic afternoon of music reflecting the diversity of New York City's neighborhoods. Among the guests are klezmer pioneer Andy Statman, Irish-American supergroup Cherish the Ladies, the groundbreaking Afro-Colombian band Grupo Rebolu, and the miraculous Guinean dancer, drummer, and singer Sidiki Conde and his group Tokounou.

Heritage Sunday Dance Party featuring DJ Rekha on Josie Robertson Plaza

DJ Rekha—the visionary behind NYC's legendary Basement Bhangra parties—oversees the Heritage Sunday dance party around the Revson Fountain.

August 5

Photo by Claudia Norman

La Casita at the Teatro Pregones

Through poetry, music, and stories, a powerful community of artist-activists give voice to the everyday heroes working to uphold and extend LGBTQ, women's, civil, immigrant, and human rights.

August 5

Yoruba Remixed! at Damrosch Park

Join the Caribbean Cultural Center as they celebrate the legacy of its founder Marta Moreno Vega with music and dance inspired by West African Yoruba traditions. Dance performances by the Something Postitive Dance Company open and close this evening that also features live music from Puerto Rican ensemble Yuba Iré and two celebrated Miami bands—Philbert Armenteros y Los Herederos and PALO! In between, world-renowned DJs keep the vibe going with sets of remixed Yoruba songs.

August 8

Sun Ra Arkestra at Damrosch Park

"The music is different here. The vibrations are different here." So opens the 1972 Afrofuturist sci-fi film Space Is the Place by jazz cult-icon Sun Ra. But these words could also apply to (le) poisson rouge, the Bleecker Street club known for its diverse, open-minded programming. This cosmic evening, part of LPR's 10th-anniversary celebrations, builds up to the Sun Ra Arkestra's live performance of the score to the film, in which Black people create their own paradise on Saturn, transported there by music. Getting us to that place tonight are the beloved songs of Bill Withers ("Ain't No Sunshine When She's Gone," "Just the Two of Us") performed by Blue Note jazz and R&B artist José James. Jazz pianist and composer Samora Pinderhughes opens with The Transformations Suite, a musical examination of the radical history of resistance within communities of the African diaspora.

August 9

Photo by Armen Elliott

A Wave and waves performed by the International Contemporary Ensemble at the David Rubenstein Plaza

Echoing the environmental themes and communal experience of John Luther Adams's In the Name of the Earth, Michael Pisaro's 75-minute piece embeds audience members in a grid of 100 performers, where they are slowly submerged in an ocean of sound. Isolated, imperceptibly soft noises—sandpaper on stone, seeds falling on glass, bowed bells—are layered into powerful waves of sound adding to the immersive nature of the experience. A work of monumental scale, presented with uncommon immediacy, a wave and waves melds microscopic moments of friction, gravity, and vibration into a single, pulsing organism.

August 10

Photo by Sarah Escarraz

West Side Story Reimagined at Damrosch Park

Leonard Bernstein's score to West Side Story fused progressive big-band jazz, lyric opera, modern dance, and Latin rhythms into a groundbreaking masterpiece that revolutionized the Broadway musical. Celebrate Maestro Bernstein's centennial year with the Grammy-nominated Bobby Sanabria Multiverse Big Band. Just a few blocks from where the opening of the film was shot, they reimagine the timeless instrumental score using traditional Afro-Puerto Rican, Cuban, Dominican, Brazilian, Venezuelan, and Mexican rhythms, funk, rock, and jazz. Poets La Bruja and Rich Villar kick off the evening with an electrifying set of spoken word.

August 11

Photo by Patra Kongsirimongkolchai

In the Name of the Earth at the Harlem Meer, Central Park

Join together with hundreds of neighbors, visitors, and singers in the northernmost part of Central Park for the world premiere of In the Name of the Earth, a large-scale choral work by Pulitzer Prize–winning composer John Luther Adams. In this commission for four choirs led by the incomparable Simon Halsey, nearly 800 experienced and amateur singers transform the names of North American rivers, lakes, mountains, and deserts into a communal meditation on Adams's holy trinity: the Earth, the Water, and the Holy Wind. Experience geography in sight and sound as you move around the beautiful water of the Harlem Meer and through an enveloping sound world created by 360-degree singing.

August 11

Photo by Chris Strong

Mavis Staples & Joe Henry at Damrosch Park

For the past six decades, American music icon Mavis Staples has been a beacon of spiritual fortitude for artists from Bob Dylan to Wilco's Jeff Tweedy, whose third collaboration with Staples, If All I Was Was Black, was released to critical acclaim in 2017. Tonight, she brings us together with the power of her voice and a message of strength, perseverance, and love that is as vital today as it was when she and her family sang alongside Martin Luther King Jr. Grammy-winning producer and singer-songwriter Joe Henry, who has worked with Allen Toussaint, Bonnie Raitt, Elvis Costello, and many others, adds his poetic storytelling to this inspiring evening of song.

August 12

Photo by Danielle Holbert

Margo Price, Lukas Nelson, & Promise of the Real at Damrosch Park

With her infectious blend of Nashville country, Memphis soul, and Texas twang, Margo Price is "one of the most compelling country talents to come out of Nashville in recent memory" (Vulture). She brings unflinching honesty and vivid songcraft to nuanced portraits of men and women just trying to get by, evoking everyone from Waylon and Willie to Loretta and Dolly along the way. Price splits the night with singer-songwriter Lukas Nelson (Willie's son) and his band. On tour with Neil Young in recent years, they've built a devoted following for their distinctive brand of cosmic country soul.

August 16

Photo by Romina Hendlin

Jorge Glem at the David Rubenstein Atrium

Using unconventional techniques, Grammy-nominated singer-songwriter Jorge Glem draws a seemingly limitless array of sounds from the cuatro, a four-stringed Venezuelan folk instrument. Glem, who has shared the stage with artists such as Paquito D'Rivera, Jordan Rudess, Rubén Blades, Carlos Vives, and Calle 13, is an unwavering champion of the instrument both on stage and through his #4CuatroMusic movement on social media. Experience the full power of Glem's cuatro revolution at this free show.

August 23

Soukous All Stars at the David Rubenstein Atrium

Join several generations of music stars from the Congo basin for a night of soukous, the fast-paced, highly danceable fusion of traditional Congolese melodies and Afro-Cuban rhythms. With guitars, percussion, vocals, and dancers, this 12-piece band shakes up the Atrium with the infectious dance music that has thrilled revelers from Kinshasa to Nairobi to Paris.
==============================================
==============================================
Cultural festivals on the water, the ultimate burger competition, naked theater and more of the best things to do in New York City in August.
Published : July 31, 2018
1 of 4

Hudson River Park's Blue BBQ Festival

2 of 4

Coney Island Sand Sculpting Contest

3 of 4

Summer Streets|NYC Department of Transportation, Facebook

4 of 4

Battery Dance Festival|Provided
The last month of summer is not slacking off. August is full of perfoming arts festivals on the water, traditions like Coney Island's sand castle contest and the final edition of the Jazz Age Lawn Party and the year's largest video game festival (hey, we all need a break from the sun sometimes). So if you're looking for the best things to do in New York City in August, here's your guide.
Play in the middle of the street
For three days this month, one of New York City's busiest streets belongs to the people again. The Department of Transportation's wildly popular Summer Streets program shuts down Park Avenue from the Brooklyn Bridge to East 72nd Street to car traffic and turns it into a 7-mile block party open to pedestrians and cyclists with free entertainment, crafting, a zipline, an agility course for pups and tons more. Aug. 4, 11, 18; 7 a.m.-1 p.m., free, nyc.gov
Watch the ultimate dodgeball tournament
Turns out there's a whole league of people who weren't traumatized by dodgeball in elementary school. The 2018 Dodgeball World Cup comes to Madison Square Garden's Hulu Theater to celebrate what they call "one of the most inclusive and community driven sports on the planet," with competitors from Malaysia to Egypt and the U.K. vying for top honors. Aug. 4, msg.com
Pair unlimited wine with desserts
If an outdoor wine and dessert festival isn't peak summer, we don't know what is. Get to the LIC Flea & Food market in Queens for a whole weekend of more than 20 dessert vendors (churro empanadas and vegan doughnuts, anyone?) paired with curated bottomless wines at the Wine & Sweets Fest. Entrance to the event is free, but you'll need a ticket for unlimited wine (desserts are pay-as-you-go). Aug. 4-5, $39-$59, licflea.com
Performances with a view
There's no better backdrop than the harbor and Statue of Liberty, and that's just what you'll get at the Battery Dance Festival. The city's longest-running free public dance festival takes over the Lower Manhattan waterfront at Robert F. Wagner Jr. Park for six nights of modern performances by a wide range of professional troupes. Aug. 12-17, 7-9 p.m., free, batterydance.org
Lock down 2-for-1 Broadway tickets
The summer edition of Broadway Week 2018 isn't until September, but if you wait that long to get tickets you'll miss out on the hottest shows. Reservations open Aug. 15 when you can score two-for-one tickets to what is always a choice lineup of shows, both new productions and ones you've been meaning to see forever. nycgo.com
Possibly the last truly indie music festival
Elements NYC is for the music lovers who like to go off the beaten path when it comes to their art. BangOn!NYC makes its annual festival special with things like pirate ships and slip 'n' slides and even flaming stages, so leave your cute fest gear at home and come ready to get into the action. Aug. 11, $89-$169, bangon-nyc.com
Cheer on the dragons
Join one of the year's most colorful and exciting events, the Hong Kong Dragon Boat Festival, at Flushing Meadows Park. Though the main event is the more than 100 teams of dragon boat racers ranging from kids to seniors and professionals competing on the lake, there's plenty of entertainment onshore like performances by a Chinese orchestra, arts & crafts, martial arts demonstrations by Shaolin monks and a food court featuring Asian cuisines. Aug. 11-12, rain or shine, hkdbf-ny.org
Play all the games at Play NYC
New York City has a massive tech scene, including game developers, and you can play the newest titles from indie labels and the big guys at Play NYC. Created by Playcrafting, the coding and business education site for developers, the convention is "100% playable" meaning you'll be moving from game to game through the four floors of the Manhattan Center, with something for casual and hardcore gamers of all ages. Aug. 12, $33, play-nyc.com
A day to take it easy
We thought you should know that Aug. 15 is National Relaxation Day, so put it in your calendar as a day for some self-care. Whether that's making a date you'll keep with a friend, a spa appointment or taking a pool day is up to you. But seriously, you need this.
Crown New York City's best burger
Timeout's annual Battle of the Burger is always a good time. Come hungry because New York's best burger places will take over LIC Landing for a massive cookout to vie for your votes (and the judges) to be named the new champion of the grill. Attendees get unlimited burger tastings, complimentary Budweiser, sides and desserts by various vendors, plus live music and games. Aug. 16, must be 21+, $55-$75, eventbrite.com
Truly avant-garde theater in the park
Torn Out Theater challenges us to be radical in our body positivity by tackling the politics of nudity with each of their shows. After starting out with Shakespeare's The Tempest two summers ago, this year they've gone with The Rover, a play that explores sex work, to be performed among the trees of Prospect Park. Select days and times between Aug. 16-26, free (donations welcome), tornoutheater.org
Build the ultimate castle
Sand artist will create impressive, strange and towering sculptures on the shores of New York City's own amusement park during the 28th annual Coney Island Sand Sculpting Contest. The beach and Boardwalk from West 10th to 12th streets will be given over to the visionaries, and it's free to participate or gawk. Aug. 18, noon-4 p.m., free, wearebcs.org/sand
The chillest afternoon you'll have all summer
How does a cookout with some amazing blues artists sound? Hudson River Park's annual Blues BBQ Festival brings the good vibes to Pier 97, with a free concert lineup of blues and roots musicians playing while you enjoy some of the best barbecue to be found in the city. Aug. 18, 2-9 p.m., hudsonriverpark.org
Get woke at the queer Comic Con
The geek community is, ironically, not always the most accepting space. So the queer nerds of Geeks Out created the world's largest convention for all rainbow flag-flying fans, Flame Con. Get to the Sheraton Times Square for two days of comics and entertainment with special guests from the LGBTQ fandom, performances, screenings, cosplay and more. Aug. 18-19, $25-$65, flamecon.org
The dinner party we all want an invite to
Diner en Blanc started, as most good things do, in France, but the all-white dinner parties have become a global phenomenon. The date for New York hasn't been announced yet (it's usually closer to the end of August), but you'll want to register now for a chance at one of the few thousand tickets for one of the most magical nights you'll ever experience. newyork.dinerenblanc.com
https://www.instagram.com/p/BlvdKpmD-9R/embed/?cr=1&v=9&wp=1080&rd=www.metro.us#%7B%22ci%22%3A0%2C%22os%22%3A1788%7D
Spike Lee throws a block party
The King of Pop's legacy lives on in the annual BK Loves Michael Jackson hosted by Spike Lee. Shake it over to Do The Right Thing Way (Stuyvesant Avenue between Lexington Ave. and Quincy St.) for a free day of . Aug. 25, noon-7 p.m.
Step back in time to the Jazz Age
All the Dapper Dans and flapper girls head to Governors Island for two throwback weekends every summer where everything is from the 1920s and '30s. The spirit of the era lives again at the Jazz Age Lawn Party, with live music from headliner/host Michael Arenella and His Dreamland Orchestra and many more, as well as all the usual trappings: dancing, cocktails, photo ops, vintage shopping, lawn games and, best of all, endless gawking at all the amazing ensembles. Aug. 25-26, $35, jazzagelawnparty.eventbrite.com
The festival where underdogs rule
AfroPunk Fest defines itself as a place where underdog musicians have a chance to prove themselves and rise to greatness. Whether you're going for the star headliners or to hear the next big act, this festival mixes music with art and politics to create a party with a purpose. There's also a market, food trucks and craft vendors at the main Commodore Barry Park festival area, plus After Dark events at other venues on both nights. Aug. 25-26, afropunkfest.com/brooklyn
Show your love for tennis in Queens
The U.S. Open is the nation's largest tennis championship of the year, and it all goes down at the USTA Billie Jean King National Tennis Center in Flushing. The Grand Slam tournament features all-star talent on the court and tons of fun, from cool food to sporty games and concerts, for fans in the sprawling tennis village. Aug. 27-Sept. 9, ticketmaster.com
================================================
=================================================
Plan your month with the best NYC events in August 2018 including the Jazz Age Lawn Party, street fairs and more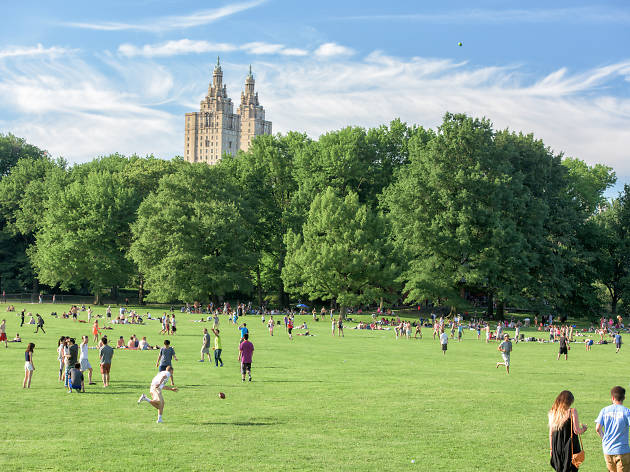 Get ready to use our NYC events in August calendar as your guide for ending the summer with a bang! Now that we're stuck in a heat dome, now's the time to take advantage of New York beaches before they close for swimming next month. There are many more things to do outside this month, like incredible summer concerts, festivals and delicious alfresco food and drink opportunities too. And use August as your last change to take advantage of all the outdoor movies at the best NYC parks. This is the last full-month of summer—make it count!
RECOMMENDED: Full NYC events calendar
Featured NYC events in August 2018
Selling Fast in August 2018
Theater events in August 2018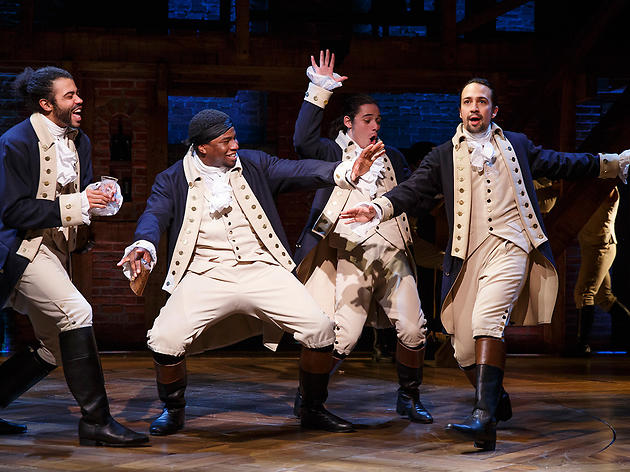 ====================================================
====================================================
Spend summer's final month learning about everything from mushrooms to magic at these upcoming August talks and events in New York City.
Wednesday, August 1: Try to optimize at this talk on the "efficiency paradox" and head-spinning advances in algorithms, smart devices, and the sharing economy. New York Public Library–Mid-Manhattan Library.
Thursday, August 2: Say 'abracadabra' at this talk on women in the golden age of magic. New-York Historical Society.
Rare silent films, a little-known war, and Andean spiritual traditions highlight our picks for the best smart things to do in NYC this weekend.

Friday, August 3
Hear the unlikely life story of attorney Isaac Shapiro (Edokko: Growing Up a Foreigner in Wartime Japan), son of refugees from Russia and then Germany, who worked as a 14-year-old interpreter for the Marines during the occupation of Japan. The Strand.
Laugh not-so out loud at this screening of rare silent comedies from the 1910s, complete with live musical accompaniment, at The ROC in the East Village.
Jorge Luis Delgado, who was trained by the Kallawaya shamans of Lake Titicaca, leads an evening workshop at the New York Open Center—Cosmovision of the Inca: Solar Practices to Activate Inner Light. (Delgado leads a second session on Sunday, below.)
Saturday, August 4
Take a Caribbean break—without leaving Brooklyn—at the Brooklyn Museum's Target First Saturday event, which celebrates the Caribbean Diaspora through performance, workshops, and more.
Learn more about the First Franco-Mexican War (1838–1839), aka The Pastry War, as the travel adventure slash drinking game slash PowerPoint Conflicted takes on an undersung engagement. Caveat.
Sunday, August 5
Unburden your soul during a workshop of Andean traditions with Jorge Luis Delgado at the New York Open Center.
Artist Cynthia Alberto and the Brooklyn-based collective "Weaving Hand" lead a collaborative weaving event that takes over the entire sixth floor of the Museum of Arts and Design. At 10:30am, the family-friendly MADreads combines interactive story time with visual exploration.
Conversations about overlooked urban spaces, how museum spaces affect our experience, and the architecture of architecture

—

and that's just Tuesday! Read on for our picks for the best smart things to do in NYC this week.
Monday, August 6
Enjoy the musical stylings of harpist-slash-rockstar Bridget Kibbey at The Sacred and the Profane, part of a classical music series performed in the Green-Wood Cemetery's Catacombs. (She performs Tuesday night as well.)
Tuesday, August 7

Has Western architecture been "designed around a white, male, cis, able, and heterosexual body"? Catch a conversation and screening that delves into normative constructions and "the architecture of architecture." Swiss Institute.
The Museum of Modern Art's Sculpture Garden transforms into an agora for an afternoon conversation that asks the question How Do Museum Spaces Affect Our Experience? Artist and educator Kerry Downey leads the conversation, which takes inspiration from Gaston Bachelard's 1958 look at enclosures and reflection, The Poetics of Space.
Architect Jennifer Newsom, Principal, Dream the Combine, and Stephanie Alvarado, Director of Advocacy, 596 Acres, come together at The Wright restaurant at the Guggenheim Museum for an informal conversation about activating overlooked urban spaces.
Will a tragedy of the commons prove fatal for our species? Iraq war veteran Roy Scranton, who's been called "an American Orwell for the age of Trump," speaks in support of his new book of essays. Climate change, war, and literature are among the topics. Book Culture on Columbus.
Wednesday, August 8
You'll honestly want to attend New York City Secrets and Lies, a storytelling event where performers weave tales about New York's hidden histories—which may or may not be true. Caveat.
Tibetan Buddhist lama Venerable Khenpo Tsewang Dongyal Rinpoche joins astrologer A.T. Mann to talk Tibetan prophecy and Kalachakra, the "Wheel of Time." Rinpoche will also share his insight into Padmasambhava, the great Buddhist master of time. Rubin Museum of Art.
Ruth Wisse, Harvard's Martin Peretz Professor of Yiddish Literature and Comparative Literature, talks Tevye, in conjunction with NYTF's Yiddish-language production of Fiddler on the Roof. Museum of Jewish Heritage.
George Washington's name you know. Tanaghrisson, Red Jacket, and Bloody Fellow not so much. Colin G. Calloway, John Kimball Jr. 1943 Professor of History and Professor of Native American Studies at Dartmouth College, revives the lost leaders of the tribes that Washington knew, and the diplomacy the first president used in the service of American expansion. Bryant Park/Bryant Park Reading Room.
A Brooklyn Historical Society panel explores memorialization—of the deadly conflict at the site of a statue of Robert E. Lee in Charlottesville one year ago, and of heroes not usually featured in public displays—as the anniversary of the "Unite the Right" rally approaches.
Manhattan's 32 miles of shoreline are a priceless asset, and also the scene of centuries of push-pull between private and public interests. Get the story of a fascinating evolution from Kurt C. Schlichting, author of a just-published book on the subject. New York Public Library—Mid-Manhattan Library.
Thursday, August 9
It's all kosher at this panel discussion on Jewish food and Jewish eating in the United States. Museum of Food and Drink.
Community activist and civil rights lawyer Arjun Singh Sethi talks about his just-released new book, American Hate: Survivors Speak Out, which presents unfiltered testimonials of survivors of bigotry. Sethi also speaks about the ways Trump and his administration have "intensified bullying, discrimination, and even violence," and what might be done to mitigate it. McNally Jackson.
Battery Dance, Ira Flatow, and a free community meal around corn highlight our picks for the best smart things to do in NYC this weekend.

Friday, August 10
Catch an informal lunchtime chat about American women's war efforts throughout history, including true life experiences of women in World War I, in conjunction with the new exhibition New York Women, War and Patriotism: 1812 – 1918. Mount Vernon Hotel Museum & Garden.
The New York Society for Ethical Culture hosts a town hall gathering (and voter registration drive) with the March for Our Lives: Road to Change National Tour.
Saturday, August 11
Settle in to 90 minutes of rich Wall Street history, as a Museum of American Finance tour looks back across the centuries, contextualized by the Financial District's place in global trade.
Take part in a communal meal and conversation on everyone's favorite summer vegetable: corn. Presentations will include the history of corn, arising from indigenous roots, and an activist's take on the social importance of the crop in Mexico. Brooklyn Public Library – Central Library.
Sunday, August 12
Dance downtown to the Battery Dance Festival, which features an international roster of dance companies giving free outdoor performances in scenic Battery Park, starting the 12th and running through Saturday the 18th.
Science Friday's Ira Flatow leads a panel of environmental experts as they examine the state of local seaways like the Atlantic Ocean, Long Island Sound, the Great South Bay, and the Hudson River. Tickets also include admission to National Geographic Encounter: Ocean Odyssey, an immersive exploration of life under the seas.
Workshops, art, performance, and star gazing are all on the docket as Pioneer Works in Red Hook hosts this month's Second Sundays gathering.
The science of pleasure, the psychology of magic, and an appearance by Sir Ben Kingsley highlight our picks for the best

smart things to do in NYC this week.
Monday, August 13
Massimo Pigliucci leads the Stoic School of Life in a family direction, taking off from Liz Gloyn's The Ethics of the Family in Seneca. Morality, the Stoic take on the role of the family, and "a rare statement, in antiquity, of the equal worth of women" will all be considered. New York Society for Ethical Culture.
Misbehave at this panel discussion with female authors on writing "bad women." The Strand.
Tuesday, August 14
Designed by amateur engineers and built primarily by muscle, the Erie Canal transformed American infrastructure. It also became known as "The Psychic Highway" for the way its disruptions played out on lifestyle fronts. Jack Kelly discusses his book Heaven's Ditch: God, Gold, and Murder on the Erie Canal, which tells the story of a fervid era of religious creativity. South Street Seaport Museum.
Adolf Eichmann might have lived out his days as a manager at an Argentine Mercedes-Benz plant were it not for a chance recognition. The new film Operation Finale tells the story of a nascent Mossad and a daring raid. Catch a 92nd Street Y preview screening, plus a conversation with Sir Ben Kingsley and Oscar-nominated director Chris Weitz, who tell the story of a real-life spy thriller and what it took to bring it to the big screen.
David Breslin, Whitney Museum Director & Curator of "David Wojnarowicz: History Keeps Me Awake at Night," talks about the life and work of David Wojnarowicz (1954-1992) on the occasion of the Whitney's recently opened full-scale retrospective. Lesbian, Gay, Bisexual & Transgender Community Center.
Aromatherapist and herbalist Amy Anthony leads a Museum of Sex workshop in essential oils. Learn more about the mind/body connection while creating your own custom massage oil blend (tickets include a high-level overview of aromatherapy, the custom massage oil, and a glass of rosewater-infused Prosecco).
Fear of the pestilential streets of 19th century New York drove those who could afford it to fresh air summer destinations. Geospatial Librarian and Map Curator Ian Fowler shares documents from the library's Maps Division that show both "pleasure routes" and maps of disease. Stephen A. Schwarzman Building.
Mangia at this in-depth look at Umbria, Italy—complete with a tasting of the city's wine and truffles. 92nd Street Y.
Wednesday, August 15
Professor of Psychology and Cognitive Science at Yale Paul Bloom (The Science of Pleasure: Why We Like What We Like) leads an intensive seminar. He'll explain why we prefer original paintings to forgeries, why there are billion-dollar markets for celebrity memorabilia, and how it can all be explained by a single psychological theory.
Learn how to maximize your well-being at an intro to Vedic astrology. President of the American College of Vedic Astrology (ACVA) Charlotte Benson joins astrologer and author A.T. Mann at the Rubin Museum of Art.
Thursday, August 16
Hunt down this session on hyperlocal foraging and how to source food from your city surroundings. Museum of Food and Drink.
The magician succeeds with the cooperation of the audience member's brain, which readily accepts the impossible. Magicians Kent Axell and Eric Walton talk top-down processing and how the mind fills in blanks, complete with live demonstrations. New-York Historical Society.
Delve into a paradox of entertainment, the distinction between our acceptance of stylized violence and, for most of us, a revulsion toward the real thing. Think Olio brings out two professors for a night at The Strand that looks at pro wrestling and superheroes and asks, "How might a proclivity for elaborate displays of mayhem be related to one for elaborately tailored attire?"
MMM
Friday, August 17: Appreciate the female gaze at this Feminism(s) film series celebrating feminist filmmaking in all its forms, through Tuesday the 21st. Anthology Film Archives.
Saturday, August 18: Amuse yourself at this look at Freedomland U.S.A., a Bronx-based history theme park that was only open from 1960-1964.
Sunday, August 19: Fight to attend this walking tour of Prospect Park's Revolutionary-era monuments. Prospect Park.
Monday, August 20: Click your heels three times to get to this free waterside screening of The Wizard of Oz.
Tuesday, August 21: Crack wise at this walking tour of famed writer Dorothy Parker's haunts on the Upper West Side.
Wednesday, August 22: Have the chutzpah to attend this evening celebrating Yiddish writer Sholem Aleichem. Museum of Jewish Heritage.
Thursday, August 23: Don't size people up at this screening of Fattitude, a documentary examining how popular culture perpetuates damaging ideas of fat hatred and fat-shaming.
Friday, August 24: Illuminate cinema history at this demonstration of the magic lanterns that served as film's entertaining precursor. New-York Historical Society.
Saturday, August 25: Be a "fun-gi" at this mushroom identification walk through Central Park. American Folk Art Museum.
Sunday, August 26: Live happily ever after—or not—at this reading of Disney and Fujikawa, which portrays a conversation between Walt Disney and Japanese-American illustrator Gyo Fujikawa, with a discussion of the ethical issues it raises. New York Society for Ethical Culture.
Monday, August 27: Roll up to this talk on the secret history of sushi and the science behind it. Caveat.
Tuesday, August 28: Learn "universal" truths at this Astronomy Live event, which will give a grand tour of the universe from Earth to the Milky Way's most distant objects. American Museum of Natural History.
Wednesday, August 29: Get intimate with select New Museum works on a tour that questions what contemporary art demands of us.
Thursday, August 30: Learn the lost stories of people like MumBet and Kitty Payne, both of whom successfully sued for their freedom before the Civil War, at Race & Justice in America's Courts: Peering Through the Murky Present Into a Dark Past. 92nd Street Y.
Friday, August 31: Sing out at this performance of Yoon-Ji Lee's experimental chamber opera Sunday Supper and TREES's performance piece Watching Sound. National Sawdust.
==================================================
==================================================
Way more Wonderful August Events coming soon!
So many great events you will have trouble making up your mind what to do.