These sites have been selected because they all do a first rate job publishing NYCity event info. I hope you will click on their hot links to see what else they have to offer.
===============================
Things to Do in December in New York
This post lists the many things to do in December in New York City, including a top-10 as well family-friendly events, things to do at night, and of course, free activities. December is big on holidays including Christmas, Hanukkah, and Kwanzaa, so you may also find our guide visiting New York during the holidays to be helpful.  Be sure to check out our extensive list of Things to Do in NYC or our guides for other months for even more ideas. 
Top 10 Things to Do
Nighttime Activities
Free Things to Do
TOP 10 THINGS TO DO IN DECEMBER
Radio City Christmas Spectacular  November 10, 2017, through January 1, 2018
A New York tradition, this lavish seasonal show is fun for the whole family. It showcases the world famous high-kicking Rockettes in addition to many other holiday performances. Read our post Getting Discount Tickets for the Radio City Christmas Spectacular to get a 'leg up' on the details about dates and tickets. If you'd like to learn more about Radio City Music Hall and the surrounding neighborhood, join us for our pay-what-you-like walking tour of Midtown Manhattan that includes Radio City Music Hall, Rockefeller Center and so much more. We also have a Midtown Manhattan Night Tour which is really festive and holiday season!
TIP: If you want to see a Broadway show instead, we can help you find ways to save money on tickets. Just look at our post How to Get Cheap Broadway Tickets.
---
NYC Christmas Movie Tour   Dates vary   pay-what-you-like
For fans of Elf, Home Alone 2, Serendipity, Scrooged and Miracle on 34th Street, this tour is for you. See where Buddy the Elf wins that snowball fight and where Kevin McAllister met the Pigeon Lady!  Not only will you see these familiar sites, you will also see some of the beautiful holiday decorations and displays during the tour. If you prefer to guarantee to be warm, there is a bus version of this tour, for a fee but a very reasonable one.
Free Tours by Foot also offers a Holiday Lights Tour and a tour of the Dyker Heights X-Mas Lights.
---
SantaCon  December 9 at 10:00 am or join in any time after   Free with $10 cash donation to charity
So if you love Santa Claus and you love pub crawls, you are gonna love SantaCon. Show up in your best Santa costume, even a cheap $3 Santa hat counts, and join thousands of other Santas, elves, reindeer and more as they crawl off from pub to pub throughout the city. Even if you aren't a drinker, it is still an amazing event. Just the sight of New York City taken over by thousands of Santas is a unique event.
TIP:  Why not try a non-Santa pub crawl or even a self-guided historic pub crawl? See our posts Best Pub Crawls and Bar Tours in New York City and self-guided Historic New York City Bar Tour.
---
Harlem Gospel Holiday Celebration   Dec. 23 and Dec 25 at 10:15 am, $20 per person
You may have been wondering hearing some Gospel while you are here and this event is just one of many ways for to experience the inspirational power and joy of a gospel choir. This event is at Mt. Olivet Baptist Church, 201 Lenox Avenue in Harlem.  Mount Olivet is an almost century-old congregation whose church is actually a former temple which they purchased in 1925. Not only will you hear beautiful voices but you will see a very lovely gem with beautiful stained glass windows. To buy tickets and get specific information see their website Harlem Gospel Holiday Celebration.
For other ways to see a gospel choir for free in New York, see our post on where to hear Gospel Music in Harlem and the Rest of New York City.
---
Visit Winter Village in Bryant Park   October 28 to January 5, 2018, Free  
NYC is filled with one of a kind pop-up markets in December and even if you just want to 'window-shop',  Winter Village at Bryant Park (pictured on right) is one of the best holiday markets to shop for one-of-a-kind items including handmade winter clothing, sweaters, hats, mittens, scarves, decorative items and more.  To find out about the other markets see our post on the Top Ten Christmas Markets in New York City.
Winter Village is located in Midtown Manhattan so why not join one of our Midtown Manhattan Tours. If you can't join us, please feel free to enjoy our Guide to 50+ Things to Do in Midtown Manhattan. We also have an audio tour with GPS. Click here for more information about our audio tours.
---
New Year's Eve in Times Square  December 31   Free  
If you are in town December 31st, you might consider being part of the world's most famous New Year's countdown in Times Square. It's not for everyone, but it's definitely on many people's bucket lists. Our post on New Year's Eve in Times Square will fill you in on what to expect, best places to stand, what time to go and survival tips.  If Times Square isn't your kind of crowd, the post also has lists of alternative New Year's Eve activities.
---
Holiday Train Show at Grand Central Terminal   November 13- February 11, 2018, Free  
If you cant make it up to the New York Botanical Gardens train shown above, this Train Show is more centrally located. You also get the double bonus of visiting the spectacular Grand Central Terminal layout features Lionel trains traveling through a two-level, 34-foot-long miniature New York City and countryside scene. Vintage trains from the museum's collection, including New York Central models, travel all the way to the diorama's the North Pole.  Get all the information here.
While you are Grand Central you might want to spend some time looking around. You can do this on your own with one of our audio guides or self-guided tour, or join one of the many free Grand Central Tours offered. See our post What to See and Do in Grand Central Station.
---
Kwanzaa Celebration at the Apollo Theater  December 30 at  2 pm & 7:30 pm  Tickets: $20; Premium $35
Over ten years ago, the famous Apollo Theater in Harlem has put on this annual show to celebrate the holiday of Kwanzaa. The Apollo's celebration is an energetic and joyful evening of dance and music honoring the Kwanzaa's principles of family, community, and culture.  Just going to the Apollo Theater itself is an occasion. They have any shows including plays, music, dance and it's nearly legendary "Amateur Night".  To find out more about this Harlem landmark or to tour inside, read our post on the Apollo Theater.  You can also take a look at our Guide to Harlem or take one of our pay-what-you-like Harlem Walking Tours. We also offer GPS audio tours, including one of Harlem.
---
The Nutcracker Ballet   November 24 – December 31, 2017, Prices vary 
The Nutcracker Ballet is a sure sign that Christmas season has arrived. If you haven't seen it before, the George Balanchine choreographed version will be performed by the acclaimed New York City Ballet. Visit the New York City Ballet website for information.  It's being performed at the H. Koch Theater which is part of Lincoln Center.  If prices are too hefty for your budget, there is a chance to see a portion of this ballet performed in Lower Manhattan. Seebelow for more information.
TIP: To find out about how to get discounted tours of Lincoln Center, read our post on Lincoln Center Tour Discounts.
---
Woodbury Common Outlets  "Boxing Day" Sale   December 26
If you haven't yet heard of Woodbury Common Shopping Outlet, it is one of THE best outlets in New York. Our post How to Get to Woodbury Commons has everything you need to know to get there, including bus company recommendations or instructions on how to go by train.  This giant shopping outlet mall has 220 stores including many upscale stores. Shops offer 25%-65% off items and on Boxing Day prices will be even lower!  Woodbury Commons is only one hour north of New York City and worth the easy ride to get there. (FYI:  (Boxing Day is a British holiday celebrated the day after Christmas, sounds like a good time to have a sale!)
---
THINGS TO DO AT NIGHT IN DECEMBER
It's true that you may have to bundle up on New York City nights in December, especially toward the end of the month. But with the December cold comes December fun! Lot's of activities that you only occur in December. Take advantage of them! For more ideas, see our post on Top 10 Things to Do in New York City at Night and our New York Night Tours. Also, be sure to check out the other sections of this post, as many of these other ideas are possible at night.
---
New York Holiday Lights Walking Tour   Pay-what-you-like
This early evening pay-what-you-like walking tour is 2-hours. You can expect lots of jovial fun as your guide takes you to see the best holiday window displays (without the crowds), the Rockefeller Center Christmas Tree, St. Patrick's Cathedral, and much more. Along the way, your guide will share fun facts about the city while 'warming your heart'.  Click here for all the information and how to reserve a spot.
Ice Skating at Night  Dates and prices vary by venue  
In New York City you have many choices of where to ice skate, at varying prices and all different hours. Ice-skating at night is extra fun. Nothing brings out the fun of winter as a loop around a rink, or a fall on your behind under the holiday lights of the Big Apple. See our post on Where to go Ice-skating in New York City.
---
See the Dyker Heights Christmas Lights   dates vary: free on your own or pay-what-you-like for a guided tour 
Word is out! For years only locals knew about the wacky competitiveness for best Christmas decorations among the homeowners of Dyker Heights. If you haven't already heard about the Dyker Heights lights in Brooklyn, now you do and you should think about checking it out. If you want to go it alone, it's not too difficult. We have all the information you need at our post How to see the Dyker Heights Christmas Lights.
You can also join us for our pay-what-you-wish guided walking tour. Our guide knows the best houses to go to and the history of the origins of the Dyker Heights seasonal insanity.
---
Attend the Vigil for John Lennon
Each year, December 8th marks the tragic anniversary of the killing of New York's Beatle, John Lennon.  Lennon and his wife Yoko Ono resided in the Dakota Apartments just across the street from Central Park and enjoyed taking strolls in this famous urban oasis.  Following his death, Yoko worked to secure space in the park for a memorial, Strawberry Fields, to her beloved husband.  Every December 8th, devoted fans come all day long and into the late night to sing songs and pay tribute to the musical legend.
Read our post on how to get to Strawberry Fields and the Dakota Apartments as well as other things to do in Central Park, including our Central Park audio tour.
Here are just a few of the hundreds of free things you can do in New York City in December and year round. Check our comprehensive post about Free Things to Do in NYC.  Also, be sure to check out the other sections of this post, as many of these other ideas are free, such as visiting the Dyker Heights Lights, the Holiday Train Show at Grand Central Terminal or strolling the Christmas markets.
Christmas Caroling in Gramercy Park  December 24, 2017
This is the closest you might get to a miracle this season. On Christmas Eve, the Gramercy Block Association opens the otherwise locked gates to the exclusive and elusive Gramercy Park. The park is located in the historic and beautiful Gramercy Park neighborhood. Its stately mansions from the late 19th Century surround the gated and lush private park (only local residents have access). This caroling event is part holiday spirit, part once-a-year chance to see inside this famous New York park. Find out the details by clicking on the Association's website.  Use our free self-guided tour of Gramercy Park and nearby Union Square. to learn about its rich history and elite culture that makes it a sumptuous neighborhood today.
Take a Tour of Central Park 
There is never a bad time of year to visit Central Park. Soft and sentimental in the winter, it is a quiet escape from the holiday crowds. While it is certainly easy to take a casual stroll in the park on your own, we recommend that you take a guided walking tour to help you find your way through this huge park. We offer several pay-what-you-like tours of Central Park including a tour of the lower section and one of the middle section. See our post on Central Park tours, where you can find out about the many tours available, some free and some with a fee. If you can't join us, explore the park on your own using our Guide of Things to Do in Central Park and our audio tour.
 One-hour Nutcracker Ballet performance  Fri. Dec. 1, 7 pm and Sat. Dec. 2 at 1:00 pm and 7:00 pm
If the ticket costs of the full-length ballet are outside of your budget, you can see this free one-hour version performed in Lower Manhattan's Brookfield Place located in the World Trade Center district. This is a rare opportunity to enjoy this classic ballet. Seating is first come, first served and early arrival is strongly suggested. Click here for all the information on the performance. Plan some walking in your day before watching ballet! Try one of our pay-what-you-like Lower Manhattan walking tours. We offer many different tours of Lower Manhattan, some include the Brooklyn Bridge, others include the 9/11 Memorial. Click here to find out about all our tour offerings.
Holiday Train Show at the New York Botanical Garden   Nov. 22, 2017 – Jan. 15, 2018  Prices vary
It's worth taking a bit a slightly longer subway train ride to see these G-scale mini-trains circle 150 of New York City's landmarks along a half-mile of track.  See the Brooklyn Bridge, Statue of Liberty, and Rockefeller Center re-created with only natural materials like bark and leaves.  This year's theme is Midtown Manhattan and showcases New York's iconic skyscrapers and other architectural beauties. For more information, click here.
44th Annual Merry Tuba Christmas at Rockefeller Center  December 17, 2017, at 3:30 pm  Free 
This kinda wacky event has been put on for over 4 decades so they must be doing something right! You will hear hundreds of tenor and bass tuba players who gather on the famous concourse level Rink at Rockefeller Center to play Christmas carols and other crowd favorites.  Get all the information by seeing their website. You will also have a chance to see the famous Rockefeller Center Christmas Tree.  Before or after the event explore the area with our guide to  50+ Things to Do in Midtown Manhattan which includes a list of 25 things for Kids to do in Midtown Manhattan.
===============================
Things to Do in New York in December
The list of things to do in New York in December is long and varied. From perennial favorites like the lighting of the Rockefeller Christmas Tree to the Holiday Train Show at the New York Botanical Garden, it's a magical time of year to be in NYC. (Updated for 2017.)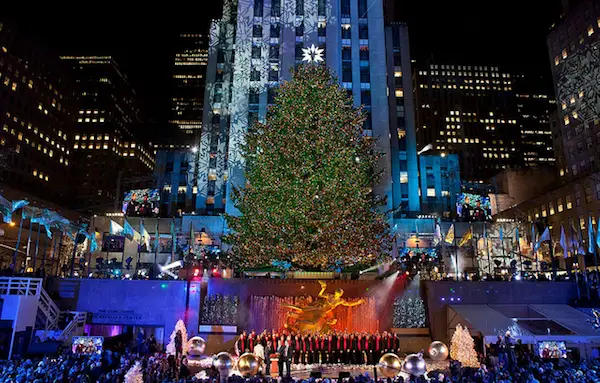 (11/29-1/7/18) The Rockefeller Center Christmas Tree Lighting for 2017 takes place on Nov. 29th, but you can appreciate its majestic beauty throughout December. The towering tree in Rockefeller Center is a global symbol of the holiday spirit. rockefellercenter.com
(12/12-12/19) Annual Lighting of the World's Largest Hanukah Menorah. This whopping 32-foot-high, two-ton menorah is set up at Grand Army Plaza in midtown (Fifth Avenue and 59th Street). It will remain lit through Jan 1.
(12/24) Christmas Eve Services at St. Patrick's Cathedral 5:30pm and *midnight. (*Free, but tickets required.)
(12/30) Kwanzaa Celebration: Regeneration at the Apollo Theater, 2pm and 7:30pm. Featuring Abdel Salaam's Forces of Nature Dance Theatre. Since 2006, the Apollo has established an annual show to celebrate this holiday tradition on one day of the Kwanzaa holiday. The Apollo's celebration is a joyful evening of dance and music honoring the principles of Kwanzaa—family, community, and culture.
Things to Do in New York in December: Exhibits
(Now-1/21/18) Soulful Creatures: Animal Mummies in Ancient Egypt at Brooklyn Museum. In the ancient burial ground at Saqqara, Egypt, one animal cemetery alone has yielded over four million individual ibis mummies. And the nearby dog cemetery contained over seven million mummies, with countless others found throughout Egypt. This unusual aspect of ancient Egyptian culture and religion—the mummification of animals—has remained largely a mystery. Soulful Creatures: Animal Mummies in Ancient Egypt explores the religious purpose of these mummies, how they were made, and why there are so many. Drawn from our renowned collection, the exhibition features choice examples from among the many millions of mummies of birds, cats, dogs, snakes, and other animals preserved from at least thirty-one different cemeteries throughout Egypt. Animals were central to the ancient Egyptian worldview. Most animals had connections to a particular deity. After death, mummified animals' souls could carry a message to a god. Yet not all animal mummies are what they seem. Scientific investigation of the mummies reveals that the corruption in the animal cemeteries that some contemporaneous texts allege was all too real. CT scans displayed in the exhibition uncover the empty wrappings, double mummies, and misleading packaging among some of the mummies that the priests sold to worshippers.
(11/13-2/12/18) Michelangelo: Divine Draftsman & Designer at the Metropolitan Museum of Art. Michelangelo Buonarroti (1475–1564) is the subject of this once-in-a-lifetime exhibition. During his long life, Michelangelo was celebrated for the excellence of his disegno, the power of drawing and invention. This exhibition will present approximately 150 of his drawings, three of his marble sculptures, his earliest painting, his wood architectural model for a chapel vault, and complementary works by other artists for comparison and context. Among the extraordinary international loans are the complete series of masterpiece drawings he created for his friend Tommaso de' Cavalieri and a monumental cartoon for his last fresco in the Vatican Palace.
(Now-1/7/18) The photographs in the new exhibit  American Visionary: John F. Kennedy's Life and Times at the New-York Historical Society convey the sensation you've seen them before: JFK in the White House, his kids joyfully playing nearby; JFK with wife Jackie at an event, both of them elegant and assured (in truth, many images here have only rarely been shown). It's part of the famous Kennedy allure, conveying a world that's simultaneously approachable, glittering, and rarefied. This well-curated exhibition charts  JFK's trajectory as a politician, as well as the cultural and historical pulse of the times, when photojournalism was at an apex. It's a wonderful opportunity to observe a world both familiar and lost, and to reflect on where the country was—and is.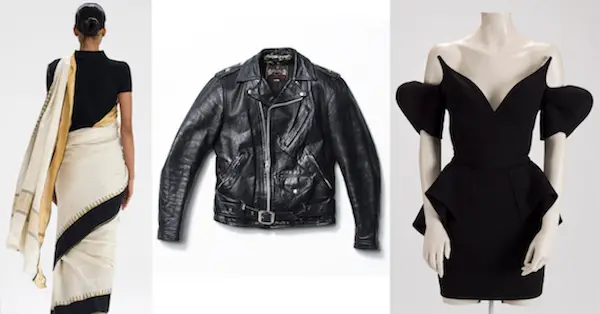 (Now-1/28/18) Items: Is Fashion Modern? at MoMA explores the present, past—and sometimes the future—of 111 items of clothing and accessories that have had a strong impact on the world in the 20th and 21st centuries—and continue to hold currency today. Among them are pieces as well-known and transformative as the Levi's 501s, the Breton shirt, and the Little Black Dress, and as ancient and culturally charged as the sari, the pearl necklace, the kippah, and the keffiyeh. Items will also invite some designers, engineers, and manufacturers to respond to some of these indispensable items with pioneering materials, approaches, and techniques—extending this conversation into the near and distant futures, and connecting the history of these garments with their present recombination and use.
(Now-1/7/18) Magnificent Gems: Medieval Treasures at the Morgan Library & Museum. The treasure bindings on view include star sapphires, diamonds, emeralds, pearls, and garnets, alongside illuminated manuscripts and printed books that depict two-dimensional representations of these precious materials. Among the exhibition highlights will be the ninth-century Lindau Gospels, one of the two finest Carolingian jeweled bindings in the world, and the thirteenth-century Berthold Sacramentary, the most luxurious German manuscript of its time.
(Permanent) The New-York Historical Society's Fourth Floor Renovation, now complete, includes a brand new Tiffany Lamps Gallery, in addition to the opening of its Women's History Center.
(Permanent) The Jim Henson Exhibition at the Museum of the Moving Image will celebrate the life and legacy of the famed Muppet creator, exploring both his prolific career and the enduring effect his work has on pop culture to this day. Visitors can expect to learn more about the creation of such beloved works as The Muppet Show, Sesame Street, Fraggle Rock, The Dark Crystal, and Labryinth, as well as to discover the cutting-edge experimental works Henson made throughout his career.
(now-12/3) Drones: Is the Sky the Limit? at Intrepid Sea, Air & Space Museum is the first major museum exhibition on pilotless aircraft to open in the U.S. The large-scale exhibition, located in a huge, custom-designed pavilion, will reveal the history of drone technology, from its WWI origins to its current applications in solving complex humanitarian challenges. The exhibition will include a mix of small and large scale drones, including Volantis, the world's first flying dress, designed and worn by Lady Gaga. intrepidmuseum.org. Use this coupon and take $5 off! 
(Permanent) 
The Museum of the City of New York
 presents
NY at Its Core
.
 Ten years in the making, 
New York at Its Core
 presents the compelling story of New York's rise from a striving Dutch village to today's "Capital of the World." The exhibition captures the human energy that drove New York to become a city like no other and a subject of fascination the world over. Entertaining, inspiring, important, and at times bemusing, New York City "big personalities," including Alexander Hamilton, Walt Whitman, Boss Tweed, Emma Goldman, JP Morgan, Fiorello La Guardia, Jane Jacobs, Jay-Z, and dozens more, parade through the exhibition
.
Things to Do in New York in December: Comedy
(12/6-12/8) Chris Rock: The Total Blackout Tour 2017 at The Theater at Madison Square Garden.
(12/9) Chris Rock at Barclays Center.
(12/1-12/3) Adam Ray at Gotham Comedy Club.
(12/8-12/9) Roy Wood Jr. at Gotham Comedy Club.
(12/9) Jackie Mason at B.B. King Blues Club & Grill. Jackie Mason is regarded as one of the greatest stand up comics of all time. Mason combines political satire, insightful observations on the foibles of modern life, and impeccable timing to create material that leaves audiences laughing until they cry and critics raving show after show.
(12/22-12/23) Robert Kelly at Gotham Comedy Club.
(12/24) A Very Jewish Christmas at Gotham Comedy Club.
Things to Do in New York in December: Kids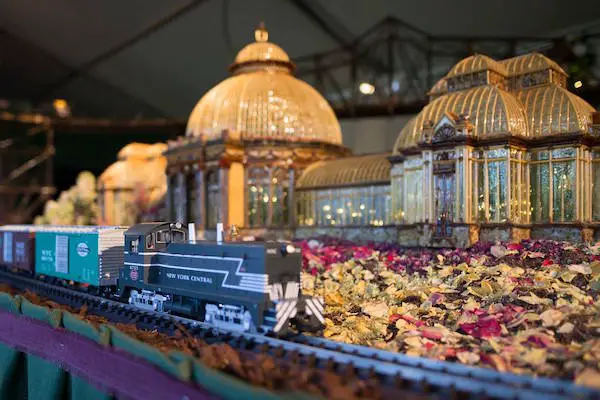 (11/22-1/15/18) The Holiday Train Show at New York Botanical Garden. Enchanting model trains zip through a display of 150 landmarks, each re-created with bark, leaves, and other natural materials—all under the twinkling glow of the Enid A. Haupt Conservatory. Marvel at G-scale locomotives humming along among familiar sights such as the Brooklyn Bridge, Statue of Liberty, and Rockefeller Center on nearly a half-mile of track.
PLUS
(12/2) NYRR Jingle Bell Jog at Prospect Park. "A Holiday Gift Wrapped as a Race": This festive family favorite is more than just a road race, it's also a celebration and a fundraiser for NYRR's youth programs. Not only does your entry fee snag you a holiday souvenir and post-race hot chocolate, the proceeds from this race fund youth running programs in schools all over the city! Give the Gift of Running Your race entry goes to support our youth programs year round. An additional $25 donation helps us put new running shoes on deserving kids' feet, and further provides them with the access they need to run. With the additional $25 donation, donors will get a fun gift. You can donate at check out, or during bib pickup. Proceeds from the Jingle Bell Jog benefit NYRR's Youth Programs, which provide running programs and events for more than 215,000 children in schools across the United States.
(12/6-12/7) Disney Tim Burton's The Nightmare Before Christmas at Barclays Center. Pumpkin King Danny Elfman is coming to Brooklyn on December 6 & 7 to perform his legendary role of Jack Skellington in a very special screening, with the music performed live by a full orchestra and choir, of Disney's timeless holiday classic, "TIM BURTON'S THE NIGHTMARE BEFORE CHRISTMAS." Elfman will be joined by other original cast members, including Catherine O'Hara (Sally) and Ken Page (Oogie Boogie), who will all sing live during the movie.
(10/27-2/25/18) It's all aboard for the New-York Historical Society's Holiday Express: Trains and Toys from the Jerni Collection. The beloved annual exhibit features 300+ pieces from the Jerni Collection and will transform the space into a magical wonderland. Interactive elements, including a crawl-through spaces leadig to a pop-up semisphere, allow children to get an up-close-and-personal view of the displays, harking back to the feel of early 20th century toy departments.
(12/9) Lunch with Santa onboard the Spirit of New York. Treat the little ones to a special lunch with Santa! Departs from Chelsea Piers. Boards 11:30pm, sails noon-2pm. $59.90 per adult, $35.95 per child. For reservations, visit spiritofnewyork.com.
Things to Do in New York in December: Music & Nightlife
(12/21-12/23, 1/6/18)  A Darlene Love Christmas: Love for the Holidays at B.B. King Blues Club & Grill. Her Billboard hits include: "He's A Rebel," "The Boy I'm Gonna Marry,""Wait `Til My Bobby Gets Home," "He's Sure the Boy I Love" and the #1 holiday classic "Christmas Baby Please Come Home," a song that she performed annually with Paul Shaffer and the CBS Symphony Orchestra on "The Late Show With David Letterman" for some 29 years before David retired.
PLUS
(12/3) Vienna Boys Choir: Christmas in Vienna at Carnegie Hall.
(12/1-12/2, 12/8-12/9, 12/22-12/23, 12/29, 12/30, 1/6, 1/13) In tandem with the New York Botanical Garden's Train Show, grab a friend or date for Bar Car Nights, On these nights exclusively for adults 21 and over, the wintry landscape of NYBG sets the scene for festive outdoor adventures, with an after-dark viewing of the expanded Holiday Train Show® as the centerpiece. Sip a cocktail as you journey through a series of station stops, including pop-up acts featuring some of NYC's favorite street performers. 7pm-10:30pmpm.
(12/1) Go 90s with the Fresh Kids of Bel Air at (Le) Poisson Rouge.
(12/1, 12/5, 12/7, 12/8) Norma at the Metropolitan Opera.
(12/1-12/3) Paula West Quintet at Dizzy's Club Coca Cola.
(12/1-12/2) Steve Miller, Jimmie Vaughan & Charlie Musselwhite: The Blues Triangle at the Rose Theater. Renowned blues-rock guitarist, singer/songwriter, and 2016 Rock and Roll Hall of Fame inductee Steve Miller returns to Rose Theater for a journey through the Blues Triangle. Having learned his first chords at age five from his godfather Les Paul, how to play lead guitar from T-Bone Walker at age nine, and then working with the best bluesmen in Chicago — Muddy Waters, Howlin' Wolf, Buddy Guy, James Cotton, and Paul Butterfield — Miller has a serious affinity for the blues. In this program, he will explore music from three essential blues hubs: Memphis, Texas, and Chicago.
(12/2-12/3) St. Vincent at Kings Theatre.
(12/2) Deer Tick at Brooklyn Steel.
(12/2) Southside Johnny & the Asbury Jukes at B.B. King Blues Club & Grill.
(12/5-12/12) Christine Pedi: Snow Bizness at Feinstein's/54 Below.
(12/7) Gary Numan + Me Not You at Brooklyn Steel.
(12/4, 12/7, 12/9) The Magic Flute at Metropolitan Opera.
(12/9) Ana Gasteyer: Holiday Tipple at Schimmel Center.
(12/9) A Night at the Museum Sleepover for Grown-Ups at the American Museum of Natural History.
(12/10) The TEN Tenors Home for the Holidays at Kupferberg Center. 3pm.
(12/11) Betty Holiday Concert w/special guest Gloria Steinem (& other guests) at City Winery.
(12/1-1/7) Chris Botti 13th Annual Residency at Blue Note Jazz Club.
(12/20-12/21) Ronnie Spector's Best Christmas Party Ever at City Winery.
(12/30) Pointer Sisters at B.B. King Blues Club & Grill.
(12/30-12/31) They Might Be Giants at the Music Hall of Williamsburg.
(12/31) Caissie Levy gives a special New Year's Eve Magic performance at Feinstein's / 54 Below.
Things to Do in New York in December: Sightseeing/Markets
(10/28-3/4/18) Bryant Park's Winter Village stays open with lots of great gift ideas for last minute shoppers. wintervillage.org
(Through 12/24) Union Square's Holiday Market runs through Dec. 24. urbanspacenyc.com
(Through 12/24) The Grand Central Holiday Fair is open from Monday, November 13 through Sunday, Christmas Eve, with Grand Central Terminal hosting 40 artisans in Vanderbilt Hall selling art and home goods; holiday-themed items; bath and body products; toys; and clothing and accessories for men, women, and children. The Holiday Fair is open Monday through Friday, 10am-8pm, until 7pm Saturdays, and 11am-6pm Sundays. Closed Thanksgiving and open 10am-6pm on Christmas Eve.
For more on holiday markets in NYC, click here.
(12/1-12/28) Spirit of New York offers a series of December Holiday Lunch and Dinner cruises, departing from Chelsea Piers. Jingle Bell Lunch Cruises sail from noon-2pm, from $59.90 per person; their Holiday Lights Dinner Cruise sails from 7pm-9:30pm, from $104.90 per person. spiritofnewyork.com.
(12/1-1/1) Bateaux New York offers Holiday Lights Dinner Cruise, sailing from 7pm-10pm. Includes a three course dinner, an acoustic quartet and piano performance, and panoramic views. From $144.90. bateauxnewyork.com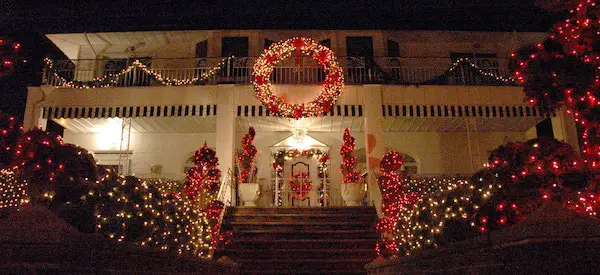 Throughout December, check out A Slice of Brooklyn's Holiday Lights Tour, which goes through Dyker Heights, Brooklyn, a neighborhood full of eye-popping displays. Offered every day except Christmas Day. Stock up on holiday treats and gifts on A Slice of Brooklyn's brand-new Chocolate Tour as well, offered every Monday, Wednesday, and Friday.
Things to Do in New York in December: Shows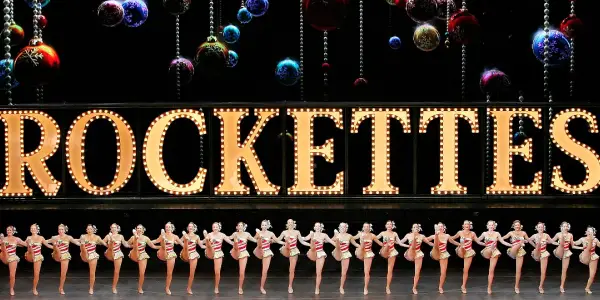 (11/10/17-1/1/18) The NYC perennial holiday favorite Christmas Spectacular Starring The Radio City Rockettes® returns. Fan favorites include "New York at Christmas," where the Rockettes® board a real double-decker bus, and the high-energy tap number "Twelve Days of Christmas." Of course, beloved classics like "The Parade of the Wooden Soldiers" and "The Living Nativity" will also be back. rockettes.com/christmas
Photo credit: © Paul Kolnik
(11/24-12/31) Dreams come to life when Tschaikovsky's iconic melodies begin to play. As the clock chimes midnight, a brave young girl turns the tide in a battle between toy soldiers and mischievous mice, and a blizzard of ballerinas reveal a wonderful world of confection. This holiday season, be swept away by the magic of George Balanchine'sThe Nutcracker®, performed by the world-renowned New York City Ballet. The New York Times says, "Balanchine's classic production felt like coming home." David H. Koch Theater, 20 Lincoln Center, nycballet.com/nutcracker
Things to Do in New York in December: Ongoing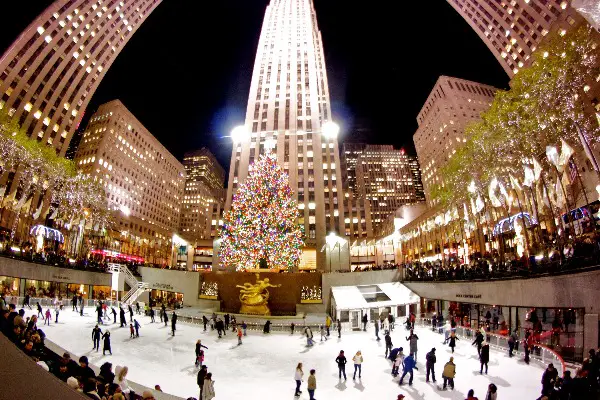 The iconic Rockefeller Center Ice Skating Rink, now in its 81st year, is the most famous patch of ice in the world. Take advantage of a package deal, like Apres Skate (appetizers and drinks) or a Starlight Skate on the night's last session.
Things to Do in New York in December: New Year's Eve

December 31st, 2017. New Year's Eve is New York's biggest celebration. Times Square is the most famous destination, although the sheer number of participants can make it a bit of a headache (you need to get there hours early and there's no alcohol allowed). There are many, many alternatives.
(12/30-1/1) Spirit of New York is offering a 20% discount on their New Years Eve Family Lunch (from $52.90)  Eve of theEve Dinner Cruises (from $111.90), or New Years Eve Fireworks Cruise, from $279.90 per person, 10pm-1am. New Year's Day Lunch and Dinner cruises also available, $59.90-$104.90 All ages welcome, bar, 21+. For discount, must book by 11/15. spiritofnewyork.com
(12/31) NYRR Midnight Run 2017 Kick off the New Year at the Midnight Run! Join the fun and celebrate with music and dancing (starting at 10:00 p.m.) as 2017 comes to a close. With a countdown to midnight beginning at 11:59 p.m., the four-mile run will begin on the stroke of midnight, as will a spectacular fireworks display to light up the night and the start of 2018. nyrr.org
(12/31) St. John the Divine's New Year's Eve Concert for Peace. Founded by Leonard Bernstein in 1984, the annual New Year's Eve Concert for Peace is a signature Cathedral event, gathering old friends and new for more than a quarter of a century. The music, the candles, and the spirit of peace send audiences out into the chill January night with renewed hope for the world we share. This year's concert, hosted by Harry Smith, features Cathedral Artist in Residence Judy Collins. 7pm. General admission free, tickets required.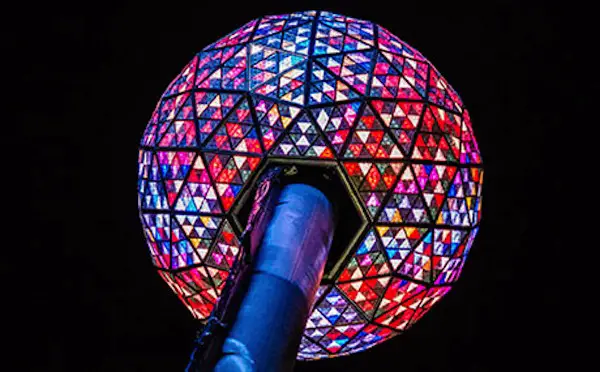 (12/31) The clock will strike midnight, the ball will drop, kisses will be exchanged, and the promise of a New Year will light up the night sky. If there's any town that can be trusted to get New Year's right, it's New York City, where the Times Square New Year's Eve Celebration and Ball Drop provides a focal point for the entire world. Get there hours early if you want to be close to the center of the action as the city counts down to 2017. newyearseve.nyc
Every year, at 11:59pm on December 31st, people from all over the world are focused on the Times Square New Year's Eve Ball. Millions of voices unite to count down the final seconds of the old year and celebrate the beginning of the new. Now you can get up close and personal with the Times Square New Year's Eve Ball at Ripley's Believe It or Not—Times Square any day of the year! Press the button yourself and ring in the New Year. A home to rare artifacts and thrilling interactive exhibits, Ripley's is for anyone who wants to immerse themselves in the unexpected and the unbelievable. Here's a coupon.
=========================
——–
By Grub Street –  Chris Crowley
Every month in New York, there's a bewildering number of new dishes to eat, drinks to imbibe, and food-themed events to attend. Often, the hardest part is just figuring out what's really worth your limited time. So Grub kicks off each month with a curated collection of dishes, drinks, and events that should absolutely be on your agenda. Make your plans now.
1. Eat Té Company's chocolate-walnut mille-feuille.
Té Company is a tiny tea shop that does a lot with food. Chef Frederico Ribeiro serves dishes that the Underground Gourmet called "stunning," and he's got a way with sugar: Grub Street editor Sierra Tishgart named his steamed chocolate cake as her favorite dish of 2016. His menu changes with the seasons, and for a couple more weeks, he'll be serving a very good mille-feuille ($9). The top layers of the pastry are caramelized, so it's bubbly and crispy like chicharrón, and it comes with globes of not-too-sweet Valrhona chocolate (melted with eggs and milk) and toasted walnut praline that oozes out the edges. It's a good dessert to celebrate some holiday shopping with.
2. Check out a former Wildair sous-chef's pop-up.
The Colombian-born chef and photographer Giuseppe Lacorazza has worked as a sous-chef at Wildair, one of the best new restaurants in New York from the last few years, and more recently as a one-man kitchen at London's P. Franco. For two more weekends (those of December 2 and December 9), Lacorazza will put on pop-up dinners ($50, seatings at 8:30 p.m. and 10 p.m.) at O Cafe. Called Soft Opening, the pop-up's menu changes weekly, but it has included dishes like braised beef rib in molasses with mustard greens, sesame seeds, and preserved lemon.
3. Try the spicy chicken at the new restaurant from the owner of Málà Project.
The Málà Project was one of 2016's most popular new Chinese restaurants, landing in Adam Platt's Where to Eat 2017 (in a section titled "The Great Chinese Renaissance," no less). That restaurant specialized in Sichuan's trendy dry pot, a brothless hot-pot variant, but owner Amelie Kang's sophomore business is something totally different. At Tomorrow, which opened in the Financial District, the focus is on Chinese home-cooking classics (one for $4, three for $10) like tomato and egg, fish fillet with ginger and scallion, mapo tofu, and cold noodles with pickle and cucumber. There's an emphasis on takeout, and customers will soon be able to order via text.
4. Listen to Grub Street food editor Alan Sytsma and Wylie Dufresne chat about the influential chef's cookbook.
Still miss wd~50's iconic eggs Benedict? Then you'll want to head to the 92nd Street Y on December 6 ($35, tickets here), when Dufresne will discuss his cookbook wd~50: the Cookbook with Grub's own Alan Sytsma. It's an impressive book with beautiful photography, and the two will discuss his often weird creations, stories from the restaurant, and more.
5. Get Underwest's Hanukkah and Christmas doughnuts for the holidays.
New York's reigning king of doughnuts, Underwest, has some specials for the holidays. Underwest will serve two new doughnuts this month, starting on December 4 with a Christmas special ($3.50) of a chocolate-peppermint cake doughnut with peppermint glaze and peppermint patties. From December 8 on, it'll also serve a Hanukkah doughnut ($3.75) that's, of course, inspired by the stuffed jelly doughnuts called sufganiyah. It's not at all traditional, but jelly-infused cake doughnut is topped with powdered sugar and Star of David–shaped pâté de fruit. The shop will also sell its dark-chocolate doughnuts ($3.50) with Star of David sprinkles, its Carwash doughnut ($3.50) striped in blue, and its dark-chocolate doughnut topped with holly-and-berries sprinkles.
6. Warm up with a few new cocktails around town.
Bar Goto is one of New York's best bars for fancy cocktails, and owner Kenta Goto's regular but not restless tinkering with the menu means it never gets boring. Take a recent addition: the refreshing Nippon Spritz ($14), which mixes rice shochu, sake, and pickled ginger shoot into a soda water and tonic highball. Speaking of drinks, Tribeca's Ward III just reopened after a long hiatus with an all-new cocktail menu featuring drinks like the winter-appropriate Road to Riches ($16; cognac, rum, Giffard Pineapple, Amontillado sherry, dry curaçao). The 2nd Floor at 2nd Ave Deli, located above and operated by the owners of one of New York's most famous delis, has also opened. It's menu, of course, is seasoned with Jewish ingredients, as in the Upper Eastsider ($14; gin or vodka, house ginger, cucumber, mint, and Cel-Ray) and pastrami deviled eggs ($8).
7. Take a pastry class, with one of the city's best young pastry chefs, for a good cause.
Earlier this year, Flora Bar and Café Altro Paradiso pastry chef Natasha Pickowicz put on a bake sale to benefit Planned Parenthood. This month, she'll put on two baking workshops ($200 each) benefiting Lenox Hill Neighborhood House. First up is Holiday Tart Baking from 2 p.m. to 5 p.m. on December 4, when you'll learn how to make a proper tart, drink wine, and eat snacks. Then from 2 p.m. to 5 p.m. on December 11, Pickowicz will teach you how to decorate cookies with natural dyes like hibiscus and help you learn icing techniques. There will, of course, be wine and snacks. To sign up, email info@floranyc.com or call 646-558-5383.
8. Work on your winter coat with brunch at the Loyal.
John Fraser's new tavern, the Loyal, is meant to be an everyday neighborhood brasserie, so it's no surprise that he's making moves on brunch. Starting December 9 (prices not set yet), expect morning standards like an egg sandwich with homemade chicken sausage ($14), and lobster Benedict ($18) with a toasted English muffin. Nothing newfangled, but maybe what you need after three gin-and-tonics too many. Speaking of too many gin and tonics: Next week, the restaurant the restaurant will also start serving a late-night (after 10:30) fried chicken sandwich ($22) with dill pickle mayo on a Hawaiian bun for two.
9. Cook your way through a cookbook this month for a January potluck.
Archestratus Books & Foods is a little café that also doubles as a cookbook-centric bookstore. This month, they're inviting people to cook through Kaukasis: A Cookbook (available for 20 percent off at the store), and then make their favorite recipe for a potluck party on January 16. The book contains over 100 recipes from Georgia, Iran, Turkey, and other countries around the Caucasus. It sounds like a way to actually go through with a cooking project for once.
10. Head to Huertas for raclette-and-smoked-pork bocadillos.
The Basque-ish restaurant Huertas has been doing events it calls "Pintxo Takeovers" for the last two years, inviting chefs like El Atoradero's Denisse Lina Chavez into its kitchen. For its next event on December 4, Huertas chef Jonah Miller has taken a different direction. This time, he'll collaborate with Heritage Foods' Patrick Martin and Saxelby Cheese's Anne Saxelby. Expect "goats in a blanket," fried cheese curds with Manzanilla olives, and raclette-and-smoked-pork bocadillos. All specials are $4.
11. Get a Robert Pattinson pizza box, because why not?
The indie-film distributor A24 is just five years old, but it's already made a big mark with a slew of influential films (Moonlight, Room, The Witch, and so on). One of its latest is Good Time, a New York heist-gone-wrong movie starring Robert Pattinson. Being a proper New York movie, there's a scene shot in a pizzeria. To celebrate the film's release, the studio has created pizza boxes emblazoned with a print of Pattinson's bleach-blond Connie and his brother Nick (played by co-director Ben Safdie). You likely don't normally go around collecting pizza boxes, but if you're a movie nerd, you might make an exception. Find them at Prince Street Pizza, Vinnie's in Williamsburg, Scarr's Pizza, and Two Boots locations in the East Village, Hell's Kitchen, Upper West Side, and West Village.
12. Eat a ton of latkes at an annual potato-pancake party.
Attention latke loons: On December 18 from 6 to 8:30 p.m. (tickets are $70, drinks and unlimited latkes included, or $120 for a VIP lounge access), the Brooklyn Museum will host Great Performances' ninth annual Latke Festival. Participants — including Baz Bagel, Kulushkat, Shelsky's of Brooklyn, R&D Foods, and Veselka — will offer more than 20 latke dishes (like a deeply rooted latke with beets, onions, carrots, and horseradish). There will be awards given from a panel of judges as well as the crowd, beverages from Tito's and others, and the festival will benefit the nonprofit Sylvia Center. Everybody needs more potato pancakes in their lives, no?
13. Have a Chinese Christmas dinner at Quality Eats.
To celebrate Jewish Christmas, Quality Eats' Craig Koketsu has reimagined menu staples as Chinese dishes for a family-style meal ($48, menu here). Think patty-melt spring rolls, cold peanut-butter noodles with Nueske's bacon and jalapeño, and lemon (Szechuan) pepper chicken. Cocktails will take a similar bent, with 5 Spice Old Fashioneds and tiki classics like a Flaming Scorpion Bowl, and you can get festive with a fortune cookie and matcha-cream sundae.
===============================
Things to Do in New York in December: Events for Each Day This Month
By Alison Durkee, ThoughtGallery.org
As 2017 draws to a close, New Yorkers can spend its final days enjoying the city's seasonal offerings, staying warm in its museums

—

and enjoying some fascinating talks and events. End this year on the right note with these upcoming talks and events that span everything from Chinese cuisine to comedy to consciousness.
————————————————————————————–
Donna Brazile, a Nobel Laureate, and 40 artists in dialogue highlight our picks for the best smart things to do in NYC this weekend.

Friday, December 1
Nobel Laureate in physics and string theorist David Gross joins the next session of Scientific Controversies. This one will ask, "is the entire universe a complex score played out on elementary strings?" Gross will be joined by theoretical physicist Clifford Johnson, author of the new graphic science novel The Dialogues. A book signing and stargazing will follow. Pioneer Works.
Go back in time (to December of 1830 to be precise) with the Mount Vernon Hotel Museum & Garden and their holiday candlelight tours, taking place both Friday and Saturday nights.
Host Julian Fleisher takes things over the top with his slice of NYC life, 44 Charlton: A Variety Show. Gutsy comedy, music, dance, theater, spoken word, and genre-bending performances all come together over cheap drinks. Just announced: this month's guests include comedian Chloé Hilliard, alternative pop rock band BETTY, and a few other surprise additions. The Greene Space.
Enjoy a holiday pop up of a different taste as artist Emilie Baltz and Guerilla Science team up for the Sweet Shoppe Public Pop Up in Brooklyn Bridge Park, Friday through Sunday. The politics and science of sugar will be presented, along with special program each night at 7pm.
Saturday, December 2
Forty artists come together for a series of talks about their practice, and their relationships to the New Museum, as part of a free weekend inspired by Allen Ruppersberg's Who's Afraid of the New Now?
Join fellow skeptics for a day of science as SkeptiCamp 2017 takes over NYC. Anyone can present, but be prepared for some probing questions. The Brooklyn Commons Cafe.
Saturday, December 2. Stroll through history at Chinatown: A Walk Through History, a walking tour exploring the neighborhood's rich past. Museum of Chinese in America.
Sunday, December 3
Former DNC chair Donna Brazile's new book, Hacks: The Inside Story of the Break-Ins and Breakdowns That Put Donald Trump in the White House, has stirred its share of controversy. Get the story first-hand as Brazile sits down with expert analyst Jeff Greenfield. 92nd Street Y.
Mobilize yourself to attend this conversation between Alexander Calder biographer Jed Perl and Calder's grandson, Sandy Rower, about the iconic sculptor and his work. 92nd Street Y.
The Museum at FIT hosts a full day of One Day University, broken down into four intriguing talks: Four Books that Changed the World, Exporting America: Foreign Policy From George Washington to Donald Trump, The Psychology of Humor, and Four Films that Changed America.
————————————————————————————–
Was life inevitable? How about consciousness? Delve into some fundamental questions among our picks for the best 

smart things to do in NYC this week.
Monday, December 4
Delve into the problems with our current immigration policy at Deportation World: The Challenges of a New Global Phenomenon, a talk with immigration law professor Daniel Kantstroom. The New School.
As a nation that's been more or less stagnating for two decades, Japan is "in search of a new path." A visual lecture by Sam Mehta looks at the nation's history, its interconnection with Korea and China, and the "cultural Galapagos" that can be found on the island today. The Explorers Club.
Tuesday, December 5
Peer into the gap between perception and reality from a scientific standpoint at the American Museum of Natural History. Two neuroscientists join master illusionist Apollo Robbins to explore the quirks of visual perception and the science behind some of magic's greatest hits.
Philosophy professor Matthew C. Ally resurrects Jean-Paul Sartre to ponder the not-so-basic world of a pond and duos like "nature and culture, fact and value, reality and imagination, human and nonhuman, society and ecology, Earth and world." Book Culture.
Wednesday, December 6
Big-name actors join mystery writer Megan Abbott for a Selected Shorts celebration of page-turner pioneer Agatha Christie. Superfan Fran Lebowitz will also be on hand as Hercule Poirot and Miss Marple vie for your affections. Symphony Space.
Indulge your sweet tooth with some unfamiliar treats at this session on the desserts of Nepal and Lebanon, which will include a demo, tastings and first-hand information about the countries' culinary and holiday customs. Museum of Food and Drink.
Times science writer Carl Zimmer returns to his "What Is Life?" series at Caveat. He'll speak with biochemist and theoretical physicist Jeremy England, who has applied thermodynamics to the study of the beginnings of life, and DNA expert Steven Benner (Life, the Universe, and the Scientific Method), whose lab was the first to resurrect genes from extinct organisms.
Get two takes on California at Gagosian Quarterly's inaugural Greene Space talk with Walton Ford and Emma Cline. WNYC's Mythili Rao leads a conversation on Ford's Calafia, a new watercolor exhibit inspired by a mythic Cali, and The Girls, Cline's debut novel, which covers similar ground of California dreaming.
Thursday, December 7
In advance of Human Rights Day on December 10th, the Museum of Jewish Heritage hosts former U.S. Ambassador to the U.N. Samantha Power (author of A Problem From Hell: America and the Age of Genocide) and the National Director Emeritus of  the Anti-Defamation League, Abraham H. Foxman. They'll discuss America's role in the world and the most pressing human rights crises of our time.
Catch a panel discussion at Deutsches Haus at NYU that contrasts German and American approaches to the dilemmas of Democracy and Journalism in the Digital Age.
Two paleoanthropologists and a paleontologist join the debate over whether evolution always leads to greater complexity, or if human consciousness is more a product of dumb luck. In tracing down The Story of Life, they'll ask what can "evolutionary biology ultimately tell us about the meaning of our lives?" New York Academy of Sciences.
———————————————————————————
Friday, December 8. You won't be saying "Bah, Humbug" at this session on Charles Dickens and the Spirit of Christmas, which is presented in conjunction with the Morgan Library's current exhibition on the holiday classic. Morgan Library & Museum.
Saturday, December 9. Cram a year of architectural information into a single day at In Our Time: A Year of Architecture in a Day, a symposium on the most engaging and relevant architecture of 2017. Metropolitan Museum of Art.
Sunday, December 10. Get into politics and the issues of the day at this conversation with Nobel laureate Paul Krugman and MSNBC anchor Chris Hayes. 92nd Street Y.
Monday, December 11. Learn more about the most powerful female politician in the world at this talk on Angela Merkel and the Transformation of United Germany. Deutsches Haus at NYU.
Tuesday, December 12. Have a laugh at this conversation with comedy producer Judd Apatow about his upcoming Netflix stand-up special, The Return. 92nd Street Y.
Wednesday, December 13. "Toon" into this event on the history of the illustrators and cartoonists from the Connecticut School with Vanity Fair editor-at-large Cullen Murphy. New York Public Library – Stephen A. Schwarzman Building.
Thursday, December 14. Design a way to attend this lecture on the Art Deco movement that defines many of the city's most iconic buildings. Roosevelt Island Library.
Friday, December, 15. Achieve inner peace at this session based on the Buddhist Wheel of Life, which describes the process of karma, complete with meditation instruction and practice. New York Open Center.
Saturday, December 16. Head uptown for Harlem for the Holidays, an artistic showcase featuring artisans and artists of the African Diaspora within Harlem's rich cultural landscape.
Sunday, December 17. Scandalize your museum-going with this tour of the "Shady Ladies"whose portraits line The Met's walls. Metropolitan Museum of Art.
Monday, December 18. Hear from award-winning journalist and author Masha Gessen as she delivers the annual Robert B. Silvers lecture "The Stories of a Life." New York Public Library – Stephen A. Schwarzman Building.
Tuesday, December 19. Delve into the convergences of art and architecture as they manifest around museums inside one of the grandest examples of all. Guggenheim Museum.
Wednesday, December 20. Find your zen at this screening of Walk With Me, an immersive film on Zen Buddhist master Thich Nhat Hanh that's narrated by Benedict Cumberbatch. Rubin Museum of Art.
Thursday, December 21. Skip the takeout and make your own Chinese dishes at this introductory cooking workshop on Sichuan Cuisine. Prospect Heights Brainery.
Friday, December 22. Get a little too into the holiday spirit with a visit to the Christmas light overload of Brooklyn's Dyker Heights. New York Adventure Club.
Saturday, December 23. Swipe your MetroCard and explore some of New York's oldest subway stations on this tour with New York Adventure Club. New York Adventure Club.
Sunday, December 24. Spend your Christmas Eve with "Israel's Bruce Springsteen" at this annual concert with singer-songwriter David Broza. 92nd Street Y.
Monday, December 25. If you're not celebrating Christmas, skip the movies and head to the Museum of Jewish Heritage for December 25 at the Museum, featuring free exhibition tours. Museum of Jewish Heritage.
Tuesday, December 26. Get ready for 2018 with this session on the highlights of next year's Astronomical Calendar. American Museum of Natural History.
Wednesday, December 27. Discover how immigrants survived hard times with looks at families in the Panic of 1873 and Great Depression, among many other daily tours, at the Tenement Museum.
Thursday, December 28. Go behind the scenes of New York's Academy of Arts & Letters, a prestigious society founded by no less than Mark Twain. New York Adventure Club.
Friday, December 29. Combine the Indian musical technique of "raga" with the rhythms of Cuba at Raga Cubana, a performance featuring Brooklyn Raga Massive and Afro-Cuban "maestro" Román Díaz. Rubin Museum of Art.
Saturday, December 30. "Come play with us" at this special midnight screening of Kubrick's classic genocide metaphor, The Shining. Nitehawk Cinema.
Sunday, December 31. End 2017 on a peaceful note at the New Year's Eve Concert for Peace, an annual choral performance that was first founded by Leonard Bernstein in 1984. Cathedral of St. John the Divine.
====================================
MORE COMING SOON!