What's Happening December 2018
CityGuideNY – The Best Things to Do in NYC in December
Lincoln Center – Lincoln Center FREE December
TimeOutNY – NYC Events in December 2018
Grub Street – What to Eat and Drink in NYC This December
ThoughtGallery – The December Calendar: Events for Each Day This Month
MORE COMING SOON
Metro US – Best Things to Do in New York City in December
Free Tours by Foot – Things to Do in December in NYC (for Tourists and Visitors
LonelyPlanet – NYC Month by Month
These sites have been selected because they all do a first rate job publishing NYCity event info. I hope you will click on their hot links to see what else they have to offer.
==================================================
But first, let's take a look at The New Yorker's always perceptive and comprehensive
Fall Preview of the Arts:
===========================================================
The list of things to do in New York in December is long and varied. From perennial favorites like the lighting of the Rockefeller Christmas Tree to the Holiday Train Show at The New York Botanical Garden, it's a magical time of year to be in NYC! (Updated for 2018.)
The Big Event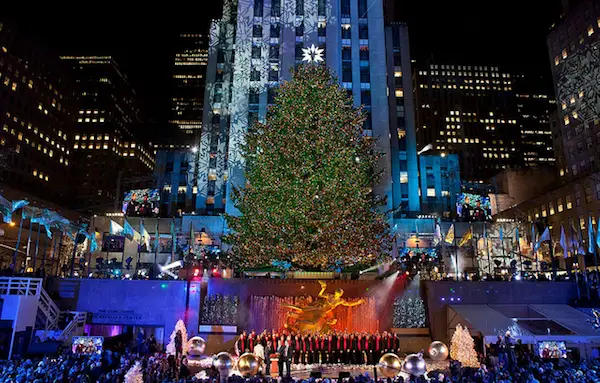 (11/28-1/7/19) The Rockefeller Center Christmas Tree Lighting for 2018 takes place on Nov. 28th, but you can appreciate its majestic beauty throughout December. The towering tree in Rockefeller Center is a global symbol of the holiday spirit. rockefellercenter.com
(12/2-12/10)Annual Lighting of the World's Largest Hanukah Menorah. This whopping 32-foot-high, two-ton menorah is set up at Grand Army Plaza in midtown (Fifth Avenue and 59th Street), with lightings for the nights of Hanukah December 2nd through 10th. It remains lit through Jan. 1.
(12/3) Latke Festivalat Brooklyn Museum. Now in its 10th year, the Latke Festival is a charity event organized by Great Performances Catering that celebrates the best and most creative potato pancakes in our city. All net proceeds benefited The Sylvia Center, a nonprofit dedicated to teaching healthy eating habits to children and their families, with programs in New York City and at Katchkie Farm in Kinderhook, NY. 6:30pm-8:30pm.
(12/4) For Bryant Park Winter Village's Tree Lighting and Skate-tacular this year, actor Alan Cumming will be in charge of festivities, with ice skating performances by Olympian skaters Johnny Weir, Kaetlyn Osmond, Megan Duhamel, Eric Radford and Jeremy Abbott. Each year, skaters do a performance of "The Lights Before Christmas," an original story about the Light family, a group of characters made out of light. New Yorkers (the skaters) show Star, the youngest member of the family, how to shine. 6pm.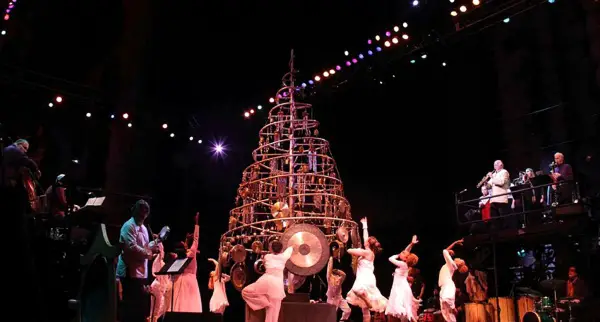 (12/20-22) Paul Winter's 39th Annual Winter Solstice Celebration takes advantage of the acoustics of the world's largest cathedral, St. John the Divine's on the Upper West Side. This favorite city multimedia event will this year feature the 10-member Paul Winter Consort, gospel singer Theresa Thomason, and the 25 dancers and drummers of the Forces of Nature Dance Theatre. There are four performances over three days.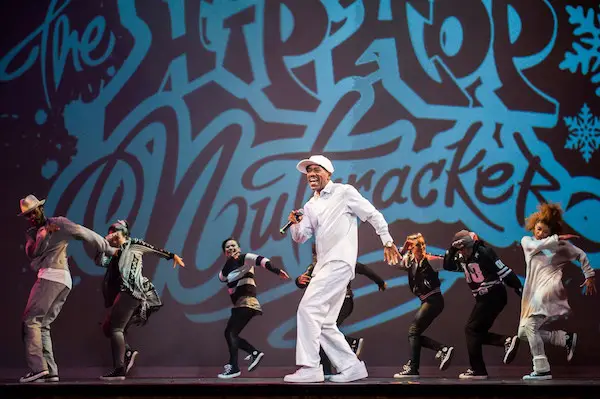 (12/23) The Hip Hop Nutcrackerat Brooklyn's Kings Theatre. Celebrate the holiday season with NJPAC's very own holiday smash—an urban dance retelling of the timeless fairy tale, featuring rap legend Kurtis Blow as special guest MC. The Hip Hop Nutcracker resets Tchaikovsky's classic score to explosive hip-hop choreography courtesy of Jennifer Weber. A dozen all-star dancers—plus a DJ, a violinist, and awesome digital scenery—bring the traditional Nutcracker story to new life, but with a distinctly urban twist. This evening-length show celebrates love, community and the magic of the holiday season. Doors open, 5pm, show, 6pm.
(12/24) Christmas Eve Services at St. Patrick's Cathedral 5:30pm and *midnight. (*Free, but tickets required.)
(12/29) Kwanzaa Celebration: Regeneration at the Apollo Theater, 2pm and 7:30pm. Featuring Abdel Salaam's Forces of Nature Dance Theatre. Since 2006, the Apollo has established an annual show to celebrate this holiday tradition on one day of the Kwanzaa holiday. The Apollo's celebration is a joyful evening of dance and music honoring the principles of Kwanzaa—family, community, and culture.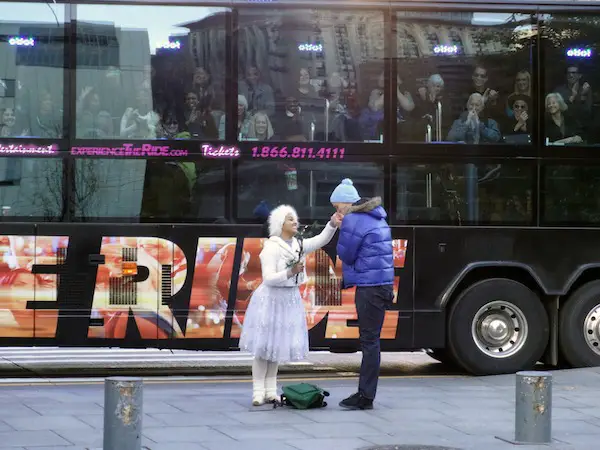 (Ongoing) THE RIDE returns to turn the streets of New York into a stage. You'll cruise in comfort in a patented $1.5 million travelling theater. Technology galore and floor-to-ceiling glass with side-facing VIP seating provide perfect views to dazzling holiday performances you'll find along a 4.2-mile journey through Manhattan. Original seasonal music, videos, and hilarious hosts complete the experience, definitely one to remember. 234 W. 42nd St. (btw. Seventh & Eighth Aves.), 212-221-0853, theridenyc.com Now through 1/6, Use City Guide's coupon here and save $20!! 
Things to Do in New York in December: Exhibits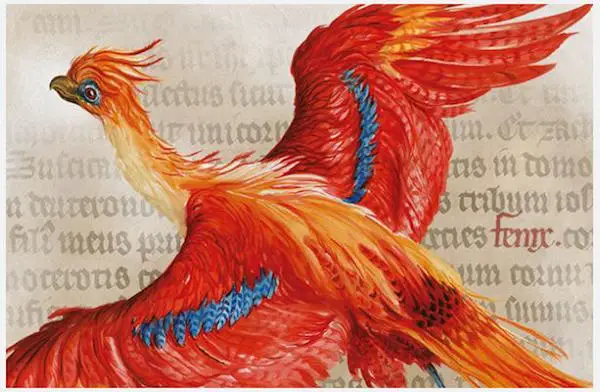 (Now-1/27/19) Harry Potter: A History of Magic arrives at the New-York Historical Society. In celebration of the 20th anniversary of the U.S. publication of J.K. Rowling's Harry Potter and the Sorcerer's Stone, New-York Historical will display illustrator Brian Selznick's artwork, which will appear on the covers of the Harry Potter series to be published by Scholastic later this year. Also on view to the public for the first time will be Mary GrandPré's illustrations created for Scholastic's original editions of the novels. Costumes and set models from Harry Potter and the Cursed Child, which opened on Broadway in April, will be showcased in the exhibition. A long list of events will take place in conjunction with the exhibit, including trivia night, talks, an adult costume party, and more. nyhistory.org
PLUS
(11/23-12/31) The first-ever WinterFest at the Brooklyn Museum will feature a wide variety of attractions including a Vinopolis Wine Tasting Experience, a beer garden, an enchanted tree maze, and Santa Land, where the little ones can pose for photos, enjoy story time and snacks, an interactive chocolate dome, a giant snowglobe, a spectacular menorah, food, beverages, and more.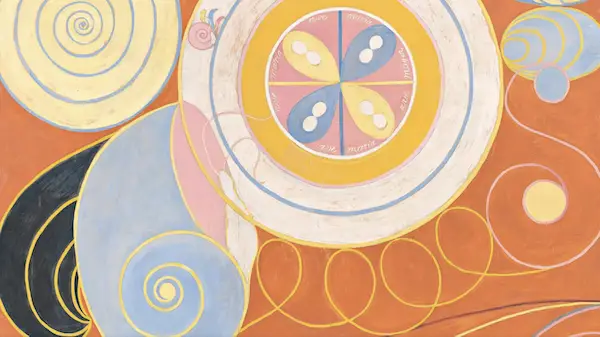 Group IV, the Ten Largest, No. 3, Youth, 1907, from Untitled Series. Photo: Albin Dahlström, Moderna Museet, Stockholm
(Now-2/3/19) Before abstract art was a speck in Kandinsky's eye, the painter Hilma af Klint (1862-1944) was pioneering non-representational painting in Sweden. A spiritualist who claimed to communicate with the dead, af Klint worked in near-obscurity, forbidding her paintings to receive public exposure until 20 years after her passing. Discover Hilma af Klint, a woman before her time, at the new Solomon R. Guggenheim Museum exhibition  Hilma af Klint: Paintings for the Future. Over 170 of af Klint's non-figurative paintings are on display, richly colored and often staggering in scale. Many pieces play with geometry and floral shapes that seem to swim across the canvas. As af Klint worked on her series The Paintings for the Temple, she envisioned a spiral temple as their eventual home. She got her wish over a century later with this eye-opening exhibition at the Guggenheim.
(Now-1/6/19) Delacroix at the Metropolitan Museum of Art. This is the first comprehensive U.S. retrospective of the work of French artist Eugene Delacroix (1798-1863). The Met has teamed up with The Louvre, showcasing in chronological order some 150 pieces, including paintings, drawings, manuscripts, and prints.
(Now-3/31/19) Andy Warhol—From A to B and Back Again at The Whitney. This exhibition—the first Warhol retrospective organized by a U.S. institution since 1989—reconsiders the work of one of the most inventive, influential, and important American artists. Building on a wealth of new materials, research and scholarship that has emerged since the artist's untimely death in 1987, this exhibition reveals new complexities about the Warhol we think we know, and introduces a Warhol for the 21st century.

(Now-6/23/19) A City for Corduroy: Don Freeman's New York, now open at the Museum of the City of New York, presents the gamut of Freeman's New York work, from his lively and humane depictions of ordinary New Yorkers and the city in the 1930s, to his illustrated scenes of the Broadway backstage, to his children's books inspired by the city, including not just the beloved children's Corduroybooks but also Pet of the Met and Hattie the Backstage Bat. The exhibition features drawings, paintings, publications, and prints, as well as the artist's original studies and sketches of Corduroy and other characters.
(Now-2/3/19) Even over a century after his birth, Dutch artist M.C. Escher (1898-1972) continues to astound. Catch more than 200 of Escher's mind-bending works at Escher: The Exhibition & Experience in Brooklyn's Industry City. Exploring the intersection of art, mathematics, science, and poetry, the exhibition will feature interactive immersive experiences that bring the artist's optical illusions to life. eschernyc.com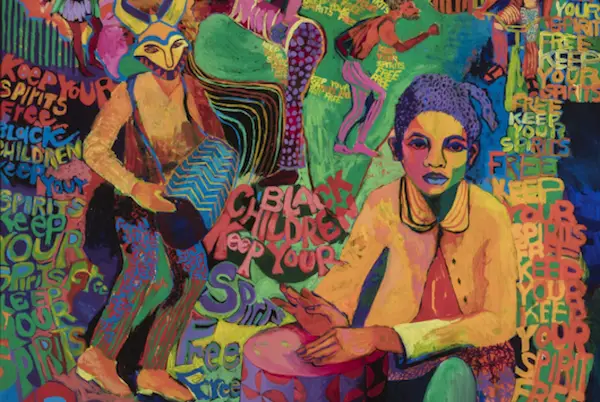 Carolyn Lawrence, Black Children Keep Your Spirits Free. The exhibition, which opens September 14, presents a wide range of painting, photography, and sculpture from over 60 artists on the fourth and fifth floors of the museum. Photo by Michael Tropea.
(Now-2/3/19) Soul of a Nation: Art in the Age of Black PowerProponents of Black Power had no better advocates than the artists among their ranks. Painters, sculptors, and performance artists rose up during this era to make protest art that spoke to the black experience in America and critiqued the white establishment that resisted them. Soul of a Nation: Art in the Age of Black Powerat the Brooklyn Museum features over 150 works of art inspired by this vital sociopolitical movement.
(Now-12/9)Rivers and Torrents: Oil Sketches from the Thaw Collectionat the Morgan Library. Even advanced painters struggle to capture moving water in their work. The play of light on the ripples, the wind on the surface, the current moving it all along—it's one of the many reasons we're all captivated by Monet's Water Lilies. See the work of other artists from the 19th century onward through oil studies of Rivers and Torrents. Click here for more about exhibits at Morgan Library.
(Permanent)The Jim Henson Exhibitionat the Museum of the Moving Image will celebrate the life and legacy of the famed Muppet creator, exploring both his prolific career and the enduring effect his work has on pop culture to this day. Visitors can expect to learn more about the creation of such beloved works as The Muppet Show, Sesame Street, Fraggle Rock, The Dark Crystal, and Labryinth, as well as to discover the cutting-edge experimental works Henson made throughout his career.
(Permanent) 
The Museum of the City of New York
 presents
NY at Its Core
.
 Ten years in the making, 
New York at Its Core
 presents the compelling story of New York's rise from a striving Dutch village to today's "Capital of the World." The exhibition captures the human energy that drove New York to become a city like no other and a subject of fascination the world over. Entertaining, inspiring, important, and at times bemusing, New York City "big personalities," including Alexander Hamilton, Walt Whitman, Boss Tweed, Emma Goldman, JP Morgan, Fiorello La Guardia, Jane Jacobs, Jay-Z, and dozens more, parade through the exhibition
.
Things to Do in New York in December: Comedy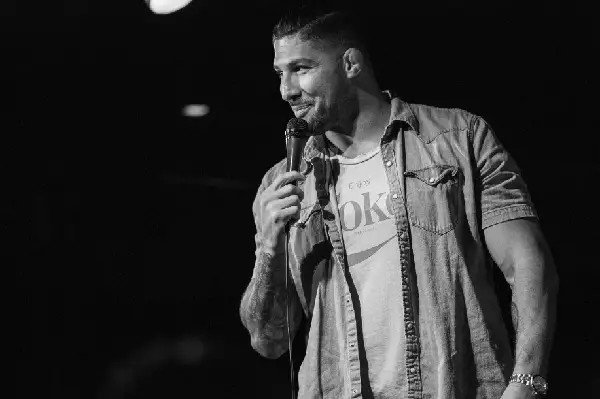 (12/1) Brendan Schaub at Gotham Comedy Club.
PLUS
(12/1-12/2) Netflix Special The Vagabond with Mo Amer at Carolines.
(12/7-12/8) Tom Papa at Gotham Comedy Club.
(12/13-12/16) SNL's Jay Pharoah at Carolines.
(12/14-12/15) Roy Wood, Jr. at Gotham Comedy Club.
(12/21-12/22) Chris DiStefano at Gotham Comedy Club.
(12/24) A Very Jewish Christmas at Gotham Comedy Club.
Things to Do in New York in December: Kids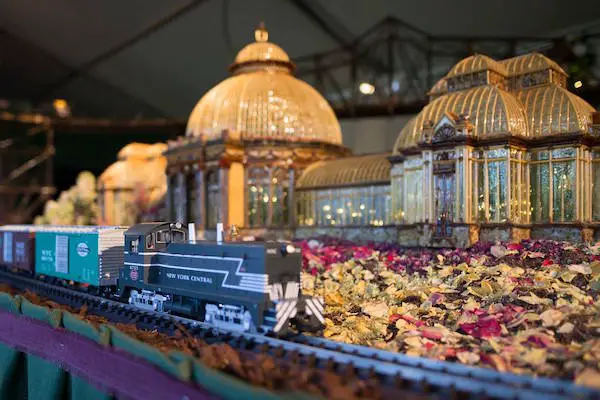 (11/17-1/21/19)The Holiday Train Show at The New York Botanical Garden. Enchanting model trains zip through a display of 150 landmarks, each re-created with bark, leaves, and other natural materials—all under the twinkling glow of the Enid A. Haupt Conservatory. Marvel at G-scale locomotives humming along among familiar sights such as the Brooklyn Bridge, Statue of Liberty, and Rockefeller Center on nearly a half-mile of track.
PLUS
(12/1) The NYRR Jingle Bell Jog at Prospect Park. "A Holiday Gift Wrapped as a Race": This festive family favorite is more than just a road race, it's also a celebration and a fundraiser for NYRR's youth programs. Not only does your entry fee snag you a holiday souvenir and post-race hot chocolate, the proceeds from this race fund youth running programs in schools all over the city! Give the Gift of Running Your race entry goes to support our youth programs year round. An additional $25 donation helps put new running shoes on deserving kids' feet, and further provides them with the access they need to run. With the additional $25 donation, donors will get a fun gift. You can donate at check out, or during bib pickup. Proceeds from the Jingle Bell Jog benefit NYRR's Youth Programs, which provide running programs and events for more than 250,000 children in schools across the United States.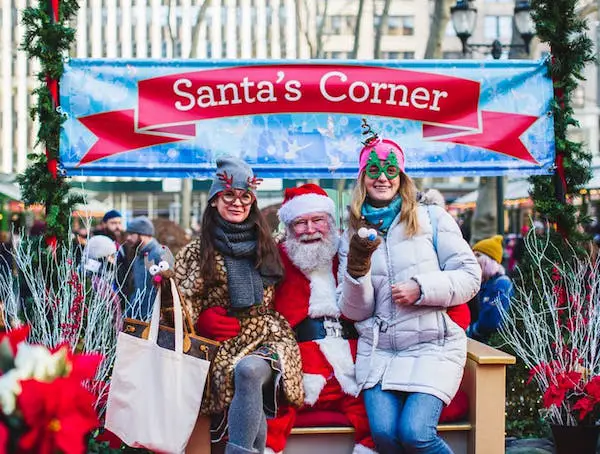 (12/16-12/18) Santa's Corner at Bryant Park. Santa will be stopping by Bank of America Winter Village at Bryant Park for photos! Bring your cameras, or you can download images. 1pm-3pm.
(12/27) Harlem Globetrotters at Barclays Center.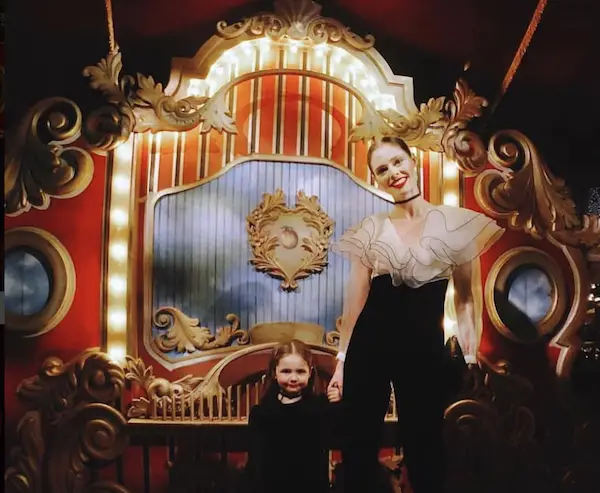 (Now-1/27/2019) Big Apple Circus at Lincoln Center's Damrosch Park is back, and while it's still appealing for kids, it's gotten a makeover, making a concerted effort to appeal to young and old alike, with a selection of high end cocktails now on sale, a VIP tent, new performers, and more. bigapplecircus.com
Things to Do in New York in December: Music & Nightlife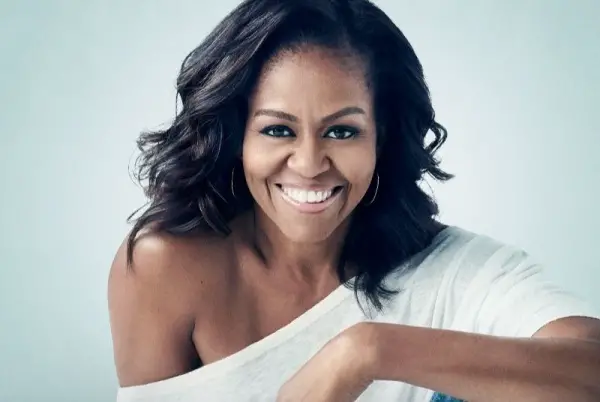 (12/1, 12/19) An Intimate Conversation with Michelle Obamaat Barclays Center. Michelle Obama's live U.S. book tour is in support of her highly anticipated memoir, BECOMING. The events will feature conversations between Mrs. Obama and a selection of to-be-announced moderators, reflective of the extraordinary stories shared in the wide-ranging chapters of her deeply personal book. Attendees will hear firsthand Mrs. Obama's intimate reflections on the experiences and events, both public and private, that have shaped her, from her childhood on the South Side of Chicago to her years as an executive balancing the demands of motherhood and work, to her years spent at the most famous address in the world.
PLUS
(12/4) Rufus Wainwright at Beacon Theater.
(12/4)WhiskyFest at the New York Marriott Marquis.  Meet the whisky distillers, master blenders, and other whisky experts who will be in attendance. This is your chance to taste from a selection of single malt and blended Scotch, Irish, bourbon, rye, Tennessee, Japanese, Canadian, and craft-distilled whiskies, all assembled in one Grand Ballroom. High-end rum, cognac, and other spirits will be available as well.
(12/7) iHeartRadio Jingle Ball with Cardi B, Shawn Mendes, Camila Cabello, and more, at Madison Square Garden.
(12/7) Friday Night Live: A Chanukah Extravaganza with Peter Yarrow at The Temple Emanu-El (FREE). Reservations required.
(12/8) Cyndi Lauper at the Beacon Theater.
(12/9) Crooner Maxwell at the Beacon Theater.
(12/10-12/11) Mumford & Sons with Maggie Rogers at Madison Square Garden.
(12/12-12/13) Andrea Bocelli performs at Madison Square Garden.
(12/16-12/1) Los Lobos at City Winery.
(12/14-12/15) Manchester Orchestra & The Front Bottoms at Brooklyn Steel.
(12/16) Vienna Boys Choir at Carnegie Hall.
(12/14-12/16) Gay Men's Chorus Comfort & Joy at Skirball Center for the Performing Arts
(12/16) Noel Nights: Rufus and Martha Wainwright and Family and Friends at The Town Hall.
(12/18) Cat Power at Brooklyn Steel.
(12/19) Billy Joel at Madison Square Garden.
(12/1, 12/7-12/8, 12/21-12/22, 12/28-12/29, 1/5, 1/9)  n tandem with The New York Botanical Garden's Train Show, grab a friend or date for Bar Car Nights, On these nights exclusively for adults 21 and over, the wintry landscape of NYBG sets the scene for festive outdoor adventures, with an after-dark viewing of the expanded Holiday Train Show as the centerpiece. Sip a cocktail as you journey through a series of station stops, including pop-up acts featuring some of NYC's favorite street performers. 7pm-10:30pmpm.
(12/27-12/30) Thursday at Music Hall of Williamsburg.
(12/29) Dar Williams: Christians, Pagans, and Other Hipsters at The Bell House. 
(12/28-12/31) Phish ring in the new year at Madison Square Garden.
(12/28) A Gay Show for All People: Holiday Spectacular at The Bell House. With Aaron Jackson, Josh Sharp, Jaboukie Young-White, Naomi Ekperigin, Nathan Lee Graham, Pat Regan, Amy Jo Jackson, Erin Markey, Sydnee Washington, Henry Koperski and His Straights. 8pm.
Read about 10 Concerts to Ring in the Holidays here! 
Read more about Seasonal Holiday Bars in NYC here! 
Color Factory, Candytopia, Sugar and Spice, and more! Do It for the Gram: NYC's Most Instagrammable Exhibits!
Things to Do in New York in December: Sightseeing/Markets
(Now-3/3/19) Bank of America Winter Village at Bryant Park is back! Ice skating, shopping, hot chocolate and other tasty treats, and more! wintervillage.org
(Through 12/24) The Grand Central Holiday Fair is open from Monday, November 12 through Sunday, Christmas Eve, with Grand Central Terminal hosting 40 artisans in Vanderbilt Hall selling art and home goods; holiday-themed items; bath and body products; toys; and clothing and accessories for men, women, and children. The Holiday Fair is open Monday through Friday, 10am-8pm, until 7pm Saturdays, and 11am-6pm Sundays. Closed Thanksgiving and open 10am-6pm on Christmas Eve.
For more on holiday markets in NYC, click here.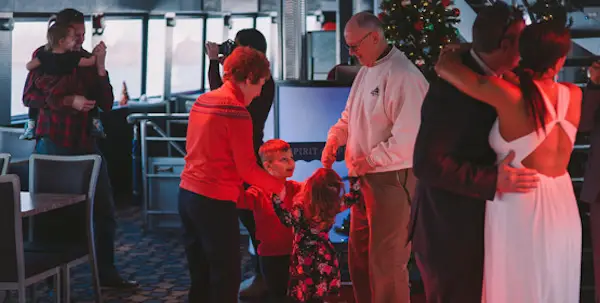 (12/1-12/28) Spirit of New York offers a series of December HolidayLights,Christmas Eve Lunch and Dinner cruises, departing from Chelsea Piers. Jingle Bell Lunch Cruises sail from noon-2pm, from $64.90 per person; their Holiday Lights Dinner Cruise sails from 7pm-9:30pm, from $119.90 per person. spiritofnewyork.com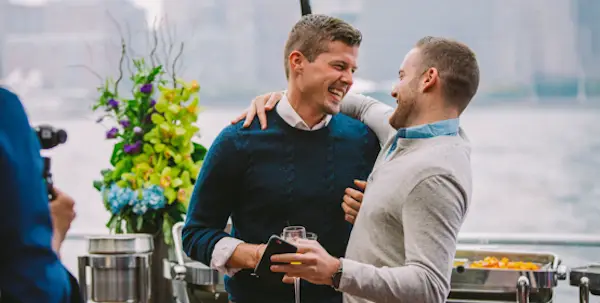 (12/1-1/1) Bateaux New York offers Holiday Lights Dinner Cruise, sailing from 7pm-10pm. Includes a three course dinner, an acoustic quartet and piano performance, and panoramic views. From $149.90. Grab the gang for the Holiday Bottomless Mimosa Brunch, starting at $94.90.  Ring in the new year with their New Year's Eve Cruise, from 9pm-1am, starting at $599.90. bateauxnewyork.com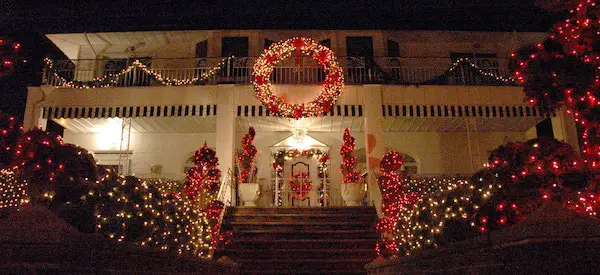 Throughout month of December, check out A Slice of Brooklyn's Holiday Lights Tour, which goes through Dyker Heights, Brooklyn, a neighborhood full of eye-popping displays. Offered every day except Christmas Day. Stock up on holiday treats and gifts onA Slice of Brooklyn's Chocolate Tour as well, offered every Monday, Wednesday, and Friday.
Things to Do in New York in December: Shows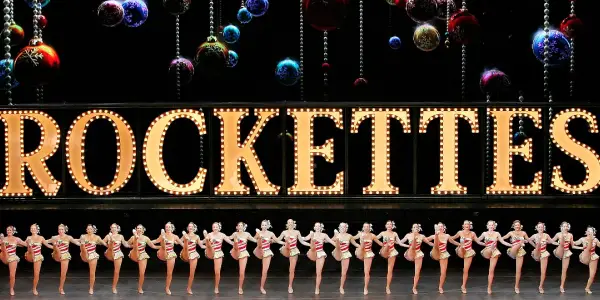 (11/9-1/1/19) The NYC perennial holiday favorite Christmas Spectacular Starring The Radio City Rockettes®returns. Fan favorites include "New York at Christmas," where the Rockettes® board a real double-decker bus, and the high-energy tap number "Twelve Days of Christmas." Of course, beloved classics like "The Parade of the Wooden Soldiers" and "The Living Nativity" will also be back. rockettes.com/christmas
Photo credit: © Paul Kolnik
(11/23-12/30) Dreams come to life when Tschaikovsky's iconic melodies begin to play. As the clock chimes midnight, a brave young girl turns the tide in a battle between toy soldiers and mischievous mice, and a blizzard of ballerinas reveal a wonderful world of confection. This holiday season, be swept away by the magic of George Balanchine'sThe Nutcracker®, performed by the world-renowned New York City Ballet. The New York Times says, "Balanchine's classic production felt like coming home." David H. Koch Theater, 20 Lincoln Center, nycballet.com/nutcracker
Things to Do in New York in December: Ongoing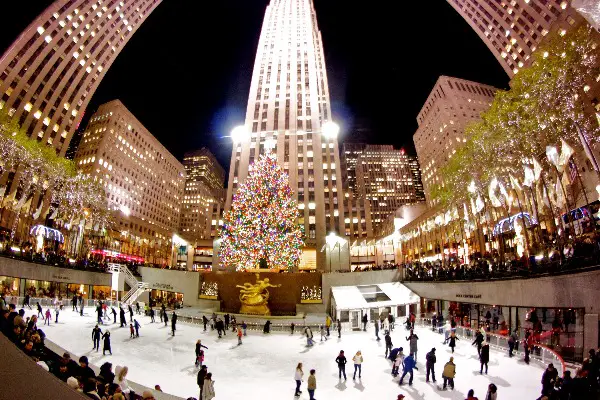 The iconic Rockefeller Center Ice Skating Rink, now in its 82nd year, is the most famous patch of ice in the world. Take advantage of a package deal, like Apres Skate (appetizers and drinks) or a Starlight Skate on the night's last session.
Things to Do in New York in December: New Year's Eve

December 31st, 2018. New Year's Eve is New York's biggest celebration. Times Square is the most famous destination, although the sheer number of participants can make it a bit of a headache (you need to get there hours early and there's no alcohol allowed). There are many, many alternatives.
(12/30-1/1) Spirit of New York is offering a 20% discount on their New Years Eve Family Lunch (from $52.90)  Eve of the Eve Dinner Cruises (from $111.90), or New Years Eve Fireworks Cruise, from $279.90 per person, 10pm-1am. New Year's Day Lunch and Dinner cruises also available, $59.90-$104.90 All ages welcome, bar, 21+. For discount, must book by 11/15. spiritofnewyork.com
(12/31) NYRR Midnight Run 2018 Kick off the New Year at the Midnight Run! Join the fun and celebrate with music and dancing (starting at 10:00 p.m.) as 2017 comes to a close. With a countdown to midnight beginning at 11:59 p.m., the four-mile run will begin on the stroke of midnight, as will a spectacular fireworks display to light up the night and the start of 2018. nyrr.org
(12/31) St. John the Divine's New Year's Eve Concert for Peace. Founded by Leonard Bernstein in 1984, the annual New Year's Eve Concert for Peace is a signature Cathedral event, gathering old friends and new for more than a quarter of a century. The music, the candles, and the spirit of peace send audiences out into the chill January night with renewed hope for the world we share. With guests With guests Judy Collins, Jason Robert Brown, Paul Winter, and host Harry Smith. 7pm. General admission free, tickets required.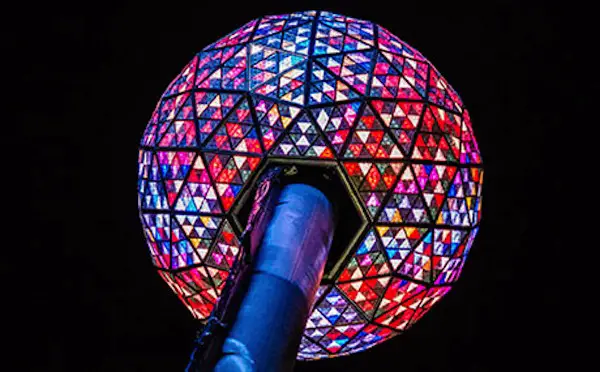 (12/31) The clock will strike midnight, the ball will drop, kisses will be exchanged, and the promise of a New Year will light up the night sky. If there's any town that can be trusted to get New Year's right, it's New York City, where the Times Square New Year's Eve Celebration and Ball Drop provides a focal point for the entire world. Get there hours early if you want to be close to the center of the action as the city counts down to 2018. newyearseve.nyc
Every year, at 11:59pm on December 31st, people from all over the world are focused on the Times Square New Year's Eve Ball. Millions of voices unite to count down the final seconds of the old year and celebrate the beginning of the new. Now you can get up close and personal with the Times Square New Year's Eve Ball at Ripley's Believe It or Not—Times Square any day of the year! Press the button yourself and ring in the New Year. A home to rare artifacts and thrilling interactive exhibits, Ripley's is for anyone who wants to immerse themselves in the unexpected and the unbelievable.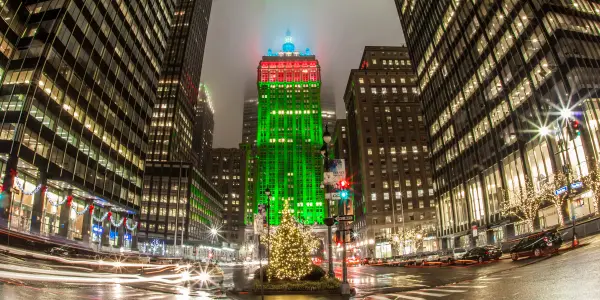 Image: Anthony Quintano/Flickr
New York Weather in December
Winter solstice in New York takes place on December 21st, 2018, but the last three weeks of autumn leading up to the season change tend to be pretty brisk. Days have gotten short, with the 21st roughly coinciding with the longest night of the year. Lows average around 32 degrees Fahrenheit, with average highs around 43. You can expect some outlier days, warmer or colder, with extremes of weather (wind, snow, sleet, freezing rain) becoming more likely as the month goes on. You will want to pack your heaviest jacket, as well as gloves, hats, scarves, and maybe a (stylish) pair of boots, too. A white Christmas? The chance for an inch of snowfall on December 25th is exactly 10%.
=============================================
mm
===============================================
Don't let the cold weather keep you from enjoying all of the free events at Lincoln Center in December. See the calendar for a list of all upcoming events.
Through March 30

Jerome Robbins Dance Division / New York Public Library for the Performing Arts

Voice of My City: Jerome Robbins and New York at the New York Public Library for the Performing Arts

Jerome Robbins was an inveterate observer, seeker, and creator. In diaries, drawings, watercolors, paintings, story scenarios, poems—and, especially, in dance—he reimagined the world around him. And New York dominated that world, where he was born one-hundred years ago and where he lived his entire adult life. Ideas of New York have long inspired artists but often the city serves as a backdrop in an artwork rather than the basis for plot, theme, and meaning. Robbins put the city at the center of his artistic imaginings. From Fancy Free—his breakout hit ballet in 1944—to the musical West Side Story on stage (1957) and screen (1961) and the ballets N.Y. Export: Opus Jazz (1958) and Glass Pieces (1983), Robbins explored the joys, struggles, grooves, routines, and aspirations of New York. And in recreating the city around him on stage, Robbins found a place for himself. Voice of My City traces Robbins's life and dances alongside the history of New York, inspiring viewers to see the city as both a muse and a home.

December 1

Shine and the Moonbeams at the David Rubenstein Atrium

Take two outstanding NYC musicians with eclectic musical tastes and influences, combine their unique perspectives, add a backing band, and witness the result: a soulful, groove-heavy R&B musical extravaganza in a rock 'n roll package, capturing the sweetness, uncertainty, and simplicity of youth.

December 1, 15, and 16

Access Workshops in the Samuel B. & David Rose Building

New York City Ballet is committed to offering audiences of all ages and abilities the opportunity to engage with our artists and to experience the art form of ballet.

December 5

Sonatenabend in Juilliard's Paul Recital Hall

Pianists from Juilliard's Collaborative Piano department perform sonata repertoire in partnership with student instrumentalists.

December 5

An Evening with Matthias Goerne at the David Rubenstein Atrium

On the eve of his premiere performance as The Mary and James G. Wallach Artist-in-Residence at the New York Philharmonic, baritone Matthias Goerne discusses his role as a leading interpreter of German art songs. Find out more about this distinguished artist's inspiration and the works he will be performing with the Philharmonic this season.

Matthias Goerne, Mary and James G. Wallach Artist-in-Residence, speaker
Isaac Thompson, New York Philharmonic Vice President of Artistic Planning, moderator

Presented in collaboration with the New York Philharmonic

December 6

Photo by John Albert Harris

Nouveau Classical Project: Currents at the David Rubenstein Atrium

Led by composer and pianist Sugar Vendil, the Nouveau Classical Project is reinvigorating classical music as a living, breathing art form through its commissioning of contemporary composers, multidisciplinary performances, and collaborations with fashion designers. "Bringing a refreshing edge" to contemporary classical music (VICE), NCP has commissioned Currents, its latest evening-length performance featuring music for flute, clarinet, violin, cello, piano, and electronics by some of today's most exciting composers: Olga Bell, David Bird, Gabrielle Herbst, and Isaac Schankler.

Presented in collaboration with Asian American Arts Alliance

December 10

Liederabend in Juilliard's Paul Recital Hall

Artists from Juilliard's Collaborative Piano department perform repertoire with singers from the Ellen and James S. Marcus Institute for Vocal Arts.

December 12

Wednesdays at One: Juilliard Lab Orchestra in Alice Tully Hall

Juilliard artists share their talent with the community in these free, hour-long lunchtime concerts on Wednesday afternoons throughout the season.

December 12

Photo by Driely-S.

VICE Media Watch & Learn in the David Rubenstein Atrium

Challenge your perspectives on today's most pressing issues at a special screening and talk-back with some of VICE's best investigators.

December 13

Photo by Mark Gurevich

Ljova: Moving Pieces at the David Rubenstein Atrium

Join Russian-born, New York–based composer and performer Ljova for an adventurous evening of his music for strings, featuring an expanded ensemble with members of the PUBLIQuartet, Secret Quartet, and special guests. Ljova's music has been performed by Yo-Yo Ma and the Silk Road Ensemble, Louisville Orchestra, Brooklyn Rider, The Knights, A Far Cry, and many others. He is the leader of Ljova and the Kontraband, and a composer of numerous scores for film and dance. Drawing material from his recent releases Melting River, Footwork, and his upcoming release SoLò Ópus, Ljova creates music that gleefully defies categorization and packs an emotional wallop.

December 20

Photo courtesy of Ski Images

¡VAYA! 63: Miss YaYa at the David Rubenstein Atrium

With her strong, resonant voice and electrifying stage presence, Grammy-nominated salsera Miss YaYa brings her high-energy mix of urban salsa, merengue, and bachata to the Atrium. The native New Yorker with Dominican and Puerto Rican roots started out on television singing competitions before being named the frontwoman of the DLG (Dark Latin Groove) salsa crew. While she still works with DLG, she has also broken out as a formidable solo artist and bandleader on the salsa scene. Join her for a perfect December night on the dance floor.

Opening set by DJ Tru Titan

Presented in collaboration with the NYU Music and Social Change Lab

December 27

Soul in the Horn at the David Rubenstein Atrium

Ring in the new year early with NYC's high-spirited, iconic dance party featuring horn-infused DJ sets with music spanning the globe.

Featuring sets by DJ Donis and a live performance by Marcus Machado

===========================================================

Plan your month with our NYC events in December 2018 guide including holiday markets and shows like The Nutcracker

Photograph: Filip Wolak

Get ready for the most wonderful time of the year with the best NYC events in December 2018. This season's highlights include, well, you already know what they are. But you'll only find out how to get Radio City Christmas Spectacular tickets and where to see The Nutcracker Ballet in NYC here! You can really get into the spirit when you visit one of New York's many holiday markets boasting great gifts for your friends and family as well as tasty provisions. Looking for something less festive? Check out terrific art shows and concerts.

Check out our Winter Village video

Featured NYC events in December 2018

Cathryn Lynne Lundgren

Things to do, Performances

Le Poisson Rouge, Greenwich Village

BAM Harvey Theater, Fort Greene

Solomon R. Guggenheim Museum, Upper East Side

Cynthia King Dance Studio, Brooklyn

Ailey Citigroup Theater, Hell's Kitchen

The Flea Theater, Tribeca

Choreographer David Parker and his Bang Group reprise their neovaudevillian version of The Nutcracker, a comedic deconstruction of the holiday classic that mixes tap, ballet, contemporary dance and disco. The cast includes teen dancers from the Dalton School and the Frank Sinatra School of the Arts.

Music events in December 2018

Photograph: courtesy of the artist

Brooklyn Steel, Williamsburg

The Town Hall, Midtown West

Hammerstein Ballroom (at the Manhattan Center), Hell's Kitchen

Brooklyn Steel, Williamsburg

Brooklyn Steel, Williamsburg

This American band, which is neither from Manchester nor an orchestra, plays swelling rock songs with dramatic shades of Built to Spill. The group hits Brooklyn behind the new A Black Mile to the Surface, which features a nearly total turnover of the group's original members aside from guitarist and singer Andy Hull.

==========================================================

Every month in New York, there are a bewildering number of new dishes to eat, drinks to imbibe, and food-themed events to attend. Often, the hardest part is just figuring out what's really worth your limited time.
So Grub kicks off each month with a curated selection of dishes, drinks, and events that should absolutely be on your agenda. Make your plans now.

1. Celebrate the holidays with a Greenpoint restaurant's new meaty group dinners.
Brooklyn's Cherry Point recently got a new chef in Ed Szymanski, who has worked everywhere from Lyle's in London to Quintonil in Mexico City to the Beatrice Inn here in New York. Just in time for holiday gatherings, he's introduced a pair of group menus (both are $65 per person). For the first, Szymanski goes all-in on beef with dishes like bone marrow flatbread, grilled tongue with mustard, braised cheek and oyster pie, and grilled rib of beef. The other option is heavy on game birds. There's barbecued quail and smoked squab with flatbreads, pheasant with apples and bread sauce, and grilled wild duck. Each culminates in a dessert of blackberries and baked cream.

2. Seek out the best Christmas present of all: breakfast tacos at Superiority Burger.
On December 25, Superiority Burger will swing its doors open at breakfast for its Taqueria Rizzo pop-up, from 9 a.m. to noon. Run by Superiority cook Dave Rizzo, it's a very occasional pop-up for vegetarian breakfast tacos made in the style of Rizzo's native San Antonio. Like last time, on July 4, there will be four choices of taco: soy-rizo and egg, migas, potato and egg, and bean and cheese. For dessert, there's candy-cane gelato, pink cake, and conchas.

3. Eat a Belgian sandwich stuffed with roast ham and French fries.
The owners of East Williamsburg's Little King have expanded with a new restaurant and bar specializing in Belgian food and natural wine. Open all day, Benelux serves three versions of moules-frites ($18); oysters raw ($15 for a half dozen), smoked ($12), or Florentine ($14); and a handful of other dishes. There are two kinds of very American burgers ($13 and $15), complemented by the over-the-top Belgian sandwich called a mitraillete ($16). Served on a baguette, it's made with roasted ham, bread and butter pickles, and a bunch of fries. Why eat your fries on the side, anyway?

4. Have latkes and more at a Russian Hanukkah dinner.
The Jewish Food Society regularly throws fun and fascinating food events, and the next will be this modern Russian Hanukkah dinner. For the December 6 event (7 p.m. to 10 p.m.; tickets are $70), the organization's former chef-in-residence Sasha Shor will cook latkes with smoked fish, crispy Cornish hens, and a dessert with La Newyorkina's Fany Gerson. Afterward, she'll speak with writer Adam Sachs about keeping family recipes alive.

5. Order a very chef-y fruitcake.
Who says fruitcake can't be good? Not Ned Baldwin, who on December 7 will bring his annual fruitcake sale back to his popular Tribeca spot Houseman. The chef spent several years working on his recipe, pulling from different traditions. His version ($42, available for shipping) is made with candied cherries, oranges, and ginger, toasted walnuts, and a good soaking in rum. It could make for a nice holiday gift, if you can hold off on eating it.

6. Head to talks with the authors of two of the fall's most notable cookbooks.
Books Are Magic has a pair of back-to-back events to keep on your radar. First, on December 3 from 7:30 to 8:30 p.m. (RSVP here), sisters and chefs Michelle and Suzanne Rousseau will be joined by writer Korsha Wilson to talk about their new Caribbean cookbook Provisions. The next day (RSVP here) at the same time, Jeremiah Stone and Fabián von Hauske of Contra and Wildair will talk about their A Very Serious Cookbook with their co-author Alison Roman and Bon Appétit deputy editor Julia Kramer.

7. Feel better about drinking too many cocktails at a charitable Christmas pop-up.
Through December 31, Carroll Gardens' Leyenda will turn into a Christmas pop-up with a charitable bent. They're calling it Sleyenda, outfitting the bar with holiday tree lights and other seasonal decorations, and revamping the menu with drinks like Grandma's Secret Stash (allspice dram, vanilla, Smith and Cross rum, and black tea). A dollar from every new Sleyenda cocktail goes to the Global Fund for Women, the New York Women's Foundation, Outsmart NYC, and the Me Too Movement.

8. Join Carla Hall for a benefit dinner.
On December 11, the Brownsville Community Culinary Center will host Carla Hall for a benefit dinner (tickets are $200). Starting at 6:30 p.m., she'll serve a five-course menu of dishes from her book Carla Hall's Soul Food: Everyday and Celebration. Proceeds will benefit the Melting Pot Foundation and the BCCC.

9. Pretend it's not dark at 4 p.m. at an Amalfi Coast restaurant's New York pop-up.
A seaside Italian restaurant visited by the likes of Beyoncé has made the voyage to New York. The Amalfi Coast's La Conca Del Sogno will pop up at Chefs Club from December 3 through January 1, serving its spaghetti alla Nerano, Italian wines, and more. Reservations can be made here; Amalfi sunshine not included.

10. Spend a Saturday eating lots of cheese in Queens.
Queens food guru (and occasional Grub Street contributor) Joe DiStefano and his New York Epicurean Events will host their fourth annual Great Northeast Cheese Fest. Happening tomorrow, December 1 (tickets are $50 to $120) at the Flushing Town Hall from 6 p.m. to 9 p.m., there will be freshly made mozzarella from Kesté's Roberto Caporuscio and fondue parmigiana with Cabot cheddar and gruyere from M. Wells' Hugue Dufour. Not to mention lots of great cheese from the likes of Consider Bardwell Farm, as well as drinks from Mikkeller NYC and Brooklyn Cider House.

11. Celebrate a Brooklyn cider maker's first year in business.
Speaking of the Brooklyn Cider House, the Bushwick bar, restaurant, and apple booze producer will celebrate its first anniversary on December 13. To ring it in, there will be a party starting at 8 p.m. with a a dance floor, cocktails, free tostadas, and potato tortillas, and free tastes of new ciders. The event is free but space is limited, so you can RSVP here.

12. Gorge on truffles at Roberta's.
Affordable truffles are great, but, okay, maybe you're looking to splurge. If that's the case, you'll want to be at Roberta's on December 3 for its Truffle & Flow dinner (tickets are $311.49, with service fee). It starts at 7 p.m. with cocktails and canapes like vitello tonnato tartare, followed by courses including the pizzeria's Cheesus Christ pie with lots of truffles, smoked sasso roulade with melted leeks, and spaetzle with brown goat butter and white truffle. There are wine pairings, as well.

13. Get booza, the Middle East's stretchy ice cream, in holiday flavors like babka.
New York's only ice cream shop specializing in booza, the stretchy and dense style of the Middle East, is getting into the holiday spirit. Republic of Booza will offer a trio of new flavors (from $5.25 for a small to $8.25 for an extra large) for its first holiday season, including eggnog zabaione, chocolate babka, and panettone. It might be cold outside, but it's never too cold to eat ice cream inside.

=========================================================

2018 is nearly at an end

—

but before it goes, New Yorkers can see the year out with a final month of holiday cheer, winter walks and fascinating events. Get out and enjoy the city or learn about everything from theatre to diplomacy to quieting the monkey mind at these upcoming talks and events.

Saturday, December 1. Dress up for the People's Ball, a night celebrating authentic self-expression, imagination, style and freedom. Brooklyn Public Library – Central Library.

Sunday, December 2. Say goodbye at Washington's Farewell, an event commemorating George Washington's emotional taking leave of his officers at Fraunces Tavern as the Revolutionary War ended in 1783.

Appearances by Philippe Petit, Tina Brown, Madeleine Albright, and President Jimmy Carter highlight our picks for the best smart things to do in NYC this week.

Monday, December 3

Monday, December 3. Carry a torch for this conversation on the new Broadway production of Torch Song with playwright Harvey Fierstein and performers Michael Urie and Mercedes Ruehl. 92nd Street Y.

Philippe Petit, best known for his daring walk between the two unfinished World Trade Center towers, comes to LIVE from the NYPL to talk inspiration, risk, and exploration. He'll be joined in conversation by philosopher, cultural critic, and Lacanian psychoanalyst Slavoj Zizek. New York Public Library—Stephen A. Schwarzman Building.

Paul Auster launches the limited edition manuscript of his New York Trilogy, which uses hand- and type-written manuscripts to document the work's evolution. Auster will be joined by fellow author Luc SantePaul Auster launches the limited edition manuscript of his New York Trilogy, which uses hand- and type-written manuscripts to document the work's evolution. Auster will be joined by fellow author Luc Sante. The Strand.

Oscar Wilde referred to New Year's resolutions as "simply cheques that men draw on a bank where they have no account." Philosophers Skye Cleary and Massimo Pigliucci take a fresh look at the New York Society for Ethical Culture.

Tuesday, December 4

Psychologist and NYU professor Dr. Lawrence Ian Rees, an expert in the facial expression of emotion, talks up the virtue of truth at a Think&Drink NYC convening at Subject. You'll never watch the news the same way again after White Lies, Tall Tales, and Whoppers: Detecting Lies Through the Body, Face, and Voice.

Diversify at this talk on the need for greater diversity in government. NYU School of Law.

Jay McInerney (Bright Lights, Big City, published in 1984) sits down with a fellow icon of a gilded era, former Vanity Fair editor-in-chief Tina Brown. for a look at the "revenge of the '80s." A book signing follows. 92nd Street Y.

Diego Rivera's last living student, muralist Rina Lazo, joins the book launch for the first English edition of a book of Rivera interviews. Art historian Anna Indych-Lopez will be in conversation with Lazo. They'll be joined at the Mexican consulate by actress Elena Hurst, reading excerpts from Rivera's dialogs.

Wednesday, December 5

In coarse times it is reassuring to hear from the pros. Former Secretary of State Madeleine Albright (Fascism: A Warning) speaks with Wendy Sherman (Not for the Faint of Heart: Lessons in Courage, Power, and Persistence), who was the lead negotiator of the Iran nuclear deal. They 'll be joined by the U.S. managing editor of the Financial Times, Gillian Tett. 92nd Street Y.

Big Data is making everything fair and efficient, yes? Author Cathy O'Neil, a former Wall Street quant, shows how it's actually the opposite. She'll talk about her book Weapons of Math Destruction: How Big Data Increases Inequality and Threatens Democracy, which reveals the black box models now shaping our destinies. Two sessions (4pm and 7pm), with a special introduction by Fields Medalist Manjul Bhargava. Museum of Mathematics.

Mammalogist Ross D. E. MacPhee, curator in the Department of Mammalogy at the American Museum of Natural History, leads a free SciCafe session that looks into ancient megafauna and the mystery of its disappearance from the earth.

Thursday, December 6

If 2018 taught us anything (if), it's the urgency of a plan for sustainable development. One of the world's experts in that field, Jeffrey Sachs (until recently Director of the Earth Institute at Columbia University), sits down with Venerable Burin Thitakusalo (B.T. Bhikkhu) of The Middle Way Meditation Institute for a Rubin Museum of Art Karma: Ancient Wisdom Meets the Future conversation.

You can afford to attend this event exploring bold housing alternatives for New Yorkers to combat the city's affordability crisis. Museum of the City of New York.

Diplomat and attorney Stuart Eizenstat speaks about his new book, President Carter: The White House Years, which includes his own first-hand accounts of a misunderstood presidency. He'll be joined in person by philanthropist David Rubenstein and President Jimmy Carter himself via Skype at the 92nd Street Y.

Saturnalia. Brasilia. Noguchi. It's a full weekend of smart talks and events in NYC.


Friday, December 7

Every 20 years, locals tear down the Shinto shrine complex Ise Jingu only to rebuild it  from scratch. Join the magazine Tricycle at the New York Insight Meditation Center for a screening that explores this 1,300-year-old ritual.

Actor and performer

 Ana Gasteyer 

(

Saturday Night Live, Mean Girls, Lady Dynamite

) comes to

The Greene Space

stage for this month's variety jam at 44 Charlton. She's joined by avant garde performance trio QuaQuaQua and Sterling Strings Quartet.

Saturday, December 8

Walk through history on this walking tour centered on gay and lesbian writers and artists in the East Village.

Caveat hosts a literal Saturnalia, looking back at pre-Christmas revelries. Singer-songwriter Jill Sobule hosts an evening of yuletide melodies, pagan history, and Christmas magic.

Philosopher Simon Critchley, journalist Sarah Jaffe, and economist Sanjay G. Reddy come together to talk about the connections between economic circumstances and "the expression and reception of the truth of one's lived experience." Part of the 2018 Next Wave Festival series Speaking Truth to Power at the Brooklyn Academy of Music (BAM).

The talk Brasilia: Good Intentions, Epic Failure, and Our Alien Overlords is sandwiched between explanations about how to protect the planet from asteroids and the rise of global celebrity as manifested with the discover of Tut's tomb. Littlefield.

Sunday, December 9

Enjoy an afternoon conversation on the 1969 piece Sun at Noon, as part of the "Center of Attention" series at the Noguchi Museum.

Academy Award–winning composer Paul Williams joins Jim Henson Legacy President Craig Shemin to look at clips and talk about Williams's many musical collaborations with Jim Henson. After the program there will be a signing of CDs of Emmet Otter's Jug-Band Christmas, a first release of the original soundtrack recording. Museum of the Moving Image.

Talks on the science behind polarization, the suicide of the west, and the cultural condition of democracy today highlight our picks for the best smart things to do in NYC this week.

Monday, December 10

Unexpectedly, in the 2,200 years since Carthaginian general Hannibal Barca took war elephants over the Pyrenees and the Alps into Italy, no one has ever tried to trace the actual route. No one until Dr. Patrick Hunt, that is, who will speak about his 10-year National Geographic-sponsored field expedition, which made use of "GIS, photogrammetry, paleoclimatology, geomorphology, palynology, soil chemistry, lichenometry, and forensic science." The Explorers Club.

Hear from the authors of two architectural guides for the holiday season: The Manhattan Nobody Knows: An Urban Walking Guide by William B. Helmreich and Mid-Century Modern Architecture Travel Guide: East Coast USA by Sam Lubell. Center for Architecture.

Tuesday, December 11

Anyone who's experienced marital discord over Laurel/Yanny perceptions may have some insight into our great national dividing. NYU professor Dr. Pascal Wallisch, who explores the intersections of psychology and neuroscience, will talk about the latest in the science of disagreement, including what's behind political polarization. Subject.

Catch a General Society Library presentation from author John Tauranac, who will reveal the Manhattan's "history hidden in plain sight" in signs, symbols, and secrets. A signing and reception follow.

Go behind the page at this event with author Jennifer Egan at the Kupferberg Center for the Arts at Queens College.

Wednesday, December 12

National Review senior editor Jonah Goldberg is joined by Kathryn Jean Lopez, a National Review editor-at-large, for a look at the perils democracies face as institutions go undefended. Sheen Center for Thought & Culture.

Scholar Persephone Braham, an expert on the literature and culture of Latin America and the Caribbean, considers the monsters of our southern neighbors, from Amazons to zombies and beyond. Wine and cheese will be served. New-York Historical Society.

Have good taste by attending this talk with Paul Freedman on the process behind deciding the 10 Restaurants that Changed America—followed by a tasting of dishes from some of the top 10 spots. Museum of Food and Drink.

Princeton professor Erika Milam, an expert in evolutionary theory, takes a look at a pressing question of the Cold War era: did the human race prosper because of a unique ability to murder? She'll trace the quick rise and fall of the "killer ape" theory, as it made its way from scientific quarters to classrooms and movies, with a look at the race and gender questions latent within it. NYU (Other).

Danish-Norwegian writer Kim Leine, author of the best-selling Prophets of Eternal Fjord: A Novel, joins Simon Winchester, an Arctic explorer since 1965. They'll conduct a LIVE from the NYPL conversation about a precipitously changing north. New York Public Library—Stephen A. Schwarzman Building.

Thursday, December 13

Hear from Matt Dillon, star of Lars von Trier's much-anticipated new film The House That Jack Built, a story of the criminal mind told in multiple parts. Tickets are free and distributed at the box office starting one hour prior to the conversation. Film Society of Lincoln Center.

In the nearly 20 years since Bowling Alone: The Collapse and Revival of American Community was published, the fabric of democracy, both here and abroad, has only grown more frayed. Political science professor Christine Landfried will speak about the cultural condition of democracy today, noting the indicators of decline, the way populists have taken advantage, and the possible remedies for democratic restorations. Deutsches Haus at NYU.

MMMM

Friday, December, 14. Celebrate the holidays at MoMA PS1's Artist Holiday Party, complete with seasonal treats, drinks and after-hours exhibition viewing. MoMA PS1.

Saturday, December 15. Deliver yourself to this reading from Maria Popova and A Velocity of Being, a new anthology of letters to young readers by 121 of the most interesting culture-makers alive today. New York Public Library–Stephen A. Schwarzman Building.

Sunday, December 16. Question the rights of rivers as philosopher Vishwa Adluri joins Riverkeeper's John Lipscomb and environmental lawyer Ben Price for a Karma: Ancient Wisdom Meets the Future conversation. Rubin Museum of Art.

Monday, December 17. Network at this conversation with director Ivo van Hove and actor Bryan Cranston on the new Broadway production of Network. The TimesCenter.

Tuesday, December 18. Express yourself at this Civility in America debate with Cornel West on freedom of speech on college campuses and in broader society. Sheen Center for Thought & Culture.

Wednesday, December 19. Design a way to attend this talk with black interior designers on their careers and how they've overcome adversity. New York School of Interior Design.

Thursday, December 20. Leave "The Office" and head to this conversation with actor Steve Carell. 92nd Street Y.

Friday, December 21. Chow down at this event on the link between Judaism and Chinese food, complete with talks, tastings and a Kosher Chinese night market. Museum of Food and Drink.

Saturday, December 22. Head underground for this exploration of the oldest subway stations in New York and the transit system's history.

Sunday, December 23. You won't need a miracle to attend Miracles on 34th Street, a walking tour of the 34th Street corridor under the holiday lights. The Municipal Art Society of New York.

Monday, December 24. Wander through Central Park on this "Heart of the Park" walking tour exploring some of the park's most iconic landmarks.

Tuesday, December 25. Spend Christmas morning with the most famous Christmas tree in the world on this tour of Rockefeller Center. The Municipal Art Society of New York.

Wednesday, December 26. Escape the city on this walking tour exploring the Ramble's winding paths in Central Park.

Thursday, December 27. Delve into architecture and history with the tour Building on the Lower East Side, one of a full slate of options offered by the Tenement Museum.

Friday, December 28. Seek out some stillness at the meditation and book signing Medicine for the Monkey Mind with author, meditation teacher, and psychotherapist Ralph De La Rosa. Rubin Museum of Art.

Saturday, December 29. Magically appear at this after-hours tour and demonstration at Fantasma Magic, which holds one of the world's largest collections of Harry Houdini artifacts. New York Adventure Club.

Sunday, December 30. Blast off on this tour of spacesuit design company Final Frontier Design. Brooklyn Navy Yard.

Monday, December 31. End the year on a peaceful note with the annual New Years Eve Concert for Peace, a free concert first founded by Leonard Bernstein in 1984. Cathedral of St. John the Divine.

=========================================================

MORE COMING SOON.