These sites have been selected because they all do a first rate job publishing NYCity event info. I hope you will click on their hot links to see what they have to offer.
===================================================
November Events in New York City (TripSavvy)
=====================================================
TOP 10 THINGS TO DO IN NOVEMBER (free tours by foot)
1. Macy's Thanksgiving Day Parade / November 23, 2017 – FREE
One of the most popular and fun parades of the year, the Macy's Thanksgiving Day Parade draws large spectator crowds to see the massive floats of their favorite cartoon characters. The parade begins at 9 am, Get your spot along the route. There are 2.5 miles of public viewing and many places along the route to grab a spot to watch.
2. Rockefeller Center Tree Lighting Ceremony / November 29, 2017 – FREE
Held every year on the Wednesday of the week following Thanksgiving, the lights on the giant Christmas Tree at Rockefeller Center are turned on in a ceremonial fashion. It is the symbolic start of the holiday season and nothing brings more holiday spirit than the sight of this stunning and historic tree lighting.
3. New York City Marathon / November 5, 2017 – FREE to watch
Every year, on the first Sunday of November, over 50,000 runners from around the world run the New York City Marathon, a 26-mile marathon through the streets of all 5 boroughs of New York City. Thousands of proud New Yorkers come out to cheer them on. It is one of the most spirited days of the year and a coming together of New Yorkers and world citizens. Tradition is that as runners go past you, you can put your hand out to give them a high-five. Not only will you get a high-five right back, but also a great big smile!
It is also a great excuse to visit a neighborhood you have never been to before. Take a look at the marathon route and pick a neighborhood to watch from. Though the route is still being finalized, it is pretty much the same as prior years.
TIP: The subway has a lot of route changes on this day. Be sure to check for changes before you start your subway travel.
4. Veterans Day Parade / Saturday, November 11, 2017 – FREE
Over 25,000 people participate in the parade each year, making it the largest in the nation. The parade travels along Fifth Avenue from 26th Street north to 52nd Street.There are a variety of marchers, floats and marching bands in the Veterans Day Parade. Participants include active officers, various veteran's groups, junior ROTC members, and the families of veterans. The Veterans Day commemoration begins with a wreath laying ceremony at 10 a.m. at the Eternal Flame in Madison Square Park with the parade beginning at 11:15 a.m.
5. Holiday Train Show at the New York Botanical Garden / November 22, 2017 – Jan. 15, 2018. Prices vary.
It's worth taking a bit a slightly longer subway train ride to see these G-scale mini-trains circle 150 of New York City's landmarks along a half-mile of track. See the Brooklyn Bridge, Statue of Liberty, and Rockefeller Center re-created with only natural materials like bark and leaves. This year's theme is Midtown Manhattan and showcases New York's iconic skyscrapers and other architectural beauties.
6. New York Comedy Festival / November 7 – 12, 2017 – Prices vary
Five days of laughs from some of the top comedians in America including Tracy Morgan, Trevor Noah and more. There will also be improvisational comedy and panel discussions. Performances will be at different comedy clubs and venues in the city such as the Beacon Theatre, Carnegie Hall, and Carolines.
7. The Nutcracker Ballet / November 24 – Dec. 31, 2017 – Prices vary
If November is starting to feel like December to you, it's because in New York we get a head start on the holiday season. The Nutcracker Ballet is a sure sign that Chrismas is on its way. If you haven't seen it before, the George Balanchine choreographed version will be performed by the acclaimed New York City Ballet is a delight any time of the year. Visit the New York City Ballet website for information. It's being performed at the H. Koch Theater which is part of Lincoln Center.
8. Renegade Craft Fair / November 18 & 19, 2017 11 a.m. to 6 p.m. – FREE entrance
This is the world's largest curated exhibition of independent crafts. Renegade holds fairs worldwide throughout the year in San Francisco, Miami, Chicago, Austin, New York, Boston, Seattle, Portland, Detroit, Denver and even London. The fair features hundreds of craft makers, artisanal food and drinks, and great music, and good times. The fair is being held at the Metropolitan Pavilion at 125 W. 18th St. located in Chelsea with so many other things to do.
TIP: If you like craft fairs, this is the time of year to when lots of Christmas Markets open up.
9. Visit a top attraction for less money with shorter lines!
November is a fantastic time to go to one or more of the top tourist attractions because it is not peak season. These attractions want people coming in, so there are lots of coupons and discounts available. Plus lines are shorter so your wait time is less. ..you might want to check sites like Living Social, GetYourGuide and Groupon deals.
10. Latin American Cultural Week / November 10 – 19, 2017 – Some events FREE
If you aren't quite ready for the holiday season, Latin American Culture week will hit the spot! NYC's population is so diverse with residents from all countries of Central and SouthAmerica. It is only fitting to celebrate the cultural styles and sounds of Latin America. Over 12 days you can choose from dozens of music, dance, theater, art, literature, and film events. Many are free or priced at $10-$15 dollars.
THINGS TO DO AT NIGHT
Here are a few highlights for November:
Winter's Eve at Lincoln Square November 27, 2017
Located opposite the Lincoln Center for the Performing Arts, this event has a tree lighting, tastes of local restaurants, sidewalk performers, a brass band dance, and activities and entertainment for kids along Broadway. The celebration starts begins with the lighting of the Upper West Side Holiday Tree in Dante Park at Broadway and 63rd Street, and continues along Broadway from Time Warner Center to 68th Street. music, performers, jugglers, stilt-walkers, and more. Find more information from their website Winter's Eve at Lincoln Square.
TIP: Lincoln Center offers tours of its beautiful, majestic concert halls.
Visit Winter Village in Bryant Park Free
Bryant-Park-Christmas-Market
Christmas starts early in New York City with the opening of the Winter Village at Bryant Park. Bryant Park is located at 40th to 42nd Street between 5th and 6th Avenue. This is one of the best holiday markets to shop for one-of-a-kind items including handmade winter clothing, sweaters, hats, mittens, scarves, decorative items and more.
Winter Village closes at 8 pm every night. You can also go ice-skating there.
Go Ice-skating Dates and prices vary by venue
Get a jump start on winter by lacing up and hitting the ice at one of the several famous rinks around the city including The Rink at Winter Village, the Rink at Rockefeller Center and Lasker Rink in Central Park.
FREE THINGS TO DO IN NOVEMBER
Check out the top art museums for free!
MoMA
You might have been disappointed to find out that the top museums in New York cost a small fortune. In case you didn't know, many of the top museums offer free days or special free hours. Here are the museums you probably had on your list:
The Museum of Modern Art
At a hefty $25, one may decide to forgo this outstanding museum. If you are here on a Friday, you are in luck. MoMA is FREE every Friday from 4pm-8pm! It's known as Free Fridays and you cannot get advance tickets so get there earlier and grab a spot in line. In November, you probably won't have much of a wait.
Whitney Museum of American Art
Well-known for their cutting-edge Whitney Biennial, this museum relocated to a brand new, architecturally stunning building located next to the High Line in the Meat-Packing District. Again, this museum has a high price of $25. But on Fridays, they have Pay-What-You-Wish tickets from 7 pm –9:30 pm! TIP: Before or after, take a walk on the High Line.
Guggenheim Museum
This famous museum specializes in Impressionism, Post-Impressionism, early Modern, and contemporary art. Yet another museum that wants $25! But on Saturdays, the museum has "pay what you wish" hours from 5:45pm-7:45 pm.
The Metropolitan Museum of Art
While the museum advertises that the admission price is $25, look at the "fine print". This amount is actually a suggested donation. So head on in and feel free to pay whatever fits your budget, even one dollar. If you opt to buy your tickets online, you must pay full price.
PLUS
Holiday Train Show at Grand Central Terminal November 13- February 11, 2018
If you can't make it up to the New York Botanical Gardens train shown above, this Train Show is more centrally located. You also get the double bonus of visiting the spectacular Grand Central Terminal layout features Lionel trains traveling through a two-level, 34-foot-long miniature New York City and countryside scene. Vintage trains from the museum's collection, including New York Central models, travel all the way to the diorama's the North Pole.
=================================================
What to Do in NYC in November
October 2, 2017 – by City Guide News Desk
If you're looking for things to do in New York City in November, we've got the inside scoop on the best exhibits, sightseeing, fun for kids, concerts, nightlife, and more, as NYC gets ready for all the holiday and winter excitement. We're especially looking forward to the return of ice skating, the Rockettes, holiday markets, the 2017 TCS New York City Marathon, and, of course, the Macy's Thanksgiving Day Parade.
ICE SKATING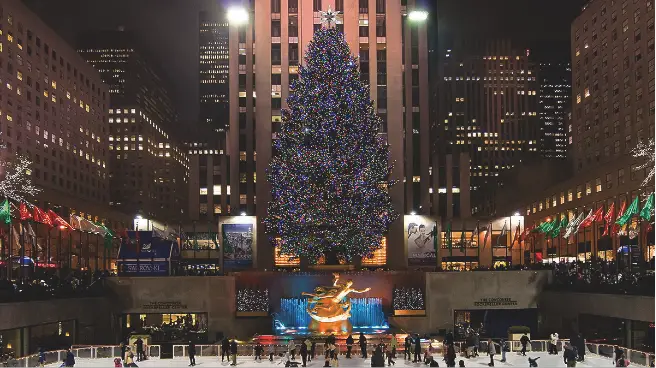 (Ongoing) The iconic Rockefeller Center Ice Skating Rink opens for the winter season. For information on reservations, skate lessons or season passes, call 212-332-7654 or visit therinkatrockcenter.com. VIP packages are also available. For more information on Rockefeller Center, visit rockefellercenter.com.
(Ongoing) Wollman Rink in Central Park is also open. For schedules and rates call 212-439-6900 or visit wollmanskatingrink.com.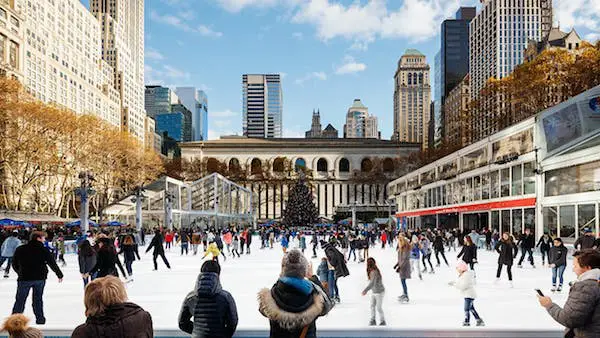 Colin Miller
(Open! Now through 3/5/18) Bryant Park's Winter Village returns. Ice skating, shopping, hot chocolate and other tasty treats, and more!
PLUS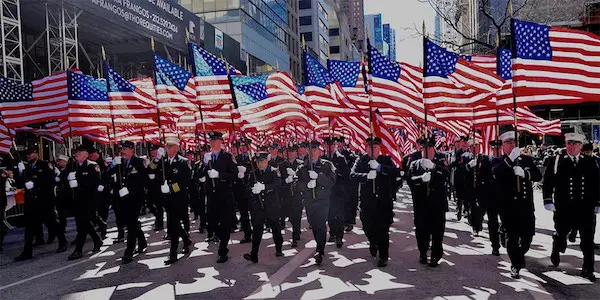 (11/11) The annual New York City Veterans Day Parade takes place along Fifth Avenue, rain or shine. It's the largest one in the nation. The Parade proceeds north on Fifth Avenue from 26th ~ 52nd St, from 11:15 AM to approximately 3:30 pm. 
THE TCS NEW YORK CITY MARATHON

(10/29-11/6) When November hits, the city's thoughts turn to pounding pavement and the excitement of the TCS New York City Marathon. Some 50,000 runners from 125 countries will be cheered on by millions across all five boroughs of the city. The TCS New York City Marathon on Sunday, November 5 is more than a one-day event, too: it's a weeklong celebration of New York, runners, and their families, friends, and fans. Read on for some highlights. tcsnycmarathon.org
The TCS New York City Marathon Pavilion. Back for race week, the Pavilion is free and open to the public from Sunday, October 29 through Friday, November 3, and back open for Marathon Monday on November 6. This entertainment hub and welcome center is located at W. 67th St. and Central Park West, just steps from the finish line. Stop by to enjoy food and drinks, official merchandise, film screenings, athlete appearances, panels, giveaways, interactive photo ops, and more.
TCS New York City Marathon Expo Presented by New Balance. The largest running exhibition in the U.S., and one of the top 10 health and fitness expos in the world. Join race participants, health enthusiasts, and runners as they prepare for race day, shop fitness products, and experience the excitement. Free and open to the public November 2-4 at the Jacob K. Javits Convention Center.

If you're looking to do some carb loading before or after a jog (or a marathon), don't miss the pasta pros at New York's favorite Italian restaurants. In Midtown West our go-tos are Buca di Beppo, La Masseria and its new sister spot Masseria dei Vini, Nino's 46, and Patsy's Italian Restaurant. For a quick pick-me-up in midtown, the Zibetto Espresso Bars have desserts and coffees as only the Italians can do it. Over in Midtown East, you'll find us at Allora Ristorante, or Obicà Mozzarella Bar, Pizza E Cucina down in the Flatiron. Further downtown, Villa Mosconi and Monte's have been Village favorites for decades. On narrow, ancient streets downtown you'll also find one of the most vibrant places in Manhattan: Little Italy. For decades now, bold-face names and hungry New Yorkers have come here for pizza, pasta, and the best cannoli in the city. Our recommendations include Grotta Azzurra, founded 1908, family-owned classics like Il Cortile and Lunella Ristorante, and the legendary Umberto's Clam House. When you're ready for a sweet ending to your Little Italy adventures, Caffé Palermo is your destination. Baby John "The Cannoli King" serves up cannolis that keep to that perfect balance between sweet cream and satisfying crunch, making these the best in the city. And you don't have to be in training for a marathon to enjoy them.
And don't let an injury slow you down: accupressure specialist Injae Choe (646-823-5386, injae.choe@gmail.com) works with athletes to relieve muscular pain and get them back in the race.
(11/27) Light up the Upper West Side with the 18th Annual Winter's Eve at Lincoln Square, an evening of music, food, dancing, children's activities, and fun for everyone. Look for processional groups, multicultural dance troupes, ice sculpting, Jazz at Lincoln Center, youth choruses, jugglers, stilt-walkers, and more! At Dante Park on Broadway between 63rd and 64th Sts., beginning at 5:30pm. Along Broadway from Columbus Circle to 68th St., 212-581-7762, winterseve.org

EXHIBITS

(11/22-1/15) The Holiday Train Show at New York Botanical Garden. Enchanting model trains zip through a display of 150 landmarks, each re-created with bark, leaves, and other natural materials—all under the twinkling glow of the Enid A. Haupt Conservatory. Marvel at G-scale locomotives humming along among familiar sights such as the Brooklyn Bridge, Statue of Liberty, and Rockefeller Center on nearly a half-mile of track.
PLUS
(Now-1/21/18) Soulful Creatures: Animal Mummies in Ancient Egypt at Brooklyn Museum. In the ancient burial ground at Saqqara, Egypt, one animal cemetery alone has yielded over four million individual ibis mummies. And the nearby dog cemetery contained over seven million mummies, with countless others found throughout Egypt. This unusual aspect of ancient Egyptian culture and religion—the mummification of animals—has remained largely a mystery. Soulful Creatures: Animal Mummies in Ancient Egypt explores the religious purpose of these mummies, how they were made, and why there are so many. Drawn from our renowned collection, the exhibition features choice examples from among the many millions of mummies of birds, cats, dogs, snakes, and other animals preserved from at least thirty-one different cemeteries throughout Egypt. Animals were central to the ancient Egyptian worldview. Most animals had connections to a particular deity. After death, mummified animals' souls could carry a message to a god. Yet not all animal mummies are what they seem. Scientific investigation of the mummies reveals that the corruption in the animal cemeteries that some contemporaneous texts allege was all too real. CT scans displayed in the exhibition uncover the empty wrappings, double mummies, and misleading packaging among some of the mummies that the priests sold to worshippers.
(11/13-2/12/18) Michelangelo: Divine Draftsman & Designer at the Metropolitan Museum of Art. Michelangelo Buonarroti (1475–1564) is the subject of this once-in-a-lifetime exhibition. During his long life, Michelangelo was celebrated for the excellence of his disegno, the power of drawing and invention. This exhibition will present approximately 150 of his drawings, three of his marble sculptures, his earliest painting, his wood architectural model for a chapel vault, and complementary works by other artists for comparison and context. Among the extraordinary international loans are the complete series of masterpiece drawings he created for his friend Tommaso de' Cavalieri and a monumental cartoon for his last fresco in the Vatican Palace.
(11/18) Downton Abbey: The Exhibition  opens at 218 West 57th Street. An immersive experience, the show transports visitors into the world of Downton Abbey with characters, costumes, rare footage, and loving recreations of the interiors.
(Now-1/7/18) The photographs in the new exhibit  American Visionary: John F. Kennedy's Life and Times at the New-York Historical Society convey the sensation you've seen them before: JFK in the White House, his kids joyfully playing nearby; JFK with wife Jackie at an event, both of them elegant and assured (in truth, many images here have only rarely been shown). It's part of the famous Kennedy allure, conveying a world that's simultaneously approachable, glittering, and rarefied. This well-curated exhibition charts  JFK's trajectory as a politician, as well as the cultural and historical pulse of the times, when photojournalism was at an apex. It's a wonderful opportunity to observe a world both familiar and lost, and to reflect on where the country was—and is.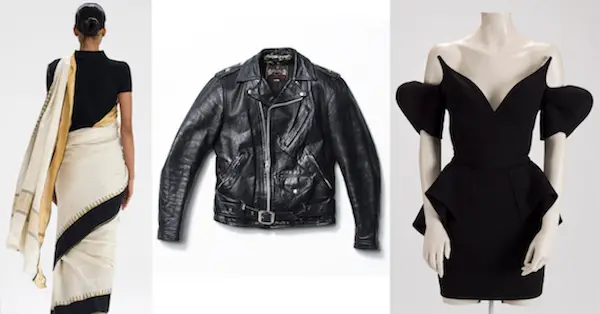 (Now-1/28/18) Items: Is Fashion Modern? at MoMA explores the present, past—and sometimes the future—of 111 items of clothing and accessories that have had a strong impact on the world in the 20th and 21st centuries—and continue to hold currency today. Among them are pieces as well-known and transformative as the Levi's 501s, the Breton shirt, and the Little Black Dress, and as ancient and culturally charged as the sari, the pearl necklace, the kippah, and the keffiyeh. Items will also invite some designers, engineers, and manufacturers to respond to some of these indispensable items with pioneering materials, approaches, and techniques—extending this conversation into the near and distant futures, and connecting the history of these garments with their present recombination and use.
(Now-5/18) The Butterfly Conservatory returns to AMNH. This is one of the museum's most popular annual seasonal exhibitions. Butterflies and moths make up a large group of insects known as the Order Lepidoptera (lep-i-DOP-ter-ah). The name—from the Greek lepido, "scale," and ptera, "wings"—refers to a prominent feature of adult butterflies and moths, the tiny scales that cover the wings and the rest of the body.
(Now-1/7/18) Magnificent Gems: Medieval Treasures at the Morgan Library & Museum. The treasure bindings on view include star sapphires, diamonds, emeralds, pearls, and garnets, alongside illuminated manuscripts and printed books that depict two-dimensional representations of these precious materials. Among the exhibition highlights will be the ninth-century Lindau Gospels, one of the two finest Carolingian jeweled bindings in the world, and the thirteenth-century Berthold Sacramentary, the most luxurious German manuscript of its time.
(Permanent) The New-York Historical Society's Fourth Floor Renovation, now complete, includes a brand new Tiffany Lamps Gallery, in addition to the opening of its Women's History Center.
(Permanent) The Jim Henson Exhibition at the Museum of the Moving Image will celebrate the life and legacy of the famed Muppet creator, exploring both his prolific career and the enduring effect his work has on pop culture to this day. Visitors can expect to learn more about the creation of such beloved works as The Muppet Show, Sesame Street, Fraggle Rock, The Dark Crystal, and Labryinth, as well as to discover the cutting-edge experimental works Henson made throughout his career.
(now-12/31) Drones: Is the Sky the Limit? at Intrepid Sea, Air & Space Museum is the first major museum exhibition on pilotless aircraft to open in the U.S. The large-scale exhibition, located in a huge, custom-designed pavilion, will reveal the history of drone technology, from its WWI origins to its current applications in solving complex humanitarian challenges. The exhibition will include a mix of small and large scale drones, including Volantis, the world's first flying dress, designed and worn by Lady Gaga. intrepidmuseum.org. Use this coupon and take $5 off!
(Permanent) The Museum of the City of New York presents NY at Its Core. Ten years in the making, New York at Its Core presents the compelling story of New York's rise from a striving Dutch village to today's "Capital of the World." The exhibition captures the human energy that drove New York to become a city like no other and a subject of fascination the world over. Entertaining, inspiring, important, and at times bemusing, New York City "big personalities," including Alexander Hamilton, Walt Whitman, Boss Tweed, Emma Goldman, JP Morgan, Fiorello La Guardia, Jane Jacobs, Jay-Z, and dozens more, parade through the exhibition.
COMEDY
Now in its 13th year, the New York Comedy Festival features a star-spangled lineup of comedians, including newyorkcomedyfestival.com.
(11/3) Joe Rogan headlines Madison Square Garden.
(11/6-11/7) An Evening with Kevin Smith at Carolines on Broadway.
(11/10) Homocomicus, headlined by Kate Clinton, at Gotham Comedy Club.
(11/11) Jim Norton at Town Hall. 
(11/11) Nick Offerman at Beacon Theatre.
(11/7-11/8) Bryan Callen at Gotham Comedy Club.
(11/24-1/25) Jamie Kennedy at Gotham Comedy Club. 
MUSIC & NIGHTLIFE
(11/19) Squeeze at Beacon Theatre.
PLUS
(11/2) A Perfect Circle at Barclays Center.
(11/3) The Shins at Brooklyn's Kings Theatre.
(11/7) The Yeah Yeah Yeahs perform at Kings Theatre, celebrating the reissue of Fever to Tell.
(11/8) Tegan and Sara at Kings Theatre.
(11/10) Evanescence: Synethsis Live with Orchestra at Kings Theatre.
(11/10) Morris Day & The Time at BB King Blues Club & Grill.
(11/24-11/25, 12/8-12/9, 12/22-12/23, 12/29-12/30, 1/6, 1/13) Bar Car Nights at New York Botanical Garden. On these nights exclusively for adults 21 and over, the wintry landscape of NYBG sets the scene for festive outdoor adventures, with an after-dark viewing of the Holiday Train Show® as the centerpiece. Sip a cocktail as you journey through a series of station stops, including pop-up acts featuring some of NYC's favorite street performers.
SIGHTSEEING/MARKETS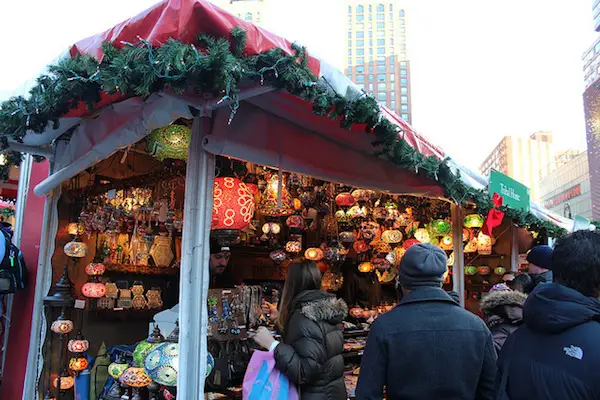 Union Square Market. Photo: flickr/Shinya Suzuki
(11/16-12/24) Union Square's Holiday Market urbanspacenyc.com.
(10/28-3/4) Bryant Park's Winter Village kicks off the holiday shopping season early. wintervillage.org.
(11/4) QUEEN OF THE RIDE!  THE RIDE introduces a special Saturday night sighsteeing experience (first Saturday of the month) aboard their luxury motorcoach, where your hilarious drag host will guide you through wild performances right on the streets of New York. Buses board and return at Hardware Bar in Hell's Kitchen. Free booze on board and a complimentary drink inside Hardware Bar upon your return. $79 pp. Save 25% on Queen of the Ride at 10pm and 11:30pm. Special rates for groups of 10+.
(11/14-12/24) The Grand Central Holiday Fair returns to Grand Central Terminal with 40 artisans in Vanderbilt Hall selling art and home goods; holiday-themed items; bath and body products; toys; and clothing and accessories for men, women, and children. The Holiday Fair is open Monday through Friday, 10am-8pm, until 7pm Saturdays, and 11am-6pm Sundays. Closed Thanksgiving and open 10am-6pm on Christmas Eve.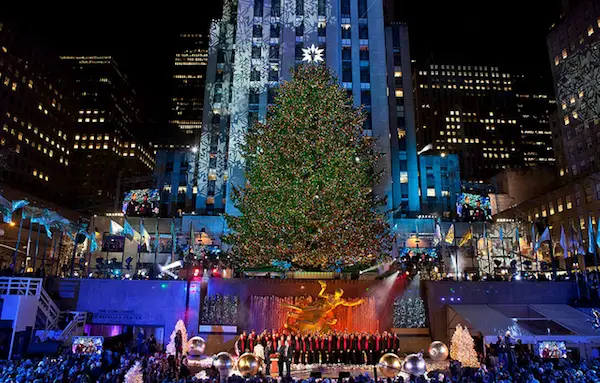 (11/29) The Rockefeller Center Christmas Tree Lighting, 8pm. The towering tree in Rockefeller Center is a world-renowned symbol of the holiday spirit. This year's lighting will feature live performances from 7 to 9pm. The tree will remain lit, and can be viewed, through Jan. 7, 2018.
A Slice of Brooklyn's Brooklyn Chocolate Tour visits artisanal chocolate sites Jacques Torres Chocolate in DUMBO, The Chocolate Room in Cobble Hill, Raaka in Red Hook, and Li-Lac Chocolates in Industry City, Sunset Park. Offered every Monday, Wednesday, Friday. All tours depart and return to Union Square.
MACY'S THANKSGIVING PARADE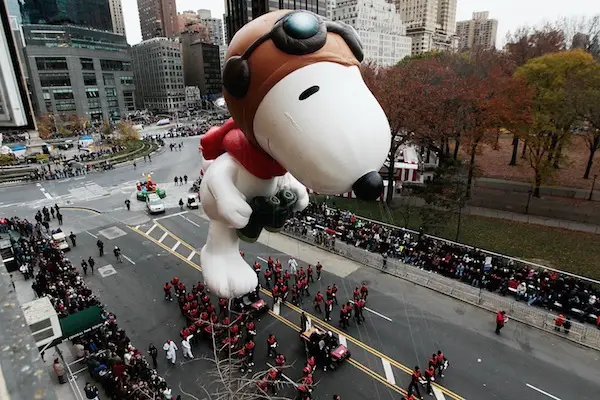 (11/23) The Macy's Thanksgiving Parade is a longstanding New York City tradition, responsible for unofficially kicking off the holiday season. Dating back to 1924, the parade sees generations of families—locals and visitors alike—lining up to see floats, live entertainment, iconic hot air balloons (Snoopy, Hello Kitty, Spiderman, and many others), plus a glimpse of Santa on his sleigh at the end. The parade gained popularity after being prominently featured in the film classic Miracle on 34th Street, starring a very young Natalie Wood. The parade route runs down Central Park West from 77th Street to Columbus Circle, along Central Park South to Sixth Avenue, down Sixth Avenue to 34th Street and along 34th Street to Macy's Herald Square. Line up early! Starts 9am. Check here for performers and more information on the parade.
SHOWS

(11/10/17-1/1/18) The NYC perennial holiday favorite Christmas Spectacular Starring The Radio City Rockettes® returns. Fan favorites include "New York at Christmas," where the Rockettes® board a real double-decker bus, and the high-energy tap number "Twelve Days of Christmas." Of course, beloved classics like "The Parade of the Wooden Soldiers" and "The Living Nativity" will also be back. rockettes.com/christmas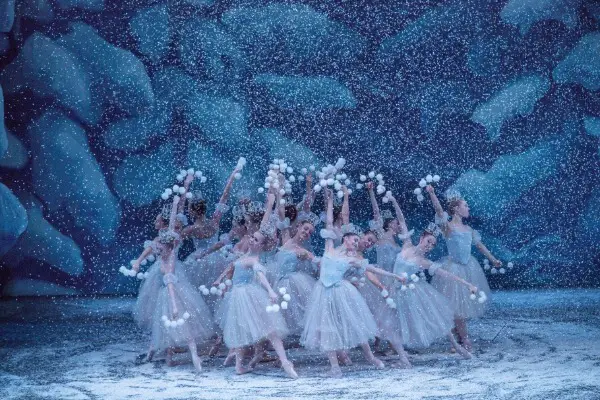 Photo credit: © Paul Kolnik
(11/24-12/31) Tschaikovsky's beloved melodies transport viewers to a world where mischievous mice besiege a battalion of toy soldiers, and an onstage blizzard leads to an enchanted Land of Sweets. George Balanchine's The Nutcracker at nycballet.com.
WEATHER IN NEW YORK IN NOVEMBER
Winter has not officially arrived in New York in November, but you can expect the weather to be brisk all the same. Lows average around 40 degrees Fahrenheit, with highs getting up into the mid-50s. You can expect some outlier days, warmer or colder, but extremes of weather (snow, sleet, freezing rain) are definitely rare. Hurricane season in the Atlantic continues through the month of November, but occurrences of heavy winds and flooding are also very rare. You will want your heavier jacket, but not the heaviest parkas yet. Gloves, hats, and scarves are smart to pack, and maybe a (stylish) pair of boots, too.
=================================================
52 wonderful things to do in NYC in November
Things to do
Louis Vuitton New York Exhibition; 86 Trinity Place; ongoing; free
We may be biased, but New Yorkers are the savants of style (and have been for many years), which is why we can appreciate a fashion house that has styled many generations. Luxury brand Louis Vuitton, for instance, certainly has elevated and changed the material world since its debut in 1854, as presented in the French-born company's new exhibition: "Volez, Voguez, Voyagez." Located at 86 Trinity Place, guests are welcome to experience the rich history by viewing and interacting with various artifacts (from 1854 to 2017) sourced by historian Oliver Saillard. Wander through all three-levels of the exhibition to discover the brand's past collaborations as well as trunks and luggage of years' past. To reserve your spot, see their website here.
Gotham Storytelling Festival Kraine Theater; Nov 1-7; $16
This fourth annual fest hosted by FRIGID New York features yarn-spinning shows like Queer Memoir and the Dead Parents Club alongside solo shows from top tellers, including 20-time Moth Story Slam winner Adam Wade, author Jamie Brickhouse and comedian Lucie Pohl.
David Lynch lovers the Pink Room have taken on Twin Peaks, Blue Velvet, Wild At Heart, Lost Highway, Mulholland Drive, Inland Empire and more, and now they return to Joe's Pub to present their latest Lynchian striptease. This 90-minute show pays tribute to the mind-bending revival, featuring host Schaffer the Darklord and performers Anna Copa Cabanna, Bunny Buxom, Foxy Vermouth, Francine "The Lucid Dream," Minx Arcana and more.
Fall Forest Weekends New York Botanical Garden; Nov 4 + 5, Nov 11 + 12; $28, seniors and students $25, children under 2 free
Experience the colors of the season in the New York Botanical Garden's Thain Family Forest, a 50-acre thicket that boasts sweet gums, whose star-shaped leaves turn red and purple as autumn progresses, and tulip trees and hickories that display vivid golden yellows. During this annual series, gratis guided tours will point out seasonal foliage and birds, as well as offer free canoe trips, courtesy of the Bronx River Alliance.
New York Taste The Waterfront New York Tunnel; Nov 6; $100–$200
For its 19th annual edition of this well-curated culinary celebration, New York magazine and food editor Gillian Duffy are assembling some of the city's finest chefs and mixologists to present their most inventive new works. Meet the masterminds behind Daily Provisions, Gramercy Tavern, Bar Goto, Little Tong Noodle Shop and more—and more importantly, sample their creations. A portion of proceeds benefit City Harvest, which battles hunger in NYC.
How Did This Get Made? Town Hall Theatre; Nov 9 at 7pm and 9:45pm; tickets start at $70
Anyone who's ever watched The Room, Leprechaun in the Hood or Sharknado knows that so-bad-they're-good movies qualify as their own genre. Actors and industry vets June Diane Raphael, Paul Scheer and Jason Mantzoukas dissect some of the worst films ever made on their How Did This Get Made? podcast, which comes to New York City for two live tapings this month.
Salman Rushdie Temple Emanu-El Streicker Center; Nov 14 at 7pm; $25
With the release of The Golden House, Salman Rushdie's body of work now includes 13 novels. Set during the Obama years, his latest book focuses on a billionaire from Bombay who moves his family to downtown Manhattan. The Golden House dissects wealth, politics and the American identity. Once you've read it, join the author and Pulitzer Prize-winning author Geraldine Brooks for a conversation about the book and Rushdie's prolific career.
Bake the Book: Pumpkin Pie Cake and Truffles Milk Bar Williamsburg; Nov 18, 19 at 11am; $95
Thanks to the pumpkin spice lattes that Starbucks has been peddling for what seems like decades, all things pumpkin have gotten a bad rap. But before you burn out on fall's signature flavor, head to Milk Bar to learn how to bake their fluffy pumpkin pie cake. Graham cracker cheesecake, candied pumpkin seeds and pumpkin ganache make this dessert anything but basic.
An Evening With David Sedaris Brooklyn Academy of Music; Nov 21 and 22 at 7:30pm; tickets start at $176
David Sedaris wants you to read his diary—a fact that isn't actually all that surprising to longtime fans. His latest book, titled Theft by Finding: Diaries (1977-2002), comprises 25 years of the essayists' journal entries. You'll find everything from salacious gossip to snippets of overheard conversations to observations on total strangers in the book. Take a peek into Sedaris's creative process during this book signing and talk.
Macy's Thanksgiving Day Parade Balloon Inflation; 79th St at Columbus Ave; Nov 22; free
This pre–Turkey Day ritual, held near the American Museum of Natural History, has become almost as crowded as the Macy's Thanksgiving Day Parade, but we prefer it to the main event. Why? We prefer to weave through the crowds, walking past the inflation stations to see SpongeBob SquarePants at our own pace. Inflation takes place from 3 to 10pm. Arrive later in the evening, when the gigantic characters have taken shape; the crowds are at their peak, so you can also show off the famed New York sidewalk shuffle. Enter at W 79th St at Columbus Ave.
Holiday Train Show New York Botanical Garden; Nov 22 through Jan 14; $23–$28
The garden lights up with its collection of trains that chug along a nearly half-mile track by 150 miniature NYC landmarks like the Empire State Building and Radio City Music Hall, all made of natural materials such as leaves, twigs, bark and berries.
Macy's Thanksgiving Day Parade at various locations; Nov 23; free
Before America gets turnt on turkey and settles in to watch some football, all eyes turn to Manhattan during the Macy's Thanksgiving Day Parade 2017. The annual pageant of giant balloons, floats, cheerleaders, clowns, marching bands, theater and Broadway in New York performances and celebs is one of the best NYC events in November. Sure, it's fun to watch in your PJs, but there's nothing like watching the procession in person.
Big Apple Circus Damrosch Park (at Lincoln Center); various dates and times; tickets start at $28
After declaring bankruptcy in 2016 and being acquired by a Florida investment firm earlier this year, the Big Apple Circus is back. The beloved carnival will celebrate its 40th season at its longtime home at Lincoln Center. Expect to see acts like flying trapeze artist Ammed Tuniziani, the always hilarious Grandma the Clown and 10-time world record holder Nik Wallenda walking the high wire.
A Christmas Carol at the Merchant's House; starts Nov 30; $45–$75
In late 1867, Charles Dickens trekked across the Atlantic to spend a month performing his Christmas classic here in NYC. The Merchant's House Museum is reenacting this one-hour performance for modern-day audiences in its old-fashioned museum. If you think A Christmas Carol is enchanting now, just wait until you see it performed by candlelight in a 19th-century home by Dickens—or rather an actor playing the part of the British author. (Bonus: Come early for mulled wine and tasty snacks!).
Comedy
New York Arab-American Comedy Festival at various locations; Nov 2–Nov 4, per show $25 plus two-drink minimum
Since 2003, this festival has gathered new and well-known names from within the community for some epic acts, and this year, their voices couldn't be more appreciated. Head to Arab Comedy Buffet on November 2 at 7:30pm to see all of the fest's performers: Dean Obeidallah, Maysoon Zayid, Aron Kader, Paul Elia, Luai Hodi, Ali Sultan, Ramy Youssef, Suzie Afridi, Yazen Amra, Maher Matta, Byron Sadik, Ghassan Atshan, Sammy Obeid, Dave Merheje, Mike Easmeil, Atheer Yacoub and Murad Saleh. Check out Legends of Arab Comedy on November 3 at 7:30pm, along with the Haram Show at 10pm; and on November 4, hit up Arabs Gone Wild Reunion at 7:30pm and Arab Comedy All Stars at 10pm.
MOIST The Creek and the Cave; Nov 2; free
All hail Abby Feldman, the intrepid stand-up who doles out advice from her bathtub on her addicting podcast and video series MOIST. She brings the tub to the Creek and the Cave stage, where she's joined by Sam Evans, Christine Meehan-Berg, Katie Hannigan, Andy Fiori, Ashley Gavin and Marcia Belsky.
It's Christi, B*tch! Ars Nova; Nov 4; $15
She's your naughtiest buddy on a night out, the devil in your ear, the voice on your next favorite cartoon show and the sweetest comic in town. Soon, stand-up supreme Christi Chiello will be our potty-mouthed overlord, but before then, catch her at this confessional hour of stand-up and stories.
Political Subversities The Bell House; Nov 6; $12–$15
This musical-sketch comedy show lampoons politics and pop-culture with satirical sketches, political love songs and more. Check out PoliSub's YouTube channel for some laughs before catching the group live in Brooklyn.
Cultch War: An "I Don't Think So Honey" Deathmatch Villain; Nov 7; $15–$20
After 50 episodes of their podcast Las Culturistas, plus two live shows and endless debates over Desperate Housewives, Kelly Clarkson and Shonda Rhimes, divine gay plastics Bowen Yang and Matt Rogers take their armada of culture-addled comedians to war. Watch the show's past guests and favorites—like Dylan Marron, Tim Murray, Dave Mizzoni, Pat Regan, Alise Morales and Rae Sanni—face off in high-stakes editions of the show's now-iconic "I Don't Think So, Honey" rant. Is this the end of an era or a new beginning for the evil queens of gay podcastdom? The shade will be blinding.
Go Ricki! Q.E.D.; Nov 15; $8
Hosted by comedian Matt Smith McCormick, this outrageous show gives an affectionate nod to the queen of riotous daytime talk, Ricki Lake. Lynsey Bonell, Ben Conrad, Amanda Kay Holstien, Sr., Luke Mones and Mamoudou N'Diaye bring their most deliciously ghoulish material for this month's theme, "I Hate That You Sleep in Coffins & Hang Out in Cemeteries…Quit Being a Teen Vampire!"
The Unofficial Expert The Tank; Nov 19; $10
Marie Faustin and Sydnee Washington—two of the fastest, most ferocious comedians you'll see this year—bring their uproarious podcast to the stage. Expect interviews with "experts" on topics like man buns, divas and sugar daddies, and whip-cracking reads of people in the audience. Hail to the queens!
Food and Drink
WhiskeyFest Marriott Marquis; Nov 16, $275 general admission, $345 VIP
Join this massive whiskey convention with a dozen seminars from grain experts, meet-and-greets with distillers from all over the world and most importantly, vendors pouring more than 350 different spirits for guests to try.
Savor the Bronx Various locations; Nov 6-17, Price varies
A borough-focused "Restaurant Week" comes to the Bronx with special discounts and prix fixe deals at eateries throughout the neighborhoods like Mike's Deli in Arthur Avenue, Bronx Brewery in Port Morris and Lloyd's Carrot Cake in Riverdale.
Momo Crawl Diversity Plaza; Nov 5, $10
What's better than piping-hot dumplings in the fall? The Himalayan dumpling crawl in Jackson Heights is back with 27 different vendors (Lhasa Fast Food, Momo Delight) doling out their versions of the steamed and fried pockets. It will likely be more enjoyable than any other Himalayan trek you're bound to attempt.
White Truffle Festival Ai Fiori; Nov 11, $450 general admission, $548 VIP
It's white truffle season, and if you can't book a flight to the northern region of Italy to enjoy the fresh-picked delicacy, chef Michael White will bring them to you at his Ai Fiori restaurant, serving truffle-tinged cheese, pasta and risotto alongside Italian vinos.
Grilled Cheese Meltdown Second Floor NYC; Nov 12; $35, $45 VIP
Taste your way through the best grilled cheese sandwiches the city has to offer at Time Out New York's annual Grilled Cheese Meltdown. We've challenged New York's top cheese connoisseurs to come up with creative takes on this classic comfort food. It's an event your taste buds and arteries won't soon forget!
Food Loves Tech Industry City; Nov 3-4, $75
The synthesis of food and tech is an ever-present reality in our data-driven world. And nothing highlights this better than this expo that investigates the future of food and drink through discussion panels and "all-you-can-eat experiential zones.
Theater
Meteor Shower at the Booth Theatre; Nov 1–Jan 21; $59–$159
Sketch-TV royals Amy Schumer and Keegan-Michael Key star in Steve Martin's comic portrait of a California dinner part. Veteran laugh-wrangler Jerry Zaks directs a cast that also includes the expert Laura Benanti and Jeremy Shamos.
SpongeBob SquarePants at the Palace Theatre; starts Nov 6; $39–$159
The porous yellow hero of the Nickelodeon cartoon hits Broadway, defending the undersea community of Bikini Bottom via original songs by pop stars including Sara Bareilles, the Flaming Lips, John Legend, T.I., Lady Antebellum, They Might Be Giants and Panic! At the Disco.
Bright Colors and Bold Patterns at SoHo Playhouse; Nov 12–Jan 8; $59–$999
Drew Droege returns for an encore run of his hilarious and poignant solo show, in which an outrageous (and increasingly intoxicated) gay man has an identity crisis at a sanitized wedding of two old friends.
Once on This Island at Circle in the Square; starts Nov 9; $69.50–$159.50
A peasant girl falls for a wealthy boy on the other side of her Caribbean island in this 1990 musical fable by Lynn Ahrens and Stephen Flaherty (Ragtime). Michael Arden directs the revival, which stars teenage newcomer Hailey Kilgore as our heroine.
The Fountainhead at BAM Howard Gilman Opera House; Nov 28–Dec 2; $35–$125
Belgian superdirector Ivo van Hove, who unsettled Broadway with stylized revivals of Arthur Miller's A View from the Bridge and The Crucible two seasons ago, now deconstructs Ayn Rand's 1943 philosophical novel about an architect bent on defying critics and convention.
Music
Hospital Productions 20 Year Anniversary Warsaw; Nov 5; $40–$50
Noise-scene bad boy Dominick "Prurient" Fernow plays a special collaborative set with industrial-metallist Jesu for this 20th anniversary celebration of his very own record label, Hospital Productions. The all-day event will also feature industrial techno duo Orphyx, Downwards Records founder Regis, harsh noise project Skin Crime and, ambient innovator Dedekind Cut. If you like music that fearlessly explores the fringes of both genre and sanity, this is the show for you.
Waxahatchee White Eagle Hall Sun Nov 5; $16
Katie Crutchfield's new album as Waxahatchee, Out in the Storm, is a far cry from her initial lo-fi acoustic albums. Here her talent for confessional lyrics and irresistible hooks is rendered through sparkling clear production and massive-sounding arrangements—a fuller, grander realization of her vision than ever before.
Prayers Saint Vitus; Nov 7; $17
Chicano singer Lafear Seyer's distinctive vision—for which he's coined the term "Cholo goth"—is a vibrant one: cowboy boots, crucifix earrings, gang tattoos and a penchant for the synth sounds of '80s goth-rock. Combining his mournful shouts with beatmaster Dave Parley's industrial electronics, Seyer's cross-cultural melancholy narrates a turbulent life navigating the San Diego gangland.
Slowdive Terminal 5; Nov 12; $35
Don't fret if you missed Slowdive's stellar comeback performances at Brooklyn Steel earlier this year—The British shoegaze vets return to the city for another appearance behind their stunning self-titled latest. An eight-song exercise in shoegaze's best inclinations, Slowdive welcomed Simon Scott back to the drum kit for the first time since 1993's Souvlaki. Fog machines at the ready; prepare to drift off into the shoegaze ether with some of the best who've ever done it.
Kamasi Washington Terminal 5; Nov 22; $35–$40
Saxophonist, bandleader and Kendrick Lamar collaborator Washington reinvigorated contemporary jazz and garnered heaps of mainstream critical acclaim with his ambitious three-hour 2015 debut, The Epic. He takes the stage behind a new EP, Harmony of Difference.
Art  
Ashley Bickerton FLAG Art Foundation; through Dec 16, free
Famous for having ditched New York for Bali, Bickerton is no Gaughin, though he was a star of '80s Neo-Geo. This survey tracks his work's evolution from logo-covered boxes to wildly stylized, figurative paintings that parody the romantic preconceptions of tropical life.
"Eddie Martinez: Studio Wall" Drawing Center; through Feb 3, adults $5, students and seniors $3, children under 12 free. Admission is free on Thursdays, 6-8
Known for colorful paintings that recall midcentury abstraction, Martinez is plastering the Drawing Center with thousands of sketches that he will change throughout the exhibition's run, a gesture that mimics his practice of keeping a wall in his studio reserved for drawings and studies. The show also includes paintings and large works on paper.
"Josef Albers in Mexico" Solomon R. Guggenheim Museum; Nov 3–Feb 18, $25, seniors (65+) and students with valid ID $18, children under 12 free. Sat 5:45–7:45pm pay what you wish. $25, seniors and students with ID $18, members and children under 12 accompanied by an adult free
In 1935, the famed artist and Bauhaus instructor Josef Albers (1888-1976) paid his first visit to Mexico. Struck by the abstract quality of Mayan and Aztec buildings, Albers began photographing Mesoamerican pyramids and temples, focusing on architectural details like friezes and steps. He used some of these images to create collages, borrowing subtle style cues from them for his paintings from the period. That journey was the first of many made to Latin America between 1935 and 1967 and the impact they had on his art is the subject of this survey, which gathers together the work (photos and collages along with paintings) that grew out his experiences South of The Border.
"Edvard Munch: Between The Clock and The Bed" Metropolitan Museum of Art; Nov 15–Feb 17, suggested donation $25, seniors $17, students $12, members and children under 12 free
You scream, I scream, we all scream for The Scream, but that iconic painting was only a small part of Edvard Munch's prodigious output, which spanned 60 years and produced many other masterpieces besides the ur image of high anxiety. You'll find many of them among the 45 works assembled here—including seven that have never been shown in the United States.
David Hockney Metropolitan Museum of Art; Nov 27–Feb 25, suggested donation $25, seniors $17, students $12, members and children under 12 free
The lodestones of Hockney's work make for unlikely pairs of opposites: London and Los Angeles; Picasso and Old Master painting. Though Hockney came up through the School of London scene during the Swinging Sixties, many of his most famous works are set in the City of Angels, where he keeps two homes. And though his compositions abound with references to the great names of Renaissance art, many of his stylistic clues are taken from Picasso. Somehow, Hockney has juggled these disparate influences, forging an aesthetic that's all his own. This retrospective mark's the artist's 80th birthday with a presentation of pieces from 1960 to the present.
====================================================
Things to Do in New York in November: Events for Each Day This Month (ThoughtGallery)
As 2017 heads into its final stretch, it's time to begin your holiday preparations and enjoy the last few days of fall before winter sets in. Make the most of the month with these upcoming talks and events, including appearances by David Sedaris, Neil deGrasse Tyson, and Gloria Steinem.
Wednesday,Nov. 1. Immerse yourself in the lecture-performance I Utter Other (2014–), a scholarly/comedic look at Orientalism within a Soviet context. Guggenheim Museum.
Thursday,Nov. 2. Get inspired as best-selling author Walter Isaacson sits down with Neil deGrasse Tyson to talk about Isaacson's new book, parsing the genius of Leonardo da Vinci. 92nd Street Y.
Julie Taymor, Gloria Steinem, and Camus and totalitarianism highlight our picks for the best smart things to do in NYC this weekend.

Friday, November 3
Go behind the scenes of the new Broadway revival of M. Butterfly with playwright David Henry Hwang and director Julie Taymor. Asia Society and Museum.
In conjunction with the Brooklyn Academy of Music's staging of State of Siege, hear from director Emmanuel Demarcy-Mota as he speaks On Camus and Totalitarianism, and our current state of fear.
The Soldiers', Sailors', Marines', Coast Guard and Airmens' Club will host the next talk from the New York Military Affairs Symposium, which asks an ongoing question…"Intelligence: Why Can't We Do Better?".
A panel gathers to discuss the conclusion of the online exhibition Chapter Two of Net Art Anthology, which featured works from the years 1999–2004. Presentations and discussions will look at the network culture that emerged post-9/11, and how it impacted artists. New Museum.
With all the recent revelations about sexual harassment, it's especially timely to speak on the dichotomy between the observed and lived realms of the female body. Roxane Gay joins a panel on the topic as part of Festival Albertine 2017.
Saturday, November 4
Lend an ear to The Politics of Language, as Gloria Steinem and Festival Albertine 2017 look into an era of communication liberated from gender and race. (Also on Saturday at  Albertine, delve into the hornets nest that is The Politics of Religion.)
The first shoe has fallen in Washington, but there's no reason to think the Trump-Pence administration is going anywhere fast. The organization www.RefuseFascism.org will be gathering across the country, including in Times Square, to demand: The Trump/Pence Regime Must Go!.
Sunday, November 5
Catch a convergence of Eastern healing, Christian monastic practices, and science, as the New York Society for Ethical Culture takes up "The Transformative Power of the Breath."
Finally learn who exactly provided egress for the canines at "Who Let Who Let the Dogs Out Out?", an in-depth multimedia presentation on one of the most ubiquitous tracks of the early 2000s. Ace Hotel.
Foreign affairs expert Ralph Buultjens applies his insight to China and challenges and dangers of the escalating threat of North Korea. 92nd Street Y.
 

Dan Rather, Siri Hustvedt, and the journalists who broke the sexual harassment stories highlight our picks for the best 

smart things to do in NYC this week.
Monday, November 6
Find best-selling Iranian-American religion scholar Reza Aslan in conversation with MSNBC's Joy-Ann Reid as they discuss Aslan's latest book, God: A Human History. In it, Aslan traces the history of humanizing the entity upstairs, which crosses cultures so pervasively that Aslan believes it's hard-wired into our brains. Symphony Space.
News legend Dan Rather remains active, a current presence on social media. Hear from him at BAM as he appears in support of his new book, which looks at our nation's ideas and ideals, and asks what it means to be American. Brooklyn Academy of Music (BAM).
Hear from historian Russell Shorto, whose new book uncovers the stories of six historical figures—a Native American warrior, a British aristocrat, a woman, a slave, a laborer, and George Washington himself—and what freedom meant to them. New-York Historical Society.
Get out the vote at this event commemorating 100 years of women's suffrage with a discussion on recruiting, training and empowering Democratic women to run for office. Brooklyn Historical Society.
Tuesday, November 7
Psychoanalyst Juliet Mitchell (Psychoanalysis and Feminism) joins author Siri Hustvedt (A Woman Looking at Men Looking at Women) for a conversation that provides New Perspectives on Louise Bourgeois. (The discussion is in conjunction with the recently opened exhibition Louise Bourgeois: An Unfolding Portrait.) Museum of Modern Art.

Join moderator Ronald Rosbottom (When Paris Went Dark) for a literary salon that focuses on authors of biographies covering subjects as diverse as Gorbachev, Hemingway, and Meryl Streep. Live music, book signings, and a special menu are all on the docket. The Half King.
Take a literary look at Israel with this discussion between author Lauren Sanders and Oslo playwright J.T. Rogers about Sanders' new book, The Book of Love and Hate. BRIC.
Wednesday, November 8
Philosophy professor Massimo Pigliucci leads a session that looks at ancient Greek concepts of love—agápē, érōs, and philía—and the ways they contrast to the short horizon of what we know as romantic love. New York Society for Ethical Culture.
Pull on a blindfold and experiment with attraction as Guerilla Science, You're the Expert host Chris Duffy, and neuroscientist Ashley Juavinett team up for a Caveat night dedicated to exploring the neuroscience of desire. 
Amanda Duarte (#pussygrabsback) hosts the one-year-anniversary of you-know-what with a meeting of her monthly salon Dead Darlings at Judson Memorial Church. This edition celebrates the fact that we're still all ALIVE.
Thursday, November 9
Authors Raj Patel and Jason W. Moore come to the Y to talk about their new book, which identifies seven things modern commerce has cheapened to serve its own ends. Exploitation of nature, work, care, food, energy, money, and lives have gotten us where we are. Patel and Moore promote a radical new way of thinking that we might change our course in time. 92nd Street Y.
Hear from National Museum of the American Indian associate curator Kathleen Ash-Milby (Diné) and guest co-curator David Garneau (Métis) as they discuss the new exhibition "Transformer: Native Art in Light and Sound." (Afterward, be among the first to see it.)

The Architectural League celebrates a new show of vernacular architecture, All the Queens Houses, with a reception and discussion. The borough's evolving residential landscape will be discussed by photographer Rafael Herrin-Ferri and urbanist Joseph Heathcott.
Amid a volatile news cycle, one might wonder why now for the surfacing of so many incidents of sexual harassment. One big reason is the hard-won reporting of the Times journalistsbehind the Harvey Weinstein, Bill O'Reilly, and Silicon Valley revelations. Find them in conversation with new Times gender editor Jessica Bennett, author of Feminist Fight Club. Florence Gould Hall.
Friday, Nov. 10. Nerd out with looks at unexpected genius, H.P. Lovecraft, and the channeling of language into data at the next Nerd Nite. Littlefield.
Saturday, Nov. 11. Say "cheese" on this tour discussing several of photography's early pioneers at their final resting spot. Green-Wood Cemetery.
Sunday, Nov. 12. Budget for this conversation between author John Hope Bryant and Chelsea Clinton on taking financial control of one's life. 92nd Street Y.
Conversations with Laura Poitras, Paul Krugman, and David Hockney highlight our picks for the best 

smart things to do in NYC this week.
Monday, November 13
Keith Gessen, co-editor of n+1, sits down with Corey Robin, who has been called "the quintessential public intellectual for the digital age." They'll discuss Robin's essay collection, The Reactionary Mind: Conservatism From Edmund Burke to Sarah Palin, which looks at rightist impulses toward the preservation of power. McNally Jackson. (You can also find Robin on Wednesday, in conversation at a Philosophy in the Library session at the Brooklyn Public Library.)
Columbia astrobiologist Caleb Scharf lays out the mysteries of time, space, and scale, as explained in his book The Zoomable Universe: An Epic Tour Through Cosmic Scale, From Almost Everything to Nearly Nothing. You can try and wrap your head around concepts like cosmic inflation, which Scharf likens to a pore in your skin becoming the size of the Milky Way in less time than any human device can measure. American Museum of Natural History.
Eyeball the artist and designer Milton Glaser, of I♥NY fame, as he speaks on the re-release of his iconic The Design of Dissent, newly subtitled Greed, Nationalism, Alternative Facts and the Resistance. The Cooper Union.
Hear from religious studies experts Nadia Marzouki and Rosemary R. Corbett as they discuss Marzouki's new book, which looks at the way Islam reveals American tensions, like those around "freedom of speech and the legitimacy of liberal secular democracy." Albertine.
Artists, musicians, and scientists come together to celebrate Walter Isaacson and the publication of his new book Leonardo da Vinci. Kaye Playhouse at Hunter College.
Tuesday, November 14
Join Victor Sebestyen and Harper's Magazine for a discussion of a new biography of Vladimir Ilyich Lenin—the first major English examination in nearly two decades—which goes beyond politics and history to portray Lenin the man. Book Culture on Columbus.
Look back on the New York of 100 years ago at this book talk with author Mike Wallace on Greater Gotham: A History of New York City from 1898 to 1919. The Skyscraper Museum.
Wednesday, November 15
Go on an odyssey to this discussion with memoirist and critic Daniel Mendelsohn and New Yorker staff writer Rebecca Mead on Mendelsohn's book An Odyssey: A Father, a Son, and an Epic. New York Public Library – Stephen A. Schwarzman Building.
Psychologist Daniel Goleman's books (Emotional Intelligence and Altered Traits among them) have laid out new research into the scientific effects of meditation on mind, brain, and body. Find him with musician David Nichtern, a teacher in the Shambhala Buddhist lineage, as they explore the similarities between music and meditation on the brain. Rubin Museum of Art.
The Paradise Papers have reaffirmed the class inequities at the very top of the ladder. But what about the next rungs down? Richard V. Reeves appears in support of his book Dream Hoarders: How the American Upper Middle Class Is Leaving Everyone Else in the Dust, Why That Is a Problem, and What to Do About It. He'll be joined by a panel of experts including Nobel laureate Paul Krugman. Graduate Center, CUNY.
Thursday, November 16
Academy Award-winning documentarian of the surveillance state Laura Poitras (Citizenfour) makes an appearance in conjunction with a screening of Risk, her six-year character study of Julian Assange and his maroonment in London's Ecuadorian embassy. Lenfest Center for the Arts.
NYPL writer-in-residence Alan Kaufman joins a series of authors at this month's #YeahYouWrite session at Bo's Kitchen & Bar Room.
The always captivating artist David Hockney joins filmmaker Philip Haas for a conversation and a screening of their rarely seen 1998 collaboration A Day on the Grand Canal with the Emperor of China, or: Surface Is Illusion But So Is Depth, which delves into a 17th-century Chinese scroll painting and the distinctions between Eastern and Western perspective. Film Society of Lincoln Center.
Invest your time in this lecture on how history can be a useful investment tool. Museum of American Finance.
Appearances by E.O. Wilson, Isaac Mizrahi, and Andrew Ross Sorkin highlight our picks for the best smart things to do in NYC this weekend.

Friday, November 17
American Ballet Theater principal dancer James Whiteside and fashion maven Isaac Mizrahi come together for a session of Icons & Innovators, celebrating artists chafing at limitations. The Greene Space.
Saturday, November 18
Art inspired by ancient texts (think wine-inspired video, monologues, and dance) provides the basis for DRUNK, enjoying its tenth year with LABA at the 14th Street Y.
Don't throw out your leftovers at this workshop sharing how to have a zero-waste Thanksgiving.
Robert Mueller can save us alone. The organization www.RefuseFascism.org will be gathering across the country on Saturday, including near Washington Square Park, to say: Break the Silence, Bring the Noise.
Yoga legend Sri Dharma Mittra visits the Dharma Yoga Center to share his 50 years of experience in inspiring and energizing: Thanksgiving Maha Sadhana–Grounded in Peace, Love and Gratitude.
Sunday, November 19
Play 20 questions at Person Place Thing, a conversation with playwrights Paula Vogel and Daniel Alexander Jones on the people, places, and things that are important to them. The Park Avenue Armory.
Times financial columnist Andrew Ross Sorkin speaks with Michael Sonnenfeldt, author of Think Bigger: And 39 Other Winning Strategies from Successful Entrepreneurs, about the tricks of the trade for successful Main Street businessfolk. The Jewish Community Center in Manhattan.
Biologist, conservationist, and Pulitzer Prize-winning author E. O. Wilson visits the 92nd Street Y to speak with Paul Simon about the intersections of science and culture. They'll get into the ideas expressed in Wilson's most recent books, Half-Earth: Our Planet's Fight For Life and The Origins of Creativity.
Monday, Nov. 20. Be haunted by the story of the HMS Jersey, a living hell for thousands of Americans, in the talk The Ghost Ship of Brooklyn: An Untold Story from the American Revolution. Fraunces Tavern Museum.
Tuesday, Nov. 21. Fall in love scientifically at this examination of the life cycle of a relationship and the 36 questions that can supposedly lead any two people to fall in love—complete with a chance to try the questions out for yourself. Prospect Heights Brainery.
Wednesday, Nov. 22. Talk pretty one day at this conversation with famed writer David Sedaris. Brooklyn Academy of Music (BAM).
Thursday, Nov. 23. Before or after giving thanks, drink in the sky-high view of the city from the Empire State Building, which is open 365 days a year.
Friday, Nov. 24. After you finish your Black Friday shopping, have a culture-filled night out at the Rubin Museum's K2 Friday Night, complete with a guided exhibition tour, food, drinks and a DJ. Rubin Museum of Art.
Saturday, Nov. 25. Get a Revolutionary look at New York at this Evacuation Day walking tourcentered on when the British troops ended their occupation of New York City as the Revolutionary War came to an end. Fraunces Tavern Museum.
Sunday, Nov. 26. Swipe your MetroCard for this secret history of the subway system, which will tour some of the transit system's oldest stations. New York Adventure Club.
Monday, Nov. 27. Explore the intersection between art and the world around us at a Here/Say conversation on the shifting role of critics and criticism. Barnard College.
Tuesday, Nov. 28. Appreciate your freedom at Breakout: Voices from the Inside, PEN America's annual event celebrating excellence in prison writing. SubCulture.
Wednesday, Nov. 29. Mobilize yourself to attend this conversation between Alexander Calder biographer Jed Perl and Calder's grandson, Sandy Rower, about the iconic sculptor and his work. New York Public Library – Stephen A. Schwarzman Building.
Thursday, Nov. 30. Stay informed as a pair of experts talk "Deciphering Jihadi Culture," looking at how groups like ISIS are able to construct shared values among their adherents. National September 11 Memorial & Museum.
=================================================
More coming soon!