What's Happening October 2018
CityGuideNY – The Best Things to Do in NYC in October
Metro US – Best Things to Do in New York City in October (avail 01)
Lincoln Center – Lincoln Center free October
ThoughtGallery – The October Calendar: Events for Each Day This Month
TimeOutNY – NYC Events in October 2018 Including Halloween Festivities
Free Tours by Foot – Things to Do in October in NYC (for Tourists and Visitors)
Grub Street – What to Eat and Drink in NYC This October (avail 01)
New York Mag – October Jazz Calendar 2018 (avail 01)
These sites have been selected because they all do a first rate job publishing NYCity event info. I hope you will click on their hot links to see what else they have to offer.
==================================================
But first, let's take a look at The NewYorker's always perceptive and comprehensive
Fall Preview of the Arts:
Night Life – Theater – Dance – Classical Music – Art – Movies
===================================================
With exhibits, sightseeing, fun for kids, concerts, and nightlife, there's tons going on in New York in October and we've got the best of it. (It's a great month for visiting, with the leaves turning, mellow weather, and lots and lots of activities.)
October Things to Do in NYC: Exhibitions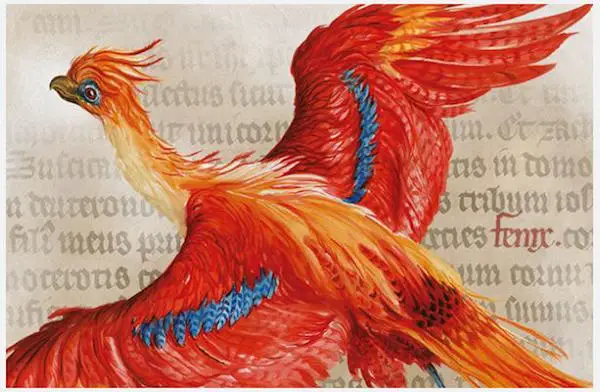 (10/5-1/27/19) Harry Potter: A History of Magic arrives at the New-York Historical Society. In celebration of the 20th anniversary of the U.S. publication of J.K. Rowling's Harry Potter and the Sorcerer's Stone, New-York Historical will display illustrator Brian Selznick's artwork, which will appear on the covers of the Harry Potter series to be published by Scholastic later this year. Also on view to the public for the first time will be Mary GrandPré's illustrations created for Scholastic's original editions of the novels. Costumes and set models from Harry Potter and the Cursed Child, which opened on Broadway in April, will be showcased in the exhibition. A long list of events will take place in conjunction with the exhibit, including trivia night, talks, and adult costume party, and more.  nyhistory.org
PLUS
(10/16-10/20) In Praise of Painting: Dutch Masterpieces at The Met Dutch paintings of the seventeenth century—the Golden Age of Rembrandt, Hals, and Vermeer—have been a highlight of The Met collection since the Museum's founding purchase in 1871. This exhibition will bring together some of the Museum's greatest paintings to present this remarkable chapter of art history in a new light. Through roughly sixty-five works of art organized thematically, the exhibition will orient visitors to key issues in seventeenth-century Dutch culture—from debates about religion and conspicuous consumption to painters' fascination with the domestic lives of women. metmuseum.org.
(Now-1/6/19)  Delacroix at the Metropolitan Museum of Art -This is the first comprehensive US retrospective of the work of French Eugene Delacroix (1798-1863). The Met has teamed up with The Louvre, showcasing in chronological order, some 150 pieces, a variety of paintings, drawings, manuscripts, and prints.
(Now-2/3/19) Even over a century after his birth, Dutch artist M.C. Escher (1898-1972) continues to astound. Catch more than 200 of Escher's mind-bending works at Escher: The Exhibition & Experience in Brooklyn's Industry City. Exploring the intersection of art, mathematics, science, and poetry, the exhibition will feature interactive immersive experiences that bring the artist's optical illusions to life. eschernyc.com
(Now-10/28) In 1939, the pioneering American Modernist Georgia O'Keeffe (1887–1986) went to Hawaii on commission for a Hawaiian Pineapple Company promotional campaign. What she created provides the inspiration for the landmark new exhibition Georgia O'Keeffe: Visions of Hawai'i at The New York Botanical Garden. A stunning display in the LuEsther T. Mertz Library Art Gallery includes 17 of O'Keeffe's Hawaii paintings, not seen together in New York since their debut in 1940. The historic Enid A. Haupt Conservatory explores the remarkable beauty and variety of Hawaiian flora, as well as its complex botanical and cultural history. The garden (just a 20-minute Metro-North ride from Grand Central Terminal) also features a living collection of more than one million plants.
(Now-12/9) Rivers and Torrents: Oil Sketches from the Thaw Collection at the Morgan Library. Even advanced painters struggle to capture moving water in their work. The play of light on the ripples, the wind on the surface, the current moving it all along—it's one of the many reasons we're all captivated by Monet's Water Lilies. See the work of other artists from the 19th century onward through oil studies of Rivers and Torrents. Click here for more about exhibits at Morgan Library.
(Now-10/8) Final week! Heavenly Bodies at the Metropolitan Museum of Art and The Cloisters. Heavenly Bodies: Fashion and the Catholic Imagination reflects the influence of religious art, ceremony, and imagery on clothing design. It's a sprawling show, literally—encompassing 65,000 square feet and 25 galleries, including The Cloisters (the museum's uptown branch dedicated to medieval art, housed in reconstituted European chapels and cloisters) and parts of the Lehman Wing, the Costume Center, and the medieval and Byzantine art galleries at The Met itself.
(Now-12/2/18) Art of the Mountain: Through the Chinese Photographer's Lens at the China Institute. Featuring over 60 photographs from a range of modern Chinese photographers, this exhibition will allow visitors to consider the role of mountains in China's geography, history, art, and philosophy.
(Now-10/14) Final weeks! The American Folk Art Museum presents Charting the Divine Plan: The Art of Orra White Hitchcock, which brings together aspects of art, love, science, and religion, as expressed by one of America's first female scientific illustrators. Working in the mid-19th century, Orra White Hitchcock was equally skilled in the natural sciences and in art, and her illustrations of plant life, geological formations, fossilized animals, and dinosaur tracks were used in Amherst College lectures and the  scientific journals of the day. The exhibition puts on display Hitchcock's rarely seen drawings and paintings, some up to 10 feet long, which demonstrate both scientific clarity and an unexpected modernity.
(Permanent) The Jim Henson Exhibition at the Museum of the Moving Image will celebrate the life and legacy of the famed Muppet creator, exploring both his prolific career and the enduring effect his work has on pop culture to this day. Visitors can expect to learn more about the creation of such beloved works as The Muppet Show, Sesame Street, Fraggle Rock, The Dark Crystal, and Labryinth, as well as to discover the cutting-edge experimental works Henson made throughout his career.
(10/1-10/31) Bring on Archtober 2018. New York's annual Architecture and Design Month, now in its seventh year, is a celebration of all things architectural. This year's festival features over 150 events, from lectures to activities to exhibitions.
October Things to Do in NYC: Comedy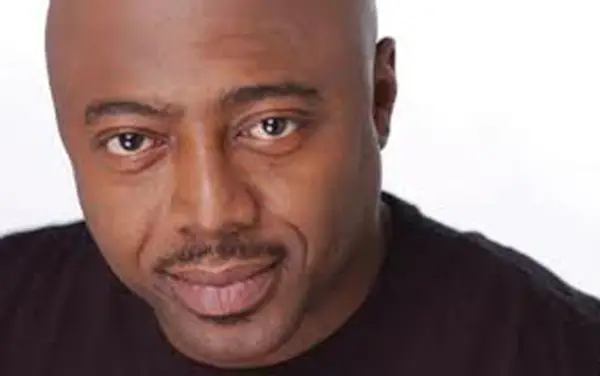 (10/11-10/14) The Chapelle Show's Donnell Rawlings at Carolines.
PLUS
(10/26-10/27) Rachel Feinstein at Gotham Comedy Club.
October Things to Do in NYC: Kids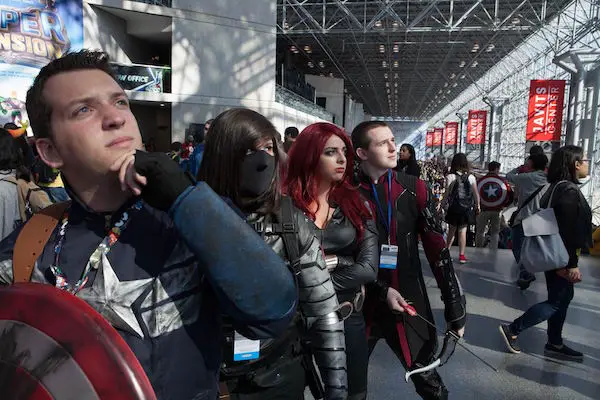 (10/4-10/7) For kids and adults alike, New York Comic Con returns to the Javits Center! This year's guests include the cast of American Gods, including writer Neil Gaiman, Jason Momoa (Aquaman), Matt Smith, David Tennant (Doctor Who) Neil deGrasse Tyson, Sam Heughan (Outlander), Adam Savage (Mythbusters), and more to be announced. If you can't get enough of all things comics, don't miss New York's own Midtown Comics, with three locations (Times Square, Grand Central, and downtown) and an incredible selection that includes hot new comics, graphic novels, and loads of back issues. newyorkcomiccon.com
PLUS
(10/27) Ghouls and Gourds 2018 at Brooklyn Botanic Garden. Shake a tail feather, show off your costume, and carouse with colossal puppets at Brooklyn's wackiest costume parade. Noon-5:30pm.
(10/28) Children's Fall Festival at Queens Farm: dress in costume, boogie down to live country western music, take an autumn hayride, visit a Haunted House, and enjoy pony rides and a seasonal petting zoo. Find your way out of The Amazing Maize Maze, take pics with cartoon character look-alikes, and check out the Con Edison Ecology booth for recycling tips and kids' crafts. 11am-4pm. $20. queensfarm.org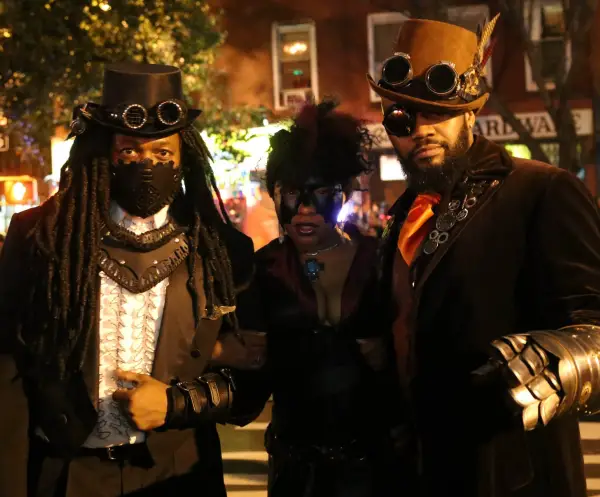 (10/31) The beloved 45th Annual Village Halloween Parade goes off in Greenwich Village at 7pm (it's also televised live on NY1). All those in costume are welcome to join a parade of hundreds of puppets, bands, dancers, artists, and thousands of other New Yorkers in costumes of their own creation in the nation's most wildly creative public participatory event. Alert: only enter the line-up between 6:30 and 8:30pm on Sixth Ave. at Canal St. For spectators, the route follows Sixth Ave. north from Spring St. to 16th St. 7-10:30pm.
(ongoing) Aspiring scientists and astronauts will want to explore the New York Hall of Science in Queens, brimming with interactive exhibits (plus an outdoor playground).
October Things to Do in NYC: Music & Nightlife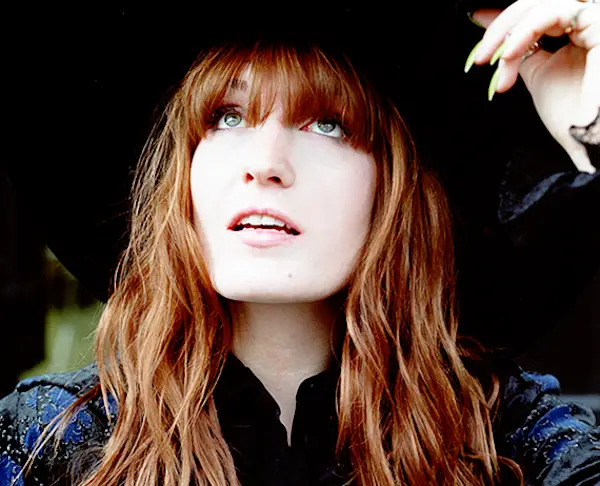 (10/9) Florence & The Machine at Brooklyn's Barclays Center.
PLUS
(10/1) Chromeo at Brooklyn Steel.
(10/2) Simple Minds: Walk Between Worlds Tour at Beacon Theatre.
(10/3-10/4) Christina Aguilera at Radio City Music Hall.
(10/4-10/5) Bruno Mars at Barclays Center.
(10/6) EEEEEATSCON at Forest Hills Stadium.
(10/8-10/9) OctFest on Governors Island will feature 20+ breweries plus bands including The Flaming Lips, Yo La Tengo, Nile Rodgers & Chic, and many others. 21+ Get tickets here.
(10/9) Modest Mouse at Kings Theatre in Brooklyn.
(10/10) Ray LaMontagne at Radio City Music Hall.
(10/11) Nicki Minaj & Future at Barclays Center.
(10/12-10/13) Death Cab for Cutie at Kings Theatre.
(10/13) Gorillaz at Barclays Center.
(10/13-10/14) Nine Inch Nails at Radio City Music Hall.
(10/10) Elton John: The Farewell Tour at Radio City Music Hall.
(10/14) Phil Collins at Barclays Center.
(10/14) Elizabeth Cook performs at The Studio at Opry City Stage.
(10/16-10/17) Nine Inch Nails at Kings Theatre.
(10/23-10/27, 10/30-11/3) Michael McDonald performs at supper club Cafe Carlyle. 
(10/26) Nick Cave & The Bad Seeds at Barclays Center.
(10/27) Garbage at Kings Theatre.
(10/27) Six-time Grammy winning salsero Gilberto Santa Rosa at Kupferberg Center.
(10/27) They Might Be Giants at Terminal 5.
PLUS
(10/4-10/7, 10/11-10/14) Last chance of the season to indulge Oktoberfest 2018 at the riverfront hang Watermark Bar. Noon-midnight. Prost! Tickets required.
Things to Do in New York in October: Sightseeing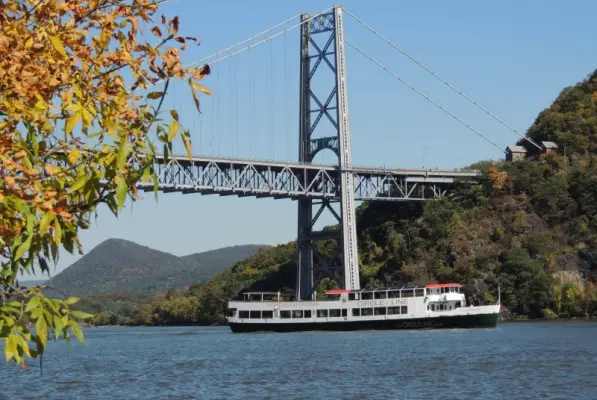 (10/6-8, 10/13-10/14, 10/20-10/21, 10/27-10/28), take advantage of Circle Line's Bear Mountain Cruise, or as it has come to be known by many, the Oktoberfest Cruise. Peak fall foliage, live bands, craft vendors, and the largest pretzels known to mankind all welcome you to a hoppy universe far away from the daily grind. You can burn off all those beer and brats, plus stock up on fresh air, with a gorgeous three-hour hike along one of the 50 hiking trails in Bear Mountain State Park. They'll be setting sail Columbus Day, too. $65 adults, $52 kids. Boards 8:30am sharp. Pier 83, W. 42nd St. and 12th Ave., NY, 212-563-3200, circleline42.com, viator.com
PLUS
(10/1) Fans of CBS Sunday Morning can enjoy an immersive event at a special "An Evening with CBS Sunday Morning Live" at The Town Hall. 8pm.
(10/4) At the 16th Annual Taste of the Village event in Washington Square Park, join the Washington Square Park Conservancy along with over 30 local food and drink purveyors under the historic Arch. With delicious tastes in a magical setting, the 16th Annual Taste of the Village promises to be a fun and flavorful evening under the stars. 6pm-9pm. Get tickets here. 
(10/13) The ultimate Diwali event is a daylong festival on Saturday, October 13 at Times Square. Some of Indian music's most celebrated performers will rock out on the main stage. 46-48th Streets & Broadway, diwalitimessquare.com
(10/11-10/14) The New York City Wine and Food Festival (NYCWFF) will feature more than 80 events, including tastings, classes, celebrity talks, and parties.
(10/12-10/14) The New York Coffee Festival comes to the Metropolitan Pavilion.
(10/24) Celebrate United Nations Day with a visit to the UN Headquarters complex in midtown. Weekday tours provide access to the stunning art and architecture at the newly renovated UN, in addition to insight into the organization's vast array of initiatives. There's even entry to the General Assembly, where all 193 members states are represented and negotiate.
See New York City as your own private theater! Take THE RIDE! Here's a coupon! 
The One World Observatory is open, see October from 100 floors high!
Check out the hottest spots to eat and drink in the Flatiron District and Williamsburg with Like a Local Tours.
Visit the sites of Ghostbusters, Friends, Seinfeld, Trainwreck, Gossip Girl, Sex and the City, and many other NYC film sites with On Location Tours.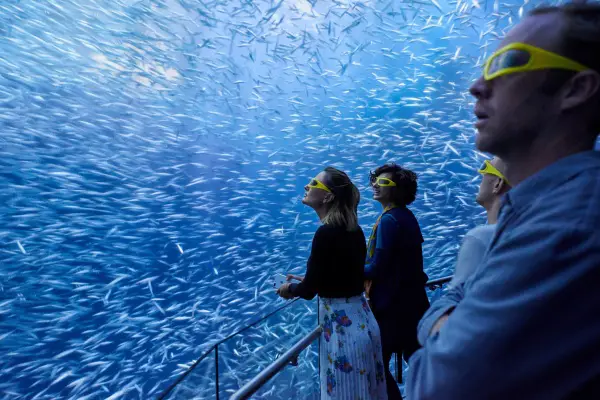 Immerse yourself in the deep, dark depths of the ocean, where Humboldt squid fight to the death, 50 foot whales ride overhead, play with sea lions, navigate a sea kelp maze and more at National Geographic Encounter: Ocean Odyssey! Here's a $5 off coupon! 
Ripley's Believe It or Not! Odditorium brings people of all ages face-to-face with the world's most unbelievable curiosities. With 18,000 square feet of astonishing artifacts and exciting interactive exhibits. Check out their new escape room, Ripley's Relic! Here's a coupon!
Explore New York City from the best vantage points with Helicopter Flight Services Tours. Choose from four different itineraries.
(Ongoing) See the most famous NYC landmarks on both the Hudson and East Rivers, plus breathtaking views of Manhattan's downtown skyline, with Circle Line's Landmarks Cruise!
(10/13-10/14) Unique spaces—indoors and out—are a big part of what makes NYC so special. To feel like a total insider, check out the 16th Annual Open House New York (OHNY) Weekend, a celebration of architecture and urban design all across the city. Visitors have the chance to check out 250 sites in all five boroughs along with tours, talks, and explorations. You'll get landscape architecture, National Park Service landmarks, and cultural destinations. Most visits are free, some sites and tours require advance reservations and may charge a nominal fee. Citywide, ohny.org
(Ongoing) A shout out to A Slice of Brooklyn Tours, as they celebrate their 13th anniversary. They continue to bring locals and tourists alike the best Brooklyn Pizza, Christmas Lights,  Chocolate Tours, and more. Founded by Brooklyn native and travel lover Tony Muia, the company has received Certificates of Excellence from TripAdvisor for the past six years! All tours conveniently depart and return to Union Square! Congratulations! Book your tour today!
Things to Do in New York in October: Ongoing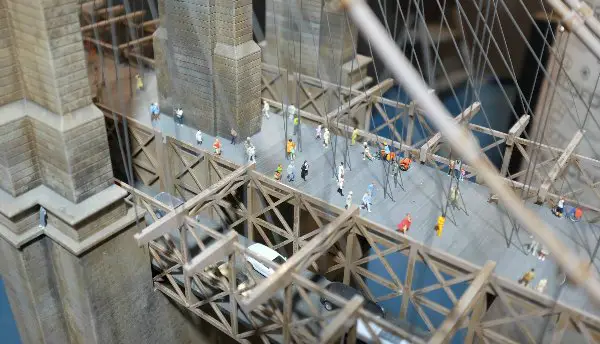 Explore NYC in miniature at Gulliver's Gate.
Visit the sites of Ghostbusters, Friends, Seinfeld, Trainwreck, Gossip Girl, Sex and the City, and many other NYC film sites with On Location Tours.
Grab a photo with Taylor Swift, One Direction, Lady GaGa, JLo, and more at Madame Tussauds New York. Here's a coupon!
Ripley's Believe It or Not! Odditorium brings people of all ages face-to-face with the world's most unbelievable curiosities. With 18,000 square feet of astonishing artifacts and exciting interactive exhibits. Check out their new escape room, Ripley's Relic! Here's a coupon!
Explore New York City from the best vantage points with Helicopter Flight Services Tours. Choose from four different itineraries.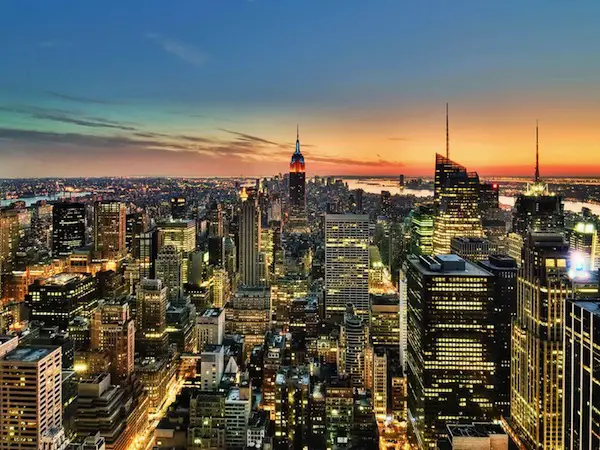 Bring a loved one to take in the breathtaking view at Top of the Rock.
New York Weather in October

For many New Yorkers, October is the best month of the year. There's a crispness to the air, it's usually dry, fall foliage is peaking, and extreme weather is usually far away. Highs average 70°F (20°C) on October 1st and cool down to 52°F (11°C) by Halloween, October 31st. Average lows overnight go from 53°F (12°C) at the month's start all the way down to 45°F (7°C) by month's end. There's rain on about 10 days, but it usually isn't heavy—4 inches in total precipitation is scattered across the month, which is usually a little drier than September. Bringing an umbrella can't hurt, and you'll want a nice jacket. And maybe a second jacket purchased at a deep discount from Century 21?
================================
=================================
Metro US – Best Things to Do in New York City in October (avail 01)
================================
=================================
From a conversation with Joshua Bell to a musical celebration of contemporary Mexican music, Lincoln Center has a world-class lineup of free events to enjoy in October. See the calendar for a list of all upcoming events.
October 3

Sonatenabend in Juilliard's Paul Recital Hall

Pianists from Juilliard's Collaborative Piano department perform sonata repertoire in partnership with student instrumentalists.

October 4

Photo by David Degner

Youssra El Hawary at the David Rubenstein Atrium

Singer, songwriter, and bandleader Youssra El Hawary's songs offer portraits of everyday life in Cairo, blending sounds of the city's underground with French chanson, indie rock, jazz, Mediterranean influences, and acoustic charm into "perfect, easy magic" (NPR). The band released its debut album, No'oum Nasyeen, in 2017 and is performing at Lincoln Center as part of its U.S. debut tour.

Presented in collaboration with Center Stage

The presentation of Youssra El Hawary is part of Center Stage, a public diplomacy initiative of the U.S. Department of State's Bureau of Educational and Cultural Affairs, administered by the New England Foundation for the Arts in cooperation with the U.S. Regional Arts Organizations, with support from the Doris Duke Foundation for Islamic Art, and the Trust for Mutual Understanding. General management is provided by Lisa Booth Management, Inc.

October 6

Jazzy Ash and the Leaping Lizards at the David Rubenstein Atrium

It's Mardi Gras in Manhattan! Influenced by the music from her mother's hometown of New Orleans, Jazzy Ash and her band the Leaping Lizards bring children along on a swingin' musical tour of her heritage. Let the good times roll with this four-piece band's upbeat jazz and zydeco. Bon Voyage!

Recommended for ages 2–5

October 10

Photo courtesy of VICE News Tonight on HBO

VICE Media: She's Running at the David Rubenstein Atrium

With a record number of women running for office, She's Running is a frank portrayal of what life is like for female political candidates in 2018, offering viewers rare insight into a political campaign—from struggles with political sexism and endless fundraising to the impact campaigning can have on personal lives. For these special episodes, producers from VICE News Tonight, the Emmy Award–winning half-hour nightly newscast from VICE Media and HBO, went behind-the-scenes of 30-year-old Democrat Katie Hill's fight to become the Congressional representative in Los Angeles County's most conservative district. Filmed in real time, the episodes follow Hill and her young team as they maneuver the world of political spin, debates, and lobbying before advancing to the general election this November.

October 11

McCoy Mrubata & Paul Hanmer with special guests Vuyo Sotashe, Jimmy Mgwandi, and Kesivan Naidoo at the David Rubenstein Atrium

The musical spirit of Johannesburg and Durban fills the David Rubenstein Atrium for this night of South African jazz featuring some of the genre's most respected masters. Celebrating 30 years of friendship and collaboration, reedman McCoy Mrubata and pianist Paul Hanmer, both composers and bandleaders as well, are joined by the award-winning young vocalist Vuyo Sotashe; esteemed bassist, songwriter, and producer Jimmy Mngwandi; and the critically acclaimed drummer Kesivan Naidoo.

October 15

Mastering Sound and Story in The Red Violin at the David Rubenstein Atrium

Join us on a journey through centuries and across continents as we go behind the scenes of The Red Violin. Hear from John Corigliano, the composer of the Academy Award–winning score; violinist Joshua Bell, the soundtrack's original soloist; and producer Niv Fichman, who discusses the ambitious international scope of the film, with all of its challenges and rewards.

Joshua Bell, John Corigliano, and Niv Fichman, speakers

Adam Crane, New York Philharmonic Vice President of External Affairs, moderator

Presented in collaboration with the New York Philharmonic

October 17

Liederabend in Juilliard's Paul Recital Hall

Artists from Juilliard's Collaborative Piano department perform repertoire with singers from the Ellen and James S. Marcus Institute for Vocal Arts.

October 18

Photo by Cristina Isabel Rivera (Gameros)

Celebrate Mexico Now: Diana Gameros & Renee Goust at the David Rubenstein Atrium

Celebrate a new generation of Mexican-American singer-songwriters with performances by Renee Goust and Diana Gameros. Having grown up between the U.S and Mexico, Goust and Gameros move between cultures, languages, and genres to deliver anthems of personal, cultural, and political identity.

Presented in collaboration with the Celebrate Mexico Now Festival

October 19

Photo by Silas Green Photography

¡VAYA! 63: Titanes del Trombón at the David Rubenstein Atrium

Hailed by critics as a leading trombonist of his generation and "an arranger of the first-class" (JazzTimes), 2018 Grammy nominee Doug Beavers has performed alongside Eddie Palmieri, the Spanish Harlem Orchestra, Mingus Big Band, Rubén Blades, Paul Simon, and countless others. For this night, he pays tribute to some of his fellow trombone greats in both jazz and Latin music, keeping the dance floor packed with an all-star band, high-energy arrangements of classic tunes, and plenty of trombone.

Opening set by DJ Antonio La Conga

October 25

Photo by Edgar Garces

Kombilesa Mi at the David Rubenstein Atrium

Hailing from Palenque, the first free black town in the Americas, the hip-hop group Kombilesa Mi overlays traditional Colombian rhythms and instruments with lyrics in both Spanish and the local language, Palenquero. The result is an electrifying fusion of Palenquero music and urban rap. Proud of their heritage and passionate about music, Kombilesa Mi (Palenquero for "My Friends") represents the voice of a new generation of Colombian musicians. This performance is part of the band's U.S. debut tour.

Presented in collaboration with Hi-ARTS.

Presented in partnership with Millennium Stage at The Kennedy Center.

October 31

Sonatenabend in Juilliard's the Paul Recital Hall

Pianists from Juilliard's Collaborative Piano department perform sonata repertoire in partnership with student instrumentalists.
================================
=================================
By Alison Durkee
Get into the autumn spirit and learn about everything from AI to spooky space to the upcoming midterm elections with these New York talks and events.
Monday, Oct. 1. Pledge your allegiance to a Skye & Massimo's Philosophy Cafe dialogue unpacking "the social and political implications of being (or not being)" a 'patriot.' " New York Society for Ethical Culture.
Tuesday, Oct. 2. Feel things out at this event on minding emotions and mentalization—the effort of making sense of our own and others' actions, behaviors, and internal states. Book Culture.
Wednesday, Oct. 3. Move into this conversation on New York's housing crisis and how the city can balance the many forces at work in its crowded real estate market. Museum of the City of New York.
Thursday, Oct. 4. Try to compute what data journalist Meredith Broussard has to say about AI and reporting as she appears in support of her new book,Artificial Unintelligence: How Computers Misunderstand the World. NYU Bookstore.
Friday, October 5. Ponder Of Love and War as Pulitzer Prize-winning photojournalist Lynsey Addario talks about her new book, which spans Afghanistan to sub-Saharan Africa. The TimesCenter.
Saturday, Oct. 6. Celebrate Brooklyn's Latinx communities at this Target First Saturday event through music, workshops, and more. Brooklyn Museum.
Sunday, Oct. 7. Smash the patriarchy at this conversation with #MeToo founder Tarana Burke and MoveOn.org's Karine Jean-Pierre on the ongoing fight against sexual harassment and abuse. 92nd Street Y.
Monday, Oct. 8. Save your sweet tooth for this discussion on the world history of candy. Caveat.
Tuesday, Oct. 9. Pay tribute at this event discussing the history of monument creation and how the city's new monuments will be selected. Graduate Center, CUNY.
Wednesday, Oct. 10. Lend an ear as PEN America presents a talk on fascism with Jason Stanley (How Fascism Works: The Politics of Us and Them), Timothy Snyder, and the moderating of Jelani Cobb. The New School.
Thursday, Oct. 11. Go on a "kamikaze journey across the contours of the human body and mind" with Peruvian author Gabriela Wiener as she appears in support of her new book, Sexographies. The Strand.
Friday, Oct. 12. Tickle your funny bone at this conversation with actors Melissa McCarthy and Richard E. Grant as they discuss their new film Can You Ever Forgive Me? The TimesCenter.
Saturday, Oct. 13. Go west for this walking tour of Hidden Hell's Kitchen and the neighborhood's rich history. The Municipal Art Society of New York.
Sunday, Oct. 14. Confront a major societal issue at this series of talks discussing the problems of race in America. Fordham University.
Talks by Michael Palin, Josh Bell, and four former Surgeons General. And that's just Monday! Read on for a full week of the best smart things to do in NYC.
Monday, October 15
If you became immersed in AMC's The Terror earlier this year, then you know the allure of ill-fated 19th-century English polar expeditions. Monty Python's Michael Palin, a world-class globetrotter in his own right, gives an illustrated lecture in support of his new book, Erebus: One Ship, Two Epic Voyages, and the Greatest Naval Mystery of All Time. He'll recount the vessel's construction, the science it facilitated, life on board, and the ship's rediscovery just four years ago. St. Francis College.
Author John B. Judis follows up his study of the rise of Trump (The Populist Explosion) with a book examining the resurgence of nationalism. Judis traces back nationalism's history to see if a return of wider wars and depressions is imminent. The Strand.
Jane Sherron de Hart launches her new biography of Supreme Court Justice Ruth Bader Ginsburg, which draws on 15 years of comprehensive research and interviews, and was completed with the cooperation of the "notorious" Justice herself. Monday at the Museum of Jewish Heritage and Tuesday at the The New York Society Library.)
John Corigliano, composer of the Academy Award–winning score of The Red Violin, joins violinist Joshua Bell and producer Niv Fichman to talk about the film's challenges and triumphs at the David Rubenstein Atrium at Lincoln Center.
Can there be a more random evening than a gathering of four former Surgeons General? Only 20 men and women have held the post; tickets are now available for a night with Drs. Novello, Elders, Satcher, and Carmona, who will explain how they walked a tightrope between politics and public health. The New York Academy of Medicine.
Tuesday, October 16
Gender editor for the New York Times Jessica Bennett speaks with Emmy-winning screenwriter and director Jill Soloway at The New School. They'll discuss Soloway's upcoming book, She Wants It: Desire, Power, and Toppling the Patriarchy, and today's takes on "gender, inclusion, desire, and consent."
Drawing on his experience as Mayor of San Antonio and Secretary of Housing and Urban Development under President Obama, Julián Castro will discuss how to make the economy more fair, help future generations of Americans escape poverty, and keep the American Dream alive. Maria Hinojosa, NPR Latino USA Anchor and Executive Producer, will moderate. NYU School of Law.
The next Secret Science Club visit to the The Bell House focuses on game theory, math, and probability. FiveThirtyEight columnist Oliver Roeder will share tricks of the statistical trade and present puzzles from his new book, The Riddler.
Nathaniel Philbrick appears in support of his new book, which details the final, triumphant year of the Revolutionary War, which pivoted on deft use of the sea. Barnes & Noble – Upper West Side.
Prep for the midterms with a look at both sides of the aisle when America's 46th Vice President, Dick Cheney, and the U.S.'s first female Secretary of State, Madeleine Albright, share the stage at Temple Emanu-El.
Wednesday, October 17
Build up women at this panel discussion on the impacts of women on architecture and interior design. New York School of Interior Design.
Historian Jamie Warren leads a Think Olio session that uses Simone de Beauvoir's The Second Sex as a point of departure. Woman as Other, Woman as Lover: The Search for Self and The Politics of Love will explore the ways society leads women to experience themselves as other, or even as non-selves.
Former Fed chairman Alan Greenspan knows his way around the American economy. His new book, written with the Economist's Adrian Wooldridge, tells the story of America's growth from colony to colossus. The authors will be joined by Gillian Tett, U.S. managing editor of the Financial Times, to talk about the paradox of innovation, America's tolerance for creative destruction, and whether the current stall in productivity could foreshadow the end of American prominence. 92nd Street Y.
Thursday, October 18
The New York Academy of Medicine hosts a night that delves into color and book illustrations, focused on medical publications from 1500 to 1850.
Get thee hence to this talk on Shakespeare's Measure for Measure and its depiction of gender and prosecution in common law. Graduate Center, CUNY.
mm
Friday, Oct. 19. See Green-Wood Cemetery in a new light at this candlelit moonlight exploration complete with special site-specific performances.
Saturday, Oct. 20. Curate your experience at this talk on how the Guggenheim Museum designs exhibitions in its unique architectural space.
Sunday, Oct. 21. Check out the justice in The People vs. Noah, with courtroom arguments over Noah's failure to speak up for humanity from defense counsel Joe Lieberman and prosecutor Alan Dershowitz. Temple Emanu-El.
Monday, Oct. 22. Let things look up as Anne Lamott (Bird by Bird) presents her new ode to hope, Almost Everything. St. Joseph's College.
Tuesday, Oct. 23. Get cybersavvy as former Deputy National Security Advisor to President Obama and CIA Deputy Director Avril D. Haines talks about the 2016 U.S. election hack and our current state of cybersecurity. National September 11 Memorial & Museum.
Wednesday, Oct. 24. Raise a glass at this talk on how Japanese sake and its industry have influenced the craft beer scene, complete with a tasting. Japan Society.
Thursday, Oct. 25. Delve into the world of One Person, No Vote, as Carol Anderson talks about the risks for democracy in voter suppression. The Greene Space.
Friday, Oct. 26. Learn to Stop Worrying and Love Halloween at this special Stanley Kubrick– and film noir-themed bash. Museum of the City of New York.
Saturday, Oct. 27. Celebrate Halloween at this special Cirque du Musee-themed Halloween ball featuring "wondrous beasts, fantasy revels, and vaudevillian magic." MoMA PS1.
Sunday, Oct. 28. Hear some new "West Side Stories" at this conversation with composer Leonard Bernstein's daughter Jamie Bernstein and Broadway actress Alexandra Silber. Center for Jewish History.
Monday, Oct. 29. Think small as a daughter and grandson of Sara Kalman talk about her ahead-of-the-curve choice to downsize with Minimalism Is Good Karma. Rubin Museum of Art.
Tuesday, Oct. 30. Look to the stars at this "spooky space" talk featuring the cosmos' most frightening phenomena. American Museum of Natural History.
Wednesday, Oct. 31. Trick and get treats at this Brooklyn Halloween party featuring a talk on burial garments, a costume contest, and tales of Brooklyn's ghosts. Brooklyn Historical Society.
================================
=================================
Plan your month with the best NYC events in October 2018 including the Village Halloween Parade, food fests and more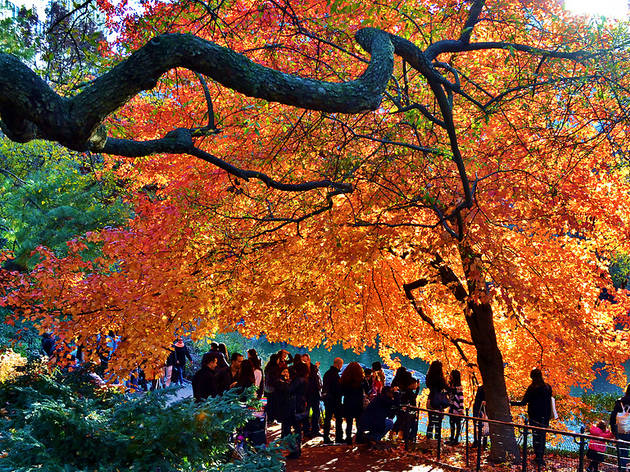 By

Time Out New York contributors and Jennifer Picht
|
Aside from spooky Halloween parties, there are plenty of other awesome NYC events in October 2018. Use our events calendar to plan the quintessential month for leaf peeping and spotting fall foliage, pumpkin picking and more things to do in fall. Aside from that, there are some major artists and bands playing kick-ass fall concerts and more art and theater openings you don't want to miss this month.
Featured events in October 2018
================================
=================================
Things to Do in October in NYC
This post covers the best things to do in New York City in October updated for 2018 including a top 10 list, nighttime activities, free and family-friendly things to do. Be sure to check out our master post, Things to Do in NYC, for more ideas.
---
TOP 10 THINGS TO DO IN OCTOBER
This section will feature our top 10 activities to enjoy in New York City throughout October. Whenever possible, we will make note of attractions and events that are free, family-friendly or great after dark.
For tips on the most popular activities in NYC, check out our schedule of pay-what-you-like walking tours, our bus tours, and boat cruise pages.
Several of the items below are already included for free with the purchase of a tourist discount pass.
---
(1)Take a walking tour with Free Tours by Foot
We offer approximately 40 different tours, including free, self-guided, guided, and GPS-enabled audio tours of every neighborhood that you will likely visit as a tourist in NYC.
Our tours take you to neighborhoods such as Greenwich Village, Soho, Little Italy, Chinatown, Central Park, Midtown Manhattan, Lower Manhattan, Harlem, the High Line, Brooklyn neighborhoods and much, much more.
Below in the Things to do at Night section, we list our night tours. We also offer food tours, bike tours, and occasional special theme tours.
Our guided walks are free to join and operate on a pay-what-you-like basis, which means you decide what a tour was worth or what you could afford (even free) when the tour is over.
Check out our homepage or look at our schedule to see what we have available when you are here.
---
(2) See the Autumn leaves in Central Park   (kid-friendly)
You don't need to leave New York City to see the different hues of oranges, yellows, and reds on the changing leaves. Central Park is a perfect place to enjoy the beauty of the fall.
We recommend that you take a guided walking tour to help you find your way through this huge park. We offer several pay-what-you-like tours of Central Park including a tour of the lower section and one of the middle section.
If you can't join us, explore the park on your own using our GPS audio tour or our Guide of Things to Do in Central Park.
---
(3) Go see a concert at Madison Square Garden
There are so many amazing performers playing at Madison Square Garden this month, you may as well bring a sleeping bag and move into this world-famous area.  Steely Dan fans are treated to 9 performances at the historic and intimate Beacon Theater. Radio City Music Hall welcomes the amazing Christina Aguilera and head out to Brooklyn's Barclay Center for Keith Urban.
TIP: Madison Square Garden offers All-Access Tours so you can see how this iconic arena has become a world landmark. Radio City Music Hall also offers a tour of its beautiful Art Deco interior. See more at our post, Radio City Music Hall Stage Door Tour.
---
(4) The New York Film Festival
The New York Film Festival is New York City's version of the Cannes Film Festival. Though it starts at the end of September, most of the films will be shown from October 1- 14. This is one of the most important film festivals for both Hollywood directors and brand new directors.
They are shown in beautiful Alice Tully Hall in Lincoln Center. While tickets are $25, which is double the price of a regular movie, the experience is anything BUT regular! To find out which films are playing and to purchase tickets (which go on sale September 9th), click here.
TIP: Lincoln Center offers a tour of several of its most famous performance spaces. If you are an aficionado of the performing arts,  this tour is for you. Find out more about the tour and how to get discount tickets by clicking here.
---
(5) See a Sports Event  (kid-friendly)
October offers several thrilling sports to choose from. We've got ice hockey in full swing, football heating up and the basketball pre-season starting.
Ice Hockey
Football 
Basketball Pre-season
---
(6) Lower East Side Pickle Day  (kid-friendly)

On October 14, on Orchard Street between Delancey and East Houston Streets, it's all about pickles. Come out to try all sorts of pickled foods from 20+ picklers.
There will also be non-pickled treats, pop-up shops by local boutiques and restaurants, live music, games, and a home pickling/dancing contest. Find out the details here.
Pickle Day is on a Sunday and would be an excellent activity to attend after taking our Sunday Lower East Side Food Tour at 1 pm.
---
(7)  New York Comic Con  
For connoisseurs of comic books, games, sci-fi, anime, manga, and all things pop culture, October 4-7 brings you heaven on earth. This annual convention is 4 days of wackiness where you can meet artists, celebrities, publishers, and toymakers inside the giant Jacob Javits Convention Center.
Feel free to come dressed as your favorite animated character!
Visit their website for more information and to purchase tickets.
---
(8)  NYC $1 Pizza Party 
On October 10, do a good deed while filling up on $1 samples of pizza from over 50 of the best pizzerias in the whole city like Grimaldi's, John's of Bleecker St., Lombardi's, Patsy's, and so many more.
A $1 ticket gets you a slice from any of the participating pizzerias. An amazing 100% of all the money raised goes to 2 great charities that help feed New York's hungriest. You can buy as many tickets as you want (meaning, eat as much as you want!). Visit Slice out Hunger's website for all the information you need.
The event takes place in Greenwich Village, which is perfect since you can walk off all those carbs with our GPS audio tour of Greenwich Village, or use our downloadable self-guided tour.
If you aren't here for this event, consider taking our pay-what-you-like Greenwich Village tours. Our Greenwich Village Food Tour goes to some of the pizzerias included in the Pizza Party event!
TIP: If you love pizza, you will love our guide to The Best Pizza in New York City by Neighborhood. If you love all different kinds of food, check out our food tour offerings!
---
(9) Open House New York (OHNY) 
This very popular annual event gives the public free access to over 275 of the city's architecturally and culturally significant buildings and other spaces that are not generally open to the public, such as the Woolworth Building, the spectacular Standard Oil Building, formerly the headquarters of the Rockefellers' billion-dollar oil business, and the Old Croton Aqueduct.
This amazing opportunity is on the weekend of October 13-14. There are tours, talks, and family activities throughout all 5 boroughs of NYC. For more information, visit their website.
For those not here that weekend, you can still visit many of the buildings and public spaces that are always included in Open House New York. For example, you can take a tour of the Woolworth Building, Alice Austen House, Grand Central Terminal, and many more locations which are included in our Lower Manhattan tours and our Greenwich Village tours.
---
(10) Columbus Day Parade  (kid-friendly)
This is the world's largest celebration of Italian-American culture and it is on October 8 starting at 11 am. The parade route is along 5th Avenue from 47th Street and 72nd Street (Map).
There will be over 130 marching groups including bands, floats and Italian heritage and cultural groups marching proudly along the route. Click here to get more information on the parade.
For suggestions of other things to do in the area once the parade is over, see our post 50+ Things to Do in Midtown Manhattan.
THINGS TO DO AT NIGHT IN OCTOBER
New York City is known as the "City that Never Sleeps", and for good reason. You can find some amazing things to do any night of the week. For example, you've got concerts and the Halloween Parade in our Top 10.
There are also evening activities in other sections of this post, so take a look through. Below are a few highlights for a night out in October.
You can also check out more ideas on our post What to Do at Night in New York City.

---
Take a Night Walking Tour   
October temperatures are still comfortable enough to take a night tour, as long as you dress appropriately.  The night air is brisk but invigorating and the city at night is electric and dazzling.
We offer a number of night tours in October. View our schedule to see what is running.
You can also use our GPS Audio self-guided tours and our self-guided tours to explore on your own after the sun sets.
---
Village Halloween Parade  (kid-friendly)
For decades, the Village Halloween Parade has attracted thousands of New Yorkers, not just to watch, but to participate! There is an official line-up of floats and art troupes who flood 6th Avenue with the most creative Halloween costumes you will ever see.
The parade starts at 7 pm on October 31st. The route runs along 6th Avenue from Spring Street in SoHo to 16th Street in Chelsea. (Map).
What many people do not know is that anyone can be in the parade. The only requirement is that you are in costume. It doesn't need to be fancy, just your average ghost or ghoul will do. To walk in the parade, be at 6th Avenue at Canal Street between 6:30 pm and 8:30 pm. (Map).
Learn about things to do in Greenwich Village.
---
Enjoy a Skyline View of New York City  
What could be more magical than seeing the glittering lights of New York City on a warm June night? You could go to one of the 3 observatory decks, but there are plenty of other ways to get a great photo-worthy view of the iconic New York Skyline.
See our post to find the Best New York Skyline Views and also our post on 10 Rooftop Bars with Great Views
---
H.P. Lovecraft Festival 
Author Stephen King has called H.P. Lovecraft the "the Grandmaster of 20th Century American Horror". From October 17 – 28, you can hear some of H.P. Lovecraft's spine-tingling stories read aloud by the players of the award-winning, critically-acclaimed Radiotheatre.
The readings are accompanied by ominous orchestral scores and spooky sound effects. Readings happen each night during the festival at 81 Christopher Street in Greenwich Village. Find out more here.
TIP: While you are in the village, explore this fun and also beautiful neighborhood with our GPS audio tour of Greenwich Village, or use our downloadable self-guided tour.
---
Attend a TV Show Taping 
If you love Jimmy Fallon or Stephen Colbert on TV, why not see them live and for free? Some of the best late night talk shows tape in the evening. Some shows require you to reserve in advance, and if you want to be spontaneous, you can try for standby or one of the other ways to get tickets at the last minute.
These are three fun shows to attend a TV taping:
To see what other show tapings you can attend, see our post, New York TV show tapings.
================================
=================================
Grub Street – What to Eat and Drink in NYC This October (avail 09/30)
================================
=================================
New York Mag – October Jazz Calendar 2018 (avail 01)
================================
=================================