These sites have been selected because they all do a first rate job publishing NYCity event info. I hope you will click on their hot links to see what else they have to offer.
But first, let's take a look at The NewYorker's always perceptive and comprehensive
Fall Preview of the Arts
Night Life – Theater – Dance – Classical Music – Art – Movies
============================================================
by City Guide News Desk
NYC's September calendar is brimming with excitement, including tons of festivals, exhibits, and Broadway fall previews. The US Open starts the month off, plus there are blockbuster concerts, the San Gennaro Festival, the Chile Pepper Festival, the Cloisters' Medival Festival, and much more!
Things to Do in New York in September: Exhibits
Escher's Eye depicts an eye with a skull imprinted onto its pupil.
(Now-2/3/19) Even over a century after his birth, Dutch artist M.C. Escher (1898-1972) continues to astound. Catch more than 200 of Escher's mind-bending works at Escher: The Exhibition & Experience in Brooklyn's Industry City. Exploring the intersection of art, mathematics, science, and poetry, the exhibition will feature interactive immersive experiences that bring the artist's optical illusions to life. eschernyc.com
PLUS
(9/17-1/6/19)  Delacroix at the Metropolitan Museum of Art -This is the first comprehensive US retrospective of the work of French Eugene Delacroix (1798-1863). The Met has teamed up with The Louvre, showcasing in chronological order, some 150 pieces, a variety of paintings, drawings, manuscripts, and prints.
(Now-10/28) In 1939, the pioneering American Modernist Georgia O'Keeffe (1887–1986) went to Hawaii on commission for a Hawaiian Pineapple Company promotional campaign. What she created provides the inspiration for the landmark new exhibition Georgia O'Keeffe: Visions of Hawai'i at The New York Botanical Garden. A stunning display in the LuEsther T. Mertz Library Art Gallery includes 17 of O'Keeffe's Hawaii paintings, not seen together in New York since their debut in 1940. The historic Enid A. Haupt Conservatory explores the remarkable beauty and variety of Hawaiian flora, as well as its complex botanical and cultural history. The garden (just a 20-minute Metro-North ride from Grand Central Terminal) also features a living collection of more than one million plants.
(Now-9/9) Celebrating Bill Cunningham marks the New-York Historical Society's recent acquisition of objects, personal correspondence, ephemera, and photographs that reflect the life and work of Bill Cunningham. One of the late 20th century's most influential trend-spotters and style authorities, the legendary New York Times journalist and photographer was frequently spied on the city's streets, at fashion shows, and elegant soirées capturing images of New York's fashion innovators and cultural glitterati. Among the highlights of Celebrating Bill Cunningham are a bicycle that he rode around the city; his first camera, an Olympus Pen-D, 35mm; signature blue jacket; personal photographs of Cunningham at home and with friends; correspondence, including a few of the hand-made Valentines he frequently sent to friends; and a New York City street sign, "Bill Cunningham Corner," that was temporarily installed at Fifth Avenue and 57th Street in his honor, following his death. Soon after he arrived in New York, Cunningham worked as a milliner, and items on view from his millinery line, William J., include an innovative beach hat, along with other hats and fascinators; and a press release written for the William J. spring 1960 millinery show. Also on display are selections from Cunningham's Facades, his eight-year photographic project documenting New York City's architectural and fashion history, which was shown at the museum in 2014.
(Now-12/9) Rivers and Torrents: Oil Sketches from the Thaw Collection at the Morgan Library. Even advanced painters struggle to capture moving water in their work. The play of light on the ripples, the wind on the surface, the current moving it all along—it's one of the many reasons we're all captivated by Monet's Water Lilies. See the work of other artists from the 19th century onward through oil studies of Rivers and Torrents. Click here for more about exhibits at Morgan Library.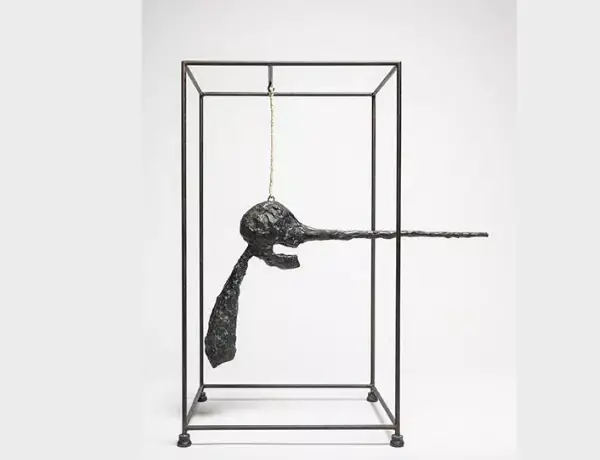 The Nose (Le nez), 1949 (cast 1964) Bronze, wire, rope, and steel, 81 x 71.4 x 39.4 cm
Solomon R. Guggenheim Museum, New York 66.1807 © 2018 Alberto Giacometti Estate/Licensed by VAGA and ARS, New York Photo: Kristopher McKay © The Solomon R. Guggenheim Foundation
(Now-9/12) An Incredible Giacometti Retrospective Comes to the Guggenheim Museum. Swiss artist Alberto Giacometti (1901-1966), a Modernist sculptor, was a master of perspective. His elongated human figures, spindly miniatures, and ghostly paintings and drawings invite the viewer to lean in close and evaluate the work on its own terms rather than those of the viewer herself. The exhibit features more than 175 works by the artist.
(Now-10/8) Heavenly Bodies at the Metropolitan Museum of Art and The Cloisters. Heavenly Bodies: Fashion and the Catholic Imagination reflects the influence of religious art, ceremony, and imagery on clothing design. It's a sprawling show, literally—encompassing 65,000 square feet and 25 galleries, including The Cloisters (the museum's uptown branch dedicated to medieval art, housed in reconstituted European chapels and cloisters) and parts of the Lehman Wing, the Costume Center, and the medieval and Byzantine art galleries at The Met itself.
(Now-9/9) Final weeks! Surface/Depth: The Decorative After Miriam Schapiro at the Museum of Arts and Design (MAD). In June of 2015, Miriam Schapiro, the pioneering feminist artist and founding member of the Pattern and Decoration movement, passed away at the age of ninety-one. Surprisingly, given her status as the elder stateswoman of the feminist art movement, the tremendous impact of her oeuvre on contemporary art has yet to be fully acknowledged or critically assessed. This exhibition seeks to redress this gap in the history of American art through an exploration of Schapiro's signature femmages, the term she coined to describe her distinctive hybrid of painting and collage inspired by women's domestic arts and crafts and the feminist critique of the hierarchy of art and craft. You can read more about it here.
(Now-12/2/18) Art of the Mountain: Through the Chinese Photographer's Lens at the China Institute. Featuring over 60 photographs from a range of modern Chinese photographers, this exhibition will allow visitors to consider the role of mountains in China's geography, history, art, and philosophy.
(Now-10/14) The American Folk Art Museum presents Charting the Divine Plan: The Art of Orra White Hitchcock, which brings together aspects of art, love, science, and religion, as expressed by one of America's first female scientific illustrators. Working in the mid-19th century, Orra White Hitchcock was equally skilled in the natural sciences and in art, and her illustrations of plant life, geological formations, fossilized animals, and dinosaur tracks were used in Amherst College lectures and the  scientific journals of the day. The exhibition puts on display Hitchcock's rarely seen drawings and paintings, some up to 10 feet long, which demonstrate both scientific clarity and an unexpected modernity.
(Permanent) The Jim Henson Exhibition at the Museum of the Moving Image will celebrate the life and legacy of the famed Muppet creator, exploring both his prolific career and the enduring effect his work has on pop culture to this day. Visitors can expect to learn more about the creation of such beloved works as The Muppet Show, Sesame Street, Fraggle Rock, The Dark Crystal, and Labryinth, as well as to discover the cutting-edge experimental works Henson made throughout his career.
(Permanent) The Museum of the City of New York presents NY at Its Core. Ten years in the making, New York at Its Core presents the compelling story of New York's rise from a striving Dutch village to today's "Capital of the World." The exhibition captures the human energy that drove New York to become a city like no other and a subject of fascination the world over. Entertaining, inspiring, important, and at times bemusing, New York City "big personalities," including Alexander Hamilton, Walt Whitman, Boss Tweed, Emma Goldman, JP Morgan, Fiorello La Guardia, Jane Jacobs, Jay-Z, and dozens more, parade through the exhibition.
Things to Do in New York in September: Comedy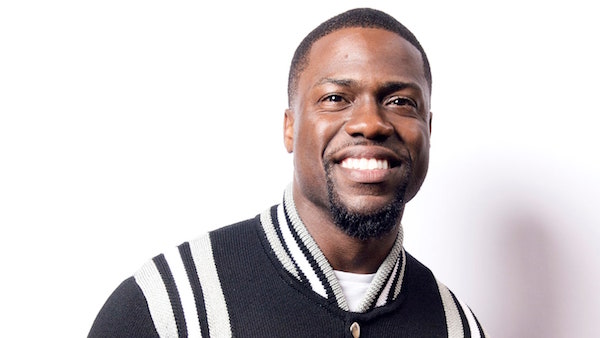 (9/27) Kevin Hart at Madison Square Garden.
PLUS
(9/6-9/8) SNL's Leslie Jones at Carolines.
(9/5) Queer Eye's  Jonathan Van Ness at The Bell House. 
(9/5) Ru Paul's Drag Race: Werq the World at Town Hall. Your favorite drag stars return with a fierce new show for 2018 in The Official RuPaul's Drag Race World Tour. Hosted by Bob The Drag Queen with sickening performances by the queens from Season 10 along with fan favorites Kim Chi, Valentina, Shangela, and Violet Chachki.
(9/7-9/8) Francis Ellis at Gotham Comedy Club.
(9/8) Eddie B. Teachers Only Comedy Tour at Beacon Theatre.
(9/13) Gerry Dee at Gotham Comedy Club.
(9/21-9/22) Vic DiBitetto at Gotham Comedy Club.
(8/30-9/2) Gary Owen at Carolines.
Things to Do in New York in September: Kids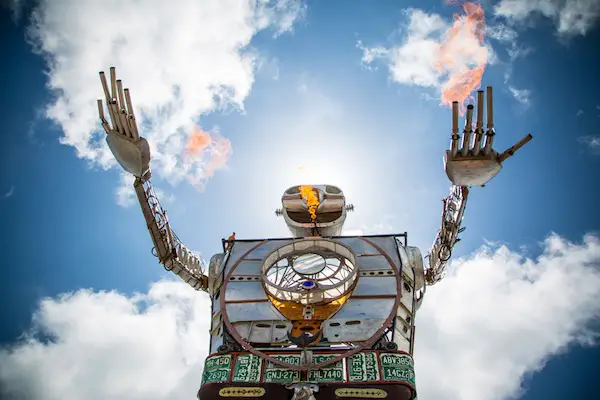 (9/22-9/23) The World Maker Faire returns to the New York Hall of Science! Get inspired to make, create, learn, invent, craft, recycle, build, think, and play while celebrating art, science, and technology. Hundreds of "makers" will present fun and unusual creations such as rockets and robots. There will also be arts and crafts, artisanal foods, live music, and much more. 10am-6pm. Specially priced family passes available. nysci.org, makerfaire.com
PLUS
(9/15-9/16) Disney Junior Dance Party on Tour at Beacon Theatre.
(9/23) Fall Family Day at Carnegie Hall. Families can enjoy live performances, build their own instruments, sing and dance with professional musicians, and more. This event runs from 12 PM to 4 PM. Join us for an enriching afternoon of musical fun for the whole family. FREE.
(9/22-9/23) Now in its 36th year, the traditional County Fair at the Queens County Farm Museum features blue ribbon competitions in produce, livestock, arts and crafts, and more. Enjoy the Amazing Maize Maze, pie-eating and corn-husking contests, pig-racing, hayrides, carnival rides, and a midway. Visit craft vendors, food vendors, enjoy music, and more. 11am-6pm. queensfarm.org
(Ongoing) Luna Park in Coney Island: grab the family, get a Luna pass and ride the Cyclone or the Cozmo Jet, plus stroll the beach with a hot dog and more!
(Ongoing) The Smash Dash game at Ripley's Believe It or Not! Times Square will keep kids on their toes! Keep your reflexes sharp, in this all-new race against time. Here is a coupon!
(Ongoing) Kids of all ages will want to check out Gulliver's Gate, a $40 million extravaganza that allows visitors to travel the globe without leaving Times Square. Latin America, Asia, the Middle East, Russia, and Europe are all here in incredibly detailed miniature. And don't let that word "miniature" fool you—Gulliver's Gate feels like it covers acres, stretching a full city block with the wonders of the world.
(Ongoing) Aspiring scientists and astronauts will want to explore the New York Hall of Science in Queens, brimming with interactive exhibits (plus an outdoor playground).
Things to Do in NYC in September: Music & Nightlife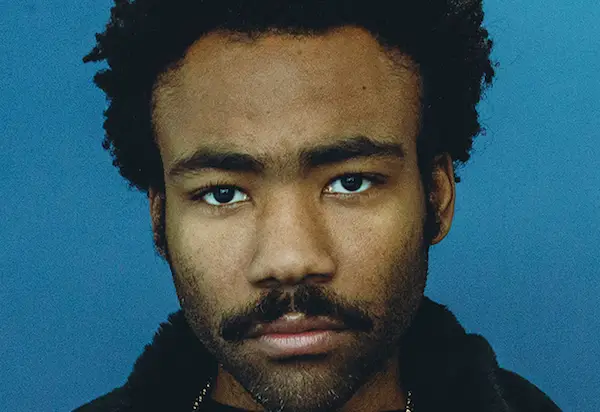 (9/14-9/15) Childish Gambino at Madison Square Garden.
PLUS
(9/5) Arthouse at NYLO Hotel, New York City's Secret Beach Pop-Up. Arthouse at NYLO will be extending summer into the fall season by bringing sand, waves, and a custom cocktail menu made up of 'Basic Beach' cocktails using cookie 'sand' and served from ships in a bottle to Manhattan – when they transform the 16th-floor terrace into a hidden beach in the middle of the city. There are two sessions-6pm-7:30pm, or 7:3pm-9pm. 2178 Broadway at 77th Street. nylohotelnyc.com.
(9/6-9/14) It's New York Fashion Week, and there will be afterparties. nyfw.com
(9/6) Alice Cooper at the Beacon Theatre.
(9/8) Pig Island 2018 at Erie Basin Park in Red Hook, Brooklyn. It's back! Chefs will be cooking half or whole Flying Pigs Farm pigs. Special ribs challenges! Fletcher's Brooklyn BBQ, Hoodoo Brown BBQ and many others. Craft beer, cider & spirits. Celebrity judges. Live music. Get tickets and chef list here. 
(9/8) Mac DeMarco at Central Park Summerstage /Rumsey Playfield.
(9/8-9/9) The second annual Octfest, created by Pitchfork, will take place on Governors Island, bringing together some 20 acts, including The Flaming Lips, Vince Staples, Nile Rodgers and Chic, with a selection of more than a dozen food vendors, and 90+ breweries.
(9/8) Jamiroquai at Forest Hills Stadium.
(9/11) Jethro Tull at the Beacon Theatre.
(9/11-9/12) First Aid Kit at Brooklyn Steel.
(9/12) Van Morrison and Willie Nelson share the bill at Forest Hills Stadium in Queens.
(9/15) David Byrne with Tune Yards at Forest Hills Stadium.
(9/13) Ringo Starr at Radio City Music Hall.
(9/15) Nogu Svelo at Music Hall of Williamsburg.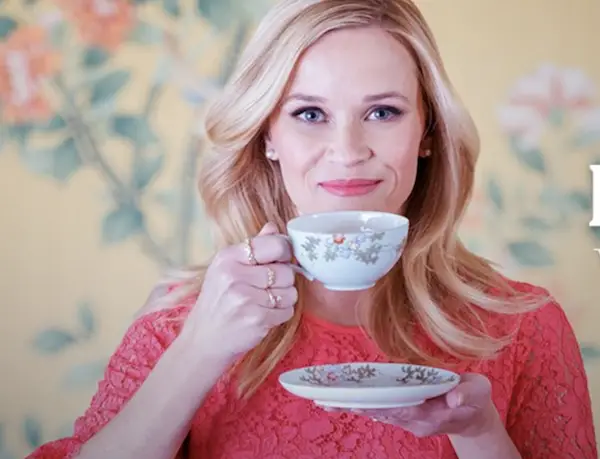 (9/17) Reese Witherspoon's Whiskey in a Teacup book event at The Town Hall. Grab your friends and join Reese Witherspoon for a fun night of lively conversation! With her debut book, Whiskey in a Teacup, the Academy award-winning actress, producer, and entrepreneur invites you into her world, where she infuses the Southern style, parties, and traditions she loves with contemporary flair and charm. Ticket includes her book, a Draper James tote bag, and other goodies.
(9/21-9/22) The Growlers at Brooklyn Steel.
(9/22) Portugal the Man at Forest Hills Stadium.
(9/22) Blues, Brews, & Botany at New York Botanical Garden. Spread out on NYBG's beautiful Conservatory lawn and discover the connections between beer and botany with music, tastings, and botanical-inspired fun. Enjoy unlimited tastings of a variety of palate pleasing brews from New York State and beyond, then explore the botanical side of beer with a lineup of activities and games. 11m-5pm.
(9/21, 9/22, 9/23) NYC punk legend and author Patti Smith performs her Words and Music Show at the Minetta Lane Theater in Greenwich Village.
(9/27-9/30) The 16th Annual New York Burlesque Festival. The popular New York Burlesque Festival turns 16, and it's hotter than ever, with events at new venues including Public Arts in Public Hotel and Sony Hall. thenewyorkburlesquefestival.com
(9/29-9/30) New York Vegandale Food & Drink Festival at Randall's Island. Back for a second year, (originating out of Toronto) this time a full weekend schedule of food, drinks, music and art. vegandalefest.com
(9/29) The National with Jason Isabell, Cigarettes After Sex, Phoebe Bridgers, and Adia Victoria at Forest Hills Stadium.
(9/30) The National with Future Islands, Cat Power, US Girls, and Bully at Forest Hills Stadium.
Things to Do in New York in September: Sightseeing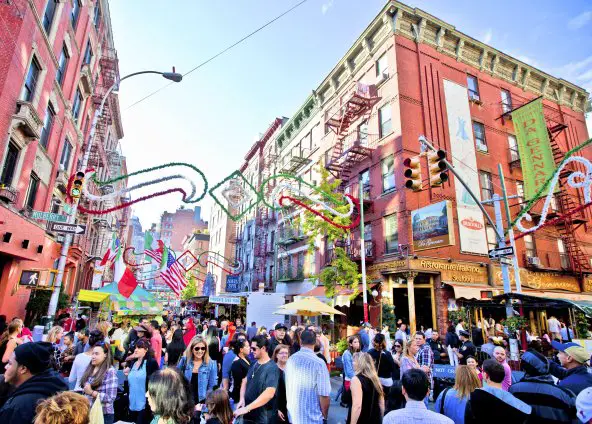 © Stu99 | Dreamstime.com – Little Italy Photo
(9/15-9/26) The Feast of San Gennaro celebrates its 92nd anniversary this year! It's NYC's longest running, biggest religious outdoor festival, stretching along the streets of Little Italy. sangennaro.org
PLUS
(9/2) The annual Brazilian Day Festival returns to Manhattan's Little Brazil (around 46th Street between Fifth and Sixth Avenues). Load up on tasty food, music, vendors, and more. brazilianday.com
(8/28-9/10) Game, set, match! The US Open continues at Arthur Ashe Stadium.
(9/10) Annual Anniversary Celebration at Grand Bazaar NYC.
(9/16) 36th Annual Antique Motorcycle Show at Queens County Farm. This show will include a display of various makes and models of motorcycles that have been out of production for 10 years or more. Music, farmhouse tours, hayrides, and food will provide fun for the entire family. 11am-4pm. $7. queensfarm.org
(9/15) The German-American Steuben Parade kicks off at noon, marching along Fifth Ave., from 68th Street to 86th Street. The festivities continue at the 2018 OktoberFest at Watermark Pier 15  (9/21-9/23, 9/27-9/30, 10/4-10/7). Prost! 
(9/23) The 44th Annual Atlantic Antic is the largest street festival in NYC, taking place along Atlantic Avenue in Brooklyn. atlanticave.org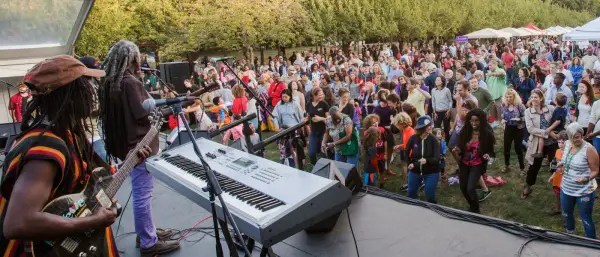 (9/29) The Chile Pepper Festival 2018 at Brooklyn Botanic Garden. Save the date for New York's hottest fall tradition! Brooklyn's end-of-summer blowout sets the Garden ablaze with scorching bands from around the world, dozens of fiery food artisans, and hours of chile-chocolate debauchery.
(9/30) Cloisters Medieval Festival in Fort Tryon Park. The Medieval Festival brings to life the customs and spirit of the Middle Ages. Manhattan's Fort Tryon Park is transformed into a medieval market town decorated with bright banners and processional flags. Performers, guests and festival goers dress in medieval costume.
Things to Do in New York in September: Ongoing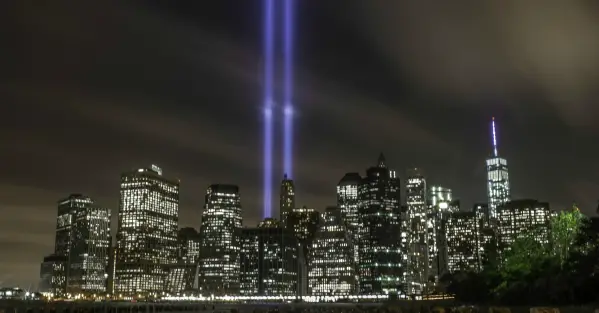 Image: Anthony Quintano/Flickr
Every year New York marks the September 11th attacks with the Tribute in Light, a display of 88 searchlights visible in the night sky for miles around. There will be other tributes and memorials all around the city, and a visit to the 9/11 Memorial & Museum will provide moving context.
Part tour, part show, all entertainment! Take THE RIDE and see NYC like never before!
Experience Downtown NYC, enhanced with virtual reality, with THE RIDE's DOWNTOWN EXPERIENCE.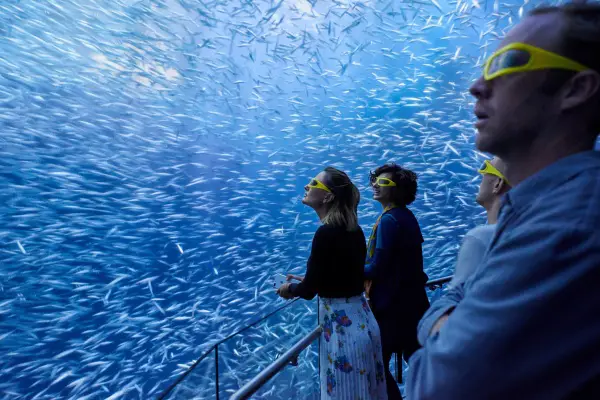 Immerse yourself in the deep, dark depths of the ocean, where Humboldt squid fight to the death, 50 foot whales ride overhead, play with sea lions, navigate a sea kelp maze and more at National Geographic Encounter: Ocean Odyssey!   Here's a coupon!
Explore NYC in miniature at Gulliver's Gate.
Visit the sites of Ghostbusters, Friends, Seinfeld, Trainwreck, Gossip Girl, Sex and the City, and many other NYC film sites with On Location Tours.

Learn more about the fascinating history of New York City's Financial District with Wall Street Walks tours.
Ripley's Believe It or Not! Odditorium brings people of all ages face-to-face with the world's most unbelievable curiosities. With 18,000 square feet of astonishing artifacts and exciting interactive exhibits. Here's a coupon!
Zip up 100 stories in 60 seconds and see New York City atop One World Observatory. Here is a coupon!
=======================================================
=======================================================
Best Things to Do in New York City in September
Harvest carnivals, the year's biggest burlesque fest, a DIY boat race and more of the best things to do in New York City in September.
Harvest festivals and carnivals, the biggest burlesque festival of the year, a DIY boat race and more of the best things to do in New York City in September.
The best things to do in New York City in September
Be one of the animals at Electric Zoo
The last outdoor music festival of the season takes over Randall's Island from Friday through Sunday. Electric Zoo has all the EDM beats you can handle headlined by Marshmello, Martin Garrix and Tiesto. Check out the new 6 Pointz stage featuring all New York acts. Aug. 31-Sept. 2, $89.99+, electriczoofestival.com
Browse art in the park
Labor Day Weekend kicks off the 88th annual Washington Square Outdoor Art Exhibit's fall show, which began when an artist you may have heard of — Jackson Pollock ring a bell? — brought a few paintings from his Greenwich Village studio to sell when he found himself short on rent in 1931. Now, nearly 100 artists and craft artisans in media from paint to glass to fiber set up booths along the sidewalks of Washington Square Park. Sept. 1-3 (also Sept. 8-9), University Place between East 13th St. and Waverly Place, noon to 6 p.m. wsoae.org
Flip your wig at Pier 17
The iconic drag festival that started in Tompkins Square Park in the mid-'80s but fizzled out around 2001 has found new life on Lower Manhattan's Pier 17 this Saturday. Wigstock heads downtown starring Lady Bunny and Neil Patrick Harris, with dozens of drag queens putting on the liveliest and most colorful showcase you'll find anywhere this weekend. Sept. 1, 3 p.m., $95 and up, ticketmaster.com
The best of Broadway at half the price
With the end of summer, New Yorkers wave goodbye to tourists and get Broadway back all to ourselves. The biannual Broadway Week returns Sept. 3-16 with two-for-one tickets to more than 20 productions, from long-running classics to the newest shows on the block. Check out our recommendations, or just see them all!
Strike a pose during Fashion Week
Whether you know a clog from a mule or can barely put your dress on the right way, New York Fall Fashion Week is a chance to see a worldwide art form right on our streets. Whether you want to attend a runway show, hit up the parties or just dress your best for a chance to be snapped by street photographers, there's plenty of ways you can take part. Sept. 5-12, nyfw.com
Celebrate your curves
Curvycon is all about the 67% of women who are size 14 or larger, bringing together fashion designers and influencers, modeling agencies and stars like Gabourey Sidibe for two days of shopping, chats, facetime with retailers and lots more to learn how to attain that body positive attitude we're all striving for. Sept. 7-8, $249, thecurvycon.com
Beer meets music at one amazing festival
Pitchfork brings the music, beer culture website October brings the brewers at OctFest, two days of concerts by 20 artists and over 250 varieties of beer from around the world coming to Governors Island. Curated food pairings are also on the bill, and you've got six hours on both days to try 15 3-oz. pours with your ticket, or purchase more at $1.50 each. Sept. 8-9, $75-$140, octfest.co
A carnival on the Hudson
The West Side County Fair is a rare treat within city limits, with carnival rides, fairway games, magic shows and live music are taking over from 68th to 70th streets; after you've ridden and seen it all, enjoy your carnival food while strolling along the river. Sept. 9, Riverside Park South, free, riversideparknyc.org
Talk nerdy to me
The Brooklyn Book Festival is NYC's largest free literary event, bringing over 300 authors for every age group, from up-and-comers to international literary stars. Bookend Events like dance parties and trivia take place throughout the city, plus talks, readings and a Literary Marketplace filled with 250 publishers. Sept. 10-17, brooklynbookfestival.org
Little Italy throws a two-week party
You don't have to be Catholic to take part in the Feast of San Gennaro, the 10-day holiday that turns Little Italy into one big street festival with delicacies being grilled up on the sidewalk, bakeries turning out their best traditional treats, live music nightly, eating contests and more. Sept. 13-23
The dinner party we all want an invite to
Diner en Blanc started, as most good things do, in France, but the all-white dinner parties have become a global phenomenon. New York's dinner takes place on Sept. 17, so many sure you're registered for a chance at one of the few thousand tickets for one of the most magical nights you'll ever experience.
See the hidden city
Open House New York offers an exciting chance to go inside the glamorous homes, active factories, buzzing offices and soaring skyscrapers normally closed to the public. Expanded to three days this year, the event takes place Oct. 12-14, but the list of sites will be announced on Sept. 18, with reservations opening up on Sept. 25 — and they'll fill up almost immediately, so have your list ready.
Turn off your TV and see it live
There's never been more television being made in New York City than right now, and fans can be sure they'll meet the biggest stars and see fall's most exciting pilots before they air at the Tribeca TV Festival. Tickets are on sale now, with highlights including a retrospective with Bryan Cranston, an extended cut of Anthony Bourdain's final complete episode of Parts Unknown, and Meryl Streep interviewing comedian Tracey Ullman. Sept. 20-23, $30-$40, tribecafilm.com
Live your best sex life
Pleasure isn't just going to find you — learn how to ask for what you want, and for that matter learn what you want, with two days of classes, panels, product demos and more at the country's largest convention about pleasure, Sex Expo New York. Sept. 22-23, free-$40, sexexpo.com
Party like the Germans
Lederhosen is optional but singing along while hoisting your stein high in the air are not at the many Oktoberfest events that take over the city starting in mid-September. Munich on the East River is always a must-do, but sausage specials and authentic German brews will be everywhere during the three-week harvest festival. Sept. 22-Oct. 7
Ride for your pizza
A pizza scavenger hunt on two wheels sounds exactly like the kind of touristy activity we can all get behind. The 5 Boro Pizza Challenge starts out by the red cube at 140 Broadway, where contestants receive their list of pizza joints, one in each borough to visit by bike, borough or subway. Your journey unfolds on social media, and the fastest will collect prizes (besides all the delicious slices they eat along the way). Sept. 22, $30, 5boropizzachallenge.org
Eat the best of New York street food
The Vendy Awards, also known as the Oscars of New York street food, bring 25 of the most popular sidewalk chefs from food carts to food trucks all in one place. They've earned the nominations of their loyal customers, but now the whole city gets to try them all together on Governors Island. Taste your way across their wares (it's unlimited with your ticket!) and vote for your favorite in several categories. Sept. 22, $100 and up, eventbrite.com
Play with the technology of the future
See what the tinkerers of the world have been up to at World Maker Faire in Queens, a weekend of getting hands-on with the technology being dreamed up by ordinary people in their own homes. The Maker Movement brings do-it-yourselfers out to trade tips, show off their craft and encourage creativity with interactive displays, demos, discussions and more in fields like art, engineering, medicine and technology. Sept. 22-23, $40-$80, makerfaire.com
Farm fun to kick off fall
It's a bit of a haul but the Queens County Fair is so worth the trip. Held on a farm museum, the annual tradition features all the usual county fair stuff like livestock competitions, eating contests, fresh produce and baked goods, piglet races and kids activities, plus lots of fall-themed fun like hay rides, a haunted house, a Bavarian beer garden, carnival rides and midway games, live music and dancing, and the star attraction, the three-acre interactive Amazing Maize Maze. Sept. 22-23, $10, queensfarm.org
Atlantic Antic
Brooklyn's busy Atlantic Avenue comes to a halt every September during Atlantic Antic, when the street becomes a giant marketplace with more than 500 restaurants, breweries and local vendors, many of them setting up on the street right outside their shops. In between browsing, you'll come across activities like a giant inflatable slide and a petting zoo, plus 15 stages of entertainment by local musicians and community groups. Sept. 23, noon-6 p.m., Fifth Avenue between Hicks Street and Fourth Avenue, atlanticave.org
Upgrade your space with art
You probably can't paint your apartment, but that's no excuse to leave your walls bare. The Affordable Art Fair at the Metropolitan Pavilion brings more than 70 local, national an international galleries showcasing over 300 artists, with pieces that start at just $100 for everything from sculptures to photographs, large and small, classic to contemporary. There are also workshops and tours. Sept. 27-30
Take it (almost) all off
They've literally made an art of taking off their clothes, and the best of the best burlesque dancers come together to celebrate their performance discipline for four nights during the New York Burlesque Festival. In addition to performances, there are also parties, panels and classes. Sept. 27-30, free-$270, thenewyorkburlesquefestival.com
Can you even drink this much caffeine?
We're living in the golden age of coffee, but there's always some new technique or varietal to discover. At the New York Craft Coffee Fest in Williamsburg, 20 roasters and coffee shops bring their best products for you to sample, introducing you to rare flavor profiles you won't find in your corner cafe. No classes, no competitions, just amazing, unique coffees accompanied by live music. Sept. 29, $35-$45, nyccraftcoffeefest.com
Party with RuPaul
RuPaul's DragCon sashays back into New York City for an expanded three-day schedule of runway shows, panels, marketplace and photo ops with the series' top drag talent all at the Javits Center, plus off-site parties. Kids age 10 and under get in free — never too early to see how fabulous they can grow up to be! Sept. 28-30, $40-$70
The heat is on
There's more to heat than hot sauces, though there will be plenty of those at the Brooklyn Botanic Garden's Chile Pepper Festival. You'll also find spicy chutneys, mouth-tingling chocolates and dozens of other vendors selling every kind of spicy treat, plus six bands playing everything from South Korean rock to New Orleans brass and "fiery feats" like sword-swallowing and fire breathing. Sept. 29, $25, bbg.org
All the stars come to Central Park
Good deeds are their own reward, but the annual Global Citizen Festival in Central Park is still a nice reward for fighting poverty worldwide. You can only get into the exclusive star-studded concert by accruing points through activism. Your reward it top talent like Cardi B, The Weeknd, Shawn Mendes, John Legend and Hugh Jackman. Sept. 29
The sailing event of the year
Forget the America's Cup, the Red Hook Regatta is the ultimate boat event of the year. Teams of slightly crazy DIY-ers create seaworthy (they hope) craft to compete at Valentino Pier. There are additional 3D-printed boat races and boat-building activities for the youngest kids, with food and live entertainment. Sept. 29, free, pioneerworks.org
Lords and ladies, head uptown
Hear ye, hear ye, the Medieval Festival at Fort Tryon Park requests the pleasure of your company for a special day of revelry — all free to the public. The park is transformed into a medieval market town with banners and flags, plus minstrels and musicians, jesters and knights jousting on horseback. Sept. 30, whidc.org
=======================================================
=======================================================
The torta especial is one dish from Oxomoco's new brunch.
Photo: Noah Fecks
Every month in New York, there's a bewildering number of new dishes to eat, drinks to imbibe, and food-themed events to attend. Often, the hardest part is just figuring out what's really worth your limited time. So Grub kicks off each month with a curated collection of dishes, drinks, and events that should absolutely be on your agenda. Make your plans now.
1. Eat an all-tomato dinner cooked by New York's gelato master.
Meredith Kurtzman has been called the person responsible for New York's love of gelato. On September 13 ($40, from 7 p.m. to 9 p.m.), she'll host a dinner at Archestratus Books + Foods celebrating one of her other culinary obsessions: tomatoes. The four-course dinner will include a gazpacho shot with fried chickpeas, pickled green tomato with mortadella ribbons and herby mayo, fregola with calamari and clams in roasted tomato broth, and sweet tomato crostata with crema.
2. Have lunch at one of Koreatown's best new restaurants.
Yoon Haeundae Galbi has been a welcome addition to Koreatown's dining scene, a nice spot for good, quality Korean barbecue and more (get the Busan neighborhood pancake, $17 during lunch and $21 during dinner) with a few twists. The Korean import has opened for lunch, adding to the neighborhood's excellent choices for a hearty afternoon meal. During the day, they're serving an expanded menu of stews like chicken ginseng and black cod (both $15), plus rice dishes such as a stone-bowl octopus and bulgogi (both $15) over rice.
3. Drink birthday beers and eat Filipino tacos at a brewery's second-anniversary party.
KCBC is a laid-back and great place to drink craft beer any night of the week. On September 6, its owners will celebrate the brewery and taproom's second anniversary with a birthday party. It's going down from 5 p.m. until late, with brand-new Double IPAs for those who like it hoppy, collaboration brews and more beers, anniversary glasses and shirts, and Filipino tacos from pop-up Little Chef Little Kitchen. There's no cover, and DJ Eat Records will provide the soundtrack.
4. Attend a street festival celebrating Queens' diversity.
Viva la Comida was started in 2012 to celebrate the local flavors and diversity of Jackson Heights and surrounding neighborhoods in Queens. Held on the particularly diverse corridor of 82nd Street and now in its seventh year, the festival returns on September 15 from noon to 7 p.m. This year's vendors include Tulcingo, the Arepa Lady, and Mysttik Masaala, who will serve food while musicians play roots, Latin, and jazz music.
5. Check out a wood-fired Mexican restaurant's new daily brunch.
Who in their right mind wouldn't eat chilaquiles seven days a week? Greenpointers can at the popular wood-fired Mexican restaurant Oxomoco, which now serves the dish ($16) during its new daily brunch. There are, this being 2018, bowls with achiote tuna ($18) and grilled zucchini ($16) with salsa Veracruz. But if you're in need of more robust nourishment, there are three kinds of burritos ($12 to $14) — including one with grilled bacon and fried potatoes — and a torta especial ($18) with chorizo verde and chicharrón on a concha.
6. Celebrate the restaurants of North Brooklyn.
The culinary block party that is Taste Williamsburg Greenpoint returns for its ninth year on September 16 (tickets are $55 for general admission or $85 for VIP). Benefiting the Firehouse North Brooklyn Community Center, the event brings together 40 local restaurants, including Pies 'n' Thighs, Barano, Brooklyn Pizza Crew, and Lighthouse.
7. Go to a Viet Cajun seafood boil or Taiwanese and Vietnamese pop-up from Hanoi House's acclaimed ex-chef before he leaves town.
While the now former Hanoi House chef John Nguyen is on his way out of town, he's found time to stick around a little longer to have some fun with pop-ups around town. On September 5 and 6 at the Basement, Nguyen and chef Helen Nguyen will throw a Vietnamese Cajun seafood boil. Then on September 17, he'll head to East Williamsburg's Win Son for a four-course dinner (tickets are $75, seatings are at 6:30 p.m. and 9:30 p.m.), called Bo Bo Kitchen. Cooked in collaboration with Win Son chef Trigg Brown, it'll include cold noodles with sesame and peanut, mango salad with manila clam, Sun Gold tomato pie with tofu Parmesan and wuyuzi, and bun bo hue.
8. Feast on bratwurst and schnitzel at the NoMad Bar.
Can't make it to Munich for Oktoberfest? It'll be a lot cheaper, anyway, to go to the NoMad Bar, which will launch its NoMaderfest pop-up on September 22. They'll serve a daily prix fixe ($58 for three courses) with specials like bratwursts, chicken schnitzel with jaeger sauce, and beer-battered apples.
9. Hit up New York's only outdoor night market when it returns for its fall season.
After a late summer vacation, the Queens Night Market will return on September 29 for its fall season. It'll still be every Saturday from 6 p.m. to midnight in Flushing Meadows Corona Park, and is a great way to spend a night outside before it gets too cold. The market's rotating roster of vendors (80, at last count) is as voluminous and diverse as New York itself, and include Burmese Bites, the Malaysian Project, Caribbean Street Eats, and others.
10. And welcome back Urbanspace's outdoor markets for another season.
While talking outdoor markets, Urbanspace's Madison Square Eats returns on September 8 through October 5 (11 a.m. to 9 p.m. daily) with vendors like Arancini Bros, Ice & Vice, and Palenque Arepas. So does Broadway Bites on September 24 through November 2 (same hours), featuring Daa! Dumplings, Enfes NYC, Kotti Berliner Döner, and others.
11. Head to a Brooklyn bookstore for two exciting food book events.
Books Are Magic will host Julia Turshen on September 8, when she'll talk to New Yorker staff writer Jia Tolentino about her book Now & Again. Featuring 125 recipes, the book focuses on how to reuse and repurpose leftovers for easier cooking and less waste. Then on September 18, Tamara Shopsin will talk with Vacationland writer John Hodgman about Arbitrary Stupid Goal, her book about growing up in the Greenwich Village and her father Kenny Shopsin's New York institution Shopsin's. Both events are free.
12. Take a trip upstate for an annual festival celebrating everything and anything garlic.
When asked about your favorite dishes and sauces, do you think of dishes like pesto, bagna càuda, kimchee, and toum? Then join your people at the Hudson Valley Garlic Festival on September 29 and 30 (entry costs $10), and celebrate 25 years of all things garlic. The event runs from 10 a.m. to 6 p.m. on Saturday and from 10 a.m. to 5 p.m. on Sunday, and there will be garlic farmers, a garlic market, and food vendors serving lots of very garlicky food.
13. Have an Italian-ish restaurant's new lunch burger, then brunch on egg pizza at a newish pizzeria.
Another good burger is always welcome. Add another one to your list: Jonathan Benno's Roman-ish Leonelli Taberna is now open for weekday lunch, starting at noon, with a menu featuring a burger ($19) topped with provolone, hot peppers, and pickles. Other dishes, should your tastes be less about beef, include baked ricotta ($17) with summer squash and orata ($23) with brown butter, lemon, capers, and almonds. While on topic of new Italian restaurants serving lunch, Rosemary's Pizza now does, too. The same pizzas will be served from 11:30 a.m. to 4 p.m. on weekdays. During weekend brunch from 11:30 a.m. to 3 p.m., they'll offer two new ones (both $17): a Carbonara, à la the classic pasta, and a Pan Frattau, with tomatoes, oregano, Fresno chilies, Pecorino, and eggs over easy.
=======================================================
=======================================================
This post covers the best things to do in New York City in September, updated for 2018, including a top 10 list, nighttime activities, free and family-friendly things to do. Be sure to check out our master post, Things to Do in NYC, for even more ideas.
TIP:  If you are looking to save money on attractions, think about getting a tourist pass. For some help deciding, read our post "Which is the best tourist pass?"
---
TOP 10 THINGS TO DO IN SEPTEMBER
This section will feature our top 10 activities to enjoy in New York City throughout September. Whenever possible, we will make note of attractions and events that are free, family-friendly or great after dark.
For tips on the most popular activities in NYC, check out our schedule of pay-what-you-like walking tours, our bus tours, and boat cruise pages.
Several of the items below are already included for free with the purchase of a tourist discount pass.
---
(1) Take a Walking Tours with Free Tours by Foot

We offer approximately 40 different tours, including free, self-guided, guided, and GPS-enabled audio tours of every neighborhood that you will likely visit as a tourist in NYC.
In addition to the Brooklyn Bridge, we cover Greenwich Village, Central Park, Harlem, the High Line, Brooklyn Neighborhoods and much, much more.  We also offer food tours, bike tours, and occasional special theme tours.
Our guided walks are free to join and operate on a pay-what-you-like basis, which means you decide what a tour was worth or what you could afford (even free) when the tour is over.
Check out our homepage or look at our schedule to see what we have available when you are here.
---
(2) Go to a Concert
September's concerts will satisfy every age range from the 3-day alternative rock festival Electric Zoo to the tried and true classics like Paul Simon.  Here are our picks for the best concerts:
TIP: Madison Square Garden offers All-Access Tours so you can see how this iconic arena has become a world landmark.
---
(3) See a Sports Event!  (family-friendly) 
Three thrilling sports to choose from this month (not including the U.S. Open Tennis Championships – see below). We've got good old baseball, pre-season ice hockey, and pre-season American football.
Baseball  
Yankees Home Schedule (click for ticket information)

Sept. 1-2  (vs. Detroit Tigers)
Sept. 14-16 (vs. Toronto Blue Jays)
Sept. 18-20 (vs. Boston Red Sox)
Sept. 21-23 (vs.  Baltimore Orioles)
TIP:  The classic tour of Yankee Stadium is available with both the New York Pass and the Explorer Pass. For more information, check our post about New York tourist passes.
Mets Home Schedule (click for ticket information)

Sept. 7-9 (vs. Philadelphia Phillies)
Sept. 10-13 (vs. Miami Marlins)
Sept. 25-27  (vs. Atlanta Braves)
Sept. 28-30 (vs. Miami Marlins)
TIP: The classic tour of Yankee Stadium is also available with both the New York Pass and the Explorer Pass.
For more information, check our post about New York tourist passes.
---
Football 
Sept. 16 (vs. Miami Dolphins)
Sept. 9 (vs. Jacksonville Jaguars)
Sept. 30 (vs. New Orleans Saints)
---
Ice Hockey (Pre-season)
Sept. 9  vs. Philadelphia Flyers
Sept. 24  vs. New Jersey Devils
Sept. 26 vs. New York Islanders
Sept. 17  vs. New York Rangers
Sep. 24  vs. New York Rangers
Sept. 20 vs. New Jersey Devils
Sept 26 vs. New York Rangers
---
(4) San Gennaro Festival in Little Italy  September 14 – 24  (family-friendly) 
After 90 years, this Festival is still going strong, attracting a million people over the course of 11 days every September.
Mulberry Street, the heart of Little Italy, will be the host of parades and religious processions celebrating Italian heritage. There'll be carnival rides, live music, and more Italian street food than you have ever seen in one place.
For more details about this incredible New York experience, see our post on the San Gennaro Feast.
Click here for more information about Little Italy.  Learn more about Little Italy and its neighborhood, by taking one of our pay-what-you-wish tours that include Little Italy:
---
(5) NYC Broadway Week  September 3-16  (family-friendly) 
Get two tickets for the price of one, or get upgraded seats for select shows. Not all shows participate and tickets are subject to availability. There are also some blackout dates.
Shows will be announced here on August 15.  Prices vary.
TIP: If you don't have any luck getting two-for-one deals, then read our detailed post on How to Get Cheap Broadway Tickets.
---
(6) September 11th Tribute in Light  (family-friendly) 
The Tribute in Light is an inspired tribute to the victims of the tragedy. From dusk through dawn, two majestic, massive beams of light are projected into the sky and can be seen from as far as 60 miles away.
The Memorial Plaza is closed on 9/11 to the public until 3 pm when you can pay your respects and also see the Tribute in Light from a different perspective.
We offer several tours that include the 9/11 Memorial. Check out our schedule.
---
(7) U.S. Open Tennis Championship  September 1- 9  (begins August 27)
See the top-seeded tennis players in the world at one of the most exciting annual tennis matches. Many of the 'usual suspects' will be there for thrilling matches.
Click here to get tickets.
The Open is held at the USTA Billie Jean King National Tennis Center in Flushing, Queens.
---
(8) Atlantic Antic  September 23    (family-friendly) 
Known by locals as the Antic, this is one of the biggest and oldest street fairs in New York City. The blend of the communities in the surrounding neighborhoods offer you the chance to try foods of different cultures – Middle Eastern food dominates, followed by Jamaican and African food and lots of desserts Look for the Key Lime Pie truck – they are the best in the city.
More information can be found here.
The Antic is on a Sunday and is located in Brooklyn Heights, so why not join us for our 2 pm pay-what-you-like Brooklyn Heights Tour after hitting the Antic!
---
(9) Museum Day Live   September 22  (family-friendly) 
On this day, some Smithsonian museums offer free admission for you and a guest. For a list of participating museums and to get tickets, click here.
Of the museums included, the best deal is the Intrepid Sea, Air & Space Museum which normally costs $25 and up. If you cannot get tickets on Museum Day Live, you can still find discounts on tickets to the Intrepid (pictured on the left) by reading our post on discount tickets to the museum.
Other museums we recommend are the historic Fraunces Tavern Museum and the Staten Island Museum at Snug Harbor (which gives you a reason to ride on the free Staten Island Ferry.
TIP:  For a list of museums that are free or almost free year-round, click here.
---
(10) New York Caribbean Carnival Parade   September 4
It's hot, hot, hot with the colorful, flavorful and lively parade in Crown Heights, Brooklyn. There will be floats with fantastic dancers shaking their stuff to the sounds of Caribbean culture. You will hear a lot of Calypso, Reggae and steel drums. Grab a Tamarind juice and a Beef Patty.
Find out more information here.
NOTE: This parade can get pretty wild, even a bit risque, and extremely crowded. We don't recommend you bring children. If you do not like crowds, you should skip this event.
If you want to savor the flavors of the Caribbean in a more subdued manner, try our Flatbush Brooklyn Food Tour.
---
Below are our sections on things to do in at night, for free, or for families in September.
For more ideas for any time of year, be sure to read our master post on things to do in NYC.
THINGS TO DO AT NIGHT IN SEPTEMBER
We have summarized a few of the things to do at night in September below, but do check out more ideas on our main things to do in NYC at night post.
These are in addition to the items in the top 10 section, such as the Tribute in Light, or the sport and concert events, most of which take place in the evening.
---
Metropolitan Opera Summer HD Festival  September  1 – 4 (begins Aug. 26)
See an amazing past performance by this world-famous opera for free on a huge HD Screen set up in the heart of Lincoln Center's Plaza. There will be more than 3,000 seats set up in front of the opera house each night, as well as the additional standing room around Lincoln Center Plaza. If you are interested in learning more about Lincoln Center, you can take a tour. Find out more here.
---
Photoville  September 13 – 23
This is certainly one of the most unusual ways to see contemporary photographs. This free photography exhibit is held in "Photoville", a small village of cargo containers, each serving as an art gallery. Though opening hours each day vary, Photoville stays open until 9 pm every night. There's a beer garden, nighttime art projections and of course the surrounding skyline of Manhattan.  You can find all the details here.
It's located in Brooklyn Bridge Plaza right under the Brooklyn Bridge in DUMBO. Make a full evening of it with a stroll over the Brooklyn Bridge before or after. (See information just below).
---
Walk over the Brooklyn Bridge  (family-friendly) 
The Brooklyn Bridge can be walked over 24 hours a day. We definitely do not recommend you taking a 4 am stroll. But a sunset stroll or a walk at 9 pm when the sun is down and the city is sparkling is a one of a kind experience.
For those who want some guidance to enjoy the Bridge when the sun goes down,  join us for our combined  911 Memorial and Brooklyn Bridge Night Tour.  It runs Tuesday, Fridays and Sundays at 7:30 pm.
---
Take a Night Walking Tour   (pay-what-you-like) 
New York is really two cities – one by day and a very different one by night. September is a great time to take a night walking tour.  You'll need a sweater or light jacket, but it will be comfortable weather and you'll catch the city as it turns from day into night.  We offer night tours and you can see what is available in September by looking at our full calendar.
We have a Midtown Manhattan Night Tour, a 911 Memorial, and Brooklyn Bridge Night Tour, a Greenwich Village and Brooklyn Bridge Ghost Tours and a Dark Side of the High Line tour.
If you want to explore on your own at night, here are our suggested places to take in the New York skyline.
TIP: Be sure to check out more night ideas on our main things to do in NYC at night post.
---
FREE THINGS TO DO IN SEPTEMBER
Many of our free things to do take place outdoors. That's because September's temperatures are comfortable and many outdoor activities are still open to the public. The same is true of many of the events above, like the San Gennaro Festival and Walking over the Brooklyn Bridge, so be sure to look at the other sections in this post.
For even more free activities, see our Guide to Free Things to Do in NYC.
---
Brooklyn Book Festival  September 10-17,
Well-known and up-and-coming authors from around the world gather for one of NYC's largest free literary events. This week-long festival is filled with panel discussions and individual readings. Some of this year's attendees include Pete Hammill, Jennifer Egan, Simon Winchester, Laura Lippman and so many more.
Events take place throughout historic buildings in Brooklyn Heights. There is a Children's Day is on September 15. But the highlight is Festival Day on Sunday, September 16.
Find all the details of the Festival here.
TIP: Why not join us on our pay-what-you-like Brooklyn Heights tours since you are already in the neighborhood.
---
Ride the Free Staten Island Ferry  (family-friendly) 
Take a free ferry ride from Manhattan to Staten Island and back again. Whether you ride it during the day or at night, you will get spectacular views of Lower Manhattan and the Statue of Liberty. The weather is still warm enough to be out on the water.
Our guide to Riding the Staten Island Ferry should come in handy.
You might consider planning your free ferry ride so that you can take our free, pay-what-you-like Lower Manhattan Tour before or after, which also comes in a GPS-enabled audio tour format.
---
Get Free Tickets with A Tourist Discount Pass
Admittedly, these passes have a cost.  However, if you plan well, you will essentially get several tickets to attractions or tours each day for free. Tourist discount passes work by bundling multiple tickets into one price, usually between 20%-50% the retail price.
Read our post comparing the different tourist discount passes.  Several bus tour companies, including hop-on-hop-off buses, also offer discounts and deals.
---
Brazilian Day  September 2
In 1984, in a small enclave in Midtown Manhattan known as "Little Brazil", the first Brazilian Day was held. It celebrated Brazil's Independence Day from Portugal. There will be free entertainment including popular Brazilian musicians and vendors serving up traditional Brazilian Food.
Find out all the details here.
Combine a visit to this unique celebration with one of our Midtown Manhattan or Central Park tours!
---
Washington Square Outdoor Art Exhibit  September 2-4 and 9-10
For decades, the streets surrounding Washington Square Park have been the home to this art show with more than 100 artists displaying their works. You'll see lots of NYC-themed and affordable original paintings and sketches.  Find out more information here.
Learn more about this neighborhood or combine your visit to the exhibit with one of our Greenwich Village Tours.
---
Autumn Moon Festival   September 22  (family-friendly) 
The Autumn Moon Festival marks the fall equinox. Traditionally, families go out to admire the big autumn moon, light pretty paper lanterns, eat elaborate moon cakes (sweet, doughy dessert cakes with elaborate designs on the top).
With this festival, you will enjoy traditional Asian music and dance, storytelling, tours, demonstrations of martial arts and Tai Chi, food, lessons in Chinese calligraphy. The festival takes place along Mott Street below Canal Street in the heart of Chinatown. Get more information here.
Also, learn about what there is to do and see in Manhattan's Chinatown.
For even more free activities, see our Guide to Free Things to Do in NYC.
Here are just a few fun activities that will keep the kids and adults amused. Many of the events listed above are family-friendly, such as the Atlantic Antic or going to the San Gennaro Festival.
You can find even more information about visiting New York with kids at Top 10 Things to Do with Kids in New York City as well as our 3-day itinerary for families.
---
Visit Governors Island 
Governors Island is a small, recreational, vehicle-free island just 7 minutes by ferry from Lower Manhattan, which opens for the summer season.  You can rent bikes, kayak for free, picnic, visit the various playgrounds, and try out the longest slide in NYC — three stories high and 57-feet long!
Read our post on Governors Island for information on ferry hours, how to get there and what activities are offered.
One of the highlights is The Hills, where you will you will have one of the best views of the Statue of Liberty and all of New York Harbor.
---
Neverland: Peter Returns at the Swedish Cottage Marionette Theatre  Sept. 8-9 and Sept. 15-16
The kids will love the puppets and the adults will love the history of this magical theatre in Central Park. The Swedish Cottage Marionette Theatre was imported to the U.S. in 1876 as Sweden's exhibit for the Centennial Exposition in Philadelphia.
The enchanting design caught the eye of Frederick Law Olmsted, the architect of Central Park. Olmstead brought the theatre here and kids have been delighted for well over 100 years.
Doors open at 12:30 pm and the show begins at 1 pm and is 45 minutes long.
Tickets cost $8 for children and $12 for adults.
Purchase tickets here.
For more ideas on how to enjoy this amazing park, read our post 27 Things to Do in Central Park.
---
Visit Bronx Zoo for the Harvest Festival  Various dates in September
Sometimes it is easy to forget that New York City, the "urban jungle" has places where you can see animals from the real jungle! The Bronx Zoo is one of the best zoos in the country and September is also the best month to visit as the animals are more active this time of year.
The natural landscape of the zoo is beautiful in the Fall and the Zoo's Harvest Festival gives kids the chance to do more than see the animals. They will hear bluegrass music, participate in apple-tasting, learn about composting and pressing flowers, and other activities relating to the Fall harvest.
You can get the information from the Zoo's website. Be sure to see our post on ways to get discounts on tickets to the Bronx Zoo!
---
Historic Bus Festival  September 16
Every year, the New York Transit Museum brings out vintage buses dating back as long as the 1930s. Several models of buses from different eras will line Boerum Place in Brooklyn.
You can board the buses and take a 'ride' back in time. Sit down, relax and check out the old advertisements from the 1960s. Think Mad Men. Better still, the Transit Museum is only $1!  Get more information here.
Located Boerum Place between State Street & Atlantic Avenue in Brooklyn Heights.  The Atlantic Antic mentioned above will be taking place the same day so it's two for one fun. Round it out by joining us on one of our pay what you like Brooklyn Heights tour.
You can find even more information about visiting New York with kids at Top 10 Things to Do with Kids in New York City as well as our 3-day itinerary for families.
=======================================================
=======================================================
The best NYC events in September range from last-minute summer excursions to Oktoberfest celebrations and more
The best NYC events in September include everything from last-minute things to do in summer to early fall celebrations including incredible art and cultural events. Utilize our events calendar for September to help you schedule all the happenings you don't want to miss like some of the best things to on Labor day, the West Indian Day Parade, and the one of the best NYC street fairs: Atlantic Antic. Sure, summer is nearly over, but the warm-weather isn't going anywhere anytime soon. So make sure to enjoy all of the wonderful things to outside in New York before the cold front sweeps in!
RECOMMENDED: Full NYC events calendar for 2018
Featured NYC events in September 2018
From free opera screenings on the plaza to a musical exploration of the effects of gentrification, Lincoln Center has a world-class lineup of free events to enjoy in September. See the calendar for a list of all upcoming events.
September 1

Summer HD Festival: Un Ballo in Maschera on Josie Robertson Plaza

Part of the tenth Summer HD Festival, which features thrilling performances from the Met's Live in HD series of cinema transmissions through September 3

An all-star cast—including tenor Marcelo Álvarez, soprano Sondra Radvanovsky, and the incomparable baritone Dmitri Hvorostovsky—comes together for Verdi's tragedy of love, friendship, and betrayal. Original transmission: December 8, 2012.

Approximate running time: 2 hours 20 minutes

September 2

Summer HD Festival: Un Ballo in Maschera on Josie Robertson Plaza

Part of the tenth Summer HD Festival, which features thrilling performances from the Met's Live in HD series of cinema transmissions through September 3

In Strauss's poignant yet insightful comedy, soprano Renée Fleming and mezzo-soprano Elina Garanca lead an unforgettable performance, which also features bass Günther Groissböck and soprano Erin Morley. Original transmission: May 13, 2017.

Approximate running time: 3 hours 15 minutes

September 3

Summer HD Festival: Madama Butterfly on Josie Robertson Plaza

Part of the tenth Summer HD Festival, which features thrilling performances from the Met's Live in HD series of cinema transmissions through September 3

Anthony Minghella's striking production stars soprano Kristine Opolais as the tragic title geisha, opposite tenor Roberto Alagna as her unfaithful American lover. Original transmission: April 2, 2016.

Approximate running time: 2 hours 30 minutes

September 6

Photo courtesy of the artist

Be Steadwell at the David Rubenstein Atrium

Hailing from Washington D.C., Be Steadwell is a singer-songwriter whose unique blend of soul, a capella, and folk comes together to create "Queer Pop." In her live performances, she utilizes looping, vocal layering, and beatboxing to compose songs on stage, featuring earnest lyricism and affirming LGBTQ content.

September 12

Photo courtesy VICE/HBO: Osmin, 7, stands with his father at a hotel being used as a shelter for separated families. They were reunited at 2:00 am that morning after 51 days apart.

VICE Media: Separated by Birth & Zero Tolerance at the David Rubenstein Atrium

This special screening and talk-back with the great minds behind VICE and field experts centers on America's current immigration policies and the debates surrounding them.

In a VICE on HBO special episode dedicated solely to the ongoing immigration debate, correspondent Krishna Andavolu gains rare access to an ICE unit during a targeted enforcement raid, travels to the U.S./Mexico border to interview children whose parents aren't U.S. citizens, and meets the woman who acts as guardian for over 1,200 U.S. children as parents begin to preemptively sign away their rights out of fear of deportation.

September 13

Photo by Katia Paradis

Doctor Nativo at the David Rubenstein Atrium

A founding member of the first Mayan rap group, Balam Ajpu, Doctor Nativo's solo work explores themes of Mayan spirituality, social justice, and folk wisdom. He brings his thrilling musical blend of reggae, cumbia, hip-hop, and Mayan traditional music to Lincoln Center for a free show celebrating Guatemalan Independence Day and the release of his debut solo album, Guatemaya.

September 20

Relevant Tones Live: Vanishing City at the David Rubenstein Atrium

In his book Vanishing New York, Jeremiah Moss argues that gentrification and rising income inequality are causing the city to slowly lose its soul. Join Seth Boustead, composer and host of WFMT Chicago's Relevant Tones, for a live broadcast exploring the issue's impact on music with Moss, Open House New York executive Director Gregory Wessner, and NewMusicBox co-editor Frank J. Oteri. Carnegie Hall's Ensemble Connect is also on hand to perform music by New York composers who flourished in a bygone, some say golden, era. On the program: music by cellist, composer, and pop music phenom Arthur Russell; a New York City–premiere choral piece by Julius Eastman (The Moon's Silent Modulation); and a forgotten gem by Tui St. George Tucker.

Presented in collaboration with Access Contemporary Music

September 21

¡VAYA! 63: Charlie Sepulveda and The Turnaround at the David Rubenstein Atrium

Our Latin dance party series returns for the 2018–19 season with Latin Grammy Award–winning trumpeter, composer, and bandleader Charlie Sepulveda and his stellar band. Having played alongside with Eddie Palmieri, Tito Puente, Dizzy Gillespie, Wynton Marsalis, Hilton Ruiz, Steve Turre, Dave Valentin, Danilo Pérez, Jon Secada, and Paul Simon, Sepulveda has released 12 albums as a bandleader, including 2017's Mr. EP: A Tribute to Eddie Palmieri. Tonight, he draws on Afro-Caribbean rhythms, jazz, and salsa in all its forms for a night that's guaranteed to keep people moving.

Opening set by DJ Bongohead

September 27

Aakash Mittal's Awaz Trio at the David Rubenstein Atrium

Led by the "fiery alto saxophonist and prolific composer" Aakash Mittal (Minneapolis Star Tribune), the Awaz Trio sculpts sonic landscapes, pointillistic textures, and angular melodies from Indian and American improvised music. Their debut project, Nocturne, is a series of pieces that deconstructs five Hindustani evening and night ragas. The colorful dissonances, meditative silences, and punctuated rhythms that emerge paint a unique picture of the night. At times the music evokes the meditation of a world at rest, night terrors conjured by the imagination, and the slow cadence of blue light melting into darkness. Nocturne is part of the trio's mission to create new work that explores the concept of Awaz, a Hindi-Urdu word that changes meaning between sound, noise, and voice depending on the context.

Presented in collaboration with The India Center Foundation and Asian American Arts Alliance
=======================================================
============================================================
Ten top-tier jazz shows to catch this month.
Steve Davis
Smoke Jazz & Supper Club-Lounge; 9/7–9/9; 2751 Broadway, nr. 106th St.; 212-864-6662
The trombonist celebrates the release of Say When, his Smoke Sessions Records debut, a treatment of the music of valve master J.J. Johnson. Davis has got his usual firepower on this sextet, with saxophonist Eric Alexander, drummer Joe Farnsworth, and pianist Harold Mabern, whose playful vamping helped ground Johnson's '64 Impulse date Proof Positive.
Donald Harrison
Blue Note; 9/11–9/16; 131 W. 3rd St., nr. Macdougal St.; 212-475-8592
Treme cast member, Biggie mentor, and saxophonist Donald Harrison leads Ron Carter, the most recorded bassist in jazz, and drummer Billy Cobham, the engine of Miles's early fusion days. It's a three-man hall of fame, together for six hard-swinging nights.
Wynton Marsalis's Spaces
The Rose Theater at Jazz at Lincoln Center; 9/13–9/15; 33 W. 60th St., nr. Broadway, fifth fl.; 212-258-9829
To tip off its 31st season of programming, Jazz at Lincoln Center presents its artistic director's 2016 "animal ballet" Spaces, an Ellington-style big-band designed for dancers Lil Buck and Jared Grimes, who interpret the rhythms of the bugs and big predators invoked by the orchestra.
Superette
(Le) Poisson Rouge; 9/15; 158 Bleecker St., nr. Thompson St.; 212-205-3473
Bassist Chris Lightcap has cited scrappy favorites like German rockers the Monks and Link Wray as influences of his new improvisational band, Superette. Naturally, the band is guitar heavy — Jonathan Goldberger, Curtis Hasselbring, and Wilco's Nels Cline plug in for this self-titled album-release party. John Medeski is on organ, too, to complete the garage feel.
Ulysses Owens Jr.
Dizzy's Club Coca-Cola; 9/20–9/23; 33 W. 60th St., nr. Broadway, fifth fl.; 212-258-9595
The Grammy-winning drummer is joined by the pliable bassist and St. Thomas native Reuben Rogers and Joel Ross, a young vibraphonist with an ear for explosive melodic runs.
Chris Speed
Korzo; 9/25; 667 Fifth Ave., nr. 19th St., Brooklyn; 718-499-1199
The dissonant saxophonist's trios operate like a clandestine military cell: enter in small numbers and achieve maximum chaos. Cellist Hank Roberts pitches in, with Vinnie Sperrazza on drums.
Mark Guiliana Space Heroes
Jazz Standard; 9/25 and 9/26; 116 E. 27th St., nr. Park Ave. S.; 646-576-2232
Guiliana, fluent in styles across the board, played drums on the final Bowie record and writes towering songs about New Jersey. His new band, Space Heroes, is his tested lineup of bassist Chris Morrissey and saxophonist Jason Rigby, with a second reedist, Mike Lewis, throwing in runs on sax and synths.
Andrew Cyrille, Sylvie Courvoisier
National Sawdust; 9/26; 80 N. 6th St., nr. Wythe Ave., Brooklyn; 646-779-8455
Brooklyn native, and champion of crisp, outré drumming, Andrew Cyrille collides with Swiss pianist Sylvie Courvoisier in this duo presented by the Stone.
Future Fest
Jazz Gallery; 9/28-9/29; 1160 Broadway, nr. 27th St., fifth fl.; 646-494-3625
This two-day bash invites the next generation of New York improvisers, including trumpeter Adam O'Farrill with guitarist Gabe Schneider, vibraphonist Sasha Berliner, the noise quartet Tiny Gunk, and the fusion quartet Secret Mall, who re-create the weed haze of vaporwave with live instruments.
Brooklyn Comes Alive
Various locations; 9/29
The fourth annual funk-and-soul festival occupies Rough Trade, Brooklyn Bowl, and the Music Hall of Williamsburg, with Frankenstein mash-ups of expert jammers, including a those-we've-lost tribute from Meters alum George Porter Jr. and MonoNeon, the former bassist for Prince, leading a 13-piece band through the hits of the purple guru.
========================================================
=======================================================
September is nearly here—and even if your days of heading back to school have passed, there are still plenty of opportunities to learn this fall. Delve into everything from historic shoes to the latest from the Supreme Court at these upcoming talks and events.
Explorations of urban art, Village free speech, and the most recent Supreme Court term highlight our picks for the best smart things to do in NYC this weekend.

Friday, August 31
Sing out at this performance of Yoon-Ji Lee's experimental chamber opera Sunday Supper and TREES's performance piece Watching Sound. National Sawdust.
Think Olio hosts an evening that looks at the "conflicting intents of urban art, from its use as state propaganda to its many forms of resistance to oppression." The Strand.
Saturday, September 1
Get cultured at this walking tour of Brooklyn's "Cultural District," including BAM, Theatre for a New Audience, and Spike Lee's 40 Acres and a Mule Filmworks.
Demian DinéYazhi ́performs his work AN INFECTED SUNSET, a risograph-printed work published by Pur Dubois Press, among a series of readings at Printed Matter.
In 1917, authorities sent off 1,300 striking miners and their supporters in cattle cars (without food, water, or their possessions), stranding them in Mexico. Using a mix of performance art, documentary, and experimentalism, filmmaker and writer Robert Greene tells the story of the Bisbee Deportation in Bisbee '17, which opens at Film Forum next week. Catch a conversation on the project, illustrated with clips, at the Museum of the Moving Image.
Sunday, September 2
NYC's earliest public educational institutions, like the city's first free circulating library and "The People's Institute," trace to the West Village. The Municipal Art Society of New York leads a tour that illuminates this hotbed of free speech.
NYU Law School professor Arthur Leonard looks at two major labor decisions of the last Supreme Court term, and forward to whether the Civil Rights Act of 1964 prohibits sexual orientation and gender identity discrimination, an issue that may be raised after the first Monday in October. New York Society for Ethical Culture.
Ethan Hawke, Neil deGrasse Tyson, John Krasinski, John Kerry. September is here and New York is getting back into action: read on for our picks for the best smart things to do in NYC this week.
Monday, September 3
Heat things up at An Inconvenient Talk Show, a comedic take on Al Gore's fight against climate change. Caveat.
Tuesday, September 4
Sybil Rosen, author of Living in the Woods in a Tree: Remembering Blaze Foley, speaks with Ethan Hawke at The Strand about their new film Blaze, which they adapted for the screen together. The film tells the story of tragic country singer-songwriter Blaze Foley, Rosen's former flame. (Hawke appears again on Thursday for a free talk at the Film Society of Lincoln Center.)
Actor/director John Krasinski talks about his Office days, his new film A Quiet Place, called
by Esquire "The scariest and most innovative movie of 2018," and forthcoming projects,
including the new Amazon series Tom Clancy's Jack Ryan. 92nd Street Y.
Wednesday, September 5
Bill Goldstein, the founding editor of the books site of the New York Times, talks about his study of the intersecting realms of Virginia Woolf, T. S. Eliot, E. M. Forster, and D. H. Lawrence during 1922, the birth year of modernism. He'll be joined in conversation by poet and cultural critic Wayne Koestenbaum. Book Culture on Columbus.
Pulitzer Prize winner Linda Greenhouse draws on her 30-year career covering the Supreme Court in her book The U.S. Supreme Court: A Very Short Introduction. She'll discuss her work and a busy news cycle with ACLU National Legal Director David Cole at the Center for Jewish History.
"Every private person should take part in democracy, because if you don't, others choose for you," photographer Wolfgang Tillmans told the New York Times. The first non-British artist to receive the Tate's Turner Prize, Tillmans speaks with the NYPL's Paul Holdengräber about his creative process, and using his art as a platform to further democracy. Stephen A. Schwarzman Building.
Thursday, September 6
Senator and almost-president John Kerry appears at the 92nd Street Y in support of his new memoir, which looks back to Vietnam and forward towards ways out of our current hyper-partisan state.
Hayden Planetarium's director Neil deGrasse Tyson appears in support of his new book, Accessory to War: The Unspoken Alliance Between Astrophysics and the Military, which looks at the many overlaps of science, tech, industry, and power. Tickets include a pre-release signed copy of the book. American Museum of Natural History.
Legendary author Jerome Charyn leads a seminar revising our understanding of Emily Dickinson (1830-1886). His talk The Lives of Emily Dickinson: Poetry, Philosophy, Sexuality will pay particular attention to the role of music in Dickinson's work. Graduate Center, CUNY.
Bill Cunningham, New York rebellion, and a series of Antiquarian Book Fair talks highlight our picks for the best smart things to do in NYC this weekend.

Friday, September 7
Experience the plaza and pools before the crowds on Friday morning with Municipal Art Society of New York guide Judith Pucci. She'll provide insight into the experience of being at the Trade Center on the morning of 9/11/01, and subsequent aspects of construction, transit, and design.
Revolution Books hosts Nicole R. Fleetwood, editor of Aperture Magazine's "Prison Nation" Spring 2018 issue, for an evening that looks at the dilemmas of America's mass incarceration, including how to portray individuals who don't have a say in their own portrayal.
Dress up for this conversation on the late fashion photographer Bill Cunningham with New York Times style editor Joanna Nikas and Cunningham's longtime collaborator John Kurdewan, in conjunction with the New-York Historical Society exhibition Celebrating Bill Cunningham, on view through Sunday.
Broadway star and singer-songwriter Nellie McKay brings her unique blend of jazz, pop, and a bit of rap to The Greene Space stage for this month's variety jam at 44 Charlton. She's joined by hybrid physical theater company LubDub Theater, dance theater company Witness Relocation, and comedian/writer Rebecca O'Neal. Come for the cheap drinks. Stay to become a part of spontaneous genius with host Julian Fleisher!
Saturday, September 8
Rebel at Revolting New York, a talk exploring how NYC's history has been shaped through rebellions, uprisings, and revolutions. Bluestockings.
The Brooklyn Antiquarian Book Fair hosts an afternoon of intriguing talks. Propaganda, ephemera, sex and reform in 19th-century America, and a short history of the photobooth are among the options. (There's three more on Sunday, at the Brooklyn Expo Center.)
Sunday, September 9
Join Tibet House US for an afternoon screening and discussion of Martin Scorsese's 1997 biopic Kundun.
Dance over to the Guggenheim Museum as it kicks off the fall Works and Process series with an event featuring choreographer Emma Portner
Distraction, the charade of elite world changers, and the quirks of genius highlight our picks for the best smart things to do in NYC this week.
Monday, September 10
Author Anand Giridharadas speaks with HuffPost Editor-in-Chief Lydia Polgreen about his new book, Winners Take All: The Elite Charade of Changing the World. In it, Giridharadas questions why we should favor the unelected few over democratic institutions, and points out how elite efforts to "change the world" only serve the status quo. St. Joseph's College.
Catch a panel discussion on an art/activist organization inspired by FDR's Four Freedoms. Representatives will discuss their most recent project, The 50 State Initiative, which will produce public art installations and create a dialogue about engagement in civic life. Aperture Gallery and Bookstore.
Tuesday, September 11
Lincoln Center for the Performing Arts will for the eighth year host the 9/11 Table of Silence Project: A Movement for Peace Created by Jacqulyn Buglisi. A ritual for peace and healing that employs over a hundred dancers, the performance will begin at 8:15am at Josie Robertson Plaza, end precisely at 8:46am, when American Airlines Flight 11 crashed into the North Tower.
Investigative journalist Bethany McLean talks about her new book, Saudi America: The Truth About Fracking and How It's Changing the World, which tells the real story of America's oil and gas revolution. She'll point out the flaws in the industry's capital attraction strategies, and the risks that lie behind inflated promises. The Strand.
James Beard Award-winning chef José Andrés speaks with broadcast journalist Soledad O'Brien about his new book We Fed an Island: The True Story of Rebuilding Puerto Rico, One Meal at a Time. In it, Andrés recounts his experience with an army of chefs and volunteered served millions of meals on an island facing severe shortages of food, water, power, and gas. Brooklyn Academy of Music (BAM).
Academy Award winner Matthew McConaughey joins New York Times Styles reporter Steven Kurutz to talk about the soon to be released White Boy Rick. McConaughey's new film tells the story of Richard Wershe Jr., the youngest FBI informant in American history (he began at 14), who served 30 years in prison after being discarded by his law enforcement handlers. BMCC Tribeca Performing Arts Center.
Wednesday, September 12
The intellectual strides of disruptors like Einstein, Tesla, Edison, Marie Curie, Elon Musk, and Steve Jobs are well known. Less often considered is the "personal, social, and emotional quirkiness" that also informed their genius and contributed to their success. Management and organization expert Melissa A. Schilling illuminates these aspects in Quirky: The Remarkable Story of the Traits, Foibles, and Genius of Breakthrough Innovators Who Changed the World. Mid-Manhattan Library.
Raise a glass to an unexpected pairing at this session and tasting on cider and kimchi. Museum of the City of New York.
Cultural critic Peter Biskind (Easy Riders, Raging Bulls and Down and Dirty Pictures) talks about his new book, a look at the new, extreme normal, with producer James Schamus. Hear all about The Sky Is Falling: How Vampires, Zombies, Androids, and Superheroes Made America Great for Extremism at Book Culture on Columbus.
Author Maggie Jackson talks about her science-based approach to our current deficit of presence, looking at "the fragmentation of attention that is eroding our abilities to problem-solve, innovate, and care for one another." She appears in support of the new edition of her book Distracted: Reclaiming Our Focus in a World of Lost Attention, which has drawn comparisons to Silent Spring. The New York Society Library.
Schools are back in session and the Columbia Center for Contemporary Critical Thought is hosting its first public seminar of the new season. "The objective of Praxis 13/13 is to pivot critical theory toward the pressing question of what is to be done in these critical times," says scholar Bernard E. Harcourt, who will be leading a session focused on readings by Hannah Arendt, Richard Bernstein, and Nicholas Lobkowicz.
Thursday, September 13
NYU research scholar and professor Roy Germano argues in his new book that remittances, which total in the hundreds of billions worldwide, are the key to preserving stability in the face of economic crises. He'll explain his theory, backed by data, and fieldwork in Mexico and Central America. The talk will be followed by a Q&A and book signing at the Museum of American Finance.
Design a way to attend this event on New York's Art Deco architecture, which will offer words about the skyscrapers from the architects themselves. Center for Jewish History.
Friday, September 14: Make your mark at Graffiti Grrlz, a talk centered on feminism within graffiti culture. Bluestockings.
Saturday, September 15: Go back to school—if only for a day—at Symphony Space, which hosts One Day University, featuring talks on World War I and Beethoven and The Beatles.
Sunday, September 16: Feel the rhythm at this special song, percussion, and dance workshop with Boukman Eksperyans. Pioneer Works.
The science of polarization, Muslim philosophy and Western tradition, and a debate on national security highlight our picks for the best smart things to do in NYC this week.
Monday, September 17
A Barnard College professor of women's, gender, and sexuality studies sits down with a professor of biology for a look at "the interdependency between biology and culture that shapes how we understand sexuality and sexual attraction."
Texas Observer civil rights reporter Michael Barajas joins Marshall Project reporter Eli Hagar and WNYC's Kai Wright for a discussion of classrooms and courtrooms. The New School.
Ahead of the 2018 gubernatorial election, historians Terry Golway and Peter Quinn take a look back at two iconic New York governors, Al Smith and Franklin Roosevelt, whose careers intertwined in the 1920s. Museum of the City of New York.
Psychoanalyst and author Dr. Gail Saltz speaks with the world's foremost scholar of Auguste Renoir, Barbara Ehrlich White, at a noontime edition of Psychobiography at the 92nd Street Y. They'll correct common misconceptions about Renoir, and look at a life of perseverance (Renoir overcame 30 years of poverty, followed by 30 years of progressive paralysis of his fingers, to produce some 4,000 works of enduring art).
Tuesday, September 18
Defy categorization at this conversation with rapper, musician, and all-around multidisciplinary artist Dessa on her new memoir/story collection My Own Devices. The Strand.
Also at The Strand you can hear from award-winning investigative journalist Shane Bauer, who recounts his experiences as an entry-level prison guard in Louisiana and the centuries-long history of for-profit prisons in America.
Wednesday, September 19
Get a first-hand account of the problems faced by undocumented immigrants at this talk between Dear America author Jose Antonio Vargas and MSNBC host Joy Reid. powerHouse Arena.
Sociologist Crystal M. Fleming speaks about her new book, which breaks through the many misconceptions of race that litter politics, education, and pop culture. Find out more about How to Be Less Stupid About Race at The Strand.
Caveat continues its series on democracy with "string theory for the midterm elections." They'll be looking at the real evidence for polarization, why it's so hard to change minds, and what the implications are for potential national reunifications in Cramming for the Midterms: How We Got So Polarized (And What to Do About It).
Thursday, September 20
And speaking of polarization…Five leaders in foreign policy thought, from across the political spectrum, come together for a trio of debates ahead of the next gathering of the UN General Assembly. The topics drawing fors and againsts: It's Time to Take a Hard Line on Iran, NATO Is No Longer Fit for Purpose, and The Russia Threat Is Overblown. Symphony Space.
Columbia professor Souleymane Bachir Diagne talks about his new book, Open to Reason: Muslim Philosophers in Conversation with the Western Tradition, which traces the history of Muslim philosophy. Diagne argues that Islamic thinkers have long embraced plurality and engagement as they've grappled with the boundaries of religion, rationalism, and philosophy.
Plant your roots at this talk on the beauty of bonsai with professional bonsai artist and curator Julian Velasco. Japan Society.
Jane Fonda, Chelsea Clinton, and the latest on the brain highlight our picks for the best smart things to do in NYC this weekend.

Friday, September 21
A duo of professors looks at NYC on celluloid when the city was the epicenter of the film industry. They'll talk about portrayals of immigrants and gangsters that still wield influence today and show clips from the likes of Regeneration and View from the Bridge. Mount Vernon Hotel Museum & Garden.
The controversial life of Oscar winner Jane Fonda gets the documentary treatment with Susan Lacy's Jane Fonda in Five Acts, debuting September 24 from HBO Documentary Films. Find subject and filmmaker in conversation with Reel Pieces' Annette Insdorf. 92nd Street Y.
Philosophy and religion educator Vishwa Adluri leads a Think Olio session on Time, Desire, and Action: Ramayana and the Cosmic Game. In addition to an introductory lecture on the epic Ramayana, there will two live performances, a traditional classical composition and a contemporary composition and performance, to underscore the work's universality. The Strand.
Saturday, September 22
Bard's Joseph Luzzi looks at the richness of world literature and its continuing relevance to contemporary concerns. Classics like the Divine Comedy and Othello will be joined by more recent fiction like Harper Lee's To Kill a Mockingbird and Joseph Heller's Catch 22.
Cognitive neuroscientist Dr. Heather Berlin leads an intensive seminar on The Human Brain: What We Know and What We Don't. She'll explain the latest in cutting-edge neuroscience, with insight into creativity, free will, and "neural prosthetics."
Sunday, September 23
Make up your own mind at Individuality – False & True, an evening of drama, literature and music featuring a dramatic reading of the lecture "When Does Evil Begin?" and performance of Mozart's Flute Concerto in D. Aesthetic Realism Foundation.
Housing Works Bookstore Cafe hosts a midday discussion between Sarah Smarsh (Heartland: A Memoir of Working Hard and Being Broke in the Richest Country on Earth) and Chelsea Clinton.
mmMM
Monday, September 24: Go behind the page at this conversation with author Claire Tomalin on her memoir A Life of My Own. Graduate Center, CUNY.
Tuesday, September 25: You'll scream for this conversation and screening of the documentary The Other Munch, which follows Norwegian writer Karl Ove Knausgaard as he guest curates an exhibition of Edvard Munch paintings. Film Society of Lincoln Center.
Wednesday, September 26: Cobble together a way to attend this talk on collecting shoes and what these ubiquitous clothing items can mean with designer Stuart Weitzman and philanthropist Jane Gershon Weitzman. New-York Historical Society.
Thursday, September 27: Journey through post-fact America as a panel looks at the growing disregard for reportage in Our Fake Reality at Housing Works Bookstore Cafe.
Friday, September 28: Glimpse the future at Technology Is History, a one-day symposium exploring notions of the future through technology, politics, and art. Guggenheim Museum.
Saturday, September 29: Take in the landscape at this symposium on Great American Public Gardens, which includes presentations, a panel discussion, and a tour of Untermyer Gardens in Yonkers.
Sunday, September 30: Explore the life and death of one American city on this tour of Midtown West and the new Hudson Yards development through the lens of famed urban planner Jane Jacobs. The Municipal Art Society of New York.
XX
XX
XX