What's Happening August 2019
CityGuideNY – The Best Things to Do in NYC in August
Grub Street (NewYorkMagazine) – What to Eat and Drink in NYC This August
+ The Grub Guide to the Summer's Can't-Miss Food Festivals
ThoughtGallery / Smart Stuff – The August Calendar: Events for Each Day This Month
TimeOut.com – The best NYC events in August 2019
MORE COMING SOON
eg.  Lincoln Center – Lincoln Center FREE August (coming soon)
These sites have been selected because they all do a first rate job publishing NYCity event info. I hope you will click on their hot links to see what else they have to offer.
========================================================
August is a great month to visit New York City. Sure, it's a hot season, but there are great restaurants and museums for cooling off (the subways are air conditioned, too). And with plenty of folks on vacation, you can access great New York festivals and attractions without the major crowds of other times of year. For August 2019, you can dine at NYC's best restaurants for a discount at NYC Restaurant Week, take in some alfresco tunes with Lincoln Center Out of Doors, catch the Afropunk Festival in Brooklyn, a Blues BBQ Festival, the 29th Annual Hong Kong Dragon Boat Festival, and much more!
Things to Do in NYC in August: Exhibits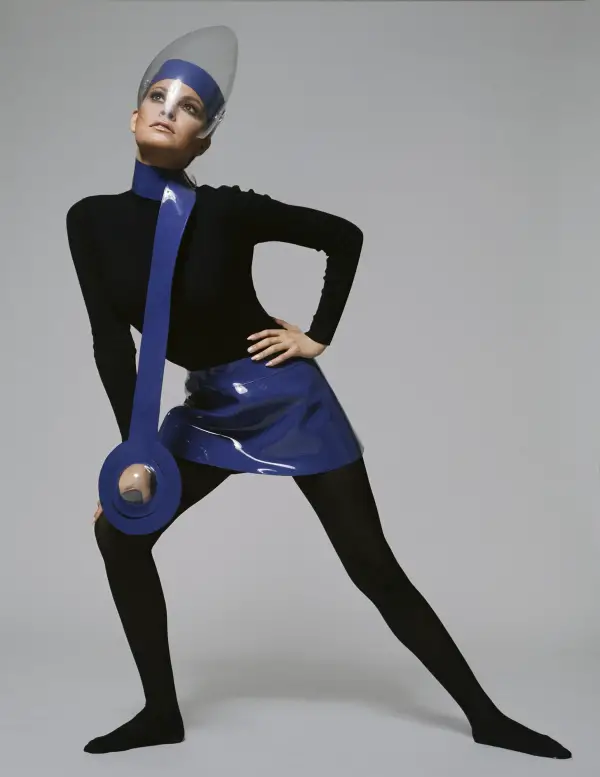 Terry O'Neill (British, born 1938). Raquel Welch in a Pierre Cardin outfit featuring a miniskirt and necklace in blue vinyl, worn with a Plexiglas visor, 1970. Image courtesy of Iconic Images. © Terry O'Neill / Iconic Images.
(7/20-1/5/20) Pierre Cardin: Future Fashion at Brooklyn Museum is the first Cardin retrospective hosted in New York in 40 years. It will display over 170 objects from the Pierre Cardin archive, including fashion pieces. It will also make connections between Cardin's futuristic aesthetic and that of his design contemporaries. Cardin's bold, geometric fashions reflected mid-century advances in technology and industry—most explicitly those concerned with space exploration. In fact, on a visit to NASA in 1971, Cardin donned an Apollo 13 astronaut suit and became the only civilian ever to do so! brooklynmuseum.org
PLUS
(8/29-8/31) Shoebox Museum: Icons & Innovators in Sneaker Packagingis a special exhibit exploring an often overlooked aspect of the sneakerhead experience — the shoebox. The first exhibition of its kind, Shoebox Museum will display for public viewing the world's most iconic packaging, recognizing the brands, artists and collaborations that have shaped consumer experiences for decades. Featured brands include Jordan, Nike, CNCPTS, Adidas,Vans, and more. FREE. 10am-7pm daily. 198 Allen Street.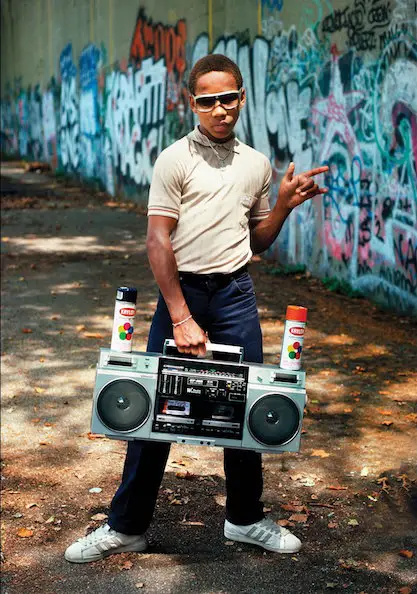 Lil' Crazy Legs during shoot for Wild Style / Riverside Park, NY, 1983 / Photo © Martha Cooper.
(6/21-8/25)Beyond the Streetsat the space Twenty Five Kent in Williamsburg, Brooklyn celebrates some of the biggest names in graffiti, including work from NYC street art legends Tats Cru, Lady Pink, Keith Haring, Jean-Michel Basquiat, as well as Shepard Fairey, Invader, Brooklyn duo FAILE, artifacts from NYC's beloved Beastie Boys, street photographer Martha Cooper, and much more. $25 (kids 12 and up), $12, kids 6-11, kids 5 and under, free. Get tickets at beyondthestreets.com.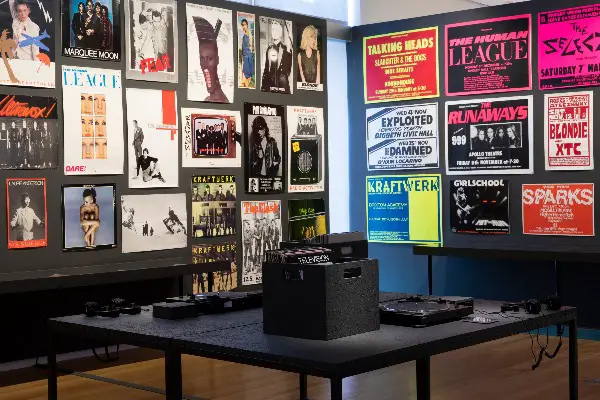 Installation view of Too Fast to Live, Too Young to Die: Punk Graphics, 1976-1986 at the Museum of Arts and Design. Photo by Jenna Bascom.
(Now-8/18) Too Fast to Live, Too Young to Die: Punk Graphics 1976-1986at the Museum of Arts and Design. More than 40 years after punk exploded onto the music scenes of New York and London, its impact on the larger culture is still being felt. Born in a period of economic malaise, punk's energy coalesced into a powerful subcultural phenomenon that transcended music to affect other fields, and especially graphic design. Too Fast to Live, Too Young to Die explores the visual language of punk through hundreds of its most memorable graphics, from the shocking remixes of expropriated images and texts to the DIY zines and flyers that challenged the commercial slickness of the mainstream media. #PunkGraphics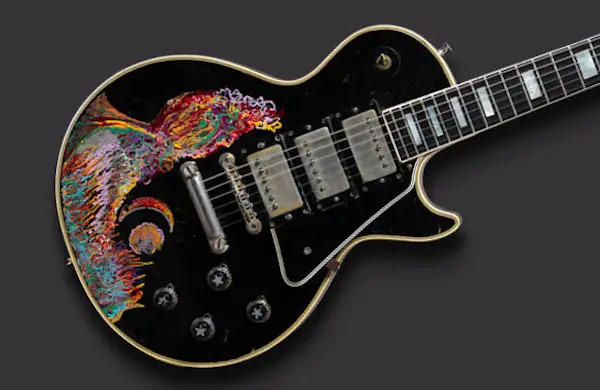 (Now-10/1) Play It Loud: Instruments of Rock & Rollat the Metropolitan Museum of Art. When you see the sheer volume (some 130) of mind-blowing instruments that have been played by a broad cross-section of iconic musicians, all tucked into one space, you'll understand why the Met is the appropriate place for this show. It's the first time a music exhibit of this magnitude has been presented, co-organized with the Rock & Roll Hall of Fame. While guitars primarily make up the exhibit (you can see the white guitar Jimi Hendrix played at Woodstock, Prince's 1993 "Love Symbol" guitar, one of Pete Townshend's smashed guitars encased in Lucite, and Joan Jett's guitar, among others), there are other instruments, including Jerry Lee Lewis's gold baby grand piano, Lady Gaga's custom Artpop piano, and The Who's drum kit. #MetRockandRoll
(Now-1/3/20) The most significant site of the Holocaust, Auschwitz was not a single entity, but a complex of 48 concentration, forced labor, and extermination camps, at which 1 million Jews—and tens of thousands of others—were murdered. Auschwitz. Not long ago. Not far away., a new exhibition at the Museum of Jewish Heritage—A Living Memorial to the Holocaust, explores the legacy of history's deadliest mass murder site. More than 700 original objects and 400 photographs are on display, many for the first time in North America. Among the artifacts: personal possessions, fragments of a barrack, a gas mask used by the SS, and an original German-made Model 2 freight wagon used for the deportation of Jews to the ghettos and extermination camps in occupied Poland.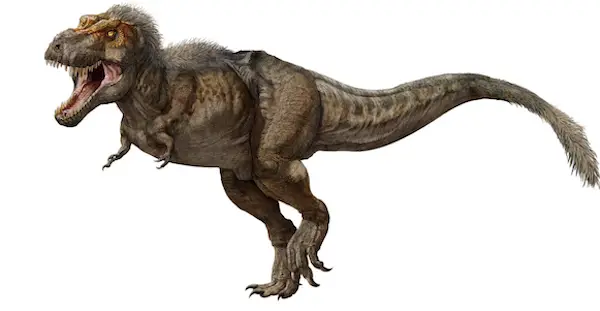 (Now-8/9/2020) Final weeks! T. rex: The Ultimate Predator at the American Museum of Natural History. Visitors will encounter a massive, life-sized model of a T. rex with patches of feathers—which, as scientists now know, were likely present on nearly all non-avian dinosaurs (all dinosaurs other than birds)—as well as reconstructions of a fluffy T. rex hatchling and a four-year-old juvenile T. rex; a "roar mixer" where visitors can imagine what T. rex might have sounded like by blending sounds from other animals; a shadow theater where a floor projection of an adult T. rex skeleton will come to life; and a magnetic wall where visitors will be tasked with placing various tyrannosaur family members in the correct time period. They will also encounter a life-sized animation of T. rex in the Cretaceous and explore real data from fossil specimens, CT scans, and microscope images at a tabletop Investigation Station. In collaboration with HTC VIVE, the Museum will present V. rex (working title) as its first interactive, multi-player virtual reality experience. Visitors will team up to build a T. rex skeleton bone by bone and then watch as it comes to life in what is now Montana, as it was 66 million years ago.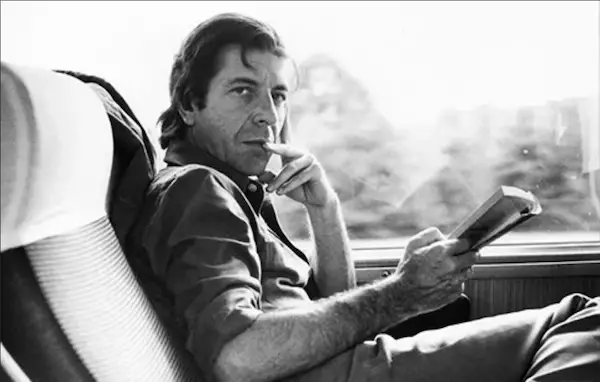 (Now-9/8) Leonard Cohen: A Crack in Everything at The Jewish Museum is the first exhibition entirely devoted to the imagination and legacy of the influential singer/songwriter, man of letters, and global icon from Montréal, Canada. The exhibition includes commissioned works by a range of international artists who have been inspired by Cohen's style and recurring themes in his work, a video projection showcasing Cohen's own drawings, and an innovative multimedia gallery where visitors can hear covers of Cohen's songs by musicians such as Lou Doillon; Feist; Moby; and The National with Sufjan Stevens, Ragnar Kjartansson, and Richard Reed Parry, among others.
(Second half 7/24-1/5/20) Implicit Tensions: Mapplethorpe Now at The Solomon R. Guggenheim Museum. Robert Mapplethorpe, one of the most critically acclaimed and controversial American artists of the late 20th century, is represented in great depth in the Guggenheim's collection. In 1993 the museum received a generous gift of approximately two hundred photographs and unique objects from the Robert Mapplethorpe Foundation, creating one of the most comprehensive public repositories in the world of this important artist's work. In 2019, 30 years after the artist's death, the Guggenheim will celebrate the sustained legacy of his work with a yearlong exhibition in two sequential parts in the museum's Mapplethorpe Gallery on Tower Level 4.
(Ongoing) Faith and Empire at the Rubin Museum. Religion has influenced and empowered countless political leaders throughout history, and Tibetan Buddhism is no exception. "Faith and Empire: Art and Politics in Tibetan Buddhism"is the first exhibition of its kind to explore Tibetan Buddhism'sdynamic political role in the empires of Asia from the 7th to the early 20th century. Artwork highlights include a set of 8th-century gilt-silver drinking vessels from the Tibetan Empire; an early 13th-century wrathful icon made of silk and ornamented with tiny seed pearls; a 4 ½-foot-tall 680-pound gilt-bronze bodhisattva from the early 15th-century Ming court; and a 19th-century 8-feet-wide Mongolian depiction of the final battle against the heretics and nonbelievers. The exhibition is arranged chronologically, beginning with the Tibetan Empire in the 7th century, and includes sections on the Tangut kingdom of Xixia, the Mongol Empire, the Chinese Ming dynasty, the rule of the Dalai Lamas, and the Manchu Qing dynasty.
(Permanent)The Jim Henson Exhibitionat the Museum of the Moving Image celebrates the life and legacy of the famed Muppet creator, exploring both his prolific career and the enduring effect his work has on pop culture to this day. Visitors will learn more about the creation of such beloved works as The Muppet Show, Sesame Street, Fraggle Rock, The Dark Crystal, and Labryinth, as well as discover the cutting-edge experimental works Henson made throughout his career.
Things to Do in NYC in August: Comedy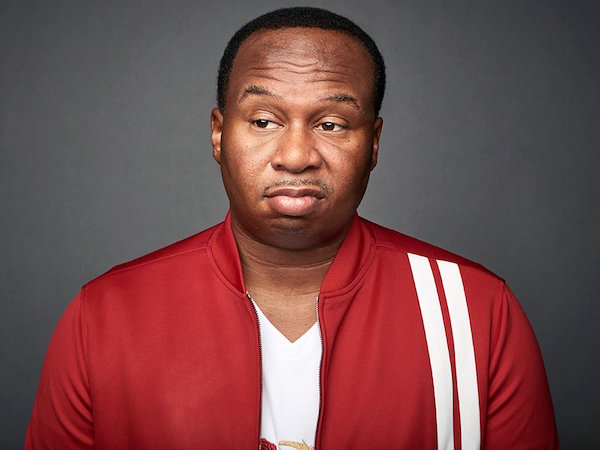 (8/3) FREE! An Evening of Stand Up Comedy: Roy Wood Jr. & Guests at Damrosch Park, part of Lincoln Center Out of Doors.
PLUS
(8/3-8/4) Sarah Tiana at Gotham Comedy Club.
(8/7) The Roast of Your 15 Year Old Self at Union Hall.
(8/8)#Adulting with Michelle Buteau and Jordan Carlos at The Bell House.
(8/23-24) Esther Povitsky at Gotham Comedy Club. Esther Povitsky is co-creator and star of the Hulu and Freeform show Alone Together and recurs as Maya on the CW's Crazy Ex-Girlfriend.
Things to Do in NYC in August: Kids

(8/24) FREE! The Arthur Ashe Kids Day, part of the 2019 U.S. Open in Queens, offers a fun-filled Saturday of tennis clinics, performances, face painting, and more! arthurashekidsday.com.
PLUS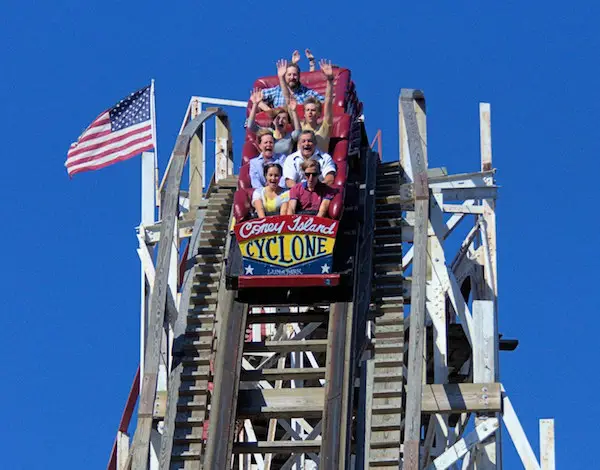 (Ongoing)Luna Park on Coney Island! Grab the family, get a Luna pass and ride the Cyclone or the Cozmo Jet, plus stroll the beach with a hot dog and more.
(ongoing) Aspiring scientists and astronauts will want to explore the New York Hall of Science in Queens, brimming with interactive exhibits (plus an outdoor playground).
Things to Do in NYC in August: Food, Music, & Nightlife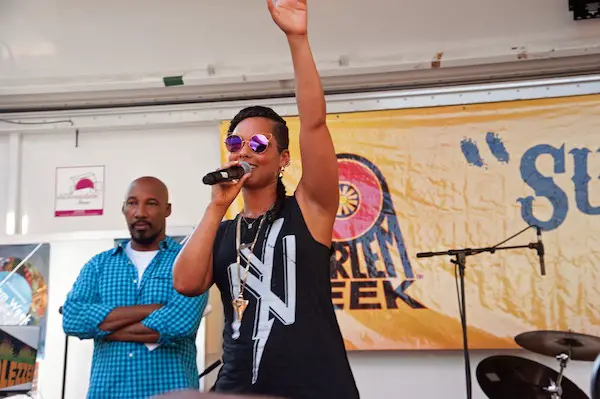 (7/28-8/24) 45th Annual Harlem Week Festival(yes, it lasts much longer than a week now).harlemweek.com
PLUS
(7/22-8/16) NYC Restaurant Week.
(7/24-8/11) Lincoln Center Out of Doors returns.
(7/16-8/11) The popular free Shakespeare in the Park program returns to Central Park with Coriolanus. 
(7/31-8/1) Khalid Free Spirit Tour at Madison Square Garden.
(8/1) The Algonquin Hotel's Annual Cat Fashion Show. 5pm-7:30pm. This fundraiser for the Mayor's Alliance for NYC's Animals will also fete the birthday of the hotel's famous resident kitty, Hamlet. This year's theme, "It's a Small World," celebrates the many diverse cultures that make up the fabric of New York City, with all of the opulent cat-couture outfits designed by legendary pet fashion designer Ada Nieves.
(8/1) Herbie Hancock at the Beacon Theatre.
(8/1-8/4, 8/10, 8/11) SEE IT BIG! 70mm screening of 2001: A Space Odysseyat Museum of the Moving Image. 
(8/3-8/4, 8/8-8/11) SEE IT BIG! 70mm screening of Roma at Museum of the Moving Image.
Photo: Agaton Strom
(8/1, 8/8) Enjoy Cocktail Thursdays at the Cooper Hewitt Museum. The Brass Project (August 1) and Samora Pinderhughes' The Transformations Suite (August 8). $14 advance, $16 at the door.
(8/1)Chemical Brothers at Forest Hills Stadium. 
(8/3) Bad Religion at Brooklyn Steel.
(8/3) Barbra Streisand at Madison Square Garden.
(8/6) Mac De Marco with special guests perform at Prospect Park, part of the BRIC Celebrate Brooklyn! Festival. Benefit show, tickets start at $45.
(8/6-8/7) Queen & Adam Lambert: The Rhapsody Tour at Madison Square Garden.
(8/9) Roxy Music lead singerBryan Ferry at the United Palace Theater. 
(8/10)My Morning Jacket at Forest Hills Stadium. 
(8/10) Tap & Cork: Brooklyn Beer and Wine Festivalat Kings Theatre. General admission: $40. 3pm.
(8/11) Big City Songbook at Birdland Jazz Club. You can take the A Train to this musical guidebook through New York City. From Billy Joel to Rodgers & Hart and Mary Chapin Carpenter, why have so many songwriters been compelled to write about life in Gotham? Whether you're a Boy From New York City or you just Happen to Like New York, join host Deborah Grace Winer and see why Big City Songbook is packing 'em in to Birdland's hottest monthly revue.
(8/11) Neurosis with Deafkids, Bell Witch at Brooklyn Steel.
(8/12) Ellen DeGeneres Is the Only Ally at The Bell House.
(8/10-8/11) Hootie & the Blowfish: Group Therapy Tour at Madison Square Garden.
(8/17) Beck and Cage the Elephant at Forest Hills Stadium. 
(8/20-8/21) Mark Knopfler at the Beacon Theatre. 
(8/21-8/22) Tame Impala at Madison Square Garden.
(8/23-8/24)Shawn Mendes: The Tour stops at Barclays Center.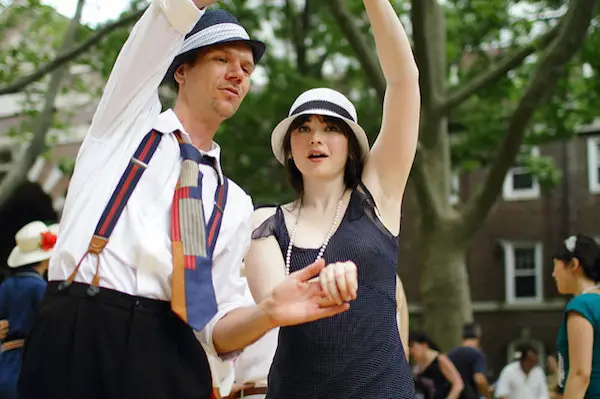 (8/24-8/25) The Jazz Age Lawn Party on Governors Island. Just a short ferry ride from Brooklyn or Lower Manhattan will bring you to festivities the whole family can enjoy. The weekend celebrates the 1920s with dancing lessons and a Charleston dance contest, a motorcar exhibition, a pie contest, and more! jazzagelawnparty.com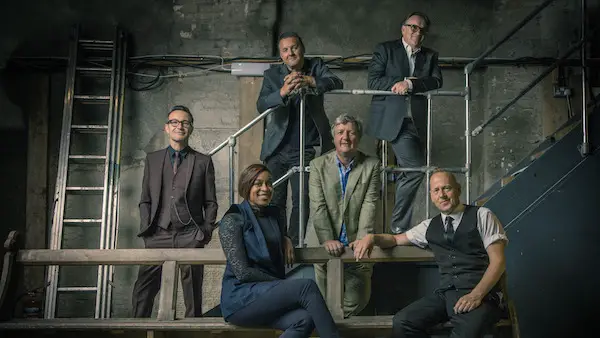 (8/24) Squeeze: The Squeeze Songbook at The Rooftop at Pier 17.
(8/24) The Blues BBQ Festival at Pier 97 will feature tasty goodness from Arrogant Swine, Dinosaur Bar-B-Cue, and Fort Gansevoort BBQ. There's also live entertainment, with The Slam Allen Band, Danielle Nicole, Welch Ledbetter Collection, and more! 2pm-9pm.
(8/28) Billy Joel at Madison Square Garden.
(8/27) Lenny Kravitz at Radio City Music Hall.
(8/29-8/30) Jonas Brothers: Happiness Begins Tour takes place at Madison Square Garden.
(7/10-8/10) Mostly Mozart Festival at Lincoln Center.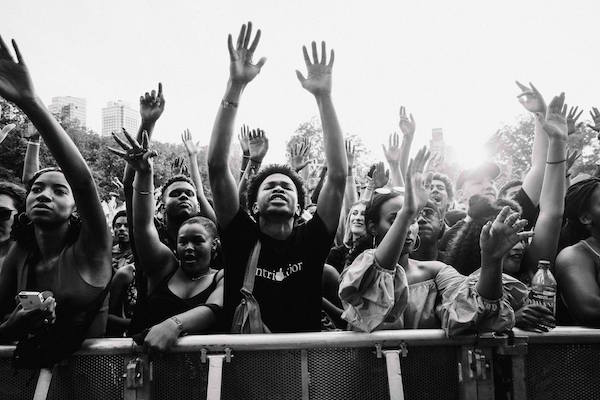 (8/24-8/25) Afropunk returns to Commodore Barry Park, Brooklyn, with Jill Scott, FKA Twigs, Leon Bridges, Kamasi Washington, Gary Clark Jr, Samurai Shotgun, and more. 
For information on LGBT nightlife, visit our brother site metrosource.com!
Things to Do in NYC in August: Sightseeing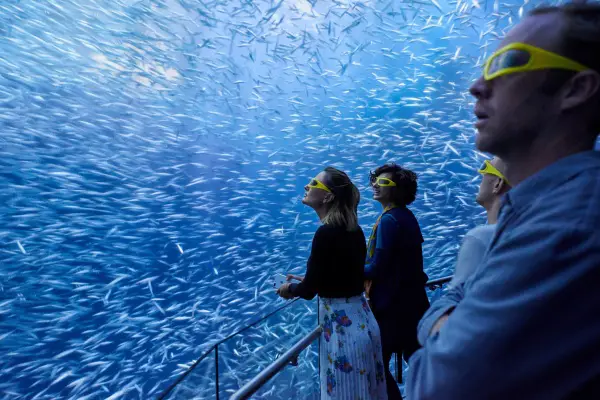 Immerse yourself in the deep, dark depths of the ocean, where Humboldt squid fight to the death, 50 foot whales ride overhead, play with sea lions, navigate a sea kelp maze and more at National Geographic Encounter: Ocean Odyssey!
(New!) Madame Tussauds New York Presents Broadway. Take a magical journey starting with a cocktail at the Broadway Bar, and then traveling through a kaleidoscope of your favorite musicals.  Enter the world of Andrew Lloyd Webber's Phantom of the Opera, Joseph and the Amazing Technicolor Dreamcoat, Evita, Sunset Boulevard, and Cats. You can sing "Memory" with Grizabella the "Glamour Cat" and wear the Dreamcoat yourself as you become a Broadway star. The Phantom of the Opera will also guide you through this dazzling backstage experience, and perhaps do a little singing himself along the way. Live actors will be on hand to enhance the rush both on- and offstage.
(Ongoing) Get the full stadium experience with Yankee Stadium Tours, which offers exclusive access to New York Yankee historic spots like Monument Park, The Great Hall, and even down to the dugout. The daily tours also bring you close to baseball artifacts like Babe Ruth's bat, Lou Gehrig's jersey, and rings and trophies representing the Yankees' 27 world championships.
It's back! Ride THE BEAST and experience NYC's custom-built offshore racing powerboat, the BEAST! Zoom across the water at a heart-pounding 45mph on a ride down to the Statue of Liberty and back!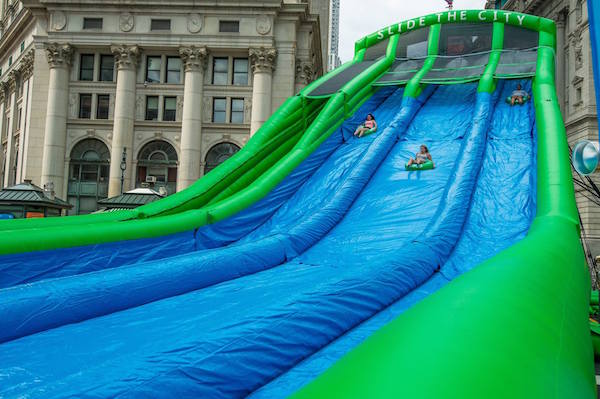 (8/3, 8/10, 8/17)Citi Summer Streets returns to make a splash with traffic-free stretches of roadway opened up across the city. Centre Street in Lower Manhattan will be transformed into a makeshift beach and waterpark, including a giant 300-foot waterslide. Get an early start: Citi Summer Streets runs from 7am-1pm.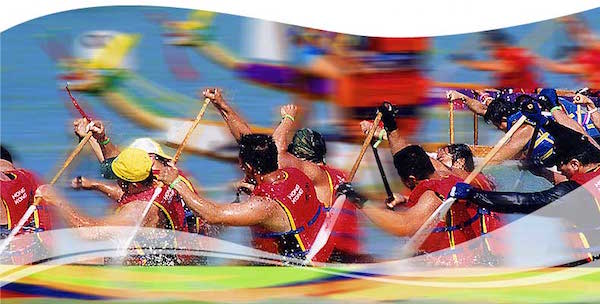 (8/3-8/4) The 29th Annual Hong Kong Dragon Boat Festival at Flushing Meadows Corona Park in Queens. hkdbf-ny.org
(8/18) India Parade NYC 2019 fianyjct.org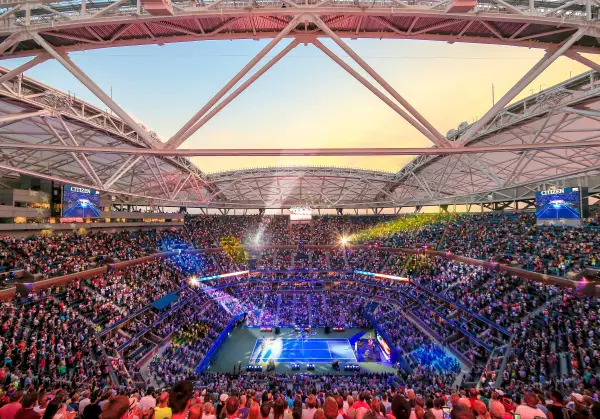 (8/26-9/8) We can think of one good reason to look forward to the end of the summer, especially if you're a big-time tennis fan: the 2019 U.S. Open Tennis Championships, held right here in New York City. This will be the tournament's 139th year, with Flushing Meadows, Queens hosting all the excitement. One of the most prestigious events in tennis, the U.S. Open is the final event in the Grand Slam, following the Australian Open, French Open, and Wimbledon. The matches are easily reached by subway; some 700,000 fans attend the U.S. Open every year. Tickets for the biggest matches can be scarce, but with tennis of this caliber, even a warm-up rally on a side court can be thrilling. Just getting onto the grounds is exciting, and you'll find a full range of food to keep your energy from flagging. usopen.org
Ongoing

Bring a loved one to take in the breathtaking view at Top of the Rock.
Visit the sites of Friends, Seinfeld, Trainwreck, Gossip Girl, Sex and the City, and many other NYC film sites with On Location Tours.
Learn more about the fascinating history of New York City's Financial District with Wall Street Walkstours.
Ripley's Believe It or Not! Odditoriumbrings people of all ages face-to-face with the world's most unbelievable curiosities. With 18,000 square feet of astonishing artifacts and exciting interactive exhibits. Here's a coupon!
Zip up 100 stories in 60 seconds and see New York City atopOne World Observatory. Here is a coupon!
Explore New York City from the best vantage points with Helicopter Flight Services Tours. Choose from four different itineraries.
New York Weather in August
The dog days of summer are upon New York City come August. It's full summer, which of course means hot—although not as hot as July. Highs average 82°F (28°C) on August 1st and cool down to 80°F (27°C) by August 31. Average lows overnight go from 69°F (21°C) down to 65°F (18°C) by month's end. Rain is also down from July, with just an average of 3 inches, although you'll often find plenty of humidity. Do like New Yorkers do and dress light for August in the city. You'll see flip-flops and minimal outfits everywhere. Subway trains are air conditioned, but platforms aren't, so avoiding too many layers is a good strategy. Days are long and outside of a few thunderstorms you shouldn't expect extreme weather, making this a very appealing month to visit the city.
==============================================
==============================================
Il Laboratorio del Gelato's Tomayto Tomahto special.
Photo: Scott Heins
Every month in New York, there are a bewildering number of new dishes to eat, drinks to imbibe, and food-themed events to attend. Often, the hardest part is just figuring out what's really worth your limited time. So Grub Street kicks off each month with a curated selection of dishes, drinks, and events that should absolutely be on your agenda. Make your plans now.
1. Celebrate tomato season with a pizza that's all about Sungolds.
Some people are tomato fiends; some people go crazy for Sungolds, the tangy, juicy little tomatoes that you can't help but pop in your mouth like vine candy. Upside Pizza owner Noam Grossman is one of those Sungold fanatics, and they're the basis for an August special at the midtown slice shop. Called the Sunny Goldstein ($5), it uses the usual tomato sauce with one made from these radiantly orange little tomatoes, plus fresh mozzarella, sliced garlic, breadcrumbs, and parmigiano reggiano. August is the peak of tomato season, what better way to ring it in?
2. … then go downtown for tomato gelato.
You may not want to face the truth yet, but there's no escaping it: Ice-cream season will be over sooner than later, and it won't be long before the Mister Softee trucks flee the streets for shelter. Which is all one way of saying, you should carve out some time this month for a tour de New York ice cream (a.k.a. a lazy day eating at the city's best scoop shops). Just make sure to pop into Il Laboratorio del Gelato before August 14, through which they'll be serving a special flavor (all are $4.75 to $9.50) made with canned-tomato brand Mutti. Called Tomayto Tomahto, it's available plain or topped with a balsamic glaze. In other words, you can eat your tomatoes and have your ice cream, too.
3. Eat jerk chicken and pot stickers at Afropunk.
The annual festival of black music and culture, Afropunk, which the Cut has called "a tapestry of indulgences," is back in Brooklyn on August 24 and 25. There's a killer lineup featuring avant-pop artist FKA Twigs, saxophone savant Kamasi Washington, ascendent rapper Tierra Whack, and many more. All that jamming out in the August heat will have you burning a lot of calories, but don't fret: The organizers have delivered a worthy lineup of food vendors, including Cachapas y Mas, Destination Dumplings, Jamrock Jerk, La Newyorkina, Monk's Vegan Smokehouse, and others.
4. Have New York's most famous pastrami sandwich at the Met.
Name a more iconic (New York) duo: Katz's and the Metropolitan Museum of Art are teaming up to bring the city's most famous pastrami sandwich uptown. Thursday through Monday until the end of the summer, Katz's sets up shop at the Met's Cafeteria. There won't be any museum-themed specials, but who needs them when you can get your classic pastrami, corned beef, brisket, and turkey sandwiches served with potato salad, coleslaw, and pickles. You have been meaning to check out the Epic Abstraction exhibit anyway, haven't you?
5. Support the Brownsville Community Culinary Center in Midtown.
Every Saturday through August 31, Claus Meyer's Nordic restaurant, Agern, will transform into a Manhattan outpost, of sorts, at the Brownsville Community Culinary Center. Chef Charlene Johnson-Hadley will run the show with her BCCC crew those nights, serving a changing three-course menu for a very affordable $37. Dishes will include Nigerian-style suya beef skewers, escovitch snapper with festivals (a type of Jamaican fried dumpling), and peach malva cake. Even better, the proceeds will go to the Melting Pot Foundation.
6. Go to a special dinner cooked by the chefs of Atoboy and Paris restaurant CAM.
On August, the popular Koreatown restaurant Atoboy will host chef Esu Lee of Paris restaurant CAM. for a collaborative dinner ($90, reservations here) of small plates and natural wine. (Note there are plenty of reservations for parties of three and up, but none for parties of two.) Details are still mum, but there will be seven savory courses followed by a dessert. As for what those could be? CAM brings Korean and Chinese flavors to the French wine bar, like tartare with XO sauce and pecorino and quail with walnut-chili sauce.
7. Eat prawn crudo and lamb Calabrese sausage at a summer dinner series hosted by Narcissa.
The folks over at Narcissa are closing out the season with the Summer Table, a special dinner series they'll be holding through August. Each one will feature a different chef, farmer, or writer, who will each be behind a multiple-course meal ($75, tickets here) that's served family style with beverage pairings. They'll kick off this month on August 5 with a tasting of wines from the Canary Islands with the hotel's beverage director, Ashley Santoro, before bringing in Jocelyn Guest and Erika Nakamura of the recently launched J&E SmallGoods on August 14. Their dinner will start with a Negroni Sbagliato and includes a focaccia salumi board; entrées like red prawn crudo, charred tomato panzanella, and lamb Calabrese sausage with salsa verde; and pudding for dessert. The second half of the month will feature Andy Baraghani of Bon Appétit, on August 19, and Threes Brewing, on August 20.
8. Or go to an end-of-summer seafood roast.
On August 20 at 7 p.m., the Beatrice Inn will host a seafood roast to celebrate the end of summer, something Angie Mar calls a personal tradition. (Though, don't worry, there will still be a few weeks left by the time it rolls around.) This being the Beatrice Inn, expect it be lavish (dinner is $230, reserve here): there will be oysters and foie gras torchon, grilled lobster and roasted clams, boudin blanc, roasted cockles and mussels, steamed langoustines, duck fat potatoes, truffled corn, and fried soft-shell crab. You'll finish with a apricot and armagnac custard.
9. Check out the new pan-Latin spot from the chef behind Scampi.
Adding to a roster of restaurants that includes Scampi and the Spaniard, the chef PJ Calapa will open Paloma on August 2. Located in the new Hotel Hendricks, it's being billed as a pan-Latin restaurant that's a nod to his hometown of Brownsville, Texas, though the menu speaks more in broad strokes than in specifics that bring to mind the border cuisines. There are a handful of Mexican dishes, like a now-obligatory Contramar nod in the tuna tostadas ($22) with chipotle aioli and four tacos ($18-$1) as well a ribeye taquiza ($64). Other dishes draw from Peru, as in skewers like beef ($18) with aji panca, and Spain, as in the gambas al ajillo ($20).
10. Eat macarons and more at the relocated, revamped Boise.
Since it opened in 2011, Bosie Tea Parlor has been a destination for West Village tea nerds and pastry lovers. After eight years on Morton Street, the owners relocated the restaurant to 506 LaGuardia Place, rechristening it Bosie Brasserie and bringing on an executive chef. Jeanne Jordan, who worked at Mas Farmhouse and the Standard, has introduced dishes like French onion soup ($11), baked eggs with ratatouille ($15), and chicken cordon bleu ($24) to the menu. There's a full bar with tea-infused cocktails (all $14), like the Negroni Wilde (mezcal, Lapsang Souchong, Campari, reduced riesling), and the baked goods you loved before.
11. Spend a day at the beach and eating in Rockaway, then go to a surf-film festival.
Maybe your plan is to get one more beach weekend in during August, or maybe your plan is going to the beach every weekend. (Plus or minus a couple personal days?) Either way, here's one possible plan: Head down during the weekend of August 9 to 11, when you can spend a day at the beach and eating around the neighborhood before heading, at night, to the Rockaway Beach Surf Club will host the NY Women's Surf Film Festival. Put on by Lava Girl Surf, it's a free, two-night festival with an exhibit from photographer Bryanna Bradley. Spend your day hanging out at the beach, and grab lunch at, say, Rockaway Beach Bakery, and get dinner and drinks at Tacoway Beach at the Surf Club.
===============================================
===============================================
More, much more coming soon.
====================================================
====================================================
By Alison Durkee
August has arrived, and with the final fleeting days of summer upon us, it's the perfect time to get out of the apartment. Finish out the summer by learning about everything from Prospect Park to psychopaths at these upcoming talks and events.
Thursday, August 1: Your summer night will blossom at the Merchant's House Museum's Summer Evening in the Garden, featuring special after-hours access to the museum's 19th century garden.
Underwater archeology, the Art Deco Upper East Side, and an excursion to find medieval remedies in today's urban environment highlight our picks for the best smart things to do in NYC this weekend.

Friday, August 2
Foraging expert "Wildman" Steve Brill leads a session on the edible urban environment. Learn how to spot medicinal herbs and edible berries while taking in some Met Cloisters history. 
The Morgan Library & Museum hosts a screening of A Great Day in Harlem, which brings to life an unexpected gathering of jazz legends in 1958. The exhibition Among Others: Photography and the Groupwill be open for program attendees.
Catch the world premiere of Oliver Beer: Vessel Orchestra, The Met's first sound-based installation commission. Friday evenings in summer, guest artists play the installation at The Met Breuer, which is simultaneously a musical instrument and a combination of 32 sculptures, vessels, and objects from the museum collection. 
Saturday, August 3
Head out to the National Lighthouse Museum and Staten Island to hear from Nat Geo television host James Delgado, who will be celebrating the release of War at Sea: A Shipwrecked History from Antiquity to the Twentieth Century. Delgado will discuss his experiences underwater and what we're learning from wrecks like the RMS Titanic, USS Monitor, USS Arizona (BB-39), the buried Gold Rush ships of San Francisco, and Kublai Khan's legendary lost fleet.
Celebrate the first International Lou Reed Tai Chi Day in the borough of his birth. The Brooklyn Library hosts Reed's longtime Tai Chi teacher Ren Guang Yi, in addition to teachers representing a range of disciplines. A morning meditation will be followed by demonstrations and classes. In the evening, Prospect Park continues the scene with a Celebrate Brooklyn! event that includes a live performance of Reed's drone music. Brooklyn Public Library–Central Library.
Hit the banks of the East River at
Brooklyn Bridge Park
 for the annual
Aarti Hindu Lamp Ceremony
. Presented by Indian dance arts educator Aeilushi Mistry, this annual event will involve decorating palm leaf lamps and releasing them into the river, expressing gratitude and asking for protection.
Sunday, August 4
Anthony W. Robins (New York Art Deco: A Guide to Gotham's Jazz Age Architecture) leads a tour through an underrated Deco neighborhood. On the Upper East Side, you'll see one of Manhattan's very few Art Deco townhouses, one of the city's first Deco apartment houses, and the elegant Carlyle Hotel. The Municipal Art Society of New York.
Urban Archive is a new location-based mobile platform bringing together the digital collections of New York institutions. Join them Sunday in Mott Haven for a Bronx scavenger hunt. Prizes will be awarded to top finishers!
Talks on psychopaths, health justice, and a Tibetan path to empowerment 

highlight our picks for the best smart things to do in NYC this week.
Monday, August 5
Make 'em laugh at this talk on the "specters of slapstick" and comediennes in the silent film era. Bryant Park/Bryant Park Reading Room.
New Yorker staff writer Jia Tolentino talks about her new book, Trick Mirror: Reflections on Self-Delusion, nine essays each centered on a cultural prism. Books Are Magic.
Tuesday, August 6
NYU professor Dr. Pascal Wallisch's expertise lies at the intersections of psychology and neuroscience. Tuesday he exploresPsychopaths: Everything You Wanted to Know, but Were Afraid to Ask. Debunk myths like the notion that psychopaths are "rare, violent, and predominantly male" while learning to identify and deal with the psychopaths in your own life (whether you know it or not, there's usually at least one). Subject.
Artists Lucas Crawford, Anaïs Duplan, and Emily Johnson share poems, prompts, and predictions as they reflect on the land beneath the High Line. Begin with recordings and a self-guided walk; conversation and reflection follow at 6pm, moderated by artist/organizer Rio Sofia.
Williams astronomy professor Jay Pasachoff shares the latest science on solar eclipses (he's witnessed 71 of them). Learn more about math's role in predicting eclipses, and how "magnetic-field measurements, emission spectra of high ionization lines, and radio observations" stack up against today's high-res imagery. Museum of Mathematics.
As with "the end of history," reports of humanity's conquering of the microbial world through antibiotics and vaccines has proved premature. Learn more at a taste of science session: Liise-Anne Pirofski, MD, an expert in and a professor in the Albert Einstein College of Medicine Department of Microbiology & Immunology, will speak on controlling infectious diseases and antibiotic resistance. She's joined by Simon Anthony, PhD, Assistant Professor of Epidemiology at the Columbia University Mailman School of Public Health, who will explain why Ebola keeps coming back, and where it hides between outbreaks. Ryan's Daughter.
As part of a Guggenheim Museum conversation series that pairs contemporary artists with thought leaders, catch visual artist Allison Janae Hamilton speaking with attorney Elizabeth Yeampierre about climate change and environmental justice. The setting will be informal, in The Wright restaurant.
Wednesday, August 7
Dan Barasch, Co-Founder of the effort to build the Lowline, the world's first underground park on the Lower East Side, talks about lost architecture. His new book highlights unlocked potential while delving into railway stations, factories, World War II bunkers, and Gothic churches. New York Public Library—Mid-Manhattan Library.
A former data scientist in the healthcare industry, Timothy Faust has turned his energies into drawing attention to health inequity. He'll talk about his new book, Health Justice Now: Single Payer and What Comes Next, which identifies the parties that have profited off of our lack of single payer, and how it can be won. Housing Works Bookstore Cafe. (Faust will also be at McNally Jackson's Brooklyn location on Tuesday the 6th).
Tibetan Buddhist Rimé master Khentrul Rinpoché has studied in 11 monasteries. He brings his understanding to a conversation with Morgan Stebbins, former President and Director of Training at the Jungian Psychoanalytic Association in New York. They'll talk about empowerment: the idea that "it is not the transmission of a power to a student that he or she lacks; it is an activation of the full realization within that student that this power is inherent." Rubin Museum of Art.
Thursday, August 8
Grow your own urban garden after attending this talk on cultivating green space in the home. 92nd Street Y.
Let's Draw with Mark Mothersbaugh! at the Museum of Arts and Design brings in Devo frontman, Hollywood composer, and conceptual artist Mark Mothersbaugh via Skype for a Thursday night group draw.
Battery Dance, Washington & Hamilton, and retracing an Ada Louise Huxtable architecture tour highlight our picks for the best smart things to do in NYC this weekend.

Friday, August 9
Don't delude yourself into missing this talk with author Jia Tolentino on her new book of essays, Trick Mirror. The Strand.
Catch the world premiere of Oliver Beer: Vessel Orchestra, The Met's first sound-based installation commission. Friday evenings in summer, guest artists play the installation at The Met Breuer, which is simultaneously a musical instrument and a combination of 32 sculptures, vessels, and objects from the museum collection. This week, John Zorn plays.
Saturday, August 10
Licensed tour guide and urban historian Bruce Racond leads a look at American history "on the streets where it happened." Delve into the first reading of the Declaration of Independence and the revolt that followed, Hamilton versus Burr, and the final resting place of the Hamiltons. Fraunces Tavern Museum.
Join
The Municipal Art Society of New York
 for a tour of Third Avenue, retracing the work of architecture critic
Ada Louise Huxtable
(1921-2013) and her pocket guide "Four Walking Tours of Modern Architecture in New York City." Saturday's excursion will look at what's changed and what remains in the East 40s, 50s, and the UN Headquarters.
Sunday, August 11
Franck D. Joseph II is the Assistant Commissioner for Community Relations at the NYC Commission on Human Rights. As the New York Society for Ethical Culture Sunday Platform speaker this week, he'll explain the city's human rights protections, addressing "diversity, equity, inclusion, civil rights, and human rights."
Leap over to Battery Park for the annual Battery Dance Festival, which will feature special outdoor performances in Battery Park through August 17.
Talks on the philosophy of hedonism, female Arab journalists, and "impossible figures" 

highlight our picks for the best smart things to do in NYC this week.
Monday, August 12
Join philosophers Skye Cleary and Massimo Pigliucci as they unwind pain and pleasure and the two states's dominion over our agency. In a look at the philosophy of hedonism they'll ask "Should we be pursuing the greatest-good-for-the-greatest-number?" Along the way they'll examine Epicurus, and the distinctions between tranquility and pleasure, in the search for "the good life." New York Society for Ethical Culture.
Embrace the chaos at Chaos Theory, an immersive, comedic event about the chaos in our lives. Caveat.
Celebrate women in film with author Alicia Malone, whose 2018 book The Female Gaze: Essential Movies Made by Women tells inspiring stories from the silent movie era through to today. Bryant Park/Bryant Park Reading Room.
Tuesday, August 13
Contributors Nada Bakri and Nour Malas speak with editor Zahra Hankir on the occasion of the release of a first-of-its-kind essay collection. Learn more about the risks and advantages posed to Arab and Middle Eastern sahafiyat—female journalists. The Strand.
Go on a hunt for meaning (and fungi) with author Long Litt Woon, whose The Way Through the Woods illuminates what it's like after the loss of a spouse of 32 years. She'll describe her life in Norway and a widow's path to healing through mushroom hunting. Book Culture on Columbus.
A three-time winner of the Best Illusion of the Year Contest, Kokichi Sugihara has pioneered methods to make 3D objects from "impossible figures." He'll explain his research into human vision as he shows off ingenious means of fooling the brain. Museum of Mathematics.
Reporter Emily Guendelsberger worked a call center, an Amazon fulfillment center, and a McDonald's, enough to put together the just-released On the Clock: What Low-Wage Work Did to Me and How It Drives America Insane. She'll speak with Jessica Bruder (Nomadland) about how labor has gone from the high end of production cost to the low, and the dehumanization that results from having AI supervising human effort. powerHouse Arena.
Wednesday, August 14
Examine your own biases through the data and stories behind Shadows of Doubt: Stereotypes, Crime, and the Pursuit of Justice; co-authors O'Flaherty, professor of economics at Columbia, and Rajiv Sethi, Professor of Economics at Barnard and Columbia University, will host. New York Public Library—Mid-Manhattan Library.
Professor of Buddhist Studies Donald S. Lopez Jr. speaks with Tenzin Tethong, whose collection of paintings forms the basis of Lopez's new book Seeing the Sacred in Samsara: An Illustrated Guide to the Eighty-Four Mahasiddhas. Learn more about an eclectic group of tantric Buddhist saints, known for their supernatural powers and often wild exploits. In addition to humble peasants and abdicating royals, you'll encounter "sinners—pimps, drunkards, gamblers, and hunters—who transformed their sins into sanctity." Rubin Museum of Art.
"Very vindictive and perverse in his temper and conduct" was the contemporary impression of a president who would go on to be impeached. If it sounds familiar, it's because there are many striking parallels between our 17th and 45th presidents. Hear from author Brenda Wineapple as she discusses her new book, The Impeachers: the Trial of Andrew Johnson and the Dream of a Just Nation. Bryant Park/Bryant Park Reading Room.
Thursday, August 15
Examine the complexities of America, history, and the human condition as seen by Nobel prize–winner Toni Morrison. A free Brooklyn Museum screening of Timothy Greenfield-Sanders's 2019 film Toni Morrison: The Pieces I Am will follow remarks by Ola Ronke Akinmowo, founder of the Free Black Women's Library. The film will also screen for brunch at the Williamsburg Nitehawk on September 7 and 8.
Keep one eye open at this screening and talkback for the documentary Watched: Coming of Age Under Surveillance. Brooklyn Historical Society.
mmm
Friday, August 16: Jet over to Intrepid for this talk on the Concordeand designing the future. Intrepid Sea, Air & Space Museum.
Saturday, August 17: Hop aboard this Bronx Victrola trolley tour, which will feature spots centered on the greats of jazz and vaudeville alongside special tunes from a 78rpm record played on an antique crank-up Victrola.
Sunday, August 18: Climb aboard to see one of the world's most remarkable land reclamation projects as the American Institute of Architects leads an Industrial Waterway Tour to Freshkills Park.
Monday, August 19: Say 'Hooray for Hollywood' at this talk on the rise and fall of movie mogul William Fox. Bryant Park/Bryant Park Reading Room.
Tuesday, August 20: Swipe right on this talk exploring the science of love in the age of online dating. Subject.
Wednesday, August 21: Seeing won't be believing at this talk with Deepak Chopra and Dr. Don Hoffman on Hoffman's book The Case Against Reality. Rubin Museum of Art.
Thursday, August 22: Weave your way through the American Folk Art Museum on this critical walk-through with artist LJ Roberts. American Folk Art Museum.
Friday, August 23: Demystify the art world at Modern Whitney, a comedy show about breaking down art and figuring out its meaning. Caveat.
Saturday, August 24: Don't save the drama on a visit to the Rave Theater Festival's Sweet Lorraine, an interpretation of the final conversation between best friends Lorraine Hansberry and James Baldwin. Teatro Latea.
Sunday, August 25: Stroll through Prospect Park on this tour of key destinations created by Prospect Park co-designers Frederick Law Olmsted and Calvert Vaux.
Monday, August 26: Escape isolation atWhite Flights, a critique of white writers whose stories are set in isolated settings in which they don't have to engage with race. New York Public Library—Mid-Manhattan Library.
Tuesday, August 27: Situate yourself amongst the stars at this Grand Tour of the Universe. American Museum of Natural History.
Wednesday, August 28: Never forget by attending this talk with Holocaust survivor Eddy Boas. Museum of Jewish Heritage.
Thursday, August 29: Separate fact from fiction at this talk on women's health with Dr. Jen Gunter and Dr. Dara Kass. 92nd Street Y.
Friday, August 30: Go beyond Museum Mile and discover the Upper East Side's art gallery scene on this walking tour. The Municipal Art Society of New York.
Saturday, August 31: Cross the East River for this tour of Long Island City and what's new in Western Queens. The Municipal Art Society of New York.
=========================================
=========================================
Plan your month with the best NYC events in August 2019 including the Jazz Age Lawn Party, street fairs and more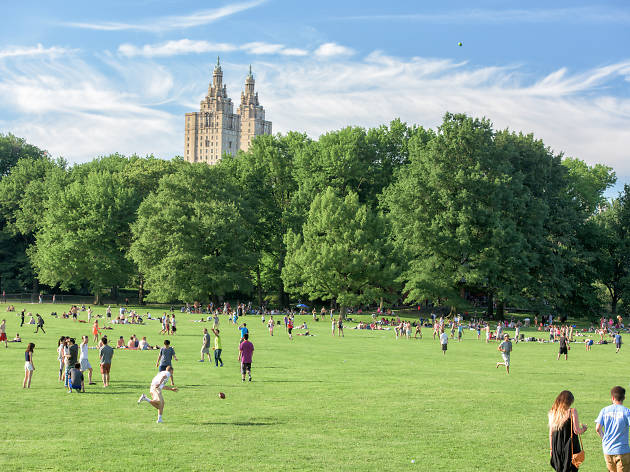 Get ready to use our NYC events in August calendar as your guide for ending the summer with a bang! Now that we're stuck in a heat dome, now's the time to take advantage of New York beaches before they close for swimming next month. There are many more things to do outside this month, like incredible summer concerts, festivals and delicious alfresco food and drink opportunities too. And use August as your last change to take advantage of all the outdoor movies at the best NYC parks. This is the last full-month of summer—make it count!
RECOMMENDED: Full NYC events calendar
Featured NYC events in August 2019
1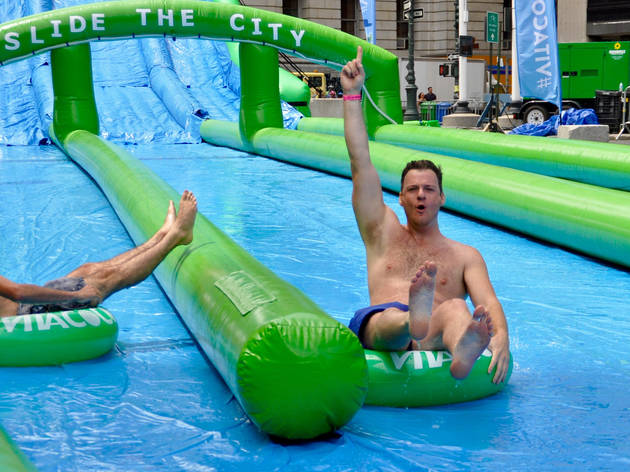 Photograph: Courtesy CC/Flickr/NYC DOT
During Summer Streets NYC 2018 around seven miles of Gotham turf along Lafayette Street and Park Avenue is completely car-free in order to create a pedestrian paradise. Hundreds and thousands of revelers descend upon the asphalt for invigorating sight-filled tours, plus free activities including a rock climbing wall, a zipline, outdoor art installations and misting stations. You won't want to miss this year's five rest stops which normally include fitness classes, a dog park, arts and crafts workshops, plus walking tours that explore NYC parks and some of the most beautiful NYC buildings. This is one of the best NYC events in August, so make sure to hit the streets for the first three Saturdays. We'll be sure to alert you when it's time to sign up for popular attractions such as the water slide and other hot-ticket items. Read more
2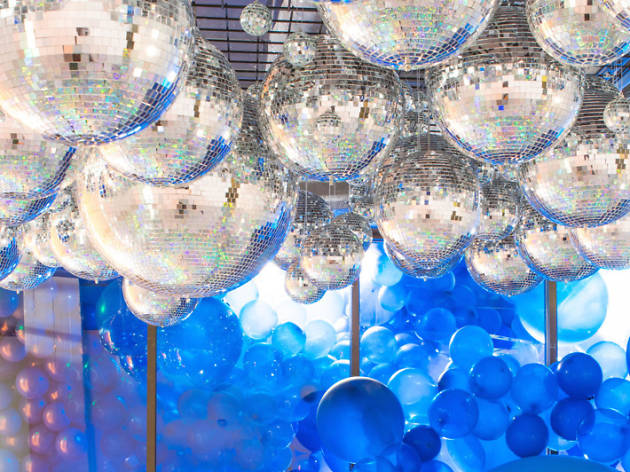 Photograph: Courtesy The Color Factory
Color us stoked! The Color Factory—a collaborative and now traveling art exhibition—promises to give you even more opportunities to flood your Instagram feed with rainbows post-Pride. After a successful run in San Francisco, the creators have transformed a 20,000-square-foot Soho space (located at 251 Spring Street) into an immersive selfie nirvana that is meant to help folks explore and appreciate how fun and joyful being surrounded by vibrant colors can be. Not only a sight for sore eyes, the event is also meant to be a fun zone filled with whimsical installations to explore. Read more
3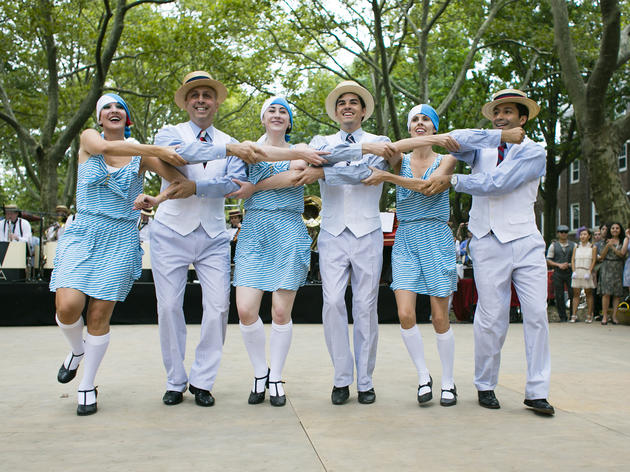 Governors Island, Governors Island/ 
Delacorte Theater, Central Park/
Jones Beach, Long Island/ 
Bryant Park, Midtown West / 
Central Park, Rumsey Playfield, Central Park/ 
Taste Buds Kitchen, Chelsea/ 
East River State Park, Williamsburg / 
Fordham Plaza, The Bronx / 
Solomon R. Guggenheim Museum, Upper East Side//  U
Bryant Park, Midtown West//
Robert F. Wagner Park, Battery Park City//
Randalls Island Park, Randall's Island//
Prospect Park Bandshell, Windsor Terrace//
Sheraton New York Times Square Hotel, Midtown West//
Now in its fourth year, this epic assembly of queer fandom moves from Brooklyn to Manhattan for its biggest edition yet. Look out for panels, performances, costumes and enough merch to satisfy you for a full calendar year; along with signings and appearances by comics favorites like Kevin Wada, Jen Bartel and Kris Anka. And be sure to stunt in your most outrageous cosplay for the Ignite party at Copacabana club on Friday night.
Theater events in August 2019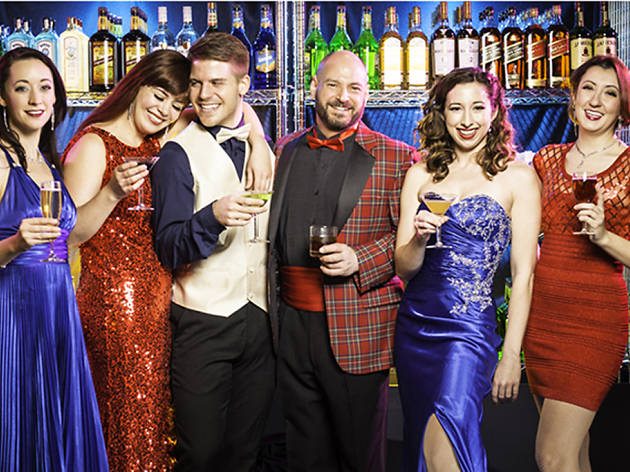 Photograph: Courtesy Michael Blase
New World Stages, Hell's Kitchen//
Open run
New World Stages, Hell's Kitchen//
Four friends explore the history of brunch and the cocktails associated with it in a musical companion piece to Anthony Caporale's popular A Spirited History of Drinking, formerly known as The Imbible. The score is by Josh Erlich; Carorale wrote the book, and codirects the show with Nicole DiMattei. Admission includes a modest brunch and three complimentary cocktails, so arrive half an hour early to take full advantage.
Music events in August 2019
Prospect Park Bandshell, Windsor Terrace  //
Jones Beach, Long Island//
Central Park, Rumsey Playfield, Central Park// A
Webster Hall, East Village// A
Brooklyn Mirage, Bushwick//
Brainfeeder honcho Flying Lotus has been masterminding the LA instrumental hip-hop scene for the better part of a decade. Catch his lush, forward-thinking electronic sounds at this massive open-air gig.
===============================================
===============================================
More, much more coming soon.
====================================================
====================================================