What's Happening March 2019
CityGuideNY – The Best Things to Do in NYC in March
Lincoln Center – Lincoln Center FREE March
Grub Street (NewYorkMagazine) – What to Eat and Drink in NYC This March
NYCGO / NYC The Official Guide – Best March Events in NYC
ThoughtGallery – The March Calendar: Events for Each Day This Month
MORE COMING SOON
Metro US – Best Things to Do in New York City in March
TimeOutNY – NYC Events in March 2019
Free Tours by Foot – Things to Do in March in NYC (for Tourists and Visitors)
LonelyPlanet – NYC Month by Month
These sites have been selected because they all do a first rate job publishing NYCity event info. I hope you will click on their hot links to see what else they have to offer.
============================================================
But first, let's take a look at The New Yorker's always perceptive and comprehensive
Fall Preview of the Arts:
===========================================================
March in New York City is usually a cool, rainy month, but fortunately the city offers endless opportunities to explore indoors. This year, the popular Frida Kahlo: Appearances Can Be Deceiving exhibit is open the Brooklyn Museum, Tolkien: Maker of Middle-earth is at the Morgan Library, and the Armory Show returns to Pier 92/94. On March 17th everyone is Irish for a day, with the city's taps pouring green beer and the St. Patrick's Day Parade filling Fifth Avenue for the oldest and largest parade of its kind in the world. For the best things to do in NYC in March 2019, check out our complete guide below.
Things to Do in New York in March: Exhibits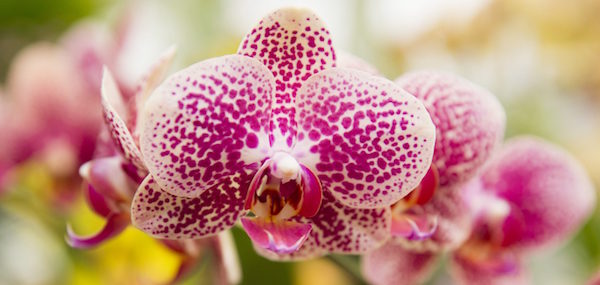 (2/23-4/28) The Orchid Show at the New York Botanical Garden is back. The 17th annual Orchid Show is a dazzling tribute to Singapore—one of the world's greatest orchid cultures—where these storied flowers are an integral part of the life of the "City in a Garden." Developed in partnership with the Singapore Botanic Gardens and Gardens by the Bay, this horticultural tribute set in the landmark Enid A. Haupt Conservatory will feature thousands of orchids paying homage to Singapore's innovative garden design, spectacular floral displays, and achievements in orchid cultivation. nybg.org 
PLUS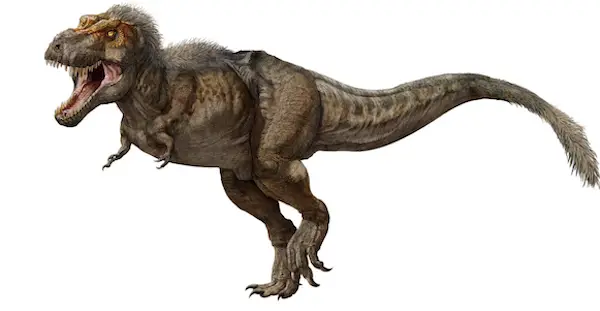 (3/11-8/9/2020) T. rex: The Ultimate Predator opens at the American Museum of Natural History. Visitors will encounter a massive, life-sized model of a T. rex with patches of feathers—which, as scientists now know, were likely present on nearly all non-avian dinosaurs (all dinosaurs other than birds)—as well as reconstructions of a fluffy T. rex hatchling and a four-year-old juvenile T. rex; a "roar mixer" where visitors can imagine what T. rex might have sounded like by blending sounds from other animals; a shadow theater where a floor projection of an adult T. rex skeleton will come to life; and a magnetic wall where visitors will be tasked with placing various tyrannosaur family members in the correct time period. They will also encounter a life-sized animation of T. rex in the Cretaceous and explore real data from fossil specimens, CT scans, and microscope images at a tabletop Investigation Station. In collaboration with HTC VIVE, the Museum will present V. rex (working title) as its first interactive, multi-player virtual reality experience. Visitors will team up to build a T. rex skeleton bone by bone and then watch as it comes to life in what is now Montana, as it was 66 million years ago.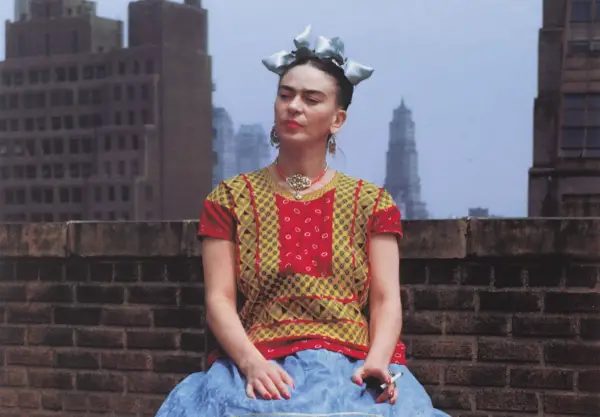 Nickolas Muray (American, born Hungary, 1892–1965). Frida in New York, 1946? printed 2006. Carbon pigment print, image: 14 x 11 in. (35.6 x 27.9 cm). Brooklyn Museum, Emily Winthrop Miles Fund, 2010.80. Photo by Nickolas Muray, © Nickolas Muray Photo Archive. (Photo: Brooklyn Museum.)
(2/8-5/12) Mexican painter Frida Kahlo (1907-1954) lived and worked in a manner which challenged the political, social, and sexual norms of her era. Kahlo held her national identity dear and used traditional Mexican dress as a fixture of her public persona. Her large body of self-portraits created a mythos of self (some say she invented the selfie). New at the Brooklyn Museum is Frida Kahlo: Appearances Can Be Deceiving, a lush exhibition that shows off Kahlo's art, in addition to personal artifacts like her cosmetics, letters, jewelry, and clothing. Additional context is provided by items from the museum's Arts of the Americas collection, including Aztec sculptures, ceramics made in Guadalajara in the early 20th century, and an ancient Colima dog sculpture of a Xoloitzcuintli, a Mexican hairless dog that Kahlo had an affinity for. Advance tickets are available here.
PLUS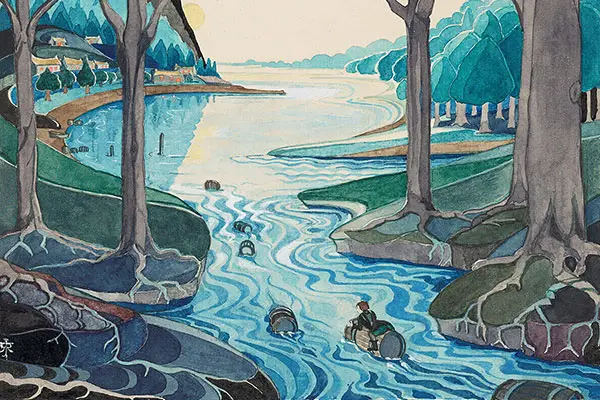 (1/25-5/12) "In a hole in the ground there lived a hobbit." With these words Oxford professor J.R.R. Tolkien ignited a spark that's burned for generations of readers. From the children's classic The Hobbit to the epic The Lord of the Rings, Tolkien's tales of hobbits and elves, dwarves and wizards have introduced millions to Middle-earth, a world that Tolkien populated with creatures, languages, and histories. Tolkien: Maker of Middle-earth at the Morgan Library & Museum is the most extensive public display of original Tolkien material in decades, stocked with family photographs and memorabilia, maps, draft manuscripts, and Tolkien's original illustrations.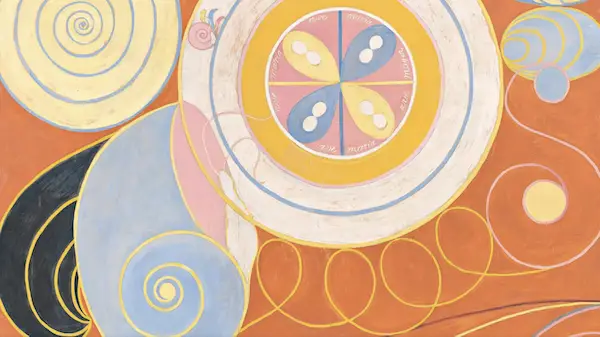 Group IV, the Ten Largest, No. 3, Youth, 1907, from Untitled Series. Photo: Albin Dahlström, Moderna Museet, Stockholm
(Now-4/23) Before abstract art was a speck in Kandinsky's eye, the painter Hilma af Klint (1862-1944) was pioneering non-representational painting in Sweden. A spiritualist who claimed to communicate with the dead, af Klint worked in near-obscurity, forbidding her paintings to receive public exposure until 20 years after her passing. Discover Hilma af Klint, a woman before her time, at the new Solomon R. Guggenheim Museum exhibition  Hilma af Klint: Paintings for the Future. Over 170 of af Klint's non-figurative paintings are on display, richly colored and often staggering in scale. Many pieces play with geometry and floral shapes that seem to swim across the canvas. As af Klint worked on her series The Paintings for the Temple, she envisioned a spiral temple as their eventual home. She got her wish over a century later with this eye-opening exhibition at the Guggenheim.
(Now-7/10) Implicit Tensions: Mapplethorpe Now at The Solomon R. Guggenheim Museum. Robert Mapplethorpe, one of the most critically acclaimed and controversial American artists of the late 20th century, is represented in great depth in the Guggenheim's collection. In 1993 the museum received a generous gift of approximately two hundred photographs and unique objects from the Robert Mapplethorpe Foundation, creating one of the most comprehensive public repositories in the world of this important artist's work. In 2019, 30 years after the artist's death, the Guggenheim will celebrate the sustained legacy of his work with a yearlong exhibition in two sequential parts in the museum's Mapplethorpe Gallery on Tower Level 4.
(Opens 2/1) Faith and Empire at the Rubin Museum. Religion has influenced and empowered countless political leaders throughout history, and Tibetan Buddhism is no exception. "Faith and Empire: Art and Politics in Tibetan Buddhism" is the first exhibition of its kind to explore Tibetan Buddhism's dynamic political role in the empires of Asia from the 7th to the early 20th century. Artwork highlights include a set of 8th-century gilt-silver drinking vessels from the Tibetan Empire; an early 13th-century wrathful icon made of silk and ornamented with tiny seed pearls; a 4 ½-foot-tall 680-pound gilt-bronze bodhisattva from the early 15th-century Ming court; and a 19th-century 8-feet-wide Mongolian depiction of the final battle against the heretics and nonbelievers. The exhibition is arranged chronologically, beginning with the Tibetan Empire in the 7th century, and includes sections on the Tangut kingdom of Xixia, the Mongol Empire, the Chinese Ming dynasty, the rule of the Dalai Lamas, and the Manchu Qing dynasty.
(Now-7/28) Made in New York City: The Business of Folk Art at the American Folk Art Museum. See around 100 works by 18th, 19th, and early 20th-century self-taught artists that highlight the history of of New York City as a financial capital. The exhibition is curated by Elizabeth V. Warren, author of Red and White Quilts: Infinite Variety, The Perfect Game: America Looks at Baseball, and Young America: A Folk Art History, among other books. Made in New York City will tell its story from two perspectives: "The Art of Business" focuses on the people and places that were part of the city's thrumming commercial life. "The Business of Art" highlights the products of the artists, artisans, and manufacturers—the commercial signs, store figures, and early advertising images that they made. The exhibition will draw on the collections of a number of New York City museums.
(Permanent) The Jim Henson Exhibition at the Museum of the Moving Image celebrates the life and legacy of the famed Muppet creator, exploring both his prolific career and the enduring effect his work has on pop culture to this day. Visitors will learn more about the creation of such beloved works as The Muppet Show, Sesame Street, Fraggle Rock, The Dark Crystal, and Labryinth, as well as discover the cutting-edge experimental works Henson made throughout his career.

(Now-6/23/19) A City for Corduroy: Don Freeman's New York, now open at the Museum of the City of New York, presents the gamut of Freeman's New York work, from his lively and humane depictions of ordinary New Yorkers and the city in the 1930s, to his illustrated scenes of the Broadway backstage, to his children's books inspired by the city, including not just the beloved children's Corduroy  books but also Pet of the Met and Hattie the Backstage Bat. The exhibition features drawings, paintings, publications, and prints, as well as the artist's original studies and sketches of Corduroy and other characters.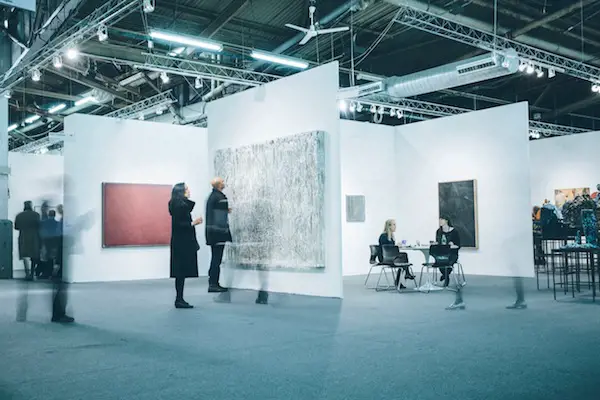 (3/7-3/10) Art lovers, the annual Armory Show returns to Pier 92/94 on the Hudson in midtown. New York's premier international art fair showcases over 200 galleries from around the world.
Things to Do in New York in March: Comedy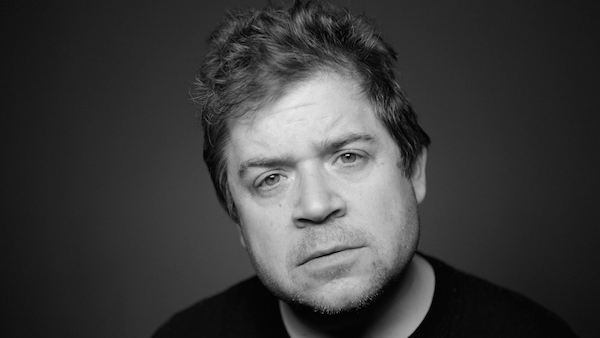 (3/3) Patton Oswalt at the Beacon Theatre.
PLUS
(3/1) Kevin Nealon of SNL & CBS's Man with a Plan at Carolines.
(3/1-3/2) Ian Bagg at Gotham Comedy Club.
(3/8) Queer Eye's Antoni Porowski & Friends stop by The Bell House.
(3/14-3/15) Jerry Seinfeld at the Beacon Theatre.
(3/15-3/16) Robert Kelly at Gotham Comedy Club.
(3/29-3/30) Nathan Macintosh at Gotham Comedy Club.
Things to Do in New York in March: Kids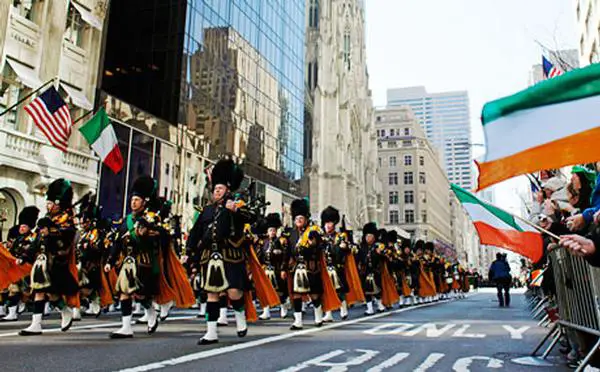 Photo: Joe Buglewicz
(3/16) Thirteen percent of New York traces its heritage to the Emerald Island, but on St. Patrick's Day everyone in the city is Irish for a day. The city's main event is the St. Patrick's Day Parade, which marches up Fifth Avenue from 44th to 86th Street (it'll be held on Saturday, a day ahead of St. Pat's official day). This year's Grand Marshal is distinguished New York attorney Brian J. O'Dwyer. The parade runs from 11am to 5pm, at which point the city's bars swell with revelers.
PLUS
(3/9) Girls in Science and Engineering Day at the Intrepid Sea, Air, & Space Museum. The Intrepid Museum's GOALS for Girls program invites you to celebrate science, technology, engineering and math at the fifth annual Girls in Science and Engineering Day. Enjoy hands-on experiences, exciting demonstrations and engaging discussions provided by science-based organizations, college programs and New York City public school students. 11am-3pm. Event is FREE; registration required here.   intrepidmuseum.org 
(Ongoing) Blue Man Group at Astor Place Theatre. Best known for their wildly popular theatrical shows, Blue Man Group combines music, comedy, and multimedia theatrics to produce a unique form of entertainment. The hour and forty five minute show is fun for the whole family.
(Ongoing) Explore the beautiful interactive exhibit Connected Worlds at the New York Hall of Science in Queens.
For more kids activities, check out our sister site nymetroparents.com!
Things to Do in New York in March: Music & Nightlife
(3/15-3/16) Massive Attack: Mezzanine1 at Radio City Music Hall.
PLUS
(3/2, 3/9) New York Shakespeare Exchange (NYSX) announces the next ShakesBEER, NYC's original Shakespearean Pub Crawl, running Saturdays March 2, 9, at 3pm. The pub crawl begins at The Dubliner (45 Stone Street, NYC) at 2:30pm and moves to Route66 Smokehouse (46 Stone Street, NYC), The Irish Punt (40 Exchange Place, NYC), and The Full Shilling (160 Pearl Street, NYC). Check-in is at 2:30pm at The Dubliner. Get tickets here. 
(3/2) Christopher Cross: Take Me As I Am Tour stops at City Winery.
(3/3) Travis Scott at Barclays Center.
(3/8, 3/9) Elton John at Barclays Center.
(3/8) Chanteuse Madeleine Peyroux at Sony Hall.
(3/8) Robyn at Madison Square Garden.
(3/11, 3/18) Fleetwood Mac at Madison Square Garden.
(3/12) Weezer & Pixies at Madison Square Garden.
(3/16) The Unforgettable Fire at Sony Hall. 
(3/16) Guster at the Beacon Theatre.
(3/21) Billy Joel at Madison Square Garden.
(3/21) The Craic Fest, an Irish Music Festival at Mercury Lounge. craicfest.com
(3/23-3/24) Come Together, the indie label market/music festival at MoMA PS1, returns for a third year, this time for two days.
(3/27) KISS final tour at Madison Square Garden.
(3/21-3/23) Guitarist Gary Clark Jr. plays three nights at the Beacon Theatre.
(3/25) Mariah Carey: Caution World Tour at Radio City Music Hall.
(3/29) 34th Annual Rock 'n' Roll Hall of Fame Induction Ceremony at Barclays Center.
For more information on LGBT nightlife events, visit our brother site metrosource.com!
Things to Do in New York in March: Sightseeing 
(3/24-4/7) Macy's Flower Show will be in bloom throughout the store! macys.com/flowershow
PLUS
(Ongoing) Circle Line's three-hour Best of NYC Cruise covers more than 130 landmarks.
Color Factory, a massive interactive art space, began in August 2017 in San Francisco. Wildly popular, the project has set up shop in SoHo and is sure to inspire lines as long as the cronut did at nearby Dominique Ansel Bakery. Designed by a wide spectrum of artists, Color Factory walks visitors through 16 rooms devoted to the wonder of color. You're invited to compliment someone using color words, discover your signature color, and read wishes for the world written by NYC school children on varicolored balloons. Each room is equipped with a camera that can take a picture of you and send it to your phone: the better to post with! On view now through August, 2019. 251 Spring St., support@colorfactory.co, colorfactory.co, @colorfactoryco
Read about more Instagrammable Pop Up Exhibits in NYC here.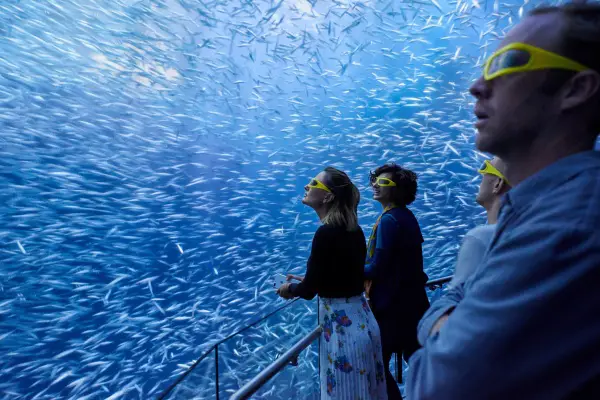 Immerse yourself in the deep, dark depths of the ocean, where Humboldt squid fight to the death, 50 foot whales ride overhead, play with sea lions, navigate a sea kelp maze and more at National Geographic Encounter: Ocean Odyssey! Here's a $10 off coupon!
Visit the sites of Friends, Seinfeld, Trainwreck, Gossip Girl, Sex and the City and many other NYC film sites with On Location Tours. 
Learn more about the fascinating history of New York City's Financial District with Wall Street Walks tours.
Grab a photo with Taylor Swift, Don Draper, Lady GaGa and countless others at Madame Tussauds New York. Here is a coupon!
Ripley's Believe It or Not! Odditorium brings people of all ages face-to-face with the world's most unbelievable curiosities. With 18,000 square feet of astonishing artifacts and exciting interactive exhibits. Here is a coupon!
Zip up 100 stories in 60 seconds and see New York City atop One World Observatory.
Things to Do in New York in March: Ongoing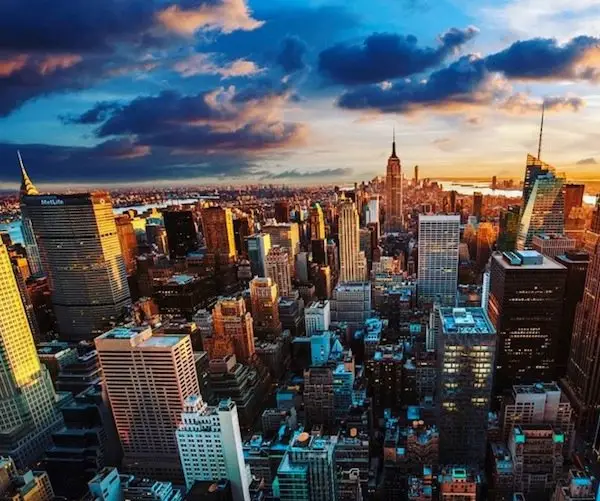 Bring a loved one to take in the breathtaking view at Top of the Rock. 
Weather in New York in March
The old maxim "in like a lion, out like a lamb" certainly applies to New York weather in March. Expect the temperatures to steadily rise through the month, from a start on March 1 with average highs at 45 degrees Fahrenheit (7°C) and average lows right at freezing to 56 degrees Fahrenheit (13°C) for a high and 40 degrees Fahrenheit (4°C) for a low come March 31st. Days are getting longer, with about 7 hours of light. The heaviest coats can probably be left behind, but you'll still want to pack warmly, with hats, scarves, and gloves not being a bad idea. You can expect some outlier days, warmer or colder, with extremes of weather (wind, snow, sleet, freezing rain) not uncommon. Precipitation picks up, about double what it is in February. You can expect 12 rainy days in March, and another five snowy days. Pack your umbrella, and take note of all the great restaurants, museums, galleries, and bars in New York that make it easy to entertain yourself indoors.
=======================================================
=========================================================================
Spring is blooming at Lincoln Center this March with so many exciting (and wallet-friendly) free events. See the calendar for a list of all upcoming events.
Through March 30

Jerome Robbins Dance Division / New York Public Library for the Performing Arts

Voice of My City: Jerome Robbins and New York at the New York Public Library for the Performing Arts

This exhibit continues through March. For lovers of dance, great Broadway musicals (such as On the Town and West Side Story) and the creative process, it's a fascinating look inside one of New York's greatest theater artists. The exhibit brings together Robbins's diaries, drawings, watercolors, paintings, story scenarios, and poems.

March 2 at 11:00 am

Awa Sangho at the David Rubenstein Atrium

NYC–based singer-songwriter and activist Awa Sangho delivers music from her homeland steeped in the rhythms and resonances of West Africa.

March 3 at 10:00 am

Photo by Rosalie O'Connor

Access Workshops at the Samuel B. & David Rose Building

Artists from New York City Ballet engage with young children, devising games and exercises so they can learn about the joy of movement.

March 4 at 7:00 pm

Photo by Fabrizio Ferri

Songs of Bukovina: A Conversation with Alexei Ratmansky at the David Rubenstein Atrium

In celebration of his 10th anniversary as Artist in Residence at American Ballet Theatre, Alexei Ratmansky joins scholars and artists in a special conversation that situates his recent work within its cultural and political contexts.

March 7 at 7:30 pm

Photo by Dario Acosta

Tesla Quartet at the David Rubenstein Atrium

At this free, hour-long concert, the New York–based quartet demonstrates its "superb capacity to find the inner heart of everything they played, regardless of era, style or technical demand" (International Review of Music).

March 14 at 7:30 pm

Photo by Rui Aguiar

Marta Pereira da Costa: A Portuguese Guitar at the David Rubenstein Atrium

The world's only professional female Portuguese Fado guitar player joins with viola, contrabass, piano, and percussion to showcase her soulful playing and stunning virtuosity.

March 15 at 7:30 pm

Photo courtesy of the artists

¡VAYA! 63: Quintero's Salsa Project at the David Rubenstein Atrium

Quintero's Salsa Project continues the Afro-Caribbean traditions of their native Venezuela. Get ready for irresistible music for dancers, flawlessly blending New York City–influenced salsa and classic Venezuelan rhythms to produce a fresh street sound.

March 20 at 7:30 pm

Photo by Roger Neve

An Evening with Music Director Jaap van Zweden at the David Rubenstein Atrium

As he approaches the end of his inaugural season as music director of the New York Philharmonic, Jaap van Zweden discusses his path to the Philharmonic, the core values he brings to his musicianship and the Orchestra, and his views on the role of the symphony orchestra in the 21st century.

March 21 at 7:30 pm

Photo by Nico Nordström

J. Hoard presents MAGA: The People's Perspective at the David Rubenstein Atrium

Brooklyn-based singer-songwriter J. Hoard's voice, lyrical genius, and fashion have become staples in the urban and traditional music scenes. He has collaborated with countless musicians—including Kimbra, Pharoahe Monch, Macklemore, Lorde, and Chance The Rapper (with whom he won a Grammy for his contribution on "No Problem"). Now J. Hoard takes on our political moment.

March 27 at 6:00 pm

Sonatenabend at Paul Recital Hall

Pianists from The Juilliard School's Collaborative Piano department perform sonata repertoire in partnership with student instrumentalists.

March 28 at 7:30 pm

Photo courtesy of the artist

Hamid Al-Saadi with Safaafir: The Maqam of Iraq at the David Rubenstein Atrium

Experience traditional Iraqi maqam with Hamid Al-Saadi, one of the genre's greatest living masters. Joining him is Safaafir, the only U.S.–based ensemble dedicated to performing the centuries-old musical tradition, led by two American-born siblings of Iraqi descent: Dena El Saffar, who holds a degree in classical viola performance from Indiana University, and Amir ElSaffar, a jazz trumpeter and composer based in New York City.
===================================================
====================================================
It's Gibson time at Dante.
Photo: Melissa Hom
Every month in New York, there are a bewildering number of new dishes to eat, drinks to imbibe, and food-themed events to attend. Often, the hardest part is just figuring out what's really worth your limited time. So Grub kicks off each month with a curated selection of dishes, drinks, and events that should absolutely be on your agenda. Make your plans now.
1. Drink a whole menu of martinis at Dante.
Dante is an elegant, fun place to drink, especially if you're obsessed with gin. For the last couple years, the bar has had a whole menu called the Negroni Sessions of variations on the classic bitter, red drink. (Granted, some without gin.) Now, bartender Naren Young has switched it up with the debut of the Martini Hour. The eight-drink, all-Martini menu features an Upside Down Dirty Gibson ($16) with pickled onion brine and wormwood, a Tuxedo No. 2 ($16) with dry vermouth and maraschino, and other cocktails. Don't go trying to drink all eight of them in one sitting, but if you've ever said to yourself, "I just want to drink Martinis and Martini-esque cocktails all night," well, here's your chance!
2. Go to a festival that's all about food books and magazines.
This weekend, the Food Book Fair returns to New York. The event this year will be thrown together with Egg and Smorgasburg and the Brooklyn Flea, plus new collaborators Riverhead Books and Queer Soup Night. The main event (RSVP here) takes place from 11 a.m. to 8 p.m. on Saturday and 11 a.m. to 5 p.m. on Sunday, when publishers and magazines like Chronicle Books, Jarry, Kitchen Table, and Whetstone will gather at the Atlantic Center. On Sunday from 6 p.m. to 8 p.m. at C'mon Everybody, Queer Soup Night and Jarry will host (RSVP here) the Big Queer Chili Cook-off to benefit the RAPP Campaign.
3. Check out the new drinks at a great Greenpoint bar.
Tucked away into the back of a Greenpoint ramen restaurant, the Hidden Pearl was one of the most exciting new bars to open last year. The offshoot of Williamsburg favorite Donna takes a tropical Japanese-ish approach to cocktails, and if you've been meaning to go back, you've got yourself a few new reasons: Head bartender Luke Evans has added four drinks to the list. His additions include Hasekura Goes to Spain ($15) — which mixes Japanese whisky with amaro, Amontillado sherry, and Castilian bitters — and a Hot and Buttered Rum to share ($30). The latter drink pairs overproof rum with Californian brandy, as well as Grand Marnier, spiced compound butter, Angostura bitters, and figgy pudding bitters.
4. Get at least a dozen King Cake doughnuts.
Can't make it down to New Orleans for Mardi Gras? The next best thing if you have a big sweet tooth anyway might be going to Underwest Donuts. The doughnut experts there will serve a King Cake–inspired creation ($3.75) on March 4 and 5. A vanilla-and-citrus-infused cake doughnut, it gets dipped in Bird Dog whiskey for a sweet, boozy touch that should cure at least a little of your FOMO.
5. Attend a party for a new food magazine's launch.
Tonight from 6 p.m. to 8 p.m., the wonderful Cobble Hill food bookstore LizzYoung Bookseller will host a party for a new food magazine. Brett Warnock, who founded comic-book publisher Top Shelf, is in town for the launch of his new food rag Kitchen Table. There will be copies of the magazine, which promises a strong visual element, along with wine, beer, and bites to eat.
6. Go to the East Village for a lunch of popcorn chicken and stir-fried Taiwanese sausage rice.
Looking for a good lunch deal in the East Village? Taiwanese restaurant 886 now has you covered. For just $15, you'll get a little bite, a stir-fry, a main dish, and a soft drink. Options include small bites like honey-glazed popcorn chicken, stir-fried tomato and egg, and mains like a stir of Taiwanese sausage rice with cured egg yolk. The deal is available Tuesdays through Fridays from noon to 3 p.m.
7. Then for dinner, go eat sticky rice pork meatballs.
New York's Adam Platt deemed rice-noodle shop Hunan Slurp one of 2018's Best New Restaurants, noting that many of the non-noodle dishes "are worth a special trip." The chef-owner Chao Wang keeps fiddling with his menu, and this week added lotus meatballs made with pork, water chestnuts, and cured duck yolk. And instead of bread crumbs, they're coated with sticky rice. Why stop at these meatballs, though? While you're in the East Village, check out newer spots like cocktail bar Mister Paradise, Vietnamese barbecue spot Madame Vo BBQ, and grilled pizza specialist Violet. Or, comb our always updated list of New York City's Thousand Best restaurants for other recommendations in the neighborhood.
8. And a bagel sandwich made in collaboration with a New Orleans favorite.
A bagel collab? With a restaurant from outside New York, America's bagel capital? It could've been blasphemy, but the bagel-collab enthusiasts at Black Seed Bagels made the wise choice of teaming up with New Orleans's Turkey and the Wolf. A sandwich shop that was named a Bon Appétit Best New Restaurant in 2017, its bagel sandwich ($13) comes with griddled meat loaf (made with bagel crumbs), melted American cheese, pickled cherry peppers, slow-cooked tomato cream cheese, red onion, and basil. It's served on a fennel-seed bagel, and available at all locations.
9. Hang out with Talib Kweli while eating J.J. Johnson's food.
Some big names are coming together for the second Brownsville NOW! Benefit on March 12. Talib Kweli and John Forté will be performing and J.J. Johnson will be cooking for the event, benefiting the Brownsville Community Culinary Center. (Ticket info here.) The night will be hosted by activist and actor Malik Yoba and Love City Church pastor Nelvern R. Samuel, and DJ Niara Sterling will be keeping the music going. If that's not enough, it's going down at Brooklyn Bowl, which means, yes, bowling.
10. Pop by a charming new Bushwick taqueria.
There's no shortage of taquerias in Bushwick, but Tacos Molly (157 Central Avenue, near Suydam Street) offers customers a warm, neighborly experience. The space was last home to Seven Sushi Cafe, but the owner and his wife revamped the menu and changed themes to increase business year-round. The tortillas are made in-house and plated without pretense. Simple and delicious. They also serve aguas frescas like Jamaica, sweet, purply from the hibiscus. The owner, Brian, handmade the bar and tables from pallets, the light fixtures from industrial piping, and the benches from milk crates. If you're lucky, you'll be served by his wife, Monica, with her 6-month-old, Aina, in a baby carrier. —Mathew Silver
11. Get a lunch with a side of a charitable cause.
Instead of a sad desk lunch, what about a charitable lunch? Starting this month, the Smile to Go in Dumbo will start selling chef collaborations to benefit No Kid Hungry. Ten percent of proceeds will go to the organization, and a different chef will introduce a different boxed lunch for $15. Kicking things off is former White House chef Sam Kass, who worked with the Smile to Go on the series. His menu includes a beer-braised pork-shoulder sandwich; a canned salad with white beans, artichokes, hearts of palm, and celery; deviled egg with chipotle lime aïoli; and a mini coconut-cream pie.
12. Drop by a talk for a Bon Appétit editor's cookbook.
To celebrate the release of her cookbook Where Cooking Begins, Bon Appétit food director Carla Lalli Music will head to Books Are Magic. On March 20 from 7:30 p.m. to 8:30 p.m. (RSVP here), she'll talk with Bon Appétit video star Claire Saffitz about recipes for very busy people.
13. Go to a dinner at Racines celebrating Provence.
Tribeca wine bar Racines has a bunch of events slated for this month, including a dinner on March 22 for the Goût de France or Good France festival. Celebrating the food of Provence, the dinner (tickets are $195 for four courses and ten wines) will feature chef Diego Moya's riffs on classic dishes and all Provençal wines.
================================================
=================================================
As spring sweeps in, so does the move toward outdoor events in NYC, like the St. Patrick's Day Parade and the Yankees' newest baseball season. Other seasonal signs include the annual Macy's Flower Show, the Armory Show and New Directors/New Films at MoMA. Also at MoMA, enjoy Lincoln Kirstein's Modern, celebrating the cultural icon's influence in the 1930s and '40s. Other can't-miss exhibitions include T. rex: The Ultimate Predator at the American Museum of Natural History, Simone Fattal: Works and Days at MoMA PS1 and The Tale of Genji at The Met. For details on these and many other happenings, read on.
Film & TV
New Directors/New Films
Mar 27 – Apr 7
Co-curated by the Film Society of Lincoln Center and the Museum of Modern Art, this yearly festival celebrates the most innovative voices in filmmaking from a broad range of international filmmakers at the start of their careers. Now in its 48th year, the festival has helped ignite countless careers, including those of Pedro Almodóvar, Spike Lee, Steven Spielberg, Darren Aronofsky and Wong Kar-wai. Explore new works by the next generation of auteurs, with screenings at MoMA and Lincoln Center. Check back for details about this year's installment.
Read More
Music
Harkness Dance Festival
Mar 1 – Mar 30
2019 marks the 25th edition of this annual celebration, put on by 92Y's Harkness Dance Center. The 2019 theme is the Centenary of Merce and the program features four premieres of dance icon Merce Cunningham's work. Participating companies include New York Theatre Ballet, Melissa Toogood, Herman Cornejo and New World School of the Arts. The festival also includes performances by four generations of Cunningham-trained dancers who subsequently established their own companies: Douglas Dunn + Dancers, Ellen Cornfield of cornfield dance, Jonah Bokaer Choreography and Dylan Crossman Dans(c)e.
Read More
Comedy
Jerry Seinfeld
Jan 5, 2017 – Jun 7
What's the deal with one of the most influential stand-ups ever to hold a mic, and the co-creator of the New Yorkiest television show? After hugely successful runs in 2016 and 2017, he's returning for his monthly appearances at the Beacon Theatre in 2019; that's the deal.
Buy Tickets
Museums & Galleries
The Armory Show
Mar 7 – Mar 10
The Armory Show, located on Pier 90, is a top international art fair devoted to the most important artworks of the 20th and 21st centuries. The show combines a selection of the world's leading galleries—more than 200 of them from 30 countries around the world—with an unsurpassed program of art events and exhibitions at the fair venue and throughout New York City.
Read More
Big East Men's Basketball Tournament
Mar 13 – Mar 16
"Since 1983, the Big East Men's Basketball Tournament has been a can't-miss event with lively student and alumni cheering sections and memorable performances by greats like Patrick Ewing of Georgetown and Chris Mullin of St. John's. This season, players from those schools will try to make themselves part of Big East lore as they take on Butler, Creighton, DePaul, Marquette, Providence, Seton Hall, Villanova and Xavier for bragging rights and an automatic bid to the NCAA Tournament."
Buy Tickets
Museums & Galleries
Voice of My City: Jerome Robbins and New York
Sep 26, 2018 – Mar 30
Explore the intimate relationship between creative genius Jerome Robbins and New York City, a place that was always at the center of his work. Though known primarily as a choreographer, dancer and stage director, Robbins also created diaries, watercolors, paintings, drawings and poems that told stories of the City that he loved. Through this exhibition, viewers will see how he portrayed the City in his works, how it inspired him and how it served as his home for over 60 years.
Read More
Shopping
Macy's Flower Show
Mar 24 – Apr 4
For two weeks, the clothing and accessories won't be the only colorful items on display at Macy's. During its annual flower show, the iconic department store hosts beautifully bright floral arrangements, live music, kids' activities and seminars. Visit the Macy's website for more information on this year's theme.
Read More
Museums & Galleries
Asia Week New York
Mar 13 – Mar 23
For just over a week, Asian art and culture take over New York City. Asia Week is celebrating its 10th anniversary this time around, and among the museums, galleries, auction houses and cultural institutions participating are the Noguchi Museum, China Institute, The Met and the Rubin Museum of Art. Each venue will be showing works from the continent, and art dealers from around the world will display their collections during open houses throughout the week. There will also be a full schedule of films, lectures, symposia, curator talks, tours, auctions and other events.
Read More
Festivals & Parades
St. Patrick's Day Parade
Mar 16
Whether you hail from the Emerald Isle is of no consequence—on St. Patrick's Day, everyone can lay claim to being at least a little bit Irish (even the City's bagels and beer, which go green for the occasion). The parade itself lays claim to being the oldest (it was first held in 1762) and largest of its kind in the world. So clad yourself in kelly green and watch bagpipers, marching bands and assorted revelers from near and far.
Note: For religious reasons, this year's parade will be held the day before the holiday, Saturday, March 16.
The route: The parade starts at 11am, marching up Fifth Avenue from 44th Street to 79th Street. It typically ends by 5pm.
Read More
Museums & Galleries
Art of the Mountain: Through the Chinese Photographer's Lens
Feb 8, 2018 – Aug 16
Mountains play a crucial role in Chinese culture and legends; they are considered to be the pillars that hold up the sky. This exhibit, which displays more than 60 photographs by 25-odd photographers, is split into three sections: Lofty Mountains covers the geography, history, legends and cultures associated with famous Chinese mountains; Pure Sound encompasses the impact of Chinese landscape painting on contemporary photography; and New Landscape Photography expands beyond photography to post-photographic visual affects that examine the role of mountains in society.
Read More
Museums & Galleries
The Butterfly Conservatory at The American Museum of Natural History
Oct 6, 2018 – May 27
Celebrate the return of this seasonal vivarium, which is filled with hundreds of live butterflies. The creatures flit about in a magical summerlike environment, surrounded by tropical flowers and lush vegetation in 80-degree temperatures. It's a perfect exhibition for a cold fall or winter day (and equally nice in spring, of course).
Read More
Outdoors & Recreation
NYC Ice-Skating Rinks
Oct 15, 2018 – Mar 31
New York City's many ice-skating rinks are synonymous with winter and the first glimpse of the holiday season. If you prefer your skating experience to come with a killer view, take a spin at Wollman Rink (open late-October through March), with its amazing skyline vistas from inside Central Park, or enjoy the spectacular surroundings of the seasonal Rink at Rockefeller Center (in December, the famous tree will be there too). The Bank of America Winter Village at Bryant Park, which is open October to March, is another fine option with stunning architecture nearby. For an indoor experience that will make you feel like a professional hockey or skating star, visit City Ice Pavilion in Queens or the Aviator Sports & Events Center in Brooklyn; both operate year-round.
Read More
Arts & Culture
The Orchid Show
Feb 23 – Apr 28
Each year, thousands of luscious blooms fill the Victorian-style Enid A. Haupt Conservatory at the New York Botanical Garden in the Bronx. A stroll through this gorgeous display is the perfect way to warm up on a brisk day; or on select evenings throughout the run of the show, enjoy tours and special performances. This year's installment is a tribute to Singapore—one of the world's most formidable orchid cultures—in partnership with Singapore Botanic Gardens and Gardens by the Bay.
Read More
Sports
2019 Atlantic 10 Men's Basketball Championship
Mar 13 – Mar 17
All the basketball teams in the Atlantic 10 conference take part in a single-elimination playoff. The prize: an automatic bid to the NCAA Tournament. Expect an electric atmosphere as fans and alumni of Davidson, Dayton, Duquesne, Fordham, George Mason, George Washington, La Salle, UMass, Rhode Island, Richmond, St. Bonaventure, Saint Joseph's, Saint Louis and VCU pack Brooklyn's Barclays Center.
Buy Tickets
Arts & Culture
New York International Children's Film Festival
Feb 22 – Mar 17
Helping to redefine the idea of "kids' movies" since 1997, the New York International Children's Film Festival shines a light on some of the most unique, engaging and thought-provoking independent films (as well as previews of some big-budget Hollywood flicks) for young people. From obscure animated shorts to full-length, live-action dramas, the festival has offerings in nearly every genre, and for kids of all ages and backgrounds. Screenings (at a half-dozen venues around town) routinely sell out, so you'll want to order your tickets well beforehand; the lineup is set in January.
Read More
Film & TV
New York Sephardic Jewish Film Festival
Mar 5 – Mar 15
The New York Sephardic Jewish Film Festival seeks to inform audiences about the rich Jewish culture hailing from the Middle East and greater Sephardic diaspora. Screenings, filmmaker Q&As and an awards ceremony highlight the week. This year marks the 20th installment of the event.
Read More
Museums & Galleries
New York at Its Core
ongoing
Some 400 years ago Dutch settlers founded New York City, and in the period since it has gone through many transformations. This new permanent exhibition at the Museum of the City of New York traces the City's history from a "striving Dutch village" to the "Capital of the World" it is today, showcasing more than 400 objects, interactive components and the stories of some of the City's most influential characters, like Alexander Hamilton, JP Morgan, Fiorello La Guardia and Jay Z.
Read More
Museums & Galleries
A Woman's Afterlife: Gender Transformation in Ancient Egypt
ongoing
In Ancient Egypt, it was believed that a deceased woman needed to be reborn. And to do so, she had to temporarily become a man, since it was also believed that man was responsible for creating a fetus and later transferring it to the woman's body. While these beliefs may seem archaic and, well, ancient today, they do have an important place in history. The Brooklyn Museum's exhibition includes objects from its permanent collection that illustrate how Egyptians went about transforming women into men after their death to ensure a proper rebirth.
Read More
======================================================
=====================================================
Much more coming soon.
======================================================
=====================================================
March is here, and as the winter weather prepares to give way to spring, New Yorkers will be able to enjoy Women's History Month, St. Patrick's Day, and talks that run from Prohibition to the mathematics of poetry.
Peking opera, Andy Warhol, and Moroccan trance music highlight our picks for the best smart things to do in NYC this weekend.

Friday, March 1
In the context of Whitney exhibition Andy Warhol—From A to B and Back Again join a panel of scholars, curators, and artists for a new look at the less-well-known work the artist made from 1968 until his death in 1987. The New School.
Editor Michael Long appears in support of his alternative history, We the Resistance: Documenting a History of Nonviolent Protest in the United States, which shifts focus from the likes of military triumphs to courageous individuals and movements on the side of resistance. Bluestockings.
Tami Davis Biddle of the U.S. Army War College speaks on some pivotal moments of WWII at On the Crest of Fear: The V-2s, the Battle of the Bulge, and the Closing Months of the Second World War. Soldiers', Sailors', Marines', Coast Guard and Airmens' Club.
Saturday, March 2
Learn about traditional Chinese opera and the way it has functioned as a bridge between cultures. Author and historian Philip Valenti will talk about American reception to Chinese dramatic art and there will be a live performance by professional Peking Opera performer Michelle Yang. Flushing Library.
The exclusion of undocumented immigrants from the National September 11 Memorial will serve as a case study for an exploration of migrant identity and memorial culture. The 8th Floor.
The free Target First Saturday at the Brooklyn Museum celebrates the special exhibition Half the Picture: A Feminist Look at the Collection with a night of film, music, and dance.
Go on a hypnotic journey with National Sawdust 2018-2019 Artists-in-Residence Innov Gnawa, who will be bringing the traditional Moroccan trance music gnawa, played on instruments found nowhere else on earth.
Sunday, March 3
Catch a screening and conversation about the musical celebration of civil rights Humanité: The Beloved Community. Sheen Center for Thought & Culture.
Celebrate the 121st birthday of early Yiddish theater and film star Molly Picon. The Center for Jewish History hosts a screening and live score of Picon's 1923 East and West.
Your brain at work, the science and spirituality of agency, and waking up to the Facebook catastrophe highlight our picks for the best smart things to do in NYC this week.
Monday, March 4
Digital theorist Douglas Rushkoff hosts a Team Human night with Roger McNamee, original Facebook investor and Mark Zuckerberg's mentor. McNamee will talk about his new book, Zucked: Waking up to the Facebook Catastrophe, and the case for breaking up Facebook before it breaks up our democracy. The Greene Space.
Find equality at this talk on the fight for LGBTQ rights over the past 50 years post-Stonewall. NYU Skirball Center.
The Center For Book Arts hosts a special presentation on the first modern-day artist's book, Fortunato Depero's 1927 masterpiece Depero Futurista.
Tuesday, March 5
Therese Rosenblatt, PhD and Linda Hillman, PhD lead an interactive session that draws on their book, The Voice of the Analyst: Narratives on Developing a Psychoanalytic Identity. They'll explore the contemporary state of pyschotherapy, much changed since its psychoanalysis heyday. Marlene Meyerson JCC Manhattan.
Oscar-winning actress Julianne Moore joins Oscar-winning director Sebastián Lelio for a post-screening conversation about their new movie, a remake of Lelio's award-winning 2013 Chilean film Gloria. 92nd Street Y.
Wednesday, March 6
Evolutionary biologist Rachel Carmody talks about the long-standing human practice of processing foods. She'll explain how it increases the calories we can extract, its evolutionary advantages, and the challenges it presents for our present and future. American Museum of Natural History.
Dr. David Rock, CEO of the NeuroLeadership Institute and author of Your Brain at Work: Strategies for Overcoming Distraction, Regaining Focus, and Working Smarter All Day Long, heads up a team of 200 experts who use science to make organizations more humane. He'll speak about the brain basics everyone should know as well as the aspects of mind that remain shrouded in mystery. (Rock believes that brain knowledge can work similarly to mindfulness practices—test it out for yourself.) Think & Drink Pop Up Bar (Formerly Gordon Bennett).
Robbert Dijkgraaf, Director and Leon Levy Professor at the Institute for Advanced Study, visits the Museum of Mathematics to speak about Einstein's insights into time as a fourth dimension. Geometry, quantum mechanics, black holes, and the Big Bang will all be considered. (Two sessions, 4pm and 6:30pm, with light refreshments served at each.)
"Idea acupuncturist" Anjali Kumar sits down with cognitive-behavioral therapist Dr. Anthony Rao to look at the spirituality and science behind realizing your intentions. A book signing follows, for Kumar's Stalking God: My Unorthodox Search for Something to Believe In and Rao's The Power of Agency: The 7 Principles to Conquer Obstacles, Make Effective Decisions & Create a Life on Your Own Terms. Rubin Museum of Art.
Thursday, March 7
Best-selling novelist and memoirist May Gordon comes to Book Culture to talk about her new book, which looks at the dual lives of writer and monk Thomas Merton.
Artificial Intelligence may lead to efficient uncovering of patterns, "but it's really the rule-breaking events that have made life exciting for us" according to Edward Tenner, a distinguished scholar of the Smithsonian's Lemelson Center for the Study of Invention and Innovation. Find him in conversation on his new book, The Efficiency Paradox: What Big Data Can't Do, which looks back into the development of technology and forward to head-spinning advances in algorithms, smart devices, and the sharing economy. Robert Krulwich, co-host of Radiolab, joins him. 92nd Street Y.
Friday, March 8. Get out the vote at this conversation between scholar Sally Roesch Wagner, editor of The Women's Suffrage Movement, and famed feminist Gloria Steinem. The New School.
Saturday, March 9. Celebrate Nerd Nite NYC's 13th birthday at this birthday bash, complete with fascinating presentations and a dry t-shirt contest. Caveat.
Sunday, March 10. Find the luck of the Irish at the Irish Arts Center's annual St. Patrick's Open Day, a free day of family-friendly events and activities celebrating Irish culture. Irish Arts Center.
The neuroscience of timing, the brain and aging, and the science of meditation highlight our picks for the best smart things to do in NYC this week.
Monday, March 11
A grasp of timing—in music, movement, or conversation—seems natural for (most) of us. A panel of scholars gathers at a Columbia University Society and Neuroscience seminar to look at the reasons timing varies between cultures and what humans can learn from the animal world tempos.
Look into fellowship with Skye & Massimo's Philosophy Cafe as the conversation delves into the nature of friendship, what it means to be a good friend, and even the role of the frenemy. New York Society for Ethical Culture.
Bring your poor, your tired, your huddled masses to this exploration on the biggest myths behind the Statue of Liberty. Graduate Center, CUNY.
Former United Nations arms trafficking expert Kathi Lynn Austin leads an exploration of a global gunrunning network behind industrial-level rhino poaching in Southern Africa. She'll describe her three-year, six-country investigation, conducted as the species nears extinction. The Explorers Club. 
Tuesday, March 12
"Successful Aging and Your Brain" will be the topic of this Brain Awareness Week conversation between Matthew E. Fink, MD, Neurologist-in-Chief, New York-Presbyterian, and Caroline Kohles, Marlene Meyerson JCC Manhattan Senior Director, Health + Wellness. There will be a discussion of how the brain and memory work, how the brain changes over time, and how to best maintain mental health. A Q&A will follow.
Farah Pandith talks about her high-level experience on the National Security Council, State Department, and Homeland Security Advisory Council and the better strategies we need, as laid out in her book How We Win: How Cutting-Edge Entrepreneurs, Political Visionaries, Enlightened Business Leaders, and Social Media Mavens Can Defeat the Extremist Threat. National September 11 Memorial & Museum.
Wednesday, March 13
Contra end of history narratives, society's elements of darkness seems to persist. Professor of Philosophy Richard J. Bernstein presents his new book on Hannah Arendt, in which he argues for the continuing relevance of her thought, including the construction of "a concept of politics and public freedom that serves as a critical standard for judging what is wrong with politics today." A screening of the documentary film Vita Activa: The Spirit of Hannah Arendt will follow. The New School.
Cloud storage, data mining, and social media sharing all chip away at the privacy rights that most of us take for granted. Bernard E. Harcourt of the Columbia Center for Contemporary Critical Thought joins Lecturer in Digital Economy Asma Mhalla to examine the disconnect. Albertine. 
Defend our natural resources at this talk on the grassroots resistance movements against the Dakota Access Pipeline and other projects that threaten natural land and indigenous lives. Queensborough Community College.
Thursday, March 14
Zoran Josipovic, PhD is the principal science investigator at the Nonduality Institute, with an expertise in the consciousness resulting from contemplative practice. He'll speak on Self or Non-Self?, considering "what exactly happens in the human brain while performing different types of spiritual practices and why authentic subjectivity and creativity matter for our lives." Boticarios, East Village.
Keyboard Conversations® with internationally acclaimed pianist Jeffrey Siegel returns to Scandinavia House: The Nordic Center in America for performance, commentary, and a lively Q&A oriented around The Joyous Music of Beethoven.
Math professor Philip Ording talks about his new book on math, which takes its inspiration from the French writers' group Oulipo. 99 Variations on a Proof draws on Raymond Queneau's Exercises in Style (99 variations on a story) to explore math through fields as diverse as mysticism, architecture, history, culture, and philosophy. Book Culture.
The state of our democracy, how we spend time, and Confucian role ethics highlight our picks for the best smart things to do in NYC this weekend.

Friday, March 15
Warm up to this half-day summit on the New York City Panel on Climate Change's latest findings and their implications for NYC and other cities in the fight against climate change. New York Academy of Sciences.
Humanities Chair Professor at Peking University Roger T. Ames speaks at The New School on individualism, looking at the work of American philosopher John Dewey and the way it "resonates with Confucian role ethics."
Saturday, March 16
Invest in this walking tour covering the history of Wall Street. Museum of American Finance.
The New York Public Library for the Performing Arts hosts a performance-collage commemorating the meeting over a century ago between Indian poet Rabindranath Tagore and his Irish counterpart W. B. Yeats.  Yeats' one-act The Only Jealousy of Emer, will be read, joined by live music, dance, and the premiere of a new American stage-recital of Tagore's dramatic-poem of Indian mythology, Chitra.
Sunday, March 17
Veteran TV journalist Greenfield joins high-profile Trump correspondents Maggie Haberman and Alexander Burns for an annual assessment of the state of our democracy. On a less depressing note, they'll also look to the way forward. 92nd Street Y.
Still from Solace by Tchaiko Omawale, cinematography by Bruce Francis Cole.Put the focus on Black women at the Black Women's Film Conference, an inaugural conference exploring the current landscape of Black women's cinema through screenings, talkbacks, and roundtable discussions. MoMA PS1.
Economist Daniel S. Hamermesh, the leading authority on time use, comes to Bluestockings to talk about his just-released book Spending Time: The Most Valuable Resource. In addition to exploring the differences in time usage across countries, cultures, and genders, he'll explain how Americans came to work more than other rich nations starting in the Reagan years, male and female well-being and how it's impacted by doing different things at different times of day, and who is rushed and why.
MM
Monday, March 18. Bourée your way to Symphony Space for the Valentina Kozlova International Ballet Competition, as over 100 ballet dancers from around the world compete for scholarships and company placements to become tomorrow's ballet stars.
Tuesday, March 19. Enter the world of high-def seances as Film Noir Cinema hosts a multimedia evening of magic, tech, and Peter Bebergal's Strange Frequencies: The Extraordinary Story of the Technological Quest for the Supernatural.
Wednesday, March 20. Say "yeah yeah yeah" to this TimesTalks conversation between Yeah Yeah Yeahs frontwoman Karen O and music producer Danger Mouse. Florence Gould Hall.
Thursday, March 21. You won't need magic to attend this True Crime Festival talk with Damien Echols, a ceremonial magician who spent 18 years on death row for a crime he didn't commit.
Friday, March 22. Play in the Key of Dreams at the US premiere of Bohuslav Martinů's Czech opera Julietta. Carnegie Hall.
Saturday, March 23. Investigate the wildly popular podcast Serial at this talk with creators Sarah Koenig and Julie Snyder. The Town Hall. 

Sunday, March 24. Say "bonjour" to French screen and stage actress Isabelle Huppert at this screening of I Love Isabelle Huppert and conversation with the famed performer. Florence Gould Hall.
Monday, March 25. Find sanctuary at this talk with Palestinian American Muslim racial justice and civil rights activist Linda Sarsour on migration, refugees, and the politics of sanctuary. NYU Skirball Center.
Tuesday, March 26. Feel safe—or realize why you shouldn't—at this conversation with former Secretary of the Department of Homeland Security Janet Napolitano on the Homeland Security department and her book How Safe Are We?: Homeland Security Since 9/11 (she's at the NYPL with Joe Biden on the 25th). National September 11 Memorial and Museum.
Wednesday, March 27. Clear your space—and, by extension, your mind—by attending this talk with Buddhist monk Shoukei Matsumoto on how cleaning can be a contemplative task that leads to inner peace. Japan Society.
Thursday, March 28. Calculate how to attend this talk with poet and philosopher Emily Grosholz on the intersection of poetry and mathematics. Poets House.
Friday, March 29. Love yourself enough to attend this talk on the philosophy of "self-love" and how it can evolve into narcissism. The Strand.

Saturday, March 30. Look up at this walking tour of Sunnyside's beautiful Art Deco architecture.
Sunday, March 31. Discover another "Tinseltown" across the East River at this talk on the history of the motion picture in Queens. Queens Historical Society.
mm