What's Happening November 2019
CityGuideNY – The Best Things to Do in NYC in November
Grub Street (NY Magazine) – What to Eat and Drink in NYC This November
ThoughtGallery / Smart Stuff – The November Calendar: Events for Each Day This Month
MORE COMING SOON
Loving New York.com – Things To Do in New York in November
TimeOut.com – The best NYC events in November 2019
Lincoln Center – Lincoln Center FREE November
These sites have been selected because they all do a first rate job publishing NYCity event info. I hope you will click on their hot links to see what else they have to offer.
==============================================
On 07 October 2019 by City Guide News Desk
If you're looking for things to do in New York City in November, we've got the inside scoop on the best exhibits, sightseeing, fun for kids, concerts, nightlife, and more, as NYC gets ready for all the holiday and winter excitement. We're especially looking forward to the return of ice skating, the Rockettes, holiday markets, the 2019 TCS New York City Marathon, and, of course, the Macy's Thanksgiving Day Parade.
ICE SKATING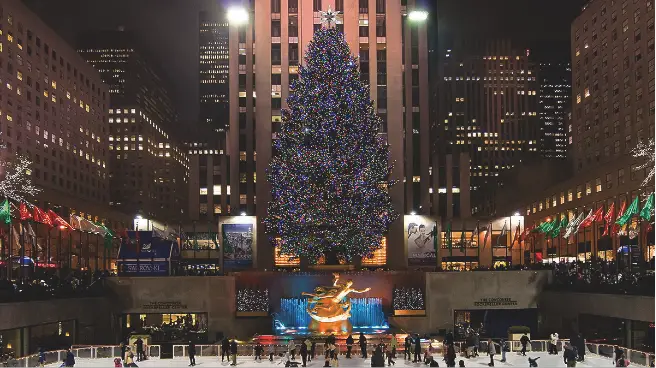 (Opened 10/12) The iconic Rockefeller Center Ice Skating Rink opens for the winter season. For information on reservations, skate lessons, or season passes, call 212-332-7654 or visit therinkatrockcenter.com. VIP packages are available. For more information on Rockefeller Center, visit rockefellercenter.com.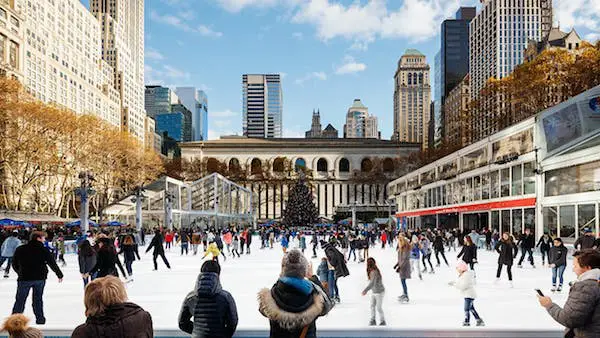 Colin Miller.
(10/31-1/5/20)Bryant Park's Winter Villagereturns. Ice skating, shopping, hot chocolate and other tasty treats, and more!
PLUS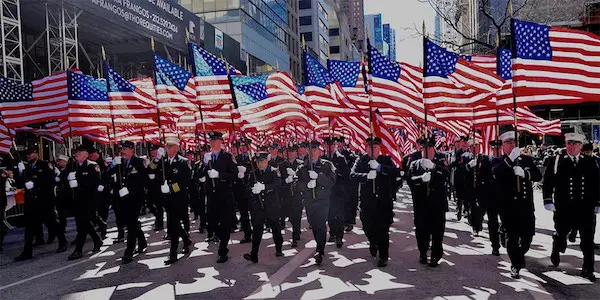 (11/11) The annual New York City Veterans Day Parade takes place along Fifth Avenue, rain or shine. It's the largest one in the nation. The parade proceeds north on Fifth Avenue from 26th to 52nd Sts., from 11:15am to approximately 3:30pm.
THE TCS NEW YORK CITY MARATHON

(11/3) When November hits, the city's thoughts turn to pounding pavement and the excitement of the TCS New York City Marathon. Some 50,000 runners from 125 countries will be cheered on by millions across all five boroughs of the city.
(10/31-11/2)TCS New York City Marathon Expo Presented by New Balance. The largest running exhibition in the U.S., and one of the top 10 health and fitness expos in the world. Join race participants, health enthusiasts, and runners as they prepare for race day, shop fitness products, and experience the excitement. Free and open to the public at the Jacob K. Javits Convention Center.

If you're looking to do some carb loading before or after a jog (or a marathon), don't miss the pasta pros at New York's favorite Italian restaurants. In Midtown West our go-tos are Buca di Beppo, La Masseria and its new sister spot Masseria dei Vini, and Patsy's Italian Restaurant. For a quick pick-me-up in midtown, the Zibetto Espresso Bars have desserts and coffees as only the Italians can do it. Over in Midtown East, you'll find us at Allora Ristorante, or Obicà Mozzarella Bar, Pizza e Cucina down in the Flatiron. Further downtown, Villa Mosconi and Monte's have been Village favorites for decades. On narrow, ancient streets downtown you'll also find one of the most vibrant places in Manhattan: Little Italy. For decades now, bold-face names and hungry New Yorkers have come here for pizza, pasta, and the best cannoli in the city. Our recommendations include family-owned classic Il Cortile. When you're ready for a sweet ending to your Little Italy adventures, Caffé Palermo is your destination. Baby John "The Cannoli King" serves up cannolis that keep to that perfect balance between sweet cream and satisfying crunch, making these the best in the city. And you don't have to be in training for a marathon to enjoy them.
EXHIBITS

(11/23-1/26/20) The Holiday Train Show at New York Botanical Garden. Enchanting model trains zip through a display of 150 landmarks, each re-created with bark, leaves, and other natural materials—all under the twinkling glow of the Enid A. Haupt Conservatory. Marvel at G-scale locomotives humming along among familiar sights such as the Brooklyn Bridge, Statue of Liberty, and Rockefeller Center on nearly a half-mile of track.
PLUS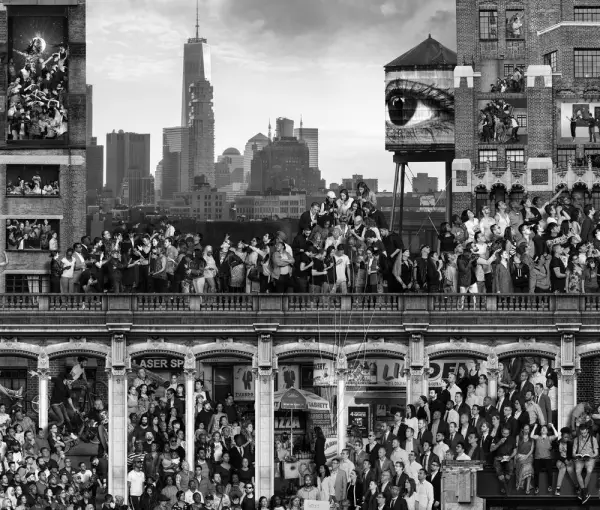 JR (French, born 1983). The Chronicles of New York City, 2018–19 (detail). Dimensions variable. © JR-ART.NET.
(Through 5/3/2020) JR is a consummate 21st-century artist. As a young man, he began taking pictures of his fellow street-artist friends and posting them around his native France. Later, his photography projects expanded in scope and deepened in tone without losing their populist flair. Now, this celebrated artist will receive the first major North American retrospective of his work, JR: Chronicles at the Brooklyn Museum. The exhibition, named after the artist's new mural of New York City, debuted in October. The mural itself, The Chronicles of New York City, portrays over one thousand New Yorkers that the artist interviewed and photographed in summer of 2018. It will be displayed in the Great Hall of the museum.brooklynmuseum.org
PLUS
(Now-1/5/20) Experience the past, present, and future of fashion all at once at the Brooklyn Museum this November. Pierre Cardin: Future Fashioncelebrates the French designer who embodied the Space Age and futuristic concepts in his designs. A living legend at 97, this is the first retrospective of Cardin's work hosted in New York for 40 years. It holds over 170 objects, dynamically displayed, collected from the Pierre Cardin archive, including recent work that feels every bit as vital as Cardin's historic designs. The show also shows how Cardin designed outside the realm of fashion, crafting "couture furniture," lighting, and even cars. Don't miss the fashion that literally lights up, arranged in the exhibit's back room. brooklynmuseum.org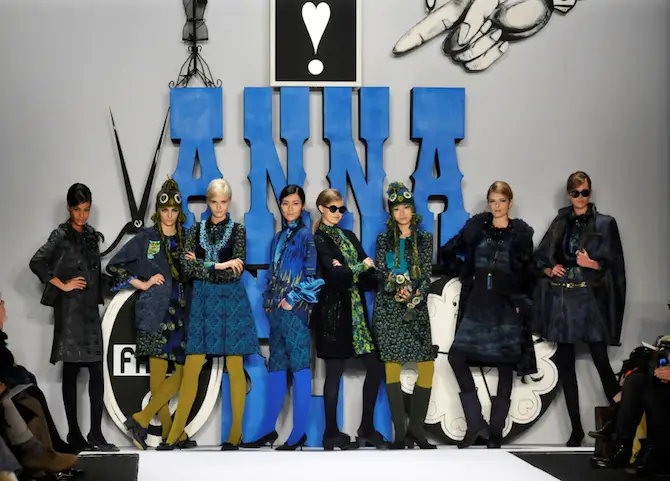 Photograph by Thomas Lau, courtesy of Anna Sui.
(Now-2/23/2020) The World of Anna Sui celebrates one of the country's top designers at the Museum of Arts and Design . The 75 fashion looks on display in this exhibition will showcase Anna Sui's decades-long career, beginning with the groundbreaking fashion show in 1991 that introduced the world to her one-of-a-kind eclectic aesthetic.


(Now-1/5/20) Verdi: Creating Otello and Falstaff—Highlights from the Ricordi Archive at the Morgan Library & Museum. After Aida in 1871, except for occasional projects, Giuseppe Verdi (1813–1901), Italy's pre-eminent composer, retired from opera at the age of 58. This, however, did not prevent constant pleas from his publisher, Giulio Ricordi (1840–1912), and his future librettist, Arrigo Boito (1842–1918), for the maestro to return to the operatic stage. Reluctantly coaxed out of retirement, Verdi composed what would become the crowning achievements of his career: Otello, premiered in 1887 and Falstaff, in 1893. This exhibition, based on The Enterprise of Opera–Verdi, Boito, Ricordi created by Bertelsmann/Ricordi and curated by Gabriele Dotto is the first in the United States to present rare documents and artifacts from Milan's Ricordi Archive and will offer visitors insight into the production of these two operas as well as the complex enterprise of bringing an opera to life. Set designs, costumes from Milan's Teatro alla Scala, autograph manuscripts, contracts, publications, publicity, video excerpts from recent productions, and other objects in many media will permit visitors to experience the tremendous collaborative efforts behind an operatic production.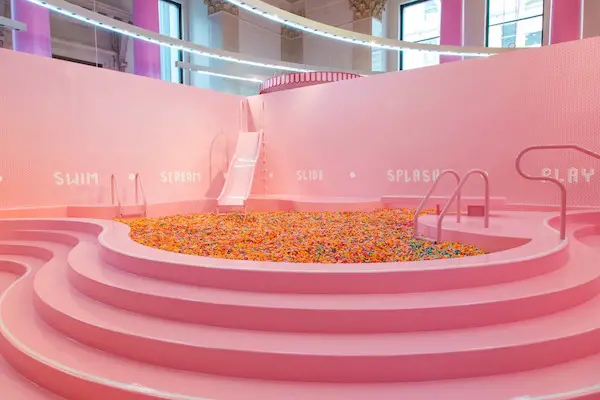 The popular pop-up the Museum of Ice Cream returns. Tickets start at $39.
(Through 1/5/20) Implicit Tensions: Mapplethorpe Now at The Solomon R. Guggenheim Museum. Robert Mapplethorpe, one of the most critically acclaimed and controversial American artists of the late 20th century, is represented in great depth in the Guggenheim's collection. In 1993 the museum received a generous gift of approximately two hundred photographs and unique objects from the Robert Mapplethorpe Foundation, creating one of the most comprehensive public repositories in the world of this important artist's work. In 2019, 30 years after the artist's death, the Guggenheim will celebrate the sustained legacy of his work with a yearlong exhibition in two sequential parts in the museum's Mapplethorpe Gallery on Tower Level 4.
(Now-1/3/20) The most significant site of the Holocaust, Auschwitz was not a single entity, but a complex of 48 concentration, forced labor, and extermination camps, at which 1 million Jews—and tens of thousands of others—were murdered. Auschwitz. Not long ago. Not far away., a new exhibition at the Museum of Jewish Heritage—A Living Memorial to the Holocaust, explores the legacy of history's deadliest mass murder site. More than 700 original objects and 400 photographs are on display, many for the first time in North America. Among the artifacts: personal possessions, fragments of a barrack, a gas mask used by the SS, and an original German-made Model 2 freight wagon used for the deportation of Jews to the ghettos and extermination camps in occupied Poland.
(Ongoing) Faith and Empire at the Rubin Museum. Religion has influenced and empowered countless political leaders throughout history, and Tibetan Buddhism is no exception. "Faith and Empire: Art and Politics in Tibetan Buddhism"is the first exhibition of its kind to explore Tibetan Buddhism'sdynamic political role in the empires of Asia from the 7th to the early 20th century. Artwork highlights include a set of 8th-century gilt-silver drinking vessels from the Tibetan Empire; an early 13th-century wrathful icon made of silk and ornamented with tiny seed pearls; a 4 ½-foot-tall 680-pound gilt-bronze bodhisattva from the early 15th-century Ming court; and a 19th-century 8-feet-wide Mongolian depiction of the final battle against the heretics and nonbelievers. The exhibition is arranged chronologically, beginning with the Tibetan Empire in the 7th century, and includes sections on the Tangut kingdom of Xixia, the Mongol Empire, the Chinese Ming dynasty, the rule of the Dalai Lamas, and the Manchu Qing dynasty.
(Permanent)The Jim Henson Exhibitionat the Museum of the Moving Image celebrates the life and legacy of the famed Muppet creator, exploring both his prolific career and the enduring effect his work has on pop culture to this day. Visitors can expect to learn more about the creation of such beloved works as The Muppet Show, Sesame Street, Fraggle Rock, The Dark Crystal, and Labryinth, as well as to discover the cutting-edge experimental works Henson made throughout his career.
(Permanent) 
The Museum of the City of New York
 presents
NY at Its Core
.
 Ten years in the making, 
New York at Its Core
 presents the compelling story of New York's rise from a striving Dutch village to today's "Capital of the World." The exhibition captures the human energy that drove New York to become a city like no other and a subject of fascination the world over. Entertaining, inspiring, important, and at times bemusing, New York City "big personalities," including Alexander Hamilton, Walt Whitman, Boss Tweed, Emma Goldman, JP Morgan, Fiorello La Guardia, Jane Jacobs, Jay-Z, and dozens more, parade through the exhibition
.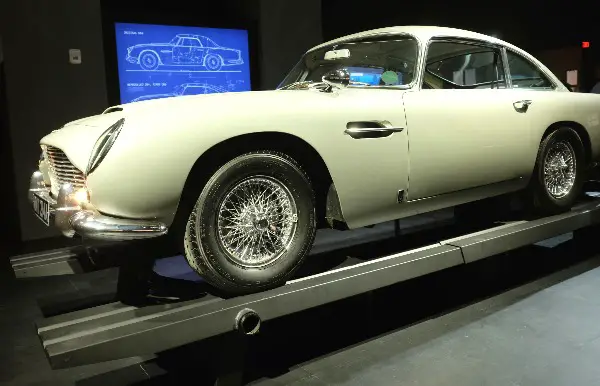 (Ongoing) You can experience the world of history's most famous spy at Driven: 007 x SPYSCAPE, a new exhibition inside New York's spy museum, SPYSCAPE. This immersive exhibition brings you into the Bond universe with sets, props, and insights about the creation of the ageless secret agent. Among the highlights: an Aston Martin DB5, the lab of Quartermaster (or Q), M16's gadget master, concept art from Oscar-winning production designer Sir Ken Adams, and an exploration of 2012 Bond film Skyfall's unforgettable final scene.
COMEDY
(11/4-11/10) Now in its 16th year, the New York Comedy Festival features a star-spangled lineup of comedians, 100+ shows throughout all five boroughs, including Trevor Noah, Jenny Slate, Norm MacDonald, Tom Segura, Stephen Colbert, Nicole Byer, Vir Das, Kevin Smith & Jason Mewes, Nick Kroll, Randy Rainbow, Bill Maher, and more. nycomedyfestival.com
PLUS 
(11/1-11/2)Rachel Feinstein at Gotham Comedy Club.
(11/3) Nick Offerman at the Beacon Theatre.
(11/8) Demetri Martin: Wandering Mind Tour at the Beacon Theatre.
(11/8) Larry Owens & Friends at The Bell House.
(11/13) Upright Citizens Brigade:The George Lucas Talk Showat Intrepid Sea, Air, & Space Museum. Join Star Wars creator George Lucas, performed by comedian Connor Ratliff, as he interviews special guest NASA's Steve Howell, Kepler exoplanet researcher and astrophysicist, and primatologist andcomedian Natalia Reagan . Find out how the Star Wars universe can be strikingly similar to our own. Yes…there is a Tatooine! Space Shuttle Pavilion. Ages 21+. Beer and wine for purchase. Tickets are $15 for general admission and $10 for Museum members.
(11/21) Michelle Buteau Live at Union Hall.
(11/21-11/22) Jerry Seinfeldat the Beacon Theatre.
(11/22-11/23) Francis Ellis at Gotham Comedy Club.
(11/29-11/30) Chris Distefano at Gotham Comedy Club.
KIDS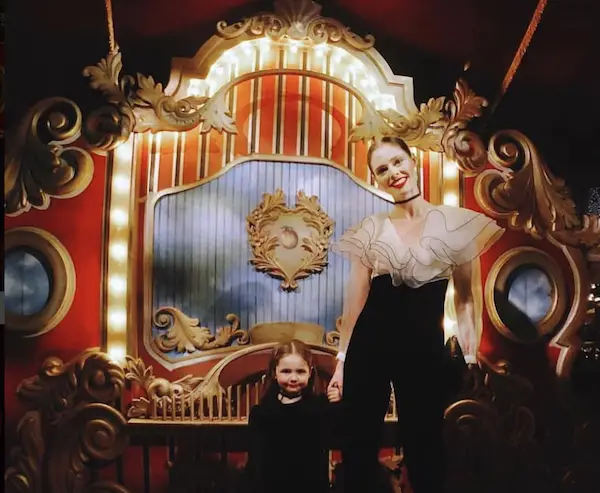 (10/12-2/2/20) Big Apple Circus at Lincoln Center's Damrosch Park is back, and while it's still appealing for kids, it's gotten a makeover, making a concerted effort to appeal to young and old alike, with a selection of high end cocktails now on sale, a VIP tent, new performers, and more. bigapplecircus.com
PLUS
(11/15-11/17)Disney on Ice Presents Road Trip Adventuresat Barclays Center. Exciting twists and turns await as Mickey, Minnie, Goofy—and you—embark on a wild ride to your favorite Disney destinations.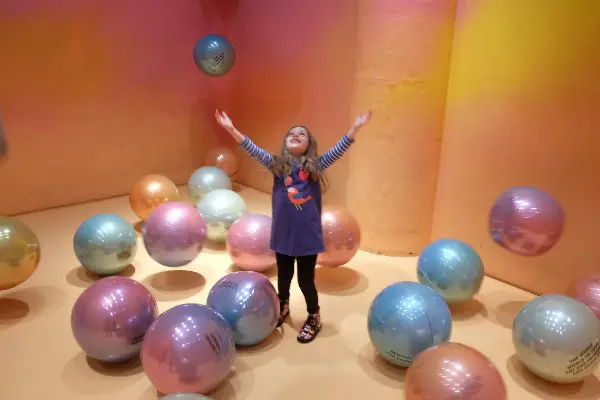 (Now-Nov. 30) Just extended! Color Factory, a massive interactive art space, began in August 2017 in San Francisco. Wildly popular, the project has set up shop in SoHo and is sure to inspire lines as long as the cronut did at nearby Dominique Ansel Bakery. Designed by a wide spectrum of artists, Color Factory walks visitors through 16 rooms devoted to the wonder of color. You're invited to compliment someone using color words, discover your signature color, and read wishes for the world written by NYC school children on varicolored balloons. Each room is equipped with a camera that can take a picture of you and send it to your phone: the better to post with!  251 Spring St., support@colorfactory.co,colorfactory.co, @colorfactoryco
(Ongoing) "Here Be Dragons," a new interactive scavenger hunt in the American Museum of Natural History offered by Fable & Lark: Storied Adventures, draws from the menageries of creatures in both Fantastic Beasts and Fantastic Beasts: Crimes of Grindelwald. Participants will explore galleries throughout the museum as they answer questions, solve clues, engage in creative activities, and track down the origins of some of the creatures from both the Fantastic Beasts stories as well as other classic myths and tales. Grab your nifflers and join! Advance registration required. fableandlark.com
Updated! Read about more Instagrammable pop-up exhibits in NYC here.
(Ongoing) Exhilarating Family Fun at Stomp NYC. Special discount packages available!
For more kids activities, check out our sister sitenymetroparents.com!
FOOD, MUSIC & NIGHTLIFE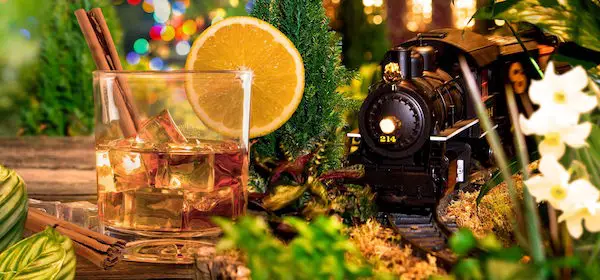 (11/23, 11/29, 11/30; 12/7, 12/14, 12/20, 12/21, 12/27, 12/28; 1/3, 1/4, 1/11, 1/18) Bar Car Nights at New York Botanical Garden. On these nights exclusively for adults 21 and over, the wintry landscape of NYBG sets the scene for festive outdoor adventures, with an after-dark viewing of the Holiday Train Show® as the centerpiece. Sip a cocktail as you journey through a series of station stops, including pop-up acts featuring some of NYC's favorite street performers.
PLUS 
(10/19-11/24) Now in its tenth year, the Lincoln Center White Light Festival brings together extraordinary global performers for a five-week celebration.lincolncenter.org/white-light-festival.
(11/1-11/30) Throughout November, Ripley's Believe It or Not Times Square is having a Food Drive for the Food Bank for New York City. Donate at least ONE non-perishable and receive $10 off admission. (Not valid for Ripley's Relic.)
(11/1)Blues Traveler at the Beacon Theatre.
(11/2) Marc Anthony at Barclays Center.
(11/2) New York Irish Whiskey Festival at Pier A Harbor House. In partnership with world-class Irish Whiskey experts, Sean Muldoon and Jack McGarry of The Dead Rabbit, guests can expect to taste and experience over 25 Irish Whiskeys, delicious bites, and live entertainment. Session 1 – Afternoon 1:00pm – 4:00pm. Session 2 – Evening 5:30pm – 9:00pm
(11/5) Discover Grand Central Terminal Station Food Tours.
(11/4, 11/6) Clairo at Brooklyn Steel (with beabadoobee, Hello Yello).
(11/7) The New Pornographers at Brooklyn Steel  (with Lady Lamb).
(11/7) Prateek Kuhad at The Music Hall of Williamsburg.
(11/7)Marshall Tucker Band at the Beacon Theatre.
(11/9) Slayer, Primus, Ministry, & Philp H. Anselmo at Madison Square Garden.
(11/12)Ariana Grande: World Sweetner Tour at Barclays Center, with special guest Social House.
(11/13) Charlie Daniels Band at the Beacon Theatre.
(11/14)Karen O. & Danger Mouse perform music from Lux Prima at Kings Theatre. (Tickets go on sale 10/16, 10/18.)
(11/14-11/17)We Will Rock You-The Musical on Tour at Hulu Theater.
(11/14-11/16) Joe Bonamassa at the Beacon Theatre.
(11/15) Billy Joel at Madison Square Garden.
(11/20-11/21) FKA twigs-Magdalene at Kings Theatre.
(11/21-11/23)Angel Olson with Vagabon at Brooklyn Steel. 
(11/23)Gladys Knight with special guest Will Downing at Kings Theatre.
(11/23-12/6)Bob Dylanand His Band at the Beacon Theatre.
SIGHTSEEING/HOLIDAY MARKETS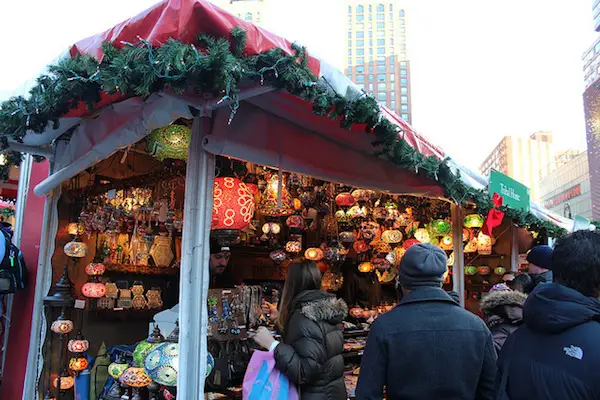 Union Square Market. Photo: flickr/Shinya Suzuki.
(11/21-12/24) Union Square's Holiday Market. urbanspacenyc.com
(11/18-12/24) The Grand Central Holiday Fair returns to Grand Central Terminal with 40+ artisans in Vanderbilt Hall selling art and home goods; holiday-themed items; bath and body products; toys; and clothing and accessories for men, women, and children. The Holiday Fair is open Monday through Friday, 10am-8pm, until 7pm Saturdays, and 11am-6pm Sundays. Closed Thanksgiving and open 10am-6pm on Christmas Eve.
(Ongoing) A Slice of Brooklyn's Brooklyn Chocolate Tour visits artisanal chocolate sites Jacques Torres Chocolate in DUMBO, The Chocolate Room in Cobble Hill, Raaka in Red Hook, and Li-Lac Chocolates in Industry City, Sunset Park. Offered every Monday, Wednesday, Friday. All tours depart and return to Union Square.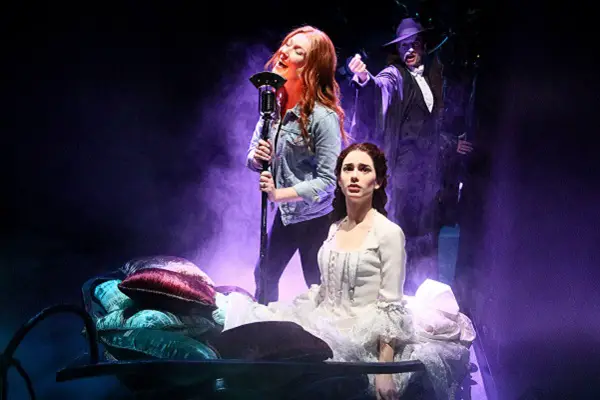 (New!) Madame Tussauds New York Presents Broadway. Take a magical journey starting with a cocktail at the Broadway Bar, and then traveling through a kaleidoscope of your favorite musicals.  Enter the world of Andrew Lloyd Webber's Phantom of the Opera, Joseph and the Amazing Technicolor Dreamcoat, Evita, Sunset Boulevard, and Cats. You can sing "Memory" with Grizabella the "Glamour Cat" and wear the Dreamcoat yourself as you become a Broadway star. The Phantom of the Opera will also guide you through this dazzling backstage experience, and perhaps do a little singing himself along the way. Live actors will be on hand to enhance the rush both on- and offstage.
(11/21-1/5) Bronx Zoo Holiday Lights . Highlights will include The Ice Jubilee (Ice Bar, Ice Throne & Ice Slide (December 21 to 31) , nightly ice carving demonstrations , an Ice Carving Competition (December 28) , carolers, characters, train rides & lantern safari, and more.
(Ongoing) Get the full stadium experience with Yankee Stadium Tours, which offers exclusive access to New York Yankee historic spots like Monument Park, The Great Hall, and even down to the dugout. The daily tours also bring you close to baseball artifacts like Babe Ruth's bat, Lou Gehrig's jersey, and rings and trophies representing the Yankees' 27 world championships. Here is a $5 off coupon!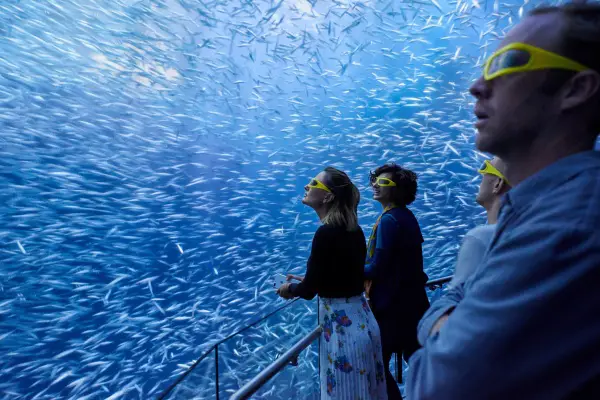 Immerse yourself in the deep, dark depths of the ocean, where Humboldt squid fight to the death and 50-foot whales ride overhead. Play with virtual sea lions, navigate a kelp maze, and more at National Geographic Encounter: Ocean Odyssey! Here's a $10 off coupon!
(Ongoing) Part show. Part tour. All entertainment. THE RIDE is a one-of-a-kind experience that turns the streets of New York into a stage. Journey through Times Square and midtown Manhattan as the city's landmarks unfold before your very eyes. THE RIDE's theatres-on-wheels also tour lower Manhattan, with THE DOWNTOWN EXPERIENCE Powered by THE RIDE, which lets visitors re-live iconic moments in New York history through the magic of TimeLooper Virtual Reality Headsets. Use our coupon and save $10 off!*The RIDE HOLIDAY EDITION, runs 11/14-1/5/20. 
MACY'S THANKSGIVING PARADE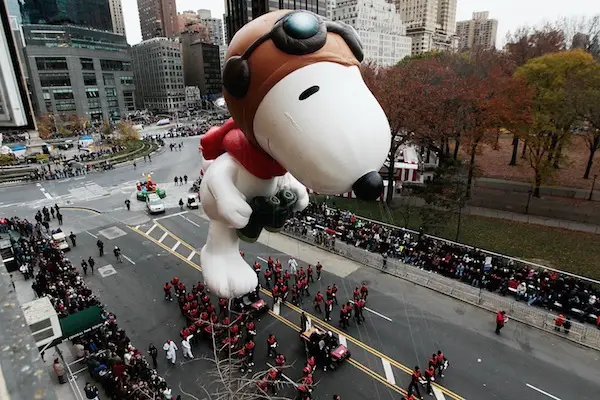 (11/28) The Macy's Thanksgiving Parade is a longstanding New York City tradition, responsible for unofficially kicking off the holiday season. Dating back to 1924, the parade sees generations of families—locals and visitors alike—lining up to see floats, live entertainment, iconic hot air balloons (Snoopy, Hello Kitty, Spiderman, and many others), plus a glimpse of Santa on his sleigh at the end. The parade gained popularity after being prominently featured in the film classic Miracle on 34th Street, starring a very young Natalie Wood. The parade route runs down Central Park West from 77th Street to Columbus Circle, along Central Park South to Sixth Avenue, down Sixth Avenue to 34th Street and along 34th Street to Macy's Herald Square. Line up early! Starts 9am. Check here for performers and more information on the parade.
(11/30-12/1) A Pentatonix Christmas Tour at Hulu Theater.
SHOWS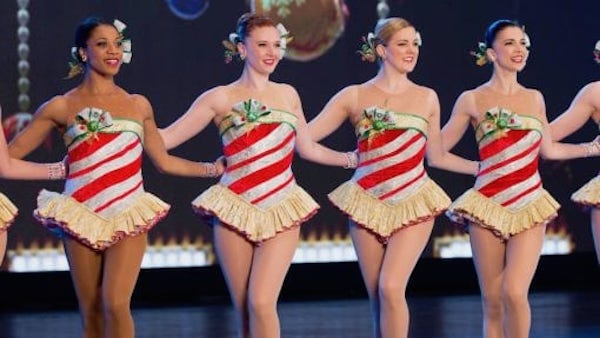 (11/8-1/5/20) Christmas Spectacular Starring the Radio City Rockettes® returns to dazzle for another holiday season! The 90-minute show features more than 140 performers and an original musical score and combines singing, dancing, and humor with traditional scenes.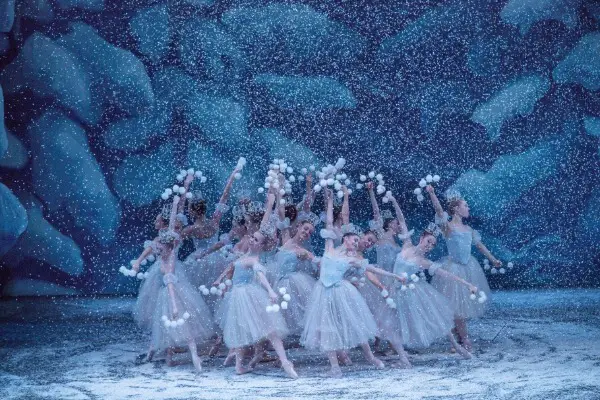 Photo credit: © Paul Kolnik
(11/28-1/5 ) Tschaikovsky's beloved melodies transport viewers to a world where mischievous mice besiege a battalion of toy soldiers, and an onstage blizzard leads to an enchanted Land of Sweets. George Balanchine's The Nutcracker at nycballet.com.
WEATHER IN NEW YORK IN NOVEMBER
Winter has not officially arrived in New York in November, but you can expect the weather to be brisk all the same. Lows average around 40 degrees Fahrenheit, with highs getting up into the mid-50s. You can expect some outlier days, warmer or colder, but extremes of weather (snow, sleet, freezing rain) are definitely rare. Hurricane season in the Atlantic continues through the month of November, but occurrences of heavy winds and flooding are also very rare. You will want your heavier jacket, but not the heaviest parkas yet. Gloves, hats, and scarves are smart to pack, and maybe a (stylish) pair of boots, too.
======================================================
Maison Yaki's tempura onion "rings."
Photo: Mark Abramson
Every month in New York, there are a bewildering number of new dishes to eat, drinks to imbibe, and food-themed events to attend. Often, the hardest part is just figuring out what's really worth your limited time. So Grub Street kicks off each month with a curated selection of dishes, drinks, and events that should absolutely be on your agenda. Make your plans now.
1. Have bacon bread for brunch at Crown Shy.
On Saturday, Crown Shy will make its official entrance into New York's ever expanding brunch bracket. On weekends from 11:30 a.m. to 2 p.m., the Financial District restaurant will carry some dishes from its weekday lunch, menu like the short-rib sandwich, but also introduce some new ones for the weekend crowd. Renata Ameni's desserts star at dinner, so you'll want to pay attention to her sweet and savory breads: a cinnamon bun ($8) with cream cheese, maple doughnut ($6), banana bread with crème fraîche ($6), and honey-glazed bacon bread ($6) with ricotta. Get all those for the table, and one of the chef James Kent's dishes to hog — maybe the biscuit with sausage gravy ($23), or a chicken sandwich ($21). The latter is made with the same citrus-marinated chicken from dinner, on house focaccia with cilantro, fermented-chili hot sauce, jalapeño, radish, and romaine.
2. Check out the new menu from the new chef at LaLou.
The Prospect Heights wine bar LaLou has been busy since it opened over the summer, thanks in no small part to items like its really stellar fried olives. But its opening chef, Ashley Rath, left not too long ago, and now there's a new menu courtesy of her successor, Jay Wolman. He's worked at some of this city's most buzzy (and wine-soaked) restaurants, namely Hart's, King, Marlow & Sons, and Reynard under Christina Lecki. The dishes are all different, but in similar spirit: French breakfast radishes with anchovy butter ($11), mackerel ($21) with grape leaf and aioli, and steak ($30) with horseradish cream and watercress.
3. Indulge your late-ish night cravings at Maison Yaki.
Grub has good news for all you hangry night owls: You can now go to Maison Yaki for all your midnight Monte Cristo sandwich ($12) needs. The Prospect Heights restaurant from Greg Baxtrom has launched a late-night menu (Wednesdays through Saturdays, 10 p.m. to midnight) tailored to all your four-martinis-in needs: tempura onion "rings" ($8) with spicy rouille, fried chicken karaage ($12) with tonkatsu sauce, a wagyu burger ($12) with miso mayo, and grilled king trump mushrooms ($11) with shiso chimichurri.
4. Snack on schmaltz popcorn at a night of stories from the Jewish Food Society.
For its latest Schmaltzy event, the Jewish Food Society is teaming up with the 14th Street Y's Nasty Women comedy series. On November 18 (doors open at 7 p.m. and the show starts at 7:30 p.m.). Hosted by the comic Judy Gold, it's a night of stories and food from chef and stand-up comic Einat Admony, baker Umber Ahmad, writer Jordana Rothman, Gefilteria's Liz Alpern, and activist Hariette Skidelsky. To eat and drink, there'll be matzo ball soup, gefilte fish, lamb pulao, s'mores, kubaneh, wine, and a cocktail from Alpern. Tickets on the Y's website have sold out, but the Jewish Food Society has held 20 seats. If you'd like to attend, you can reach out via email to hi@jewishfoodsociety.org. Tickets are $65, and there will be schmaltz-infused popcorn.
5. Attend a barbecue fundraiser for the late chef Carl Ruiz.
The chef Carl Ruiz suddenly passed away last month at the age of 44. In his honor, the Gowanus barbecue restaurant Pig Beach will host a fundraiser on November $16 (tickets are $75 for general admission, $150 for VIP, and $250 for "ultimate" access) that will launch the #ruizingforacause Foundation. The foundation will raise money for the Alzheimer's Foundation and for scholarships to ICE. From noon to 5 p.m., Pig Beach will host an all-star lineup of chefs and pitmasters from around the country. There'll be chicken with Alabama white sauce from Big Bob Gibson's Chris Lilly, brisket tacos from Hometown's Billy Durney, empanadas from Leia Marie Gaccione, and much more.
6. Have a drink at Win Son Bakery, where they're finally serving cocktails.
Win Son Bakery has been reportedly packed during weekends, with lines of people drawn by the inventive pastries and stand-out breakfast sandwiches. Now it's sure to get busier at night: the café and restaurant has finally started serving adult beverages. The drinks menu was put together by partner Jesse Shapell, and they're serving Taiwan beer and local suds from the likes of Threes Brewing, natural wine by the glass and on draft, and cocktails (all $12) from Shapell. Baijiu will be big. "We'd love to be a place for this," partner Joshua Ku says of the spirit, which they're using in the frozen Runaway Horse made with black-cherry liqueur, a peppery syrup made from prickly ash, and lime. Other drinks include the Win Star No. 1, with bourbon and High Wire Southern Amaro, and the Captain Fantasy, with reposado tequila, lime, chili, and cilantro.
7. Or go to Madame Vo BBQ's new happy hour.
The good people at Madame Vo BBQ want you to come have your after-work drinks with them. On Mondays through Thursday from 5:30 p.m. to 7:30 p.m., the East Village restaurant will now have a special menu, which it's calling a nhau happy hour. (It's named for and inspired by the Vietnamese style of drinking and snacking.) Along with $3 beers and $6 wines, they'll serve five new dishes all for $10: grilled beef skewers with lemongrass-coconut red curry, lemongrass sea snails, fried shrimp fritters with taro, fried and marinated tofu, and salt-toasted chicken wings.
8. Head to Greenpoint for dinner from an acclaimed Vietnamese restaurant from Chicago.
Two of the country's most exciting Vietnamese restaurants are joining forces: On November 4, Chicago's James Beard nominated HaiSous will pop up at Di An Di. The restaurant's chef, Thai Dan, and his team will serve a $65 prix-fixe, serving dishes like bo nuong toi, a grilled rib eye with lemongrass, lime leaves, and Thai chili; goi bach tuoc, an octopus salad with eggplant; and che dua, a whipped rice pudding. The owners plan for the dinner to be start of a new series on Mondays — when Di An Di is otherwise closed — for which they'll bring in fellow Vietnamese chefs to do dinners.
9. See what's up at the recently reopened, made-over Aquavit.
After quietly and temporarily closing over the summer, Aquavit reopens tonight with a new menu and look. The dining room was given a pretty much total makeover, and you'll now be able to eat bigger dishes like shrimp salad ($21) and Princess cake ($12) at the bar. There are three menus during dinner (three courses for $115; five courses for $155 and $225), and Emma Bengtsson is serving Norwegian king crab with leeks and green tomatoes, crescent duck with black currants and beets, and desserts like chocolate with lingonberries and salted caramel. On November 6, the restaurant will start its lunch menus: two courses for $65, three courses for $75, and five courses for $135.
10. Pop by the 92nd Street Y for its Food Summit or an event about the newest edition of the classic Joy of Cooking.
On November 9, the 92nd Street Y will host Smitten Kitchen's Deb Perelman, Little Tong Noodle Shop's Simone Tong, Thrillist executive food editor Nicole Taylor, and others for its Food Summit. (Tickets are $45.) Panels will cover topics including the future of meat, sourcing in the world of fast-casual chains, immigrant food in America today, and more. Fans of the Joy of Cooking will want to mark their calendars for November 12, when the Y will host the editors of the newest edition of the classic cookbook, John Becker and Megan Scott, for a conversation with Food & Wine editor Kat Kinsman. (Tickets are $29.)
11. Then go to a Greenpoint store for a couple cookbook events.
To celebrate her new book Food Artisans of Japan, Nancy Singleton Hachisu will pop by Greenpoint's Archestratus Books + Foods on November 15. (The event starts at 6:30 p.m. and tickets are $10 to $38.) Along with a conversation, Q&A, and book signing, they'll serve a Japanese-Italian kombu and salmon arancini and Kintoki jelly. The next week, on October 21, the store will have Munchies's culinary director Farideh Sadeghin for a chat with The New Yorker's Helen Rosner about the new book, MUNCHIES Guide to Dinner. (The event starts at 6:30 p.m. and tickets are $15 to $33.) That night, they'll serve onion dip with potato chips, pimento-cheese arancini, and "good for everything" chocolate cake.
=============================================
By Alison Durkee
The cooling temperatures and changing leaves mean that November is almost here—and while you may be getting excited for Thanksgiving feasts and the start of the holiday season, there's also plenty going on in the city to look forward to. Spend your month learning about everything from books to Batman with these upcoming talks and events.
Talks on the allure of battle, near death experiences, and the return of race science highlight our picks for the best smart things to do in NYC this weekend.

Friday, November 1
Barnes & Noble – Tribeca hosts author Mike Edison (Sympathy for the Drummer: Why Charlie Watts Matters), who explains the significance of the Stones and why Charlie Watts was so essential to their success.
The New York Military Affairs Symposium hosts a Friday night talk on The Allure of Battle: How Wars Are Won and Lost with author Cathal J. Nolan of Boston University. Soldiers', Sailors', Marines', Coast Guard and Airmens' Club.
Saturday, November 2
Join the Brooklyn Museum for a First Saturday celebration, this one "Crossing Asian America." In addition to music, comedians, and film, you can tour the newly reopened Arts of China galleries.
Robert and Suzanne Mays have studied the phenomena related to near-death experiences (NDEs) together for over 40 years. On Saturday, find them at Anthroposophy NYC giving two presentations on Exploring Near-death Experiences.
Persuasive Authority is a new Continuing Legal Education series from lawyer and comedian Charles Star at Caveat. The first lecture, Bonfire of the Agencies, provides a history of the Supreme Court's evolving rules regarding administrative agencies, from the New Deal to Chevron to "the probably-depressing future of today's conservative court."
A new pop-up in a 19th-century Village carriage house tells the lost history of the Jews of Rhodes. Inspired by the post-Shabbat tradition of the Havdalah, every Saturday night the installation "Los Corassones Avlan" will host music and poetry reading to greet the beginning of the new week. NYU (Other).
Sunday, November 3
Join political analyst Ralph Buultjens for an examination of current affairs in the Middle East, with insight into Iran and nukes, Israeli elections, Saudi prospects, and the Arab states and America. 92nd Street Y.
Head to Caveat to hear from science comedian Kyle Marian as she hosts The Symposium: Academic StandUp, this session featuring Angela Saini, author of Superior: The Return of Race Science.
The Y, the 9/11 Museum, and Columbia provide diverse takes on democracy versus extremism, heading up our picks for the best smart things to do in NYC this week.
Monday, November 4
Amid another month of terrible headlines, hear from the co-founders of the advocacy group Justice for Kurds (JFK). Intellectual rock star Bernard-Henri Lévy sits down with investor and environmentalist Thomas S. Kaplan to talk about global erosions of democratic freedoms, legacies of genocide, and just how real the slogan "never again" actually is. 92nd Street Y.
Eddie Stern's new book, One Simple Thing: A New Look at the Science of Yoga and How It Can Transform Your Life, draws on the latest neuroscience as well as ancient wisdom. He'll talk about his own long-time practice and how actions and attitudes change a life. New York Open Center.
Marooned buccaneer Alexander Selkirk (1686–1721) inspired the Robinson Crusoe story, but until 2005 little was known of the real history. Hear from Daisuke Takahashi, who discovered Selkirk's campsite, and has explored an Eastern castaway analogue, the "Japanese Robinson Crusoe." The Explorers Club.
Theoretical astrophysicist Dan Hooper presents his new book, At the Edge of Time: Exploring the Mysteries of Our Universe's First Seconds, which lays out what's known—and what remains mysterious—about the first instants after the Big Bang. A book signing follows. American Museum of Natural History.
Authors, political activist Lawrence Lessig, and NY gubernatorial candidate Zephyr Teachout come together to discuss ways to counter the special interest spending undermining American democracy. The New Republic editor Chris Lehmann provides the intro. Symphony Space.
Tuesday, November 5
Celebrate Election Day with a look at reasonable minds disagreeing. NYU professor Dr. Pascal Wallisch, an expert in cognitive and computational neuroscience, delves into illusions of perception. He'll explain why people experience the "objective" world in diverse ways and how disagreements can be resolved. Subject.
David Tessler, Public Policy Manager on the Dangerous Organization team at Facebook, and Joan Donovan, Director of the Technology and Social Change Research Project at the Harvard Kennedy School, discuss the challenges social media platforms face in countering online extremism. National September 11 Memorial & Museum.
In the United States, there is an active shooter incident every twelve days. The Paley Center for Media presents a preview of In Memoriam, an Investigation Discovery documentary that explores the emotional impact on the survivors of three recent mass shootings.
Wednesday, November 6
Culture's reflection in art is obvious enough, but diagnoses have played a role as well. Join Dr. Megan McGill and Know Science for a look at the science behind disorders like prosopagnosia, syphilis, and REM sleep disruptions, and the ways they have manifested in art and music.
Mongolian filmmaker Sarnai Tessitore presents her film Body in Motion: Exploring the Art of Contortion, which looks at a tradition that goes back at least to the 17th century, when it was entertainment in Mongolian royal courts. An intro and conversation bookend the screening. Rubin Museum of Art.
Thursday, November 7
As Facebook and Twitter diverge on truth in advertising, explore the meanings of free speech. Denis Lacorne (The Limits of Tolerance: Enlightenment Values and Religious Fanaticism) joins Bernard E. Harcourt (The Counterrevolution: How Our Government Went to War Against Its Own Citizens) to debate the limits of tolerance. They'll look at the ways digital threats to privacy have changed the terms of discourse, what to do about extremist voices, and what history can teach us. Columbia University.
Join philosophy professor and democracy theorist Robert B. Talisse as he talks "citizenship, moral disagreement, and political polarization" as outlined in his new book, Overdoing Democracy: Why We Must Put Politics in Its Place. Shakespeare & Co.
Talks on the contradictions of religion, the urgency of the climate crisis, and Trump as a cult leader highlight our picks for the best smart things to do in NYC this weekend.

Friday, November 8
"The Sleeping Beauty problem" is a simple enough decision theory puzzle involving a coin flip and some understanding of probability. Hear from Dartmouth professor and game expert Peter Winkler, who explains various camps' POV, and why the problem incites such passionate debate. "The Math Puzzle That Spawned 100 Philosophy Papers" at the Simons Foundation.
A weekend of climate talks at Albertine kicks off Friday night with Naomi Klein and Bill McKibben, joined by other experts and activists. They'll look at a summer of record heat, potential new wind and sun solutions, and questions of whether humanity can respond quickly enough to survive.
Skip the Whitney Museum and head to its original home instead with this tour of Gertrude Vanderbilt Whitney's studio, where the museum was first born. New York Studio School of Drawing, Painting and Sculpture.
A new pop-up in a 19th-century Village carriage house tells the lost history of the Jews of Rhodes. Friday afternoon join them for tea and Florentine scholar and musician Enrico Fink, who'll lead a session on the Jewish liturgy in the Mediterranean. NYU (Other).
Saturday, November 9
John Schaefer's annual White Light Conversation looks at the contradictions of religion, fading from some recent societies and increasing in fervor elsewhere. A composer, author, theoretical physicist, and Episcopal priest come together to discuss "the evolutionary pathways of religious belief." Lincoln Center for the Performing Arts.
Feel right at home at this workshop covering methods for conducting research into your house and its history. Brooklyn Historical Society.
Sunday, November 10
Cult and mind-control expert Steven Hassan (a one time "Moonie" himself) presents his new book, delving into Trump's cult-leader social psychology and indoctrination tactics. New York Society for Ethical Culture.
Or spend Sunday morning with One Day University and their presidential intensive. New York Institute of Technology will host three consecutive lectures looking at The American Presidency: Past, Present, and Future.
For the best talks and lectures in NYC this week we've got our sites set on three straight nights of neuroscientists plus appearances by Wendy Whelan, Nikki Haley, and Mary Gaitskill.
Monday, November 11
Stay on "pointe" at this conversation between New York City Ballet's new artistic directors, Jonathan Stafford and Wendy Whelan, and ballet dancer Edward Villella. Symphony Space.
Psychoanalyst Dr. Gail Saltz leads a noon-time "psychobiography" session on Adolph Hitler. Saltz's guest is history professor Dr. Benjamin Carter Hett. They'll talk about Hett's book The Death of Democracy: Hitler's Rise to Power and the Downfall of the Weimar Republic and the exploitation of populist insurgencies. 92nd Street Y.
Tuesday, November 12
Use your noodle to understand early brain development and how it impacts later life with neuroscientist Nim Tottenham and the Secret Science Club. The Bell House.
The quote "Capitalism has generated massive wealth for some, but it's devastated the planet and has failed to improve human well-being at scale" comes from, of all places, Forbes. Skepticism about capitalism seems to be growing, as does the intensity of anti-socialist viewpoints. Join Intelligence Squared for a debate on the proposition Capitalism Is a Blessing. John Mackey, Co-Founder & CEO of Whole Foods Market, joins Katherine Mangu-Ward, Editor-in-Chief of Reason, to front for free enterprise. They'll square up against Bhaskar Sunkara, Founding Editor of Jacobin, and Marxian economist Richard D. Wolff. Kaye Playhouse at Hunter College.
Salon/Sanctuary Concerts heads to the Bernie Wohl Center to kick off a new season of early music. This week's session wonders why the field tends to only look to Europe and rectifies it with the program In the Beginning: Early Music of Western Africa.
Former US Ambassador to the United Nations Nikki Haley was that rare Trump appointee who left with her dignity intact. Her new book, With All Due Respect: Defending America with Grit and Grace, provides a behind-the-scenes look at the Trump administration and the current challenges we face in foreign affairs. 92nd Street Y.
Author, professor, and working architect Kiel Moe looks at the climate emergency and the radical changes it will demand. The "basic theoretical and practical assumptions about what architecture design is and does" will be addressed on a night of dilemmas and solutions. Scholastic Auditorium.
The Grand Central Library is the perfect setting for a talk by author Eric K. Washington, whose new book Boss of the Grips: The Life of James H. Williams and the Red Caps of Grand Central Terminal uncovers the nearly forgotten life of Chief Porter James H. Williams (1878–1948). (Washington appears again on Thursday night to talk race, class, and labor at the New York City Department of Records and Information Services.
Wednesday, November 13
Find neuroscientist and Zuckerman Institute Principal Investigator Daniel Wolpert, PhD, in conversation about the brain and the complexity of movement. To wit: "computers can now beat grandmasters at chess, no computer can yet control a robot to manipulate a chess piece with the dexterity of a six-year-old child." Columbia University.
Ride over to this talk shedding light on Paul Revere's famous ride and the man behind it. New-York Historical Society.
Catch the inaugural meeting of The New Republic's "Salon at the Strand." This month, author Mary Gaitskill talks about her work, including her latest novel This Is Pleasure. She's joined by literary editor Laura Marsh. The Strand.
Venture capitalist Bijan Sabet's early investments in Twitter and Tumblr were prescient. But is success always a marker for happiness? Himalayan spiritual master Yogishri joins Sabet to "search for what happiness we can hope to find beyond cashing in." Rubin Museum of Art.
Thursday, November 14
The Brennan Center tackles women's reproductive rights at NYU School of Law. Rebecca Traister moderates a panel looking at policy, legal issues, and the extent that abortion bans are a form of social control.
Think & Drink brings in neuroscientist Dr. David Rock to answer all your questions about the brain. Rock will draw on his book Your Brain at Work: Strategies for Overcoming Distraction, Regaining Focus, and Working Smarter All Day Long and share his understanding about the ways brain knowledge can work similarly to mindfulness practices. 1803 NYC.
Philosopher of knowledge and former Dean of Arts and Sciences at NYU Richard Foley explains the arguments in his recent book, The Geography of Insight: The Sciences, the Humanities, How They Differ, Why They Matter. Foley will delineate the distinctions between fields and offer a defense of the academy in the face of this era's often hostile approach to intelligence. NYU (Other).
Talks on the making of the security state, the power of hair, and getting answers to modern problems from timeless philosophy highlight our picks for the best talks and lectures in NYC this weekend.

Friday, November 15
Join NYMAS at the Soldiers', Sailors', Marines', Coast Guard and Airmens' Club for Rogue Justice: The Making of the Security State with Karen J. Greenberg, Director of the Center on National Security at Fordham Law School.
For a brief few years, fine art, folk art, Hollywood, and Pentecostal fervor all came together in hand-painted advertisements for VHS screenings in Ghana. Now open atPoster House in Chelsea, Baptized By Beefcake: The Golden Age of Hand-Painted Movie Posters from Ghana features colorful takes on vintage horror and action flicks, seen through a localized religious lens. Poster House After Hours celebrates the show Friday night with The Convergence: Afropop Meets Afro Arts, showcasing African music.
Saturday, November 16
Join the Queens Public Library at Flushing for a talk by historian David W. Blight about his 2019 Pulitzer Prize-winning biography Frederick Douglass: Prophet of Freedom.
Brush up at this deep dive into hair, featuring a ritual that leverages its transformative power. Neuroscientist Dr. Beau Lotto leads the way. Rubin Museum of Art.
Sunday, November 17
Educator Marie Robert presents her new book (When You Kant Figure It Out, Ask a Philosopher), which through a dozen chapters provides timeless guidance for contemporary problems—think Epicurus on disconnecting from social, Nietzsche on fitness, or J.S. Mill on how to handle bad birthday gifts. Albertine.
Get diagnosed as real-life ER doctors share medical history and real facts with over-sharing comedians at Doctors Without Boundaries. Caveat.
Think Olio delves into Axial Ages—pivotal points in history when the old ideas are drawn into question. Indo-Tibetan Buddhism scholar Doc Kelley will discuss the ways Buddha inspired a spiritual transformation, with parallels to the American counterculture revolution of the middle 20th century. Ponder "Is heterodoxy a necessary part of religion?" At Moon Rise Studio.
For the best talks and lectures in NYC this week we've got our sights set on presentations on McMindfulness, the science of breakups, and passing down trauma through DNA.
Monday, November 18
New York-based art historian Maymanah Farhath leads a session on Miné Okubo's graphic memoir Citizen 13660 (1946), which is made up of drawings Okubo created while documenting her experiences at Topaz concentration camp in Utah during World War II. The Center For Book Arts.
The newest neuroscience reflects remarkable evidence of the ways we "remember" things we never experienced. A panel of experts—from across psychology, literature, and neuroscience—come together at Columbia University to talk Neuroscience and the Study of Intergenerational Trauma: How Does the Remote Past Get Under Our Skin?
Ron E. Purser is an ordained Buddhist teacher in the Korean Zen Taego order. He's also kicked off some major spiritual introspection with his viral internet essay "Beyond McMindfulness." Now expanded to book form, Purser joins the PageTurners Reading Series at DeKalb Stage in Brooklyn to argue "mindfulness has become the new capitalist spirituality, a disciplined myopia, that mindlessly ignores the need for social and political change." (You can also find Purser on Thursday at McNally Jackson in the Seaport.)
Tuesday, November 19
Get immersed in Rwandan culture 25 years after the devastating genocide. Scholastique Mukasonga's Our Lady of the Nile novel, conversations, comedy, and a taste of a Rwandan delicacy are all on the bill for Ticket To..Rwanda at The Greene Space. 
Dr. Marisa T. Cohen (From First Kiss to Forever: A Scientific Approach to Love) shares her understanding of love. In addition to insights into the "dark side" of relationships, the evening will look at techniques you can use to protect your connections, be they romantic or platonic. Subject.
Join journalist Lewis Raven Wallace for a conversation on his latest book, The View from Somewhere. Wallace will share his insight into journalistic "objectivity" and the way it's been used to marginalize writers since at least the days of Ida B. Wells. He's at McNally Jackson Williamsburg on Wednesday and The Strand on Thursday.
Join social historian Keith Taillon for a trip into Gilded Age NYC police and Tammany Hall corruption. Along the way get the story of Lower East Side political fixer William M. "Boss" Tweed, whose take is estimated to be close to one billion in today's dollars. Landmark West!
Wednesday, November 20
Author and Baruch professor Danielle Seid speaks on iconic Asian American film star Anna May Wong, with a look at her later-career performances and her "symbolic importance to the transition from the Chinese exclusion era to 1950s Cold War multiculturalism." Museum of Chinese in America.
Parse the issues at this Democratic debate watch party, which will feature Mystery Science Theater 3000-style commentary (Fred Conniff hosts). Q.E.D.
Thursday, November 21
Bat-signal your interest in this celebration of Batman's 80th anniversary. Sheen Center for Thought & Culture.
Software engineer and writer David Auerbach talks about his most recent book, Bitwise: A Life in Code. He'll share his experience with "the algorithms that taxonomize human speech, knowledge and behavior and that compel us to do the same."
Experience the realms of silence and sound, beginning with a guided meditation and leading into live performance. Violinist Johnny Gandelsman plays compositions across four centuries, including Biber, Bach, and Stravinsky. A conversation on mindfulness and music follows. Baryshnikov Arts Center.
mmmm
Friday, Nov. 22. Draw up a way to attend this talk on Turkey's art world of the 1960s and democracy in the wake of World War II. Grey Art Gallery.
Saturday, Nov. 23. Bring your budding bookworm to the 13th Annual Brooklyn Children's Book Fair. Brooklyn Museum.
Sunday, Nov. 24. Stand up for this talk on Clara Lemlich, a turn-of-the-century garment worker who led the "Revolt of the Girls" with a massive strike against poor working conditions. Museum at Eldridge Street.
Monday, Nov. 25. Enjoy your "moment of zen" at this panel discussion covering the power of political satire on TV. Paley Center for Media.
Tuesday, Nov. 26. Preserve the past at this talk on the battle for our shared culture heritage and how libraries, museums, and organizations are fighting to preserve important artifacts of material culture. The National Arts Club.
Wednesday, Nov. 27. Choreograph your way to the New York Public Library for the Performing Arts for The Dance Historian Is In with Ishmael Houston-Jones.
Thursday, Nov. 28. Before or after giving thanks, drink in the sky-high view of the city from the Empire State Building, which is open 365 days a year.
Friday, Nov. 29. Walk off your Thanksgiving with a Then and Now walking tour of the Lower East Side, hosted by the Tenement Museum, focused on comparisons between what was and what is.
Saturday, Nov. 30. Bid adieu at the Fraunces Tavern Museum's special open house commemorating Washington's Farewell, which includes $1 admission to the museum all weekend.
===================================================
More, much more, coming soon.