Today's NYC Events > THURSDAY/ JULY 04, 2019
"We search the internet everyday looking for the very best of What's Happening, primarily on Manhattan's WestSide, so that you don't have to." We make it as easy as 1-2-3.
For future NYC Events, check the tab above:  "July NYC Events"
It's the most comprehensive list of top events this month that you will find anywhere.
Carefully curated from "Only the Best" NYC event info on the the web, it's a simply superb resource that will help you plan your NYC visit all over town, all through the month.
OR to make your own after dinner plans TONIGHT, see the tab above;  "LiveMusic."
Weather forecast looks super for today –
Happy Independence Day!
Have time for only one NYC Event today? Do this:
On July 4 there is only one place to be in NYCity. Macy's promises to explode more than 70,000 fireworks from the world-famous Brooklyn Bridge and from four barges positioned on the lower East River along the shores of Pier 17 at the Seaport District, all choreographed to a 25-minute patriotic score.
In 2019 the 4th of July falls on a Thursday and the nation's largest patriotic pyrotechnic display will illuminate the NYC night sky once more. The main event is the Macy's 4th of July free fireworks show, which celebrates its 43rd anniversary this year.
4th of July New York: Fireworks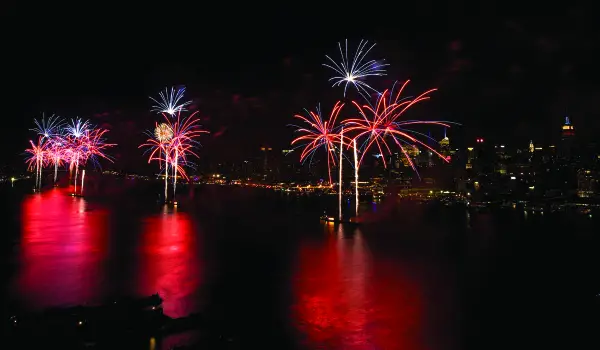 This year's theme of the Macy's show is a celebration of American cinema, with the soundtrack shouting out to summer blockbusters and some of Hollywood's most beloved scores. Recorded on original Metro-Goldwyn Mayer grounds in L.A., the highlight of the soundtrack will be Jennifer Hudson's take on "Somewhere Over the Rainbow," backed by an orchestra that makes everything that much more epic.
This is the nation's largest Independence Day fireworks show and this year it will launch from the Brooklyn Bridge itself, in addition to four barges on the East River. (Don't miss the firework waterfall bursting from between the towers on the main span of the bridge.) The fireworks begin at nightfall, 9:20pm or so, but for the best views you'll want to get situated hours in advance. Viewing information and other spectator tips are available at macys.com/fireworks or 212-494-4495. Here are some of our favorite options for viewing:
Free Fireworks Viewing Spots in NYC 
The official view spots have entries at Houston, 23rd, 34th and 42nd streets on Manhattan's FDR Drive, starting at Houston Street and going all the way up to Midtown East. Access will be open starting from 7pm and closed when the areas fill with people.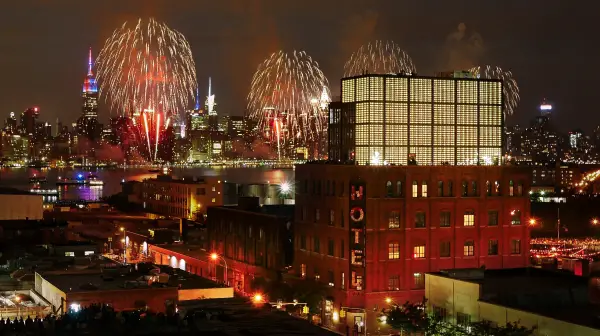 Brooklyn
East River State Park
11-acre state park located in Williamsburg along the East River that will guarantee you a close view of the fireworks, amid a mix of Polish and artsy folks from the neighborhood.
Manhattan
East River Park
This newly reopened park on the Lower East Side runs 1 1/2 miles alongside the FDR Drive and the East River. It has become one of the go-to spots for the fireworks show.
South Street Seaport
New York City wouldn't be the same without jazz. Head to Fulton Street to experience a live jazz festival in a free event that will take place outdoors on Fulton Street from 5:30pm to 9pm. Afterwards you can enjoy a special view of the Macy's fireworks from this waterfront area just off the Financial District.
Queens
Gantry Plaza State Park
This 12-acre riverside oasis in Queens offers spectacular views of midtown Manhattan.
===================================================
If fireworks is not your thing, then this is the only place I would be tonight:
Bobby Valentín Orchestra
Damrosch Park, Lincoln Center / 6PM, $22
Dance floor opens at 6:00 pm
Dance lesson at 6:30 pm
Live music at 7:30 pm
Style: Salsa
Dance Instructor: Carlos Konig teaches Salsa
DJ: DJ Broadway
"A true Fania all-star, the multi-instrumentalist bandleader and arranger Bobby Valentín is one of the most respected musicians on the Latin music scene, having collaborated from a young age with artists such as Celia Cruz, Tito Rodriguez, Ray Barretto, Charlie Palmieri, and more. Celebrate the true spirit of American independence at an evening of classic salsa with the "Rey del Bajo" ("King of the Bass") and his orchestra."
===================================================
Special Notice:
Only four days left to see "The Ferryman" on Broadway. This TONY award winner is one of the great plays of the last decade. If you have not seen it, please just drop everything, find your way to the Bernard Jacobs theater, and enjoy a classic Broadway experience.
Time Out New York Theater critic Adam Feldman's review is here.