For future NYC Events, check the tab above:  "March NYC Events"  
It's the most comprehensive list of top events this month that you will find anywhere.
Carefully curated from "Only the Best" NYC event info on the the web, it's a simply superb resource that will help you plan your NYC visit all over town, all through the month.
OR to make your own after dinner plans TONIGHT, see the tab above;  "LiveMusic."
GD: Covid-19 may make all this info outdated. Stay Safe.
============================================================
(3/11-3/17) Looking for things to do this week in New York? We've got the latest on all the goings-on in NYC, from concerts to museum exhibitions to comedy to the best in city sightseeing. Read on for our picks for the best of this weekend and this week in New York City.
THIS WEEKEND IN NYC

(3/11) The Western Hemisphere's highest outdoor observation deck, Edge, is now open in Hudson Yards. Visitors will stand one-hundred floors above the city, surveying miles in every direction. The 360-degree vistas provide jaw-dropping looks at the Empire State Building, One World Trade Center, the Hudson River, and much more. Edge will also thrill with its glass floor, providing views of the High Line while testing your mettle (here's a preview from Instagram, @edgenyc). The experience begins with an immersive experience, followed by a bang-bang 60-second elevator ride. Hours are 8am to midnight daily. A champagne bar up top lets guests toast the city, in addition to dining at Peak, a restaurant, lounge, and event venue on the 101st floor. edgenyc.comPLUS
BUY ONE GET ONE FREE TO THE INTREPID MUSEUM!! Get one free general admission ticket with an adult ticket purchase now through April 30, 2020. Use promo code CGAPRIL20 online at intrepidmuseum.org or by bringing this offer to the museum's box office. Expires April 30, 2020. Max of four tickets per code redemption, not to be combined with any other offer.Receive 20% off your next visit to ARTECHOUSE NYC with promo code NYMetro. Offer valid through April 19, 2020. artechouse.com/nycEffective March 12th through April 30th, code Cityguidespring will be good for discounts of $40 off flights with the spectacular rides at Helicopter Flight Services. Passengers can book by visiting heliny.com or by calling 212-355-0801.Rock Pass: Top of the Rock and the Rockefeller Center bundled into one pass for $52 (cost would be $63 if purchased separately)It's Women's History Month! Celebrate Women's History Month 2020 in NYC.(3/15) NYC Craft Pop-Up at Grand Bazaar NYC. Every Sunday on the Upper West Side you can check out Grand Bazaar NYC, the city's largest curated market—and most distinctive! This Sunday you'll also find the NYC Craft Pop-Up. Celebrate National Craft Month by browsing a curated selection of talented craft-makers producing one-of-a-kind fashion, home goods, jewelry, leather goods, furniture, stationary, art, and more. Come hungry: artisanal food entrepreneurs are here too. 10am-5:30pm.
EXHIBITS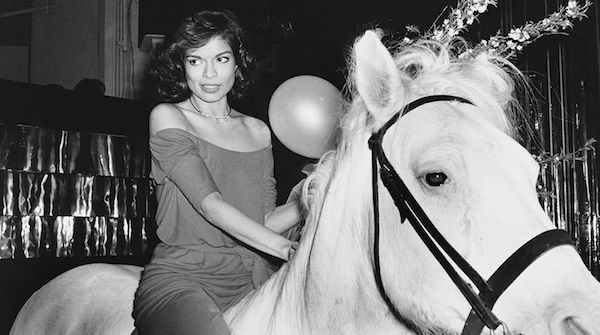 Bianca Jagger on a white horse that happened to be inside Studio 54 on her birthday in 1977. This iconic photo was taken by Rose Hartman, subject of Otis Mass' documentary The Incomparable Rose Hartman, screening at the 2016 Bentonville Film Festival. PHOTO CREDIT: Rose Hartman/The Artists Company.(Opens 3/13) Studio 54: Night Magic. It's hard to believe that Studio 54, the mecca of the disco era, lasted just 3 years. After its opening on April 26, 1977, the legendary midtown club quickly achieved iconic status. Celebs from Andy Warhol to Farrah Fawcett flocked to this outrageous and exuberant party scene. By February 1980, the club was shut down, but its legacy remains vital 40 years later. A new exhibition at the Brooklyn Museum, Studio 54: Night Magic uses photographs, drawings, film, and fashion to document how this nightclub came to reflect a particular moment in the cultural history of New York City.PLUSNew! Bill Graham and the Rock & Roll Revolution at the New-York Historical Society. Delve into the world of Bill Graham (1931–1991), one of the most influential concert promoters of all time. Bill Graham and the Rock & Roll Revolution explores the life and work of the legendary music impresario who worked with the biggest names in rock music—including the Grateful Dead, Jefferson Airplane, Jimi Hendrix, Santana, Led Zeppelin, and the Rolling Stones—and launched the careers of countless music luminaries at his famed Fillmore Auditorium in San Francisco and the Fillmore East in New York City. Unique to New-York Historical is a special, immersive audio experience, providing a musical tour through the exhibition with songs by rock superstars Aerosmith, Blondie, David Bowie, Cream, the Doors, Janis Joplin, Tom Petty, and Neil Young, among others.New! Keep Calm and Check out the New British Galleries at Met Museum.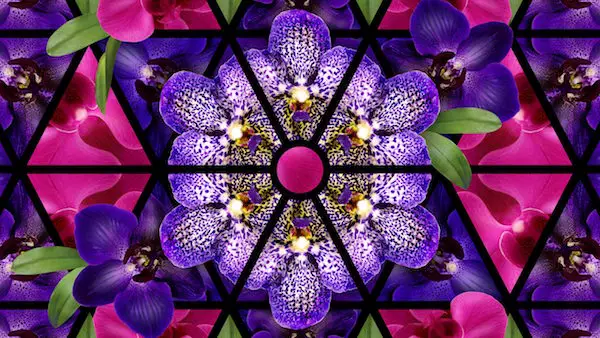 (Now-4/19/20) The Orchid Show: Jeff Leatham's Kaleidoscope. The orchids return to The New York Botanical Garden for the 18th year! This year's Orchid Show features the dazzling floral creations of Jeff Leatham, the famed artistic director of the Four Seasons Hotel George V, Paris, and floral designer to the stars. Leatham's bold and colorful vision unfolds through captivating installations and designs that transform each gallery of the exhibition in the historic Enid A. Haupt Conservatory into a different color experience, like a turn of a kaleidoscope. See dramatically arranged orchids in arches of deliberate hues delivering a tunnel effect, along with other design surprises featuring thousands of orchids—both rare and iconic—from the Garden's renowned collections and the finest growers in the world. nybg.org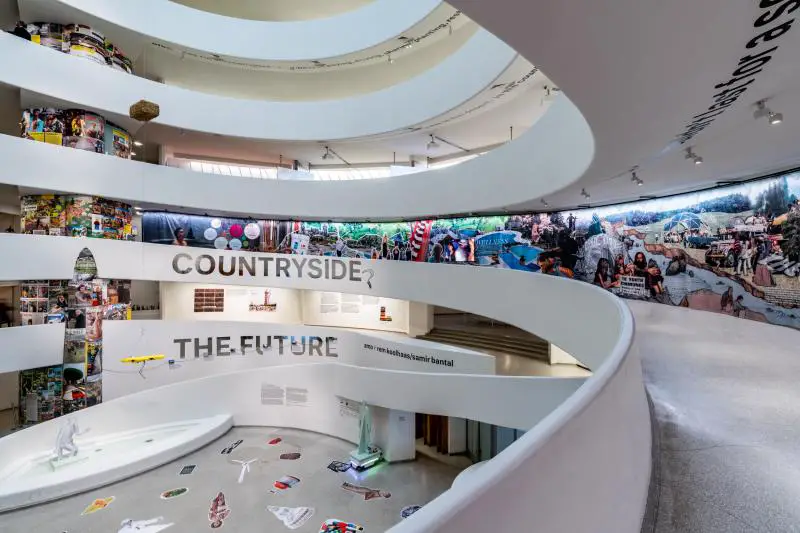 Installation View: Countryside, The Future. Photo: David Heald. © Solomon R. Guggenheim Foundation.(Now-8/14) Countryside, The Future. New York is a world unto itself, but just outside the city limits are fields, forests, mountains, and much smaller towns. These and other non-urban areas are the subject of this major new exhibition at the Guggenheim Museum, which considers how global landscapes are changing, how their residents are affected, and how design innovation might further alter them. Witness groundbreaking research by architects Rem Koolhaas and Samir Bantal and their think tank AMO, along with students from around the globe.


(Now-4/26) See It Big! Outer Space at the Museum of the Moving Image (MoMI) in Queens. Cinema is all about space and time. This is why movies about outer space—where time does not have the same meaning as it does here on Earth—make for particularly cinematic voyages. No cinematic images of the mysteries of our solar system have ever been more mind-expanding than Stanley Kubrick's groundbreaking 1968 masterpiece 2001: A Space Odyssey,  which can be seen in the separate MoMI exhibit, Envisioning 2001: A Space Odyssey, is open through 7/19). It's perhaps the most awesome film ever made—a scientifically accurate yet utterly abstract journey into the far reaches of human consciousness. There have been countless other films about outer space that deserve to be seen—and to be seen big.

JR (French, born 1983). The Chronicles of New York City, 2018–19 (detail). © JR-ART.NET.(Through 5/3/2020) JR is a consummate 21st-century artist. As a young man, he began taking pictures of his fellow street-artist friends and posting them around his native France. Later, his photography projects expanded in scope and deepened in tone without losing their populist flair. Now, this celebrated artist has received the first major North American retrospective with JR: Chronicles at the Brooklyn Museum. What makes JR such a distinct voice is the way he displays his photographs, often wheat-pasting large-scale versions of his portraits, in public spaces as if they were advertisements. The exhibition is named for the artist's new mural of New York City, which appears in the Great Hall of the museum. The image is the result of scores of interviews and photography sessions with New Yorkers during the summer of 2018, recruiting from all five of the city's boroughs. The resulting mural features more than 1,000 New Yorkers. What better introduction to the city could you ask for? brooklynmuseum.org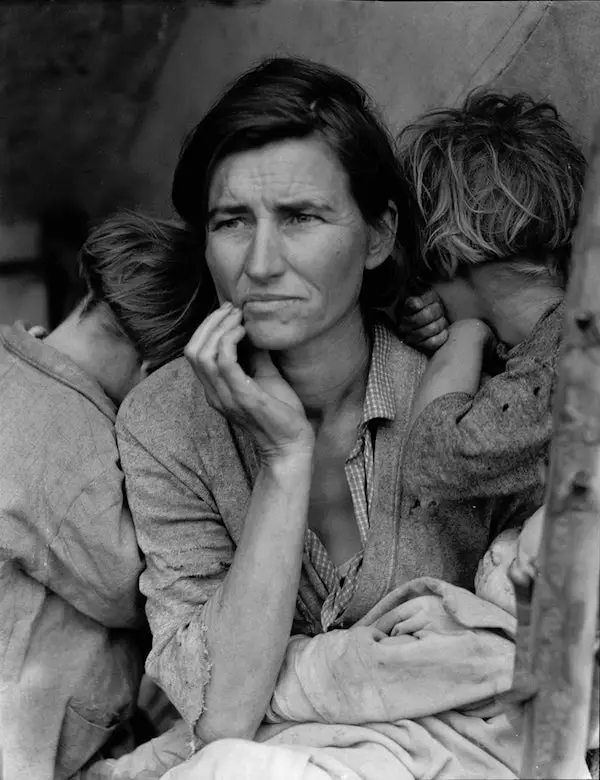 (Now-5/9) Many of us know Dorothea Lange's iconic photograph, Migrant Mother (above). The Museum of Modern Art delves deeper into Lange's body of photographs, particularly her book An American Exodus, in its new retrospective, Dorothea Lange: Words and Pictures. moma.org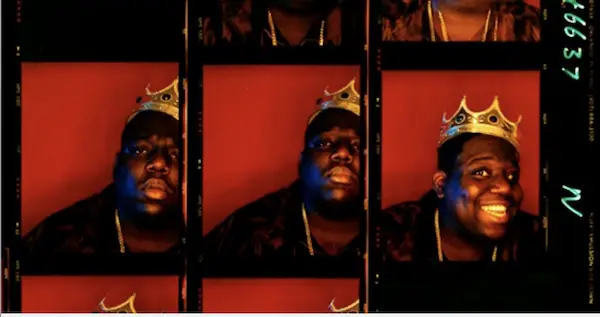 Image: Barron Claiborne, Biggie Smalls, King of New York, Wall Street, New York, 1997.(Now-5/18) The International Center of Photography recently moved into LES's Essex Crossing at 79 Essex Street. There are four new exhibits running at the same time-Tyler Mitchell: I Can Make You Feel Good, which explores ways to interpret Black identity in a positive light; Contact High: A Visual History of Hip-Hop, featuring a collection of portraits of some of the biggest names in hip-hop back from past to present including Notorious B.I.G., and others; Lower East Side: Selections form the ICP Collection, and finally James Coupe: Warriors, using the cult classic 1979 film, to explore contested notions of community, race, gender, and class in the twenty-first century.Looking for refuge from the cold? Inspiration? Check out 10 NYC Libraries for Special Interests.
COMEDY
(3/13-3/14) Jerry Seinfeld at the Beacon Theatre.PLUS(3/13-3/14) Italian hurricaneVic DiBitetto at Gotham Comedy Club.(3/14) Magic Show at Broadway Comedy Club.(Ongoing) Check out new comedy every night at LOL Times Square Comedy Club!Click here for more Comedy Shows in NYC This Weekend.
KIDS
(3/14) Intrepid Sea, Air & Space Museum to Host 7th Annual Girls in Science & Engineering Day. The museum's GOALS for Girls program invites families, chaperoned school/youth groups. and teens to celebrate science, technology, engineering, and math at the 7th annual Girls in Science and Engineering Day, 11am-3pm. Enjoy hands-on experiences, exciting demonstrations, and engaging discussions. Illana Raia, the author of Etre: Girls, Who Do You Want To Be? is a special featured guest. FREE. Registration required.PLUS

(3/13) MasterChef Junior Live! at Kings Theatre in Brooklyn. This high-energy, interactive stage production brings the hit TV show MasterChef Junior directly to fans and foodies alike…LIVE on stage!  The family-friendly show will feature head-to-head cooking demonstrations and fun (sometimes messy!) challenges with past MasterChef Junior contestants, and an overall immersive audience experience.(3/14) Kids Irish Film Festival, part of Craic Fest. KIFF presents the best of award-winning short films by Irish and Irish American filmmakers. Some Oscar-nominated shorts will be shown as well. Next to Cinepolis Theater.
(Now-4/30/20) Color Factory, a massive interactive art space, began in August 2017 in San Francisco. Wildly popular, the project has set up shop in SoHo and is sure to inspire lines as long as the cronut did at nearby Dominique Ansel Bakery. Designed by a wide spectrum of artists, Color Factory walks visitors through 16 rooms devoted to the wonder of color. You're invited to compliment someone using color words, discover your signature color, and read wishes for the world written by NYC school children on varicolored balloons. Each room is equipped with a camera that can take a picture of you and send it to your phone: the better to post with!  251 Spring St.,
support@colorfactory.co,colorfactory.co, @colorfactorycoPLUS(Now-3/15) New York International Children's Film Festival. Various venues, including Cinépolis Chelsea, Alamo Drafthouse Cinema, and Scandinavia House.
(Ongoing) Empire Outlets is New York's newest destination for shopping, dining, and fun. This unique outlet center, located on Staten Island just a short ferry ride away, offers visitors their favorite brands for less. Now Empire Outlets will transport you and your family to a new world with Virtual Rush: New York, a new virtual reality experience. The state-of-the-art ride takes you underwater, through the air, and into outer space. You can even ride with the crew of Apollo 11 astronauts who first landed on the moon! Virtual Rush: New York is located on Level 3 of Empire Outlets at Royal Square. Nearby you'll find the Gap Factory Store, Nike Factory Store, and Banana Republic Factory Store. Get two free tickets! Just present this offer at admissions for up to two free tickets per party through March 15, 2020. empireoutletsnyc.com(Ongoing) "Here Be Dragons," a new interactive scavenger hunt in the American Museum of Natural History offered by Fable & Lark: Storied Adventures, draws from the menageries of creatures in both Fantastic Beasts and Fantastic Beasts: Crimes of Grindelwald. Participants will explore galleries throughout the museum as they answer questions, solve clues, engage in creative activities, and track down the origins of some of the creatures from both the Fantastic Beasts stories as well as other classic myths and tales. Grab your nifflers and join! Advance registration required. fableandlark.comUpdated! Read about more Instagrammable pop-up exhibits in NYC here.(Ongoing) Exhilarating Family Fun at Stomp NYC. Special discount packages available!Click here for more Things to Do with Kids in NYC This Weekend.For more kids activities, check out our sister site nymetroparents.com!
FOOD, MUSIC, NIGHTLIFE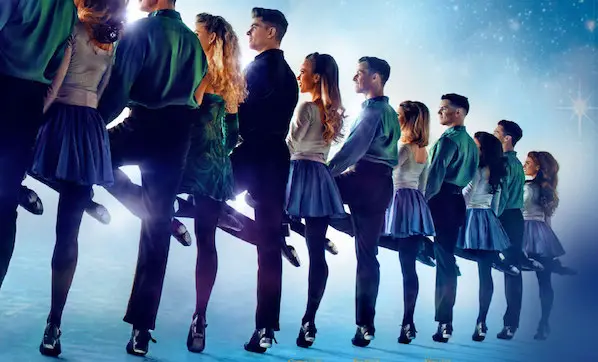 (3/10-3/15) Riverdance 25th Anniversary Show at Radio City Music Hall.PLUS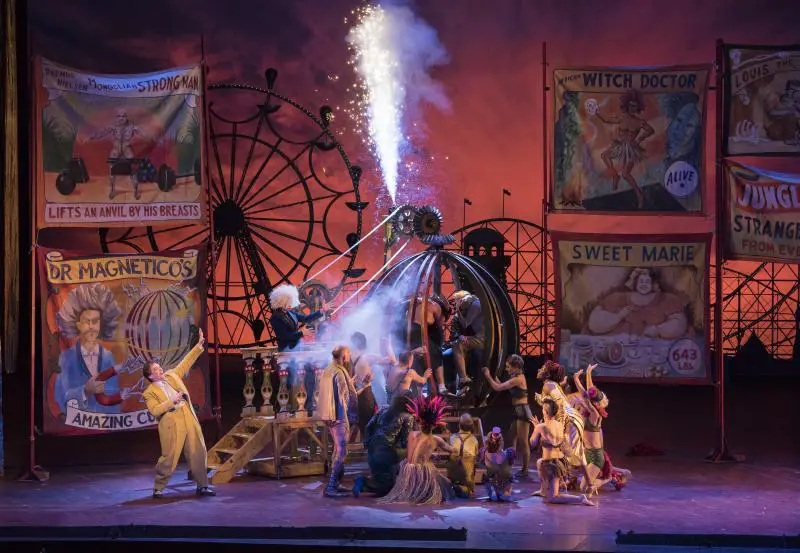 (3/11, 3/14) Così fan tutte. The Metropolitan Opera is in mid-stride of its inspiring 2019-20 season, packed with opera's most talented stars, performing across a wide range of repertoire. This week, Coney Island returns to the Met with the first revival of Phelim McDermott's popular staging of Mozart's Così fan tutte, inspired by boardwalk sideshows. The pairs of young lovers are a casting dream: soprano Nicole Car, mezzo-soprano Serena Malfi, tenor Ben Bliss, and bass-baritone Luca Pisaroni.(3/13-3/14) Jimmy Vaughan at The Iridium.
(3/15, 3/22) Strawberry Fields Beatles Tribute All Ages Brunch at The Iridium.(3/15-3/16) Gallant, with Ro James at the Music Hall of Williamsburg.(Ongoing) Take wine tasting and education (and your Instagram feed) to a whole new level at midtown's rosé-sipping funhouse, Rosé Mansion. Learn all about rosé's 7,000-year history while roaming through "Cleopatra's Palace," the "Celebration Room," and a "personality test" zone that will lead you to a favorite rosé. All tickets include eight wine tastings, a collectible pin, a wine glass by Govino, and access to RoséLand, where you can purchase bottles and glasses of your favorites while enjoying private cabanas and a treehouse and picnic area. In addition to sipping adventures, Rosé Mansion is adding an interactive art experience to the mix. The very Instagrammable "Immersed in Wonderland" starts welcoming guests down an Alice-inspired rabbit hole adjacent to Rosé Mansion on March 13th!. rosewinemansion.com, @rosewinemansion

(Ongoing) Brooklyn Flea's Winter Flea + Smorgasburg is held indoors every Saturday and Sunday at 25 Kent Ave. in Williamsburg, 10am-6pm. You'll find dozens of vintage/antique/other vendors. City Guide Insider Tip: food trends are always emerging at Smorgasburg, and today's pop-ups will blow up into tomorrow's successful restaurants. Get in on the ground floor!Click here for more Nightlife in NYC This Weekend.
SIGHTSEEING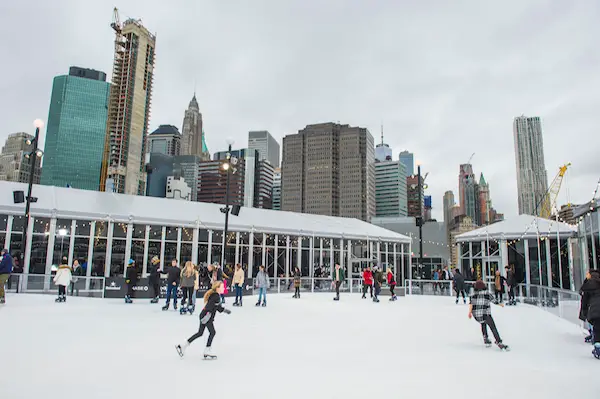 (Now-3/15/20) Final weekend! Grab a friend and skate your cares away downtown with rooftop views at Winterland at Pier 17.Read here for more information on Ice Skating NYC.New! Learn How to Strut the Runway with Victoria's Secret Angel Alessandra D'Ambrosio at Madame Tussauds New York! In "The Fashion Experience," Ambrosio offers her tips, tricks, and guidance on how to slay the runway—Ambrosio herself is represented in a lifelike figure in the gallery, wearing the iconic Julien Macdonald gown that wowed the red carpet at the 2019 Cannes Film Festival. All participants receive a video copy of their runway walk and are encouraged to share their videos with the hashtag #slaytherunway.(Ongoing) A Slice of Brooklyn's Brooklyn Chocolate Tour visits artisanal chocolate sites Jacques Torres Chocolate in DUMBO, The Chocolate Room in Cobble Hill, Raaka in Red Hook, and Li-Lac Chocolates in Industry City, Sunset Park. Offered every Monday, Wednesday, Friday. All tours depart and return to Union Square.
SNEAK PEEK, NEXT WEEK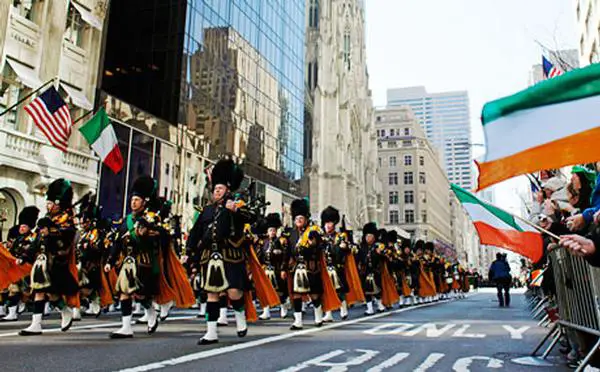 Photo: Joe Buglewicz(3/17)  *At press time, the parade is still on schedule. Thirteen percent of New York traces its heritage to the Emerald Island, but on St. Patrick's Day everyone in the city is Irish for a day. The city's main event is the St. Patrick's Day Parade, which marches up Fifth Avenue from 44th to 79th Street on Tuesday. This year's Grand Marshal is James T. Callahan, General President of the International Union of Operating Engineers and a long-time New Yorker (Callahan represents over 400,000 workers in the United States and Canada; additionally, he's President of the New York Friends of Ireland). The parade runs from 11am to 5pm, at which point the city's bars swell with revelers.PLUS(3/17) Celebrate St. Patrick's Day with The Barnstorm at Brooklyn Bowl.(3/17) Murphy's Law plays St. Patrick's Day with special guests at Bowery Electric.(3/17) Dexy's Midnight Runners Tribute with Too Ray feat. Ted Leo at the Bell House.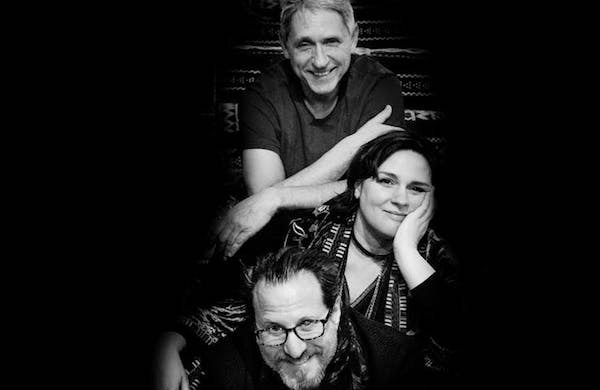 (3/19) The Madeleine Peyroux Trio Premiere: The Dreamers at Birdland Jazz Club.(3/19) Hustle Party at Brooklyn Museum. Get into the Studio 54 spirit with a hustle dancing class at 6pm led by Marlene Veras, resident instructor for the museum's monthly Salsa Party. Expect live music, social dancing, and hustle dance performances.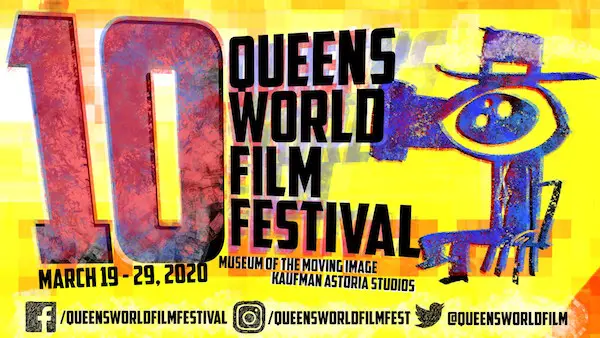 (3/19-3/29) The Queens World Film Festival turns 10! Get tickets for Opening Night at the Museum of the Moving Image here.  (A sneak peek trailer party takes place 3/7 at The Local in Long Island City.) This year they will be honoring comedian/actor and Forest Hills native Ray Romano. Romano has starred in Everybody Loves Raymond, Parenthood, Epix's Get Shorty, and most recently in Martin Scorcese's The Irishman.Click here for more information on The Best Things to Do in March. We've got April covered, too!
---
EVERYTHING TO DO NYC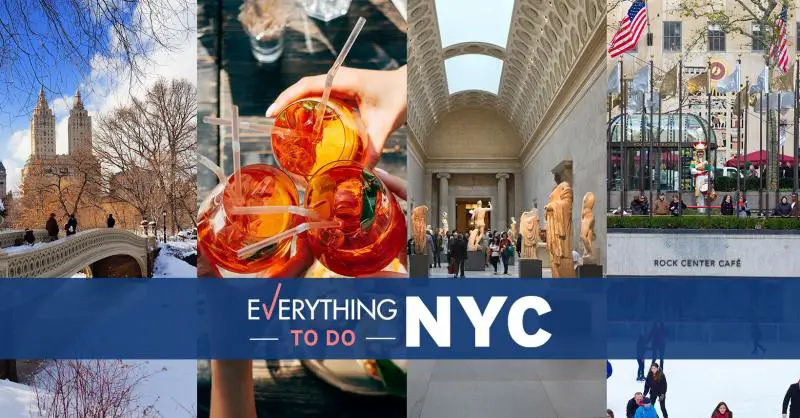 Want free advice on what to do and see in New York? Join our Facebook group Everything to Do NYC, a place for people to ask questions and get tips on how to make the most of the city.
COMING SOON (WFUV)
===========================================================
For the month of March we are going to try a different format – on some days we will go visual and offer a selection of the very best NYCity Instagram photos, YouTube videos, or Pinterest Pins. On other days you will find info on the Best NYC Restaurants or Top OnlineTravel Forums with NYC info. We hope you will come back often to see what's cooking here. Today it's Best NYCity Restaurants.
===========================================================
Best NYCity Restaurants
It's not difficult to find a place to eat in Manhattan. Seems like there is at least one restaurant on every block. The New York City health department inspected over 10,000 eating establishments in Manhattan alone last year. And the selection of restaurants includes cuisines from all over the world.
Finding a good place to eat is a bit harder. We could start with New York City's 72 Michelin-Starred Restaurants, but they are more suitable for those on expense accounts or celebrating a special event. No worries. There are many guides to good eating available, if you know where to look.
Here are a few of my favorite guides to the best restaurants in various neighborhoods:
=============================================================
We hope you enjoy this change of pace, then please return here April 1, and every day for our daily, hot off the presses event guide with "Only the Best" NYCity event info.
============================================================ >