Covid-19 has required some changes for the time being. Stay Safe.
============================================================
For the month of April we are going to try a different format – on some days we will go visual and offer a selection of the very best NYCity Instagram photos, YouTube videos, or Pinterest Pins. On other days you will find info on the Best NYC Restaurants or Top OnlineTravel Forums with NYC info. We hope you will come back often to see what's cooking here. Today it's Top Online Travel Forums.
============================================================
6 Top Online Travel Forums.
Traditional travel guides and blogs, whether online or in paper format, give you a lot of content but still have their limitations. Chances are you'll have specific questions and concerns that they didn't cover.
online travel forums (the original social media) are one of the best ways to find information you can't find elsewhere, and to find answers to specific questions. These online communities of travelers are ready and willing to offer their insights and first-hand knowledge.
Which are the best travel forums – the forums with many informed and active members who will answer your questions promptly and accurately? with moderators who will ensure that discussions stay relevant and civil?
Here are my six favorites:
> Lonely Planet's Thorn Tree
An old timer (since 1996) – you can search by destination or interest, search for a travel buddy or just have a chat. 7.1M results for "everything ever."
Search here for New York City
> Trip Advisor's Travel Board
Their motto: "Get the truth.Then go" Search by destination or interest. The New York City Travel Forum has 189K topics and the sidebar "Top questions about New York City" is very helpful.
Search here for New York City
> Frommer's Community Forums
Not as active as some other forums, but archived topics can be helpful. Search by destinations, trip ideas, tips&tools.
Search here for New York City
> Fodor's Travel Talk Forums
This is a big one with 2.1M posts for the USA and 3.9M posts for Europe and can be difficult to find what you are looking for. In order to use all the features of the forum, you will need to register.
Search here for New York City
> Flyer Talk Forums
Been around a long time. Heavy, of course, on air travel and airports. But the destinations section has a New York City forum with many posts. Unfortunately, browsing through the threads is time consuming, and the search engine is not very helpful.
Search here for New York City
> Rick Steve's Travel Forum
This is a Euro-centric Forum, so it won't be much help for NYCity. But Rick Steves and his travelers have so much good information on the site, including travel technology, I just had to list it. Be sure to use it when you travel to Europe.
Search here for technology tips
Of course, your FaceBook friends and Twitter world may be helpful too.
=============================================================
We hope you enjoy this change of pace, then please return here May 1, and every day for our daily, hot off the presses event guide with "Only the Best" NYCity event info.
=============================================================
GD: In the age of Covid-19 this info from City Guide is one of the best sources of info on What's Happening, even if it's only available in your home, and not in your favorite venue. Stay Safe.
City Guide News Desk
(4/7-4/14) New Yorkers and tourists alike are impacted by COVID-19, but we are resilient. Read on for the latest info about entertainment resources, restaurants still serving amazing meals, closures, and more.
EASTER AND PASSOVER TO GO
Upper West Side favorite The Ribbon has your Passover dining needs covered. They've just launched a new "Passover Delivery" service, running at just $34.99 per person. The package includes all the holiday classics: gefilte fish, matzo ball soup, brisket or rotisserie chicken, mashed sweet potatoes, potato pancakes, macaroons, and a bottle of kosher or Israeli wine. Plus, make your own seder plate with The Ribbon's do-it-yourself kit! theribbonnyc.com/passover-delivery
Among the many to-go options available at Benjamin Steakhouse you'll find an "Easter Feast" this Sunday. A cook-at-home basket of packaged meats for four includes thick-cut Canadian bacon, Benjamin Steaksauce, and USDA prime burgers, ribeye, and porterhouse
Morton's The Steakhouse is offering Easter dinner to go on Sunday: dinner for two is $109 and "Chef's Table" home kits start at $119.
NYC RESOURCES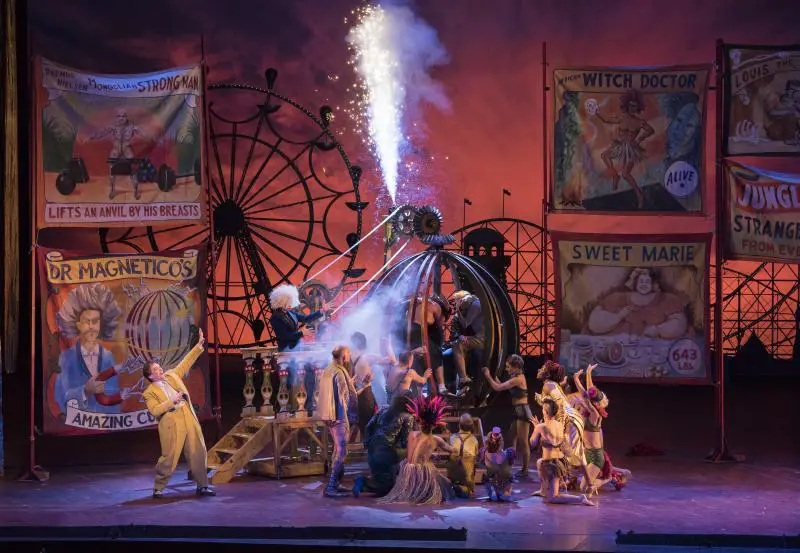 The Metropolitan Opera will be streaming operas FREE nightly.
The New York Public Library has access to more than 300,000 FREE e-books and e-audio books.
NYC Health information page for COVID-19.
NYC restaurant world information.


Stream hundreds of Broadway shows (by subscription).
15 Broadway shows you can watch from home.
Broadway performances live—from stars' living rooms.
51 New York TV shows and movies.
5 eras of New York to enjoy in books and movies.
2,500 museums and galleries you can visit virtually.
The New York Botanical Garden in bloom from home.
Exploring Ripley's Believe It or Not! Times Square.
Fun at-home activities for kids.
6 podcast series to help you understand New York.
Discover the best of New York, from hidden gems to iconic landmarks, through The New York Landmarks Conservancy's "Tourist in your own Town" Video Series.
VIRTUAL MUSEUMS
Explore the world of design with Cooper Hewitt.
Experience the Intrepid Museum anywhere.
New-York Historical Society from home.
=============================================================
WFUV LIVE ONLINE (April 9-15)
4/9 – Radiohead streams Live From a Tent in Dublin show from October, 2000 at 5pm ET
4/10 – The Grateful Dead stream Truckin' Up To Buffalo show from 7/4/89 at 8pm ET
4/11 – "People Supporting Artists" Telethon at 7pm ET: Rosanne Cash, Los Lobos, Keb Mo, Shovels & Rope, John Osborne, Soccer Mommy, JD McPherson, Jim Lauderdale, Aaron Lee Tasjan, Courtney Marie Andrews, Jonathan Wilson, Madison Cunningham, The Lone Bellow, Nicole Atkins and more perform live from Nashville to benefit MusiCares COVID-19 Relief Fund
4/11 – Guitar Mash Virtual Campfire, 5pm: Sing and play along with David Broza
4/11 – "G. Love's Home Show Pop Off" the 5pm livestreamed show supports the staff of Brooklyn Bowl
4/13 – The National: 'An Exciting Communal Event' – Monday evenings at 5pm ET, streaming classic live sets and rare footage
See a running list of Live Online Concerts and more safe entertainment at WFUV.org
=============================================================
STAY HOME FOR A BIT LONGER – STAY SAFE.