GD: Covid-19 has required some changes for the time being. Stay Safe.
============================================================
For the month of April we are going to try a different format – on some days we will go visual and offer a selection of the very best NYCity Instagram photos, YouTube videos, or Pinterest Pins. On other days you will find info on the Best NYC Restaurants or Top OnlineTravel Forums with NYC info. We hope you will come back often to see what's cooking here. Today it's The Nifty Nine NYC News sources.
==============================================================
All the NYCity News You Need to Start Your Day
The New York Times – Regional New York News
Wall Street Journal Greater New York (Region News)
The New York Times – Art and Design
Grub Street – NY Magazine's Food and Restaurant Blog
The New York Times – New York Today / Daily Briefings
Gothamist: News, Food, Arts and Events
=============================================================
We hope you enjoy this change of pace, then please return here May 1, and every day for our daily, hot off the presses event guide with "Only the Best" NYCity event info.
=============================================================
GD: In the age of Covid-19 this info from City Guide is one of the best sources of info on What's Happening, even if it's only available in your home, and not in your favorite venue. Stay Safe.
(4/20-4/27) New Yorkers and tourists alike are impacted by COVID-19, but we are resilient. Read on for the latest info about entertainment resources, restaurants still serving amazing meals, closures, and more.
CLASSIC BASEBALL, CLASSIC BITES
Upper West Side favorite The Ribbon is brightening April in NYC with a classic baseball delivery special. Match up some incredible games from seasons past with some of the city's best cooking. Your package will include The Ribbon's signature fried chicken (7 pieces), a side of mashed potatoes and gravy, and a six-pack of beer (Budweiser or Bud Light). It's just $49.95 per person. Upcoming games on ESPNCLS include Dodgers-Yankees, Orioles-Pirates, Mets-Astros, Yankees-Red Sox, and a host of other thrillers while we wait for the real thing to return. theribbonnyc.com/classic-sports-at-the-ribbon
NYC RESOURCES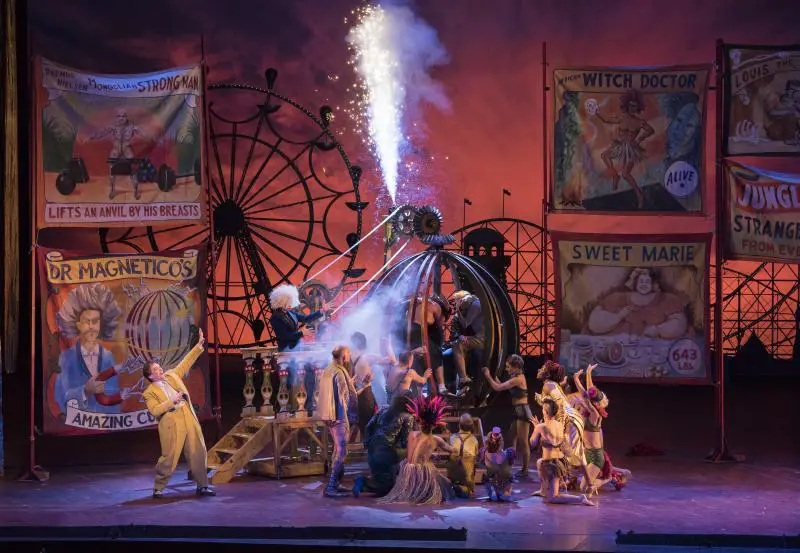 The Metropolitan Opera is streaming operas FREE nightly.
Thought Gallery has hundred of additional livestream talks, lectures, performances and more.
The New York Public Library provides access to more than 300,000 FREE e-books and e-audio books.
NYC Health information page for COVID-19.
NYC restaurant world information.
Stream hundreds of Broadway shows (by subscription).
15 Broadway shows you can watch from home.
Broadway performances live—from stars' living rooms.
One World Observatory has made One World Explorer, the attraction's Digital Skyline Guide, available for remote watching. Virtual helicopter tours of the city's most iconic sites are available now.
Missing escape room adventures? NYC fave The Escape Game has some great play-at-home editions including Unlocked: The Heist—Vol. 1: Chasing Hahn, which includes all the pieces of the original mission kit, ready for play in quarantine.theescapegame.com/newyorkcity/


51 New York TV shows and movies.
5 eras of New York to enjoy in books and movies.
2,500 museums and galleries you can visit virtually.
The New York Botanical Garden in bloom from home.
Exploring Ripley's Believe It or Not! Times Square.
Fun at-home activities for kids.
6 podcast series to help you understand New York.
Discover the best of New York, from hidden gems to iconic landmarks, through The New York Landmarks Conservancy's "Tourist in your own Town" Video Series.
VIRTUAL MUSEUMS
Explore the world of design with Cooper Hewitt.
Experience the Intrepid Museum anywhere.
New-York Historical Society from home.
Virtually visit the Louis Armstrong House Museum.
=======================================================
WFUV Live Online (April 23-29)
4/23 –  
Sylvan Esso
debuts their live concert film "WITH" via YouTube Premiere at 9pm ET
4/23-5/3 –
New Orleans Jazz Fest
: Our sister station WWOZ is 'Jazz Festing in Place' ft. The Radiators, Trombone Shorty and more from 11am-7pm each fest day, including archives from Fats Domino, The Neville Brothers, Irma Thomas, Allen Toussaint, Marcia Ball, Pres Hall Jazz Band and more
4/24 –
Rickie Lee Jones
holds a free hour-long interactive live stream concert on Facebook at 7pm ET
4/24 –
Andrew Bird
at 1pm ET as part of the Concert A Day series on the GRAMMYs Facebook page
4/24-27 –  
PlayOn Fest
streams 3 days of footage from Bruno Mars, Coldplay, Green Day, Cardi B, Ed Sheeran, Janelle Monáe and more, in a one-time-only live viewing event of shows from Warner archives
A running list of live on line concerts and more safe entertainment at WFUV.org .
=============================================================
STAY HOME FOR A BIT LONGER – STAY SAFE.