GD: Covid-19 has required some changes for the time being. Stay Safe.
============================================================
For the month of May we are going to try a different format – on some days we will go visual and offer a selection of the very best NYCity Instagram photos, YouTube videos, or Pinterest Pins. On other days you will find info on the Best NYC Restaurants or Top OnlineTravel Forums with NYC info. We hope you will come back often to see what's cooking here. Today it's NYCity Instagram Photos (a).
===========================================================
NYCity Top10 Instagram Photos (a)

=============================================================
We hope you enjoy this change of pace, then please return here June 1, and every day for our daily, hot off the presses event guide with "Only the Best" NYCity event info.
=============================================================
GD: In the age of Covid-19 this info from City Guide is one of the best sources of info on What's Happening, even if it's only available in your home, and not in your favorite venue. Stay Safe.
Things to Do This Week in NYC (5/4-5/10)
City Guide News Desk
(5/4-5/10) The city may be on pause, but there is still plenty of New York City to enjoy. Read on for some virtual culture and touring, in addition to some great IRL Mother's Day dinner packages.
MOTHER'S DAY WEEKEND

You'll find American cuisine with French influences at NYC favorite The Ribbon on the Upper West Side. Meal kits are available, with packages for Mother's Day this week. Included are two appetizers, two main courses, one dessert, a mini-champagne bottle (for two), and a rose for mom. You'll choose between pumpkin soup or Caesar salad; Scottish salmon with vermouth butter, leeks, and dill (above) or a half Amish chicken with broccolini  or braised short ribs with mashed potatoes and Brussels sprouts. The dessert choice will tantalize you: picking between a  Bruno flourless chocolate cake white chocolate graham cracker vanilla ice cream or Key lime pie with Oreo crust and dulce de leche ice cream. theribbonnyc.com/mothers-day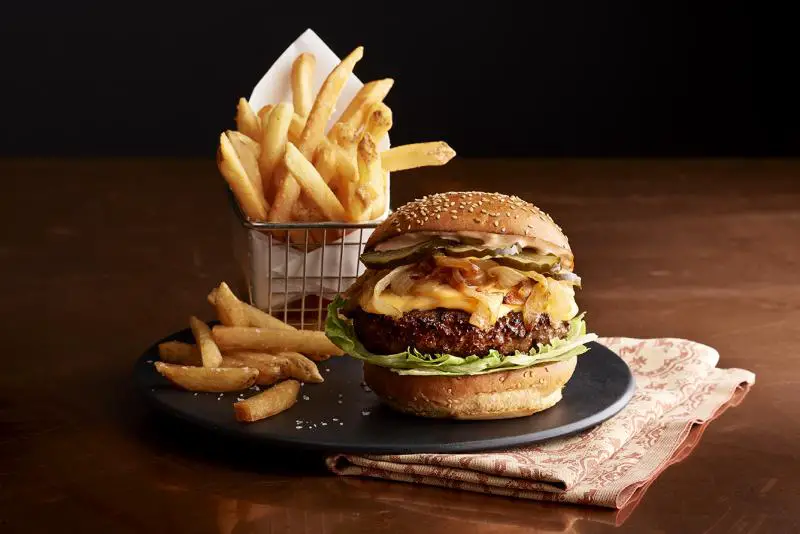 Indulge all your senses when you experience famed New York City steakhouse Strip House. An innovative menu features signature prime cuts of beef and an extensive wine list and they're still available despite the city's pause. Although the midtown location is closed for now, the downtown location near Union Square is still serving. Take advantage of 10% off all food for takeout or curbside pickup (not valid on delivery) and 50% off select wines with a food purchase for curbside pickup. This Mother's Day, there's a family-style package available, set up for two adults and two kids, $179 plus tax (preorder by Friday,  May 8th by 8pm). Add a bottle of Veuve Clicquot Yellow Label Brut Champagne for $59. For adults, look for wild mushroom ravioli with asparagus, fresh ricotta, and truffle parmesan followed by a 16-oz. chargrilled Chateaubriand and two broiled lobster tails, with Strip Sauce, drawn butter, creamed spring peas with pancetta, caramelized onion, and mashed potatoes. For the kids: cheeseburger or chicken nuggets, with fries and mac 'n' cheese. Dessert brings "Black Forest" chocolate cake, chocolate pot de crème, cherry, and whipped cream. Look for additional specials all week long, like buttermilk fried chicken on Monday and Tuesday, and a prime rib-eye cheesesteak sandwich on Wednesday and Thursday. striphouse.com
The Rainbow Room is the sparkling crown jewel atop Rockefeller Center. Although you can't enjoy it in-person now, you can treat mom to the incredible cuisine served here. Choose from either the a la carte menu or a special Mother's Day prix fixe, good for up to six people ($275). Take your choice of salmon Wellington or Rainbow Room signature beef Wellington with Madeira jus, joined by the likes of Caesar salad, spring pea soup with mint and crème fraiche, crab cakes with Romesco sauce, fennel salad, and grilled asparagus. Dessert brings   Mum's Chocolate & Vanilla Rose Cake or strawberry pie or coconut cake. Many more items are available for a la carte ordering. Purchases of $150+ receive complimentary delivery within the 15-mile delivery radius. (The Rainbow Room will try to accommodate those outside the delivery range.) rainbowroom.com/mothers-day
MOTHER'S DAY GIFT IDEA
Celebrate Mom now and later! Give the gift of an experience: present her with a gift card and the promise of a future celebration on a spectacular boat ride with Hornblower Cruises and Events. With every gift card, Hornblower is offering a Mother's Day special of a free additional $25 gift card or the donation of a cruise to a front-line hero.
VIRTUAL HAPPY HOUR FRIDAY NIGHT
Rosé Mansion hosts Friday evening virtual happy hours every week! Download Rosé Mansion's Zoom Backgrounds so you can join from your favorite Rosé Mansion room and feel free to invite all of your friends. Kicks off at 5:30pm.
NYC RESOURCES

The Metropolitan Opera is streaming operas FREE nightly.
Thought Gallery has hundred of additional livestream talks, lectures, performances and more.
The New York Public Library provides access to more than 300,000 FREE e-books and e-audio books.
NYC Health information page for COVID-19.
NYC restaurant world information.
Stream hundreds of Broadway shows (by subscription).
15 Broadway shows you can watch from home.


Broadway performances live—from stars' living rooms.
The New York City Ballet presents a spring digital season.
Virtual programming will keep you connected to the York Theatre Company.
One World Observatory has made One World Explorer, the attraction's Digital Skyline Guide, available for remote watching. Virtual helicopter tours of the city's most iconic sites are available now.
51 New York TV shows and movies.
5 eras of New York to enjoy in books and movies.
2,500 museums and galleries you can visit virtually.
The New York Botanical Garden in bloom from home.
Exploring Ripley's Believe It or Not! Times Square.
The Top of the Rock launches a brief virtual tour on YouTube.
Fun at-home activities for kids.
6 podcast series to help you understand New York.
Discover the best of New York, from hidden gems to iconic landmarks, through The New York Landmarks Conservancy's "Tourist in your own Town" Video Series.
VIRTUAL MUSEUMS
Explore the world of design with Cooper Hewitt.
Experience the Intrepid Museum anywhere.
New-York Historical Society from home.
Virtually visit the Louis Armstrong House Museum.
You can take a virtual tour of the Tibetan Buddhist Shrine Room at the Rubin Museum of Art. (You can find two hours of meditative chanting as well, if you're searching out some respite.)
VIRTUAL ESCAPE ROOM
Missing escape room adventures? NYC fave The Escape Game has some great play-at-home editions including Unlocked: The Heist—Vol. 1: Chasing Hahn, which includes all the pieces of the original mission kit, ready for play in quarantine. They've also just launched a new series, The Escape Game Remote Adventures. These are escape games you play with your friends, family, and co-workers on Zoom from anywhere in the world. Players progress through the room using an online clue bank, a live Game Guide, and a 360-degree view of the room. theescapegame.com/remote-adventures
MORE VIRTUAL NYC
Empire Outlets, New York City's first and only outlet destination, recently launched "Talent Tuesdays at 2" and "EO Sessions Saturdays." Each week throughout May, locals and tourists from all over the globe can engage online with livestreamed performances by Staten Island's community theatre groups and artists (at 2 pm on Tuesdays) and live streamed DJ and music sessions (at 5 pm on Saturdays) for a dance night "in" via Empire Outlets Facebook @EmpireOutletsNYC. Each performance/session ranges between 30 minutes to an hour and the latest lineup is available on Facebook.
In addition, Empire Outlets has shared its app tour experience. Go on an audio tour aboard (virtually) the Staten Island Ferry along New York Harbor. Enjoy the selfie filter! The app can be found here.
===========================================================
==============================================================
WFUV Live Online (May 07-13)
5/7 – Tori Amos book discussion, 2pm
5/7 – Indigo Girls livestream, 7pm
5/7 – John Doe livestream, 7pm
5/7 – Amos Lee livestream, 7:30pm
5/7 – Lake Street Dive Live Variety Hour, 8pm
5/7 – Erin McKeown livestream, 8pm5/8 – The Tallest Man on Earth's Kristian Matsson livestream, 3pm
5/8 – Nathaniel Rateliff concert broadcast, 4pm
5/8 – Rickie Lee Jones livestream, 7pm
5/8 – The Grateful Dead concert broadcast, 8pm, with Bob Weir live5/9 – Richard Barone livestream, 7pm
5/10 –  City Winery Mothers Day Special ($10) with Rosanne Cash, Mary Chapin Carpenter, Steve Earle, Shovels & Rope, Rufus Wainwright, Richard Thompson, Indigo Girls, Jorma Kaukonen, Loudon Wainwright, Amy Helm, Joseph Arthur, Joan Osborne, Andrew Bird and more, hosted by FUV's Rita Houston, 5pm5/11 – Rise Up New York! telethon/variety with Tina Fey, Mariah Carey, Billy Joel, Bon Jovi, Sting, Barbra Streisand, Spike Lee, Chris Rock, Bette Midler and more, 7pm
5/13 – BAM's Virtual Gala with St. Vincent, The Brooklyn Youth Chorus and more, 8pm
==============================================================
Billboard also has some good info:
==============================================================
=============================================================
STAY HOME FOR A BIT LONGER – STAY SAFE.