Pre Covid-19 we searched the internet everyday looking for the very best of What's Happening, primarily on Manhattan's WestSide, so that you didn't have to.
We made it as easy as 1-2-3.
Covid-19 has required some changes for the time being.
Stay Safe.
============================================================
For the month of July we are going to try a different format – on some days we will go visual and offer a selection of the very best NYCity Instagram photos or YouTube videos. Some days you will find "the Nifty Nine", all the NYC news you need to start your day, or the Top Online Travel Forums with NYC info. On other days we will offer "Corona Culture," updated info and video especially suited to these difficult times.
We hope you will come back often to see what's cooking here.
Today it's 6 Top Online Travel Forums.
Traditional travel guides and blogs, whether online or in paper format, give you a lot of content but still have their limitations. Chances are you'll have specific questions and concerns that they didn't cover.
Online travel forums (the original social media) are one of the best ways to find information you can't find elsewhere, and to find answers to specific questions. These online communities of travelers are ready and willing to offer their insights and first-hand knowledge.
Which are the best travel forums – the forums with many informed and active members who will answer your questions promptly and accurately? with moderators who will ensure that discussions stay relevant and civil?
Here are my six favorites:
> Lonely Planet's Thorn Tree
An old timer (since 1996) – you can search by destination or interest, search for a travel buddy or just have a chat. 7.1M results for "everything ever."
Search here for New York City
> Trip Advisor's Travel Board
Their motto: "Get the truth.Then go" Search by destination or interest. The New York City Travel Forum has 189K topics and the sidebar "Top questions about New York City" is very helpful.
Search here for New York City
> Frommer's Community Forums
Not as active as some other forums, but archived topics can be helpful. Search by destinations, trip ideas, tips&tools.
Search here for New York City
> Fodor's Travel Talk Forums
This is a big one with 2.1M posts for the USA and 3.9M posts for Europe and can be difficult to find what you are looking for. In order to use all the features of the forum, you will need to register.
Search here for New York City
> Flyer Talk Forums
Been around a long time. Heavy, of course, on air travel and airports. But the destinations section has a New York City forum with many posts. Unfortunately, browsing through the threads is time consuming, and the search engine is not very helpful.
Search here for New York City
> Rick Steve's Travel Forum
This is a Euro-centric Forum, so it won't be much help for NYCity. But Rick Steves and his travelers have so much good information on the site, including travel technology, I just had to list it. Be sure to use it when you travel to Europe.
Search here for technology tips
Of course, your FaceBook friends and Twitter world may be helpful too.
We hope you enjoy this change of pace, then please return here August 1, and every day for our daily, hot off the presses event guide with "Only the Best" NYCity event info.
++++++++++++++++++++++++++++++++++++++++++++++++++++++++++++
Lower Manhattan – Did you know?
New York City, a city of neighborhoods, is filled with sights that every tourist should see. No neighborhood has more spectacular sights than Lower Manhattan. Today's feature:
Address Whitehall Street and Broadway
Date 1733, reconstructed 1978
Where it gets its name The park originally had a "bowling green," or green space where the game "bowls" or "squares" would be played.
What it was before Parade ground, marketplace and supposedly the site where Peter Minuit purchased the land of Manhattan from Native Americans.
Why it's notable Part of its iron fence, which dates back to 1771 and once served to protect an equestrian statue of King George, remains intact. The statue, on the other hand, was toppled at beginning of the Revolution; find a painting of that rebellious event at the New-York Historical Society.
What it is now A public park—the oldest in the City—with a fountain at its center.
Fast fact The bronze Charging Bull statue was originally dropped off underneath a downtown Christmas tree Mission Impossible–style, before finding its permanent Bowling Green home."  (nycgo.com)
++++++++++++++++++++++++++++++++++++++++++++++++++++++++++
Now how about some other useful information during these trying times.
NYC-Arts Top Five Virtual Picks: July 10 – July 16
Interesting. Unusual. Uniquely NYC. Highlights of this week's top virtual events include Front Row Summer Evenings, Because Once You Enter My House It Becomes Our House, a radio broadcast of Richard II and more. Get the NYC-ARTS Top Five in your inbox every Friday and follow @NYC_ARTS on Instagram or @NYCARTS on Twitter to stay abreast of events as they happen.
Queens
Fri, Jul 10, 2020 – Thu, Dec 31, 2020
As the country grapples with both a deadly pandemic and the tragic consequences of systemic racism, Socrates Sculpture Park will open an exhibition of new outdoor monuments this summer. MONUMENTS NOW seeks to address the role of monuments in American society – some of which have been removed in recent days – and presents artist-envisioned monuments highlighting underrepresented histories including queer, Indigenous, and diasporic narratives.Socrates Sculpture Park, as with all NYC Parks, has been open and operating …
=============================================================
In the age of Covid-19 this info from City Guide is one of the best sources of info on What's Happening, even if some are only available in your home, and not in your favorite venue.
(7/10-7/12) New York City has entered Phase 3 of its cautious reopening and there's more to do in NYC than there's been since our mid-March lockdown. This detailed map of open restaurants shows over 7,300 venues now serving; included in that number are 4,000 places where you can eat outside. Entire streets are being closed to traffic and opened to expanded outdoor dining plans, including Arthur Avenue in the Bronx; Doyers Street in Chinatown, East 101st Street in Harlem, 46th Street along Midtown East and West, stretches of the Meatpacking District, Broadway in the Flatiron, Orchard and Broome Sts., on the Lower East Side, and Mulberry Street and Hester Street in Little Italy; Brooklyn will be welcoming along Fifth Avenue in Park Slope, in addition to stretches of Red Hook and Dumbo; Bell Boulevard and 41st Avenue in Bayside will represent Queens and New Dorp Lane for Staten Island. Read on for more reopenings and other things to do in NYC this weekend!
CHELSEA PIERS POP-UP ROOFTOP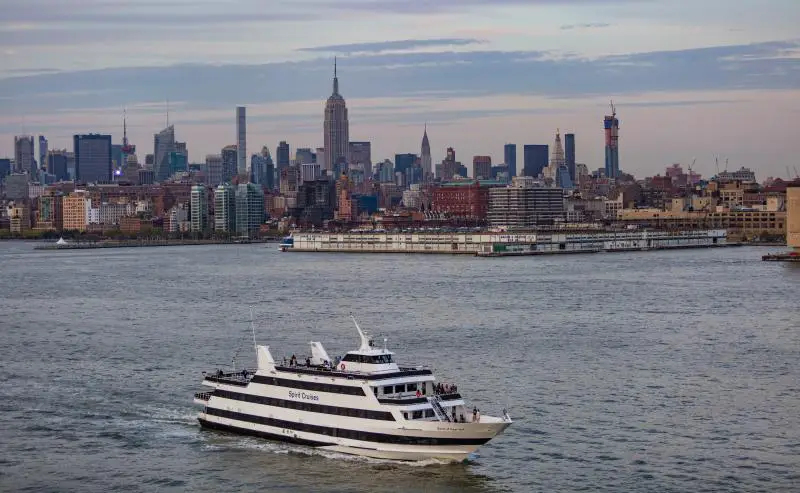 Credit: Hornblower Cruises and Events.
You can enjoy the city skyline from entry points in both New York City and New Jersey with Spirit Cruises. A regular program of outdoor dining experiences will be available from Saturday, July 11 onwards aboard the Spirit of New Jersey, which has a fabulous rooftop experience, sailing from its home port of Lincoln Harbor Marina in Weehawken. Delicious cuisine and a full array of drinks are equalled only by unbeatable views of the Empire State Building, Brooklyn Bridge, and Statue of Liberty. Prices start at $69 for lunch and $120 for dinner and and include a multi-course menu of freshly prepared entrees, salads, and desserts. Across the Hudson in Chelsea, come out this Friday, July 10th for an outdoor pop-up experience onboard at Chelsea Piers. There will be table-side bar service and light bites available for purchase, with free entry (first-come first-served in accordance with current capacity limits). Vessels offer expansive decks, providing plentiful space and fresh air, ensuring more than enough room on board for everyone to stay safely apart. For more on SafeCruise by Hornblower's industry-defining standards for health, safety, and security, see above or read more at hornblower.com/safecruise. Spirit of New York: Chelsea Piers, 212-727-2789; Spirit of New Jersey: Lincoln Harbor, 201-333-8600; spiritcruises.com
NEWLY REOPENED!

The Starbucks Reserve® Roastery New York in the Meatpacking District is a place to experience Starbucks like never before. This 23,000-square-foot plant contains not only retail space but also an operating coffee roastery. Back open and welcoming visitors again, you can enjoy a variety of coffee classics and roastery creations—each drink is handcrafted with Starbucks's rarest coffees, roasted on site. In addition, there are Princi Italian pastries made fresh daily, and "Family Meals" that you can enjoy at home. New cleaning and social distancing protocols will keep guests safe. 61 Ninth Ave., 212-691-0531, starbucksreserve.com/newyork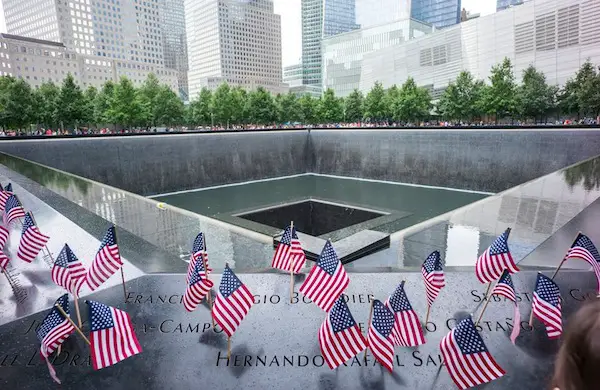 Photo: Jin Lee
The 9/11 Memorial & Museum has reopened the plaza to the general public as of Sunday, July 5th.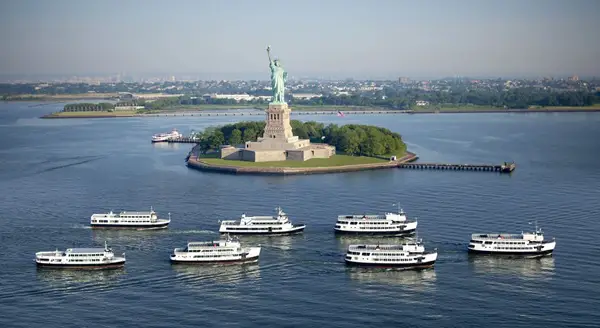 Although the Statue of Liberty and Ellis Island remain temporarily closed, Statue Cruises is once again out and about in New York Harbor. Sixty-minute tours, complete with history and stunning views, can now be booked, with a focus on safety. Tours run four times daily out of the Battery Park departure point in Lower Manhattan at 10am, 11:30am, 1pm, and 2:30pm. These tours will continue until Liberty Island and Ellis Island reopen (Statue Cruises is the exclusive provider of ferry service for the National Park Service to the two landmarks). Tickets are $26/adult, $19/seniors, $14/child and free for children three years and under. Tickets may be purchased in advance (strongly encouraged) from the Statue Cruises website or at Gangway 5 in Battery Park. statuecruises.com
PIANO IN BRYANT PARK
One of Bryant Park's most popular programs, "Piano in Bryant Park," is back again. Audiences are encouraged to wear masks and practice social distancing while seated in the park's iconic moveable bistro chairs. On July 6, 7, and 9 enjoy the sounds of jazz pianist Kuni Mikami. Piano in Bryant Park, which showcases the finest ragtime, stride, and jazz pianists, takes place Mondays, Tuesdays, and Thursdays from 12:30 to 2:30pm through August.
NYC RESOURCES

The Metropolitan Opera is streaming operas FREE nightly.
The French Institute Alliance Française is taking its annual Bastille Day celebration online this year. From Saturday, July 11th through Tuesday, July 14th, head to Zoom and Facebook for a four-day virtual fête that comes complete with virtual performances, film screenings, rosé and Champagne tastings, cooking events, kids activities, dance parties, and much more. fiaf.org/event_tag/2020-bastille-day
The New York Public Library provides access to more than 300,000 FREE e-books and e-audio books.
NYC Health information page for COVID-19.
NYC restaurant world information.
Stream hundreds of Broadway shows (by subscription).
15 Broadway shows you can watch from home.


Broadway performances live—from stars' living rooms.
The New York City Ballet presents a spring digital season.
Virtual programming will keep you connected to the York Theatre Company.
One World Observatory has made One World Explorer, the attraction's Digital Skyline Guide, available for remote watching. Virtual helicopter tours of the city's most iconic sites are available now.
51 New York TV shows and movies.
5 eras of New York to enjoy in books and movies.
2,500 museums and galleries you can visit virtually.
The New York Botanical Garden in bloom from home.
Exploring Ripley's Believe It or Not! Times Square.
The Top of the Rock launches a brief virtual tour on YouTube.
Fun at-home activities for kids.
6 podcast series to help you understand New York.
Discover the best of New York, from hidden gems to iconic landmarks, through The New York Landmarks Conservancy's "Tourist in your own Town" Video Series.
VIRTUAL MUSEUMS
Explore the world of design with Cooper Hewitt.
Experience the Intrepid Museum anywhere.
New-York Historical Society from home.
Virtually visit the Louis Armstrong House Museum.
The Merchant's House Museum from home.
You can take a virtual tour of the Tibetan Buddhist Shrine Room at the Rubin Museum of Art. (You can find two hours of meditative chanting as well, if you're searching out some respite.)
VIRTUAL TALKS, LECTURES, AND EVENTS
Thought Gallery has hundreds of livestream talks, lectures, performances, and more. Check out sessions with celebs, live concerts, and opportunities to learn the latest on everything from science to philosophy to social justice
=============================================================
WFUV-FM 90.7 is my fave local radio station. Noncommercial, member-supported with a format of adult album alternative music, WFUV is doing it's best to keep us connected to our music with a comprehensive, updated list of live music online.
Scheduled Shows
7/9 – My Morning Jacket The Waterfall II party
7/9 – Lucius: Wildewoman (with Brandi Carlile)
7/10 – Citizen Cope debut performance of his brand new acoustic album plus deep cuts
7/10 – Brooklyn Bowl 11th Anniversary Celebration 11+ hours of music and more with Phil Lesh, Soulive, Tank & The Bangas, Fantastic Negrito and more
7/10 – Norah Jones performance and Q&A
7/11 – Winnipeg Folk Festival At Home: new performances from Waxahatchee, Kurt Vile and more; past sets from Arlo Guthrie, Brandi Carlile, Jason Isbell, Courtney Barnett
7/11 – Rufus Wainwright Unfollow the Rules record release party
7/12 – Brandi Carlile performs Bear Creek
7/12 – Ani DiFranco on the Awful Good Writers Heavy Hitters Festival
7/12 – Mary Gauthier – Sundays w/Mary special guest Lori McKenna
7/14-19 – Woody Fest 2020 with Arlo Guthrie, Jason Mraz, Glen Hansard, Graham Nash, Mary Gauthier and more, plus seminars, panels and poetry
7/14 – On Your Radar with WFUV's John Platt: Tragedy Ann, Mark Dvorak and Siobhan O'Brien
Get a running list of Live and Archived online concerts at wfuv.org
========================================================
STAY HOME FOR A BIT LONGER – MASK UP AND STAY SAFE.