Pre Covid-19 we searched the internet everyday looking for the very best of What's Happening, primarily on Manhattan's WestSide, so that you didn't have to."
We made it as easy as 1-2-3.
Covid-19 has required some changes for the time being.
Stay Safe.
==============================================================
For the month of July we are going to try a different format – on some days we will go visual and offer a selection of the very best NYCity Instagram photos or YouTube videos. Some days you will find "the Nifty Nine", all the NYC news you need to start your day, or the Top Online Travel Forums with NYC info. On other days we will offer "Corona Culture" – updated info and video especially suited to these difficult times.
We hope you will come back often to see what's cooking here.
Today it's Best NYCity Restaurants.
With restaurants partially opened or only open for takeout, this info is more useful for that glorious time when we have beaten the virus and life has returned to some form of normal.
It's not difficult to find a place to eat in Manhattan. Seems like there is at least one restaurant on every block. The New York City health department inspected over 10,000 eating establishments in Manhattan alone last year. And the selection of restaurants includes cuisines from all over the world.
Finding a good place to eat is a bit harder. We could start with New York City's 72 Michelin-Starred Restaurants, but they are more suitable for those on expense accounts or celebrating a special event. No worries. There are many guides to good eating available, if you know where to look.
Here are a few of my favorite guides to the best restaurants in various neighborhoods:
We hope you enjoy this change of pace, then please return here August 1, and every day for our daily, hot off the presses event guide with "Only the Best" NYCity event info.
++++++++++++++++++++++++++++++++++++++++++++++++++++++++
Lower Manhattan – Did you know?
New York City, a city of neighborhoods, is filled with sights that every tourist should see. No neighborhood has more spectacular sights than Lower Manhattan. Today's feature:
"Downtown Manhattan's largest public open space, this 25-acre waterfront park is a hub of outdoor activity. It's the site of open-air concerts, beautiful gardens and the Castle Clinton National Monument, along with the SeaGlass Carousel, a kid-friendly favorite. For more information, visit thebattery.org."  (nycgo.com)
"The Battery, formerly known as Battery Park, is a 25-acre (10 ha) public park located at the southern tip of Manhattan Island in New York City facing New York Harbor.  The park contains attractions such as an old fort named Castle Clinton; multiple monuments; and the SeaGlass Carousel. The surrounding area, known as South Ferry, contains multiple ferry terminals, including the Staten Island Ferry's Whitehall Terminal as well as boat launches to the Statue of Liberty National Monument.
The park and surrounding area is named for the artillery batteries that were built in the late 17th century to protect the settlement behind them. By the 1820s, the Battery had become an entertainment destination, with the conversion of Castle Clinton into a theater venue. During the mid-19th century, the modern-day Battery Park was constructed and Castle Clinton was converted into an immigration and customs center. The Battery was commonly known as the landing point for immigrants to New York City until 1890, when the Castle Clinton immigration center was replaced by one on Ellis Island. Castle Clinton then hosted the New York Aquarium from 1896 to 1941."  (wikipedia.com)
For a History of the Battery try this.
For a walking tour of the Battery focused on History try this.
For a walking tour of the Battery focused on Immigration try this.
++++++++++++++++++++++++++++++++++++++++++++++++++++++++
Now how about some other useful information during these trying times.
WFUV-FM 90.7 is my fave local radio station. Noncommercial, member-supported with a format of adult album alternative music, WFUV is doing it's best to keep us connected to our music with a comprehensive, updated list of live music online.
7/16 – Lucius livestreams Thursdays in July $ supporting local businesses, this week: covers
7/16 – Indigo Girls All-Dedication Concert, 7pm, in the spirit of an old school radio night
7/16 – The Jewbadours: The Last Schmaltz – Joe's Pub Live! From the Archives
7/18 – Michael Franti "Stay At Home Concert World Tour" Livestream from Soulshine Bali ($) from 9-11:30pm7/18 – James Maddock Live Stream Concert at 7pm
7/18 – Prison Music Project Town Hall at 8pm, a livestream panel with creators Ani DiFranco, Zoe Boekbinder and Leyla McCalla
7/19 – Mary Gauthier – Sundays w/Mary and special guest Carlene Carter
7/19 – Shelby Lynne, The Chronicles Volume II – 2pm $ Music and fellowship
Get a running list of Live and Archived online concerts at wfuv.org
==============================================================
For a real sense of the city's epic scale, you need to get up into the sky, into one of New York's unparalleled observatories. The sometime chaos of New York sidewalks gives way to a clarity on the upper stories. The grids of streets, the flow of traffic, and architectural masterpieces from across the eras all come into clear focus. If you're planning a visit to NYC, check out these virtual tours of our famous observation decks so you'll be ready to choose the best one for you.
Virtual Tour: Empire State Building

EMPIRE STATE BUILDING. Ever since its 1931 completion, the Empire State Building has been the most famous skyscraper in the world. It remains a vital part of NYC and an inspiration to the millions of visitors who ascend to the ESB observation deck in every season. Newly updated features include a museum, the Observatory Experience. The result of a $165 million investment, this second floor stopover will substitute for what was once time spent waiting on line. Take a virtual tour of the space above, and check out the many features the attraction offers. 20 W. 34th St., 212-736-3100, esbnyc.com
Virtual Tour: One World Observatory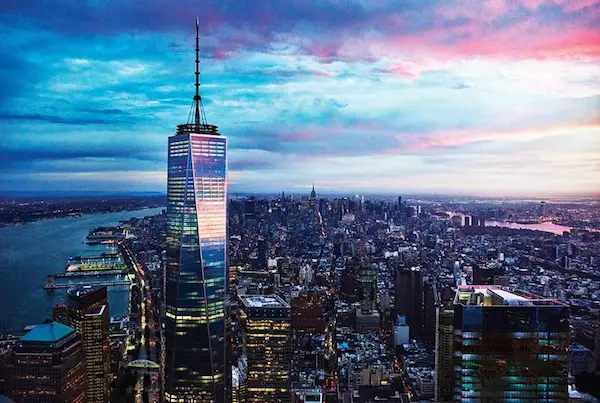 ONE WORLD OBSERVATORY. There's only one tallest. Only one strongest. And only one destination selected as the Best New Attraction in the World. These attributes belong to One World Trade Center, and its pinnacle, the One World Observatory, rising over 100 stories in the sky. Check out this virtual overview of what you'll find there. 285 Fulton St., 844-696-1776, oneworldobservatory.com
Virtual Tour: Top of the Rock
TOP OF THE ROCK. At this stunning perch atop Rockefeller Center, you'll find wholly unobstructed views of the city's most iconic landmarks, including the Statue of Liberty, the Empire State Building, the Chrysler Building, the rivers, and all of Central Park (its size can only truly be appreciated when seen from above). The Grand Viewing Deck on the 69th floor offers unparalleled views of the city, with visibility that reaches some 30 miles on a clear day. The 70th Floor is the proverbial cherry on top, allowing visitors to experience a 360° panorama of Manhattan in all its glory. This is an open-air perch with completely unobstructed views—no glass or anything. It provides a vantage point unlike any other in the city…or the world. 30 Rockefeller Ctr., 212-698-2000, topoftherocknyc.com
Virtual Tour: Edge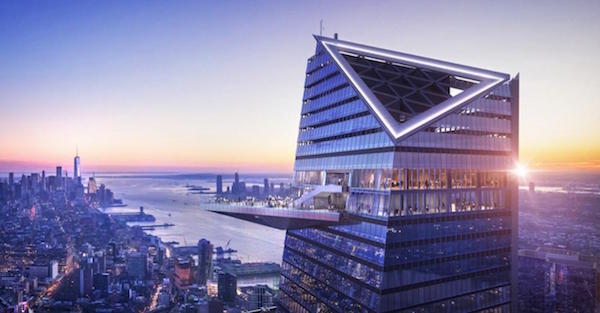 EDGE, the Western Hemisphere's highest outdoor observation deck, opened in March 2020, just before the city went on pause. The city is looking forward to the return of this incredible, triangular deck extending from the skyscraper at 30 Hudson Yards. You can stand 100 floors above the ground and see miles and miles in every direction. The deck offers 360-degree views with jaw-dropping glimpses of the Empire State Building, One World Trade Center, the Hudson River, and much more. You can tour the various features at Edge here. Level 4 inside The Shops & Restaurants at Hudson Yards, 332-204-8500, edgenyc.com
---
There's no bad time to take an eagle eye to the lives of millions of New Yorkers, but if you can time it, we'd steer you to dusk, when you can enjoy both sunset and the thrill of watching the city's lights flickering to life.
Want more free advice on what to do and see in New York? Join our Facebook group Everything to Do NYC, a place for people to ask questions and get tips on how to make the most of the city.
====================================================
NYC-Arts Top Five Virtual Picks: July 17 – 23
Interesting. Unusual. Uniquely NYC. Highlights of this week's top virtual events include the 48th Dance on Camera Festival, One More Thing, REVERSE REVERSE and more. Get the NYC-ARTS Top Five in your inbox every Friday and follow @NYC_ARTS on Instagram or @NYCARTS on Twitter to stay abreast of events as they happen.
Bronx / Thu, Jun 04, 2020 – Sat, Aug 01, 2020
This exhibit was curated by the 2019-20 Teen Council cohort at The Bronx Museum of the Arts. "REVERSE REVERSE: BRING IT BACK, BRING IT BACK" invited teen artists throughout New York City to submit work reflecting their experiences, memories of, and nostalgia for the last two decades.The exhibit is organized in four sections:COMING OF AGEIMAGINARY REALMPOP CULTURESPACES AND PLACESWatch a video of the opening reception on Thursday, June 4, 2020:Created in 2005, The Bronx Museum's Teen Council is an intensive …
======================================================
STAY HOME FOR A BIT LONGER – MASK UP AND STAY SAFE.