Pre Covid-19 we searched the internet everyday looking for the very best of What's Happening, primarily on Manhattan's WestSide, so that you didn't have to.
We made it as easy as 1-2-3.
Covid-19 has required some changes for the time being.
Stay Safe.
============================================================
For the month of August we are going to try a different format – on some days we will offer "Top 10 Corona Culture," updated info and video especially suited to these difficult times.  On other days we will go visual and offer a selection of the very best NYCity Instagram photos or YouTube videos and some days you will find "the Nifty Nine", all the NYC news you need to start your day, or the Top Online Travel Forums with NYC info.
We hope you will come back often to see what's cooking here.
Today it's Top 11 Corona Culture. NEW STUFF!
1. The Ultimate NYC Summer Bucket List for 2020 – New York Family
2. New York City museums reopening after pandemic closures | Newsday
3. The Met Is Reopening: Grab Your Timed Ticket and Give Your Bike to the Valet – The New York Times
With fewer people and more protocols, the country's largest museum is ready to welcome visitors again.
4. A Walk Through Harlem, New York's Most Storied Neighborhood – The New York Times
Our critic chats with the architect David Adjaye about Hotel Theresa, Marcus Garvey Park, the home of Langston Hughes, the Y.M.C.A. and other landmarks.
5. What's next after Phase 4? What you need to know about NYC's reopening (TONY). There's no Phase 5, but there's still a lot of reopening to do.
6. The 9 best streets for outdoor dining in NYC this summer  (TONY).
These streets are closed off to traffic on weekends through August for al fresco dining.
7. Brooklyn Bridge, Star of the City: Here's a Tour  (NYT).
Our critic explores the bridge and the neighborhoods on either side with the architects Marion Weiss and Michael Manfredi.
8. All the performances, events, and classes in NYC you can stream online (6sqft).
9. 15 TV Shows That Make You Want to Visit New York City  (nycgo.com).
10. The Best Online Workout Classes, According to Strategist Writers and Editors  (NY Magazine).
11. 10 virtual tours: Travel the world without leaving home  (Newsday).
Take a tour of many of the world's greatest sights—from home! Travel across the globe through these virtual, online experiences.
We hope you enjoy this change of pace, then please return here October 1, and every day for our daily, hot off the presses event guide with "Only the Best" NYCity event info.
++++++++++++++++++++++++++++++++++++++++++++++++++++++++
Now how about some other useful information during these trying times.
In the age of Covid-19 this info from City Guide is one of the best sources of info on What's Happening, even if some are only available in your home, and not in your favorite venue.
For a real sense of the city's epic scale, you need to get up into the sky, into one of New York's unparalleled observatories. The sometime chaos of New York sidewalks gives way to a clarity on the upper stories. The grids of streets, the flow of traffic, and architectural masterpieces from across the eras all come into clear focus. If you're planning a visit to NYC, check out these virtual tours of our famous observation decks so you'll be ready to choose the best one for you.
Virtual Tour: Empire State Building

EMPIRE STATE BUILDING. Ever since its 1931 completion, the Empire State Building has been the most famous skyscraper in the world. It remains a vital part of NYC and an inspiration to the millions of visitors who ascend to the ESB observation deck in every season. Newly updated features include a museum, the Observatory Experience. The result of a $165 million investment, this second floor stopover will substitute for what was once time spent waiting on line. Take a virtual tour of the space above, and check out the many features the attraction offers. 20 W. 34th St., 212-736-3100, esbnyc.com
Virtual Tour: One World Observatory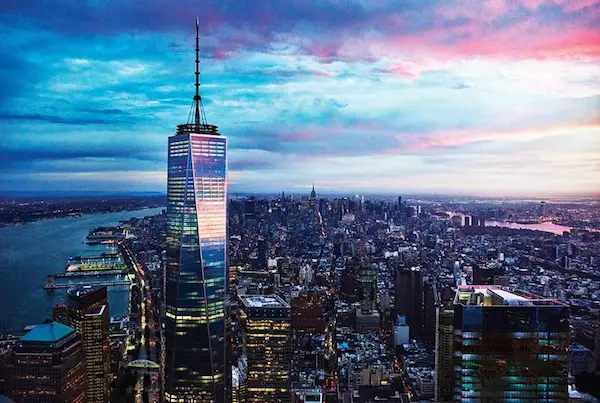 ONE WORLD OBSERVATORY. There's only one tallest. Only one strongest. And only one destination selected as the Best New Attraction in the World. These attributes belong to One World Trade Center, and its pinnacle, the One World Observatory, rising over 100 stories in the sky. Check out this virtual overview of what you'll find there. 285 Fulton St., 844-696-1776, oneworldobservatory.com
Virtual Tour: Top of the Rock
TOP OF THE ROCK. At this stunning perch atop Rockefeller Center, you'll find wholly unobstructed views of the city's most iconic landmarks, including the Statue of Liberty, the Empire State Building, the Chrysler Building, the rivers, and all of Central Park (its size can only truly be appreciated when seen from above). The Grand Viewing Deck on the 69th floor offers unparalleled views of the city, with visibility that reaches some 30 miles on a clear day. The 70th Floor is the proverbial cherry on top, allowing visitors to experience a 360° panorama of Manhattan in all its glory. This is an open-air perch with completely unobstructed views—no glass or anything. It provides a vantage point unlike any other in the city…or the world. 30 Rockefeller Ctr., 212-698-2000, topoftherocknyc.com
Virtual Tour: Edge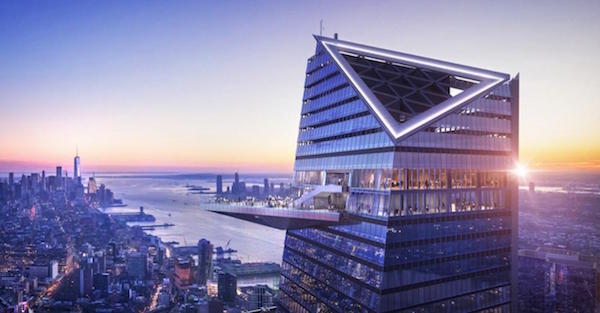 EDGE, the Western Hemisphere's highest outdoor observation deck, opened in March 2020, just before the city went on pause. The city is looking forward to the return of this incredible, triangular deck extending from the skyscraper at 30 Hudson Yards. You can stand 100 floors above the ground and see miles and miles in every direction. The deck offers 360-degree views with jaw-dropping glimpses of the Empire State Building, One World Trade Center, the Hudson River, and much more. You can tour the various features at Edge here. Level 4 inside The Shops & Restaurants at Hudson Yards, 332-204-8500, edgenyc.com
---
There's no bad time to take an eagle eye to the lives of millions of New Yorkers, but if you can time it, we'd steer you to dusk, when you can enjoy both sunset and the thrill of watching the city's lights flickering to life.
Want more free advice on what to do and see in New York? Join our Facebook group Everything to Do NYC, a place for people to ask questions and get tips on how to make the most of the city
===========================================================
WFUV-FM 90.7 is my fave local radio station. Noncommercial, member-supported with a format of adult album alternative music, WFUV is doing it's best to keep us connected to our music with a comprehensive, updated list of live music online.
8/27 – Folk Medicine benefit for people of the Amazon with John Medeski, Holly Miranda & more
8/27 – Grateful Dead film Sunshine Daydream
8/28 – Dawes live online from a rooftop in LA
8/28 – St. Paul & The Broken Bones from Nashville
8/28 – Angel Olsen release show: Whole New Mess
8/28-29 – Inside Lands featuring Gorillaz, LCD Soundsystem, Jack White, Haim, Leon Bridges, alt-J, Cage the Elephant, Beach House, Brittany Howard, Nathaniel Rateliff, Sharon Van Etten & more
8/29 – Björk live from Reykjavík
8/29 – Avett Brothers from Charlotte Motor Speedway
8/29 – Anders Osborne from Tipitina's
8/29 – Cocteaufest fan celebration
8/30 – Los Lobos at Belly Up Solana Beach
8/30 – Michael Franti: Concert & Conversation
8/31 – John Hiatt requests and listener Q&A
=========================================================
STAY HOME FOR A BIT LONGER – MASK UP AND STAY SAFE.