Pre Covid-19 we searched the internet everyday looking for the very best of What's Happening, primarily on Manhattan's WestSide, so that you didn't have to.
We made it as easy as 1-2-3.
Covid-19 has required some changes for the time being.
Stay Safe.
=============================================================
Earlier today we covered Corona Culture and Lower Manhattan history during the Revolutionary War. Now, how about some more useful information.
In the age of Covid-19 this info from City Guide is one of the best sources of info on What's Happening, even if some are only available in your home, and not in your favorite venue.
For a real sense of the city's epic scale, you need to get up into the sky, into one of New York's unparalleled observatories. The sometime chaos of New York sidewalks gives way to a clarity on the upper stories. The grids of streets, the flow of traffic, and architectural masterpieces from across the eras all come into clear focus. If you're planning a visit to NYC, check out these virtual tours of our famous observation decks so you'll be ready to choose the best one for you.
Virtual Tour: Empire State Building
EMPIRE STATE BUILDING. Ever since its 1931 completion, the Empire State Building has been the most famous skyscraper in the world. It remains a vital part of NYC and an inspiration to the millions of visitors who ascend to the ESB observation deck in every season. Newly updated features include a museum, the Observatory Experience. The result of a $165 million investment, this second floor stopover will substitute for what was once time spent waiting on line. Take a virtual tour of the space above, and check out the many features the attraction offers. 20 W. 34th St., 212-736-3100, esbnyc.com
Virtual Tour: One World Observatory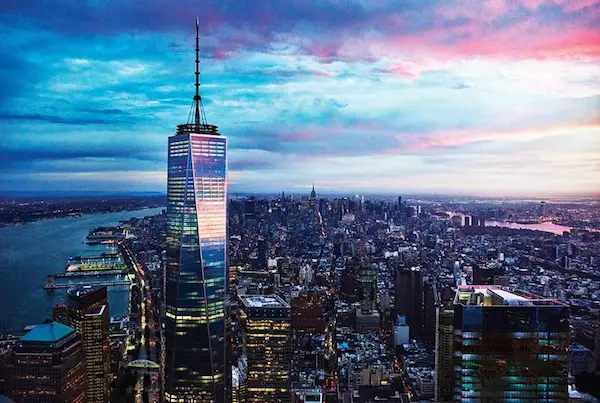 ONE WORLD OBSERVATORY. There's only one tallest. Only one strongest. And only one destination selected as the Best New Attraction in the World. These attributes belong to One World Trade Center, and its pinnacle, the One World Observatory, rising over 100 stories in the sky. Check out this virtual overview of what you'll find there. 285 Fulton St., 844-696-1776, oneworldobservatory.com
Virtual Tour: Top of the Rock
TOP OF THE ROCK. At this stunning perch atop Rockefeller Center, you'll find wholly unobstructed views of the city's most iconic landmarks, including the Statue of Liberty, the Empire State Building, the Chrysler Building, the rivers, and all of Central Park (its size can only truly be appreciated when seen from above). The Grand Viewing Deck on the 69th floor offers unparalleled views of the city, with visibility that reaches some 30 miles on a clear day. The 70th Floor is the proverbial cherry on top, allowing visitors to experience a 360° panorama of Manhattan in all its glory. This is an open-air perch with completely unobstructed views—no glass or anything. It provides a vantage point unlike any other in the city…or the world. 30 Rockefeller Ctr., 212-698-2000, topoftherocknyc.com
Virtual Tour: Edge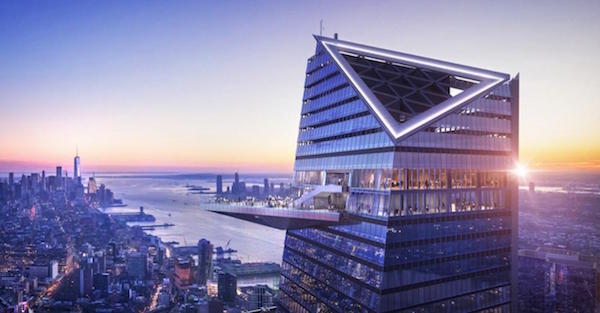 EDGE, the Western Hemisphere's highest outdoor observation deck, opened in March 2020, just before the city went on pause. The city is looking forward to the return of this incredible, triangular deck extending from the skyscraper at 30 Hudson Yards. You can stand 100 floors above the ground and see miles and miles in every direction. The deck offers 360-degree views with jaw-dropping glimpses of the Empire State Building, One World Trade Center, the Hudson River, and much more. You can tour the various features at Edge here. Level 4 inside The Shops & Restaurants at Hudson Yards, 332-204-8500, edgenyc.com
---
There's no bad time to take an eagle eye to the lives of millions of New Yorkers, but if you can time it, we'd steer you to dusk, when you can enjoy both sunset and the thrill of watching the city's lights flickering to life.
Want more free advice on what to do and see in New York? Join our Facebook group Everything to Do NYC, a place for people to ask questions and get tips on how to make the most of the city
============================================================
WFUV-FM 90.7 is my fave local radio station. Noncommercial, member-supported with a format of adult album alternative music, WFUV is doing it's best to keep us connected to our music with a comprehensive, updated list of live music online.
10/16 – "A Rufus-Retro-Wainwright-Spective" livestream series with Q&A on Friday nights

10/16 – Great Performances: GRAMMY Salute To Music Legends honoring John Prine (Jason Isbell & Amanda Shires, Brandi Carlile), Chicago, Roberta Flack (Cynthia Erivo and Leslie Odom, Jr.), Isaac Hayes, Iggy Pop, Public Enemy, Sister Rosetta Tharpe (Yola)

10/16-18 – Save Our Stages festival with Brittany Howard, Foo Fighters, Leon Bridges and more from venues across the country

10/17 – Joan Osborne and Stephen Kellogg, live from Ridgefield Playhouse

10/18 – James Maddock full band show live from Rockwood Music Hall

10/18 – Voice Your Vote livestream concert, curated by Valerie June with Brittany Howard, Black Pumas, Rhiannon Giddens, Jon Batiste and more from NY's City Winery

10/20 – Fair Play 2020: A Concert for Justice with Robben Ford, Chris Difford (of Squeeze), Lady A, Amy Fairchild, Richard Barone, David Poe and more, to benefit the Bronx Immigration Partnership

10/21 – Son Little, live from Le Poisson Rouge
==============================================================
New York Family is a site that is real surprise. Sure, it has lots of good stuff for kids, but also lots of good stuff for adults. You should regularly check out what they are up to, especially this Fall Foliage info while the weather is still so nice.
NYC Leaf Peeping and Fall Foliage in 2020  (newyorkfamily.com)
"With Fall just around the corner, the city will soon be filled with classic autumn colors. In this list, we provide an updated version from our previous leaf-peeping post containing new COVID-19 guidelines that parks are following. All of these will be open for the season that you can visit at any time or with reserved time tickets. Make sure to check each website for specific information."
==============================================================
STAY HOME FOR A BIT LONGER – MASK UP AND STAY SAFE.