Pre Covid-19 we searched the internet everyday looking for the very best of What's Happening, primarily on Manhattan's WestSide, so that you didn't have to."
We made it as easy as 1-2-3.
Covid-19 has required some changes for the time being.
Stay Safe.
=============================================================
Earlier today we covered NYC Weekend Corona Culture. Now, how about some more useful information. (New Stuff!)
"Everyone's favorite cozy, spooky month is here!
That's right, New York, it's October. The time for all of the pumpkins, apples, hot ciders, and Halloween costumes you can get your hands on. Plus it's still not too cold yet, so there are tons of outdoor activities you can still enjoy, along with foods to try and NYC locales to visit. From magical pumpkin extravaganzas to catching the brightest full moon to munching on the yummiest fall treats, check out these 101 tips for awesome activities to enjoy all October long:" ============================================================
"One reason some Long Islanders avoid the landmark and iconic sights of New York City is the struggle with hordes of tourists, but thanks to the health crisis, the world is not coming to the Big Apple as in years past. Although dozens of states and territories remain under the Gov. Andrew M. Cuomo's quarantine, a trip to the Five Boroughs is still only a drive or train ride away for Long Islanders who have spent years coming into NYC for fun, food and frolick. With fall still a reasonable time to be outside, and COVID-19 hospitalizations (as of Sept. 1) at the lowest point since March 16, here are some places you may want to see — or see again — in the Big City (just be sure to bring a mask):"
============================================================
Searching for listings and reviews for the best New York museum exhibitions and shows? We have you covered.
"New York City has tons of things going for it, from incredible buildings to breathtaking parks. But surely, the top of the list includes NYC's vast array of museums, covering every field of culture and knowledge: There are quirky museums and interactive museums, free museums and world-beating art institutions like the Metropolitan Museum. Between them, they offer so many exhibitions, of every variety and taste, that it's hard to keep track of them. But if you've starting to suffer a sudden attack of FOMA, fear not! We've got you covered with our select list of the best museum exhibitions in NYC."
==========================================================
In the age of Covid-19 this info from City Guide is one of the best sources of info on What's Happening, even if some are only available in your home, and not in your favorite venue.
(10/19-10/25) "There's more to do in NYC now than there's been since the mid-March lockdown, including many of the city's cultural destinations. This detailed map of open restaurants shows over 10,000 venues now serving; included in that number are more than 5,000 places where you can eat outside. More than 340 streets have been closed to traffic and opened to expanded outdoor dining plans. Shopping malls got the green light to reopen this week—read on for more reopenings and other things to do!"
AN IMMERSIVE ART EXHIBITION
Head to the historic boiler room of Chelsea Market to experience ARTECHOUSE, a new immersive art space. The latest exhibition there, "Celestial," opens Thursday with an immersive digital experienced inspired by the Pantone Color of the Year 2020. The installation draws on "Classic Blue"'s inspirational qualities to take visitors beyond the skies. Sound, light, and color come together for a very Instagrammable experience. "During these unprecedented times as a society we have found ourselves in a new state of existence. Before 2020 even began, Pantone selected Classic Blue as the color of the year because they saw it as the hue to sustain us during a time of change," says Sandro Keserelidze, co-founder and Chief Creative Officer of ARTECHOUSE . "2020 ended up bringing changes no one expected, making the hue of Classic Blue, and the qualities it represents, more relevant now than ever before. We couldn't think of a more timeless and timely theme to end the year and launch a new chapter of experiences." artechouse.com/nyc
HARLEM RESTAURANT WEEK

The 11th Harlem Restaurant Week is here, running from Monday, October 19th through Sunday, October 31st. You can take advantage of four specials, a $25 prix fixe lunch, $35 prix fixe dinner, under $10 Harlem eats, and under $25 retail offers. In this COVID era, expect outdoor dining and takeout/delivery experiences. There are plenty of options in this vibrant neighborhood, check out the site for International, Fine Dining, Date Night, and Drinks categories.
GET YOUR COSTUME, NEW YORK!
New York Costumes / Halloween Adventure is the city's biggest year-round costume destination and they are more than ready for Halloween 2020. Head over to the East Village to find NYC's largest costume and accessories superstore. The selection of costumes, wigs, masks, makeup, decor, and novelties is extensive. Hours are extended for the season; Monday through Thursday 11am until 8pm, until 9am Friday and Saturday, and Sundays from noon to 7pm.
GHOST STORIES OF LOWER MANHATTAN (IN PERSON)
Get the jump on Halloween this Sunday with a tour of the oldest part of the city. You'll go back to 1624 and beyond as you explore the landmarks of Wall Street, the winding paths of Bowling Green, and the tombstones of Trinity Churchyard. From Revolutionary War heroes to royal British crossdressers, ghostly figures of New York's past will entertain and sometimes shock you. Two sessions, 5pm and 7pm.
INSTAGRAMMABLE MOMENTS

Photo by Jane Kratochvil. 
Your Instagrammable Moment this week: the Pumpkin Arch has returned to the Heineken Riverdeck at Pier 17 in the Seaport District downtown. It's up now, through Thanksgiving. Make it a day trip and grab a bite to eat at Malibu Farm, The Fulton, or Cobble & Co! All restaurants are offering indoor and outdoor dining, with a selection of seasonal dishes.
ONGOING: THE QUEENS NIGHT MARKET AT ROCKEFELLER CENTER
Not in Queens and not at night, but the Queens Night Market is now holding down a prime slot on the south plaza of Rockefeller Center. From Monday through Saturday, 11am-5pm throughout the fall, head to this open-air scene to treat yourself to a big bite of New York City's global culture. Vendors include Treat Yourself Jerk Chicken (above) as well as Joey Bats Café for Portuguese egg tarts, Mamika's Homemade Balinese cuisine, Ecuadorian empanadas from La Braza, and many more.
NEWLY REOPENED!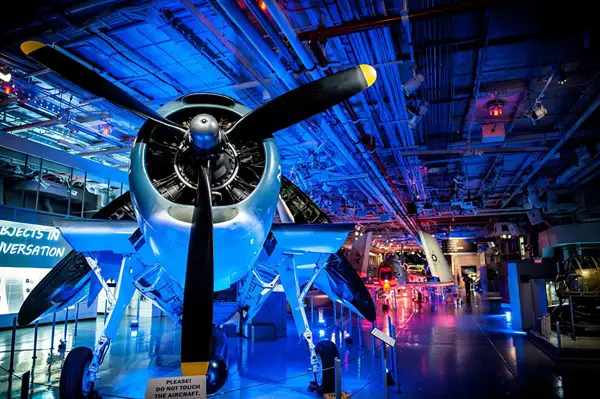 Founded in 1982, the Intrepid Sea, Air & Space Museum takes visitors on an interactive journey through history to learn about American innovation and bravery. After several months on pause, the museum is back as of Friday, September 25th. Among the treasures here you'll find the Space Shuttle Pavilion, home to Enterprise, the world's first space shuttle, which paved the way for America's successful space shuttle program. Also on display are 27 authentically restored aircraft, including the Lockheed A-12 Blackbird, the world's fastest military jet and spy plane, and the British Airways Concorde, the fastest commercial aircraft to ever cross the Atlantic Ocean. For the safety of both staff and visitors, many new safety procedures have been put in place—you can read about them here. Pier 86, W. 46th St. and 12th Ave., 212-245-0072, intrepidmuseum.org
===========================================================
"Cultural attractions are reopening across the country. If you decide to see a film or take in an exhibit, know the risks and take precautions."
===========================================================
Times editors have handpicked 9 stories for you to enjoy. Welcome to
The Weekender.
==============================================================
STAY HOME FOR A BIT LONGER – MASK UP AND STAY SAFE.