Pre Covid-19 we searched the internet everyday looking for the very best of What's Happening, primarily on Manhattan's WestSide, so that you didn't have to."
We made it as easy as 1-2-3.
Covid-19 has required some changes for the time being.
Stay Safe.
Earlier today we covered Top NYC Online Travel Forums and Lower Manhattan sights. Here is some more useful information.
Interesting. Unusual. Uniquely NYC. Highlights of this week's top events include Virtual Bloodlines Festival, Reparations NOW!, About Time: Fashion and Duration and more. Get the NYC-ARTS Top Five in your inbox every Friday and follow @NYC_ARTS on Instagram or @NYCARTS on Twitter to stay abreast of events as they happen.
Fri, Oct 23, 2020 – Tue, Nov 03, 2020
The consequences of the 2020 presidential election will be historic. Amid a global pandemic, our polarized nation will strive to mobilize millions of voters in states from coast to coast and territories beyond our borders. Despite withstanding discrimination, harassment, and brutality, Fannie Lou Hamer fought earnestly to ensure that African Americans had the right to vote. Her efforts, and those of other voting rights activists, culminated in the passage of the Voting Rights Act of …
Manhattan / Thu, Oct 29, 2020 – Sat, Feb 27, 2021
The Costume Institute's upcoming exhibition "About Time: Fashion and Duration" traces 150 years of fashion, from 1870 to the present, along a disrupted timeline, in honor of the Museum's 150th anniversary. Employing philosopher Henri Bergson's concept of la durée—the continuity of time—the exhibition will explore how clothes generate temporal associations that conflate the past, present, and future. The concept will also be examined through the writings of Virginia Woolf, who will serve as the exhibition's …
Manhattan / Fri, Oct 23, 2020 – Thu, Nov 12, 2020
Stephen Petronio Company is proud to announce the "Virtual Bloodlines Festival," a three week long digital happening showcasing the work of postmodern dance masters Trisha Brown, Merce Cunningham, Anna Halprin, Steve Paxton, Rudy Perez, and Yvonne Rainer. Running October 23 –November 12, 2020, the online festival will feature screenings of work from Stephen Petronio Company's Bloodlines, which began in 2015 and has since restaged 11 iconic dances. These masterpieces have irrevocably marked the American postmodern dance landscape and have had a particular …
Manhattan / Thu, Oct 29, 2020, 7:00 pm – 8:00 pm
"Reparations NOW!" is Ensemble Pi's new project, inspired by Ta-Nehisi Coates' congressional testimony and Ibram X. Kendi's best-seller book, "How to Be an Antiracist" – both of which offer powerful and compelling arguments in support of reparations for the African-American community. Focusing on social justice, the new-music collective Ensemble Pi has presented concerts in solidarity with Black Lives Matter and opposing police brutality and systemic racism since 2015. This new project features works from a diverse …
Manhattan / Fri, Sep 25, 2020 – Sun, Apr 04, 2021
The Museum of Arts and Design (MAD) presents "Beth Lipman: Collective Elegy," from September 25 to April 4, 2021, a major midcareer survey that is the first to assess the remarkable achievements of the renowned contemporary artist. From sumptuous displays of excess, including provocative installations comprising hundreds of individual glass elements, to poetic and contemplative works in glass, metal, clay, video, and photography, the works on view are ethereal meditations on time and mortality and simultaneously … ==============================================================
In the age of Covid-19 this info from City Guide is one of the best sources of info on What's Happening, even if some are only available in your home, and not in your favorite venue.
For a real sense of the city's epic scale, you need to get up into the sky, into one of New York's unparalleled observatories. The sometime chaos of New York sidewalks gives way to a clarity on the upper stories. The grids of streets, the flow of traffic, and architectural masterpieces from across the eras all come into clear focus. If you're planning a visit to NYC, check out these virtual tours of our famous observation decks so you'll be ready to choose the best one for you.
Virtual Tour: Empire State Building
EMPIRE STATE BUILDING. Ever since its 1931 completion, the Empire State Building has been the most famous skyscraper in the world. It remains a vital part of NYC and an inspiration to the millions of visitors who ascend to the ESB observation deck in every season. Newly updated features include a museum, the Observatory Experience. The result of a $165 million investment, this second floor stopover will substitute for what was once time spent waiting on line. Take a virtual tour of the space above, and check out the many features the attraction offers. 20 W. 34th St., 212-736-3100, esbnyc.com
Virtual Tour: One World Observatory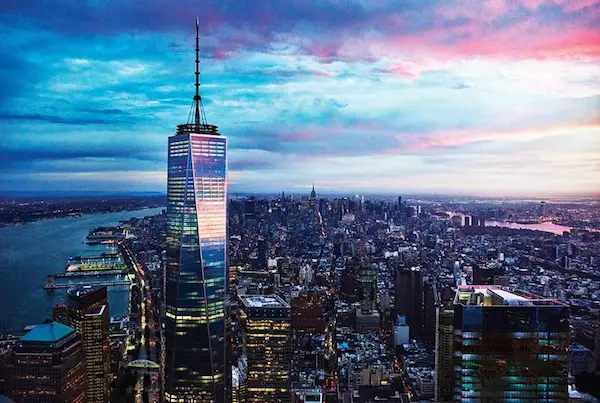 ONE WORLD OBSERVATORY. There's only one tallest. Only one strongest. And only one destination selected as the Best New Attraction in the World. These attributes belong to One World Trade Center, and its pinnacle, the One World Observatory, rising over 100 stories in the sky. Check out this virtual overview of what you'll find there. 285 Fulton St., 844-696-1776, oneworldobservatory.com
Virtual Tour: Top of the Rock
TOP OF THE ROCK. At this stunning perch atop Rockefeller Center, you'll find wholly unobstructed views of the city's most iconic landmarks, including the Statue of Liberty, the Empire State Building, the Chrysler Building, the rivers, and all of Central Park (its size can only truly be appreciated when seen from above). The Grand Viewing Deck on the 69th floor offers unparalleled views of the city, with visibility that reaches some 30 miles on a clear day. The 70th Floor is the proverbial cherry on top, allowing visitors to experience a 360° panorama of Manhattan in all its glory. This is an open-air perch with completely unobstructed views—no glass or anything. It provides a vantage point unlike any other in the city…or the world. 30 Rockefeller Ctr., 212-698-2000, topoftherocknyc.com
Virtual Tour: Edge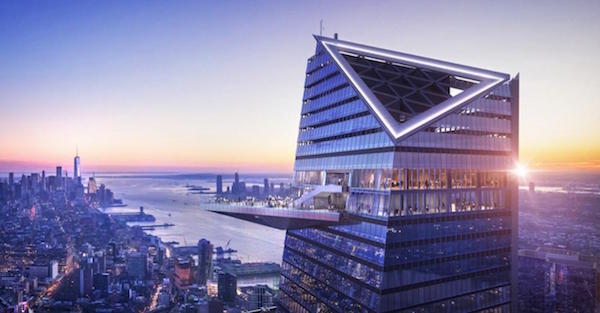 EDGE, the Western Hemisphere's highest outdoor observation deck, opened in March 2020, just before the city went on pause. The city is looking forward to the return of this incredible, triangular deck extending from the skyscraper at 30 Hudson Yards. You can stand 100 floors above the ground and see miles and miles in every direction. The deck offers 360-degree views with jaw-dropping glimpses of the Empire State Building, One World Trade Center, the Hudson River, and much more. You can tour the various features at Edge here. Level 4 inside The Shops & Restaurants at Hudson Yards, 332-204-8500, edgenyc.com
---
There's no bad time to take an eagle eye to the lives of millions of New Yorkers, but if you can time it, we'd steer you to dusk, when you can enjoy both sunset and the thrill of watching the city's lights flickering to life.
Want more free advice on what to do and see in New York? Join our Facebook group Everything to Do NYC, a place for people to ask questions and get tips on how to make the most of the city
=============================================================
These general interest links should be helpful, too.
==========================================================
STAY HOME FOR A BIT LONGER – MASK UP AND STAY SAFE.