Pre Covid-19 we searched the internet everyday looking for the very best of What's Happening, primarily on Manhattan's WestSide, so that you didn't have to." We made it as easy as 1-2-3.
Covid-19 has required some changes. Stay Safe.
Earlier today we covered Best NYC restaurants. Scroll down the site for a bit to find it. Now, how about some more useful information.
==============================================================
NYC-Arts Top Five Picks: December 18 – December 24
Interesting. Unusual. Uniquely NYC. Highlights of this week's top events include Making the Met, NYBG Glow, Alvin Ailey's Virtual Winter Season and more. Get the NYC-ARTS Top Five in your inbox every Friday and follow @NYC_ARTS on Instagram or @NYCARTS on Twitter to stay abreast of events as they happen.
Manhattan / Sat, Dec 12, 2020 – Thu, Dec 31, 2020
In 1969 filmmaker brothers Albert and David Maysles set out to shoot a series of concerts by The Rolling Stones that culminated in their capturing one of the era's most defining and consequential moments- the killing of a young Black man named Meredith Hunter by a Hells Angel during a free show at the Altamont Speedway in Tracy, California. GIMME SHELTER, the resulting film co-directed with Charlotte Zwerin, was released on December 6, 1970, and …
Fri, Dec 18, 2020, 7:00 pm – 9:00 pm
Every December since 1980, seven-time Grammy® winner Paul Winter and his colleagues have celebrated the Winter Solstice at New York's Cathedral of St. John the Divine with a feast of music and dancing from the diversity of cultures and creatures of the world. This December, with their beloved cathedral forum closed for events, their "41st Annual Winter Solstice Celebration" will be a unique video presentation that will be available to a worldwide audience. With a theme of …
Queens / Fri, Dec 18, 2020, 7:00 pm – 9:00 pm
LAHM would love for you to join them tonight, December 18th at 7pm! as they celebrate the season with their favorite memories of Louis and Lucille at the holidays and performances by special guests: Champian Fulton, Ethan Iverson and Catherine Russell. LAHM's Staff Member, Hyland Harris, will also provide an in-depth, behind-the-scenes tour of Louis's den and will share numerous Holiday-themed treasures from our Archives, including a very special tape of Louis reading "The Night Before …
Manhattan / Sat, Dec 19, 2020 – Mon, Dec 21, 2020
Celebrate the 10th annual Make Music Winter virtually this winter solstice. Despite the ongoing challenges posed by the COVID-19 pandemic, Make Music New York's mission continues to drive them, and they hope that it inspires you: to provide New Yorkers with the opportunity to enjoy free, rejuvenating music and to support music makers in the process. Event Schedule: For Love and Only For Love: Letters to New York (In Person) Sat, Dec 19, 202012:00 PM  Sun, Jan 10, …
Manhattan / Fri, Dec 18, 2020 – Thu, Dec 24, 2020
This December, one like no other, Summoners Ensemble Theatre's "A CHRISTMAS CAROL at the MERCHANT'S HOUSE" returns for its 8th holiday season, virtually. Be transported back 150 years from the comfort of your home for this captivating one-hour performance filmed in the landmark Merchant's House dressed for the joyous season with a table-top tree, boughs of holly, and flickering candles. In the spirit of Mr. Dickens' message of compassion, generosity, and goodwill, we want performances to …
=============================================================
In the age of Covid-19 this info from City Guide is one of the best sources of info on What's Happening, even if some are only available in your home, and not in your favorite venue.
For a real sense of the city's epic scale, you need to get up into the sky, into one of New York's unparalleled observatories. The sometime chaos of New York sidewalks gives way to a clarity on the upper stories. The grids of streets, the flow of traffic, and architectural masterpieces from across the eras all come into clear focus. If you're planning a visit to NYC, check out these virtual tours of our famous observation decks so you'll be ready to choose the best one for you.
Virtual Tour: Empire State Building
EMPIRE STATE BUILDING. Ever since its 1931 completion, the Empire State Building has been the most famous skyscraper in the world. It remains a vital part of NYC and an inspiration to the millions of visitors who ascend to the ESB observation deck in every season. Newly updated features include a museum, the Observatory Experience. The result of a $165 million investment, this second floor stopover will substitute for what was once time spent waiting on line. Take a virtual tour of the space above, and check out the many features the attraction offers. 20 W. 34th St., 212-736-3100, esbnyc.com
Virtual Tour: One World Observatory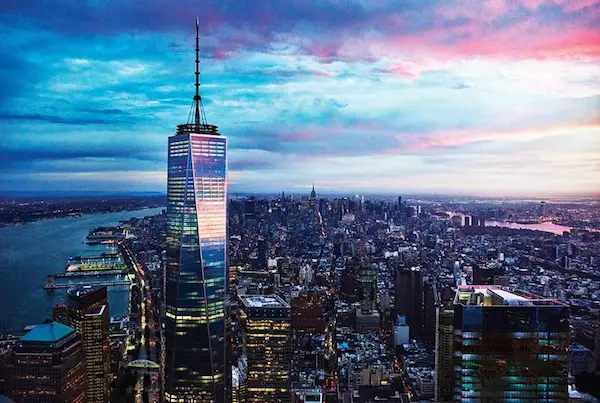 ONE WORLD OBSERVATORY. There's only one tallest. Only one strongest. And only one destination selected as the Best New Attraction in the World. These attributes belong to One World Trade Center, and its pinnacle, the One World Observatory, rising over 100 stories in the sky. Check out this virtual overview of what you'll find there. 285 Fulton St., 844-696-1776, oneworldobservatory.com
Virtual Tour: Top of the Rock
TOP OF THE ROCK. At this stunning perch atop Rockefeller Center, you'll find wholly unobstructed views of the city's most iconic landmarks, including the Statue of Liberty, the Empire State Building, the Chrysler Building, the rivers, and all of Central Park (its size can only truly be appreciated when seen from above). The Grand Viewing Deck on the 69th floor offers unparalleled views of the city, with visibility that reaches some 30 miles on a clear day. The 70th Floor is the proverbial cherry on top, allowing visitors to experience a 360° panorama of Manhattan in all its glory. This is an open-air perch with completely unobstructed views—no glass or anything. It provides a vantage point unlike any other in the city…or the world. 30 Rockefeller Ctr., 212-698-2000, topoftherocknyc.com
Virtual Tour: Edge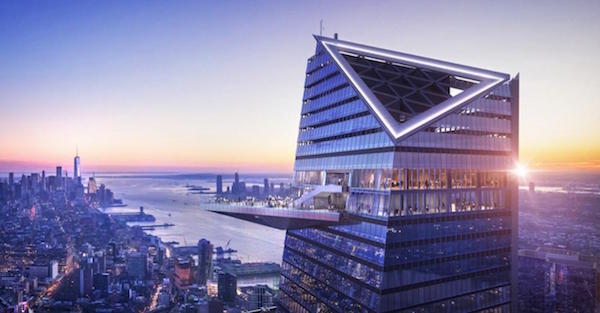 EDGE, the Western Hemisphere's highest outdoor observation deck, opened in March 2020, just before the city went on pause. The city is looking forward to the return of this incredible, triangular deck extending from the skyscraper at 30 Hudson Yards. You can stand 100 floors above the ground and see miles and miles in every direction. The deck offers 360-degree views with jaw-dropping glimpses of the Empire State Building, One World Trade Center, the Hudson River, and much more. You can tour the various features at Edge here. Level 4 inside The Shops & Restaurants at Hudson Yards, 332-204-8500, edgenyc.com
---
There's no bad time to take an eagle eye to the lives of millions of New Yorkers, but if you can time it, we'd steer you to dusk, when you can enjoy both sunset and the thrill of watching the city's lights flickering to life.
Want more free advice on what to do and see in New York? Join our Facebook group Everything to Do NYC, a place for people to ask questions and get tips on how to make the most of the city. ============================================================
Here is some other useful information to help you enjoy your holiday season.
Best Christmas Things to Do NYC for a Magical Time in 2020 – TONY
13 Places to Find Spectacular Holiday Decorations in NYC – Untapped New York
Where to Find Things From All 50 States in NYC – TONY
20 Best Holiday Light Displays Illuminating NYC This December – Secretnyc
14 New Public Art Installations in NYC December 2020 – Untapped New York
I Ate Dinner Outside On A 43-Degree Night… Will You? – Gothamist
Photos: Pandemic Can't Put A Damper On Extravagant Holiday Windows In Midtown – Gothamist
The best Christmas Lights NYC Offers And Festive Attractions – TONY
Can You Get Coronavirus Inside a Restaurant? – The Atlantic
NYC Isn't Dead: 10 Reasons Why There's Still So Much to Love About NYC – Thrillist
============================================================
Stay home a bit longer. Mask up, stay smart and stay safe.