Pre Covid-19 we searched the internet everyday looking for the very best of What's Happening, primarily on Manhattan's WestSide, so that you didn't have to." We made it as easy as 1-2-3.
Covid-19 has required some changes. First of all, some very important information:
"There are multiple websites, disappearing slots and even attempts to game the system. Here's our guide to what you have to do to get a dose in your arm."
==========================================================
Earlier today we covered top February NYC event info. Scroll down the site for a bit to find it. Now, how about some more useful NYC information.
Interesting. Unusual. Uniquely NYC. Highlights of this week's top events include Hockney in Normandy, Black History Month Nightly Opera Streams, Catapult Opera's Launch and more. Get the NYC-ARTS Top Five in your inbox every Friday and follow @NYC_ARTS on Instagram or @NYCARTS on Twitter to stay abreast of events as they happen.
PLUS ONGOING EVENTS
Manhattan / Wed, Jan 20, 2021 – Sat, Apr 24, 2021
This exhibition is a study of how magazines have both driven and reflected the American experience. Unlike regional newspapers, that report local current events, or non-fiction books, which focus on major historical moments and personalities, national magazines have the unique ability to connect trans-local communities of like-minded individuals. In the colonial era, magazines were the harbingers of American thought and identity; the first successful magazine from the 18th century proudly proclaimed itself as "The American …
Manhattan / Mon, Jan 11, 2021 – Sat, Feb 27, 2021
Artists have long relied on paper as a fundamental support material. Paper is easily accessible and arguably the most familiar and humble medium. These qualities have led artists to use paper in a variety of ways, from the rough translation of ideas to the exploration of nontraditional processes. Artists have continued, and will continue, to reinvestigate and redeploy this everyday medium. The exhibition takes its title from the words of Pablo Picasso. He wrote, "The artist …
Manhattan / Wed, Jan 13, 2021 – Wed, May 26, 2021
Ted Sperling, Artistic Director of MasterVoices, announced details of the 79th season of the acclaimed ensemble, which celebrates the power of the human voice to unite, inspire, and connect. The central project of MasterVoices' 2020-2021 season will be a virtual rollout of award-winning composer Adam Guettel's theatrical song cycle, "Myths and Hymns," in an online staging conceived by Ted Sperling. Inspired by Greek myths and a 19th-Century Presbyterian hymnal, the 1998 cycle is a kaleidoscopic collection of …
South Street Seaport Museum's monthly sea-music event, "Sea Chanteys and Maritime Music," continues virtually on Sunday, January 3, 2021 at 2pm ET. From our living rooms and kitchens join a round-robin of shared songs featuring members of The New York Packet and friends. Listen in, lead a song, and belt out the choruses for your neighbors to hear on the first Sunday of every month. The event is FREE. Sign up here to receive the …
Manhattan / Thu, Oct 29, 2020 – Sun, Jul 25, 2021
As part of the Asia Society Triennial: We Do Not Dream Alone—a multi-venue festival of art, ideas, and innovation—the New-York Historical Society and Asia Society Museum opens their first ever collaborative exhibition, "Dreaming Together." More than 35 interwoven works drawn from both art collections generate dialogue about the urban and natural environments, protest and rebellion, individuals and identities, borders and crossings. Highlights include the Canal Street diptych (1992) from Martin Wong's Chinatown series, 98-foot hanging scrolls by …
Brooklyn / Thu, Sep 17, 2020 – Sat, Mar 13, 2021
Luhring Augustine is pleased to announce "The Pleasure Pavilion," a series of installations that bring together artists from the gallery program in dialogue with the façade of a late 18th or early 19th century Indian pleasure pavilion. The arcaded portico pavilion, most likely part of an Indian palace or resort, was believed to have been originally used for recreational activities, such as enjoying musical and dance performances, entertaining guests, or admiring the surrounding gardens. The sandstone and …
==============================================================
Best Things to do in NYC This Week – TONY
Here are 3 more ideas:
4. Drawing Inspiration: A Century of Works on Paper
Art Galerie Gmurzynska, Upper East Side Until Feb 26 2021
Upper East Side Galerie Gmurzynska has a free show of famed works from master modern artists including Pablo Picasso, Joan Miró, Marcel Duchamp, Zaha Hadid, Ed Ruscha, Robert Delaunay and Jean Arp. Walk in Monday through Friday from noon to 5pm or make an appointment by calling the gallery directly at: 212-535- 5275 for now through the end of February.
5. Winter Village at Westlight
News Eating
The William Vale's new Winter Village at Westlight is a seasonal pop-up is located on the hotel's 23rd floor outdoor rooftop and features private heated chalets surrounding their rooftop ice skating rink, Vale Rink. It's perfect for a cozy night out. Each chalet is available to book for 90 minutes with a $45 fee for small chalets (parties of 2) and a $75 fee for large chalets (parties of 3–6). Inside, you can enjoy items from Westlight's a la carte menu as well as an Alpine-style fondue with fingerling potatoes, sourdough bread, gherkins, apples and endives for $30. (Something else to enjoy? Those stunning views of the Manhattan skyline twinkling in the distance.) Seasonal cocktails from Andrew Carmellini's NoHo Hospitality are also served at the rinkside hideaways, including the Frostbite (Glenlivet, Lillet Blanc, Banana, Walnut, Honey) and the Snowbird (Mount Gay Black Barrel, Aperol, Lime, Coconut.) To round out the hygge ambiance, the sky-high chalets come stocked with soft pillows, flameless candles and—in a truly inspired touch—a spritz of Santal 26 by Le Labo. Now that's an off-menu item we can get behind.
6. Queens Museum exhibitions
Museums Art and design Queens
Head to the Queens Museum to check out newly extended exhibitions and permanent showcases like the Panorama, World's Fair Collection, and The Neustadt Collection of Tiffany Glass as well as the following exhibits:
Bruce Davidson: Outsider on the Inside (through February 28, 2021): See more than a hundred photographs by legendary Magnum Photos member and Henri Cartier-Bresson mentee, Bruce Davidson. Ranging from study prints to rare vintage items, the exhibited works showcase Davidson's singular ability to chronicle unmediated instances of candor and emotion activated by New York urban space.
Ulrike Müller and Amy Zion: The Conference of the Animals (through January 31, 2021): The Conference of the Animals consists of a mural by artist Ulrike Müller and an exhibition of children's drawings by independent curator Amy Zion. This project takes its title from German writer Erich Kästner's children's book "The Animal's Conference" (1949) written in the aftermath of World War II. The story is a political satire about a group of animals who, frustrated by the inefficacy of human international conferences, convene to save the planet.
After the Plaster Foundation, or, 'Where can we live? (through February 28, 2021): 12 artists and artist groups with roots in New York City ask critical questions about home, property, and the Earth, and who has access to these things under capitalism.
Ridgewood Reservoir for the 21st Century (through July 30, 2021): In 1858, The Ridgewood Reservoir was built on the Brooklyn-Queens border to hold the freshwater supply for the once independent City of Brooklyn. Ridgewood Reservoir for the 21st Century traces the 160-year transformation of the site from the construction of its three water basins to its invaluable role today as a 50-acre open space in Highland Park, a green oasis allowing for close encounters with nature.
There are many more right HERE at Time Out New York
==========================================================
In the age of Covid-19 this info from City Guide is one of the best sources of info on What's Happening, even if some are only available in your home, and not in your favorite venue.
For a real sense of the city's epic scale, you need to get up into the sky, into one of New York's unparalleled observatories. The sometime chaos of New York sidewalks gives way to a clarity on the upper stories. The grids of streets, the flow of traffic, and architectural masterpieces from across the eras all come into clear focus. If you're planning a visit to NYC, check out these virtual tours of our famous observation decks so you'll be ready to choose the best one for you.
Virtual Tour: Empire State Building
EMPIRE STATE BUILDING. Ever since its 1931 completion, the Empire State Building has been the most famous skyscraper in the world. It remains a vital part of NYC and an inspiration to the millions of visitors who ascend to the ESB observation deck in every season. Newly updated features include a museum, the Observatory Experience. The result of a $165 million investment, this second floor stopover will substitute for what was once time spent waiting on line. Take a virtual tour of the space above, and check out the many features the attraction offers. 20 W. 34th St., 212-736-3100, esbnyc.com
Virtual Tour: One World Observatory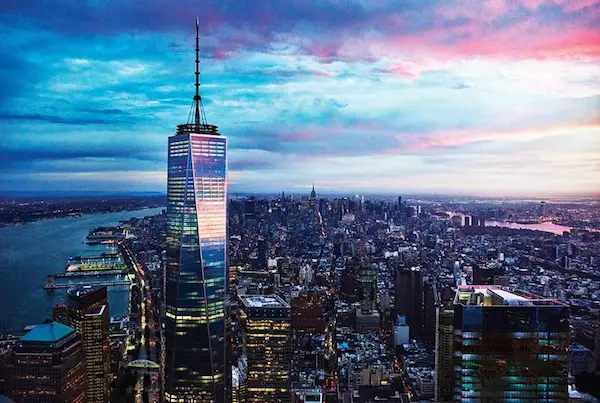 ONE WORLD OBSERVATORY. There's only one tallest. Only one strongest. And only one destination selected as the Best New Attraction in the World. These attributes belong to One World Trade Center, and its pinnacle, the One World Observatory, rising over 100 stories in the sky. Check out this virtual overview of what you'll find there. 285 Fulton St., 844-696-1776, oneworldobservatory.com
Virtual Tour: Top of the Rock
TOP OF THE ROCK. At this stunning perch atop Rockefeller Center, you'll find wholly unobstructed views of the city's most iconic landmarks, including the Statue of Liberty, the Empire State Building, the Chrysler Building, the rivers, and all of Central Park (its size can only truly be appreciated when seen from above). The Grand Viewing Deck on the 69th floor offers unparalleled views of the city, with visibility that reaches some 30 miles on a clear day. The 70th Floor is the proverbial cherry on top, allowing visitors to experience a 360° panorama of Manhattan in all its glory. This is an open-air perch with completely unobstructed views—no glass or anything. It provides a vantage point unlike any other in the city…or the world. 30 Rockefeller Ctr., 212-698-2000, topoftherocknyc.com
Virtual Tour: Edge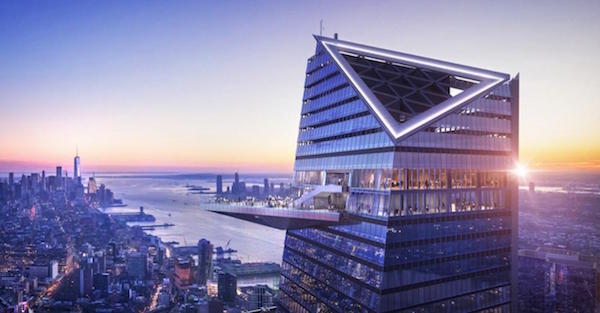 EDGE, the Western Hemisphere's highest outdoor observation deck, opened in March 2020, just before the city went on pause. The city is looking forward to the return of this incredible, triangular deck extending from the skyscraper at 30 Hudson Yards. You can stand 100 floors above the ground and see miles and miles in every direction. The deck offers 360-degree views with jaw-dropping glimpses of the Empire State Building, One World Trade Center, the Hudson River, and much more. You can tour the various features at Edge here. Level 4 inside The Shops & Restaurants at Hudson Yards, 332-204-8500, edgenyc.com
---
There's no bad time to take an eagle eye to the lives of millions of New Yorkers, but if you can time it, we'd steer you to dusk, when you can enjoy both sunset and the thrill of watching the city's lights flickering to life.
Want more free advice on what to do and see in New York? Join our Facebook group Everything to Do NYC, a place for people to ask questions and get tips on how to make the most of the city. ============================================================
STAY HOME FOR A BIT LONGER. MASK UP, STAY SMART AND STAY SAFE.