A new all-day cafe, wacky milkshakes, and pasta honky-tonks included.
By Juliet Izon – Thrillist
"Every weekend in NYC is generally awesome, but we have some major events on tap for this one. Headed to Gov Ball? Make sure to peep our guide on the best things to eat and drink while there. And for everyone else, we've got plenty of suggestions to make your Friday, Saturday, and Sunday memorable. There are new restaurants to check out (including one serving Wagyu sushi), a film festival with works from around the world, and a dance party at one of the city's most thrilling venues.
Read on for 10 actually fun things to eat, see, and do in NYC this weekend."
Weekend-long
Greenpoint
Can a restaurant feel like a hug? We didn't think so until Sereneco opened. Their seasonal American menu, helmed by executive chef Dennis Hong (Lincoln, Le Bernardin), is comforting, familiar, and altogether delicious with a touch of Italian influence. Think dishes like polenta fresca made with local corn, smoked mozzarella, and thyme, or ratatouille with squash, tomato, eggplant, basil, and marinara sauce. Even the space is gorgeous, featuring 20-foot ceilings with skylights and a 25-foot white-oak bar that also has outlets to charge your gadgets.
Cost: Entrees from $19
Weekend-long
Hudson Yards
Summer may have officially ended this week, but it's over when we say it's over (which is never). So, celebrate this never-ending season with a trip to Jibs, a new seafood-focused spot near the Hudson River with plenty of outdoor seating. The menu has the requisite lobster, of course, in forms like rolls, grilled cheese, and bakes, but also fried seafood baskets, raw bar offerings, and seasonal fruit cobblers. The only thing not at the restaurant? Red Sox fans.
Cost: Entrees from $21
Weekend-long
Upper West Side
Jason Scott and Robert Marchetti (formerly of Gran Tivoli) often wondered why there was no spaghetti in a Spaghetti Western film. So, they created a restaurant that takes inspiration from classic Sergio Leone flicks, but with tons more pasta. Hell, why not? Spaghetti Tavern, however, isn't your typical red sauce joint: their signature dish is pasta in a paper bag (otherwise known as al cartoccio) and you can expect live country music every Saturday. Leave room for the warm chocolate chip cookies.
Cost: Entrees from $15
Weekend-long
Williamsburg
Jen Stark is one of the foremost multimedia artists in the world, having worked with the likes of Miley Cyrus, and companies like Facebook. And now everyone gets a peek inside her creative process with her new, immersive exhibition, Cascade, located at The William Vale hotel. The 6,000 square-foot installation features 3-D mapped environments, murals, sculptures, and more. Wear something cute; this will be 'grammable.
Cost: Tickets from $25
Weekend-long
East Village
While most of us think of sushi when we hear omakase, the phrase actually means "I leave it up to you." Keep this in mind when you try Esora Omakase, a new Wagyu- and tempura-focused spot from the team behind J-Spec. The menu includes many dishes heretofore unseen in NYC, including Wagyu tempura and sushi, all created by seasoned chef Koichi Endo. And, with only seven seats at the counter, you'll have an intimate look at how everything is meticulously prepared.
Cost: $185 per personhttps://811ac005fec2816670fa3a03d84ba72f.safeframe.googlesyndication.com/safeframe/1-0-38/html/container.html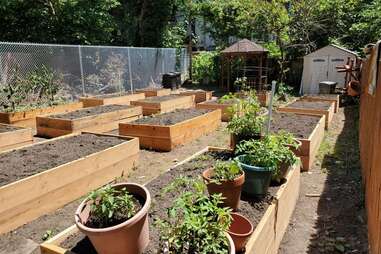 Make fresh food accessible; inspire healthy eating: That's the idea behind Love, Tito's Block to Block program, which aims to build community gardens and farms in neighborhoods across the US, one block at a time. In NYC, that means working with nonprofit GrowNYC to improve the Madison Hill Community Garden, creating a space to better serve their community. Visit Grownyc.org/Gardens to learn more.
Saturday, Sept. 25, 8 pm-4:30 am
East Williamsburg
If you've never been to the open-air wonderland that is Brooklyn Mirage, this weekend would be a very good one to check it off the bucket list. This Saturday, the expansive venue will be home to the Paradise event curated by the legendary Jamie Jones. The night will feature an epic roster of dance music producers from around the world, along with a live orchestral performance from Jones' Opus 1 project.
Cost: From $50.95 per ticket
Weekend-long
Midtown West and SoHo
Normally we're not really fans of these made-up food holidays, but every once in a while, they're a great excuse to eat, say, a milkshake with an entire slice of key lime pie on top. Such is the offering at Black Tap this weekend: their Key Lime Pie CrazyShake, done in collaboration with Steve's Authentic Key Lime Pie, is here for this weekend only to celebrate National Key Lime Pie Day on Sunday. Bring your appetite to conquer this monster: it features a vanilla frosting and crushed graham cracker rim, a whole slice of Steve's pie, and plenty of whipped cream.
Cost: $19 per shake
Sunday, September 26
SoHo
In honor of World Contraception Day this Sunday, swing by the corner of Houston and Lafayette Streets, where a vending machine adorned with a giant uterus is ready to provide emergency contraception, condoms, period care products, and more. The machine is sponsored by The Pill Club, a company who aims to make receiving birth control pills faster and easier. Make sure to check out the brand's new condoms and single-serving lube packets; perfect for those, uh, spontaneous encounters.
Cost: Prices vary
Weekend-long
Times Square
We've waited a very long time to say this: Broadway—and the TKTS booth—are back. This weekend, show some support for one of the industries that is the lifeblood of NYC. Hamilton, Hadestown, and Wicked are just some of the blockbuster shows that have reopened recently, and you can find discounted tickets for many others at the famed TKTS booth in Times Square at Broadway and 47th St. Make a night of it and hit up famed Joe Allen afterward; you might even see a few famed faces from the stage.
Cost: Prices vary
Weekend-long
Lincoln Center
The New York Film Festival—now in its 59th year—has introduced countless audiences to new filmmakers as well as highlighted the achievements of seasoned ones as well. This year brings some of the most anticipated films of the year, including Joel Coen's The Tragedy of Macbeth starring Denzel Washington and Frances McDormand, Jane Campion's The Power of the Dog with Kirsten Dunst and Benedict Cumberbatch, and Pedro Almodovar's Parallel Mothers. And if you're into older works, check out the Revival program for digitally remastered classics.
Cost: Individual ticket prices vary, but all-access passes for programs start at $60
Want more Thrillist? Follow us on Instagram, Twitter, Pinterest, YouTube, TikTok, and Snapchat.
Thrillist, a site with tons of food, drink, travel & entertainment info, introduces folks to the coolest things to do in NYC (and other places when you are traveling). I like to check them out regularly. You should, too.
==========================================================================