Barbecue in LIC, jaw-dropping views atop Midtown, and cat-themed cocktails in Boerum Hill.
By Juliet Izon – Thrillist
Dare we say it? It's finally sweater weather. And with it comes all sorts of fall-centric happenings in NYC, whether it's a soup-themed festival or a new restaurant specializing in live-fire cooking. This weekend also marks the first day of early voting for the November 2 election (you know, the one that decides our new mayor), so if you'll be unable to vote then, make sure to get that ballot in early.
Read on for nine actually fun things to eat, see, and do this weekend in New York City.
Weekend-long
Meatpacking District
Compère Lapin, run by star chef Nina Compton, has long been one of the most beloved restaurants in The Big Easy. And now, you don't have to catch a flight to try Compton's Caribbean-infused, Gulf Coast-sourced menu. This week, the chef and her team begin a residency at Intersect by Lexus, featuring both dishes from the New Orleans restaurant as well as a specially curated tasting menu made for this pop-up. Look out for entrees like pork belly served with tamarind, pickled mango, and herbs, and desserts like a Doberge cake topped with lemon curd and a lemon buttermilk sorbet.
Cost: $225 per diner
Weekend-long
NoMad
Chef Bryce Shuman made his mark on the NYC dining scene with stints at Eleven Madison Park and Betony. His eagerly anticipated new spot, Sweetbriar, finally opens this week, with a menu focused on upscale, American comfort food. Many of the vegetable dishes will be cooked using charcoal, wood, and smoke, like the fire-roasted caraflex cabbage, while fish and meats will be prepared over a live fire. We can't wait to dig into the smoked black pepper-maple Duroc pork ribs, served with a side of cornbread.
Cost: Entrees from $31
Weekend-long
Midtown East
We know we're spoiled for choices when it comes to sky-high observation decks, but the newest entry to the field is a total gamechanger. After years of construction, SUMMIT One Vanderbilt finally opens this week, allowing visitors a chance to soar as high as 1,200 feet in the air. But the experience is more than just the views: there are mirrored rooms to explore, a sky box that allows you to stand on transparent glass 1,063 feet above Madison Avenue, and even a lounge and cafe, Après, with food and drinks from Danny Meyer's Union Square Events. While we don't want to spoil all the surprises, we will give you one piece of advice: don't wear a skirt.
Cost: Tickets from $39https://f5bd536f16df69846b8d50f338e2f3d7.safeframe.googlesyndication.com/safeframe/1-0-38/html/container.html
Saturday, October 23, 1 pm
Williamsburg
Do you know what's great about October? Eating soup. Do you know what's one of the best soups to eat? Pozole. If you're already a fan, or if you want to learn more about this brothy, porky, hominy-filled soup, head to Williamsburg this Saturday for Bowl of 'Zole. Nine chefs, including famed Claudette Zepeda from San Diego, will be offering their unique renditions of the stew. There will also be over 50 different versions of mezcal available to try, you know, in case you really need to warm up.
Cost: Tickets from $65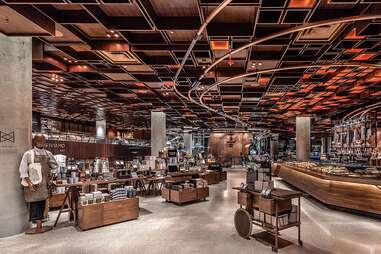 Sip on coffee and cocktails at the Starbucks Reserve® Roastery
You can't kick off a New York weekend without a good cup of coffee in hand, and because Starbucks is turning 50 this year, exploring their unique offerings is the best way to celebrate. Head to the Meatpacking District to check out the Starbucks Reserve® Roastery: a sleek, working roastery where you can discover exclusive coffee beverages, fresh-baked food, and artfully-crafted cocktails. While you're there, you can even catch Starbucks Master Roasters roasting rare, single-origin coffees and blends daily, and toast to the big 5-0.
Weekend-long
Boerum Hill
It's hard to think of a bar that does better seasonal drink specials than Grand Army in Brooklyn. Past iterations have included the films of Nicholas Cage, Gilmore Girls, and the state parks of Oklahoma. For this fall, they're celebrating our favorite furry pals: cats! The libations will include cold-weather versions of spritzes, pisco punches, and even a fall-inspired colada. To really get into the autumnal spirit, grab a Mr Bigglesworth: a frozen, pumpkin-spice latte flavored with cachaça, rum, and vodka.
Cost: Cocktails from $16
Saturday, October 23
Bushwick
After so many virtual festivals last year, we're still pretty excited for in-person events. This weekend brings one of our favorites: the 14th edition of the Bushwick Film Festival. For 2021, the event will be a hybrid, with a full day of live screenings and networking events on Saturday, plus digital screenings all weekend. With more films showing than ever before, there is a movie for every type of cinema lover, from documentary features to narrative shorts.
Cost: Tickets from $15
Saturday, October 23 and Sunday, October 24
Bushwick
If you're looking to scoop up some local, unique, and creative gifts for the upcoming season, head to Bushwick this weekend for Open Wide. The event is a collaboration between BK Queer Flea and Rice Studios, a new queer and POC art studio space. Highlights of the weekend-long market will include live music performances, DJ sets, art exhibitions, and many vendors selling everything from candles to pins and patches.
Cost: Free to enterhttps://f5bd536f16df69846b8d50f338e2f3d7.safeframe.googlesyndication.com/safeframe/1-0-38/html/container.html
Sunday, October 24, 12 pm
Long Island City
The South may get all the attention for its barbecue, but it would be a mistake to think that New York doesn't have some destination-worthy spots of our own. Helmed by pitmasters Matt Abdoo and Shane McBride, one of our favorites is Pig Beach BBQ, which opens a new location in Long Island City this Sunday. Favorites from the Brooklyn flagship will all be on offer here, including peach and honey-glazed ribs, and smoked pork shoulder with hatch vinegar sauce. There will also be new items that draw inspiration from the Queens neighborhood, like a Greek-style, smoked lamb shoulder and Cuban mojo ribs.
Cost: Entrees from $8
Come hungry for the tastiest block party of the fall
Sunday, October 24, 12 pm-5 pm
Lower East Side
If you've been meaning to hit up some of the buzziest restaurants downtown and just haven't had the time, we have just the thing. This Sunday, pasta emporium Forsythia is spearheading a block party at 9 Stanton Street with many tasty restaurants, including English seafood spot Dame, ice cream paradise Caffe Panna, and cocktail den Dante. Proceeds from food and drink sales will benefit God's Love We Deliver, a non-profit organization that helps improve the health of people with serious illness by alleviating hunger.
Cost: Food prices vary by restaurant
Want more Thrillist? Follow us on Instagram, Twitter, Pinterest, YouTube, TikTok, and Snapchat.
Thrillist, a site with tons of food, drink, travel & entertainment info, introduces folks to the coolest things to do in NYC (and other places when you are traveling). I like to check them out regularly. You should, too.
======================================================================
Best new NYC restaurants
If you are looking for some of the best info on food and drink, restaurants and eating in New York City, then you want to head to New York magazine's Grub Street.
Right now you want to check out: The Return of Restaurants
"Make up for lost meals. No takeout, no pasta kits, just 66 of the best new (or newly relevant) places to eat." Edited by Rob Patronite and Robin Raisfeld, Photographs by Dina Litovsky
Here are 3 more of my faves:
Take in Park Views With Your Kelewele
Teranga / 1280 Fifth Ave.
The trapezoidal windows at Teranga have long afforded patrons panoramic vistas of Central Park North, but the city's embrace of outdoor dining has made Pierre Thiam's West African–leaning venue even more appealing than before. Now you can snack on kelewele (spicy roast plantains) right at the edge of the park, overlooking the verdant trees while enjoying a warm summer breeze. On a recent Friday, I sat near a pair of diners, one of them relaxing in a jujitsu T-shirt, as I made quick work of a yassa bowl: tender chicken thighs slathered in saucy golden onions. If indoor dining is still quiet here, you'll never feel alone in the alfresco area. Folks zoom by on hoverboards and messenger bikes, shaved-ice vendors pour polychromatic syrups into snowy cups, and people flood in and out of the park.—R.P.S.
Eat to the Beat in Hell's Kitchen
The conga drums are back. Their steady beats spill out onto Eighth Avenue, where outdoor patrons sip minty mojitos on white tablecloths. Although this Hell's Kitchen Cuban canteen served porky lechon asado and garlicky cassava throughout the pandemic, what was missing for months was the music — the prickly guitars and folksy Caribbean tunes that have made the restaurant an accessible spot for everyday salsa dancing. Ceiling fans spin overhead near the open-air frontage as waiters ferry crisp Cubano sandwiches and some of the city's finest vaca frita: shredded skirt steak that's seared until it achieves the texture of soft jerky. —R.P.S.
Taste the Middle East on the Upper West
Dagon / 2454 Broadway
Airy and sun-drenched, the dining room pulsates with Israeli pop and a steady conversational hum. If you didn't know better, you would think you'd wandered into some beachside hot spot in Tel Aviv, not a post-pandemic restaurant in the sleepy West 90s. Chef Ari Bokovza's Levantine-leaning menu looks similar to others across the city. But the familiar mezze and salads take a fun turn with delectable things like shishbarak (Lebanese mushroom-filled dumplings) and kubaneh, the fluffy Yemenite Jewish bread that you pull apart like Parker House rolls. —B.O.
Also see Eater New York's interactive map that highlights
these 66 restaurants that deserve your attention.
==================================================