by Ethan Wolff – cityguideny
(1/31-2/6) "Looking for what to do in NYC this week and this weekend? The city continues to bounce back. Vaccinations are required for much of indoor life here (meaning you can feel safer if you head in to a restaurant, museum, or gym), but there's also tons to do out of doors. Read on for more in-person reopenings, festivals, pop ups, and other things to do in NYC this week."
YEAR OF THE TIGER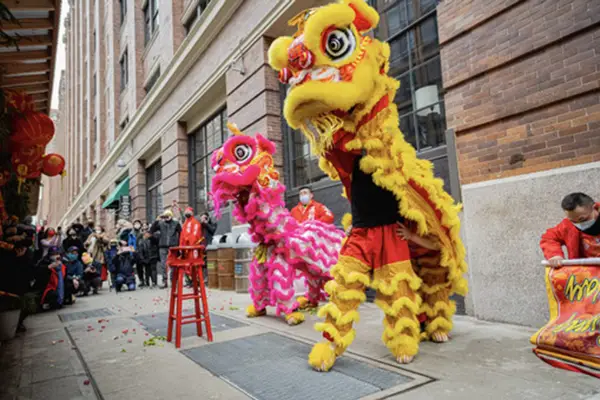 Tuesday marks the beginning of Chinese New Year and you'll find all kinds of ways to mark it in the city. Chinatown's 24th Annual New Year Firecracker Ceremony & Cultural Festival takes place February 1st at Sara D. Roosevelt Park (the 24th Annual Chinatown Lunar New Year Parade & Festival is further in the month, on February 20th). Hudson Yards is bringing in traditional lion dances and ribbon twirling performances from The New York Chinese Cultural Center on Saturdays at 1pm, 3pm, and 5pm. The shows can be found Saturday, February 5th and 12th. They'll have a nice photo op, too, in front of massive red lanterns wishing health and happiness. On February 5th, NYC institution Pearl River Mart will host a lunar new year celebration (above) at their new Chelsea Market location. Look for noodles, baos, kimbap, desserts, and bubble tea from co-host Very Fresh Noodles and Pearl River Mart Foods' featured vendors: Mao's Bao, Kimbap Lab, Tea & Milk, and Kitsby. Wan Chi Ming Hung Gar Institute Dragon and Lion Dance Team will be performing, tickets required. (And for all you Ox and Goat signs, congrats—this is a lucky year for you!)
UNRAVELLING 4000 YEARS OF JUGGLING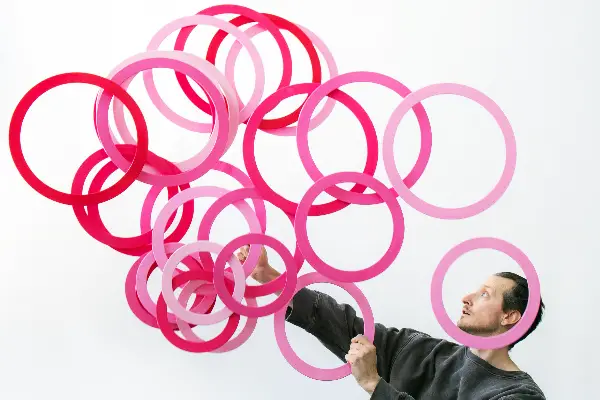 Friday marks the world premier of Reflex, a new show from master juggler and visual artist Jay Gilligan. Inspired by gravity and making use of Gilligan's unique inventions, props, and robots, the performance reveals secrets of an ancient craft. The show is up for four weeks only, through February 19th, at theater space Mitu580 in Brooklyn.
NEW IMMERSIVE ART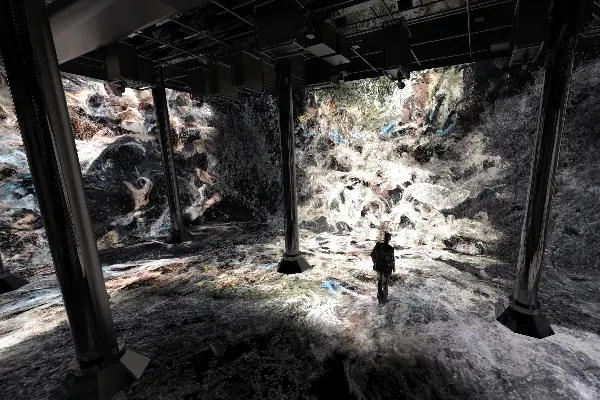 Head to the historic boiler room of Chelsea Market to experience the immersive art space ARTECHOUSE. You've never seen art like this before, as room-sized digital projections merge with sound design to create a cinematic experience. January 31st marked the opening of the new commission TRUST, a partnership with acclaimed Italian studio fuse*. The installation is a data-driven, (semi) real-time audiovisual exploration of how historical events have influenced trust, and how the presence or absence of trust can shift our perceptions. High-resolution projection and hyperreal immersive sound bring the exhibition to vivid life. Adding to the experience is ARTECHOUSE's newly opened XR Bar. Inspired by elements of the installation, guests can sip on innovative cocktails that feature a unique XR activation powered by the ARTECHOUSE app. (Rendering pictured above.)
WINTER OUTING NYC
It may be the depths of winter, but this is one of the best times to be in New York City. You can get great deals on dining, theatre, and attractions through mid February. Select plays are offering two-for-one tickets via Broadway Week. During NYC Must-See Week you can get BOGO tickets to iconic museums, attractions, tours, and more. Winter Restaurant Week serves up discount prix-fixe lunches and dinners at hundreds of the city's most popular restaurants. The savings for attractions and Restaurant Week run through Sunday, February 13th; Broadway Week has been extended an additional two weeks to Sunday, February 27th.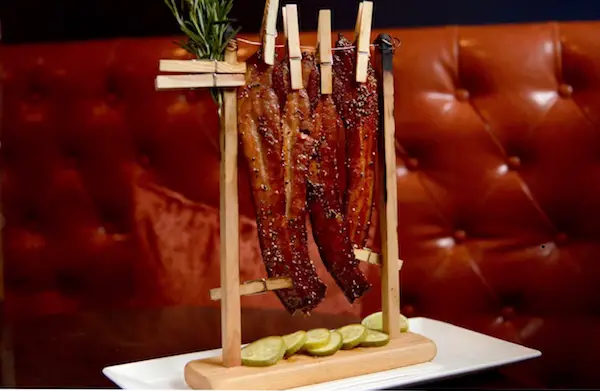 The newly reopened David Burke Tavern is a modern American restaurant by award-winning celebrity chef David Burke. A stately townhouse setting showcases Burke's creative, contemporary approach to classic fare—often with showstopping presentations. For Restaurant Week, you can enjoy three-course prix fixe specials. Burke's famous Clothesline Maple Candied Bacon, above, is available as a table share starter. Also available: lobster dumplings, a crab cake pretzel raft, short rib cavatelli, and desserts like chocolate chip ice cream sliders.
VALENTINE'S GIFTING OUTSIDE THE BOX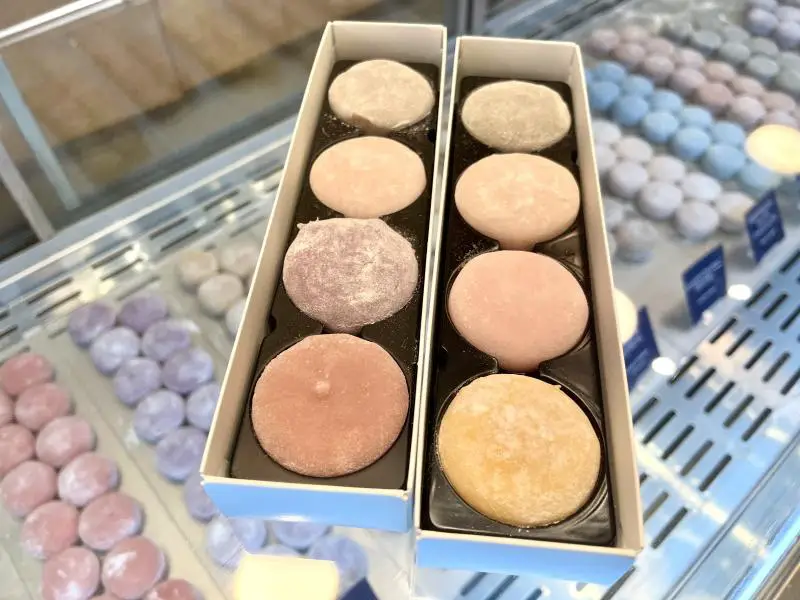 Photo by Samantha Aaronson.
Mochidoki is a nationally renowned, New York-based mochi ice cream company, beloved for their imaginative Japanese-inspired desserts. Their interactive flagship in SoHo and their Upper East Side storefront are both getting in the Valentine's Day spirit with a limited-edition flavor launch. Raspberry White Chocolate features raspberry ice cream accented with the sweet and delicate snap of chocolate curls. Replace your usual box of chocolates with this seasonal treat, or opt for a Signature Collection (with 12 bestselling flavors) a Vegan Signature Collection (with 6 oat and coconut milk based flavors), or a mix-and-match 4-piece or 24-piece box of favorites including strawberry, chocolate, and salted caramel. Outside the city? They ship nationally as well!
BUMPER CARS ON ICE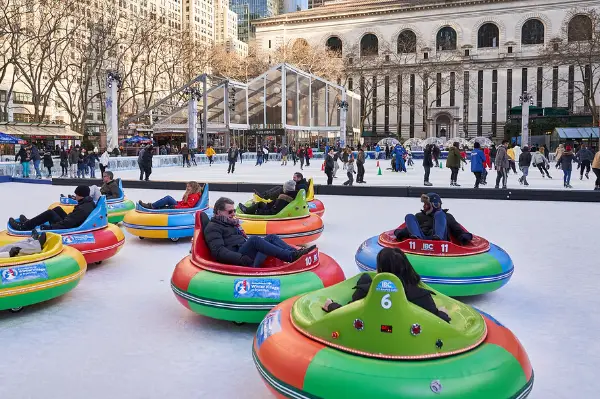 Image: Angelito Jusay for Bank of America Winter Village at Bryant Park.
The 20th season of the Bank of America Winter Village at Bryant Park is underway. In addition to the only free-admission skating rink in NYC, you'll find Rink Deck shops and food and drink. For the latter, The Lodge by Prime Video provides an outdoor après skate escape where you can cozy up with bites, festive cocktails, and prime ice skater watching. Get ready for some demolition derby action, urban style, too. The Bumper Cars on Ice at Bank of America Winter Village at Bryant Park have returned, available 2-8pm on weekday afternoons and 11am-5pm on the weekends. New for this year's iteration are late-night rides; dates to be announced. Slide, spin, and get out your aggressions through February 27th.
SNOWY WINTER WONDERLAND
The holidays may be in the rear view mirror but you can still embrace the season. The LES's Loreley Beer Garden has just dropped a wintry pop up. There are two heated outdoor areas, including one of the largest gardens in the city out back. Hot drinks touch on Irish coffees, toddies, mulled wine, spiked hot cider, and bourbon hot chocolates with toasted marshmallows. Winter sangrias and seasonal craft beers are available as well, along with giant pretzels and warm beer cheese dip, schnitzels, cheesy spaetzle with bacon, and grilled Sausage Party platters. Snowy Winter Wonderland runs through March 6th; happy hours are available.
POLAR LOUNGE
Put your next date night on ice. Harriet's Rooftop at 1 Hotel Brooklyn Bridge has launched its first-ever Polar Lounge. Designed by Okamoto Studio, the experience features seating areas carved entirely from crystal-clear ice, cocktails served in ice glasses, and an ice 1 Hotel sculpture playing off the bar's skyline views. The lounge is open to the public through the end of February.
==========================================================
So many great things to see and do, places to eat and drink in NYC.
How to find them? Here are 6 more of my fave NYC suggestions:
17 places to celebrate Lunar New Year 2022 in NYC | 6sqft
The Irony of British-Inspired Tea Parlors in New York City | The New Yorker
A new exhibit about Picasso, Monet and Matisse is opening at the Brooklyn Museum-TONY
Open for business: Mayor and Broadway stars invite tourists back with new incentive | amNewYork
NYC Broadway Week extended by two weeks-bronx.news12
The amazing winners of the inaugural New York Photography Awards | Daily Mail Online
==============================================================
"The best things to do in NYC this week include Restaurant Week, cozy winter pop-ups, comedy shows and more — Written by Shaye Weaver – TONY
If you're looking for the best things to do in NYC this week, or even for today, there are tons of fun options. Celebrate Lunar New Year, head to Carnegie Hall for a performance celebrating Afrofuturism, get on those ice bumper cars at Bryant Park and head out to eat for Restaurant Week!
For more ideas, Go Right HERE to see this week's best things to do in NYC."
==========================================================