Pop ups, shows, markets, and more things to do in NYC today, this week, and this weekend.
Ethan Wolff – CityGuideNY
(4/25-5/1) "Looking for what to do in NYC this week and weekend? The city continues to bounce back, with many venues dropping their mask and vaccine requirements. Expect a revitalized city this week and this weekend, with new restaurants, festivals, pop ups, and all kind of other things to do in NYC this week."
ROLLER RINK
Rendering: ImageFiction for Flipper's and Tishman Speyer.
From ice to wheels: Flipper's Roller Boogie Palace is offering roller skating at The Rink at Rockefeller Center. It's the first time warm weather skating has been here since 1940. A legendary '70s-'80s rink run by Ian "Flipper" Ross in West Hollywood has been revived in Midtown Manhattan by his daughter Liberty Ross. The new rink is joined by a major area renovation, with tables, chairs, and green spaces now available in the plaza. Grab-and-go options include JJ Johnson's Fieldtrip and David Chang's Fuku. (If you're out JFK way, the TWA Hotel's Roll-A-Rama at the Runway Rink is open for the season as well.)
JEAN-MICHEL BASQUIAT: KING PLEASURE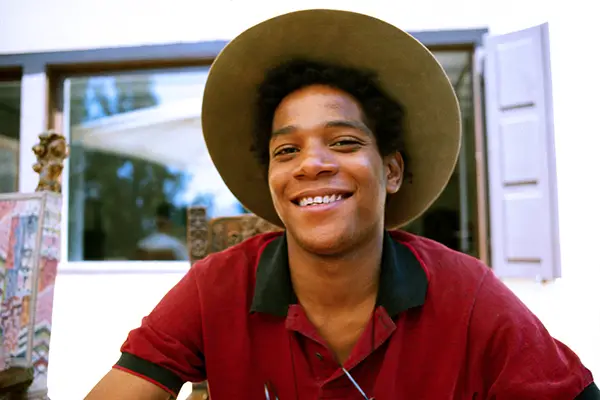 Photo by Lee Jaffe.
Everyone's favorite Brooklyn artist gets a major exhibition, led by his family and launched in Chelsea. Jean-Michel Basquiat: King Pleasure features a priceless collection of over 200 never before and rarely seen paintings, drawings, ephemera, and artifacts. The show is sourced from the Basquiat family collection and also features recreations of his NYC artist studio on Great Jones St. and the Michael Todd VIP Room of NYC's Palladium nightclub, where Basquiat created two paintings.
CURTAIN'S UP AT ELLEN'S STARDUST DINER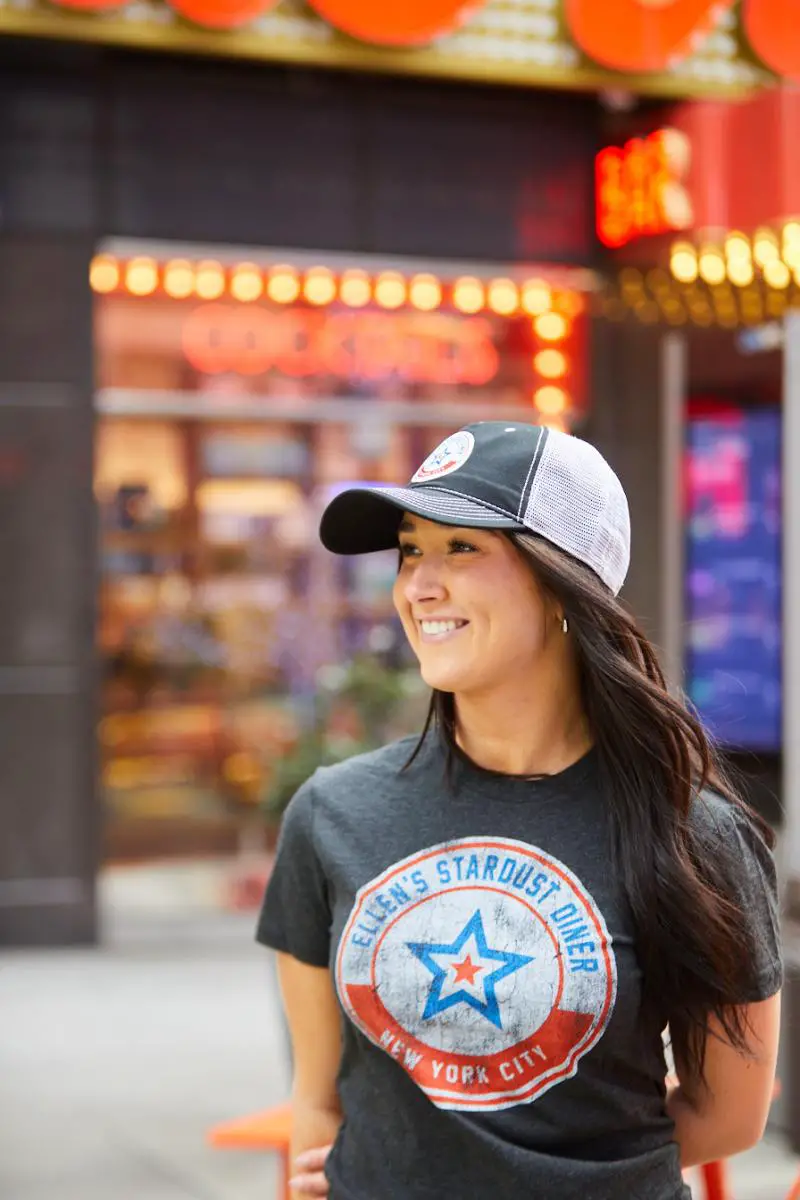 The show goes on at Ellen's Stardust Diner. Food, drink, and live performances from the famous singing waitstaff have returned. The 1950s-themed restaurant has been around since 1987 and brings back its retro vibes (founder Ellen Hart Sturm is a native New Yorker who was crowned Miss Subways in 1959.) Catch intimate performances by staff on their way to joining a long line of Broadway actors who have made Ellen's their launching pad. If you're looking for a great souvenir of an NYC trip, check out The Stardust Shop, with merch like mugs, hats, and the t-shirt above.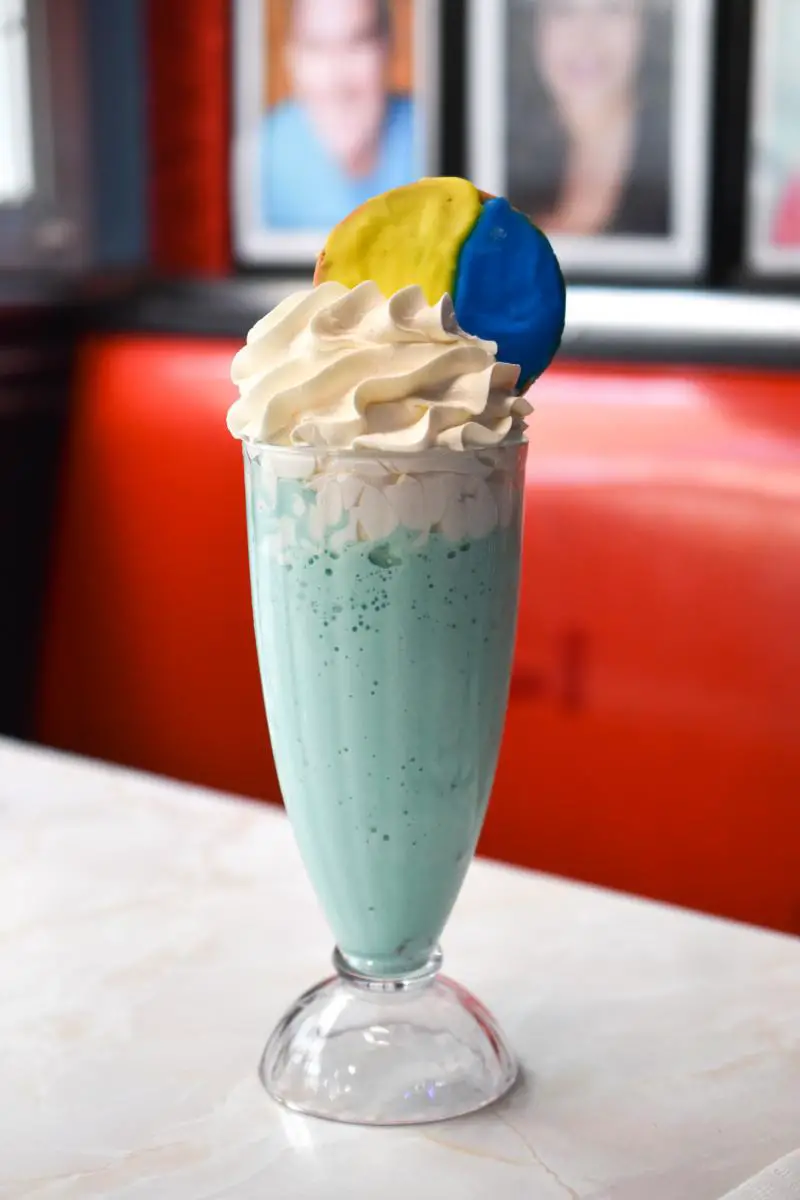 Ellen's Stardust Diner is also turning sweets into action. The popular Times Square spot is now offering a Ukraine-themed milkshake to customers. The effort is to raise money and awareness for the Ukrainian children who are suffering as the Russian invasion intensifies. The issue has touched the iconic eatery personally. Iuliia, a Starduster, is Ukrainian, with many of her family members still living there. More information on the shake of the month is here.
AN UPTOWN HAPPY HOUR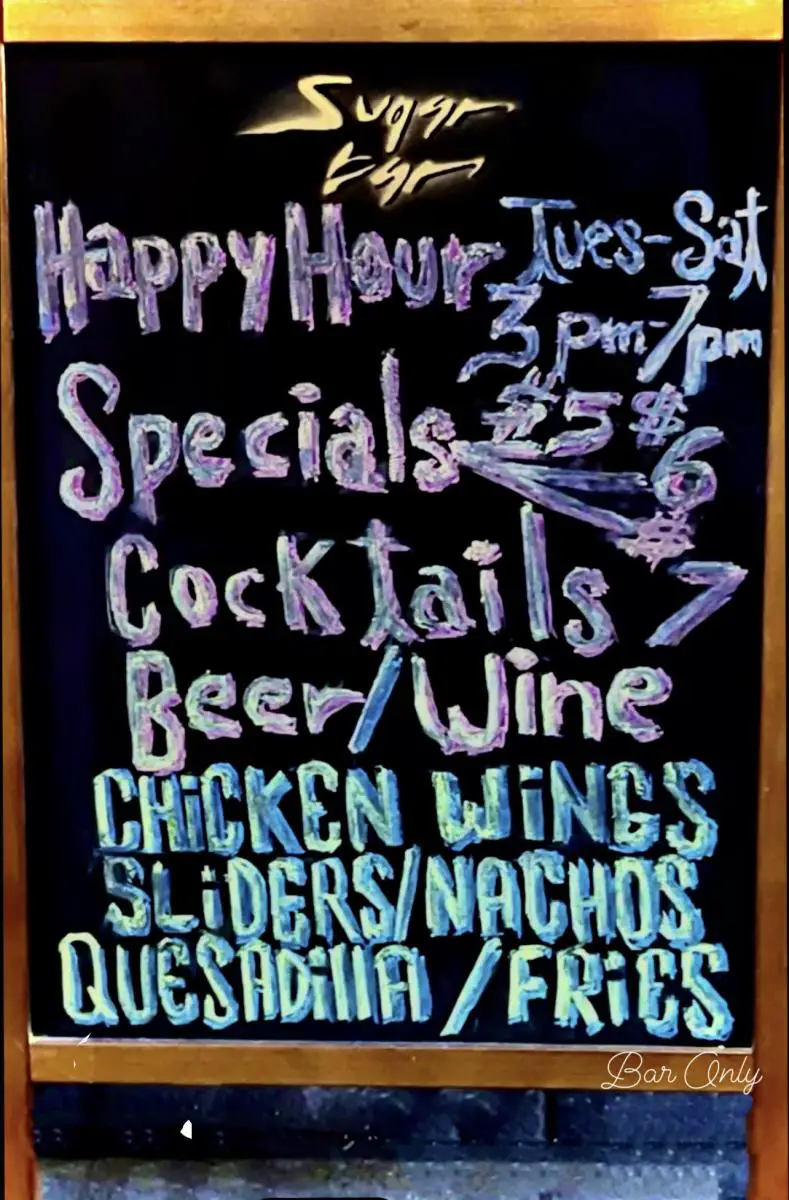 Presenting a fresh alternative to the mundane, Ashford & Simpson's Sugar Bar is an intimate, full-service restaurant on the Upper West Side. Sugar Bar was established in 1996 by the late Nickolas Ashford, one half of the songwriting and performing sensation Ashford & Simpson. Co-owned with Ashford's wife Valerie Simpson, the Sugar Bar offers an elegant ambiance inside a historic brownstone. Happy Hour specials are available Tuesday through Saturday 3 to 7pm at the bar, with a menu that includes $5-$7 specials on beer, wine, and cocktails. There are also deals on chicken wings, sliders, nachos, quesadillas, and fries. 
LIVE BEATS & MORE DOWNTOWN
Downtown has one destination for eclectic, compelling music. The programming at the East Village's Drom runs from jazz, rock, electronic, soul, and funk to international music. The weeks ahead bring high-energy ensemble work from The Silver Arrow Band (April 26th, May 11th, and May 24th) and DJ TM.8's Temptation Saturday 80's Dance Party on April 30th and May 7th, 14th, and 21st. Catch the Spanish Harlem Orchestra "Imágenes Latinas" Album Release Concert on May 20th.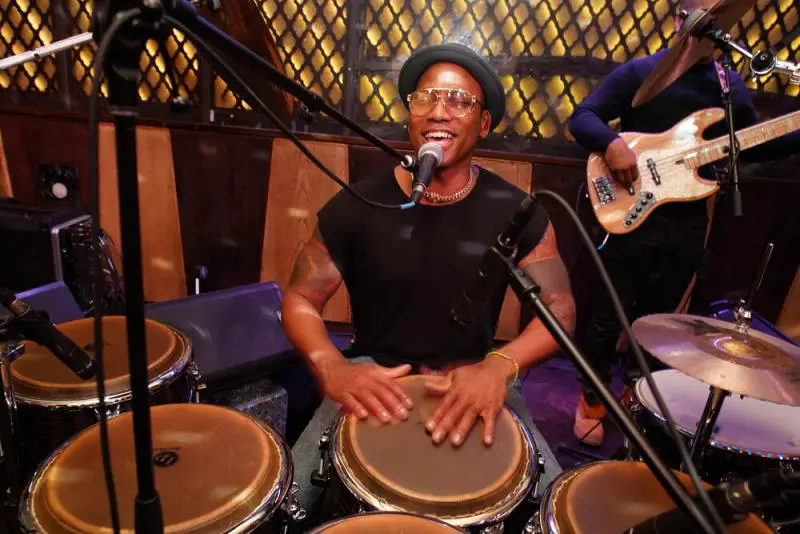 To celebrate its 15th anniversary season, Drom is introducing a weekly residency from Grammy-nominated Cuban bandleader Pedrito Martinez. Martinez will bring his signature, high-energy Afro-Cuban sound every Thursday. For his weekly residency Pedrito will perform alongside Sebastian Natal on bass and vocals, Issac Delgado Jr on keyboard and vocals, Jose "Xito" Lovell on trombone and vocals and Manuel Marquez on percussion and vocals. He'll be teaming up with Carlitos Padron & Rumberos Del Callejon on April 28th.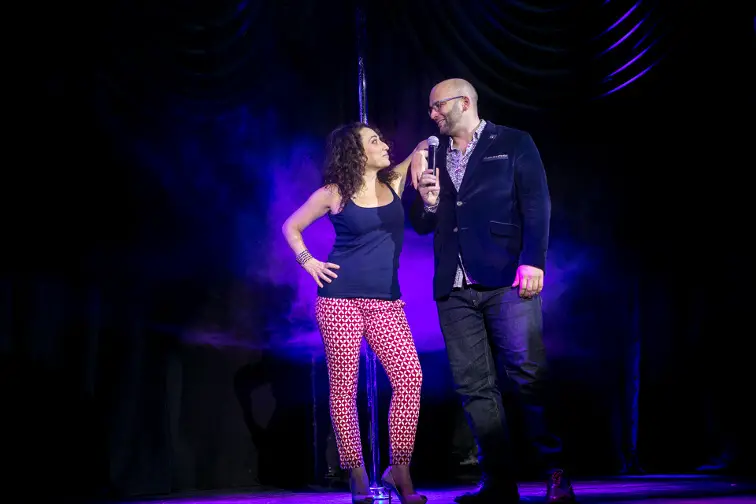 JoAnna Ross and Dan Goodman, photo by Paul Park.
Drom is also your local choice for comedy and pole dancing. Schtick A Pole In It has for the past 9 years been NYC's best (and only) comedy and pole dancing show. Comics tell jokes and pole dancers pole dance. Laugh lines alternate with death-defying tricks. If you don't see shows like this, why are you even paying NYC rents? The show has just expanded to four dates a month as part of an open-ended run. Tickets and more information are here.
ACTIVATIONS AT THE HUGH

Dramatic new Midtown East food hall The Hugh is filling out its schedule with more than just great food. There's free live music in the days ahead.
For all the rest of CityGuide's Best Things to Do in NYC go HERE.
=====================================================
"The sun will come out—eventually! Our guide to spring in NYC has flower shows, outdoor fests and cultural musts.
Spring in New York is full of excitement. When the sun comes out, the flowers start blooming and the weather warms up, New Yorkers can shed their winter blues and head out to NYC parks, NYC street fairs and food festivals in NYC."
========================================================
So many great things to see and do, places to eat and drink in NYC.
How to find them? Here are 6 more of my fave NYC suggestions:
10 Must-Try Tacos In New York City – Secret NYC
Learn the history of jazz with 'soul' at this Harlem museum-ny1.com
Best Thai Restaurants in NYC: Great Places to Order From Near Me – Thrillist
Museum of the City of New York launches new digital guide-globenewswire
Nolita's newest rooftop bar is a foodie's dream-TONY
20 Excellent Astoria Restaurants and Bars to Try-ny.eater.com
============================================