"Pop ups, shows, markets, and more things to do in NYC today, this week, and this weekend.
by Ethan Wolff – CityGuideNY.com
(5/15-5/21) Looking for what to do in NYC this week and weekend? The city continues to bounce back, with many venues dropping their mask and vaccine requirements. Expect a revitalized city this week and this weekend, with new restaurants, festivals, pop ups, and all kind of other things to do in NYC this week."
Here are a few of my faves:
DANCE PARADE & FESTIVAL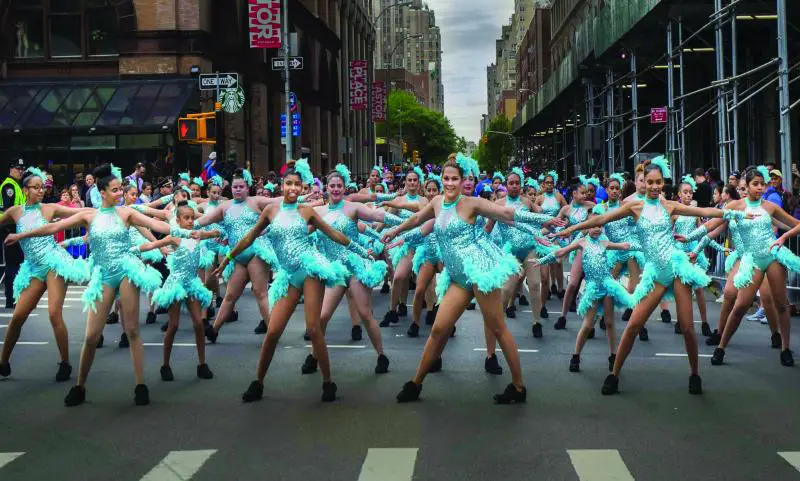 Photographer: Peter Cai. Group: Xdance from Hartford, CT, registered to dance in 2022.
More than 10,000 dancers, DJs, and musicians come together for the 16th Annual Dance Parade & Festival. The world's largest display of cultural diversity—more than 100 styles of dance are represented—takes place on Saturday, May 21st. The afternoon includes a dance procession, grandstand performances at Fourth Avenue and 8th Street, and a Dancefest with aerial performances and free lessons in Tompkins Square Park"
PIZZA SPECIALS
Photo courtesy Fornino.
Brooklyn pizza fave Fornino has a great special in synch with National Pizza Party Day, which falls on Friday. At all Fornino locations, Greenpoint (849 Manhattan Ave.), Brooklyn Bridge Park Pier 6, and DUMBO at Time Out Market New York (55 Water St., beginning at 7pm nightly) find chef and owner Michael Ayoub's delicious wood-fired Margherita pizza at a special price. It's just $7 through Friday, May 20th
In Manhattan, Zazzy's Pizza is also offering an ongoing cheese or pepperoni slice and a beer combo for $5 at their West Village, Lower East Side, and Upper East Side locations (it's $7 for the combo if you want a vegan slice). Just mention you want the Instagram special and mangia!
National Pizza Party Day will be celebrated in a big way at Ainslie in Williamsburg (76 Ainslie St.) and Carroll Place in Greenwich Village (157 Bleecker St). Both hotspots will serve up complimentary (yes, complimentary!) wood-fired pizzas at the bar, in a wide array of varieties ranging from Margherita to boscaiola topped with pancetta, mushrooms, and truffle oil. From Friday, May 20th until the end of June enjoy delicious 'za on the house from Monday-Friday at Ainslie and Tuesday-Friday at Carroll Place. The offer is good 5-6pm and again for the late night folks at 11:30pm-12:30am.
NEW IMMERSIVE ART

Head to the historic boiler room of Chelsea Market to experience the immersive art space ARTECHOUSE. You've never seen art like this before, as room-sized digital projections merge with sound design to create a cinematic experience. Open now is Life of a Neuron, which draws on decades of neuroscience research to create a cellular-level journey through the human brain. Come explore the intersections of art and science and discover new layers of a universal human experience—the story of ourselves. The main installation is joined by additional immersive artworks. You can also grab a drink at the newly opened XR Bar.
For all the rest of these great NYC events check out City Guide's List HERE.
========================================================
So many great things to see and do, places to eat and drink in NYC.
How to find them? Here are 6 more of my fave NYC suggestions:
Morgenstern's Finest Ice Cream in NYC has 40 new flavors this season-TONY
5 Historical NYC Venues Worth A Visit In 2022-bandsintown
New York's 2021 Michelin Bib Gourmand Restaurants, Mapped-ny.eater.com
A Whitney Biennial of Shadow and Light – The New York Times
KONO in Chinatown is a 14-Seat Japanese Yakitori Tasting Menu – Thrillist
This Hidden Gem Is Serving Cocktails Underneath The 50th Street Subway Station – Secret NYC
PLUS, The ultimate guide to Greenpoint, a Brooklyn waterfront neighborhood on the rise | 6sqft
===========================================================