What's Happening September 2019
CityGuideNY – The Best Things to Do in NYC in September
Grub Street (NY Magazine) – What to Eat and Drink in NYC This September
+ The Grub Guide to the Summer's Can't-Miss Food Festivals
ThoughtGallery / Smart Stuff – The September Calendar: Events for Each Day This Month
TimeOut.com – The best NYC events in September 2019
MORE COMING SOON
eg.  Lincoln Center – Lincoln Center FREE August (coming soon)
These sites have been selected because they all do a first rate job publishing NYCity event info. I hope you will click on their hot links to see what else they have to offer.
=======================================================
NYC's September calendar is brimming with excitement, including tons of festivals, exhibits, and Broadway fall previews. The US Open starts the month off, plus there are blockbuster concerts, the San Gennaro Festival, the Chile Pepper Festival, the Cloisters' Medival Festival, and much more!
Things to Do in New York in September: Exhibits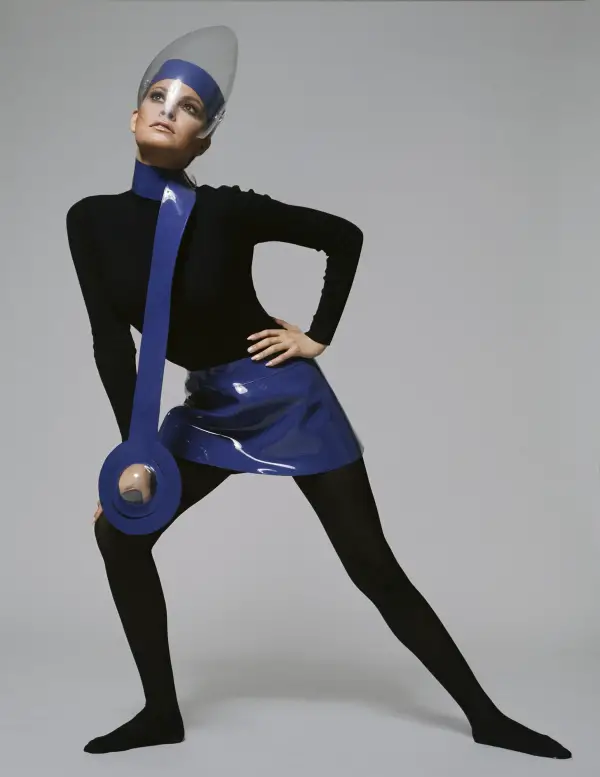 Terry O'Neill (British, born 1938). Raquel Welch in a Pierre Cardin outfit featuring a miniskirt and necklace in blue vinyl, worn with a Plexiglas visor, 1970. Image courtesy of Iconic Images. © Terry O'Neill / Iconic Images.
(7/20-1/5/20) Pierre Cardin: Future Fashion at Brooklyn Museum is the first Cardin retrospective hosted in New York in 40 years. It will display over 170 objects from the Pierre Cardin archive, including fashion pieces. It will also make connections between Cardin's futuristic aesthetic and that of his design contemporaries. Cardin's bold, geometric fashions reflected mid-century advances in technology and industry—most explicitly those concerned with space exploration. In fact, on a visit to NASA in 1971, Cardin donned an Apollo 13 astronaut suit and became the only civilian ever to do so! brooklynmuseum.org
PLUS
(9/1-9/2, 9/7-9/8) Washington Square Outdoor  Art Exhibit The event showcases fine artists and craft artisans from around the New York metropolitan area, the nation and the world. Attendees come from all over and are a cosmopolitan mix, including art lovers, tourists, faculty and students from the area's many schools and professionals such as interior designers. wsoae.org
(9/12-9/22)  For its eighth edition, Photoville at Brooklyn Bridge Park will transform the Brooklyn Bridge Plaza into an immersive photography village populated by over 80 exhibitions in 60+ shipping containers, providing an accessible venue for the public to experience both challenging and entertaining visual stories from a diverse group of artists, curators and organizations. In addition to exhibitions in and around the freight containers, Photoville offers panel discussions, artist lectures, professional development seminars, hands-on workshops, extraordinary nighttime programming, and our Education Day that brings together hundreds of public school students for a unique photo-based field trip. FREE!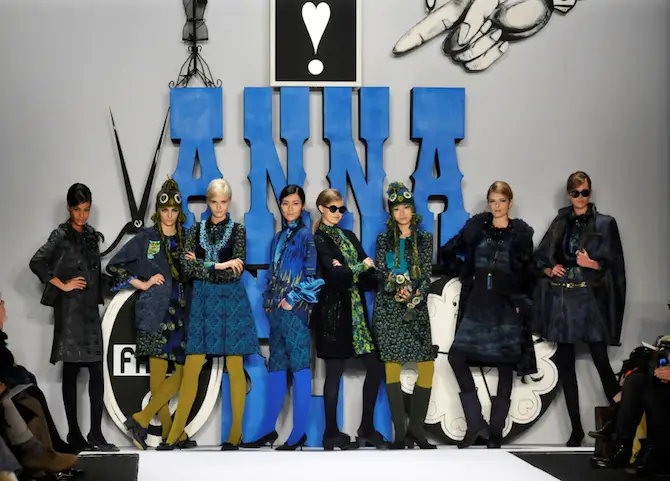 Photograph by Thomas Lau, courtesy of Anna Sui.
(9/12-2/23/2020) Opening September 12 during New York Fashion Week, The World of Anna Sui celebrates one of the country's top designers at the Museum of Arts and Design . The 75 fashion looks on display in this exhibition will showcase Anna Sui's decades-long career, beginning with the groundbreaking fashion show in 1991 that introduced the world to her one-of-a-kind eclectic aesthetic.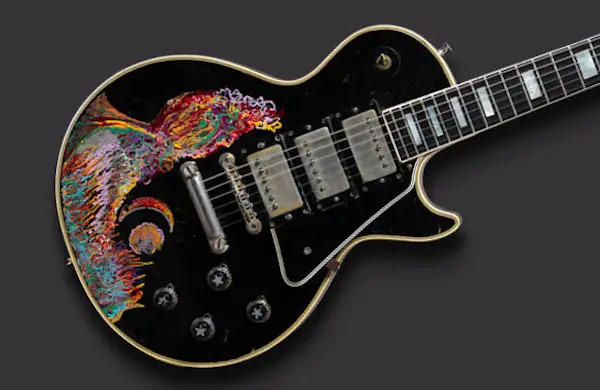 (Now-10/1) Play It Loud: Instruments of Rock & Rollat the Metropolitan Museum of Art. When you see the sheer volume (some 130) of mind-blowing instruments that have been played by a broad cross-section of iconic musicians, all tucked into one space, you'll understand why the Met is the appropriate place for this show. It's the first time a music exhibit of this magnitude has been presented, co-organized with the Rock & Roll Hall of Fame. While guitars primarily make up the exhibit (you can see the white guitar Jimi Hendrix played at Woodstock, Prince's 1993 "Love Symbol" guitar, one of Pete Townshend's smashed guitars encased in Lucite, and Joan Jett's guitar, among others), there are other instruments, including Jerry Lee Lewis's gold baby grand piano, Lady Gaga's custom Artpop piano, and The Who's drum kit. #MetRockandRoll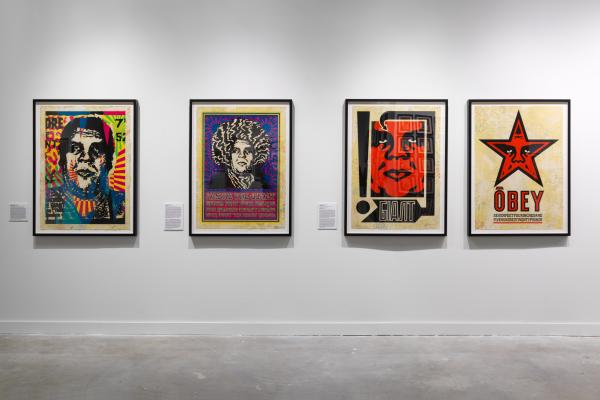 Pieces from Shepard Fairey's Obey Giant series, part of his 30th anniversary collection. Photo: Dan Bradica, courtesy of Beyond the Streets.
(Now-9/29) Extended! Beyond the Streetsat the space Twenty Five Kent in Williamsburg, Brooklyn celebrates some of the biggest names in graffiti, including work from NYC legends Tats Cru, Lady Pink, Keith Haring, Jean-Michel Basquiat, as well as Shepard Fairey, Invader, Brooklyn duo FAILE, artifacts from NYC's beloved Beastie Boys, street photographer Martha Cooper, and much more. Get tickets at beyondthestreets.com.
(Now-1/3/20) The most significant site of the Holocaust, Auschwitz was not a single entity, but a complex of 48 concentration, forced labor, and extermination camps, at which 1 million Jews—and tens of thousands of others—were murdered. Auschwitz. Not long ago. Not far away., a new exhibition at the Museum of Jewish Heritage—A Living Memorial to the Holocaust, explores the legacy of history's deadliest mass murder site. More than 700 original objects and 400 photographs are on display, many for the first time in North America. Among the artifacts: personal possessions, fragments of a barrack, a gas mask used by the SS, and an original German-made Model 2 freight wagon used for the deportation of Jews to the ghettos and extermination camps in occupied Poland.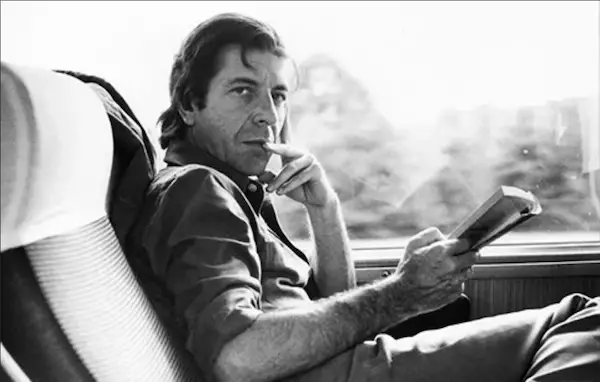 (Now-9/8) Last chance!! Leonard Cohen: A Crack in Everything at The Jewish Museum is the first exhibition entirely devoted to the imagination and legacy of the influential singer/songwriter, man of letters, and global icon from Montréal, Canada. The exhibition includes commissioned works by a range of international artists who have been inspired by Cohen's style and recurring themes in his work, a video projection showcasing Cohen's own drawings, and an innovative multimedia gallery where visitors can hear covers of Cohen's songs by musicians such as Lou Doillon; Feist; Moby; and The National with Sufjan Stevens, Ragnar Kjartansson, and Richard Reed Parry, among others.
(Second half 7/24-1/5/20) Implicit Tensions: Mapplethorpe Now at The Solomon R. Guggenheim Museum. Robert Mapplethorpe, one of the most critically acclaimed and controversial American artists of the late 20th century, is represented in great depth in the Guggenheim's collection. In 1993 the museum received a generous gift of approximately two hundred photographs and unique objects from the Robert Mapplethorpe Foundation, creating one of the most comprehensive public repositories in the world of this important artist's work. In 2019, 30 years after the artist's death, the Guggenheim will celebrate the sustained legacy of his work with a yearlong exhibition in two sequential parts in the museum's Mapplethorpe Gallery on Tower Level 4.
(Ongoing) Faith and Empire at the Rubin Museum. Religion has influenced and empowered countless political leaders throughout history, and Tibetan Buddhism is no exception. "Faith and Empire: Art and Politics in Tibetan Buddhism"is the first exhibition of its kind to explore Tibetan Buddhism'sdynamic political role in the empires of Asia from the 7th to the early 20th century. Artwork highlights include a set of 8th-century gilt-silver drinking vessels from the Tibetan Empire; an early 13th-century wrathful icon made of silk and ornamented with tiny seed pearls; a 4 ½-foot-tall 680-pound gilt-bronze bodhisattva from the early 15th-century Ming court; and a 19th-century 8-feet-wide Mongolian depiction of the final battle against the heretics and nonbelievers. The exhibition is arranged chronologically, beginning with the Tibetan Empire in the 7th century, and includes sections on the Tangut kingdom of Xixia, the Mongol Empire, the Chinese Ming dynasty, the rule of the Dalai Lamas, and the Manchu Qing dynasty.
(Permanent)The Jim Henson Exhibitionat the Museum of the Moving Image will celebrate the life and legacy of the famed Muppet creator, exploring both his prolific career and the enduring effect his work has on pop culture to this day. Visitors can expect to learn more about the creation of such beloved works as The Muppet Show, Sesame Street, Fraggle Rock, The Dark Crystal, and Labryinth, as well as to discover the cutting-edge experimental works Henson made throughout his career.
(Permanent) The Museum of the City of New YorkpresentsNY at Its Core. Ten years in the making, New York at Its Core presents the compelling story of New York's rise from a striving Dutch village to today's "Capital of the World." The exhibition captures the human energy that drove New York to become a city like no other and a subject of fascination the world over. Entertaining, inspiring, important, and at times bemusing, New York City "big personalities," including Alexander Hamilton, Walt Whitman, Boss Tweed, Emma Goldman, JP Morgan, Fiorello La Guardia, Jane Jacobs, Jay-Z, and dozens more, parade through the exhibition.
Things to Do in New York in September: Comedy
(9/20) Jerry Seinfeld at The Beacon Theatre.
PLUS
(9/5)The Gotham All-Stars Taping Hosted by Pete Davidsonat Gotham Comedy Club. Don't miss this opportunity to be a part of a live virtual reality event with Oculus & NextVR hosted by Pete Davidson!
(9/6-9/7) Adam Ray at Gotham Comedy Club.
(9/12) Dave Hill's Live Comedy Album Recording at Union Hall, with Dave Hill and Clare O'Kane.


(9/13-9/14) Colin Kane at Gotham Comedy Club. 
(9/14)Dane Cook: Tell It Like It Is at Radio City Music Hall.
(9/15) The Eric Andre: Legalize Everything Tour stops at Kings Theatre.
(9/18) The Office'sCraig Robinson at Gotham Comedy Club. 
(9/20-9/21) Adam Ferrara at Gotham Comedy Club.
Things to Do in New York in September: Kids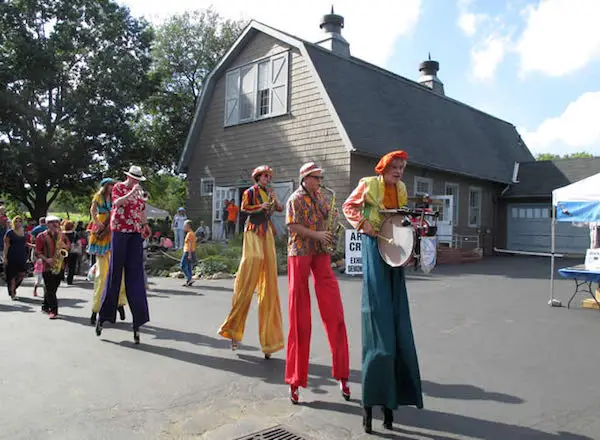 (9/21-9/22) Now in its 37th year, the traditional County Fair at the Queens County Farm Museum features blue ribbon competitions in produce, livestock, arts and crafts, and more. Enjoy the Amazing Maize Maze, pie-eating and corn-husking contests, pig-racing, hayrides, carnival rides, and a midway. Visit craft vendors, food vendors, enjoy music, and more. 11am-6pm. queensfarm.org
PLUS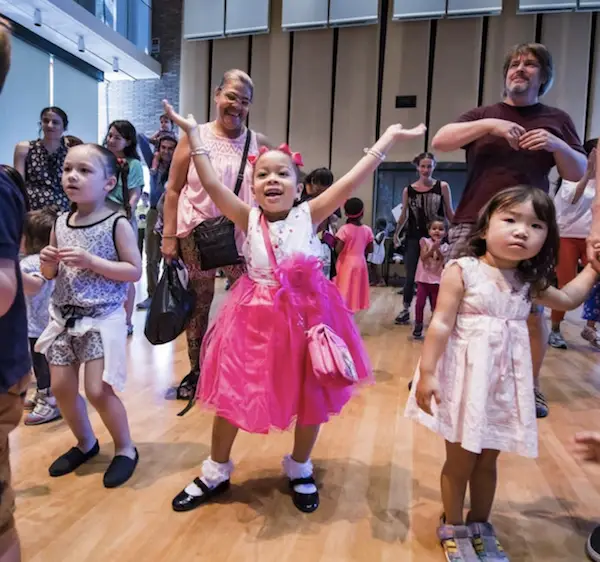 Photo: Chris Lee 
(9/22) Fall Family Day at Carnegie Hall. Families can enjoy live performances, build their own instruments, sing and dance with professional musicians, and more. This event runs from 12 PM to 4 PM. Join in for an enriching afternoon of musical fun for the whole family. FREE.
(Ongoing) Luna Park in Coney Island: grab the family, get a Luna pass and ride the Cyclone or the Cozmo Jet, plus stroll the beach with a hot dog and more!
(Ongoing) The Smash Dash game at Ripley's Believe It or Not! Times Square will keep kids on their toes! Keep your reflexes sharp, in this all-new race against time. Here is a coupon!
(Ongoing) Aspiring scientists and astronauts will want to explore the New York Hall of Science in Queens, brimming with interactive exhibits (plus an outdoor playground).
Things to Do in NYC in September: Food, Music, & Nightlife
(9/7) Pig Island 2019 at Erie Basin Park in Red Hook, Brooklyn. It's back, celebrating its 10th anniversary! Chefs will be cooking half or whole Flying Pigs Farm pigs. Special ribs challenges! Fletcher's Brooklyn BBQ, Hoodoo Brown BBQ and many others. Craft beer, cider & spirits. Celebrity judges. Live music. pigisland.com
PLUS
(8/29-9/2)Celebrate Brooklyn's global influence in music and promote social justice  at Brooklyn Music Week. Look for live performances, art and fashion exhibitions, panel guests, themed parties, and more. brooklynmusicweek.com
(9/1) The Who: Moving On at Madison Square Garden.
(9/3-9/5) Hot Chip at Brooklyn Steel. 
(9/6) Vampire Weekend at Madison Square Garden.
(9/7)Fletcher at Music Hall of Williamsburg.  16+
(9/7-9/14) New York Shakespeare Exchange's ShakesBEER Turns 30! New York Shakespeare Exchange (NYSX) announces the 30th consecutive NYC original Shakespearean Pub Crawl: ShakesBEER turns 30! on September 7 & 14, 2019 from 3-6 PM. The crawl begins in Alphabet City at The Donnybrook (35 Clinton St, Manhattan) with check-in at 2:30pm and moves to Parkside Lounge, C Lounge, and Mama's Bar. Tickets are $49 and are available at https://shakesbeer.brownpapertickets.com/. Tickets include performance and four drinks (beer, wine, and select cocktails). $25 "sober" tickets are also available, which include admission only.
(9/6-9/14) It's New York Fashion Week, and there will be afterparties.nyfw.com
(9/7) The Raconteurs play music from their new release Help Us Stranger at Kings Theatre.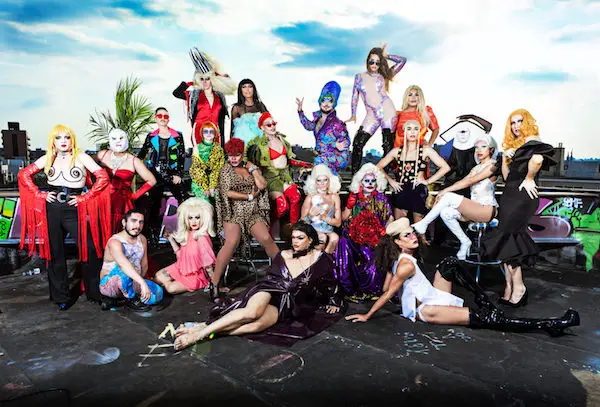 Image: Maro Hagopian & Sasha Zabelina 
(9/7-9/8) Bushwig returns to the Knockdown Center in Maspeth, Queens for 23 hours of over 160 performers and non-stop drag, live music, and DJ sets from legendary and rising children of New York and the world! Featuring two stages of drag plus, shopping, food vendors, ice cold drinks from SIX+ bars, Cheeky darkroom, VIP Kiki-lounge, friendly LGBTQ security, and a FREE direct shuttle bus from the Jefferson L station to the venue! 21+. bushwig.com
(9/8) Experience Thailand at Union Square Park. 
(9/9) WWE Monday Night Raw at Madison Square Garden
(9/9) Antoni in the Kitchen: NYC A Delicious Conversation at The Town Hall. Join Queer Eye's Antoni Porowski for a special evening of beautiful conversation and fun, in partnership with Williams Sonoma to celebrate the publication of his first cookbook, Antoni in the Kitchen.
(9/12) Tyler, the Creator at Madison Square Garden.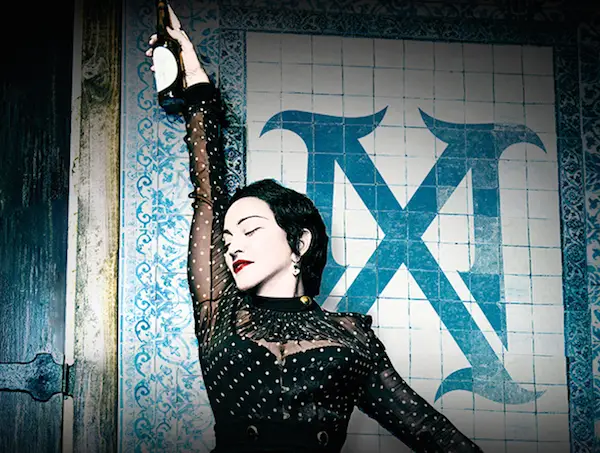 (9/12-10/7) Madonna: Madame X Tour does an intimate residency at the Brooklyn Academy of Music (BAM). Limited tickets still available.
(9/13-10/20) Oktoberfest NYC.
(9/22, 24) Lizzo : Cuz I Love You, Too Tourstops by Radio City Music Hall.
(9/13) Peter Frampton the Final Tour at Madison Square Garden.
(9/14) The Gypsy Kings at the Beacon Theatre.
(9/14) The Growlers, The Lemonheads, and Nude Party at Central Park Summerstage. FREE!
(9/17)Alan Parsons Live Project at Town Hall. 
(9/19) Mac de Marco at Brooklyn Steel. 
(9/19) Adam Ant: Friend or Foe Tour at The Beacon Theatre.
(9/20) The Bacon Brothers at Sony Hall. 
(9/20) Jeff Buckley & Gary Lucas The Lost Songs at The Cutting Room. Besides their well known anthems "Grace" & "Mojo Pin", Buckley & Lucas have written a dozen songs. Tonight Lucas pays tribute to his friend by performing their lost songs, among others.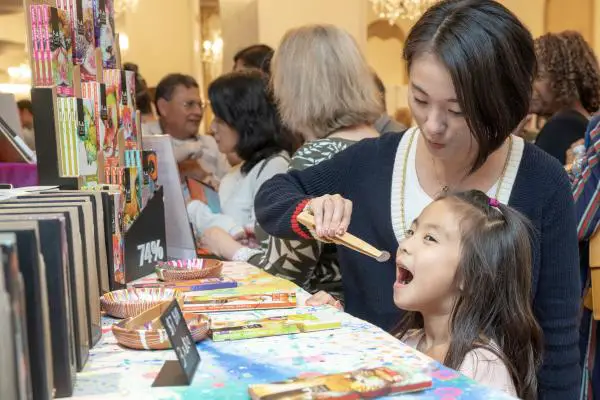 (9/20-9/22) The Big Chocolate Show is returning to the New York City area for the fourth consecutive year. This weekend-long event, which features both family-friendly activities and a special 21+ area, is moving to Resorts World Casino NYC in Queens, the "World's Borough." Featuring three full days of samples, chocolate tastings, live demonstrations, and classes, The Big Chocolate Show benefits Cookies for Kids' Cancer, a national nonprofit committed to funding research for new, improved and less invasive treatments for kids' cancers. Tickets are on sale now at thebigchocolateshow.com. Use City Guide's discount code (CITY20) for 20% off!
(9/23) Conversations with Nick Cave at The Town Hall: An Evening of Talk and Music. Described by Cave as "an exercise in connectivity," no subject is sacred and audiences are encouraged to be bold and challenging, confrontational and unafraid.
(9/28) New York Vegandale Food & Drink Festival at Randall's Island. Back for a second year (originating out of Toronto), this time a full weekend schedule of food, drinks, music, and art. vegandalefest.com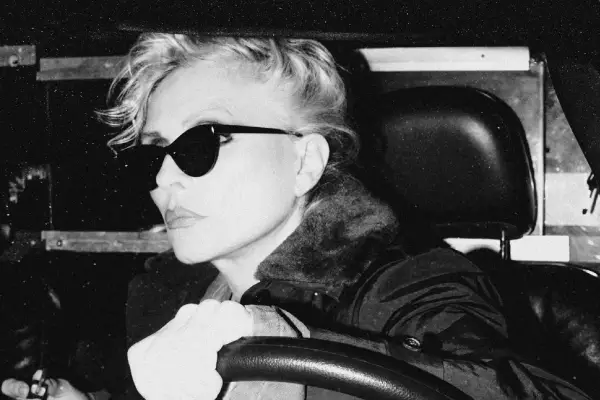 (9/30) Deborah Harry speaks at Town Hall, to discuss her memoir, Face It, out Oct. 1. With Chris Stein and Rob Roth.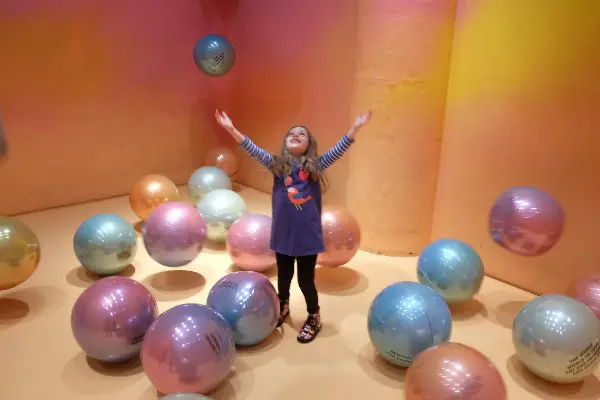 (Ongoing) Color Factory, a massive interactive art space, began in August 2017 in San Francisco. Wildly popular, the project has set up shop in SoHo and is sure to inspire lines as long as the cronut did at nearby Dominique Ansel Bakery. Designed by a wide spectrum of artists, Color Factory walks visitors through 16 rooms devoted to the wonder of color. You're invited to compliment someone using color words, discover your signature color, and read wishes for the world written by NYC school children on varicolored balloons. Each room is equipped with a camera that can take a picture of you and send it to your phone: the better to post with! On view now through August, 2019. 251 Spring St., support@colorfactory.co,colorfactory.co, @colorfactoryco
Things to Do in New York in September: Sightseeing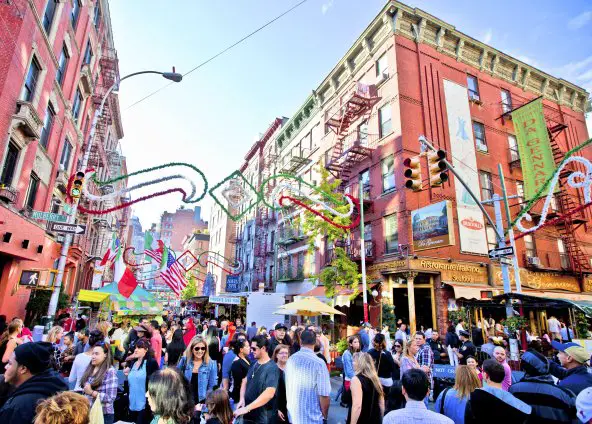 © Stu99 | Dreamstime.com – Little Italy Photo
(9/12-9/22)The Feast of San Gennarocelebrates its 93rd anniversary this year! It's NYC's longest running, biggest religious outdoor festival, stretching along the streets of Little Italy.sangennaro.org
PLUS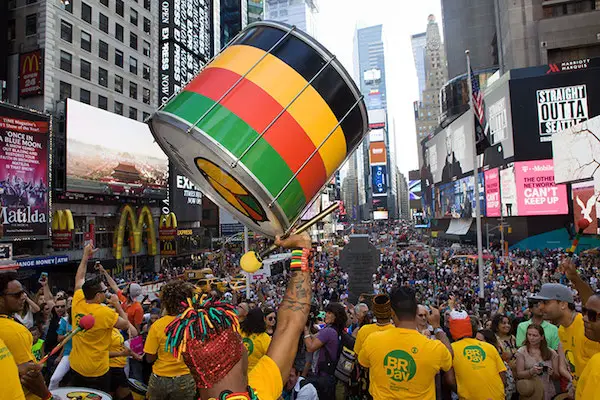 (9/1) The annual Brazilian Day Festival returns to Manhattan's Little Brazil (around 46th Street between Fifth and Sixth Avenues). Load up on tasty food, music, vendors, and more. brazilianday.com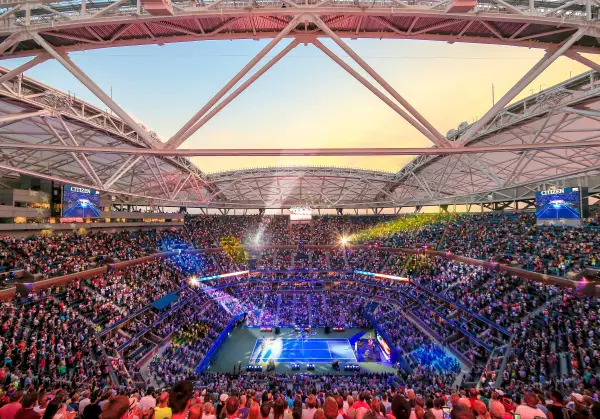 (8/26-9/8) We can think of one good reason to look forward to the end of the summer, especially if you're a big-time tennis fan: the 2019 U.S. Open Tennis Championships, held right here in New York City. This will be the tournament's 139th year, with Flushing Meadows, Queens hosting all the excitement. One of the most prestigious events in tennis, the U.S. Open is the final event in the Grand Slam, following the Australian Open, French Open, and Wimbledon. The matches are easily reached by subway; some 700,000 fans attend the U.S. Open every year. Tickets for the biggest matches can be scarce, but with tennis of this caliber, even a warm-up rally on a side court can be thrilling. Just getting onto the grounds is exciting, and you'll find a full range of food to keep your energy from flagging. usopen.org
(9/8) Made in NYC & Third Anniversary Celebration at Grand Bazaar NYC.
(9/16) 36th Annual Antique Motorcycle Show at Queens County Farm. The show will include a display of various makes and models of motorcycles that have been out of production for 10 years or more. Music, farmhouse tours, hayrides, and food will provide fun for the entire family. 11am-4pm. queensfarm.org
(9/21) The German-American Steuben Parade kicks off at noon, marching along Fifth Ave., from 68th Street to 86th Street. The festivities continue at the 2019OktoberFest at Watermark Pier 15 (9/13-9/15, 9/21-9/22, 9/28-9/29, 10/5-10/6). Prost! 
(9/21-11/10) Circle Line's Bear Mountain Cruise is back! Take a cruise up the Hudson River to Bear Mountain State park, while enjoying the autumnal sights and our on-board Oktoberfest with live oom-pah music, and German food and beer (available for purchase). Bear Mountain State Park features 50+ hiking and biking trails, a stunning lake with paddle boats, a zoo, museum and The Bear Mountain Inn restaurant (reservations recommended!). There's a 30 minute walk up a winding path to access these facilities. Adults from $65+, kids 5-12, $52+.
(9/29) The 44th Annual Atlantic Antic is the largest street festival in NYC, taking place along Atlantic Avenue in Brooklyn. atlanticave.org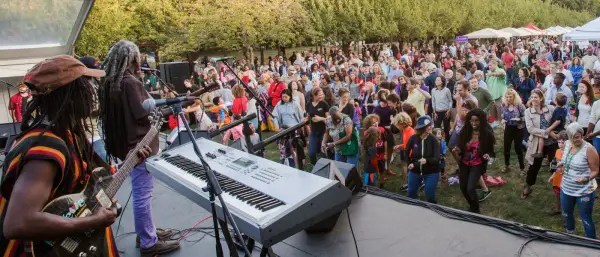 (9/28) The Chile Pepper Festival 2019 at Brooklyn Botanic Garden. Save the date for New York's spiciest fall tradition! Brooklyn's end-of-summer blowout sets the garden ablaze with scorching bands from around the world, dozens of fiery food artisans, and hours of chile-chocolate debauchery.
(9/28) Global Citizen Festival at Central Park This year's concert will feature acts including Queen fronted by Adam Lambert, Pharrell Williams, Alicia Keys, OneRepublic, H.E.R., and Carole King. Tickets are free, but one must engage in specific activist actions in the realms of health, gender equality, the environment, and/or education, in order to get a ticket. Learn more at globalcitizen.org
(9/29) Cloisters Medieval Festivalin Fort Tryon Park. The Medieval Festival brings to life the customs and spirit of the Middle Ages. Manhattan's Fort Tryon Park is transformed into a medieval market town decorated with bright banners and processional flags. Performers, guests and festival goers dress in medieval costume.
(Now-9/30) Final month! It's rosé all day once again. Rosé Mansion is back for another summer residency in NYC after a successful run last year. The designs in all 14 rooms will be brand-new, and the mansion will be twice the size of last year's iteration. You'll get tastings of 8 different pink wines as you travel through a champagne ball pit, a mini-theme park called Roséland, and a tree house! There will also be two different rosé wine bars where you can hang out, plus grub from Taco Dumbo on hand.  111 W. 32nd St., rosewinemansion.com, @rosewinemansion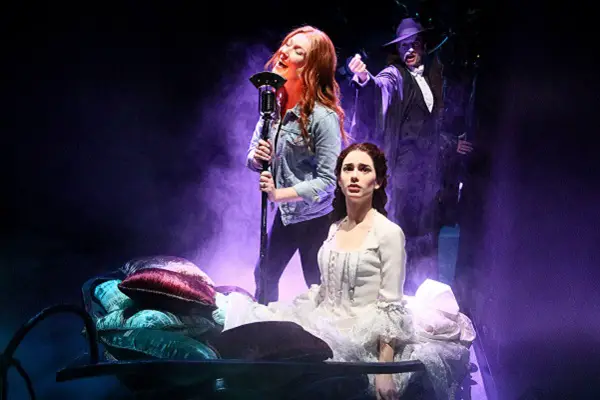 (New!) Madame Tussauds New York Presents Broadway. Take a magical journey starting with a cocktail at the Broadway Bar, and then traveling through a kaleidoscope of your favorite musicals.  Enter the world of Andrew Lloyd Webber's Phantom of the Opera, Joseph and the Amazing Technicolor Dreamcoat, Evita, Sunset Boulevard, and Cats. You can sing "Memory" with Grizabella the "Glamour Cat" and wear the Dreamcoat yourself as you become a Broadway star. The Phantom of the Opera will also guide you through this dazzling backstage experience, and perhaps do a little singing himself along the way. Live actors will be on hand to enhance the rush both on- and offstage.
(Ongoing) Get the full stadium experience with Yankee Stadium Tours, which offers exclusive access to New York Yankee historic spots like Monument Park, The Great Hall, and even down to the dugout. The daily tours also bring you close to baseball artifacts like Babe Ruth's bat, Lou Gehrig's jersey, and rings and trophies representing the Yankees' 27 world championships.
Things to Do in New York in September: Ongoing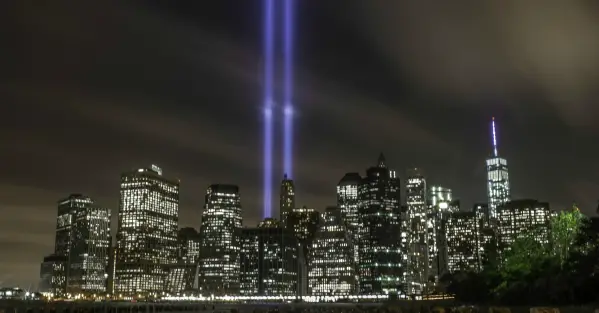 Image: Anthony Quintano/Flickr
Every year New York marks the September 11th attacks with the Tribute in Light, a display of 88 searchlights visible in the night sky for miles around. There will be other tributes and memorials all around the city, and a visit to the 9/11 Memorial & Museum will provide moving context.
Part tour, part show, all entertainment! Take THE RIDE and see NYC like never before!
Experience Downtown NYC, enhanced with virtual reality, with THE RIDE's DOWNTOWN EXPERIENCE.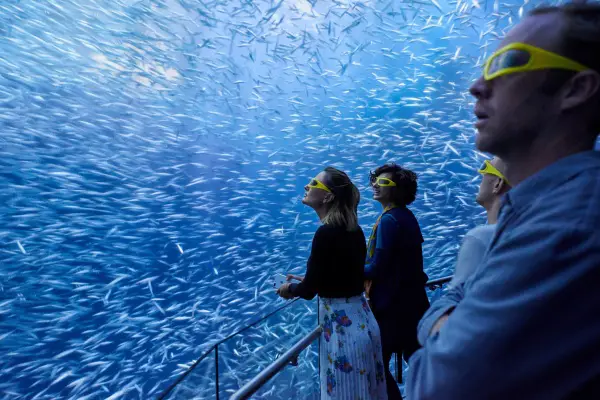 Immerse yourself in the deep, dark depths of the ocean, where Humboldt squid fight to the death, 50 foot whales ride overhead, play with sea lions, navigate a sea kelp maze and more at National Geographic Encounter: Ocean Odyssey!   Here's a coupon!
Grab a photo with Taylor Swift, One Direction, Lady GaGa, JLo, and more at Madame Tussauds New York. Here is a $5 off coupon!
Ripley's Believe It or Not! Odditoriumbrings people of all ages face-to-face with the world's most unbelievable curiosities. With 18,000 square feet of astonishing artifacts and exciting interactive exhibits. Here's a coupon!
Zip up 100 stories in 60 seconds and see New York City atopOne World Observatory. Here is a coupon!
Explore New York City from the best vantage points with Helicopter Flight Services Tours. Choose from four different itineraries.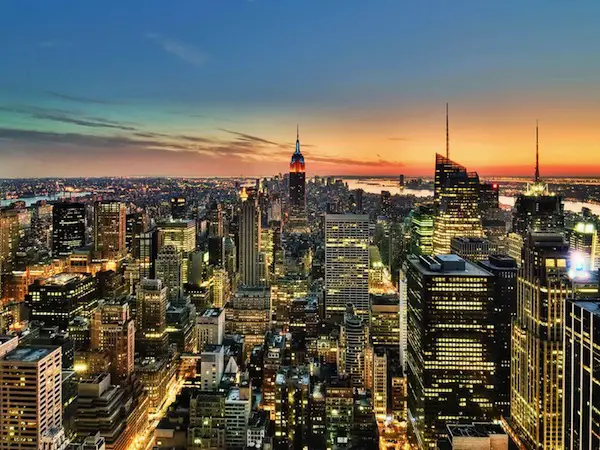 Bring a loved one to take in the breathtaking view at Top of the Rock.
New York Weather in September
Come September the summer heat is fading and there can be a crispness in the air, particularly in the evenings, making this a great month to visit the city. Highs average 81°F (28°C) on September 1st and cool down to 69°F (21°C) by September 30. Average lows overnight go from 66°F (19°C) at the month's start all the way down to 55°F (13°C) by month's end. There's rain on about 10 days, but it usually isn't heavy—4 inches in total precipitation is scattered across the month. Bringing an umbrella can't hurt, but generally you won't need many layers for September, with little more than a lightweight jacket necessary to meet the elements.
==============================================================
The chicken shawarma taco from TacoVision.
Photo: Liz Clayman
Every month in New York, there are a bewildering number of new dishes to eat, drinks to imbibe, and food-themed events to attend. Often, the hardest part is just figuring out what's really worth your limited time. So Grub Street kicks off each month with a curated selection of dishes, drinks, and events that should absolutely be on your agenda. Make your plans now.
1. Eat chicken shawarma tacos with jalapeño tahini.
TacoVision: Is it an all-tortilla-content streaming service? Is it a brand whose frontman smokes way too much weed? No, it's a new restaurant (244 East 53rd St.) from the crew behind Crave Fishbar, opening September 4. A counter-service space with full restaurant and bar upstairs, it will — in a twist worthy of an M. Night Shyamalan movie — focus on tacos. That means conventional tacos like al pastor, but also inventive ones like chicken shawarma with jalapeño tahini, and other dishes like barramundi aguachile with tomatillo broth. They'll be served on blue-corn tortillas made from Tortilleria Nixtamal's masa, along with cocktails like the Eye Candy (coconut-washed bourbon and Mexican coke).
2. Go to the very last Vendys.
On September 21, the Vendys — New York's celebration of street food and the people who make it — will return for one last go around the taco truck. (Tickets are $60 or more for VIP options, and can be purchased here.) In proper finale fashion, the Street Vendors Project will shut it down with a People's All-Star Vendy Cup category featuring a lineup of past participants. Those include the Arepa Lady, NY Dosas, Lechonera La Piraña, Guandong Cheong Fun, and ten others. There will be two other new categories, including Best Freshman, a lineup that features Birria-Landia, and Best Desserts, which four vendors are up for. Go celebrate the Vendys, one of New York's great food events.
3. Head just out of the city to check out Dale Talde's new restaurant.
Dale Talde is back, nine months after separating from the business partners he ran other restaurants with. He's cooking just north of the city now, and on September 3 will open Goosefeather in the Tarrytown House Estate. The restaurant will focus on Cantonese cooking, in dishes like prawn toast ($15) with pickled chilies and crushed avocado, char siu pork collar ($19) with grilled scallions and spicy mustard, roast duck ($59) with caramelized hoisin, scallions, and pancakes, and shrimp and clam chewy noodles ($26) with Talde's own XO sauce.
4. Go to a Win Son fundraiser for a public school's art program …
You are probably used to heading to Win Son for your ice-cream baos and Nutritious sandwich. Consider a different cause (than your need for Taiwanese food) on September 9, when the East Williamsburg restaurant will host a fundraiser for the art department of the nearby Lyons Community School. $15 will get you in the door from 8 p.m. to 11 p.m., and they'll be serving a limited menu from Win Son along with drinks and music. A public school for children who may have struggled in the traditional school system, Lyons Community School is described by one of the school's mentors and event organizers as trying to bring a progressive approach to inner city education.
5. … Then check out the brand-new Win Son Bakery.
Speaking of Win Son, owners Joshua Ku and Trigg Brown will expand on September 3, for the first time, with Win Son Bakery. Planned to be open all day, it will open at first for breakfast, from 7 a.m. to 1 p.m., and then for dinner, from 5:30 p.m. to 11 p.m. The food will be in the same Taiwanese-American vein that's caught fire at Win Son, so expect egg-and-cheese milk buns, milk bread, and pastries like black sugar egg-custard tarts and mochi doughnuts from Danielle Spencer. Sandwiches will be served at night, along with big chicken boxes with Taiwanese fried chicken, spiced jojos, and scallion pancakes, small vegetable dishes, and plenty of natural wine, cocktails, and Taiwanese beer from Jesse Shapell.
6. Go to a dinner inspired by Dali's cookbook in Greenpoint.
How about a surrealist dinner inspired by Dali? No, this is not an idea someone cooked up during an acid trip. Yes, it is actually happening on September 5 at 7 p.m., when Greenpoint's Archestratus Books + Foods will host Le Diner de Dali (tickets are $50). The dinner will feature dishes inspired by the surrealist cookbook, which was republished in 2016 for the first time and was described by Saveur as "one of the most unusual recipes books ever created, a bit like Escoffier on acid." Put on by Butter & Scotch co-owner Allison Kave and artist Lindsay Mound, it will feature interactive artwork created by Mound and diners are encouraged to reflect the Dali vibe with their outfits. Mark your calendars for September 12, too, when they'll host Alice Feiring in conversation with writer Melissa Clark to talk about her new book, Natural Wine for the People. (Tickets are $30, wine and cheese will be going down.) Also on September 18 but not at Archestratus, the Centrale is hosting the chef Danny Mena for an event to celebrate his book, Made in Mexico, featuring food from his restaurant La Loncheria and Mezcal de Leyenda cocktails.
7. Eat pie to cope with summer's end.
If the end of summer is a hard pill to swallow, the antidote may be fall pie. While tickets to Dominique Ansel Kitchen's annual Pie Night are sold out, you can still pre-order pies off the event menu for pickup at Kitchen, any time from September 10 through October 3. From salted caramel pie to spanakopita, the pie plenitude runs the spectrum from sweet to savory, and this year, customers can also order pies inspired by chef recipes, like Ruth Reichl's Cherry Crostata, and Danny Meyer's silky chocolate cream pie, piled high with Chantilly cream and chocolate feathers. In the end, it doesn't matter that you missed pie night, or that the leaves are changing colors. Grab your forks and go hard — the pie limit does not exist. — Bindu Bansinath
8. Go to a Gourmet reunion.
It's now been a decade since the last issue of Gourmet was published. To honor the celebrated magazine, former editors are getting together near New Hope, PA (about 90 minutes outside the city). The Farm Cooking School's Ian Knauer and Shelley Wiseman — who both worked in the magazine's test kitchen — are hosting the Ode to Gourmet Institute alongside Ruth Reichl. (Grub's editor, Alan Sytsma, who worked at Gourmet, is participating in the event.) On September 14 and 15 (tickets are $750 for the whole weekend, or $450 for each day), former Gourmet staffers will gather for to host workshops about the modern kitchen and panels on food writing and storytelling, eat wood-fired pizza for lunch, and more. The weekend isn't cheap, but it's basically like a Gourmet reunion meets a pop-up magazine.
9. Attend a symposium dedicated to all things corn.
Corn: You love to eat it, drink it, and turn it into something decorative so everyone knows you love fall and pumpkin spice flows through your veins. Also, it's an absolutely vital crop around the world. On September 8 and 9, Topic48 will put on the Corn Symposium, with support from the great publication New Worlder. Lectures and discussions will take place on the first day ($100 for tickets; second days sold separately) at the New School, with Marion Nestle talking about corn and public health, farmer Zaid Kurideh and chef Victoria Blamey talking about flavor, Masienda's Jorge Gaviria explaining nixtamalization, and more. The second day's events will take place around the city, including one ($85) at Saveur on baking corn with Alice Medrich and another ($45) at Estela where you'll taste corn with Glenn Roberts of Anson Mills. To cap it off, Casa Publica will host chefs for a dinner ($125, including drinks and tip) celebrating corn in Mexico, Peru, and the American South.
10. Drink beer and eat pizza at a party for the new book from New York's top beer geek.
Beer guy about town and occasional Grub contributor Joshua Bernstein wants to celebrate his new book, Drink Better Beer, with you. So on September 17, the day it's released, he's throwing a party that's also the first time the public will get to drink at Wild East Brewing (623 Sackett Street), a brewery that's opening this fall in Gowanus. (Tickets are $35 for a book and drinks, or $25 for drinks only.) Drink Czech-style pilsners, fruited Berliner weisse, and more from Wild East, as well as beers from nearby Strong Rope, Neapolitan pies from Groundlings Pizza Co., and more in the 7,000-square-foot space.
11. Head uptown to hear Gwyneth Paltrow talk pasta with chef Evan Funke.
Evan Funke is Los Angeles's prince of pasta. His restaurant, Felix, has been raved about by many and his first cookbook, American Sfoglino, promises to teach you how to make fresh pasta and become the sultan of spaghetti in your own home. On September 25, he'll be at the 92nd Street Y (tickets are $60) to talk with one Gwyneth Paltrow, about Emilia-Romagna's eggy pastas, the ins and outs of rolling dough, and how to form a more perfect union with sauce. If you're less into pasta and more into soba, then you might want to head, instead, to another event at the Y for Ivan Orkin and Chris Ying's new book, The Gaijin Cookbook. (Tickets are $29.) The book channels Orkin's unusual life — his Jewish upbringing and adult obsession with Japan — into recipes like Ivan Ramen's tofu Coney Island. It will start with a conversation between the co-authors, followed by a book signing.
12.  Go support a couple restaurants that were temporarily closed because of fires.
The flagship Black Seed Bagels was forced to close earlier this year after an early morning fire. Between insurance, the city bureaucracy, and everything else an owner needs to deal with in order to actually rebuild, it sounds like a nightmarish slog. So it's good news to hear that, nearly six months later, Black Seed has reopened the Elizabeth Street location, which is now serving its wood-fired bagels from 7 a.m. to 5 p.m. daily. Black Seed's flagship isn't the only downtown restaurant that's recently reopened after a fire. The East Village's Sauce is reopening on September 6 after closing because of a fire, with a redone interior, an updated menu, and new drinks including signature spritzes like the Green Apple Honey (Villa de Hard green apple, honey syrup, prosecco, and soda) and negronis like the Bianco (gin, Dimmi, and Aveze).
13. Make your hot-pot plans.
The Flushing outpost of Beijing's First Lamb Shabu Shabu serves some of the best — if not the best — hot pot in New York, in a style that's not like the Sichuan sort you typically find in this city. It's made with a heady and gamey lamb broth, complete with an island of lamb already in the pot. Now, there's another spot to get your fix, as the chain has opened a second location in the East Village (218 E. 14th St.). Run, don't walk, once it cools down: for the peppery chrysanthemum greens, the egg-crêpe dumplings, the many meats, and sides like clay-oven rolls.
14. Live luxuriously at Le Club.
The half-restaurant formerly known one as Le Grill at L'Atelier de Joel Robuchon has been reborn as Le Club. A new concept from executive chef Christophe Bellanca that's opening the week of September 16, it will be separated from L'Atelier and, as you may have guessed from the name, have a clubbier vibe to its design and music. The menu is unsurprisingly fancy — think foie gras crème brûlée with green-apple foam — and cocktails will include a weekly daiquiri (same), while some wines will be served by the magnum.
=========================================================
The summer is over and September has arrived—and whether you're heading back to school or just embracing the start of fall, there's already plenty of things to learn. Get a dose of knowledge outside the classroom, or just have a good time, at these upcoming events covering everything from botany to beer.
Sunday, September 1: Keep it quiet that you'll be at this Secret Speakeasy, which will feature movies, music and more covering New York, the Summer of Love, and Suffragettes.
From Ur to Tur with stops for Salman Rushdie and the science of psychopaths along the way: our picks for the best smart things to do in NYC this week.
Monday, September 2
Spin scientific stories at this Story Collider Labor Day event, featuring five true, personal stories about science. Caveat.
Tuesday, September 3
NYU professor Dr. Pascal Wallisch's expertise lies at the intersections of psychology and neuroscience. Tuesday he explores psychopaths, illuminating the myths, like the idea that they  "are rare, violent, and predominantly male." He'll also also explain how to identify the psychopaths in your own life (yes, you have at least one). Subject.
Make a deal to attend this panel discussion on climate disasters and the Green New Deal. The New School.
Dan Rather's most recent book What Unites Us: Reflections on Patriotism focuses on the founding principles of the U.S., contrasted with present perils. On the release date of the new paperback version, find Rather in conversation with NBC News correspondent Katy Tur. St. Joseph's College.
As part of a conversation series that pairs contemporary artists with thought leaders, catch artist Anna Puigjaner and urban planner Jessica Katz, in a discussion about housing activism. The setting will be informal, in The Wright restaurant. Guggenheim Museum.
Wednesday, September 4
Join theoretical astrophysicist Amiel Sternberg of the Center for Computational Astrophysics at the Flatiron Institute for a Simons Foundation talk that runs from the formation of the first stars all the way up to present-day galaxies. Along the way, Sternberg will explain the chemical makeup of the cosmos, highlighting an evolution from simplicity to complexity.
Go tilting at windmill cancer with Sir Ahmed Salman Rushdie. He'll be at The Cooper Union presenting his new novel, Quichotte, a retelling of Don Quixote suited to our age of alternative facts. He's joined by Man Booker Prize-winning author Marlon James (A Brief History of Seven Killings) for a reading and a conversation about satire and interpretation. (Rushdie also appears on Tuesday evening at The Center for Fiction for a Quichotte launch.)
Author Michael Bobelian talks about his new book, Battle for the Marble Palace: Abe Fortas, Earl Warren, Lyndon Johnson, Richard Nixon and the Forging of the Modern Supreme Court, which traces the origins of the struggle for ideological control of "Highest Court of the Land." New York Public Library—Mid-Manhattan Library.
Thursday, September 5
In The Costs of Connection: How Data Colonizes Human Life and Appropriates It for Capitalism, authors Nick Couldry and Ulises Ali Mejías argue that Big Data is more than just extractive, it's "the appropriation of human life." They'll discuss the emerging new world order within the context of colonialism, discrimination, and the hollowing out of the social sphere. The New School.
Some of the greatest accomplishments of ancient artisans were found nearly a century ago in the "Death Pit" of Queen Puabi's tomb. Learn more about this Sumerian treasure with Dr. Jane Hickman of the University of Pennsylvania, who will also speak on the universal human impulse for adornment. The National Arts Club.
Watch what you eat at this event looking at food studies and how to think critically about food outside the world of academia. Museum of Food and Drink.
Game theories at a new bookstore and an appearance by Etgar Keret highlight our picks for the best smart things to do in NYC this weekend.

Friday, September 6
Celebrate the 80th anniversary of the 1939-40 World's Fair at this presentation by World's Fair expert Bill Cotter.
McNally Jackson introduces its new  McNally Jackson Seaport location with Is FUN a Four-letter Word?, an evening of aesthetic theory and popular science.
Books Are Magic
 hosts Israeli
Etgar Keret
, who this week publishes a new collection of fantastic/fantastical stories. He's joined by the always compelling Elif Batuman.
Saturday, September 7
Take public transportation to this Transit Walk covering Lower Manhattan, which will explore the area's transportation systems and history in the pre-subway era. New York Transit Museum.
Learn about the controversial practices—running from sexual abuse of promotion women to alleged complicity in crimes against humanity—ascribed to the world's number two brewing company. Investigative journalist Olivier van Beemen explains as he presents Heineken in Africa: A Multinational Unleashed. Bluestockings.
Sunday, September 8
Never forget the horrors of the Holocaust by attending this speaker series event with survivor Rene David Alkalay. Museum of Jewish Heritage.
mmm
Monday, September 9: Unleash your rage at this talk with author Rebecca Traister on the revolutionary power of women's anger. The National Arts Club.
Tuesday, September 10: Hear from actor, director, and writer Sean Penn as he discusses his new film, Bob Honey Sings Jimmy Crack Corn. 92nd Street Y.
Wednesday, September 11: Mark the 18th anniversary of the September 11th attacks by attending the annual Table of Silence Project, a free outdoor dance performance that pays tribute to the 9/11 victims and prays for peace and healing. Lincoln Center for the Performing  Arts.
Thursday, September 12: "Grow" your knowledge of Revolutionary-era doctor Dr. David Hosack, who attended Alexander Hamilton and Aaron Burr's famous duel and founded the nation's first botanical garden. Fraunces Tavern Museum.
Friday, September 13: Raise a glass to this lecture and tasting on Japanese beer. Japan Society.
Saturday, September 14: Caucus at this One Day University event that gives a 90-minute introduction to all the current 2020 candidates. Fordham University.
Sunday, September 15: "Help set the stage for a better planet" as Caveat presents the official launch of Climate Change Theatre Action 2019, a diverse collection of environmentally inspired narratives.
Monday, September 16: Consider the relationship between American Jews and Israel at this discussion between author David Gordis and New York Times columnist Thomas Friedman. Temple Emanu-El.
Tuesday, September 17: Your knowledge will "flower" through this event asking: What do Typography and Botany have in common? The Center for Book Arts.
Wednesday, September 18: Page through the history of LGBTQ literature and how it's evolved at this conversation between authors Scott Alexander Hess, Robert Levy, and Darley Stewart. Bluestockings.
Thursday, September 19: Get a new "lease" on life at this event on the housing crisis and why the rent is too damn high—even in Florida. Graduate Center, CUNY.
Friday, September 20: Spend an evening with author Margaret Atwood as she discusses her new novel The Testaments. The Town Hall.
Saturday, September 21: Head down to the Bowery for a walking tour exploring the famed thoroughfare's 400-year history. The Municipal Art Society of New York.
Sunday, September 22: Learn what the experts still can't figure out at these back-to-back events looking at what historians and scientists still don't understand. The Watson Hotel.
Monday, September 23: Design a plan to attend this talk on Cyan and the history of German posters, in conjunction with the current exhibition Designing Through the Wall: Cyan in the 1990s. Poster House.
Tuesday, September 24: Try not to be sick as Nobel laureate Paul Krugman joins health policy research analyst Tsung-Mei Cheng to talk about the last book from Cheng's husband, Uwe Reinhardt, a giant in the health policy field. The New York Academy of Medicine.
Wednesday, September 25: Continue the #MeToo revolution by hearing from the journalists who kicked it off through their reporting on Harvey Weinstein, Jodi Kantor and Megan Twohey, as they discuss their new book She Said: Breaking the Sexual Harassment Story That Helped Ignite a Movement. Merkin Concert Hall.
Thursday, September 26: Seek to master the self by attending a rare appearance by Swami A. Parthasarathy, speaking on The Law of Karma at The Town Hall.
Friday, September 27: Raise the curtain on children's book icon Maurice Sendak's little-known opera career with this talk looking at his designs for the opera stage. Morgan Library & Museum.
Saturday, September 28: You're free to attend this discussion on censorship in Chinese society. Asia Society and Museum.
Sunday, September 29: Everyone will be equal at this conversation between historian Eric Foner and MSNBC journalist Chris Hayes on Foner's book The Second Founding: How the Civil War and Reconstruction Remade the Constitution. St. Joseph's College.
Monday, September 30: Speak out at this event looking at the 600 languages spoken in New York City and which ones are at risk of dying out. The Greene Space.
=========================================================
The best NYC events in September range from last-minute summer excursions to Oktoberfest celebrations and more. –
The best NYC events in September include everything from last-minute things to do in summer to early fall celebrations including incredible art and cultural events. Utilize our events calendar for September to help you schedule all the happenings you don't want to miss like some of the best things to on Labor day, the West Indian Day Parade, and the one of the best NYC street fairs: Atlantic Antic. Sure, summer is nearly over, but the warm-weather isn't going anywhere anytime soon. So make sure to enjoy all of the wonderful things to outside in New York before the cold front sweeps in!
RECOMMENDED: Full NYC events calendar for 2019
Featured NYC events in September 2019
Various locations, Midtown West
Brooklyn Bridge Park, Brooklyn Heights
Various locations, Midtown West
Prospect Park, Nethermead, Prospect Park
Coney Island USA, Coney Island
New York Hall of Science | Queens, NY, Queens
East River State Park, Williamsburg
Joe's Pub at the Public Theater, Noho
Dance Now's 24th season offers a massive festival of short works by 40 dance makers of every stripe, all challenged to mount five-minute pieces on the teeny stage at Joe's Pub. The best of the fest, as chosen by the producers, return for a special encore performance on Sept 27; they include festival winner Brendan Drake as well as binbinFactory /Satoshi Haga & Rie Fukuzawa, Blue Wyatt Project, Tsiambwom M. Akuchu, Loni Landon Dance Project, Claire Porter/PORTABLES, HUMA, Cleo Mack and many more.
Free NYC events in September 2019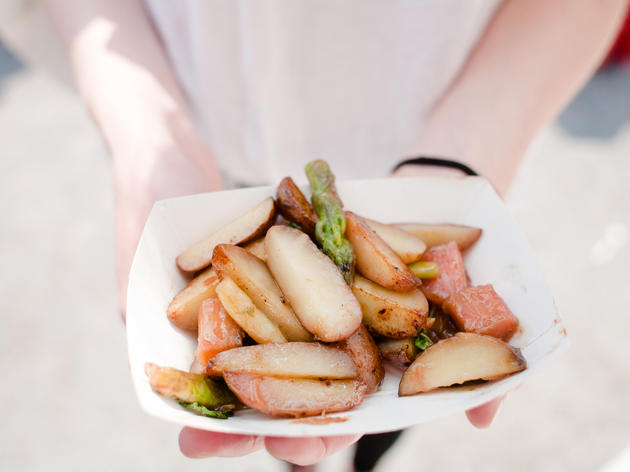 Everything you need to know about visiting Smorgasburg (90 Kent Ave; East Dr at Lincoln Rd). At this massive grub hub, there's only one rule: Come hungry. The Brooklyn Flea spin-off draws more than 20,000 to 30,000 visitors per week, with a slew of 75 to 100 incredible food vendors doling out everything from Dutch waffles to pasta doughnuts. Where is it?Depends on when you go. For the spring/summer 2019 season, the fest is in Williamsburg's East River State Park (90 Kent Ave) on Saturdays and Prospect Park's Breeze Hill (East Dr at Lincoln Rd) on Sundays. Additionally, starting April 12 2019, Manhattanites won't have to cross the river to taste the treats. A Smorgasburg market at Westfield World Trade Center, Oculus Plaza is open every Friday from 11:30am to 7pm.  When can I go?Smorgasburg is open year-round. The summer months might be the most popular, running from April through October at 11am to 6pm on Saturdays and Sundays, but in the winter months (November to March), the market joins forces with Brooklyn Flea and moves indoors. This past winter, the indoor Smorg was located at Atlantic Center (625 Atlantic Ave) on weekends from 10am to 6pm. Is there anywhere to sit?There are some picnic tables set up by the Smorgasburg team, but don't plan on snatching one unless you have patience of steel. The organizers encourage you to bring picnic blankets with which to sit on the lawns of East River State Park or Prospect Park. Are there rain dates?Nope. The grub will be there rai
Music events in September 2019
Photograph: Anthony & Alex
Elsewhere, East Williamsburg
Elsewhere, East Williamsburg
Madison Square Garden, Midtown West
Central Park, Rumsey Playfield, Central Park
Brooklyn Academy of Music (BAM), Boerum Hill
Elsewhere, East Williamsburg
Elsewhere, East Williamsburg
Madison Square Garden, Midtown West
Forest Hills Stadium, Forest Hills
Terminal 5, Hell's Kitchen
Radio City Music Hall, Midtown West
The pioneering trip-hop outfit hits Radio City for a show postponed from March due to illness, celebrating the 20th birthday of one of its defining achievements: 1998's Mezzanine. Highlights include accompaniment from Cocteau Twins' member and "Teardrop" singer Liz Fraser, who is touring with the band for the first time since 2012, and a spanking new audiovisual production. This is no staid recital: Show up for a new rendition of an old favorite.
===========================================================
more September events coming soon.