Pre Covid-19 we searched the internet everyday looking for the very best of What's Happening, primarily on Manhattan's WestSide, so that you didn't have to."
We made it as easy as 1-2-3.
Covid-19 has required some changes for the time being.
Stay Safe.
===========================================================
For the month of August we are going to try a different format – on some days we will go visual and offer a selection of the very best NYCity Instagram photos or YouTube videos. Some days you will find "the Nifty Nine", all the NYC news you need to start your day, or the Top Online Travel Forums with NYC info. On other days we will offer "Corona Culture" – updated info and video especially suited to these difficult times.
We hope you will come back often to see what's cooking here.
Today it's Best NYCity Restaurants.
With restaurants partially opened or only open for takeout, this info is more useful for that glorious time when we have beaten the virus and life has returned to some form of normal.
It's not difficult to find a place to eat in Manhattan. Seems like there is at least one restaurant on every block. The New York City health department inspected over 10,000 eating establishments in Manhattan alone last year. And the selection of restaurants includes cuisines from all over the world.
Finding a good place to eat is a bit harder. We could start with New York City's 72 Michelin-Starred Restaurants, but they are more suitable for those on expense accounts or celebrating a special event. No worries. There are many guides to good eating available, if you know where to look.
Here are a few of my favorite guides to the best restaurants in various neighborhoods:
We hope you enjoy this change of pace, then please return here September 1, and every day for our daily, hot off the presses event guide with "Only the Best" NYCity event info.
++++++++++++++++++++++++++++++++++++++++++++++++++++++++
Lower Manhattan – Did you know?
New York City, a city of neighborhoods, is filled with sights that every tourist should see. No neighborhood has more spectacular sights than Lower Manhattan. Today's feature:
SeaGlass Carousel
"The SeaGlass Carousel in New York City's Battery Park is housed inside a glass-paneled nautilus shell that sits atop the site of the original New York Aquarium.
The SeaGlass Carousel features 30 fiberglass fish spotlighting 12 different species, while the mechanics are unique in that there's no traditional center pole. By putting individual motors for each fish below the floor, the riders have unobstructed views while the fish both spin independently and swirl around each other as though swimming through the ocean.
Rides of the SeaGlass Carousel will also experience a changing LED light display that makes one feel as though they are truly underwater. To add to the overall experience, each fiberglass fish contains its own speakers that play aquatic sounds and music specifically composed for the ride.
Each of the fish in the carousel is modeled after an actual species ranging from tall angelfish to the much smaller clown triggerfish. No matter which you choose, it will resemble one underwater lifeform or another that can actually be found out in the ocean."
(atlasobscura.com)
++++++++++++++++++++++++++++++++++++++++++++++++++++++++
Now how about some other useful information during these trying times.
WFUV-FM 90.7 is my fave local radio station. Noncommercial, member-supported with a format of adult album alternative music, WFUV is doing it's best to keep us connected to our music with a comprehensive, updated list of live music online.
7/31-8/5 – WXPN Free at Noon Virtual Musikfest on NPR Live Sessions: Strand of Oaks, Low Cut Connie, Pretenders, Citizen Cope, Pixies, Nada Surf, Waxahatchee, Best Coast, David Gray, Richard Thompson, Joseph Arthur, Nathaniel Rateliff, The Lone Bellow, The Wood Brothers, I'm With Her, The Cactus Blossoms, First Aid Kit…
m
7/30-8/2 – Lollapalooza with Paul McCartney, Run The Jewels, LCD Soundsystem, Jane's Addiction, Arcade Fire, H.E.R., Portugal. The Man, Gary Clark Jr., The Cure, Alabama Shakes…
7/30-8/2 – The Falcon Ridge 2020 Share & Shelter In Place Fest with Susan Werner, Donna the Buffalo, Mary Gauthier…
m
7/30 – Lucius w/Courtney Barnett, The War & Treaty
7/30 – Mayer Hawthorne
7/30 – Dar Williams songs and fan Q&A
m
7/31 – Mavis 80 with Jason Isbell, Brandi Carlile, Trombone Shorty, Grace Potter, Phoebe Bridgers, Lucius, M. Ward, Joe Henry, Ben Harper…
7/31 – City Winery Farewell to Varick St. with Joan Osborne, Joseph Arthur, Jill Sobule, Teddy Thompson, Rhett Miller, James Maddock…
m
8/1 – Deer Tick & Friends live from Fort Adams with Leon Bridges, Robert Ellis, Sharon Van Etten, The Tallest Man on Earth and Courtney Marie Andrews, Newport Folk
8/1 – Rock My Soul: Jerry Garcia Birthday with artists playing his songs
8/1 – LP with a full band
Online concert calendar and links at wfuv.org/livestreams
==============================================================
NYC-Arts Top Five Virtual Picks: July 31 – August 6
Interesting. Unusual. Uniquely NYC. Highlights of this week's top virtual events include Bound Unbound, Video Chat Variations, Ice Factory Festival 2020 and more. Get the NYC-ARTS Top Five in your inbox every Friday and follow @NYC_ARTS on Instagram or @NYCARTS on Twitter to stay abreast of events as they happen.
Brooklyn / Tue, Aug 04, 2020 – Fri, Aug 07, 2020
In times of trouble, we seek out songs we know which bring us comfort. Great artists harness that impulse of nostalgia and desire for the familiar, then use that energy to subvert expectations with new possibilities. For Week 13, National Sawdust's "Digital Discovery Festival" embraces Renewalas a creative force to reshape music in ways we never considered and bring light to our darkest hours.The magnetic impresario Michael Mwenso, alongside his band The Shakes, specializes in …
=====================================================
In the age of Covid-19 this info from City Guide is one of the best sources of info on What's Happening, even if some are only available in your home, and not in your favorite venue.
(7/27-8/2) New York City has entered Phase 4 of its cautious reopening and there's more to do in NYC than there's been since the mid-March lockdown. This detailed map of open restaurants shows nearly nine-thousand venues now serving; included in that number are 4,700 places where you can eat outside. One hundred and sixty-seven streets have been closed to traffic and opened to expanded outdoor dining plans. Read on for more reopenings and other things to do in NYC this week!
NEWLY REOPENED!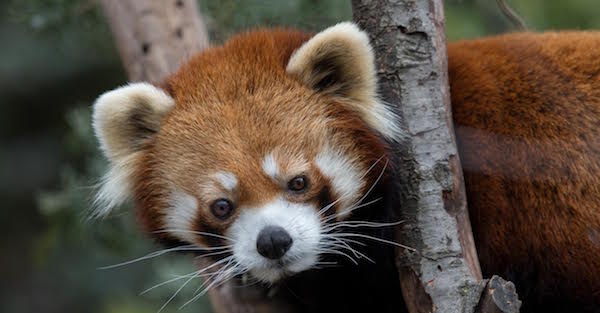 Photo: Julie Larsen Maher © WCS
Friday, July 24th will see the return of New York's zoos—the Central Park Zoo, Prospect Park Zoo, Queens Zoo, and the most famous of all, the Bronx Zoo. If you want to visit, you'll need to get your ticket in advance (no tickets will be sold at the gates). A touchless entry will let you in, but you must have a face covering, and follow spacing markers to ensure social distancing. Capacity will be limited so make sure you reserve well in advance. bronxzoo.com
Photo: Julie Larsen Maher © WCS
Thousands of exotic aquatic creatures reside in naturalistic habitats beside the ocean on Brooklyn's Coney Island at the New York Aquarium. The newest draw here is Ocean Wonders: Sharks!, which shows off 100 shark species, teeth bared for all to see. You can also expect sea turtles and cownose rays, in addition to a variety of fish, and even a touch tank. As of Friday, July 24th, the aquarium is back open, although you must book a ticket for a specific date of arrival in advance. Face coverings and social distancing will be required; the 4-D Theater is temporarily closed and there will be limited seating at the Aquatheater. Visit nyaquarium.com/today to see daily available exhibits and amenities. 602 Surf Ave., 718-265-FISH, nyaquarium.com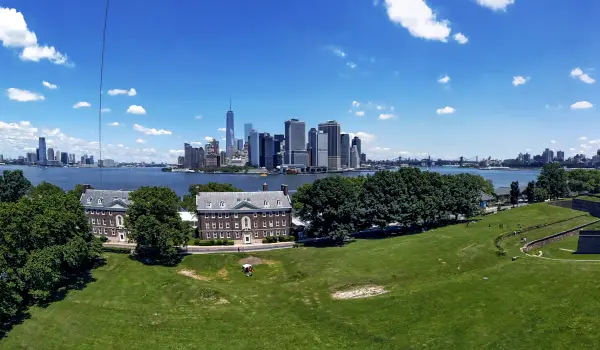 Image: Nestor Rivera Jr/Flickr
Governors Island, a short ferry ride from Brooklyn or downtown Manhattan, is New York's summer playground. A former strategic battle site in the Revolutionary War, the island now hosts visitors during the warm months for outdoor activities. After several weeks of coronavirus shut down, the island is back open for visitors as of Wednesday, July 15th. Hours will be 10am-6pm on the weekdays, extended to 7pm on the weekends. Manhattan ferries run daily from the Battery Maritime Building at 10 South St. There will be Brooklyn access as well, leaving from Atlantic Basin in Red Hook, although they'll be available on the weekends only. (A third way of travel will be a dedicated weekend shuttle from Wall Street/Pier 11 that will run roughly every 30 minutes beginning July 18, ferry.nyc.) Social distancing should be observed on all ferries and the island, with face coverings required for travel. govisland.org
Andreas Komodromos/Flickr
The west side's beloved elevated park, The High Line, will reopen on Thursday, July 16th. To accommodate our new normal, capacity at the park will be greatly reduced. Free timed-entry tickets are opened every two weeks on Mondays. A limited number of walk-up passes will also be available at the entrance, but advance planning is recommended. Traffic will only flow in one direction, starting at Gansevoort Street. All visitors must enter at the southern end of the High Line, at Gansevoort Street and Washington Street, and move northwards. In this first reopening phase, the High Line will be open only to 23rd Street. Citywide safety protocols will also apply here, including the requirement of wearing a mask or face covering and maintaining 6-foot social distancing. thehighline.org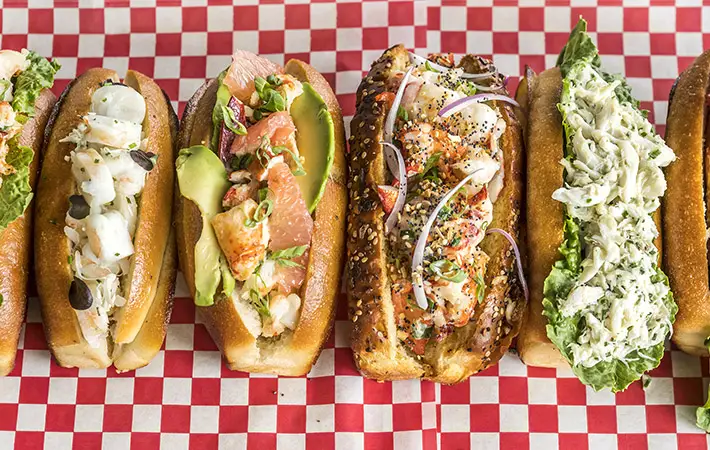 As of Thursday, July 16th, lobster boat rides are back! The North River Lobster Company is NYC's only floating lobster shack and this week it returns to summer cruising form. You'll find all kinds of rolls (see above), from the classic signature to specialty rolls like the Lower East Side everything bagel option. There's also clam chowder, a full raw bar, and sangria, frozé, buckets of cold beer, and fishbowl cocktails to match. For safety, the boat will be thoroughly cleaned multiple times a day, all staff and guests will wear face coverings, and admission will be at half capacity to ensure social distancing. Departures from Pier 81 will run 1pm, 3pm, 5pm, 7pm, and 9pm, every Thursday, Friday, Saturday, and Sunday. northriverlobsterco.com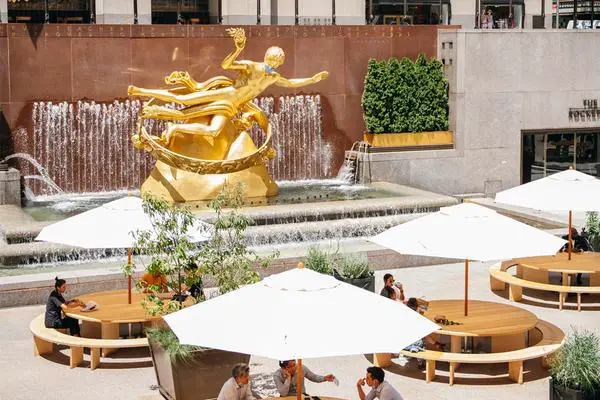 Rockefeller Center is back this week as well, with a return of retail shopping and great open-air dining courtesy of Summer at The Rink. The world-famous skate spot has shifted to warm weather duty, with oversized tables making social distancing easy. Enjoy decadent summer bites and specialty drinks to-go from favorites like Rainbow Room, Alidoro, City Winery, and Ethiopian standout Makina. rockefellercenter.com
Rainbow Room
Monday-Friday, 11:30am-3pm (The Rink) | See the menu
Alidoro
Monday-Friday, 11am-3pm (The Rink) | See the menu
City Winery
Monday-Friday, 1pm-9pm (North Plaza)
Makina Truck
Monday-Sunday, 11am-7pm (North Plaza) | See the menu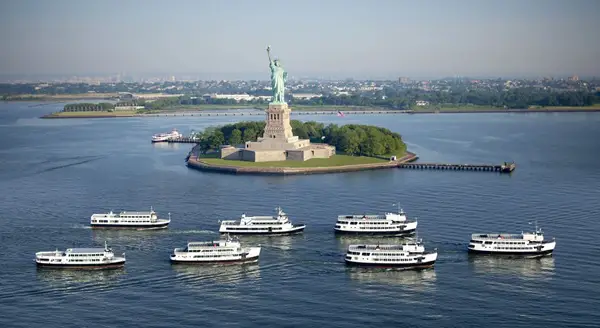 Although the Statue of Liberty and Ellis Island remain temporarily closed, Statue Cruises is once again out and about in New York Harbor. Sixty-minute tours, complete with history and stunning views, can now be booked. Lady Liberty and the museum are closed, but the Park Service has now granted entry to Liberty Island and Statue Cruises is the only way to access it. Tours run four times daily out of the Battery Park departure point in Lower Manhattan at 10am, 11:30am, 1pm, and 2:30pm. These tours will continue until Liberty Island and Ellis Island reopen (Statue Cruises is the exclusive provider of ferry service for the National Park Service to the two landmarks). Tickets are $26/adult, $19/seniors, $14/child and free for children three years and under. Tickets may be purchased in advance (strongly encouraged) from the Statue Cruises website or at Gangway 5 in Battery Park. statuecruises.com
JOIN THE RUBIN FOR PARTICIPATORY INSTALLATION "THE LOTUS EFFECT"
The Rubin Museum of Art is an arts and culture hub powering connections between contemporary life and the world of the Himalayas. The Rubin has recently launched a new participatory installation, The Lotus Effect, in response to the COVID-19 pandemic. Lotuses take root in murky waters and bloom above the surface, giving them important symbolic resonances. For The Lotus Effect, the Rubin invites the public to fold a lotus flower and dedicate their origami creation to someone or something that has helped them overcome a challenging time. When the Rubin reopens, people can contribute their folded piece to an installation in the museum that will serve as a community-built symbol of gratitude and resilience. Brooklyn-based origami artist and engineer Uttam Grandhi has provided video instructions to create a folded lotus. While the Rubin is closed, participants can share photographs of folded lotus creations on social media using the #TheLotusEffect and tagging @RubinMuseum. For much more, visit rubinmuseum.org/TheLotusEffect.
NEW: STREET FEAST
The Village Alliance is partnering with the New York City Department of Transportation to bring Street Feast: 8th Street and Street Feast: St. Marks Place starting this Friday. Dozens of small-scale downtown venues will be serving open air bites and more on West 8th Street between 5th and 6th Avenues and St. Marks Place between 2nd and 3rd Avenues. These stretches will be closed to traffic Fridays at 5p-11pm and Saturdays noon-11pm. Street Feast will run through Saturday, September 5th.
LIVE COMEDY
Outdoor live shows and open mics are back on at favorite Astoria performance venue Q.E.D. Enjoy it all safely and socially distant in the back yard, complete with frozen margaritas and frosé to stay or to go. Hours Friday 5-10pm, Saturday noon-10pm, and Sunday noon-5pm. qedastoria.com
PIANO IN BRYANT PARK
One of Bryant Park's most popular programs, "Piano in Bryant Park," is back again. Audiences are encouraged to wear masks and practice social distancing while seated in the park's iconic moveable bistro chairs. Piano in Bryant Park, which showcases the finest ragtime, stride, and jazz pianists, takes place Mondays, Tuesdays, and Thursdays from 12:30 to 2:30pm through August. bryantpark.org/programs/piano
NYC RESOURCES

The Metropolitan Opera is streaming operas FREE nightly.
The New York Public Library provides access to more than 300,000 FREE e-books and e-audio books.
NYC Health information page for COVID-19.
NYC restaurant world information.
Stream hundreds of Broadway shows (by subscription).
15 Broadway shows you can watch from home.
Broadway performances live—from stars' living rooms.
The New York City Ballet presents a spring digital season.
Virtual programming will keep you connected to the York Theatre Company.
One World Observatory has made One World Explorer, the attraction's Digital Skyline Guide, available for remote watching. Virtual helicopter tours of the city's most iconic sites are available now.
51 New York TV shows and movies.
5 eras of New York to enjoy in books and movies.
2,500 museums and galleries you can visit virtually.
The New York Botanical Garden in bloom from home.
Exploring Ripley's Believe It or Not! Times Square.
The Top of the Rock launches a brief virtual tour on YouTube.
Fun at-home activities for kids.
6 podcast series to help you understand New York.Discover the best of New York, from hidden gems to iconic landmarks, through The New York Landmarks Conservancy's "Tourist in your own Town" Video Series.
VIRTUAL MUSEUMS
Explore the world of design with Cooper Hewitt.
Experience the Intrepid Museum anywhere.
New-York Historical Society from home.
A portal to the map collection of the Brooklyn Historical Society.
Virtually visit the Louis Armstrong House Museum.
The Merchant's House Museum from home.
You can take a virtual tour of the Tibetan Buddhist Shrine Room at the Rubin Museum of Art. (You can find two hours of meditative chanting as well, if you're searching out some respite.) The Rubin has also, for the first time, launched a digital assemblage of more than 300 items from the museum's collection.
VIRTUAL TALKS, LECTURES, AND EVENTS
Thought Gallery has hundreds of livestream talks, lectures, performances, and more. Check out sessions with celebs, live concerts, and opportunities to learn the latest on everything from science to philosophy to social justice.
"WHY I LOVE NYC" PROFILES
Conrad New York Downtown has launched a series of profiles of New Yorkers, including Bedside Reading New York authors. The new digital series is called "Why I Love NYC" and includes nearly 20 real testimonials from New Yorkers on why the city is the greatest place to live or visit. Interspersed between the interviews, the hotel features videos of iconic landmarks, neighborhoods, and hidden gems from around the city. The highlight videos appear on the hotel's Instagram, Facebook, and Twitter, while the interviews are featured on LinkedIn in addition to the other three platforms. Interviews feature select Bedside Reading Authors, including Susan Silver, Lee Mathew Goldberg, Seymour Ubell, Kim Akhtar, and Sweta Vikram. instagram.com/p/CCUivePFjWl/
=======================================================
STAY HOME FOR A BIT LONGER – MASK UP AND STAY SAFE.