Pre Covid-19 we searched the internet everyday looking for the very best of What's Happening, primarily on Manhattan's WestSide, so that you didn't have to.
We made it as easy as 1-2-3.
Covid-19 has required some changes for the time being.
Stay Safe.
============================================================
For the month of August we are going to try a different format – on some days we will go visual and offer a selection of the very best NYCity Instagram photos or YouTube videos. Some days you will find "the Nifty Nine", all the NYC news you need to start your day, or the Top Online Travel Forums with NYC info. On other days we will offer "Top 10 Corona Culture," updated info and video especially suited to these difficult times.
We hope you will come back often to see what's cooking here.
Today it's Top 10 Corona Culture (c2). NEW STUFF!
1. NYC museums, events, performances: What's reopening and what's cancelled this year  (6sqft).
2. Can't Wait For The Museums? Many NYC Galleries Are Now Reopening To The Public  (gothamist)
3. The Online Classes Actually Worth Taking  (NYMagazine)
28 courses that were thoroughly vetted
4. Take a virtual tour of these NYC cultural institutions from home  (curbed).
Stuck inside? You can still experience some of New York's best cultural offerings from your home.
5. I've Seen 100+ of Those Virtual Tours—And These Are My 11 Favorite  (msn.com)
6. 13 New York City Virtual Tours: Explore the Big Apple  (scholasticatravel.com)
7. Rockefeller Center's Art Deco Marvel: A Virtual Tour  (NYT)
8. Here are things that you can do in Central Park amid the COVID-19 pandemic  (amNY)
9. Brooklyn, before it was a global brand: Walk it's history  (NYT)
10. The best virtual travel experiences for families while in quarantine  (amNY)
We hope you enjoy this change of pace, then please return here September 1, and every day for our daily, hot off the presses event guide with "Only the Best" NYCity event info.
++++++++++++++++++++++++++++++++++++++++++++++++++++++++
Lower Manhattan – Did you know?
New York City, a city of neighborhoods, is filled with sights that every visitor should see. No neighborhood has more spectacular sights than Lower Manhattan. Today's feature:
The Oldest Fence in New York
Built hundreds of years ago this downtown iron barrier once protected a much despised king.
"Most visitors to Bowling Green today come to see Arturo Di Modica's imposing Charging Bull sculpture. But unnoticed in the background of their photographs is one of New York Cities most enduring and historically important landmarks: its oldest fence.
The idyllic tranquility of Bowling Green would turn to mob violence in 1776. Six years earlier the British government had installed a giant statue of King George III. Weighing over 4,000 pounds it was built to celebrate the victory over the French in the Seven Years War.
As relations between Britain and her colonies steadily deteriorated the statue became a focal point for anti-English protests. To combat the increasing threat of vandalism a wrought iron fence was installed to protect the monarch in 1771. On July 9th, 1776, the Declaration of Independence was read out to Washington's troops stationed by City Hall. A mob from the Sons of Liberty rushed to Bowling Green and immediately attacked and toppled the statue of George III.
Today Bowling Green still holds its place in history as the first public park in the City. Where once King George III looked up towards Broadway as his subjects played the gentle game of Crown Bowls in the park, there is now a fountain. Surrounded by the imposing buildings of the Alexander Hamilton customs house, the old Standard Oil headquarters and the shipping offices of Cunard and the Panama-Pacific Ocean liners, it's a popular spot for tourists.
New York's oldest fence which once protected a king is still there though, and on closer inspection still bears the scars of that day of violence in 1776. The fence posts were once decorated with royal crowns but on July 9th, the Sons of Liberty cut them off and the saw marks are still visible today." (atlasobscura)
++++++++++++++++++++++++++++++++++++++++++++++++++++++++
Now how about some other useful information during these trying times.
WFUV-FM 90.7 is my fave local radio station. Noncommercial, member-supported with a format of adult album alternative music, WFUV is doing it's best to keep us connected to our music with a comprehensive, updated list of live music online.
7/31-8/5 – WXPN Free at Noon Virtual Musikfest on NPR Live Sessions: Strand of Oaks, Low Cut Connie, Pretenders, Citizen Cope, Pixies, Nada Surf, Waxahatchee, Best Coast, David Gray, Richard Thompson, Joseph Arthur, Nathaniel Rateliff, The Lone Bellow, The Wood Brothers, I'm With Her, The Cactus Blossoms, First Aid Kit…
m
7/30-8/2 – Lollapalooza with Paul McCartney, Run The Jewels, LCD Soundsystem, Jane's Addiction, Arcade Fire, H.E.R., Portugal. The Man, Gary Clark Jr., The Cure, Alabama Shakes…
7/30-8/2 – The Falcon Ridge 2020 Share & Shelter In Place Fest with Susan Werner, Donna the Buffalo, Mary Gauthier…
m
7/30 – Lucius w/Courtney Barnett, The War & Treaty
7/30 – Mayer Hawthorne
7/30 – Dar Williams songs and fan Q&A
m
7/31 – Mavis 80 with Jason Isbell, Brandi Carlile, Trombone Shorty, Grace Potter, Phoebe Bridgers, Lucius, M. Ward, Joe Henry, Ben Harper…
7/31 – City Winery Farewell to Varick St. with Joan Osborne, Joseph Arthur, Jill Sobule, Teddy Thompson, Rhett Miller, James Maddock…
m
8/1 – Deer Tick & Friends live from Fort Adams with Leon Bridges, Robert Ellis, Sharon Van Etten, The Tallest Man on Earth and Courtney Marie Andrews, Newport Folk
8/1 – Rock My Soul: Jerry Garcia Birthday with artists playing his songs
8/1 – LP with a full band
Online concert calendar and links at wfuv.org/livestreams
==============================================================
In the age of Covid-19 this info from City Guide is one of the best sources of info on What's Happening, even if some are only available in your home, and not in your favorite venue.
For a real sense of the city's epic scale, you need to get up into the sky, into one of New York's unparalleled observatories. The sometime chaos of New York sidewalks gives way to a clarity on the upper stories. The grids of streets, the flow of traffic, and architectural masterpieces from across the eras all come into clear focus. If you're planning a visit to NYC, check out these virtual tours of our famous observation decks so you'll be ready to choose the best one for you.
Virtual Tour: Empire State Building

EMPIRE STATE BUILDING. Ever since its 1931 completion, the Empire State Building has been the most famous skyscraper in the world. It remains a vital part of NYC and an inspiration to the millions of visitors who ascend to the ESB observation deck in every season. Newly updated features include a museum, the Observatory Experience. The result of a $165 million investment, this second floor stopover will substitute for what was once time spent waiting on line. Take a virtual tour of the space above, and check out the many features the attraction offers. 20 W. 34th St., 212-736-3100, esbnyc.com
Virtual Tour: One World Observatory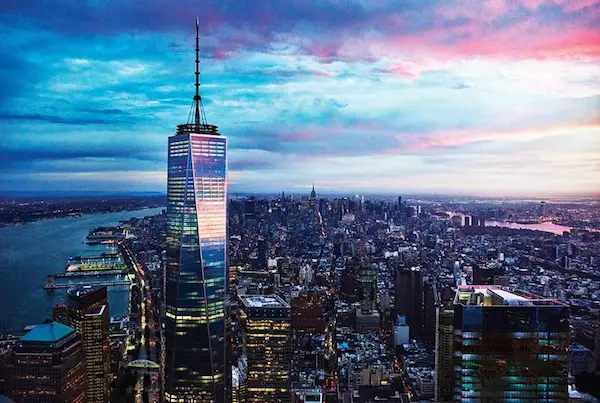 ONE WORLD OBSERVATORY. There's only one tallest. Only one strongest. And only one destination selected as the Best New Attraction in the World. These attributes belong to One World Trade Center, and its pinnacle, the One World Observatory, rising over 100 stories in the sky. Check out this virtual overview of what you'll find there. 285 Fulton St., 844-696-1776, oneworldobservatory.com
Virtual Tour: Top of the Rock
TOP OF THE ROCK. At this stunning perch atop Rockefeller Center, you'll find wholly unobstructed views of the city's most iconic landmarks, including the Statue of Liberty, the Empire State Building, the Chrysler Building, the rivers, and all of Central Park (its size can only truly be appreciated when seen from above). The Grand Viewing Deck on the 69th floor offers unparalleled views of the city, with visibility that reaches some 30 miles on a clear day. The 70th Floor is the proverbial cherry on top, allowing visitors to experience a 360° panorama of Manhattan in all its glory. This is an open-air perch with completely unobstructed views—no glass or anything. It provides a vantage point unlike any other in the city…or the world. 30 Rockefeller Ctr., 212-698-2000, topoftherocknyc.com
Virtual Tour: Edge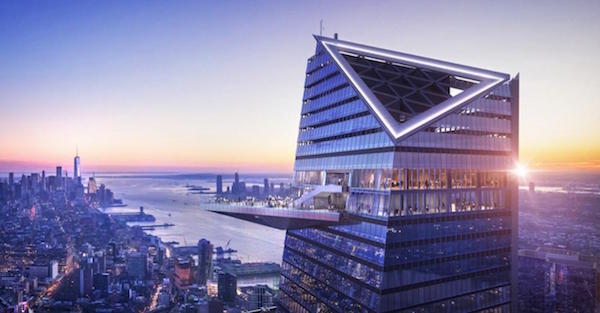 EDGE, the Western Hemisphere's highest outdoor observation deck, opened in March 2020, just before the city went on pause. The city is looking forward to the return of this incredible, triangular deck extending from the skyscraper at 30 Hudson Yards. You can stand 100 floors above the ground and see miles and miles in every direction. The deck offers 360-degree views with jaw-dropping glimpses of the Empire State Building, One World Trade Center, the Hudson River, and much more. You can tour the various features at Edge here. Level 4 inside The Shops & Restaurants at Hudson Yards, 332-204-8500, edgenyc.com
---
There's no bad time to take an eagle eye to the lives of millions of New Yorkers, but if you can time it, we'd steer you to dusk, when you can enjoy both sunset and the thrill of watching the city's lights flickering to life.
Want more free advice on what to do and see in New York? Join our Facebook group Everything to Do NYC, a place for people to ask questions and get tips on how to make the most of the city
=====================================================
STAY HOME FOR A BIT LONGER – MASK UP AND STAY SAFE.