Pre Covid-19 we searched the internet everyday looking for the very best of What's Happening, primarily on Manhattan's WestSide, so that you didn't have to." We made it as easy as 1-2-3.
Covid-19 has required some changes. Stay Safe.
Earlier today we covered top online travel forms. Scroll down the site for a bit to find it. Now, how about some more useful information.
==============================================================
NYC-Arts Top Five Picks: December 25 – December 31
Interesting. Unusual. Uniquely NYC. Highlights of this week's top events include P.S. Art 2020, John Edmonds: A Sidelong Glance, The Pleasure Pavilion: A Series of Installations, and more. Get the NYC-ARTS Top Five in your inbox every Friday and follow @NYC_ARTS on Instagram or @NYCARTS on Twitter to stay abreast of events as they happen.
Brooklyn / Fri, Oct 23, 2020 – Sun, Aug 08, 2021
"John Edmonds: A Sidelong Glance" is the artist's first solo museum exhibition to date, featuring new and recent photographic portraits and still lifes of Central and West African sculptures that explore representation and Black identity in the African diaspora. For this exhibition, Edmonds engaged directly with the Museum's Arts of Africa collection, photographing select objects donated to the Museum in 2015 from the estate of the late African American novelist Ralph Ellison. As the recipient of …
Manhattan / Thu, Oct 08, 2020 – Sun, Feb 14, 2021
Returning to The Met for the 13th consecutive year, the exhibition "P.S. Art: Celebrating the Creative Spirit of NYC Kids" features works of art in a variety of media created by public school students in New York City. The exhibition is on view until February 14, 2021, at The Met Fifth Avenue in the Ruth and Harold D. Uris Center for Education. The 121 artworks in this year's exhibition represent 122 students ranging from prekindergarten …
Manhattan / Sun, Dec 27, 2020, 7:00 pm – 9:00 pm
"Kwanzaa Celebration: Regeneration Night" brings together dance, music, and poetry to honor the seven core principles of Kwanzaa including family, community, and culture. On Sunday, December 27 at 7:00 p.m. ET, the Apollo's "Kwanzaa Celebration" will feature special performances by Abdel R. Salaam's Forces of Nature Dance Theatre with special guests spoken word artist Mumu Fresh, poet Marc Bamuthi Joseph, and members of the Forces of Nature Dance Theatre and Harlem Children's Zone Youth Academy of Dance and Wellness, hosted by award-winning radio host …
Manhattan / Thu, Oct 29, 2020 – Sun, Jul 25, 2021
As part of the Asia Society Triennial: We Do Not Dream Alone—a multi-venue festival of art, ideas, and innovation—the New-York Historical Society and Asia Society Museum opens their first ever collaborative exhibition, "Dreaming Together." More than 35 interwoven works drawn from both art collections generate dialogue about the urban and natural environments, protest and rebellion, individuals and identities, borders and crossings. Highlights include the Canal Street diptych (1992) from Martin Wong's Chinatown series, 98-foot hanging scrolls by …
Brooklyn /  Thu, Sep 17, 2020 – Sat, Mar 13, 2021
Luhring Augustine is pleased to announce "The Pleasure Pavilion," a series of installations that bring together artists from the gallery program in dialogue with the façade of a late 18th or early 19th century Indian pleasure pavilion. The arcaded portico pavilion, most likely part of an Indian palace or resort, was believed to have been originally used for recreational activities, such as enjoying musical and dance performances, entertaining guests, or admiring the surrounding gardens. The sandstone and …
=============================================================
In the age of Covid-19 this info from City Guide is one of the best sources of info on What's Happening, even if some are only available in your home, and not in your favorite venue.
For a real sense of the city's epic scale, you need to get up into the sky, into one of New York's unparalleled observatories. The sometime chaos of New York sidewalks gives way to a clarity on the upper stories. The grids of streets, the flow of traffic, and architectural masterpieces from across the eras all come into clear focus. If you're planning a visit to NYC, check out these virtual tours of our famous observation decks so you'll be ready to choose the best one for you.
Virtual Tour: Empire State Building
EMPIRE STATE BUILDING. Ever since its 1931 completion, the Empire State Building has been the most famous skyscraper in the world. It remains a vital part of NYC and an inspiration to the millions of visitors who ascend to the ESB observation deck in every season. Newly updated features include a museum, the Observatory Experience. The result of a $165 million investment, this second floor stopover will substitute for what was once time spent waiting on line. Take a virtual tour of the space above, and check out the many features the attraction offers. 20 W. 34th St., 212-736-3100, esbnyc.com
Virtual Tour: One World Observatory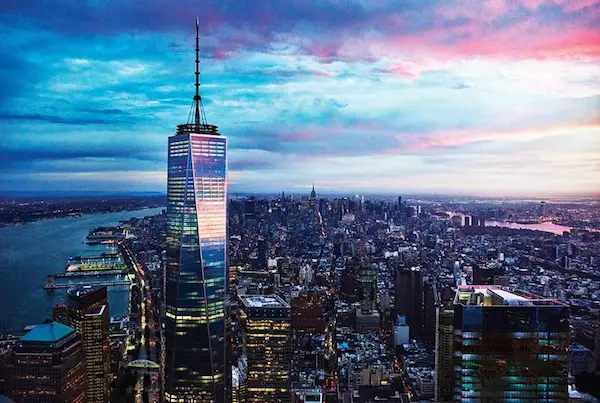 ONE WORLD OBSERVATORY. There's only one tallest. Only one strongest. And only one destination selected as the Best New Attraction in the World. These attributes belong to One World Trade Center, and its pinnacle, the One World Observatory, rising over 100 stories in the sky. Check out this virtual overview of what you'll find there. 285 Fulton St., 844-696-1776, oneworldobservatory.com
Virtual Tour: Top of the Rock
TOP OF THE ROCK. At this stunning perch atop Rockefeller Center, you'll find wholly unobstructed views of the city's most iconic landmarks, including the Statue of Liberty, the Empire State Building, the Chrysler Building, the rivers, and all of Central Park (its size can only truly be appreciated when seen from above). The Grand Viewing Deck on the 69th floor offers unparalleled views of the city, with visibility that reaches some 30 miles on a clear day. The 70th Floor is the proverbial cherry on top, allowing visitors to experience a 360° panorama of Manhattan in all its glory. This is an open-air perch with completely unobstructed views—no glass or anything. It provides a vantage point unlike any other in the city…or the world. 30 Rockefeller Ctr., 212-698-2000, topoftherocknyc.com
Virtual Tour: Edge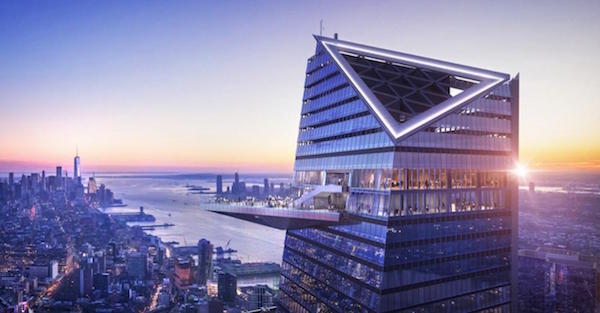 EDGE, the Western Hemisphere's highest outdoor observation deck, opened in March 2020, just before the city went on pause. The city is looking forward to the return of this incredible, triangular deck extending from the skyscraper at 30 Hudson Yards. You can stand 100 floors above the ground and see miles and miles in every direction. The deck offers 360-degree views with jaw-dropping glimpses of the Empire State Building, One World Trade Center, the Hudson River, and much more. You can tour the various features at Edge here. Level 4 inside The Shops & Restaurants at Hudson Yards, 332-204-8500, edgenyc.com
---
There's no bad time to take an eagle eye to the lives of millions of New Yorkers, but if you can time it, we'd steer you to dusk, when you can enjoy both sunset and the thrill of watching the city's lights flickering to life.
Want more free advice on what to do and see in New York? Join our Facebook group Everything to Do NYC, a place for people to ask questions and get tips on how to make the most of the city. ============================================================
Here is some more useful information for your holiday season.
Where To Watch New Year's Eve Fireworks In NYC – TONY
13 Restaurants for Cozy Outdoor Dining in Manhattan – ny.eater.com
Bryant Park Opened A Brand New 'Curling Cafe' For The Holiday Season – Secretnyc
Museums Are Still Open in New York. Here's What's on View (for Now). – The New York Times
NYC museums, events, performances: What's reopening and what's cancelled this year | 6sqft
The Setups for Outdoor Winter Dining Are Lavish. But Are They Safe? – The New York Times
7 Places to Photograph the NYC Skyline – cityguideny.com
An Ode to the Financial District, NYC's Most Enchanting Neighborhood – Thrillist
Check out these outdoor art exhibits and open museums in Manhattan this fall | amNewYork
When Will Concerts Return? Experts Weigh In. | HuffPost Life
===========================================================
Stay home for a bit longer. Mask up, stay smart and stay safe.